It was always going to be the biggest starting flight but by the time the smoke had cleared on Day 1C of the Macau Poker Cup 28 Red Dragon Main Event there were a staggering 492 additions to the field. The big Day 1C numbers helped propel the overall field up to 1,122 entries for a prize pool of HK$14,692,590 with a total of 135 players set to get paid. That's not even counting the $30,000 Platinum Package that PokerStars chipped in for the eventual winner in addition to a HK$100,000 seat to the upcoming ACOP Main Event event.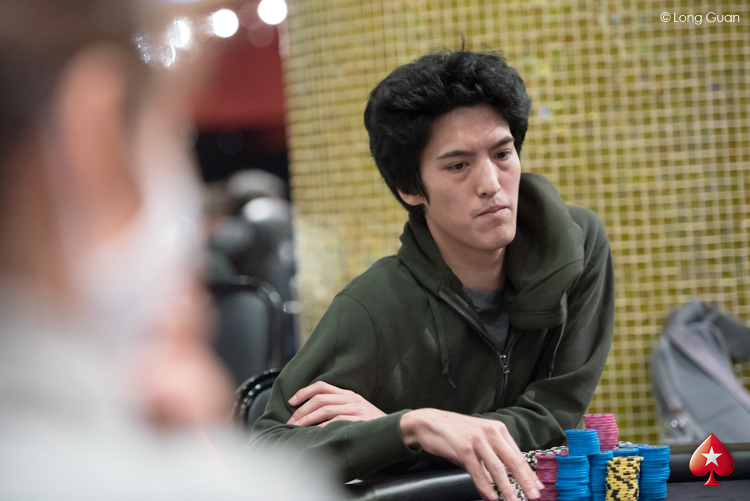 Ian Modder
Beyond all the big numbers Day 1C proved to be a compelling day of poker with several big names taking to the felt including Team PokerStars Pros Aditya Agarwal and Randy "Nanonoko" Lew.
Neither Lew or Agarwal took the chip lead, however, as that honor belonged to Hong Kong's Ian Modder who accumulated a field-topping stack of 250,300.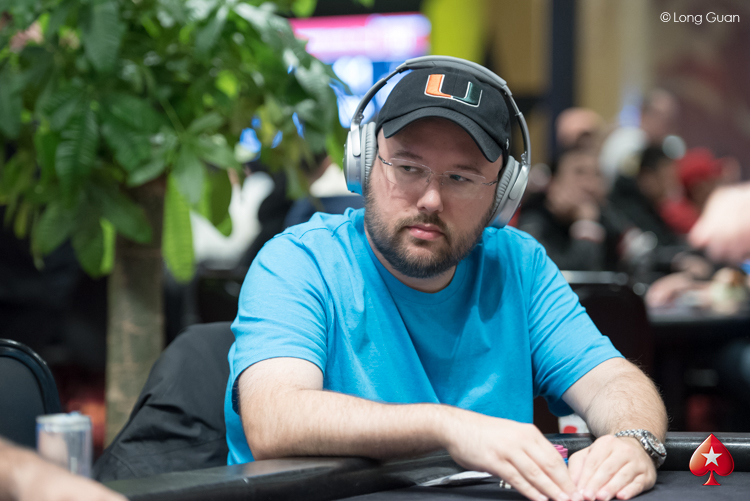 Scott Davies
Some of the other notables to take part in the action included two-time WSOP bracelet winner Michael Gathy, WSOP APAC Main Event winner Scott Davies in addition to Wenling Gao, Aditya Sushant, Ben Lai, Kai Paulsen, Terrence Wu and Kenichi Takarabe.
Randy Lew's luck ran out towards the end of the day when his pocket nines simply couldn't get past an opponent's ace-king. Thanks to Celina Lin's elimination on Day 1B that meant Aditya Agarwal is the only surviving Team PokerStars Pro that made it to Day 2 in this edition of the Red Dragon.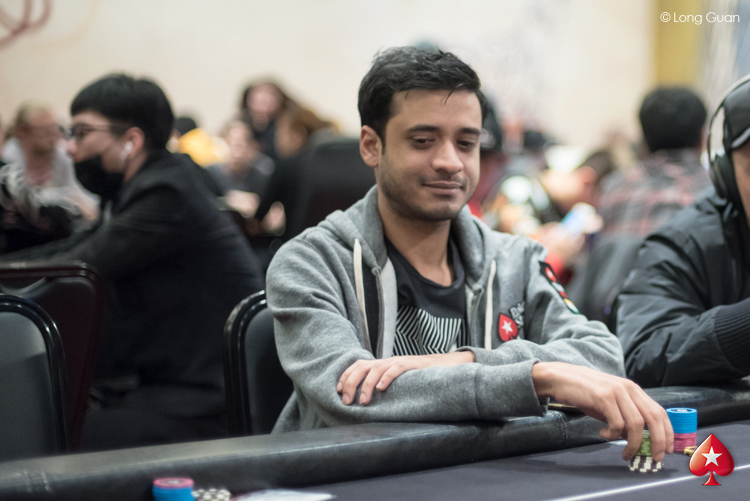 Aditya Agarwal
Agarwal finished with 40,000, which is pretty good considering back pain nearly kept him from playing the event at all. The Indian pro toughed it out and is set to be a threat on Day 2.
By the time the final level of the day expired there were approximately 167 players remaining. That means roughly 400 players will return to do battle on Day 2 tomorrow.
Day 1C started later than all the other starting flights in an effort to allow locals to play the tournament after work. Because of the late start it also mean a late night as action was not paused until nearly 4 a.m.
Action in the tournament will resume tomorrow with players from all three starting flights set to reconvene here at 3 p.m. We hope you follow their progress here on the PokerStars Blog. Until then, good night and good luck!
You can view the combined Day 2 chip counts here and the full seat draw here. –AC
Archived live tournament coverage:
• DAY 2 COMBINED CHIP COUNTS
• DAY 2 SEAT DRAW
• PRIZE POOL AND PAYOUT INFORMATION
• PLAYERS: 180 (of 493)
• ALL MPC INFO | DOWNLOAD POKERSTARS
• Follow @PokerStarsBlog on Twitter

---
3.50pm: Day 1C concludes; deafening Deng double
Level 12: Blinds 800/1600 (ante 200)
That's it for Day 1C. The last few hands were just enough time for Jiwei Deng – September 2017's Baby Dragon winner – to double up in dramatic fashion – going to war for his stack with A-Q on an A-A-3 board (understandably) only to then face elimination as his opponent showed down pocket threes!
Quite the cooler, though Deng slipped the noose on the river as the board ran out J then Q to give him a better boat- a development which drew a Dragon-sized roar from Deng!
That pushes Deng up to over 60,000. We'll have the full chip counts and a wrap for the day to follow shortly but for now, thanks for following what has been a compulsive day of poker.
We return tomorrow at 3:00pm so set your alarms and join us here for Day 2 as we continue to chase the Dragon. –RS
3:45M: The final five
Level 12: Blinds 800/1600 (ante 200)
It's close to the end of level twelve, the final level of the evening and the TD has announced we'll be playing out the final few hands of the evening. Just a few more chances to snatch the chip lead, double-up or even possibly bust-out. Once these frantic last few hands play out, we'll be in position to give you a re-cap of the day's events and find the lucky man or woman who will return for Day 2 in the likely chip lead.
Hold tight…. –RS
3:35am: Notable stacks
Level 12: Blinds 800/1600 (ante 200)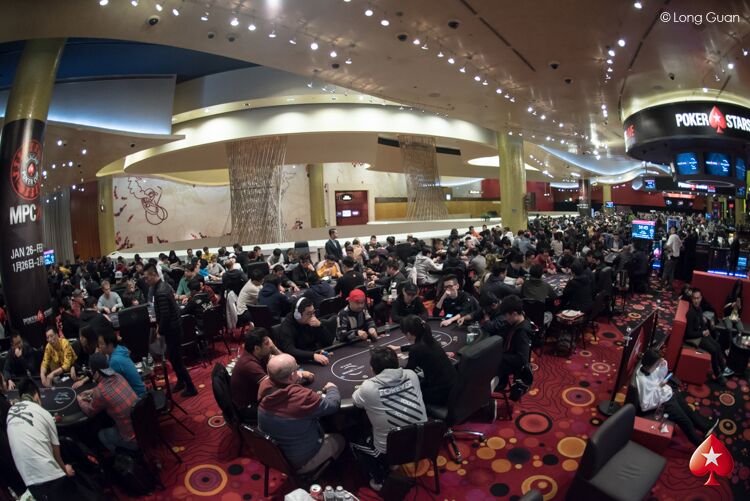 180 players dreaming of Dragons.
We've reached the home stretch with just one more level of play to go. We did a quick round to catch you up on some of how a few of the notable players have been faring in regards to their chip counts.
It seems likely that one or two of these players won't be punching their ticket to Day 2 but you never know.
Wenling Gao — 68,000
Henrik Tollefsen — 62,000
Aditya Agarwal — 58,000
Scott Davies — 54,000
Sparrow Cheung — 16,000
Terrence Wu — 9,000
3:10am: Time to Gao
Level 12: Blinds 800/1600 (ante 200)
Wenling Gao is still plotting away in this tournament. She cuts a very eye-catching figure at the table. She is physically small but seems to project an almost tangible presence, watching, shuffling chips, making regular observations on the play and scanning the table constantly with flickering eyes.
She looks set to make it at least a little further in the event as well, a recent double up with pocket deuces boosting her to 55,000.
She had a touch of fortune in the hand as she was up against J♣ 9♦ and the board fell A♥ K♦ 9♠ 2♠ Q♥ – her turned set bailing her out.
"Sorry," she offered her downed opponent who took it well. "It's fine," he replied before scampering away from the table to find some other diversion. –RS
2:40am: Jiang-Ho Unchained
Level 11: Blinds 600/1200 (ante 200)
Not the best situation for Jiang-Ho Huang who just saw a large chunk of his stack removed thanks to one of those classic facets of tournament poker. The coin flip.
Holding pocket jacks he raised to 2,800 under-the-gun and when Hao He re-popped him to 6,000 he picked up a stack of the powerful yellow 5k chips and announced "all-in."
Hao He called quickly for his remaining 17,000 or so with A♦ Q♥ and the race was on. THe flop looked safe for Huang – 7♠ 8♥ 7♣ but his face dropped like a stone as the A♣ spiked on the turn to shred his equity in the pot to dust.
The 3♠ on the river completed formalities and Huang looked a touch glum as he examined his stack – now down to 45,000.
Hao He meanwhile, leapfrogs him in the counts, up to a not dissimilar 50,000 but the beaming smile on his face told you everything you need to know about how coming up is so much more fun than coming down. –RS
2:35am: Everyone loves a chop pot
Level 11: Blinds 600/1200 (ante 200)
When it gets this late and close to the end of the day there's an inevitable slowdown as many players opt to hold on for Day 2 and reassess things in the morning.
Scott Davies isn't one of those players but he nonetheless didn't make any progress in his last hand.
The hand began with an early position bet of 2,500 and a call from the cutoff. Davies was on the big blind and fired a hefty 8,000 raise into the pot.
The player in the cutoff moves all-in and Davies made the call. The cards?
Davies: K♦ K♠
Opponent: K♥ K♣
The board ran out 10♥ 9♣ 3♦ A♦ 7♦ and, as expected, we had a chop pot on our hands. Davies is sitting at around 37,000 chips currently. –AC
2:15pm: Moss Bank still accumulating interest
Level 11: Blinds 600/1,200 (ante 200)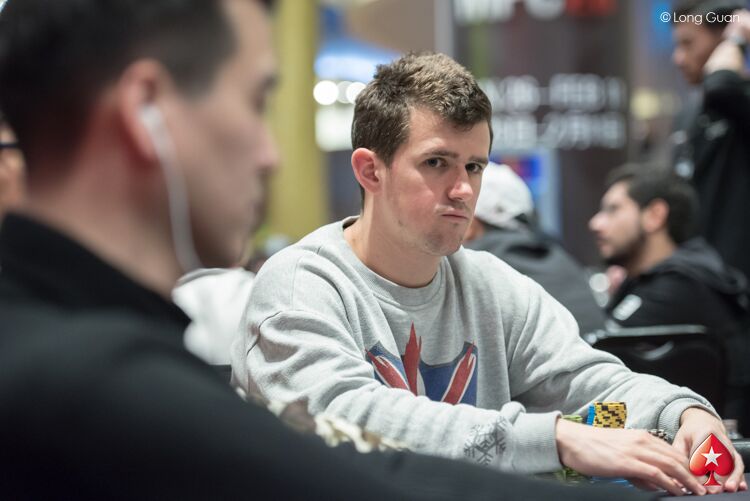 Ninja crushing from Moss.
Matt Moss is just a machine. Despite our best efforts, we seem to struggle to catch him in a significant hand but every time we look over his stacks are bigger. He's a bit like Ninja cat sneaking up on you. If that reference passed you by, congratulations, you aren't wasting your life away watching youtube clips. Don't let us corrupt you.
Anyway, poker-wise that leaves Moss with 165,000 which we believe to be the biggest stack right now. His undoubted pedigree is shining through it seems and he could well top the day's counts come the end of the day. –RS
1:55pm: Modder ruling
Level 11: Blinds 600/1,200 (ante 200)
There are some monster stacks forming under the auspices of various players out there.
Hong Kong national Ian Modder is the latest to win himself a big bounty, and a helpful floor ruling did part of the work for him.
We joined Modder heads up on a 9♦ 2♣ 5♥ board, Modder raising his opponents 2,000 bet to 6,000. His opponent then put in an under-raise to 8,000 which left everyone scratching their head. The dealer initially explained the raise was too small and the player just left out 6,000 chips as a call.
Modder was unhappy as he felt this should have been an automatic minimum raise and asked for the floor, who concurred with his assessment as the under raise met the "50% of minimum raise" requirement to be considered a raise.
So, the raise was now to 10,000 and Modder made a further minimum incremental raise to 14,000 which his opponent called. A huge pot was brewing and Modder looked highly focused – his opponent a tad bemused.
The J♥ on the turn didn't change the board texture much, Modder bet out a small-ish 6,000 and his opponent quickly just announced "all-in." (Around an additional 23,000.)
Modder snap-called and instantly tabled pocket nines for the flopped nuts. That small bet was just bait designed to induce exactly what it did. Meanwhile his opponent was drawing stone dead with pocket fours. The redundant river 6♣ did nothing to change the destination of the pot and that was right into Modder's stack – bolstered to the heady heights of around 95,000. –RS
1:34am: Nanonoko goes bustonoko
Level 10: Blinds 500/1000 (ante 100)
Randy Lew
You can't win 'em all and Randy "Nanonoko" Lew won't be winning this one.
The Team PokerStars Pro was running on fumes for the last couple levels and after getting several all-in shoves through he finally got looked up.
Lew was facing a standard bet and moved all-in for about 12,500 from middle position. His opponent thought for a minute but then made the call.
Lew flipped over 9♠ 9♥ while his opponent showed A♥ K♠ for the pure race.
The flop was a good one for Lew as it came 10♠ 5♠ 2♣ to put the nines firmly in the lead. The turn, however, was a disaster as it came A♣ . The rest of the table gasped but Lew was stoic about the sudden reversal of fortune.
The river didn't provide any miracles for Lew as it finished 3♦ to eliminate the PokerStars pro. That means that Aditya Agarwal is now the only Team Pro left in the field. –AC
1:15am: One break coming right up
Level 9: Blinds 300/600 (ante 100)
We've reached the final 15-minute break of the evening. It's time to get some sustenance, have a beverage, meditate or whatever helps you get through the last three levels. At this point it's all about making Day 2.
Thanks to the late start time of Day 1C (in order to maximize the number of entrants coming from Hong Kong) it will run the latest with bag and tag scheduled for nearly 4 a.m.
1am: Recipe for success – HK$10 million guarantee smashed to pieces
Level 9: Blinds 400/800(ante 100)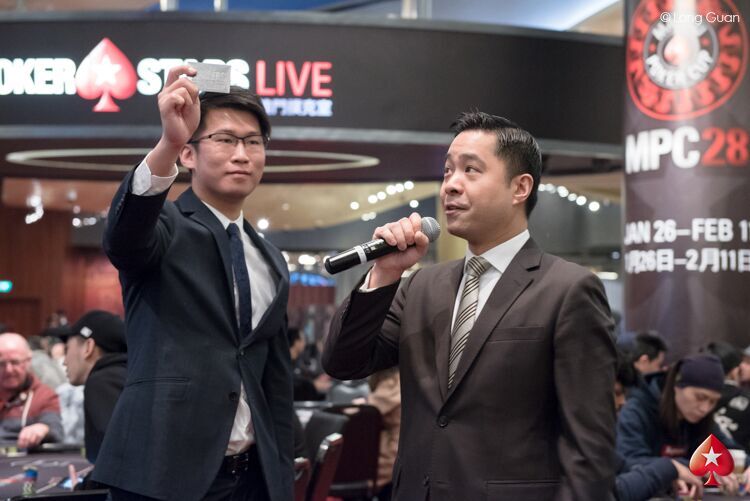 Yes, these numbers are real guys!
Once level 6 was over the data was beamed down to the PokerStars lab where a crack team of analysts pored over the numbers. The numbers were chopped, diced, filleted and par-boiled for 7 minutes with ginger and garlic before being served to us with a side of shoestring fries. No surprise they turned out to be so tasty.
The 493 entries from today combine with days 1A and 1B to create a total of 1,122 players. The prize pool will be a gargantuan HK$14,692,590, obliterating the 10 million guarantee by nearly 50%. First place will receive a sumptuous HK$3,055,000, which includes an HK$100,000 2018 Asia Championship of Poker (ACOP) Main Event seat. Click here to see the full breakdown.
The good news doesn't end there. Just in case your appetite for value hasn't been sated, the winner will also receive the US$30,000 Platinum Pass.
With 135 players being paid a minimum of HK$29,200, there will be a room full of well-remunerated, happy, smiley faces once the payout slots are reached.
Bon appetit! –RS
12:50am: Trokymenko stack bisected
Level 8: Blinds 300/600(ante 100)
Oleksandr Trokhymenko just lost a massive 30,000 pot – flipping his nines against the A-Q of Koichi Morita and seeing the pot snatched from him as an ace peeled on the A♣ J♠ 7♦ J♣ 2♠ board.
He looked unperturbed by this setback, chatting to a friend on the rail before taking a long look at his reduced stack and slipping back into strategy mode. 15,000 or 25 big blinds still gives him ample opportunity to build some momentum.
Morita wasn't betraying any emotion, organising his new 33,000 into neat columns with a stony, impassive face. A true poker face in evidence there folks. –RS
12:30pm: King Henrik scores big double up
Level 8: Blinds 300/600 (ante 100)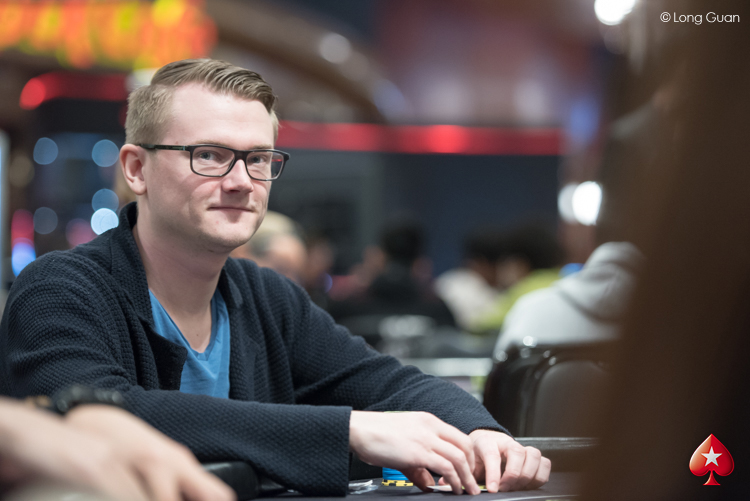 Henrik Tollefsen
Norway's Henrik Tollefsen has been finding plenty of success playing poker in Asia over the last few years and his chances in this one just went up thanks to a successful double.
The hand saw an early position player open for 1,200, get a call from a player in middle position as well as Tollefsen from late position.
The calls weren't over, however, as Rabeev Deepak Raut also called from the button as did Wenling Gao on the big blind. It was as close to a family pot as you tend to get in these events as the dealer put out a flop of 10♥ 6♦ 5♦ .
Action checked to Tollefsen who fired 2,100 into the pot. Raut made the call as did Gao but everyone else got off the train.
The turn came A♠ and Gao checked but Tollefsen moved his entire stack of 9,500 into the middle.
Raut thought for a beat or two but made the call, having Tollefsen covered. Gao took a little more time pondering her decision. While Gao was in the midst of weighing out her options an explosion of cheers erupted from the middle of the poker room, which is playing host to an action-packed flip out tournament.
"Sounds like they are having more fun than us," joked Tollefsen.
Eventually Gao folded and Tollefsen immediately flipped over a draw-heavy Q♦ J♦ , which was behind Raut's J♠ 10♦ .
The river changed everything, however, when it came K♥ , which locked up the pot for Tollefsen.
Tollefsen was up to just past 30,000 after the hand and seems to be having fun, even if he's not playing a flip out tournament. –AC
12:20am: Moss growing at top of chip counts
Level 8: Blinds 300/600(ante 100)
Matthew Moss has been quietly building his stack like a champion through the opening levels of the day. He's possibly the chip leader as we speak with over 120,000 – an absolute monster of a stack at this stage.
Moss has built up a huge databank of experience over his poker career including a deep run in the WSOP $10,000 Main Event where he finished tantalisingly short of the November nine in 21st for just shy of US$270,000.
The Englishman will be a tough proposition if he keeps this up – could a first Red Dragon title be beckoning? –RS
11:55pm: Registration over, real game begins
Level 7: Blinds 250/500 (ante 100)
We're into Level 7, which means registration has officially come to an end for the 28th edition of the Red Dragon.
The board is currently telling us that 492 players registered today but there might be a few more that snuck in under the radar.
If 492 players did indeed register today that would bring our three-day total to well over 1,100, which is impressive no matter how you slice it.
We'll have finalized numbers momentarily and later in the evening we'll also have a prize pool for you to peruse. –AC
11:45pm: Nanonoko hits dry spell
Level 7: Blinds 250/500(ante 75)
Grinding like a champ is second nature to @nanonoko
Sometimes poker requires vast reserves of patience. No spots and no hands can make the game a little frustrating. It takes a strong will to stop yourself from forcing the action and overplaying a hand. Team PokerStars Pro Randy "Nanonoko" Lew is currently having his patience put to the test as he revealed in his latest tweet.
"Been playing the #RedDragon day1c of this massive event. Been folding all day. Any tips for me 2x winner @CelinaLin ? Don't wanna go back to bustonoko"
It can't hurt to get a word of advice from two-time Red Dragon winner Celina Lin. We have faith you'll find a way out of this barren run Randy! –RS
11:22pm: Break is up!
Level 6: Blinds 200/400(ante 75)
The end of level six signals the players now have a fifteen minute break to calm down re-assess and focus their plans on the second half of the day.
We'll be back shortly to take Red Dragon Day 1C into level 7. –RS
11:18pm: Agarwal blunts reaper's scythe
Level 6: Blinds 200/400(ante 75)
Team PokerStars Pro Aditya Agarwal was sat with a wry smile on his face at the table – his fortunes having waned through the day and down to his last 6,625.
As we checked his stack, a player opened to 1,050 and Agarwal moved all-in for all the biscuits at his disposal. The opener called with pocket eights, Agarwal flipped A♥ J♣ and the pair were off to the races.
Agarwal's horse was the swifter of the two, racing into the lead as the board fell J♠ 9♣ 5♦ 4♣ 6♣ to give him the winning hand and a stack of around 14,000. Back in the game. –RS
11:10pm: Everyone flips for flip outs!
Level 6: Blinds 200/400 (ante 50)
The flip out tournament is very much a Macau specialty and the crowd here in the PokerStars LIVE Macau poker room are loving it.
For the uninitiated the flip out is an action-packed game where every player is all-in blind. It's over in exactly one hand. It makes for quite the spectacle when played in the middle of the poker room with every player's friends and family cheering them on.
It helps that the tournament staff does a fantastic job announcing the hands and adding a little drama to the situation.
Players who win their respective flip out table make it into the money and qualify for the second round of the tournament, which switches to a regular No-Limit Hold'em freezeout with an augmented prize pool.
Regardless everyone is flipping out and loving it. –AC
11:05pm: Going nowhere with top pair
Level 5: Blinds 150/300 (ante 50)
Jeho Lee has moved up to 73,000 after he won a big four-way pot.
He has raised form under the gun and picked up three callers. The flop came 7♣ 6♥ 3♦ and Lee continue for 3,500. He was called twice before Juan Zhou check-raised all-in for around 17,000. Lee, who was more interested with something on his phone, looked up and called, before diverting his attention back to his phone. The two callers mucked their holdings and the cards were flipped up.
Zhou: 7♠ 8♠
Lee: K♥ 7♥
The boards ran out 2♦ K♠ to improve Lee to two pair, and send Zhou to the rail. –MC
10:50pm: Gao backs into two pair
Level 6: Blinds 200/400 (ante 50)
Wenling Gao backed into two pair and got paid to see her stack swell to 41,000.
She opened from middle position and was called in two spots, including Henrik Tollefsen in the big blind. The flop fanned 4♠ Q♦ 2♥ and Gao's 2,400 c-bet was only check-called by Tollefsen. Both players checked the J♠ turn before Tollefsen check-called another 4,500 on the 10♥ river. He then mucked upon seeing her J♦ 10♦ to drop to 16,000. –MC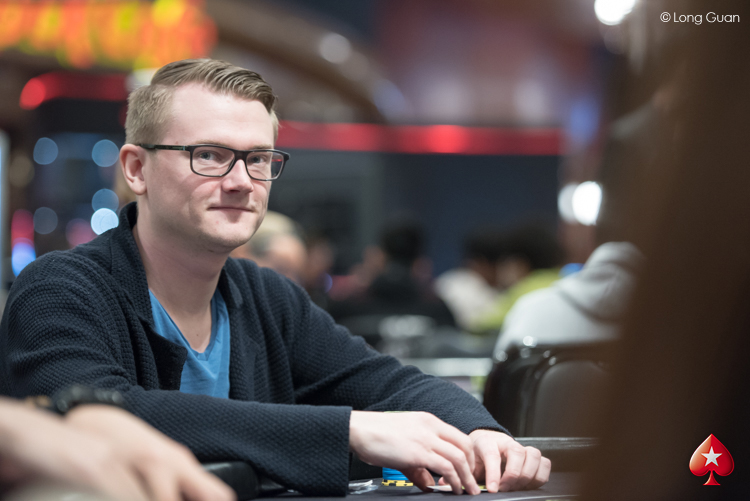 Henrik Tollefsen lost this one
10:42pm: Go Team Bro!
Level 6: Blinds 200/400 (ante 50)
Table nine is proving highly entertaining. It has a mix of garrulous and talented players, including Henrik Tollefson, who has over a million dollars in cashes from Asia and across Europe and Wenling Gao, wearing a Team Pro patch from her sponsor.
Gao has an impressive poker pedigree with $200,000 in poker winnings but she's a little upset right now at the felt and was making her feelings felt verbally.
The object of her wrath was the player in seat 10 who was chuckling merrily away at the onslaught. We think he may have hit an ace with ace-jack versus the jacks of Gao, although we sadly missed the hands and just caught the board before the dealer swept up the cards.
"Gamble!" said seat 10 with a grin, drawing another tirade from Gao. He had at least one advocate at the table though, Rajesh Goyal sharing a joke with him.
"She is Team Pro," he said, pointing to Gao. "We are Team Bro!" he laughed, gesturing at new friend Goyal. There were chuckles all round – apart from Gao who gave him another withering glance.
She's still in fine shape though, with just over her starting stack. –RS
10:23pm: Jackpot! Scott Davies makes a set with 77
Level 5: Blinds 150/300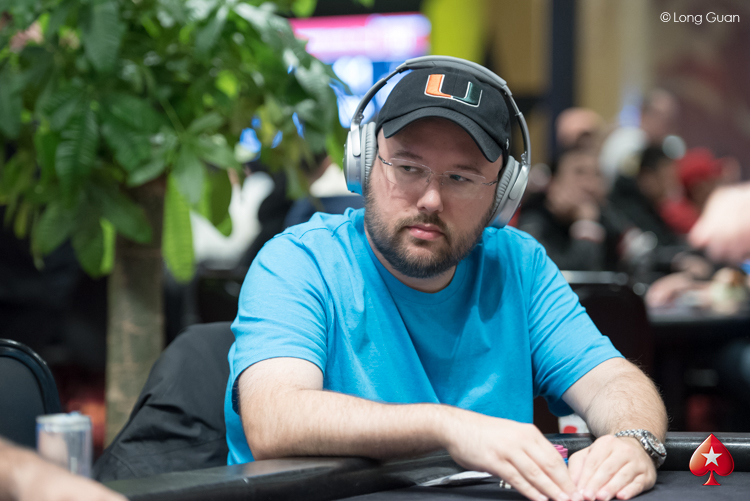 Scott Davies
Scott Davies just hit a killer flop in a multi-way pot.
The hand began with a player in early position betting 625. That attracted four callers including Davies who was on the cutoff and both of the blinds.
The flop came A♣ 7♥ 3♥ and both the blinds checked but the initial bettor fired 2,000 into the pot. The next player to act re-popped it to 4,500 and Davies thought for a minute or two before announcing he was all-in for another 7,075.
The blinds got out of the way and the initial bettor decided to follow them. Davies remaining opponent thought about it for 30 seconds but eventually called and tabled 9♥ 8♥ for the draw.
Davies flipped over 7♦ 7♣ for a set of sevens. The board finished with the K♠ and then the A♦ . That was enough to net Davies the pot. The American pro more than doubled to just over 26,000. –AC
10:20pm: Xiujun hits Jin on the flop
Level 5: Blinds 150/300 (ante 50)
Xiujun Jin sat with a satisfied smile on her face after she flopped a set and got three streets of value to see her stack rise to around 45,000.
Yungbo Guan had opened to 750 from under the gun and was called by Jin in middle position and Zhijun Shen on the button. The flop spread 8♠ A♦ 4♥ and Guan's 750 c-bet was only called by Jin. The turn was the J♣ and Guan fired another 3,000 and Jin called again after some consideration. There was no consideration on the 6♠ river from Jin as she snapped off an 8,000 bet with 4♣ 4♦ . Guan could only muster up 10♣ 8♣ and dropped to just 7,000. –MC
10:02pm: Dragon Slain!
Level 5: Blinds 150/300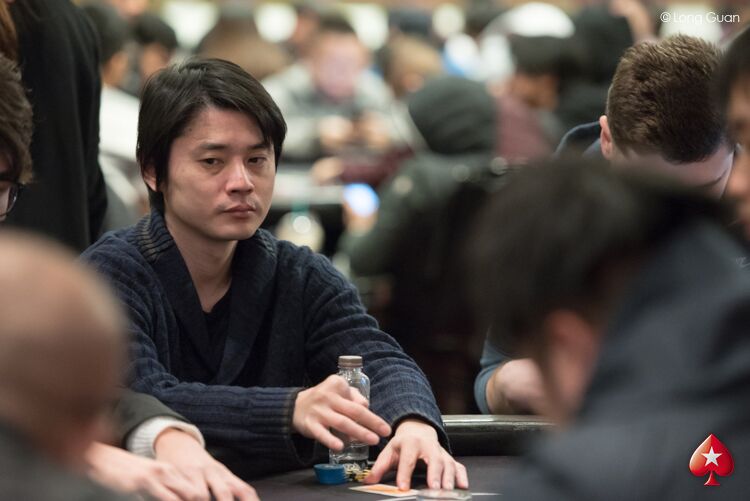 Dragon's wings clipped.
Kenichi Takarabe is one of the players who can claim legitimate Dragon status having won the Red Dragon event at MPC10. He won't be picking up a second title here however as his tournament was ended in what we think was an A♠ Q♠ versus pocket aces battle on a two spade board.
Good game sir. — RS
9.40pm: Xiang trips up Bhagwan
Level 4: Blinds 100/200
Li Xiang is on the ascendant following a skirmish with Umesh Bhagwan. Xiang opened from the cut-off to 525 and Bhagwan three-bet from the small blind to 1,525. Xiang had a think then put out the additional chips.
THe flop came Q♣ Q♥ 10♣ and after getting a quick count of Xiang's chips, Bhagwan checked. Xiang also checked back.
The turn was a 3♠ and again both players tapped the table.
The 3♣ on the river finally elicited some post-flop action, Bhagwan checking once more and Xiang firing out 2,100. Bhagwan didn't look happy but made the call only to find Xiang had rivered a boat with A-3 to win the pot once Bhagwan mucked. Xiang up to 17,000 after a bad start and Bhagwan drops to 15,000. –RS
9:25pm: Paulsen goes AA>KK to grab an early double
Level 4: Blinds 100/200
Norwegian Kai Danilo Paulsen just got pocket aces at the best possible time.
Paulsen got into a pre-flop raising war with his opponent Go Harada. Both players took turn firing bets back-and-forth before Paulsen finally moved all-in and Harada called.
Harada had Paulsen barely covered but was in a very tough spot with K♥ K♦ to Paulsen's A♥ A♦ .
The board ran out 10♥ 8♠ 7♦ 2♠ 5♠ to give Paulsen the checkmark and double him up to about 36,000.
It's a very nice start for the Norwegian who has a host of cashes across Asia including winning the APT Game of Champions here in Macau back in November. –AC
9:15pm: The Gathy-man comes
Level 4: Blinds 100/200
Macau is a long ways from Belgium but that hasn't kept two-time WSOP bracelet winner Michael Gathy from getting in on the Red Dragon action.
Gathy is easily one of the biggest all-time tournament earners in the field today with a staggering $2.4 million in lifetime results.
The Brussels native become the second player from Belgium to win a WSOP bracelet in 2013 when he took down a $1,000 NLHE Turbo event for $278,613 but in 2016 he become the first-ever two-time WSOP bracelet winner when he won the $5,000 buy-in 6-Max event for a staggering $560,843.
Gathy likely is one of the many players in the field that would be excited about the prospect of winning the $30,000 Platinum Package to the 2019 PSPC and taking a stab at what will be one of the most value-laden tournaments ever held. –AC
9:00pm: First break
Level 3: Blinds 75/150
It's been an impressive start to Day 1C of the MPC28 Red Dragon and we've already hit 425 entries through the first three levels of play.
Players just headed out for their first 15-minute break of the day. –AC
8:55pm: Handy Randy warms up for Dragon with a row
Level 3: Blinds 75/150
Perhaps the most well known player here might be Team PokerStars Pro Randy Lew aka Nanonoko.
Nanonoko shot to fame as a poker star for his ability to simultaneously play 24 tables online profitably.
Nanonoko has only been in Macau for a day or so but already he's had quite an adventure. Yesterday he tweeted, "I'm on a boat rowing my way to Macau from Hong Kong now. So BUSTO wasn't able to take a ferry."
He'll be looking to pick up a Dragon title here and you never know he might even make enough on his trip to be able to afford the ferry back. Good luck Randy! –RS
8:45pm: Sushant gets flushed
Level 3: Blinds 75/150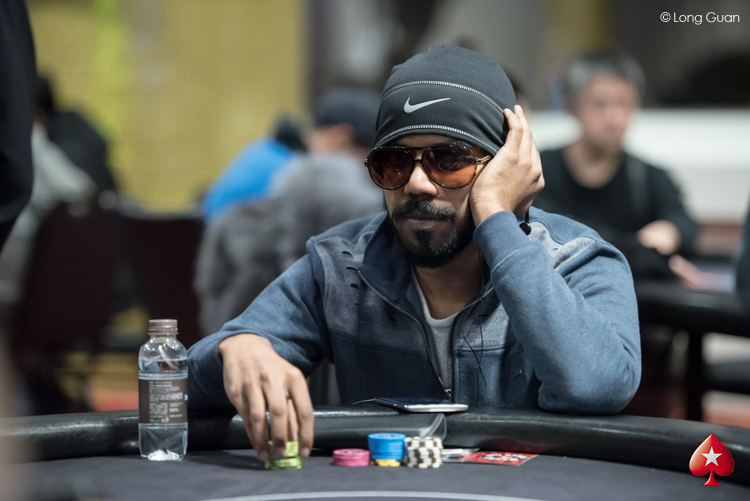 Aditya Sushant
WSOP bracelet winner Aditya Sushant just hit a major stumbling block in the first few levels of Day 1B of the Red Dragon.
We joined the action on the turn of a 9♥ 7♠ 2♣ J♣ with Yuzhon Wang having just placed a pot sized bet of 2,500. Sushant opted to call and that brought on a dramatic A♣ river card.
Wang decided to move all-in for a total of 9,225. That sent Sushant deep into the tank as he weighed his options. Finally Sushant threw two 5,000 chips in the middle to signify a call.
Wang immediately smacked down K♣ Q♣ and exclaimed, "Flush!" as he fist pumped.
It was a devastating blow for Sushant who was knocked to under 2,000 chips. The Indian pro will have to work fast if he wants to make it much further in this one. –AC
8:27pm: Sailing through the sea of faces
Level 1: Blinds 50/100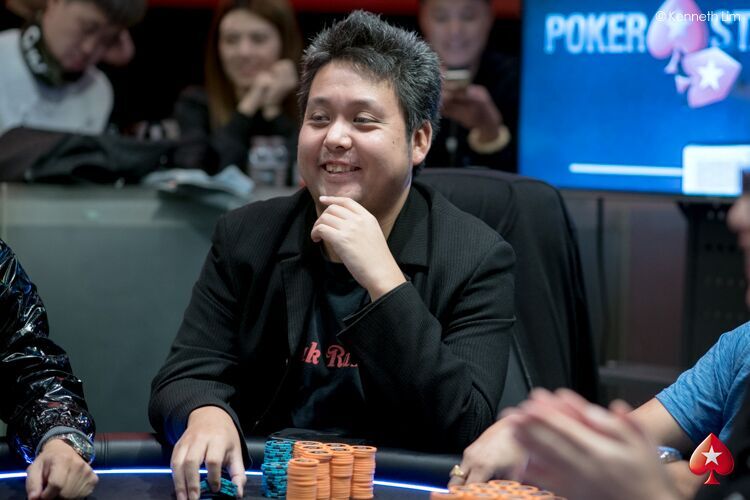 Baby Dragon finalist Ono is looking to slay another Dragon.
There are a number of auspicious faces amongst this monster field. Here's just a few of them and there will plenty more to talk about as the day progresses.
Norwegian Kai Paulsen has been crushing poker for about a decade, having racked up $721,985 in tournament winnings over the years – his biggest result coming at the 2008 Irish Open where he finished 5th for US$275,856.
Joining Paulsen from European shores is Pole Karol Janiszewski, who has been a regular visitor to Macau. Janiszewski is building a reputation as a tough tournament player and will be looking to add to his own six figure resume of tournament cashes here.
Returning for another shot at Dragon glory is Baby Dragon final tablist, Japanese player Tomomitsu Omo. Omo finished 9th in the Red Dragon's little sister competition and that deep run has clearly whetted his appetite for success. He'll be looking to sate that hunger with another impressive showing here. –RS
8:14pm: Roll call
Level 2: Blinds 50/100
As expected Day 1C will be the biggest starting day for the 28th edition of the Red Dragon and that includes a wealth of skilled players from around the globe.
Take a quick journey around the room and you'll see locals Ben Lai, Sparrow Cheung, and Terrence Wu in addition to Malaysia's Junzong Loo. Several Indian players including Team PokerStars Pro Aditya Agarwal and countrymen Aditya Sushant, Kunal Patni are also in the field.
There are also some American pros in the field including Randy Lew and former WSOP APAC Main Event winner Scott Davies.
With more and more players funneling in through the entrance Day 1C promises to offer an intriguing line up of players. –AC
8:05pm: Agarwal plays through the pain
Level 2: Blinds 50/100
Team PokerStars Pro Aditya Agarwal is in the house for Day 1C, but it was looking like he might not be able to play earlier.
India's premiere poker star put his lower back out earlier on and feared he'd have to miss the event completely. We're glad to see he's well enough to participate and we'll keep a gentle eye on his progress today.
Aditya's wife Shuchi Chamaria, also a poker pro, failed to make it through Day 1A so he'll have two play through the pain barrier as someone in the family has to earn the rent money! –MC
7:50pm: Field blasts past 350 players
Level 1: Blinds 25/50
Batten down the hatches, we're in for a big one here at the PokerStars LIVE Macau room at City of Dreams.
We're already up to 376 players and we're not even through the first level of play, which means this is already the biggest starting day of the MPC28 Red Dragon, easily surpassing the 349 from yesterday.
Registration is open all the through Level 6 so we'll see quite a few more players added to the field before everything is done and said.
It's anyone's guess as to how many players the field will hit but passing 400 seems like a foregone conclusion at this point. –AC
7:36pm: Schumacher zooms into pole position
Level 1: Blinds 25/50
Terry Schumacher has chipped up well in the early stages, notably winning a nice pot by calling two streets of aggression on a A♠ Q♣ 7♣ 2♠ 7♦ – 1,400 on the flop and then 4,000 on the turn before his opponent shut down with his airball 8♦ 9♦ on the river. Schumacher checked back his A♣ K♠ to take the 10,000+ pot down with top, top and move to 27,000 – a nice start. — RS
7:15pm: Terrence Wu looks for revenge
Level 1: Blinds 25/50
One familiar face in the early stages of Day 1C belongs to fitness model Terrence Wu.
You might remember Wu from the last edition of this tournament where he was narrowly defeated by Qiuming Qin during heads-up play.
Wu picked up a sizable HK$2.4m for coming in second place. The Hong Kong resident considers himself a recreational player but he'd definitely likely to close this one out this time around. –AC
7:02pm: Feeling bullish?
Level 1: Blinds 25/50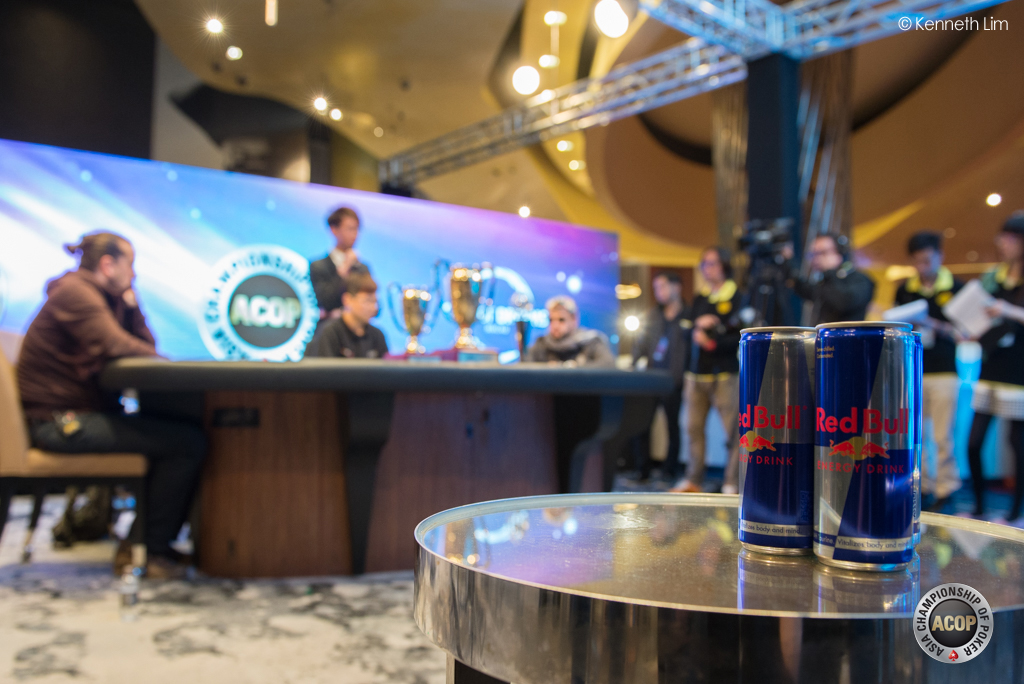 The Red Bull cans are loving the action.
Day 1C is just getting underway so let us just remind you that Red Bull are the EXCLUSIVE energy drink providers here at PokerStars LIVE, Macau and there are free red bulls in fridges around the casino if you fancy a refreshment. –RS
6:50pm: Red Dragon set to soar on Day 1C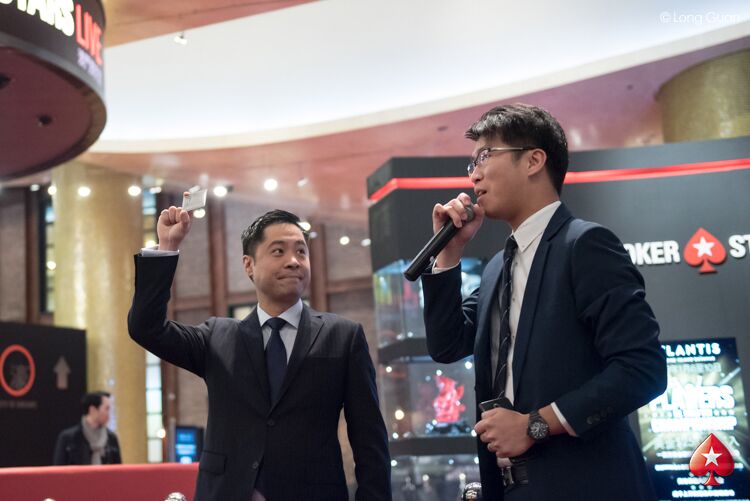 Hunker down for a feast of poker!
Another starting day, another massive field for the MPC28 Red Dragon Main Event.
Day 1C is the final starting day for the Red Dragon so we're expecting the PokerStars LIVE Macau poker room to get absolutely packed.
We're got a little later start time today at 7 p.m., which should allow every Hong Kong poker fan with a day job to have enough time to hop on a ferry and get in on what is the biggest freezeout tournament in Asia.
We've mentioned it numerous times but it bears repeating that this edition of the Red Dragon is extra special because PokerStars added a $30,000 Platinum Package to first place.
The Platinum Package includes airfare, accommodations and, most importantly, a seat to the inaugural $25,000 buy-in PokerStars Players Championship in the Bahamas next year. There's never been anything like it in the poker world and it promises to be a truly unique event.
Of course even without considering the Platinum Package at stake for first place there's also the HK$10,000,000 guaranteed prize pool. Not bad considering the buy-in for the MPC28 Red Dragon is just HK$13,500 + 1,500.
Yesterday 349 runners flocked to the PokerStars LIVE poker room but we're expecting an even bigger one today with darn near every poker pro in the Macau area to get in on the action in addition to numerous visitors.
It should be a good one so be sure to return to this page and keep checking how this monster of an event progresses. –AC
PokerStars Blog reporting team at the MPC: Marc Convey, Arthur Crowson and Rod Stirzaker. Photography by Long Guan of Kenneth Lim Photography. Videos by Alex Pinkett of 23 Digital
Back to Top