PokerStars today announced Ramón Colillas as the newest member of Team PokerStars Pro, capping a phenomenal couple of months for the 30-year-old from Spain. Colillas has now followed up his extraordinary victory in the PokerStars Players Championship (PSPC), worth $5.1 million, with ascension to the world's best-known poker team.
On the face of it, Colillas's elevation through poker's ranks — from obscurity to front pages in six weeks — is unprecedented. But here's a slightly fuller timeline of how he did it. It all began with a quest for a thin slice of precious metal, known as a Platinum Pass. And that particular hunt began in his home town of Barcelona about a year ago.
---
A battle in Barcelona
Towards the end of February 2018, Colillas was one of a record-breaking 831 players who took their seats at the €500 buy-in Campeonato Espana de Poker (CEP) tournament in Barcelona. PokerStars had recently partnered with Spain's official national poker tour, offering a PSPC Platinum Pass for the winner of the series leader board. Points were on offer to players who made Day 2 of any tournament, with incrementally more then being awarded to in-the-money finishers.
The tour was due to head to Barcelona, San Sebastian, Madrid, Marbella and Peralada, so there was plenty of play and plenty to play for. The man or woman on top at the end of it would be heading to the Bahamas. And it turned out to be far from a foregone conclusion.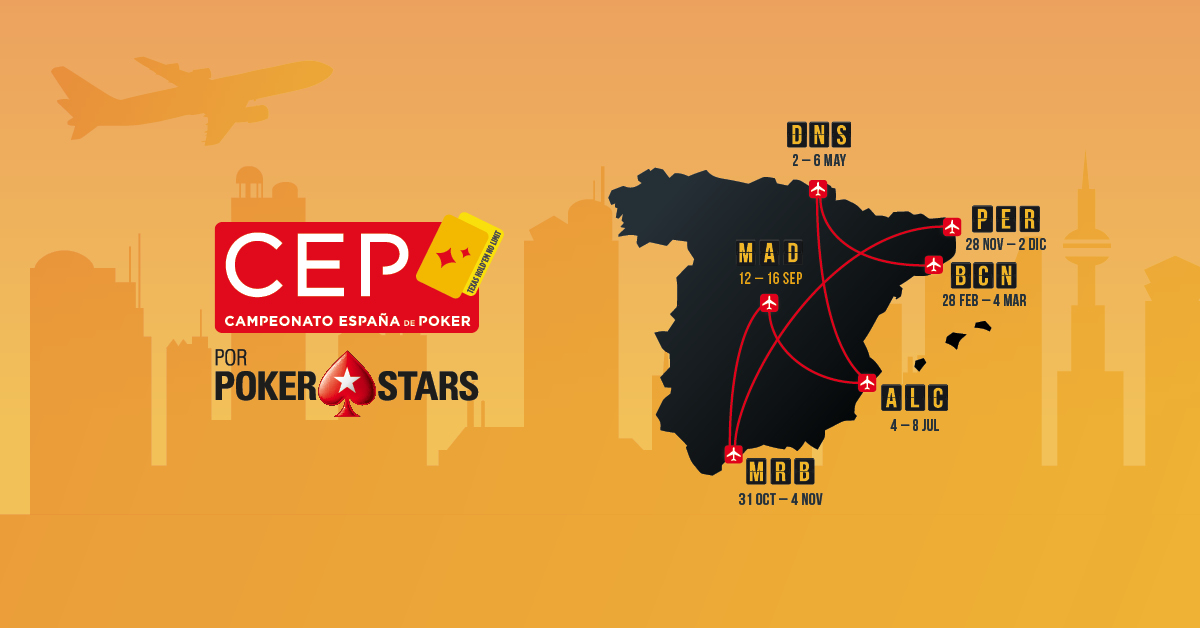 Colillas could not have harboured serious expectations of heading to the PSPC when he finished Day 1 of the Barcelona tournament in 76th place out of 204 survivors. However, his progress through the first day gave him his first leader board points, and he earned a few more when he was still scrapping on Day 2 when the money bubble burst. He finished the day 34th out of 40 survivors.
His determination was rewarded spectacularly Day 3. It belonged to Colillas. He vaulted to the chip lead at the start of the nine-handed final table. He then overcame an early blip to knock out four of his last six opponents, leaving him heads up with Jordi Conejos.
---
MORE ABOUT RAMON COLLILAS:
PSPC WINNER! | WELCOME TO THE TEAM | 'ENGINEER OF A DREAM'
---
Previous three-handed deal negotiations had broken down, but both survivors were tired and reached an agreement. Colillas had the chip lead and so took the most money (€55,900) and the title. But he was also forced to chop the leader board points, meaning he and Conejos were co-leaders heading to Alicante for the second leg in July. The battle with Conejos ended up lasting the entire season, with Collilas trailing his rival for most of it.
However Colillas had an extra incentive. After chopping the event in Barcelona, his girlfriend Nesrine had issued him an edict. "My girlfriend's birthday was coming and she told me that this year she did not want anything, she just wanted to go to the Bahamas," Colillas said.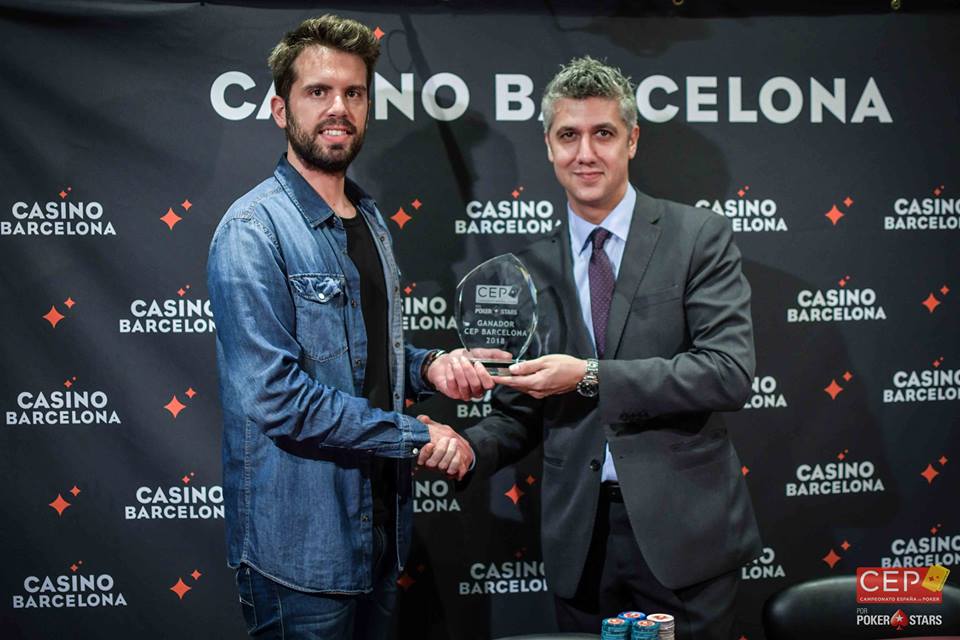 Ramon Colillas wins in Barcelona
Slim pickings in San Sebastian and Alicante
Conejos assumed the overall lead in the Platinum Pass race after he also managed to cash in the tour's second event, in San Sebastian in May. Colillas crashed out before the money bubble in this 305-runner tournament, but Conejos finished in 13th. The new champion Isabel Zapatería also forced her way towards the top of the Platinum Pass race after her €28,500 success.
The tournament in Alicante in July was another record breaker: 322 players sat down, the most ever at the location, with Ismael Hernández emerging as the champion and €18,446 richer. Colillas did not trouble the cashiers on this occasion either, despite beginning with high hopes.
Un largo viaje y ya en Alicante. Normalmente después de ganar un @CNP_POKER suelo ganar un @CEP_Poker ??, o sea que allá vamos!! pic.twitter.com/DlrRrtu6A4

— RamonColi (@Mr__Boxes) July 5, 2018
A trip to the capital
An even 340 players went to Madrid in September and Colillas was there when only 19 remained. That was good enough for a cash, and some leader board points, but his A♣Q♠ couldn't beat the 5♦5♣ of David Sierra (Colillas flopped an ace; Sierra rivered a five) and Colillas departed, still behind Conejos in the leader board race. Sierra at least put the chips to good use and went on to win the tournament.
A veces sólo hay que pedirlo…? Pasamos a dia 2 con 197k en media 105k aprox. Mañana seguimos. #buenregalodecumple pic.twitter.com/n3gWleJhSa

— RamonColi (@Mr__Boxes) September 14, 2018
Not so marvellous Marbella
By the time the tour made its penultimate stop in Marbella, it was a three-horse race at the top of the leader board. Zapatería, Conejos and Colillas were still in the gold (or, rather, Platinum), silver and bronze places. Maybe the pressure got to them all. Only Colillas picked up any points, squeezing into Day 2 with eight big blinds. It wasn't much (and he didn't cash) but the few points kept him in the hunt.
Hoy dia 2 del @CEP_Poker Marbella, con un stackazo de 8bb…que se van a multiplicar unas cuantas veces ?!!

— RamonColi (@Mr__Boxes) November 3, 2018
Points in Peralada
By the time the tour reached Peralada, the contest-within-a-contest was still wide open. It wasn't completely straightforward, but the general gist was that whichever of the leading trio finished highest, they would take the Platinum Pass. A handful of other players still had dim hopes, but would need to win the event to prevail. All the focus was on Conejos, Zapatería and Colillas — and with the stage set, Colillas seized his chance.
All three of them entered Day 1A, and both Colillas and Zapatería bagged at the end, meaning they had locked up a handful of points. Conejos busted Day 1A, so was obliged to re-enter Day 1B. But he navigated those nine levels with 63,300 (starting stack was 30,000) and so the contest continued.
For Colillas, Day 2 was an object lesson in simply avoiding danger. Conejos, who had led the leader board for much of the season, was first to depart. He ran A♣Q♦ into a pair of queens, and was immediately locked out of contention. Zapatería was now in the lead. But then disaster struck for her as well when her A♦4♠ couldn't beat an opponent's ace-ten. Collilas was the last one left, but still needed to steer his way into the money to earn enough leader board points.
"I'm calm right now because I know I'm dependent on myself," Colillas told tournament reporters. He battened down the hatches and played what the reporters described as ABC poker, watching opponents depart and moving him ever closer to the main reward. Jordi Burset went out on the bubble, giving Colillas another in-the-money finish and a near lock on the title. And even though he fell short of the final, neither Iván Gimeno nor Iñaki Aguirre, who were technically still in with a chance of winning the leader board, could go all the way to the podium. It meant Collilas had his hands on the Pass.
Y redondeamos el año ganando también el Campeonato de España de Poker @CEP_Poker éste fin de semana en Perelada. Inolvidable 2018. pic.twitter.com/VImPsNgXPY

— Ramon Colillas (@Mr__Boxes) December 3, 2018
---
COLILLAS'S CEP RUN – AT A GLANCE
Barcelona – Feb 28 – Mar 5: WON
San Sebastian – May 2-6: Did not cash
Alicante – July 4-8: Did not cash
Madrid – September 12-16: Cashed, finished 19th
Marbella – October 31: Made Day 2
Peralada – November 28: Made Day 2 and cashed
---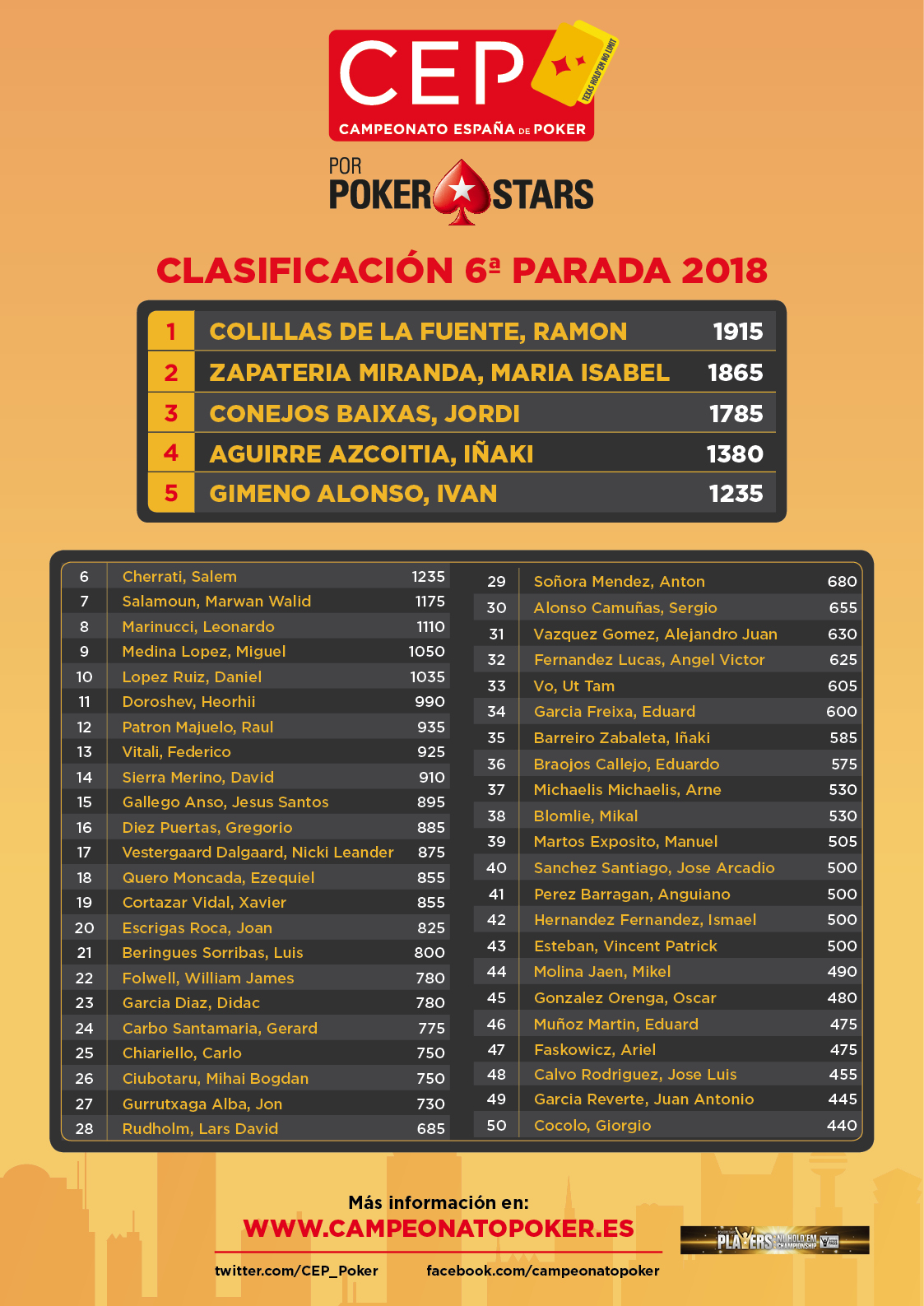 Final CEP leader board
On to The Bahamas
By securing his Platinum Pass, Colillas had delivered his first stated aim. He and his girlfriend would be spending January in the Caribbean. They made a brief stop in New York en route, before arriving to the Atlantis Resort. Colillas was no different from any other hopeful, taking photos of the trophy and his tournament ticket, before admiring the view of a $25,000 buy-in live tournament that had attracted more than 1,000 people.
Así está el ambiente en la poker room. Llenazooo casi 1k players. Estamos en mesa soñada para ser un 25k pero de momento no lo aprovechamos. 55k en media 64k. Gogo #PSPC pic.twitter.com/QBuW368uM9

— Ramon Colillas (@Mr__Boxes) January 6, 2019
Starting stack in the event was 60,000 and by the end of the opening day, Colillas had built his to 145,000, which put him 88th out of the 770 still involved. But he pushed on into the upper echelons during Day 2, which he finished with 635,000, good for 17th of 207 left. They weren't yet in the money — the bubble burst early on Day 3 — by which point Colillas was still charging.
---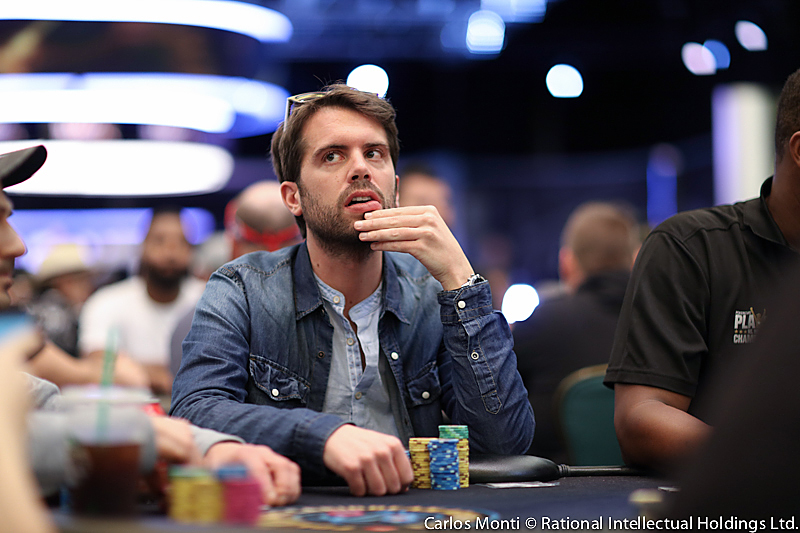 Ramon Colillas on Day 2: Still only dreaming
---
They pushed on through the money bubble and Colilas rolled with the punches. He lost with aces to Christopher Johnson's threes, but also knocked out Michael Dix with A♣8♠ to Dix's A♦Q♥ (Colillas flopped an eight) and sent Felix "xflixx" Schneiders packing, with tens against Schneiders' nines. Colillas bagged 2.895 million at the end of the day, which put him fifth of 38 remaining.
Day 4 was the race to the final table, and things were now getting serious. Colillas might have hit the rail a couple of times, but managed to get queens to beat Yiannis Liperis's tens, and then got A♠J♥ to stand up against Griffin Benger's A♠J♥, all but extinguishing Benger's hopes. Colillas also managed to dodge a potential three-way skirmish, in which he would have finished third of three. He folded pocket nines when Farad Jattin knocked out Atanas Pavlov, with A♦Q♠ beating J♠J♥.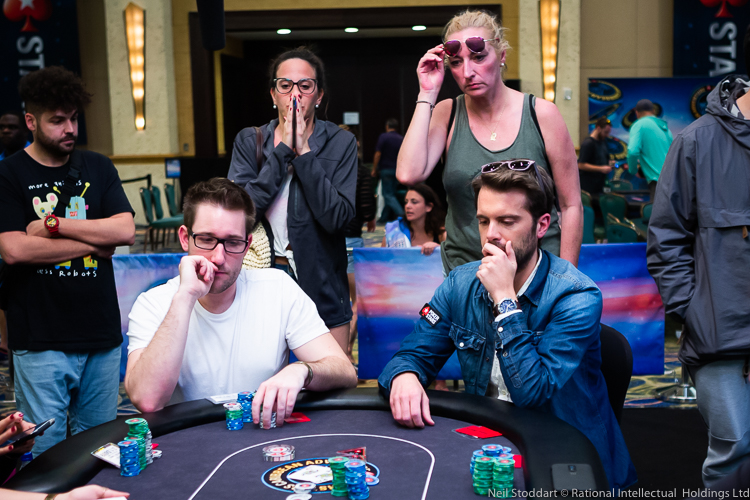 Colillas doubles on Day 4
Colillas was still there with chips when the final table was set. His stack was now 8.3 million, fifth of the final eight, as they returned to battle for the title. And, as our full report from the day will remind you, everything turned to gold on the final day for Colillas.
Julien Martini cracked Talal Shakerchi's aces to send the British businessman out in eighth, and then when Scott Baumstein knocked out Farad Jattin, the last six were all guaranteed at least $1 million. Colillas's kings then accounted for Marc Perrault, and his pocket fives did for Jason Koonce (although it was a big pot earlier between the two, when Collilas's K♣T♣ became two pair that did most damage).
---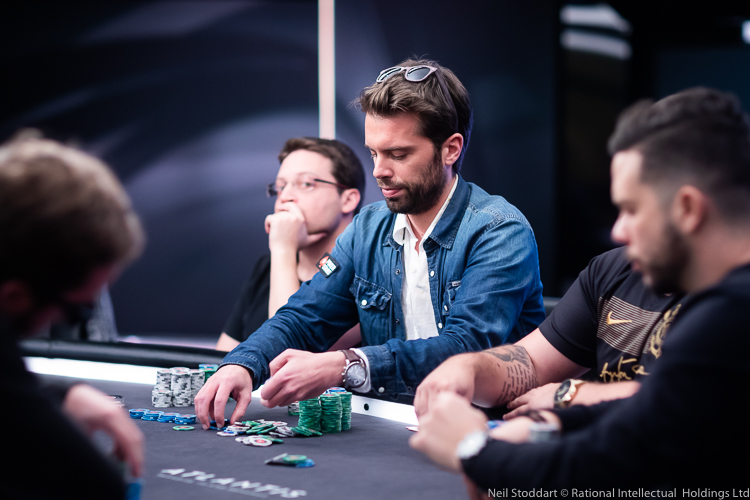 Gathering chips at the final table
---
Martini then shook Baumstein from the tournament in fourth, by which point Colillas was under a bit of pressure with the shortest stack of the last three. However, he scored a double through fellow Platinum Pass holder Marc Rivera, and then watched Martini finish the job on the man from the Philippines. It left Colillas and Martini heads up. But there could be only one winner.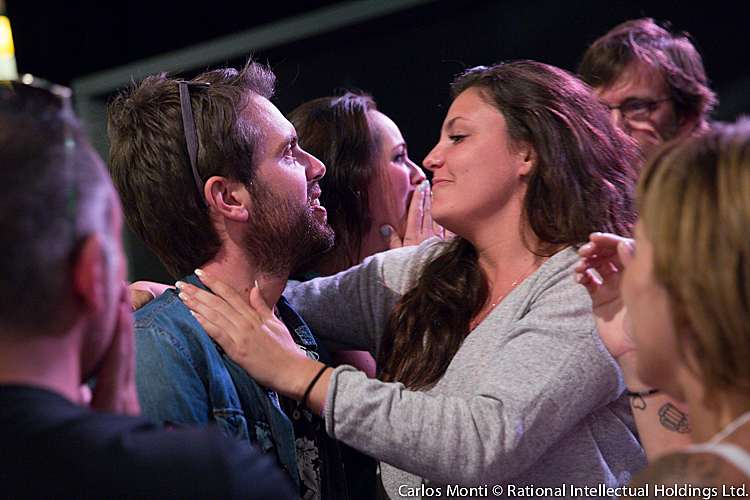 Colillas celebrates at the end of the PSPC
---
Ramón Colillas' PSPC run:
Day 2 start: 145,000 – 88th (of 770)
Day 3 start: 635,000 – 17th (of 207)
Day 4 start: 2.895 million 5th (of 38)
Day 5 start: 8.3 million 5th (of 8)
---
Welcome!
Back to Top