Felix piscis! That's Latin for lucky fish. The U.K.'s luckyfish89 pulled off an electrifying victory in SCOOP Event #18-H, which also doubled as the Thursday Thrill Special Edition. For the majority of Day 2, owilson25 held an air-tight chip lead and it looked like he was going to run away with the SCOOP title. It wasn't until the final table when action got four-handed before owilson25 lost the lead for the first time since late in Day 1.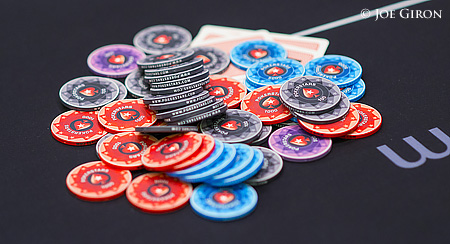 The heads-up bout between luckyfish89 and owilson25 lasted nearly an hour in a taut battle. The two eventually rumbled in the largest pot of the tournament worth 120M. luckyfish89 flopped a set of nines, which held up against owilson25's flush and gutterball draws. luckyfish25 landed the knockout blow three hands later.
For this progressive knockout bounty event, luckyfish89 banked nearly $65K in PKOs. Including prize money, luckyfish walked away with a fortuitous payday worth $170K. And if you thought this win was a fluke, luckyfish89 binked the Thursday Thrill at least two other times… in 2016 and 2018. He was also a runner-up at the Sunday Million in 2016.
2018 SCOOP-18-H – QUICK STATS:
1,344 runners
$104,935.81 first place
$1,344,000 prize pool
2018 SCOOP 18-H $1,050 NLHE Progressive KO also pulled double duty as the Thursday Thrill SE. The PKO attracted 1,344 runners. The total prize pool was $1,344,000 in this $1 million guaranteed event. The bounty prize pool was $672,000. The top 161 places paid out
Honduras' owilson25 bagged up the most chips at the end of Day 1 with 5.9M. Only 74 players advanced to Day 2..It's nearly impossible to go wire-to-wire at the final table, so it was somewhat remarkable owilson25 retained his lead early on Day 2. As the field thinned down, owilson25 acted with the bravery of an old knight and handled all challengers, yet despite the gnarly armor, owilson25 never relinquished the lead. owilson25 held steadfast with 2 tables to go and didn't even sweat it during the final table bubble.
SCOOP-18-H – Final Table Chip Counts:
Seat 1: Cashcid Linc (12,453,307) + $13,671.87 bounty
Seat 2: xxMaecksxx (4,320,586) + $17,781.23 bounty
Seat 3: DanielLUCKY (14,724,027) + $7,890.62 bounty
Seat 4: luckyfish89 (17,363,909) + $8,630.85 bounty
Seat 5: Lincownz (9,534,464) + $12,499.99 bounty
Seat 6: MisterTipper (7,577,846) + $10,363.27 bounty
Seat 7: mcc3991 (16,318,854) + $5,308.58 bounty
Seat 8: P0KERPR02.0 (22,468,275) + $6,078.11 bounty
Seat 9: owilson25 (29,638,732) + $12,121.09 bounty
The final table commenced during Level 36 with blinds at 150K/300K and a 37.5K ante. Honduras' owilson25 led with 29.6M.
DOLLY PARTON'D 9 TO 5
Four players busted in a single orbit. In a span of six hands, the table went from nine to five. Big-stack bully owilson25 knocked out three of those four players. The beauty of late-KOs is that owilson25 banked three bounties worth over $20K in only six hands.
Short-stacked MisterTipper failed to double up with K♠ J♠ versus owilson25's Q♠ 10♥ . MisterTipper flopped a pair of Jacks, but the Q♣ on the turn gave owilson25 the lead. MisterTipper was the first to bust.
The battle of Queen-Six vs. Queen-Four had an M. Night Shyamalan twist with a death card on the river. The board finished up Q♦ 7♥ 5♣ K♥ 4♣ and Lincownz's Q♠ 6♠ lost to owilson25'ss Q♥ 4♥ . Lincownz hit the virtual rail in eighth place and owilson25 replied, "Que rico."
mcc3991 busted in seventh place on the next hand. mcc3991 outflopped pocket Cowboys with A♥ Q♣ , but luckyfish89 rivered a diamond four-flush with K♣ K♦ to win the pot. mcc3991 took home $15,361.18 for a seventh-place score.
xxMaecksxx made a valiant final stand with K♦ J♦ but it couldn't overcome owilson25's A♦ 2♠ . The German was dunzo in sixth place, which paid out $21,159.60.
CLUMSY END PERILOUSLY NEAR
Cashcid Linc failed to double up with A♣ 10♦ against DanielLUCKY's A♦ K♠ . DanielLUCKY hit the flop and solidified the lead with two pair. Cashcid Linc turned a Broadway gutshot draw, but whiffed on the river. DanielLUCKY won the pot with Kings-up and banked a bounty worth $6,835.94. Cashcid Linc earned $29,146.79 for fifth place.
With 4 to go, owilson25 continued to hold down the top spot and his bounty soared to over $31K. But for the first time all day, he faced opposing stacks with sizable firepower.
When owilson25 finally coughed up the lead, it wasn't by much and he wasn't out of power for too long. The top three stacks were almost equal. P0KERPR02.0 snatched the chip lead for a hot second before luckyfish89 took a brief turn in the top spot. owilson25 squashed the rebellion like a bug scurrying underneath his boot heal. owilson25 regained the lead and promptly knocked out one of his closest challengers.
P0KERPR02.0 four-bet shoved for 36.9M with Q♦ Q♥ . owilson25 called with A♦ K♥ . The board ran out 8♦ 6♥ 5♠ A♥ K♠ . owilson25 turned a pair of Aces and rivered two pair. P0KERPR02.0 got punched in the eye by owilson25's Big Slick.Fourth place paid out $40,148.90 for P0KERPR02.0.
The coup was officially over. With three to go, owilson25 chipped up to 78.8M and held nearly 60% of the remaining chips in play. luckyfish89 was second with 40M, while DanielLUCKY trailed with the shorty and 15.3M.
With three to go, DanielLUCKY made a move with A♣ 9♥ but wilson25 woke up with pocket cowboys! The K♠ K♦ held up for owilson25, who banked yet another bounty. DanielLUCKY busted in third place, which paid out $55,303.92.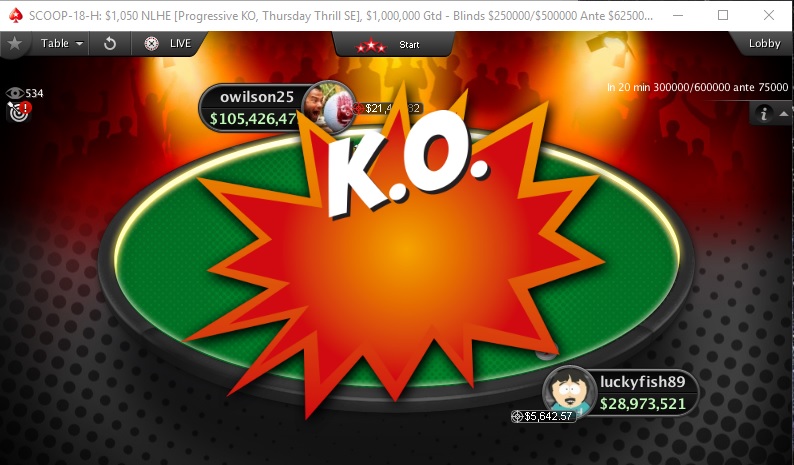 HEADS-UP: luckyfish89 (U.K.) vs. owilson25 (Honduras)
Seat 4: luckyfish89 (28,973,521) + $11,285.14 bounty
Seat 9: owilson25 (105,426,479) + $42,845.64 bounty
"Saludos a todos los catrachosssssssssssssssssss!" proclaimed owilson25 at the start of heads-up. owilson25 held a significant advantage when they began, but luckyfish89 drew first blood and significantly reduced the disadvantage by winning a 58M pot on the first hand by slow-playing pocket Queens. owilson25's lead was less than 19M.
luckyfish89 seized the lead a couple of hands later and it was a brand new ball game. The two would battle for nearly a full hour.
In the decisive hand of heads-up, luckyfish89 flopped a set of nines with 9♦ 9♠ and faded a couple of big draws from owilson25's A♠ 7♠ . All the money went in on the turn and owilson25 had a nut flush spades draw and a gutshot straight draw. Neither hit and luckyfish89 doubled up to win a pot worth 120M. Three hands later it was all over.
LUCKYFISH89 WINS SCOOP EVENT #18-H!
Rough ending for owilson25, who was decimated by a set of nines and bounced with trip eights. owilson25 made a final stand with A♣ 10♦ . All the money went in after owilson25 turned two pair. Alas, it was the Dead Man's Hand (a.k.a Aces and Eights). luckyfish89 flipped over Q♠ 8♠ for trip eights. It held up. owilson25 headed to the rail and luckfish89 won the pot and the tournament.
Kudos to owilson25, who won $76,179.53 for second place, plus an astounding $42,345.69 in PKO bounties, which was second-best in the entire tournament.
Congrats to the U.K.'s luckyfish89, who earned a first-place payout worth $104,935.81. luckyfish89 won a bounty worth $21,422.82 for knocking out owilson25. Overall, luckyfish89 won $64,915.93 in bounties. Including prize money and bounties, luckyfish89 shipped $169,850.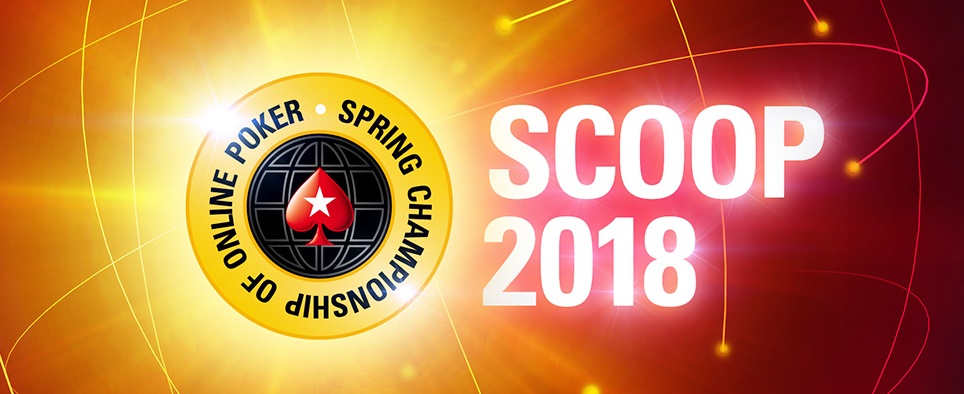 SCOOP-18-H ($1,050 NLHE [Progressive KO, Thursday Thrill SE]) results
Total entries: 1,344
Prize pool: $1,344,000 (Regular pool: $672,000; Bounty pool: $672,000)
Places paid: 161
1. Jon "luckyfish89" Clark (United Kingdom) $104,935.81 + $64,915.93 in bounties
2. owilson25 (Honduras) $76,179.53 + $42,345.69 in bounties
3. DanielLUCKY (Sweden) $55,303.92 + $14,228.57 in bounties
4. P0KERPR02.0 (Germany) $40,148.90 + $5,578.13 in bounties
5. Cashcid Linc (Germany) $29,146.79 + $13,171.88 in bounties
6. xxMaecksxx (Germany) $21,159.60 + $17,281.25 in bounties
7. mcc3991 (United Kingdom) $15,361.18 + $17,281.25 in bounties
8. Lincownz (Brazil) $11,151.70 + $12,000 in bounties
9. MisterTipper (Switzerland) $8,095.78 + $9,863.29 in bounties
Visit the SCOOP homepage for a schedule of events and find out who is on top of the Leader Board.
---
Ready to take your shot at a SCOOP title? Sign up for PokerStars today!
---
Back to Top
Study Poker with
Pokerstars Learn

, practice with the PokerStars app

Try our Free Scholars Leader Board to practice your new skills.
Quick Links
Learn
Practice
Chat with us
Watch and share