Our "Second Steps" series aims to make you slightly better at a game you already know. In other words: you know the rules, you've played the game, now here's a bit of strategy to set you apart from the rank amateurs. This week: SCRABBLE
Just as all poker players have been asked at one point or another to "show us your poker face", all vaguely competent Scrabble players are used to facing a similar irrelevant request. "What does that mean?" someone inevitably asks as "QI" or "JO" or "CWM" or "ZEK" or "QAID" or "EUOI" lands on the board.
But here's the thing that regular Scrabble players know but once-a-yearers do not: the definition of words is no more relevant in Scrabble than the name of your first pet. It really doesn't matter what "QI" or "JO" or "CWM" or "ZEK" or "QAID" or "EUOI" means. All you need to know is that they're valid words in the game. And if you know that, you're well on your way to winning against most total rookies.
Scrabble may be the most popular word game in the world, but you don't need an English degree, nor to be able to construct beautiful sentences, to win it. In fact, as all-conquering New Zealander Nigel Richards proves, you don't even need to be able to speak the language at all. Richards is the world champion in Scrabble in both English and French. But don't expect him to be able to buy a cheese baguette or even get directions to the train station if you dropped him in Paris. Il ne parle pas français. Richards has just done what all top Scrabble players do: he's memorised a heck of a lot of words.
This is probably the first important lesson to learn when you're attempting to get slightly good at Scrabble. Don't get hung up on the meaning, the length, the beauty of the words. Just worry about the points they can earn you. You need to learn how best the tiles fit together, and where you can put them on the board.
---
FROM AA TO ZZZ: THE POWER OF TWO AND THREE
You take a massive step forward in Scrabble the minute you understand how useful the short words can be, in particular those of two or three letters. While it's tempting as a newbie to look for the longest word you can, it's far more important to learn the deployment of shorter words. You stride forward again when you learn all 124 valid two-letter words (and it's useful to have a handle on most of the 1,000+ of three letters.)
That may sound daunting, but really it's not. You actually already know the vast majority of two-letter words — the likes of AM, AN, IF, IN, BY, WE, etc. — and then there are others like TA, AD, OP, ER or SH that you also use but possibly thought weren't actual words. (Useful rule of thumb with regard to short words in Scrabble: if you think it might be a word, it probably is.)
There are then quite a few unfamiliar two-letter words — such as CH or GU or JA or UT — but after a good few games they become familiar too. Scrabble players are far more likely to play XI or QI or ZO or even KY than they are words like TABLE or CHAIR.
Here's the complete list of permissible two-letter words. It's really worth memorising them:
AA AB AD AE AG AH AI AL AM AN AR AS AT AW AX AY BA BE BI BO BY CH DA DE DI DO EA ED EE EF EH EL EM EN ER ES ET EX FA FE FY GI GO GU HA HE HI HM HO ID IF IN IO IS IT JA JO KA KI KO KY LA LI LO MA ME MI MM MO MU MY NA NE NO NU NY OB OD OE OF OH OI OM ON OO OP OR OS OU OW OX OY PA PE PI PO QI RE SH SI SO ST TA TE TI TO UG UH UM UN UP UR US UT WE WO XI XU YA YE YO YU ZA ZO
Have a quick Google to find the three-letter word list.
In a sentence: Learn the short words.
---
BUILD COMPOUNDS
One of the reasons short words are so important is that they offer so many more ways to place tiles on the board and make individual plays so much more valuable. Beginners to Scrabble tend to look at ways to make words intersect like a British crossword, with two words crossing through a single letter (below right). However advanced players look to layer tiles, more like in an American crossword (below left), creating multiple point-scoring words in a single turn.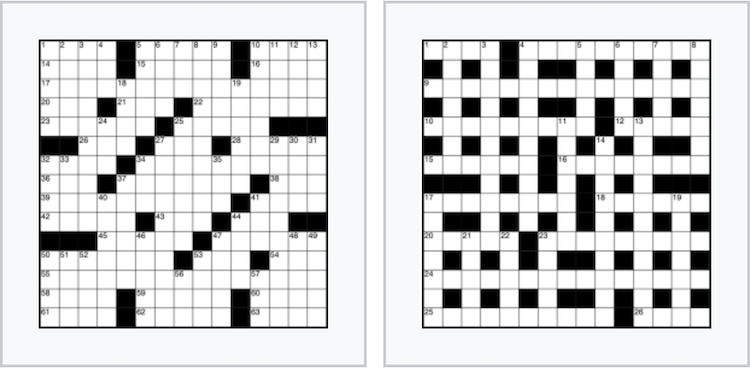 Let's say your opponent kicks off a game by playing HARE down the centre of the board. You have the letters CAY on your rack and have a number of ways to now play them. You can make RACY, building from the R (fig. 1) or CRAY building through the same R (fig 2), both of which earn 15 points.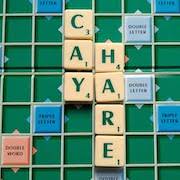 Figure 3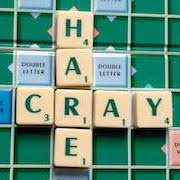 Figure 2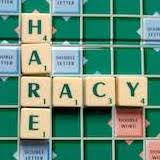 Figure 1
But you can also lay CAY alongside the H and A of HARE (fig 3) to build three words: CAY, AH and YA. This offers 29 points, with the Y on the double-letter score in two different words (CAY and YA). Layering words like this, particularly with high-value letters landing on bonus squares, is almost always far more profitable than simply building one longer word.
Now take a look at figs. 4-5 and the subsequent deployment of the letters SPEAR.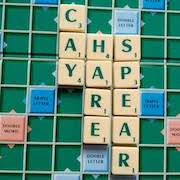 Figure 5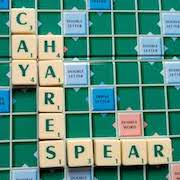 Figure 4
In fig. 4, we make the words HARES and SPEAR, with the latter on a double-word score, for a total of 25. But in fig. 5 we make AHS, YAP, RE, EA and SPEAR for a total of 31. Again, this utilises our knowledge that all of AHS, RE and EA are playable words in Scrabble.
In a sentence: Look for ways to create multiple words in one turn.
---
KNOW YOUR LETTERS, AND USE THEM WELL
Another division between Scrabble newcomers and Scrabble veterans develops when they pull the J, Q, X or Z out of the bag. Newbies groan while veterans delight. And again, it's the veterans who know best.
The relative value of individual letters in Scrabble depends on their scarcity in the language. All the vowels only earn one point because they're used so frequently, while J and X are worth eight points, with Q and Z worth 10. (By contrast, in the German version of the game, where many more words have a Z, it's worth only three points. The comparatively rare Y is worth 10.)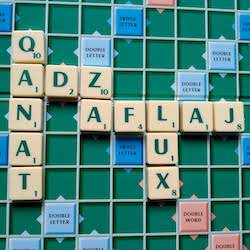 Just a regular game…
Although these high-scoring letters supposedly make building words more difficult, they can help produce massive totals, particularly when placed on a bonus square. It's why top players make extra effort to memorise as many words involving these letters as they can, then are at pains to put them on the big bonuses. If, for instance, you manage to place a Z on a triple, and get it running in two directions, that is already 60 points — for placing one letter alone.
As ever, there are some decent resources online for lists of obscure words using these rare letters, which can not only help you out of a jam, they can potentially turn a game on its head. Here are just a handful to get you started:
Words using J, Q, X or Z
Two-letter: AX EX JA JO QI XI XU ZA ZO
Three-letter: ADZ AXE AZO BEZ BIZ BOX CAZ COX CUZ DEX DUX DZO EXO FAX FEZ FIX FIZ FOX GJU GOX HAJ HEX HOX JAB JAG JAI JAK JAM JAP JAR JAW JAY JEE JET JEU JEW JIB JIG JIN JIZ JOB JOE JOG JOL JOR JOT JOW JOY JUD JUG JUN JUS JUT KEX LAX LEX LEX LOX LUX LUZ MAX MIX MIZ MOZ MUX NIX NOX OXO OXY PAX PIX POX POZ PYX QAT QIN QIS QUA RAJ RAX REX REZ RIZ SAX SAZ SEX SEZ SIX SOX SOZ SUQ TAJ TAX TEX TIX TUX VEX VOX WAX WEX WIZ WOX XIS YEX ZAG ZAP ZAS ZAX ZEA ZED ZEE ZEK ZEL ZEP ZEX ZHO ZIG ZIN ZIP ZIT ZIZ ZOA ZOL ZOO ZOS ZUZ ZZZ
Selected others: JUGA AFLAJ QUATE TRANQ IXIA XENIA ZEIN ZAIRE
It's also worth remembering that contrary to most written English norms, not all valid Scrabble words require a U to follow a Q. In fact, plenty of words (most of which originate in Arabic) are valid in Scrabble that dispense with the U altogether. So remember these ones too: QADI QAID QOPH WAQF FAQIR QANAT QIBLA TALAQ
In a sentence: "Awkward" letters can be your friends.
---
THE STRENGTH OF THE S AND BLANK
At the other end of the usefulness spectrum, we find the most playable tiles in the bag: the S and the blank. Even a total rookie should know how useful these tiles are — even if they officially score a grand total of one and nothing, respectively.
In many cases in the English game, the S can simply be added on to a word already on the board to collect what sometimes seem like free points. But don't just go placing the S down without also building a second word at the same time. The S is the perfect "hook" tile, which can join two words in a way that maximises points. Typically they join with both ending in the S, but there are also numerous common words that can make a new word with the addition of an S to the front (CAN become SCAN, LAP becomes SLAP, PLATTER becomes SPLATTER, for example).
Of course, the S also becomes incredibly valuable if you have a six-letter word on your rack that can be pluralised for a seven-letter bingo.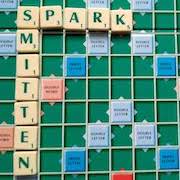 Figure 7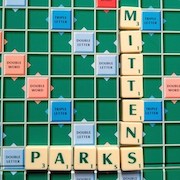 Figure 6
See fig 6 and 7, where a rack of TIMESTN can become either MITTENS or SMITTEN and can be placed either at the front or the end of PARK. That's worth up to 83 points.
Most Scrabble experts will say that the S is so valuable that you should only play it when it adds a minimum of 10 points to your play, and usually something closer to 20 or 25 points. It is simply wasted if you play it alone or if it does not help produce a high-scoring word.
The blank tile — of which there are only two in the bag — is even more valuable, and top-ranked players believe it should only be played when it stands to add around 50 points to your total. That's because its versatility as a stand-in for any letter should lead you to be able to construct a seven-letter bingo, or at least as a prop to move a high-scoring tile on to a premium bonus square. There are a number of highly valuable combinations of letters in Scrabble — such as ING, IER, IEST, PRE, which can turn common short words into high scoring longer words — and the blank can help transform any rack into something far more playable.
It follows that you should never squander the blank. Even if you have a tile of mismatched letters, do your best to shed a few in shorter words while retaining your blank to play only when it will reap the most significant reward.
In a sentence: Make sure the big hitters score big.
---
PRACTICE RACK MANAGEMENT
Scrabble's random element comes when players draw tiles from the bag, and even the best in the world sometimes find themselves with seven vowels or seven consonants and pretty much no hope of piecing together a high-scoring word.
When things get too desperate, it's always worth remembering that players can sacrifice their turn to discard and exchange tiles at any point during the game (provided enough replacement tiles remain in the bag). However, you don't always need to reach for the nuclear option — and it's even less likely if you remember that prevention is better than cure.
Top Scrabble players are conscious of the vowel/consonant balance on their racks at all times and aim to keep it at roughly three vowels to four consonants (or two to five). There are several valid words known as "vowel dumps" (or "consonant dumps") that can help in clearing up a messy rack and guide it back towards a more agreeable balance. You should consider these instead of exchanging if there's a place to put them on the board.
Popular vowel dumps: AE, AI, AIA, EA, EAU, EMEU, EOAN, EUOI, IO, IOTA, OBOE, OE, OI, OU, UREA, UVEA
Good players also try to keep combinations of letters on their racks that work well together, and can forge high-scoring bonus words. By common agreement, the absolutely ideal Scrabble rack is AEINRST, whose letters can be arranged into no fewer than 11 seven-letter words (ANESTRI, ANTSIER, NASTIER, RATINES, RESIANT, RETAINS, RETINAS, RETSINA, STAINER, STARNIE and STEARIN). Because the bonus for a seven-letter word is so high — 50 points — it's worth the effort to seek one out. That means dumping awkward letters in lower-scoring, shorter words and trying to cultivate a rack of letters that work well together, building to a bonus.
Suffixes such as -ING, -ED, -ISH, -ISE, -ER, -EST, -IER and -IEST are exceptionally useful in building seven-letter words, as are groupings such as -ABLE or -LESS. Don't forget prefixes either, such as RE- and PRE- or UN-, which can be attached to numerous verbs to create valid Scrabble words.
In a sentence: TRAIN to RETAIN the good letters.
---
As with players of all highly competitive, sophisticated games, Scrabble's elite have spent many hours studying, learning and honing their skills. They learn hundreds and hundreds of words specifically for their use on the Scrabble board. But it's also true that most beginners could improve their games dramatically by the application of only a handful of simple strategy points. We hope these Second Steps will lift you slightly clear of the pack.
---
PREVIOUS SECOND STEPS: MONOPOLY
---
Back to Top