Ten months ago, Hurricane Irma swept through the Caribbean on its way to Florida, leaving a trail of destruction in its wake. It was the strongest storm on record in the open Atlantic region, forcing many people to evacuate. Bill Perkins, Jeff Gross, Jaime Staples, Kevin Martin, and Matt Staples were among them.
Those guys were on the Virgin Islands for StreamBoat2, the second edition of Perkins' boat-streaming extravaganza, featuring many of your favourite Twitch poker stars. The event was understandably cancelled, and attention instead focused on those most affected by the storm's devastation.
Perkins told us at the time: "Reports are coming back of extensive damage, and right now our minds and hearts are with the residents affected and recovering from Hurricane Irma. We intend to assess the situation and help where we are able. Once the islands are able to provide the wonderful experience they normally offer, we will have StreamBoat2. We will coordinate as soon as it is practical."
---
The boat changes course
The time to coordinate has now come, which is great news for StreamBoat2 competition winners who had their bags packed for the Virgin Islands ten months ago.
Here's a reminder of those winners, and the streamers who picked them:
• Johannes Jetschgo from Austria (PokerStars)
• Brent Waters from Winnipeg, Canada, living in the UK (Kevin Martin)
• Kevin Mitton from California, USA (Bill Perkins)
• Sebastian Larsen from Denmark (Jaime Staples)
• Eric Grazioso from Toronto, Canada (Jeff Gross)
• Patrick Trzaskoma from Germany, living in Poland (Matt Staples)
However, the boat has changed course, and will now give the six winners an incredible package trip to Run It Up Reno in October. Here's a look at what they're now getting:
• Flights to and from Reno
• One week stay at the Peppermill Resort and Casino in a suite (six suites for six nights, 23rd – 29th October)
• $2,000 Live Play Credit per person
• $300 Merchandise Credit for the RIU shop per person
• Welcome dinner with Bill Perkins and Streamer at the Steak House
• Exclusive Q&A and Hangout with Streamer at the Palace Suite
• Helicopter Tour around Lake Tahoe
• Tag-Team Sit&Go
• Each streamer will have their freeroll host as a coach throughout a live streamed Sit&Go, with $5k in prize-money (1st $2k – 2nd $1,5k – 3rd 1k – 4th $500)
Congratulations to those guys. We'll see you in Reno!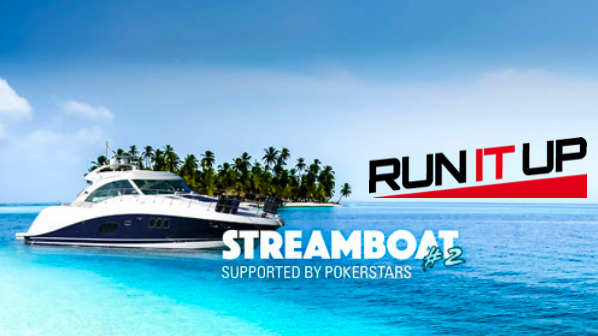 Setting sail for RIU Reno
Thinking of running it up in Reno yourself?
The full Run it Up Reno schedule will be released soon, but make note that the Main Event runs from 26th – 28th October.
Aside from that, the StreamBoat 2 crew will be there, so set sail for Reno and you're sure to have a great time.
---
Opening a PokerStars account is easy. Click here to get an account in minutes.
---
Back to Top
Study Poker with
Pokerstars Learn

, practice with the PokerStars app

Try our Free Scholars Leader Board to practice your new skills.
Quick Links
Learn
Practice
Chat with us
Watch and share