Fans of the PokerStars Twitch channel are a lot of things:
Loyal ✔ – yep, these guys tune in in their thousands pretty much every day.
Passionate ✔ – absolutely, especially when it comes to learning the game.
A little crazy ✔ – oh sure, but then what good online community isn't?
But we bet you didn't know that a handful of them are also pretty darn good at using Photoshop.
To kick off the third week of daily challenges in Fintan 'easywithaces' Hand and Benjamin 'Spraggy' Spragg's #PlatinumAdventure giveaway (get more info on that here), the lads asked their Twitch viewers and Twitter followers to tweet their best Team PokerStars family portraits, to be created using the photo editing software.
The top three entries were quite special, as we're sure you'll agree.
@EasyWithAces @spraggy My take on a teampro family portrait, enjoy 🙂 #PlatinumAdventure pic.twitter.com/WuKyMQm5Zo

— pigmonster (@pigmonster1) June 11, 2018
I spent far longer on this than I care to admit. When the family gets together, the universe's fate lies in Daniel's hand… #PlatinumAdventure @EasyWithAces @spraggy @RealKidPoker @RaSZi @JasonSomerville @kurganovigor @jaimestaples @nanonoko @KevinRobMartin @Liv_Boeree pic.twitter.com/Fdx6XBqrfh

— PentaTragic (@ThePentamagic) June 11, 2018
Should have been able to resist doing this and done some proper work #PlatinumAdventure @Spraggy @Easywithaces ironchicken1 -after Ernest Meissonier-A Game of Piquet pic.twitter.com/yGb8FRylwv

— DertyPaws (@DertyPaws) June 11, 2018
In fact, those entries were so good that Fintan and Spraggy couldn't pick one winner between them. So instead, they took it to the Twitter streets to let the fans decide.
There was just too much quality in this weeks #Platinumadventure photo shop competition so myself and @spraggy are leaving it for you to decide the winner!! The picks will be attached to this tweet.

— Fintan Hand (@EasyWithAces) June 12, 2018
When the voting period came to an end, it was PentaTragic's PokerStars Infinity War entry that was declared the winner. That meant that he won entry into the 72-player Platinum Pass freeroll, which takes place on July 29.
There are big prizes on the line, with the winner obviously receiving the $30,000 package to the Bahamas in January 2019. But here's what else is up for grabs:
1st place: Platinum Pass
2nd place: Sunday Million Package – 23 x Sunday Million Tickets (that's all Sunday Millions for the rest of the year)
3rd and 4th place: Sunday Tournament Package – 2 x $215 Sunday Million and $11 Sunday Storm 5th – 8th place: Sunday Million Ticket
If you want to take part in Fintan and Spraggy's #PlatinumAdventure, you can! All you have to do is follow the guys using the links below.
PokerStars Twitch Channel
Fintan's Stream / Twitter
Spraggy's Stream / Twitter
Terms & conditions
— General PSPC T&Cs apply
— All participants must have a PokerStars.com/.eu/.dk/.uk/.be/.bg/.ro/.rus/.ee/.desh account to participate in the online final online tournament
— There are no deals allowed in the final online tournament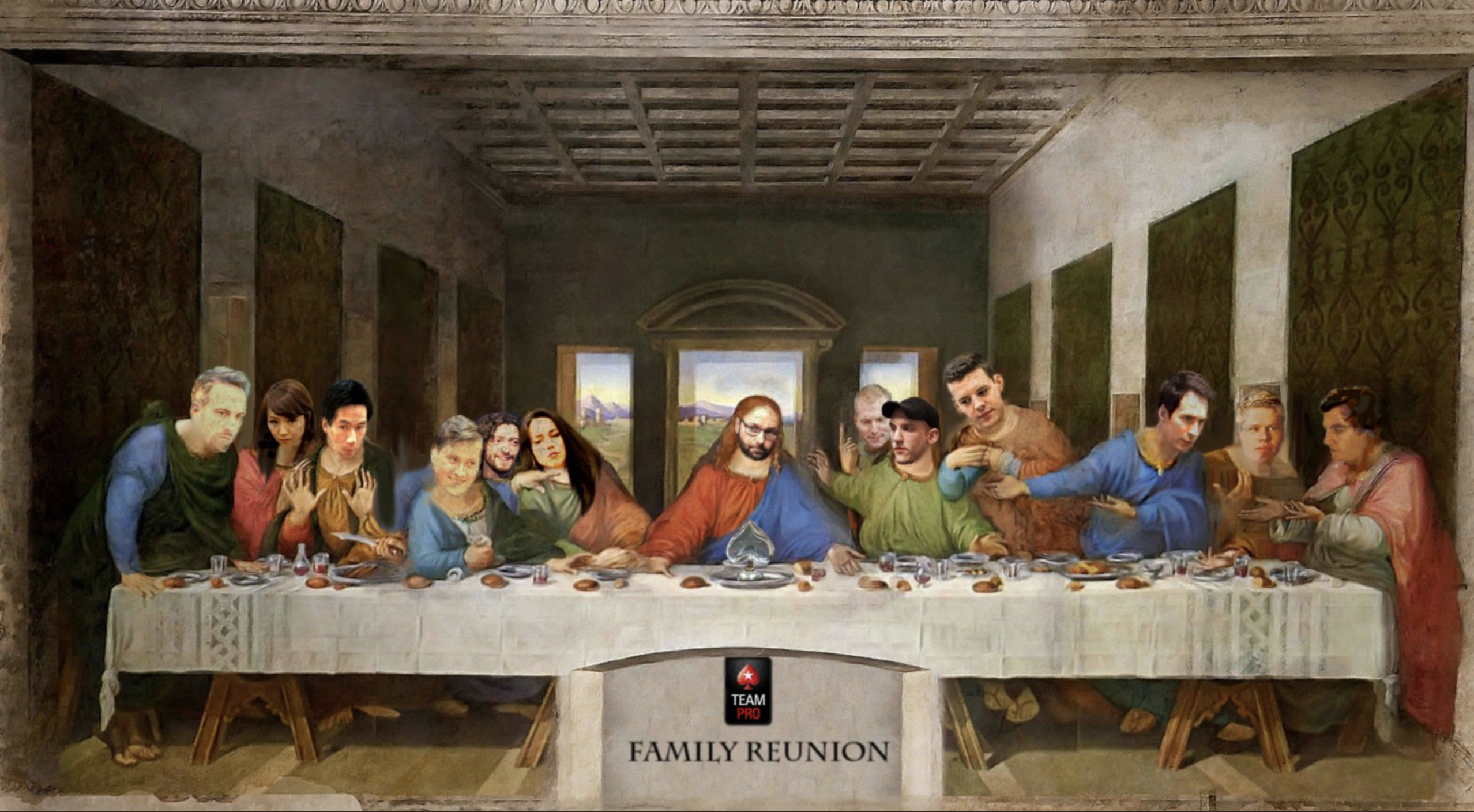 The PokerStars Last Supper, by @pigmonster1
Back to Top