Over the last decade auercan has piled up a long list of cashes in PokerStars tournaments, punctuated emphatically by two results from 2012. The first was a $112K win in the Sunday Warm-Up. The second a $101K runner-up finish to Dan "djk123" Kelly in a WCOOP rebuy event. Tonight, more than five years later after those career-defining cashes, auercan topped them both. Despite entering the final table with the second-shortest stack, auercan came storming back to win the Sunday Million.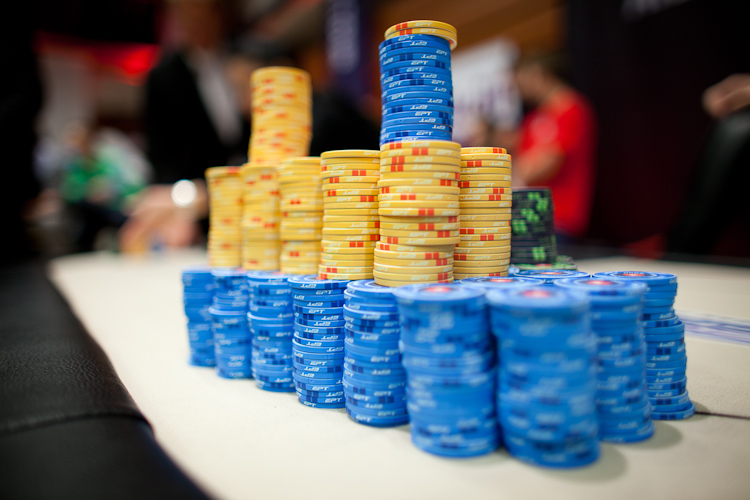 All 1,052 players who cashed in this week's tournament earned an entry into a $30,000 PokerStars Players Championship giveaway, adding something special to the mix. auercan held the chip lead for a short time after they began collecting their payouts and then again for a few minutes with three tables left, but otherwise the Latvian spent most of the day with an average-sized stack.
A loss to Sergio "zcedrick" Aido's rivered king-high straight (with 12 players remaining) left auercan in danger of missing out on the final table completely. Then zavag opened all-in from the small blind with Q♠ 10♥ on the other table and vitalij300 called for 1.9 million in the big blind with K♠ Q♣ . The board was safe for vitalij300 until the 10♠ hit the river, making zavag a pair of tens and setting the final.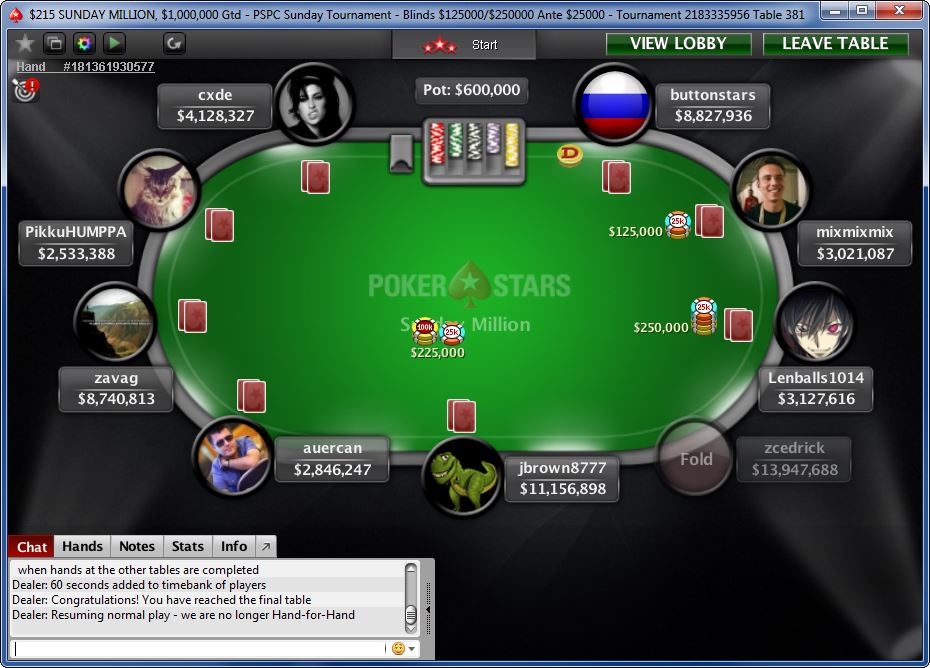 auercan turned this final table on its head.
Seat 1: buttonstars (8,852,936 in chips)
Seat 2: mixmixmix (3,171,087 in chips)
Seat 3: Lenballs1014 (3,402,616 in chips) took fourth in the 6/10/2012 Sunday Million
Seat 4: Sergio "zcedrick" Aido (13,972,688 in chips) third on Spanish all-time money list, $2.5 million in PokerStars cashes
Seat 5: Joel "jbrown8777" Brown (11,181,898 in chips) two-time WCOOP winner & past Super Tuesday champ
Seat 6: auercan (2,871,247 in chips)
Seat 7: zavag (8,765,813 in chips) took fifth in the 7-10-2016 Sunday Million
Seat 8: PikkuHUMPPA (2,558,388 in chips) past Super Tuesday champ & Sunday Warm-Up runner-up
Seat 9: cxde (4,153,327 in chips) 6-25-17 Sunday Million runner-up
The shorter stacks didn't last long this week and auercan, who stole the blinds and antes a few times early on, was a big reason why. All-in pre-flop, PikkuHUMPPA lost a race with A♣ K♣ against auercan's Q♦ 10♦ , finishing ninth when a ten hit the river. mixmixmix bounced minutes later in eighth, running 8♣ 8♥ into auercan's 9♥ 9♠ .
zavag, who won the first contested pot at the final table, continued to pile up wins when auercan wasn't taking out the other short stacks. zavag's first shot at a knockout fell short when A♣ K♠ couldn't top Lenballs1014's 6♣ 6♠ . But limping under the gun a few minutes later with A♦ Q♥ goaded cxde into moving all-in for 2.1 million chips with A♠ 7♥ . An ace on the flop and a queen on the river gave zavag the pot, ending cxde's second Sunday Million final table in the past year in seventh.
auercan scored another knockout after calling in the small blind with K♦ J♥ . Joel "jbrown8777" Brown had jammed for 2.5 million chips with K♠ 5♠ on the button. Both players paired their kickers but jbrown8777 got no more help and departed in sixth.
Russia's buttonstars was next up. Three hands after doubling to 9.8 million with pocket treys against zcedrick's K♦ Q♠ , the Russian turned two pair with A♠ 10♥ on the same 10♦ that made a queen-high straight for zavag's Q♣ J♣ . All the chips went in, the 7♥ river changed nothing, and buttonstars was gone in fifth.
Lenballs1014 was on the short stack now with fewer than ten big blinds and didn't waste much time moving all-in with K♣ J♣ in the big blind after zcedrick raised small under the gun. zcedrick called with 10♦ 10♥ and fell behind when the J♠ hit the flop. But the 10♣ on the turn left Lensball1014 drawing dead. The 3♥ on the river made the Canadian's departure official in fourth.
That knockout bumped zcedrick into the lead with 24.2 million chips, just ahead of zavag's 23.1 million and more than double auercan's 11.6 million. But three-handed play turned out to mostly be a tug-of-war between the latter two.
zavag won the first confrontation, taking down the 17-million-chip pot with A♦ K♥ for aces and kings on a K♠ 3♦ 8♥ 7♣ A♠ board. Left with fewer than ten big blinds, auercan avoided elimination twice in the next four minutes to pull back to within 12 big blinds of the lead. Then, five hands later, they committed to a race without seeing a flop. zavag's 10♦ 10♥ made a set on the flop and took the 28.3-million-chip pot.
Once again auercan was left with no more than ten big blinds, and once again auercan came back in a matter of minutes, this time taking the chip lead after turning a pair of treys with A♠ 3♥ to beat zavag's A♣ Q♦ .
The key pot for auercan came after defending the big blind with K♠ 10♣ against zavag's button raise and making a pair of kings on the K♣ 9♣ 7♥ flop. auercan check-called bets on every street and won 26.3 million chips with those kings when zavag turned over A♠ 10♥ for ace-high. Four hands later auercan opened with A♥ 10♥ on the button, calling when zcedrick jammed for 10.8 million with K♣ Q♦ in the big blind. An ace on the flop and a ten on the river ended zcedrick's run in third.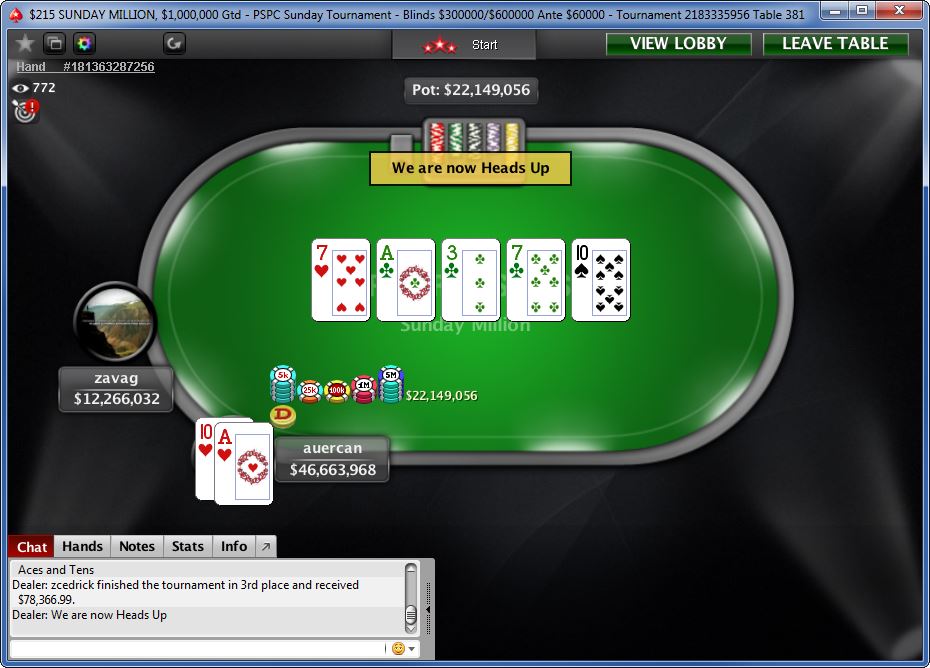 Heads-up for the title and $159K
After coming to the final table with the second-shortest stack, auercan began heads-up play with a 4-to-1 chip lead over zavag. zavag doubled up to 24.5 million on the first hand, min-raising and then calling all-in with A♣ J♠ when auercan jammed with A♠ 3♠ in the big blind. Five minutes later zavag defended the big blind for 1.4 million with 10♠ 9♥ and caught an open-ended straight draw on the J♠ Q♦ 4♣ flop. That was enough to check-call one million there, and then check-raise to 6.7 million after the 3♦ turn. auercan called the raise and called one more time when zavag open-shoved for 15.5 million after the J♦ hit the river. auercan's A♣ 2♠ won on kickers when both players played the pair of jacks on the board, bringing a remarkable final table to its conclusion.
Congratulations to auercan on making the most of an unlikely opportunity.
1-21-18 Sunday Million ($215 NL Hold'em) results
Entrants: 5,893 (4,782 entries, 1,111 re-entries)
Total prize pool: $1,178,600
Places paid: 1,052
1. auercan (Latvia) $159,131.67
2. zavag (Uruguay) $111,670.69
3. Sergio "zcedrick" Aido (United Kingdom) $78,366.99
4. Lenballs1014 (Canada) $54,995.59
5. buttonstars (Russia) $38,594.31
6. Joel "jbrown8777" Brown (Canada) $27,084.34
7. cxde (Slovakia) $19,007.04
8. mixmixmix (Argentina) $13,338.68
9. PikkuHUMPPA (Finland) $9,360.79
---
Win big money in the Sunday Million! Click here to open your PokerStars account today.
---
Jason Kirk is a Freelance Contributor to PokerStars Blog.
Back to Top