Trust the process and good things will happen. Just ask BrunoBoucas.
The Brazilian has been piling up four-figure cashes with regularity over the last few years, grinding out wins in small-stakes tournaments against fields of thousands of players and even winning five figures for the first time earlier this year. Today BrunoBoucas turned all that upward-trending experience into a life-altering victory in the Sunday Million.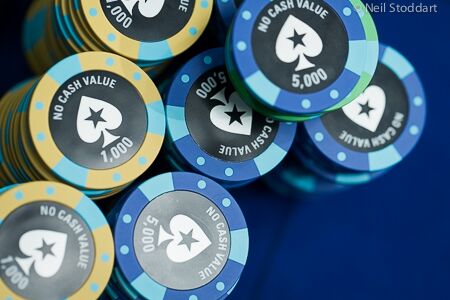 With the 2018 WSOP beginning to recede into the history books and grinders the world over returning home, this week's Milly saw a big tick up in attendance over the last several weeks. That made for a prize pool of $1.17 million and another hundred players or so collecting payouts, plus a scheduled top prize of more than $158,000.
BrunoBoucas's route to the win was relatively smooth. The Brazilian held an average stack for the first nine and a half hours of poker, time enough for all but two tables to be emptied. The hour that followed was a good one for BrunoBoucas, who claimed the lead after winning two coin flips against all-in opponents. That was where BrunoBoucas remained when WarleyBruno's A♦ 7♦ counterfeited nmafra7's 5♠ 5♥ on a J♣ K♦ J♠ K♠ 10♥ board, eliminating nmafra7 in 10th place and setting up our final table.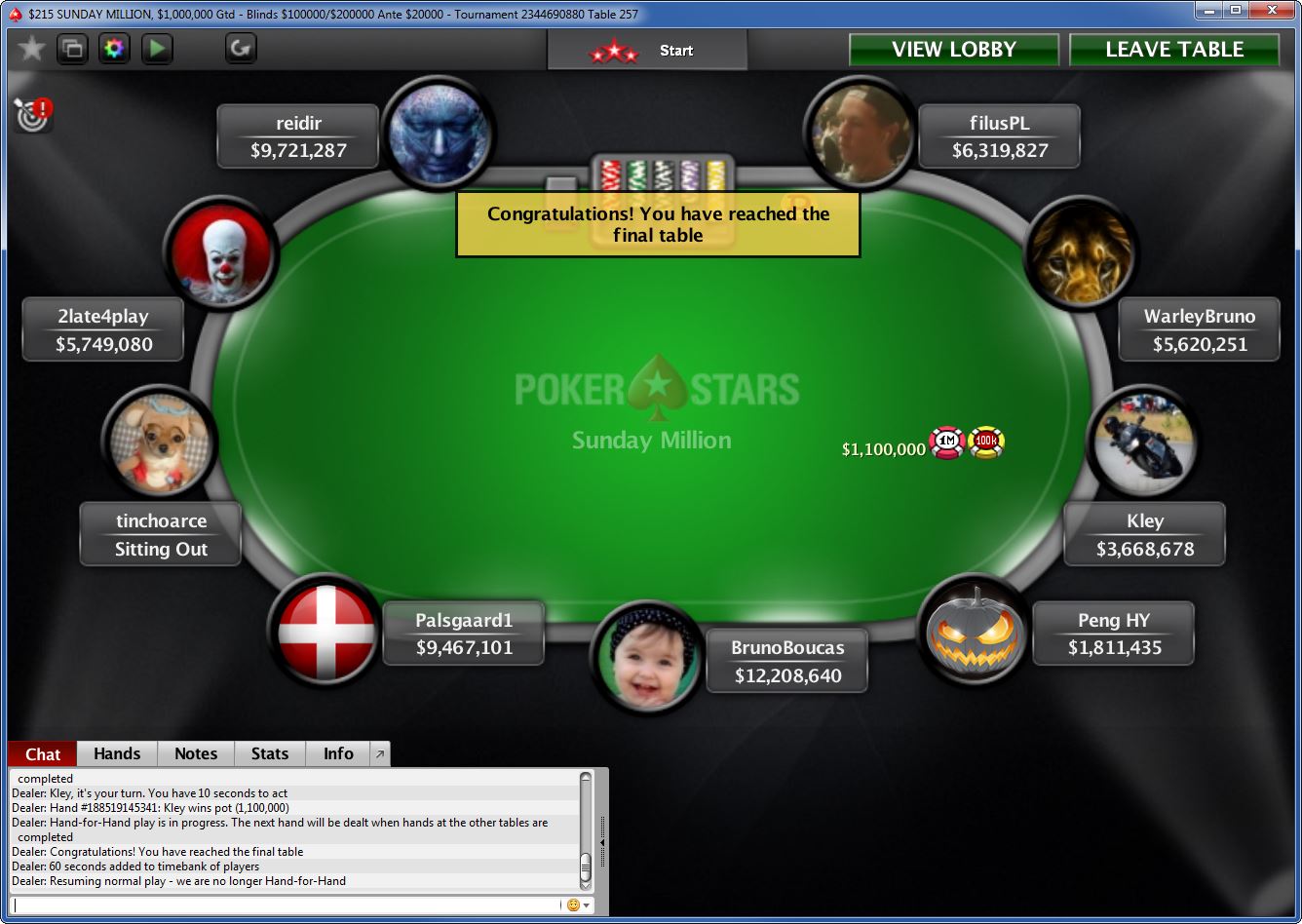 Seat 1: filusPL (6,319,827 in chips)
Seat 2: WarleyBruno (5,620,251 in chips) past Turbo Series finalist
Seat 3: Kley (3,668,678 in chips) past SCOOP & TCOOP finalist
Seat 4: Peng HY (1,811,435 in chips)
Seat 5: BrunoBoucas (12,208,640 in chips)
Seat 6: Palsgaard1 (9,467,101 in chips) past Sunday Warm-Up & MicroMillions champ
Seat 7: tinchoarce (4,033,701 in chips) past SCOOP champ
Seat 8: 2late4play (5,749,080 in chips)
Seat 9: reidir (9,721,287 in chips) past WCOOP winner
Pocket queens figured into two big hands in the early going. tinchoarce picked them up in the small blind four hands in and moved in for 3.75 million over the top of BrunoBoucas's min-raise to 400,000 in the cutoff. BrunoBoucas called with A♥ Q♠ and made top pair on the 3♣ K♣ A♣ flop, leaving tinchoarce in need of the case queen or a club to stay alive. The 9♦ turn didn't help but the 8♣ gave the Argentine the 7.88-million-chip pot. Peng HY made the same play with Q♥ Q♣ on the following hand, jamming for 1.61 million over Kley's 446,000-chip opener, but things didn't work out nearly as well. Kley called with A♥ J♥ and turned a Broadway straight; Peng HY was still drawing to a boat but missed it on the river and left in ninth.
BrunoBoucas had come to the final table with the chip lead but had been bleeding chips almost since the first hand. Then the Brazilian min-raised with A♣ A♦ under the gun, prompting an all-in bet of 6.2 million from WarleyBruno in the small blind. BrunoBoucas called and stayed ahead of WarleyBruno's A♠ K♠ as the board fell 9♥ 7♠ 9♦ 10♣ J♣ , climbing back into the lead with 15 million chips and ending WarleyBruno's tournament in eighth.
That hand took the remaining players to the hourly break. They played mostly smaller pots for 10 minutes after returning to 150,000/300,000/30,000 blinds and antes until tinchoarce and 2late4play met in a pre-flop race with A♥ K♥ and J♦ J♥ , respectively. 2late4play remained ahead on a ten-high board to climb into second place with 10.9 million and reduce tinchoarce's stack for about 12 big blinds.
The next 10 minutes turned on tinchoarce's fortunes. The Argentine survived once with A♦ J♠ after jamming on the button, running into reidir's A♣ Q♥ in the big blind, and flopping a jack. Five hands late tinchoarce tried to spin that up by moving in for 5.9 million in the big blind, over the top of reidir's raise to 900,000 in the lojack seat, with K♦ Q♣ . reidir called with A♥ 5♥ , which had outs to a flush after tinchoarce made top pair on the 5♠ 3♥ K♥ flop. That flush came in on the 7♥ turn and sent tinchoarce to the rail in seventh.
Kley was the next to go, and in particularly nasty fashion. The Swede was sitting in the big blind with J♥ J♦ and watched the action fold around to filusPL, who open-shoved for 4.69 million in the small blind. Kley called all-in for 150,000 less to see filusPL's 8♣ 7♣ and then watched the board fall [5]A♥ 8♦ 6♠ 9♠ . filusPL had made a nine-high straight and Kley departed in sixth.
The next 20 minutes saw filusPL drop a few chips but hold onto third place in the chip counts. There was some talk of a deal but no actual agreement. Then filusPL picked up A♣ K♣ on the button, min-raised to 800,000, and made top pair on the K♠ 7♥ 8♥ flop after Palsgaard1 called in the big blind. The action went check-bet-raise-jam-call, with filusPL covering Palsgaard1's stack by about three big blinds, and Palsgaard1 turned up 8♠ 7♠ for two pair. The 8♦ turn made that eights full of sevens, and the 2♠ river gave Palsgaard1 the 18.5-million-chip pot and the overall lead.
Three hands later filusPL called all-in with 7♠ 3♦ in the big blind when reidir opened from the small blind with Q♦ 3♥ . A pair of jacks on the board changed nothing and filusPL bowed out in fifth. That reopened the deal talks, which lasted only as long as it took all four remaining players to type 'i agree' into the chat box.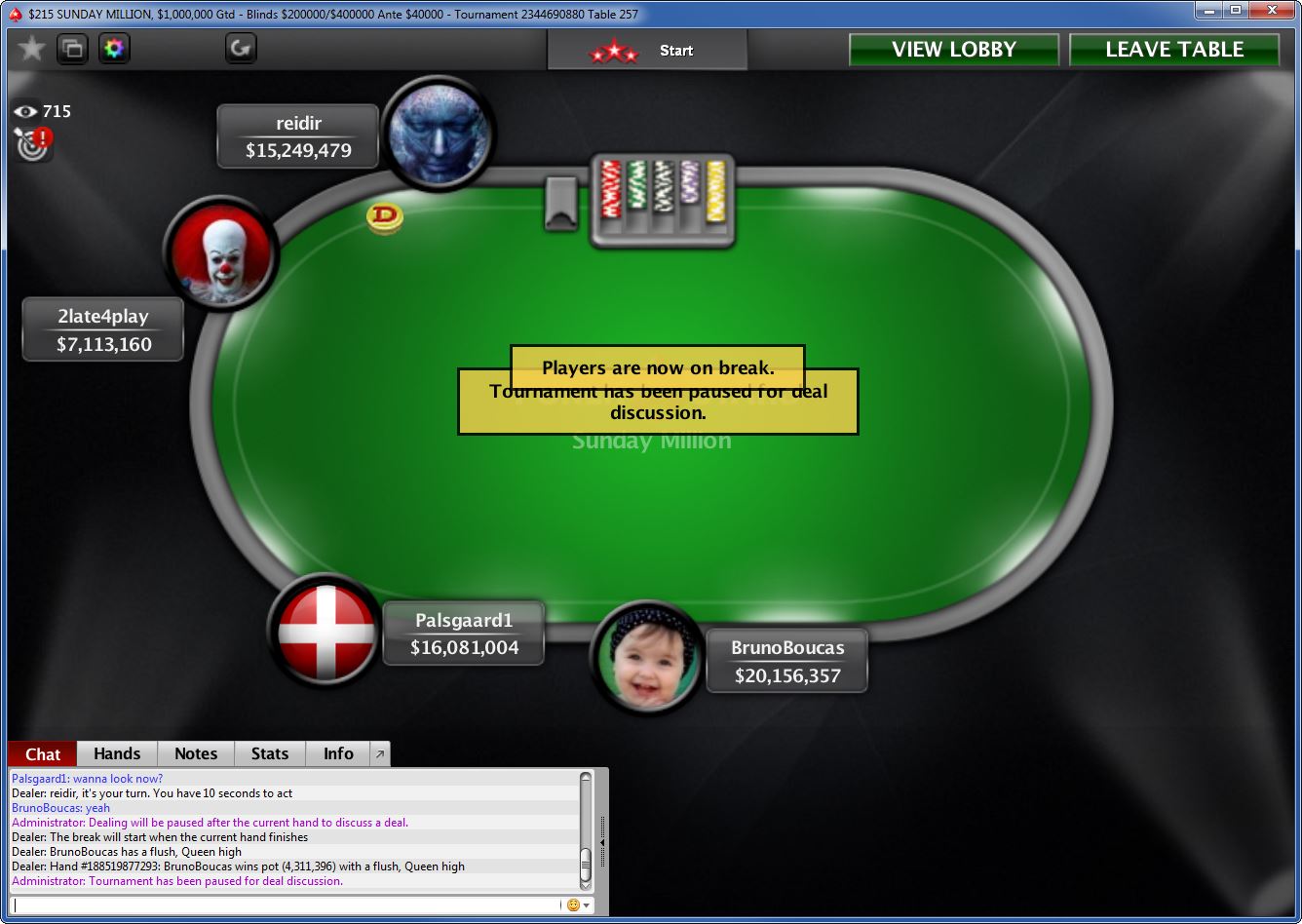 Time to cut a deal
On the next hand BrunoBoucas won a small pot in the small blind against Palsgaard1 in the big, just enough to retake the chip lead. But five minutes later the Brazilian cemented the lead with a big win in a coin flip with 2late4play. The Russian opened all-in for 6.75 million with Q♣ 10♣ on the button and BrunoBoucas called with 6♦ 6♠ in the big blind. The 4♠ 9♣ J♣ A♦ J♦ board changed nothing, eliminating 2late4play in fourth.
Now holding about half the chips in play, BrunoBoucas drove the action three-handed. Palsgaard1 picked off a few early pots but ended up in equilibrium with reidir, even splitting one all-in pot with the Brazilian when both players had medium aces in the hole. Just two hands after that the standoff ended when reidir min-raised on the button with 9♦ 8♦ and called BrunoBoucas's re-raise to 3.47 million. reidir effectively shoved over BrunoBoucas's 2.47-million-chip lead with an open-ended straight draw after the A♥ 6♣ 7♣ flop — a big gamble since BrunoBoucas had A♣ K♥ in hand. The straight didn't come in on the turn or river and reidir was out in third.
BrunoBoucas had a 4-to-1 edge over Palsgaard1 in chips and won all but two pots over the next five minutes. The final pot saw Palsgaard1 limp on the button with K♣ J♥ , allowing BrunoBoucas the free chance to make two pair on the 3♥ K♥ 6♦ flop. All the chips went in after the 4♦ turn with Palsgaard1 trailing but still drawing live. The 7♣ river didn't help, though, and that brought this week's tournament to its end.
With the extra cash on the table after the deal, BrunoBoucas set a new personal best here at PokerStars by more than $100,000. Congratulations to Brazil's newest Sunday Million champion, and to the other three players who shared in the deal as well!
7-8-18 Sunday Million ($215 NL Hold'em) results
Entrants: 5,860 (3,852 entries, 1,211 re-entries)
Total prize pool: $1,172,000
Places paid: 1,052
1. BrunoBoucas (Brazil) $117,883.44*
2. Palsgaard (Denmark) $102,870.29*
3. reidir (Brazil) $101,244.64*
4. 2late4play (Russia) $79,904.41*
5. filusPL (Poland) $38,378.19
6. Kley (Sweden) $26,932.67
7. tinchoarce (Argentina) $18,900.60
8. WarleyBruno (Brazil) $13,263.99
9. Peng HY (China) $9,308.37
* – denotes results of a four-way deal leaving $20,000 for the winner
---
Set your sights on the Sunday Million. Click here to open your PokerStars account today.
---
Back to Top