Poker and Twitch. It's a match made in heaven. Twitch is now the number one live streaming platform in the world with more than 2 million unique monthly broadcasters, and it's the perfect place for poker players to show their hands, express their personality and grow a community of active and engaged viewers.
Even if you live under a Twitch-sized rock, you've probably heard of poker streaming pioneers like Jason Somerville, Daniel Negreanu and current Twitch Poker kingpin Lex Veldhuis. They have streamed some of the greatest poker moments ever recorded on Twitch.
But this isn't about the guys who have already made it big with their channels. It's about the lesser known poker streamers who are quietly building their audiences and thrilling new fans with a mix of world class poker, childish shenanigans and everything in between. Here we introduce you to the best non-Stars, non-affiliated streamers who you might not know. Check them out and see what you think.
Arlie 'Arlie Shaban' Shaban
Arlie Shaban quit his job recently to live his dream of being a full-time poker player and streamer. It's going well. Since then, Arlie has experienced explosive growth on the scene, amassing over 9,000 followers who come to his channel for his fun and upbeat approach to streaming.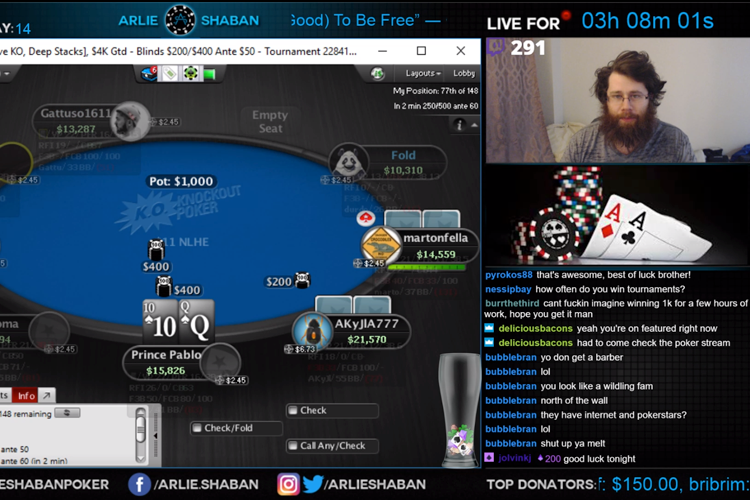 Arlie Shaban doing what he does best
Arlie is a mid-stakes MTT grinder with a real passion for poker, and he never shies away from the opportunity to learn and study the game. His stream is full of jokes, laughter, community spirit and the occasional off-key sing song. He also knows how to deal with a bad beat.
"You just have to power through the downswings. The bad luck will pass, your mood will change, the cards will start to fall your way again, and everything in the world will feel right. You can't wallow in self-pity. That is DEATH for a poker player. It's all about the power of positive thinking", says Arlie.
Despite his light-hearted approach to streaming, Arlie is totally serious about poker. His claim to fame is streaming 1,000 hours of poker over 125 consecutive days, an epic accomplishment that earned him personal recognition and rewards from PokerStars. You can check out that memorable scene below.
But Arlie's ambition doesn't stop there,
"Never in a million years would I have imagined being this far along in just over five months on Twitch. The 1,000 hour streaming streak I did will be a small appetizer compared to what I'll be doing in the future!"
Hey @ArlieShaban we put together a little something from your 125th consecutive stream, we hope you like it as much as we like you! ♥ pic.twitter.com/u1vpZXoOcC

— PokerStars (@PokerStars) March 13, 2018
The moment PokerStars surprised Arlie with a personal message and free gift!
Best channel for: Mid-stakes MTTs, not taking itself too seriously
Peter 'Peter804' Thompson
Peter804 has been playing poker for ten years, so he really knows his stuff. He specialises mainly in mid-high stakes cash games and Zoom, grinding for several hours a day as well as running his own e-sports business.
Peter takes a casual approach to streaming, yet his videos are a must for cash players who are looking to improve their game and gain an edge over competition. His channel is based on community interaction and hand analysis, and even features his canine companion Jeff, who has now achieved unofficial PokerStars ambassador status.
I would like to give a huge congratulations to #Jeffthewestie on his new @PokerStars Ambassador role!

2018 goal: Jeff vs @usainbolt 100m race pic.twitter.com/7xNdUMsjNH

— Peter Thompson (@EndpointPete) March 14, 2018
The moment Peter Thompson's dog became an unofficial PokerStars ambassador
"I try to answer every single question that gets asked, and generally help out as much as I can. This makes it easier for me to keep talking and thinking about hands too", says Peter, speaking about his channel.
Streaming on Twitch helps Peter804 to grow his esports business 'Endpoint', as well as motivating him to keep on schedule, and continually improve his poker game. It's a win-win for both him and his audience.
"A problem I have always had throughout the 10 years of doing poker for my job is motivation, and streaming has seriously helped with that… It also motivates me to make sure my game is balanced, and to keep improving", says Peter.
Best channel for: Mid-high stakes NL cash game players looking to improve their game
Tudor 'Scrimitzu' Stefan
Scrimitzu's channel offers the perfect blend of poker strategy and pure entertainment. His style is unique and hilarious, and his approach to streaming could even be described as a little bit eccentric at times. Expect flashing colours, strange sounds and funky theme tunes. Expect animations, and edits of Scrimitzu bopping his head to rap music. In short, expect the unexpected!
Scrimitzu plays NL10 cash Zoom games
Scrimitzu has a huge heart and a burning desire to grind his way to financial freedom by playing and streaming poker. He plays low stakes cash and Zoom games, and streams live every day of the week. Though his style is casual and fun, Scrimitzu takes life at the tables very seriously and isn't scared to get stuck into the theory and thought processes behind the hands that he plays.
Best channel for: The perfect mix of serious hand discussion and pure entertainment!
Summer 'SummerTobie' Harald
SummerTobie is a British player streaming micro-stakes games, while teaching herself and improving her own play. It can be intimidating for beginners to watch and learn from the pros. You need to build your poker skills layer by layer, level by level. Summer takes viewers through basic lessons like entering the pot, position and pot odds, often using PokerStars School and other online guides. She's a quick learner, and always willing to share her thoughts on hands.
The result is a refreshing and entertaining glimpse into the progression of an aspiring poker player, and Summer invites her followers along on this journey with her. Her fanbase is still small and growing, so the setting is intimate, personal and filled with real time conversation and insta-banter.
"A lot of poker streamers show multiple tables at a time, which can be really overwhelming in my experience as a new player. I stream one table, maximum two, and talk through every single hand and my particular reads on people. I'm trying to learn alongside my viewers. I want to bring them on the journey with me, whilst we all laugh at ourselves and our mistakes along the way", says Summer.
Summer feels bad…
Best channel for: New poker players who want to learn and improve alongside the host
Ryan 'Rschoonbaert' Schoonbaert
Rschoonbaert is a Canadian player with a strong background and knowledge of poker, and proven success on the live scene with over $80,000 in tournament winnings. He's now making the transition to online tournaments, and streaming it all for your entertainment. Rschoonbaert has a different show every day of the week, from Monday Mixed Games to the Sunday Million Grind.
What makes his channel interesting is the variety of games. You can find Ryan playing mid-high stakes MTTs, Pot Limit Omaha, mixed games and more. Pop in for a chat and see him power through tournaments as he explains his hands along the way.
Watch Sunday Million Take 2 Grind!!!! !upswing !n8 !ignition from RSchoonbaert on www.twitch.tv
Best channel for:
Mixed games and other varieties of poker at the mid-high stakes
Back to Top
Study Poker with
Pokerstars Learn

, practice with the PokerStars app

Try our Free Scholars Leader Board to practice your new skills.
Quick Links
Learn
Practice
Chat with us
Watch and share