The introduction of the Platinum Pass for the inaugural PokerStars Players Championship (PSPC) in 2019 provided us with hundreds of players to root for. Many of them were complete poker newcomers, micro-stakes players, and solid but modest grinders taking on the game's elite for the first time.
When players like that enter a tournament containing all of the very best poker players in the world, it's not so much a David vs Goliath underdog story, but more the Karate Kid vs the entire Cobra Kai. You can knock down one tough opponent, sure, but there's always another waiting in the wings, ready to fill the empty seat at your table.
That's what made the PSPC 2019 so special. No table was the same.
Someone playing their maiden live poker tournament might have found themselves sandwiched between Daniel Negreanu and Phil Hellmuth, in a $25,000 buy-in, no less. Conversely, a high roller regular might have found themselves licking their chops on a table full of amateurs.
There were many amazing moments in the Bahamas almost four years ago (and we'll be taking a close look at our top five, beginning next week).
But looking back, it's the underdog stories we remember most.
Fitness instructor goes the distance
It's easy to forget that the winner of the PSPC 2019 was only playing in the $25K tournament thanks to his Platinum Pass.
Today, Ramon Colillas–who won it all for $5.1 million–is a PokerStars Team Pro who battles in high-stakes tournaments worldwide and on PokerStars, with great success.
But prior to the PSPC he was a personal trainer turned poker pro who had only been making his income playing cards for a short while.
In the mid-2010s, Colillas opened a gym in his small village, Puig-reig, a 1,000-year-old town of 4,400 people. It was so successful that he barely found any time for himself.
"If I had one free hour, I would use it to study or play [poker]," he said.
Poker was his dream and he learned quickly. Colillas began making enough money on the tables that he could put the gym aside and focus on pursuing his passion.
It didn't go well at first. His bankroll took huge hits and he dropped down in stakes. But things turned around and in 2018 he caught fire, winning the first stop of the Championship of Spain (CEP). There was a Platinum Pass awaiting the winner of the leader board at the end of the tour, so he played all of the other CEP events too and ultimately won it.
Colillas had never played a $25,000 buy-in prior to the PSPC. Yet there he was, rubbing shoulders with the best.
And he wasn't the only Platinum Pass winner to run super deep.
A talented and successful pro from Brazil named Pedro "PadiLhA" Padilha finished 10th for $328,500 (Padilha would have played the PSPC anyway, but won a Pass in a Brazil Series of Poker Diamond Freeroll).
And then there was Marc Rivera, a legendary player in his homeland of the Philippines, who finished third for $2.16 million. Rivera won his Pass by taking down the APPT Manila National Main Event, but there's a good chance he too would have played, Pass or no Pass.
"[Rivera]'s one of the guys from the Philippines who has played poker for the longest. Everyone knows him," 2023 Platinum Pass winner Florencio Campomanes told us recently. "He's not primarily a tournament player, but he's probably the best cash game player in our country. So when he made the final table, the Philippines was glued to the PSPC. We all watched it."
But Colillas would never have ventured to the Bahamas were it not for his Platinum Pass win. And he beat out a 1,039-player field, changing his life once again.
---
MORE ABOUT THE PSPC:
ALL PSPC COVERAGE | WINNERS SO FAR | WHAT MAKES THE PSPC SPECIAL?
From the micros to the majors
Before the PSPC, Germany's Michael Robionek was a true micro-stakes player whose career-best cash was for $85 when he finished second in a $1 tournament on PokerStars.
He'd recently lost his job at an international steel company. "I sold niche products and after a few company mergers I was left with my niche knowledge," he told us. "Since nobody offered me a job, I knew I had to invest in my future."
Robionek wanted to start an event management business but couldn't realise his vision without some capital investment. Then he won a "Human Lie Detector" Freeroll on PokerStars and with it, his Platinum Pass.
"My investment in this tournament was my future, the Life Changer. Even with a min-cash, I could build something up," he said.
And he did much better than a min-cash.
Robionek finished 23rd for $150,600.
Try and try again
Having learned the game from friends at university, Bulgaria's Atanas Pavlov had only been playing poker for a year before he finished runner-up in a MegaStack event at London's Hippodrome Casino for £17,477.
That meant he just missed out on a Platinum Pass.
But he didn't give up. Pavlov began playing tournaments regularly, chasing his goal of winning a trip to the Bahamas.
That goal was accomplished when he won the £250 buy-in PokerStars Live London Series Main Event for £10,363 less than a month later.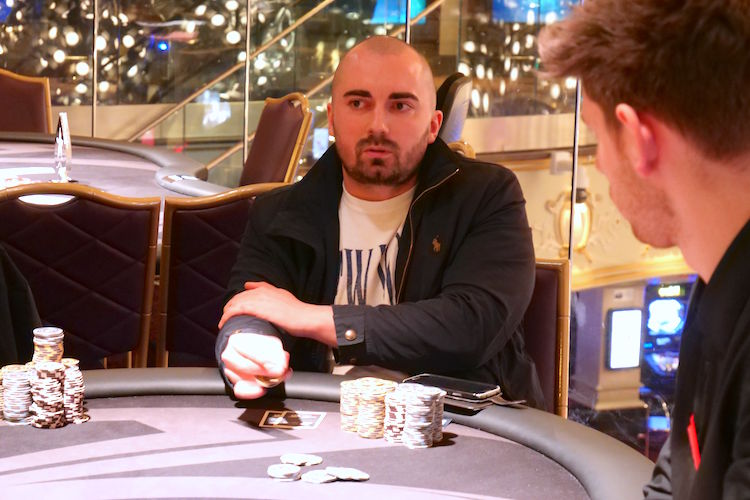 Pavlov would go on to finish 30th in the PSPC for $105,000, the biggest score of his career at the time.
He's absolutely smashed that since, though.
Pavlov is now a full-time poker pro and an indisputable beast who won the MGM Summer Series for $364,800, an EPT side event for £72,100 and had a runner-up finish in another EPT side event for €56,480, all in 2022 alone.
The thrill of the min-cash
With such a big buy-in, even a min-cash in a $25K event is enough to have a huge impact on someone's life.
Professional chef and amateur poker player Filippo Filardo won his Platinum Pass in an all-in shootout tournament, but when he received his email of congratulations from PokerStars support, he still questioned whether the whole thing was real or some beautiful dream.
It was certainly real, as were Filardo's emotions as the PSPC bubble burst and he was guaranteed a minimum payout of $25,450.
If you want to see one of the most grateful people here, see amateur poker player and pro chef Filippo Filardo sweat the bubble, survive it, & then cash for $25K. Full story in live #PSPC updates: https://t.co/2txADaWnr7 pic.twitter.com/cCvYkHD55T

— PokerStars Blog (@PokerStarsBlog) January 8, 2019
And reactions like that are what the PSPC is all about.
We look forward to more magic moments when the PSPC 2023 kicks off later this month.
In the meantime, join us in the countdown
Back to Top