How Guillaume Diaz busted in the EPT Barcelona Main Event yesterday.
The bubble came faster than some people expected, and lasted longer than most expected too.
And in the middle of it was Frenchman Guillaume Diaz, who crashed out, having clung on for so long that he was ultimately forced in from the blinds with a single chip.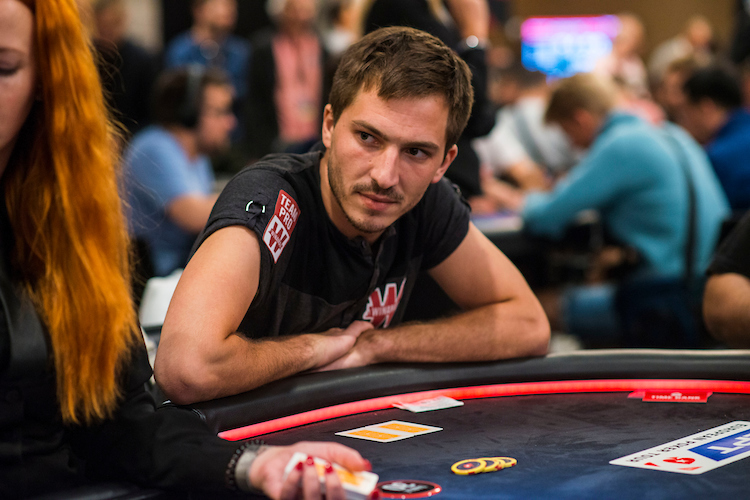 Guillaume Diaz spent an anxious bubble hoping someone else's chips would run out quicker than his
Jason Kirk reported from a few feet away at the time, and you can read his excellent account of that moment below.
But here's how it looked, from just about six inches above Jason's right shoulder.
9:25pm: Guillaume Diaz bubbles, everyone else cashes
Level 15 – Blinds 2,000/4,000 (BB ante 4,000)
Guillaume Diaz just had a very momentous half-hour on the bubble of this tournament. Settle in for a tale we're calling Le long voyage étrange de Guillaume Diaz.
Diaz, who won the EPT National in Monte Carlo back in May to earn a Platinum Pass, was down to a single 5,000 chip as hand-for-hand play began with two players left before the money. Diaz folded, hoping for some help from the rest of the field with three hands before he was due to pay the big blind.
The first hand saw three different players at risk around the room, and when this was announced Diaz let out a hearty "VAMOOOOOOOOO!!!" Alas, the help did not come: two of those players tripled up, and the other doubled.
Diaz folded his next hand, leaving him one more hand before the moment of truth approached. Fellow players and French media began to visit him at his table as the story of his short stack began to get around. There was only one bustout on this round, leaving Diaz with hope of avoiding the bubble.
The following hand saw Diaz fold again. His tablemates Niall Farrell and Simon Mattsson got into it, but Farrell folded to an all-in move from Mattsson. Nobody else busted, either, and Diaz was closer to danger than ever: he was now set to be forced all-in from the big blind.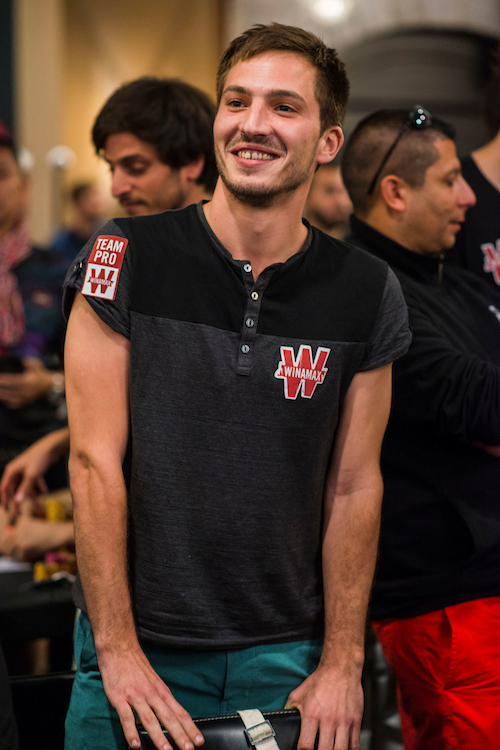 Guillaume Diaz rises from his seat fearing the worst
The moment of truth had arrived, and it started badly for Diaz when Adrian State raised to 10,000 in the hijack seat. Niall Farrell called the raise and took the 8♠ A♣ 9♦ flop but folded to State's 13,000-chip bet, which paused play until the tournament director and camera crew could make their way to the table. Once they were there, Diaz and State turned over their cards:
State: A♦ K♥
Diaz: Q♠ 4♣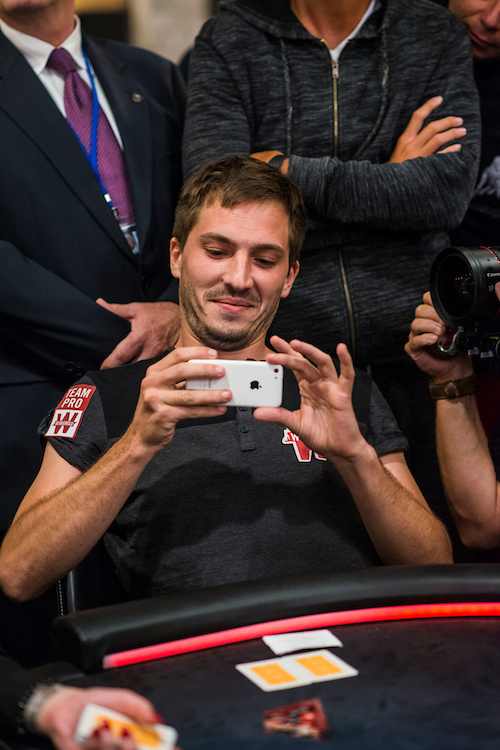 Photographic evidence of a bubble moment
The turn card was the 10♠ , keeping hope alive for Diaz with a gutshot straight draw. But the river was the 8♣ , locking up the win for State's pair of aces. Monsieur Diaz, il était le bubble boy.
Diaz took it in stride, all smiles — it had been a long, strange journey indeed, but with a Platinum Pass and an EPT National title already in his pocket there was less to worry about than there would be for many other players.
---
The end of the ride
---
With that, we're officially in the money here at Casino Barcelona. –JK
---
Read more coverage from yesterday's action here.
For Day 3 updates, click here.
Back to Top