From the latest news to player interviews, here's your weekly round-up of all the latest content from PokerStars Blog.
• #PASScode winner Joshua McLaggan headed for 2019's biggest $25K freezeout
• Matthias Eibinger wins €50,000 Super High Roller at EPT Prague
• Prague Main Event underway
• Winter Series starts this month: 60 events and $85m of holiday cheer guaranteed
• Arlie rounds up the cattle to complete his tenth labour
• Twitch community rallies for Spraggy's Tetbury Town Reserves
• Poker in the Ears: Shawn Buchanan is this week's guest
---
#PASScode WINNER (AND ANSWERS) REVEALED
After weeks and weeks of planning, devising, and coding, PokerStars Blog's "near impossible" #PASScode competition was cracked in a couple of hours by a young Maths student in Glasgow.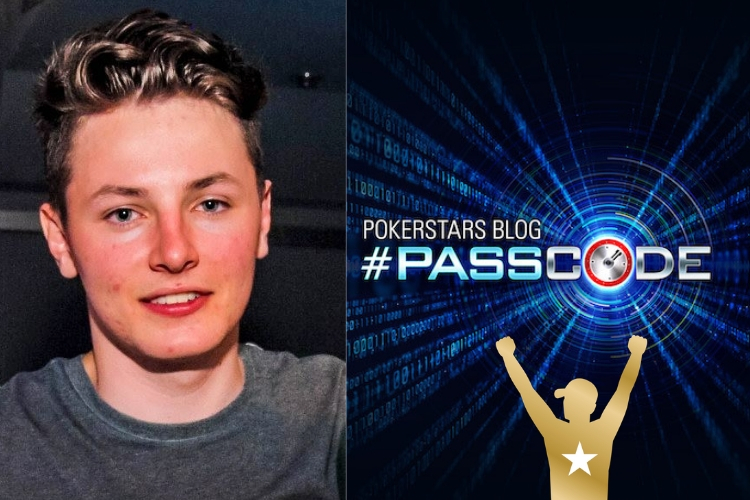 "I've always loved problem solving puzzles like this one, and while at school I actually competed in some problem solving competitions," winner Joshua McLaggan told us after he was named the winner. He was on a team of four that made the UK finals. "I was one of only 22 students in the UK to gain full marks."
McLaggan will now be heading out to the Bahamas in January to play the $25,000 PokerStars Players Championship, and in his own words he'll need to "10x my poker skill somehow, as I'll really need it."
Want to know more about this kid, and how exactly he cracked the #PASScode?
---
MATTHIAS EIBINGER WINS €50K SUPER HIGH ROLLER AT EPT PRAGUE
Your beloved PokerStars Blog team are all currently holed up at the Hilton in Prague for the annual European Poker Tour stop. Our live coverage kicked off back on Monday with the biggest buy-in on the schedule, the €50,000 Super High Roller, and after three days of play we found ourselves a winner.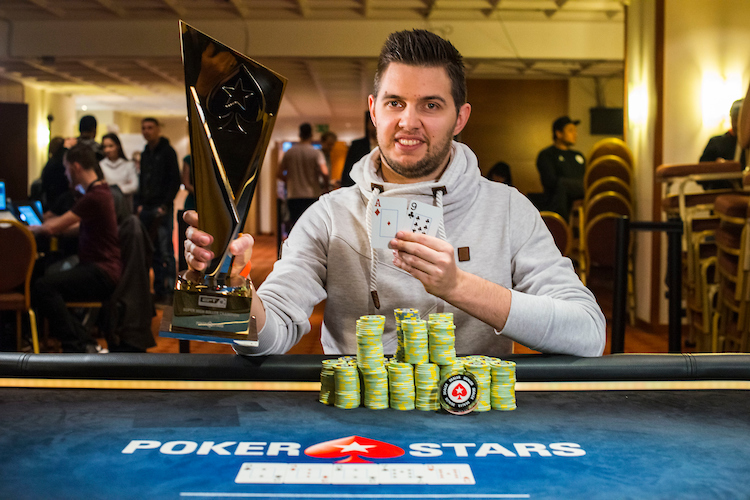 Matthias Eibinger: A new Super High Roller monster
Austria's Matthias Eibinger capped his incredible 2018 with the title and €653K, bringing his yearly winnings close to $5 million.
"When I was first playing online and moved into the live scene, it was a very different game," Eibinger said of his entry to the live super high roller world. "I liked that aspect very much so I considered playing more of those. Travelling around, I really enjoy it. And with the high rollers I find there is a very good atmosphere. I think it's a very good environment lately and I want to keep doing that."
Eibinger defeated a tough final table which included Andras "probirs" Nemeth, Pavel Plesuv, and Charlie Carrel.
Read more about Eibinger's win here.
---
EPT PRAGUE MAIN EVENT UNDERWAY
Following on from Eibinger's victory, all of our attention turned to the €5,300 Main Event.
It's a damn big one, with 1,174 total entries creating an enormous €5,693,900 prize pool. The eventual winner will receive €1,020,000.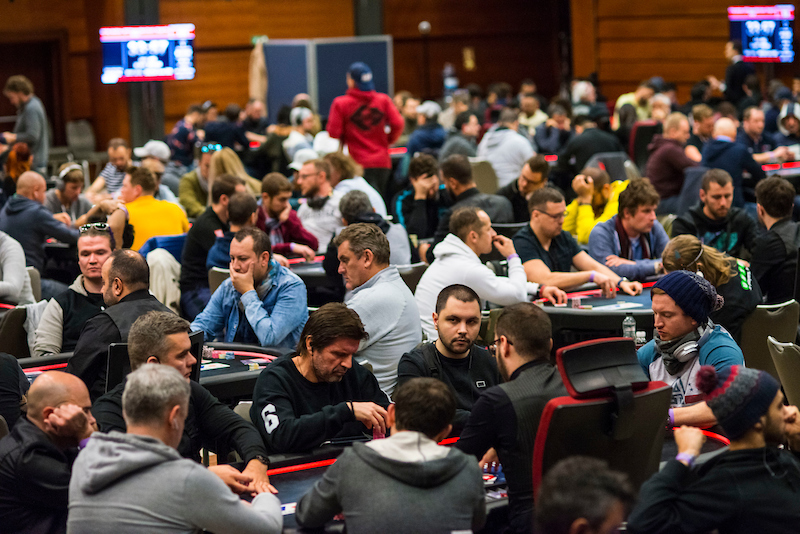 Tournament area at EPT Prague
Day 2 is currently being played out, and we'll be bringing you blow-by-blow coverage until it all ends on Tuesday.
Follow along with the action here.
---
WINTER SERIES STARTS THIS MONTH
Starting on Sunday 23 December and running through to Monday 7 January, the PokerStars Winter Series returns bigger and better than ever with 16 days on the schedule and 60 tournaments in total.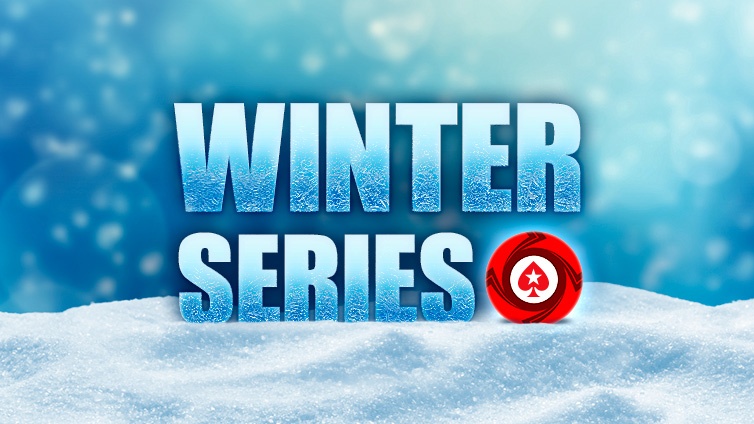 There will be $40 million guaranteed across the series, and new features include a weekly High Roller event each Wednesday (with buy-ins of $5,200) plus extra events like Spin & Go's, awarding tickets to Winter Series events.
Want to know more? Of course you do.
Get all the Winter Series info here.
---
ARLIE COMPLETES LABOUR #10
For his tenth challenge, Arlie Shaban was tasked by the Poker Gods to get more than 400 players to register Fintan and Spraggy's home game, temporarily titled the "Cattle of Arlie".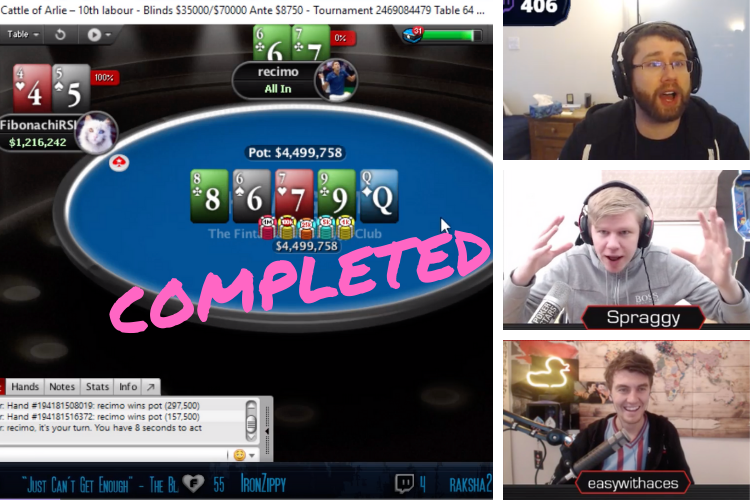 He not only did it, but smashed it, with 899 turning out to help him move on to the next challenge.
You can check out how Arlie completed it here.
For now though, it's time for his next challenge. Check back here later for the latest from the Poker Gods.
---
TWITCH COMMUNITY RALLIES FOR SPRAGGY'S TETBURY TOWN RESERVES
Tetbury Town Football Club was in a spot. It needed a new sponsor for a side that had a brand new manager (PokerStars Online's very own, Spraggy). With the season approaching, the Tetbury Town Reserves, despite a promising future ahead, had no sponsor for its kit.
That is when the Twitch community…one particular Twitch community…decided to step up and fix the problem.
PokerStars Blog took a trip down to Tetbury to find out exactly how Spraggy's name ended up on those pretty new orange kits. Check it out below.
---
NEW POKER IN THE EARS, FEATURING SHAWN BUCHANAN
James and Joe have some early results from #EPTPrague, and headline info on the forthcoming Winter Series on PokerStars. Plus, they reveal details of an exclusive Winter Series freeroll for #PokerInTheEars listeners.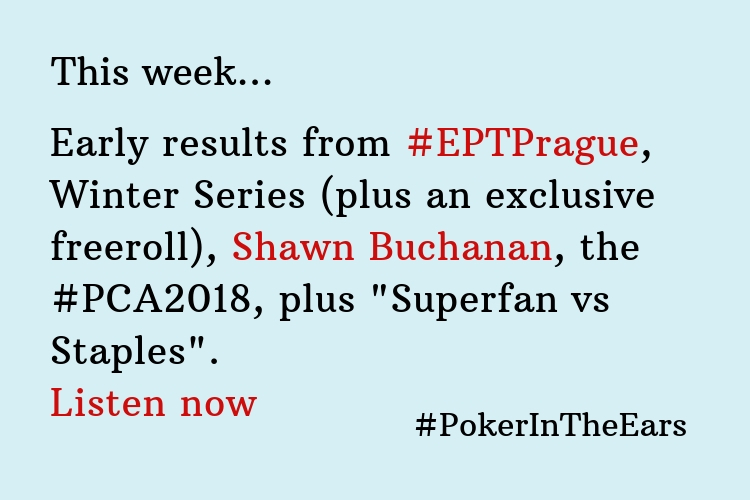 In their TV Recap, the boys discuss the last few episodes of #PCA2018 (available to watch at YouTube.com/PokerStars), including the Main Event final table. They talk to someone who as AT that table: Shawn Buchanan.
---
Opening a PokerStars account is easy. Click here to get an account in minutes.
---
Back to Top
Study Poker with
Pokerstars Learn

, practice with the PokerStars app

Try our Free Scholars Leader Board to practice your new skills.
Quick Links
Learn
Practice
Chat with us
Watch and share