When the football gets under way in Russia this summer, fans across the globe will be dreaming of glory. Sure, they will be hoping their team is crowned champions in Moscow on July 15. That is always true. But this year it is even more important than that.
Thanks to the Stars £100 Million Challenge, it's more crucial than ever that results fall in your favour. If the stars align through all 64 matches, you could be a millionaire 100 times over.
But with big bucks comes big pressure, and some familiar fears creep in. Anyone who has filled a Stars £100 Million Challenge bracket is surely going to be dreading the moment the scores are level in a knockout game, the clock has ticked through 120 minutes and the referee blows his whistle one last time, pointing to the penalty spot.
Football's flawed, imperfect tiebreaker — the penalty shootout — will once again be used to split the difference between two exhausted teams in the knockout phase. That is the moment that lady luck peels off her tracksuit and comes dancing on to the pitch. Dread mixes with expectation; terror underpins hope. All bets are off.
Three whimpering Lions
For England supporters in particular, penalty shootouts are the worst-case scenario. "I consider us drawing dead," says Ben Spragg, better known as PokerStars Ambassador Spraggy, who is a long-suffering England fan. "It's finished, we've already lost. If we go into any penalty shootout situation, we've already lost."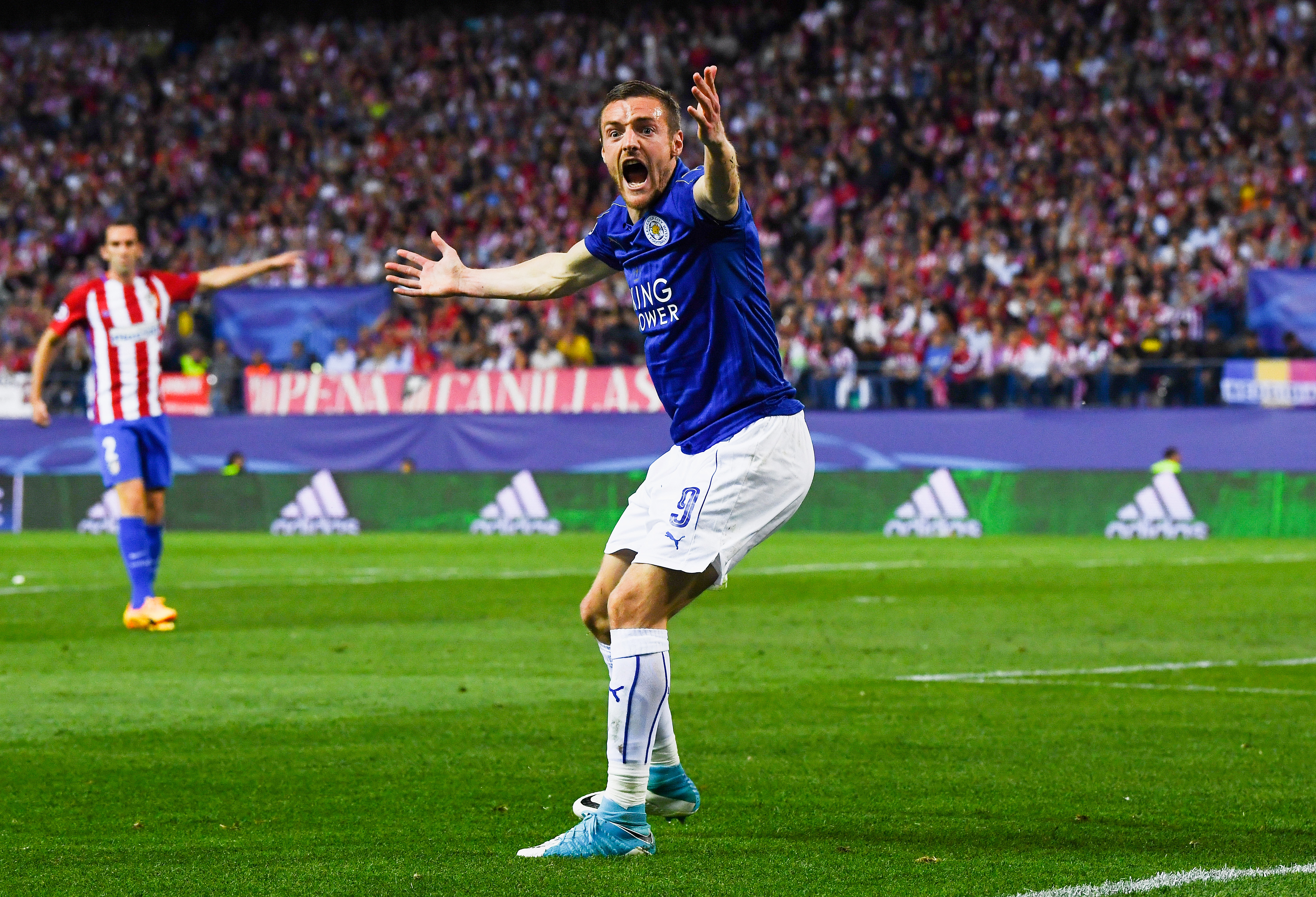 If England get into a shootout in Russia, Jamie Vardy will be expected to step up
The pessimism is not unwarranted. Since shootouts were introduced to major international football tournaments in 1976, England have been involved in seven. They have lost six of them: three in the World Cups of 1990, 1998 and 2006, and three in the European Championships of 1996, 2004 and 2012. Only Italy have lost as many — but the Azzurri beat England when the two went head-to-head from 12 yards in the Euro 2012 quarter-finals in Ukraine.
Even England's solitary success in a shootout, versus Spain in the quarter-finals at Euro 96, was hastily forgotten. In the next match, Germany were characteristically ruthless in beating England in a shootout at Wembley, ending the best hopes for success for a generation of England fans.
"Germany always seem to rattle in penalties just for fun," Spraggy says.
It's true that while England's Three Lions have whimpered, Germany have excelled. The teams' shootout records represent a near-perfect mirror image: Germany have won six of seven in major tournaments, and all four they have played in the World Cup. Similarly, Germany's only failure, in the European Championship final of 1976, barely raises a flicker in supporters' memories.
The two shootouts the old rivals have played against one another remain the most heartbreaking tournament eliminations England have suffered. In Turin at Italia 90, with Gazza's tears apparently lubricating England's certain eventual glory, Germany found no room for sentiment. Six years later at Euro 96, England again thought they were headed to the final on home turf. Enter: party-poopers Germany, and the strutting Andreas Möller, to break spirits anew.
Germany's rational plan
This disparity in fortunes has frequently led pundits to focus on the England/Germany duel in a bid to understand the dark mysteries of penalty shootouts. What do the Germans do right that the English do wrong?
"It's a combination of things," says Raphael Honigstein, a German football journalist. "Certainly I think Germany's technique, coupled with lots of training, helps. But there's obviously a psychological factor involved as well as far as England are concerned. They go into every penalty shootout with this belief, or this fear, that they will lose again. It's not really tangible, it's not really quantifiable, but it must play a role at some level."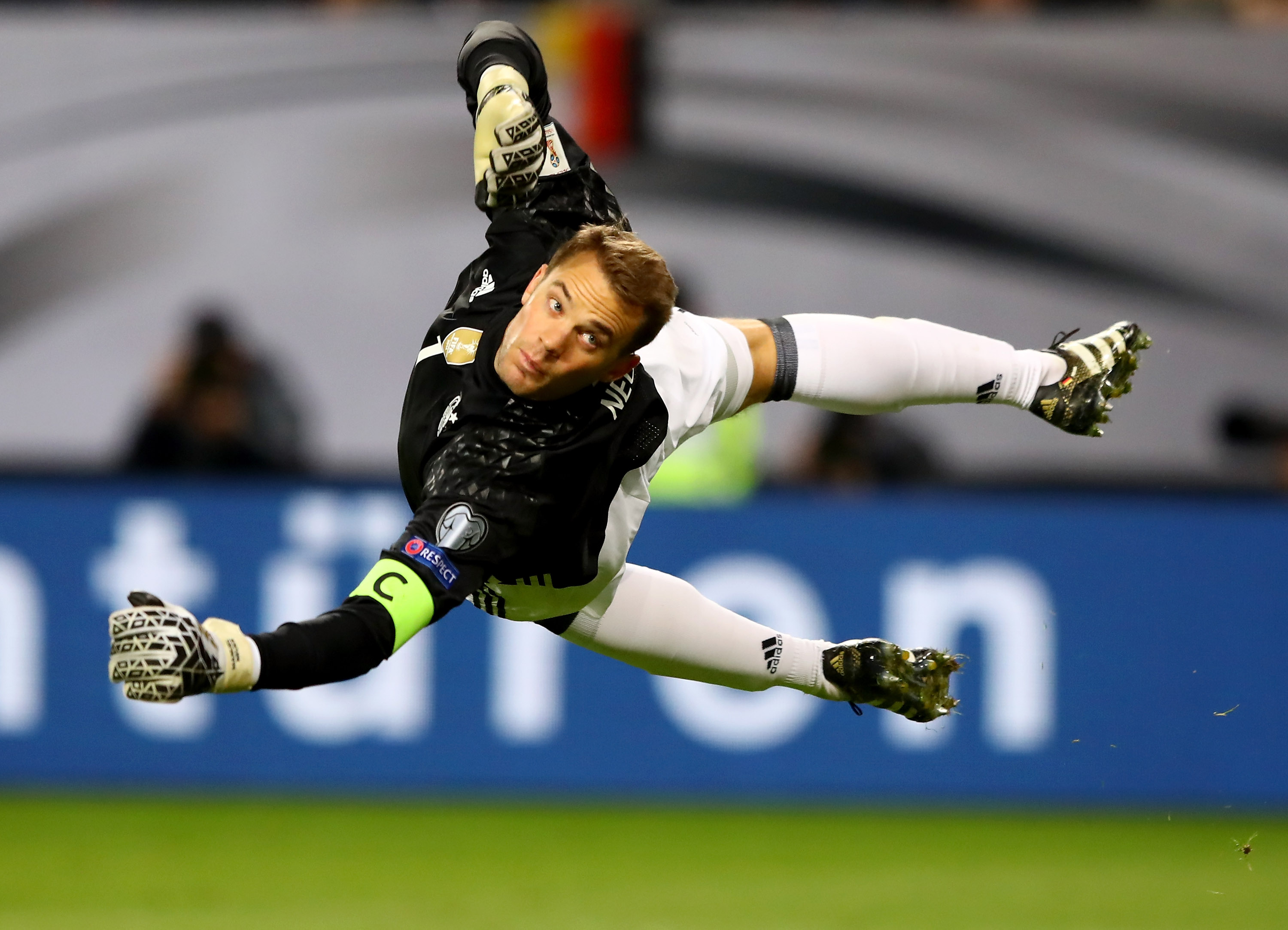 German number one Manuel Neuer is a formidable opponent from 12 yards
Although Honigstein initially echoes what any football fan might say, his further analysis is unusual, particularly in the way it characterises the approach of German supporters and players to shootouts. Far from depicting them as the sure-fired, metronomic robots that feature in English nightmares, Honigstein argues that part of Germany's strength comes from their understanding that they could lose. They have a rational approach to penalty shootouts, accept the uncertainty and just hope for the best.
"I'm not sure [the obsession with penalties] is even a thing in Germany, because German fans see a lot of German teams lose shootouts domestically, otherwise every cup game with a shootout would go on forever," he says. "Let's not forget, the last time there was an England/Germany shootout of some kind, in the 2012 Champions League final, Chelsea won [against Bayern Munich]."
He adds: "The idea that the German national team is invincible is not that pronounced, especially not after the Italy shootout, which was quite farcical."
The "Italy shootout" took place at the European Championships two years ago, where Germany eventually beat Italy 6-5 on penalties, despite seven spot-kicks being missed. For Germany, Thomas Müller gave Gianluigi Buffon an easy save, Mesut Özil hit the post and Bastian Schweinsteiger's shot came down with snow on it. It was only because Simone Zaza, Graziano Pellè, Leonardo Bonucci and Matteo Darmian were similarly wayward that Germany went through. Both teams were extraordinarily inept.
"There is only so much you can control at this level," Honigstein says, referring to the deep stages of a major tournament. "Individual moments, an individual bit of luck, or lack thereof, will make the difference."
Luck and sample size
This is one way in which poker players can comfort their soccer-following friends, offering a gentle reminder both of the significant luck element in penalty shootouts, backed up with a lecture about sample sizes. Even those schooled solely on a football field rather than a poker table often use the term "coin-flip" to describe a shootout and while England's 14 percent success rate is running below average, seven events represents a miniscule sample size. There's not a poker player alive who hasn't lost six consecutive pair-versus-overcards situations (or even that many 60/40 coups) but he or she will expect variance to even out eventually.
"Being ready to lose makes you a lot more confident," Spraggy says. "You've already accepted the worse outcome. Poker players are used to playing correctly and losing, whereas I don't think a lot of sports people are ready to accept that. They play it out in their mind as this awful thing."
Momentarily imagining himself as England's team psychologist, Spraggy prepared what he would tell the team. "Every penalty, don't worry about the history of it," he says. "Don't worry about the pressure of the moment. You can take a penalty, if it was in a Sunday league park. You've got to focus on the technical aspect of it. It's very easy to score a penalty. You just wallop it in. Just focus in the moment, take the penalty and score it."
For all that, history weighs heavily on England's fans and players, and it is maybe the case that England's consistent failure to secure any silverware that plays into the national obsession with penalties. With each passing trophy-less year, the scrutiny of the men who squandered previous chances grows more extreme; shootout ineptitude becomes both symptom and a cause of England's woes.
Honnigstein contrasts the typically English desire to find and vilify a scapegoat to the fate of Ole Hoeneß, the West Germany striker of the 1970s, who carried the can for defeat in the 1976 European Championship final. Hoeneß blasted his spot-kick over the bar in the decisive shootout against Czechoslovakia, and any blame landed at his feet. But he never suffered quite the same lasting notoriety as England's infamous penalty missers.
"It was offset by the fact that Germany has won lots of trophies before and since," Honigstein says. "It's something that some people remember, but I don't think that anyone is really upset in 2018 that Germany did not win the Euros in 1976."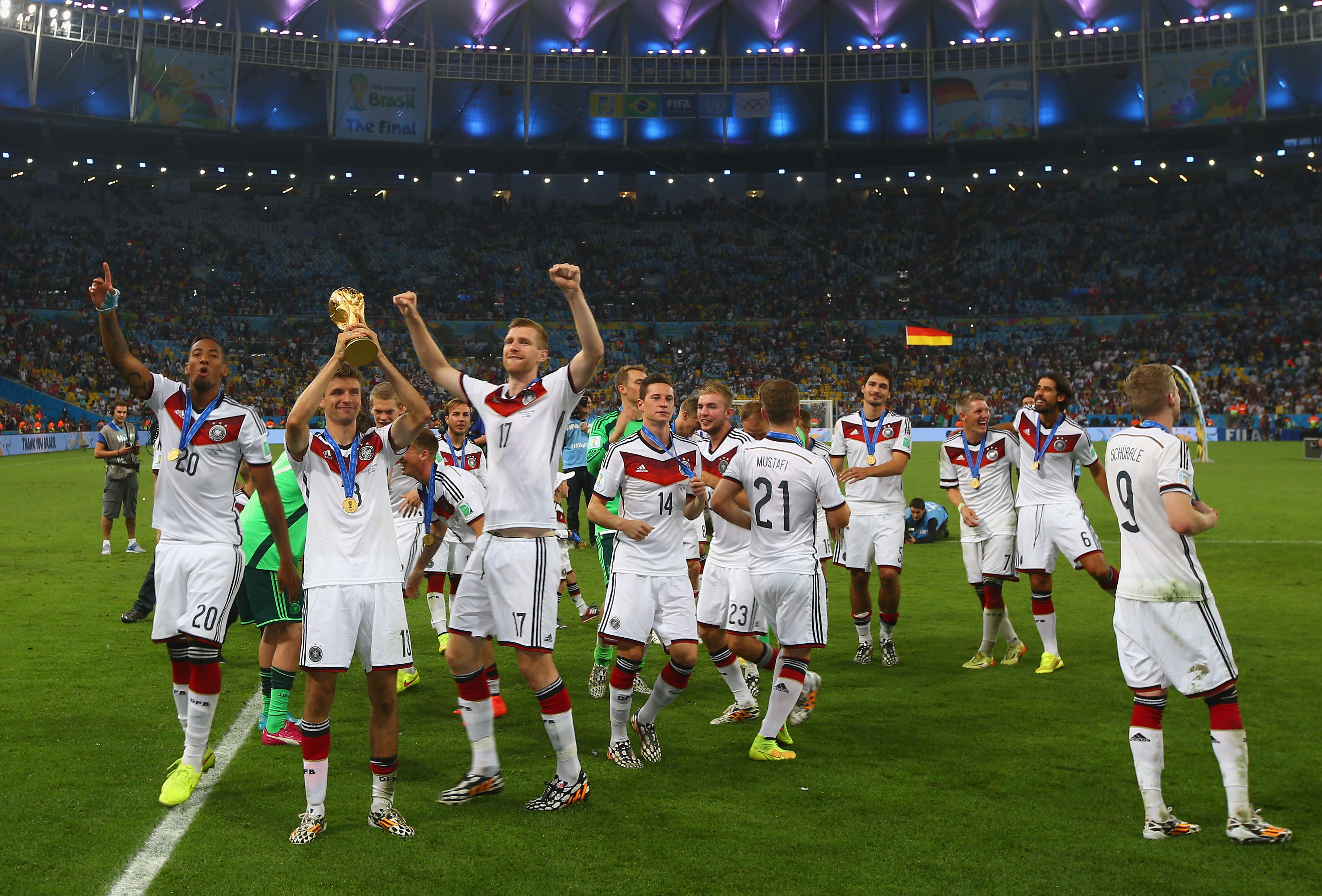 Germany celebrate their victory in Brazil four years ago
Champions in failure
By contrast English fans–and the English media–revel in failure. In common with almost all England supporters, Spraggy was able to reel off a long list of men who had stepped up to the spot and choked, including the former England winger Chris Waddle, who missed a decisive penalty in the semi-final shootout against Germany in 1990.
At the point that Waddle was shooting his penalty into orbit over Turin, Spraggy was all of two months old, having been born in May of that year. Even though it may have been on the TV beside the infant Spraggy's crib, he knows only of Waddle from subsequent replays.
"I guess it's like poker in a way where you remember your bad beats," Spraggy says. "I'm sure we've had a lot of great penalties and a lot of great penalty takers but there's that memory bias where we remember the losses and not the wins. I couldn't tell you who scored the winning penalty against Spain [at Euro 96]. But I know Chris Waddle and Gareth Southgate."
Southgate, of course, is now England manager, and has the unenviable task of convincing his players to do as he says, not as he once did. He takes a youthful squad to Russia–only seven of England's 23 players were alive when England lost the infamous penalty shootout in 1990–and his presence as England manager can surely convince his charges that the world will not end if they miss a penalty.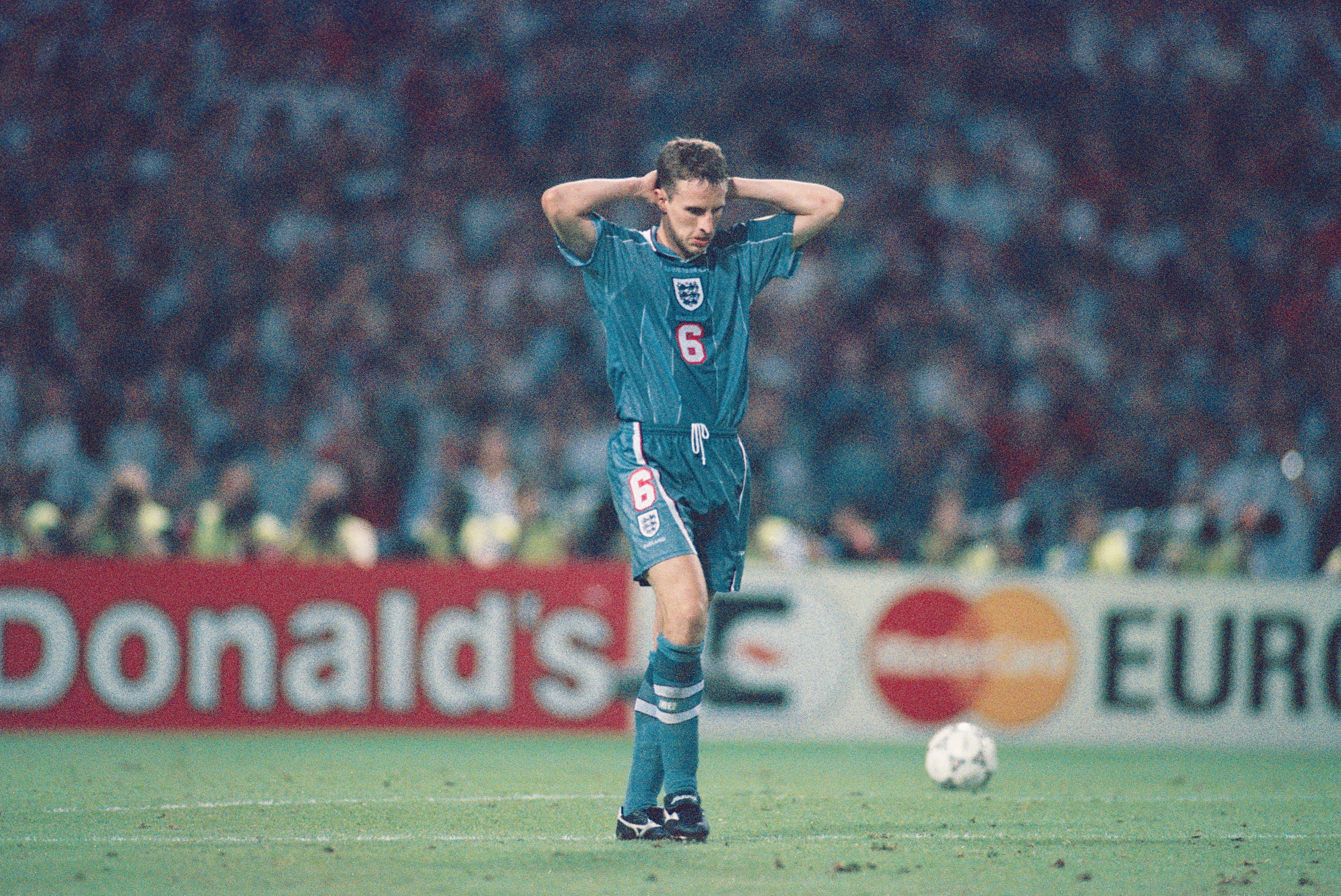 New England manager Gareth Southgate missed from the spot in 1996 – can he fare better from the touchline in 2018?
Even Honigstein says that all is not lost for England. With reference to the 1990 shootout against Germany, Honigstein says: "If that was to be played now, I think there might be a different outcome. It was easy to explain then, but you cannot necessarily project forwards and say the same thing would happen now. Times have changed and it's no longer a given that Germany would win the penalties."
It still represents a long shot that England succeed in Russia this year. BetStars lists them at 14/1 to win the World Cup (Germany are 19/4). It's a longer shot still that your Stars £100 Million Challenge will come good, but you have to be in it to win it. As Spraggy says: "You never expect to win the Sunday Million, and you're never surprised when you bust out. But every Sunday you're like, just maybe."
Raphael Honigstein's new book Bring The Noise: The Jurgen Klopp Story is available now in all good book stores. For a chance to win one of 10 copies check out @BetStars on Twitter now!
Back to Top