Here's a a question to ask yourself as you take a first look at the new Winter Series schedule, released today.
Is your opponent easier to beat full of turkey, mulled wine, and a little sleepy? Or are you?
What kind of player are you when well fed, and full of seasonal cheer? And how about when you're not due at work first thing in the morning?
A better one perhaps?
Even if you don't know, it would be worth finding out. And you can do for as little as $0.55.
CLICK HERE FOR THE FULL WINTER SERIES SCHEDULE
Because is there a better gift to get this festive season than time to play poker? And a Winter Series to play in — starting on Sunday 23 December, through to Monday 7 January.
---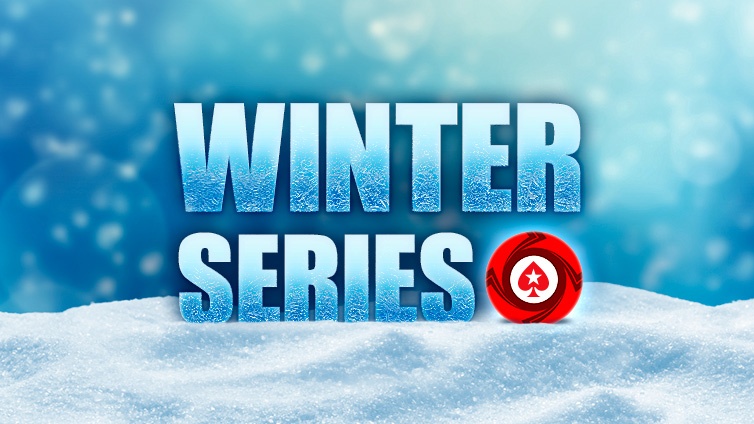 Winter Series starts on 23 December. There are 60 events and $85 million guaranteed on PokerStars during the series
---
We've made Winter Series even bigger this year.
It's longer, with 16 days on the schedule.
There's more to play, with 60 tournaments in total.
And there are even bigger guaranteed prize pools — with $85 million guaranteed over the course of Winter Series.
That's $40 million over Winter Series events, and $45 million in other events on PokerStars.
New features to Winter Series
And as this is the time of year when the holidays give you a chance to play, and the weather ensures that's done indoors, we've added a few more features.
Things like:
A High Roller event each Wednesday, with buy-ins of $5,200.
And extra events, like Spin & Go's, awarding tickets to Winter Series events.
Four tiers of buy-in, from Micro stakes to High Roller
And in case you're thinking this Winter Series is only open to those able to withstand frosty buy-ins, this year there are four tiers of entry.
It guarantees you can play regardless of how big (or small) your bankroll is.
Micro events start at $0.55 to play, and have guaranteed prize pools up to $10,000.
Meanwhile the High events start at $500 to play, with guarantees into the millions.
Turbos for when you're short on time
All of this might sound appealing, but we also understand that time off over the holidays doesn't always mean free time.
That's why we've included Turbo events every on the schedule. So if you're short of time you can still make the most of Winter Series.
Turbo and hyper-turbo tournaments don't take all day to play. That leaves you time for those other responsibilities. Things like making Egg Nog, thinking up New Year's resolutions, or shoveling snow.
Check out the full Winter Series schedule
If you're thinking you might be pretty good in these conditions, and with these buy-ins, you can find out more on the Winter Series homepage.
That's where you'll find the full schedule for Winter Series, including dates, times, buy-ins for each of the 60 tournaments, as well as the guarantees adding up to $40 million.
And remember there is another $45 million in guaranteed prize money beyond Winter Series, and in a variety of events.
That includes everything from multi-table tournaments, sit & Go's, and Spin & Go's. Plus everything else in between.
That's a lot of ways to get your hands on some of that seasonal cheer.
CLICK HERE FOR THE FULL WINTER SERIES SCHEDULE
And if you ever do work out whether you play better in that sweet spot full of food, and without an alarm for tomorrow morning, we'd love to hear from you.
You can email us at blog@pokerstars.com. Or message us on Twitter: @PokerStarsBlog.
Back to Top
Study Poker with
Pokerstars Learn

, practice with the PokerStars app

Try our Free Scholars Leader Board to practice your new skills.
Quick Links
Learn
Practice
Chat with us
Watch and share