There are many ways to enter a poker tournament, including dressing up as a comic book character and halting the rest of the tournament as you lead a bevy of scantily-clad women to your seat on the feature table, all while waving a war hammer above your head. But then again, that's not for everyone.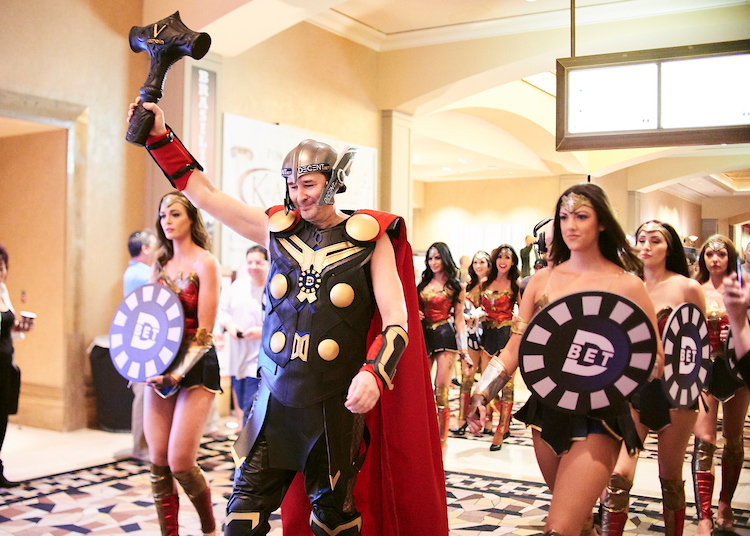 Phil Hellmuth's entrance to the WSOP Main Event
A few hours earlier than Phil Hellmuth's entrance to the Main Event, a less well-known player from Braintree, Mass., also joined the World Series of Poker (WSOP) Main Event on Day 1C. And, in my opinion, Cheryl Sloane's entry was even more dramatic.
At around 3pm, Sloane was one of ten players seated in a $1,000 flip-out tournament in the King's Lounge section of the Pavilion Room. In case you're not familiar with the flipout format, it's flippin' fantastic: all of the entrants get two cards for their grand-worth of buy-in and then the dealer puts down a flop, turn and river. The best hand scoops the lot, which in this case meant a ticket to the WSOP Main Event.
It's just like a regular Texas Hold'em tournament–except for the fact that it lasts precisely one hand, involves no skill whatsoever, and condenses a week of excitement into one intense adrenalin shot fired straight into the veins. And today, Sloane was the player who got the hit when her 9♣ 10♦ connected rather nicely with the 6♠ J♣ 7♠ 8♣ 6♣ board.
"Thank you poker gods!" Sloane shouted. "Thank you dealer!"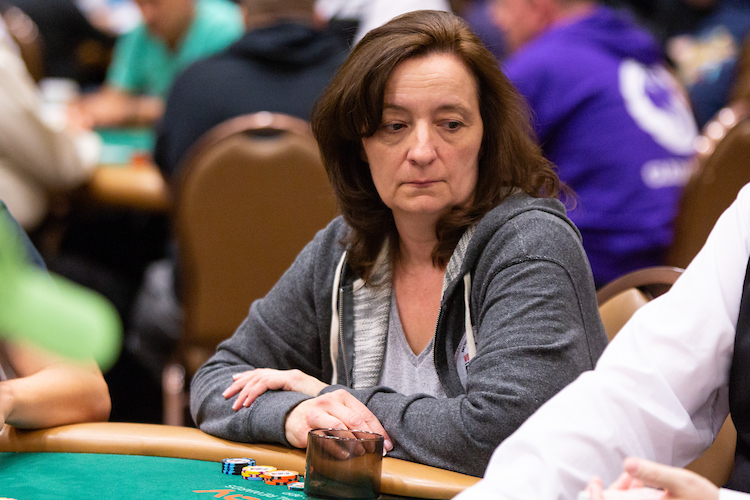 Cheryl Sloane takes her seat at the WSOP Main Event
The revelation that she was going to sit down at her first Main Event dawned slowly on Sloane, as you can see in the video we tweeted. She quickly sees that she has a straight and both her and her brother Jim begins bouncing up and down in anticipation.
But they both know not to celebrate too soon as the board also brought a potential flush. They're only able to celebrate fully once all their opponents' hands are revealed. And they certainly plan to celebrate. They had just pulled it off by the skin of their teeth.
"My brother and I came, we were both planning to satellite in," Sloane said. "We played satellites yesterday. You know, it was rough. It was rough and tumble. I actually played in the deep stack last night and I cashed. I cashed last night for a thousand. We were actually thinking of just buying one of us into the Main, which is painful. We've been humming and hawing out there."
Sloane's brother Jim underscored how stumping up $10,000 was not really what they wanted to do. "This was Option A," Jim said, referring to the satellite. "That was Option B. Good thing Option A came through."
Cheryl picked the story back up. "We did one flip, because I had the thousand from last night, so we already did one flip. [They lost.] But we thought, OK, $500 each, we'll give it one more shot, then we'll go over to the Wynn. But…woooooooo!"
Jim is happy to be relegated to the cash game tables and to allow his sister to go all the way. As he prepared his journey to the Wynn, he said: "I'm fine with her playing because she's the best poker player I know. There's no question she's going to be at the final table."
For Cheryl, the fun is only just beginning. "What. A. Freakin'. Rush," she said.
---
Day 1A full chip counts
Day 1B full chip counts
Follow Team Pro's progress
Previous WSOP coverage:
From the archive: Stages
Moneymaker surveys the world he created
Negreanu continues preparations for PokerStars Players Championship
Then and Now: Andre Akkari
An exceptional Day 1A
From the archive: Rio here, Rio there
Then and Now: Maria Konnikova
All systems go on 'cattywumpus' World Series
WSOP photos by PokerPhotoArchive.com.
Back to Top