This year, PokerStars Blog is attending its 15th consecutive World Series of Poker (WSOP) Main Event. We've been here since Raymer, through Hachem, Eastgate, Cada, Duhamel et al. Periodically through the 2018 renewal, we'll dig out some coverage from yesteryear and take a look at how things went down back then.
Today, we journey back to 2015 and a day when the weather turned something slightly less than what's expected in the middle of the Nevada desert. All they wanted was a Chris Moneymaker-designed Fukuburger. What they got was a typhoon…
---
July 6, 2015
All we wanted was a burger. No, that's not quite right.
All we wanted was a Fukuburger, a creation of Vegas' famed burger man, a guy who turned his food truck into an enterprise, a guy who was kind enough to get together with PokerStars for a little promotion. The idea was simple: Chris Moneymaker would design his own burger. PokerStars would pay for the meals of anybody who wanted to come out and eat at the dinner break. It was going to be fun. PokerStars' Rebecca McAdam, Lee Jones, and Lauren Walsh had been working hard on it for days. Tonight was the night. Shuttles were scheduled to run beginning at 6:30 from the Rio. We were the first on the bus. It was about that time our phones started making funny noises and displaying things that looked a little like this.
The rain was starting to pelt the side of our van. Lightning was cracking on the horizon. The wind literally shook our 24-passenger vehicle.
This we, thought, was going to be fun. And we were going to get a free Fukuburger out it. Honestly, life was really good.
Just around the same time, we started to hear word that the inside of the Rio was starting to take on rain, too. Tables in two of the three conventional hall rooms were getting showered.
We officially have a rain delay at the WSOP

— Christian Harder (@realcharder30) July 7, 2015
We made the decision to forge ahead, and within minutes, we were standing in front of the burger truck. Stephen Bartley and I looked across the parking lot and made the call. We were getting a burger, rain and flood warnings be damned.
"I want a #1," I said. This came on advice from PokerStars' Garry Gates, who assured us that the #1 was the way to go.
"Are you sure you don't want the special?" the young lady said from her six inches of rain cover.
The special was Chris Moneymaker's specially-designed burger. He spent most of the day on Sunday designing it. You can see the burger action in the video below.
"I think I'll stick with the #1," I said. "I've been assured it's the best."
"Why else would it be #1?" agreed the guy on the grill.
The rain felt like it was picking up, but we had our burgers on the way. Really, it was an adventure, we had our ticket, and we were happy to take the ride.
About the time we were wiping wasabi mayo off our faces, Chris Moneymaker and Jennifer Shahade showed up for the festivities. It occurred to us that little warning on our phones wasn't a joke. The parking lot started pretending like it was a waterfall. We were on low ground.
Maybe…just maybe, we thought, we should stay inside. Before long, the rising water made our decision for us. Shahade, Bartley, and I ordered ice cream. We'd wait it out.
Moneymaker thinking, "This looks interesting."
It was about the time I saw a trash can floating across the parking lot that I realized we might be in for more than a little wait. That's when I heard chef Colin Fukunaga scream.
Outside, he had a nice PA speaker for music and calling out orders to customers who were forced to give silly names (I was "Sweet Pants," Bartley was "Crazy Brit.")
It was sitting on two big five gallon buckets, which, as you might guess…float. (Warning: some slightly NSFW language)
That's when the questions started. Would Moneymaker get back to his stack in the WSOP Main Event? Would the closed doors hold out the water? Does anyone have an innertube?
Inside Kuma Ice Cream where we were taking shelter, water started to come under the doors. Moneymaker took off his shoes and rolled up his pants. Employees ran for towels and brooms.
It was one of those moments one doesn't experience many times in a poker career. Over the course of the next hour, we stood with fellow poker media friends, poker champions, burger chefs, shopkeepers, stranded scooter drivers, and a homeless man who had scrambled to safety. At a certain point, all you can do is watch. So we did…as that innertube went floating down Spring Mountain Rd.
In the end, for most of us, it will just be a story we tell. It was the night we went for burgers and ended up in a flood. It was the night Spring Mountain was a river. It was the night Chris Moneymaker proved chivalry wasn't dead and guided Jennifer Shahade through the high water and back to the Rio.
Still, for all the stories we tell, the people left with the clean-up, chef Colin Fukunaga and his staff, probably won't remember it the same way. They were kind to us and ended up with a big ol' mess. They only served a few burgers, and all the people that might have come got stuck on the other side of the new river.
"I just wanted to do something nice," PokerStars Rebecca McAdam said looking out at the water.
When we finally found our way out, McAdam had grabbed a broom and was helping to mop up the store.
We made our way out on a road that was still a few inches deep in water and back to the WSOP, where a lot of tables and chairs were draped with trash bags from the leaks in the Rio roof. The WSOP staff had moved all the affected players to other rooms to finish their night of play.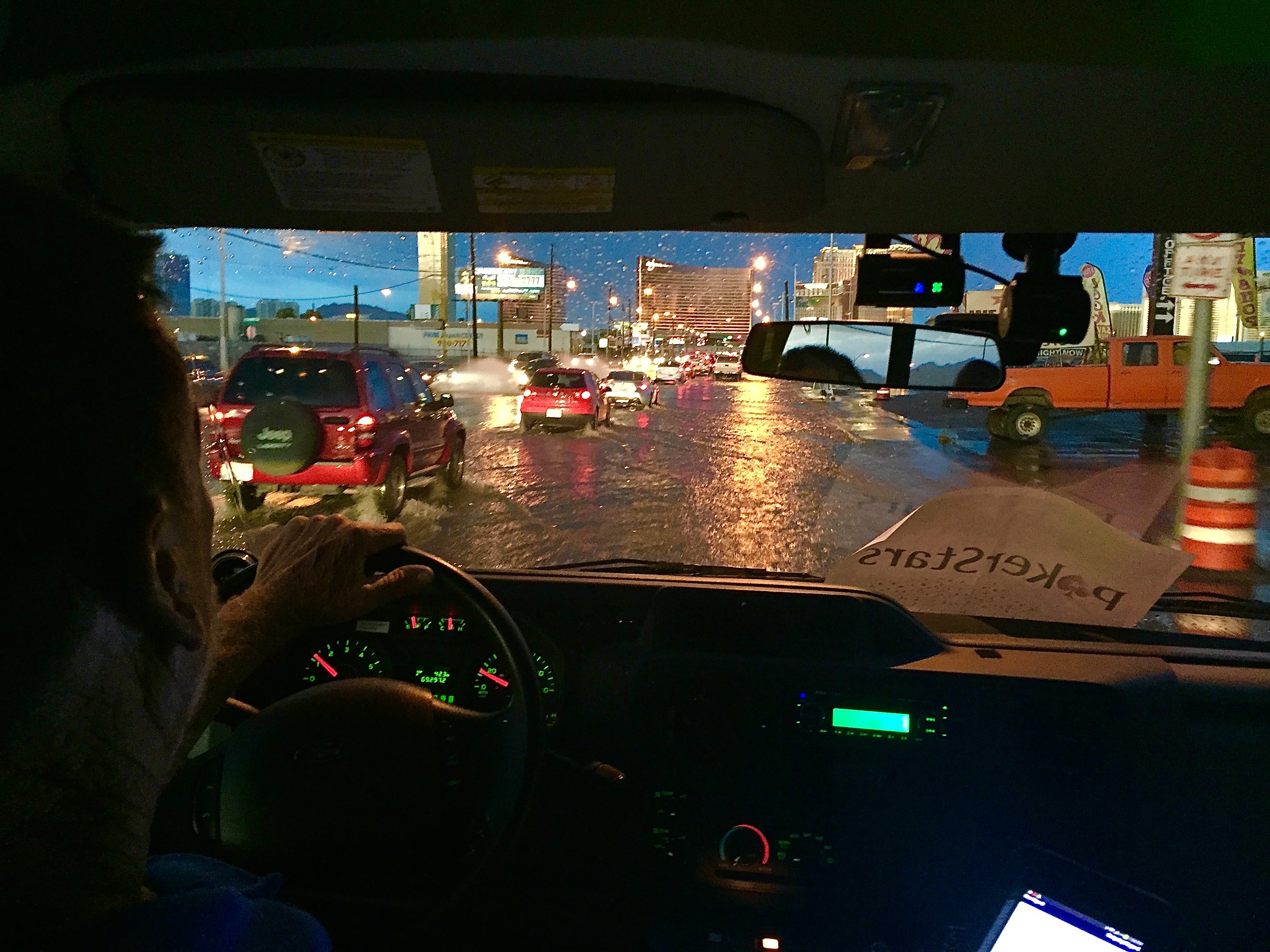 The flood of 2015
The original plans were to have two nights of this burger fun at the WSOP, but at this hour, we're not sure where those plans stand. We're going to let the Fukuburger folks sort things out, and we'll update this post when we know more. (Update: Not letting one flash flood get them down, PokerStars and Fukuburger are going to try it again Tuesday beginning at 6:30pm.)
In any case, thanks to Fukuburger for hosting us tonight. If you find yourself in need of a burger, give them a look. And, from us to you, if you get a flood warning on your phone in Las Vegas, pay attention to it and look for the nearest floatation device.
---
What happened next
• Everyone was OK.
---
DAY 5 CHIPS | DAY 4 CHIPS | TEAM PRO'S PROGRESS
Previous 2018 WSOP coverage:
From the archive: K.L. Cleeton's inspiring run
Is Andreas Kniep this year's Ylon Schwartz?
Inside the ideas factory: Jason Somerville's Run It Up Studios
Stop, start, break, start, bubble for Matt Hopkins
Then and now: Barry Greenstein
A comprehensive guide to the WSOP bubble
The field converges for bubble day…perhaps
The rough and tumble of Day 2
From the archive: Blood, sweat and other bodily fluids
Untangling the cake riddle to discover the key to Liv Boeree's heart
Meet Muskan Sethi: India's presidential poker ambassador
A return of the masses for the long, slow dance
Then and Now: Daniel Negreanu
Records broken and Red Spades flying
"Thanks Daniel" — A letter to Negreanu from Phil Galfond
A flippin' fantastic way to enter a poker tournament
Jeff Gross: A momentary pause in the perpetual motion
From the archive: Stages
Moneymaker surveys the world he created
Negreanu continues preparations for PokerStars Players Championship
Then and Now: Andre Akkari
An exceptional Day 1A
From the archive: Rio here, Rio there
Then and Now: Maria Konnikova
All systems go on 'cattywumpus' World Series
WSOP photos by PokerPhotoArchive.com.
Back to Top