Everyone knows in the contemporary poker world that you don't get sponsorship deals for nothing anymore. Gone are the days of patches being slapped on chests for a successful steal of the blinds and antes.
But this time last year, PokerStars had a major announcement. Jeff Gross, the professional player from Ann Arbour, Michigan, was the latest recruit to Team PokerStars Pro. It came not only as a result of Gross's $3 million live and $1 million online winnings (though that was an obvious part of it) but it was also thanks to Gross's amazing skills in front of camera as a Twitch streamer and YouTube vlogger extraordinaire.
Gross's engaging personality–his easy confidence, his fresh and innovative approach to poker as a spectator sport, his friends across sports and business–made him a perfect fit for the Red Spade. And, one year on, he is as ebullient as ever about his first 12 months flying the flag.
"It's been amazing," Gross, now 31, says. "Twitch has gone really well, YouTube vlogging has been really cool. It's been a lot of work, it really has. It's overwhelming how much time, effort goes into it, how much help I get on the side. But it's been great."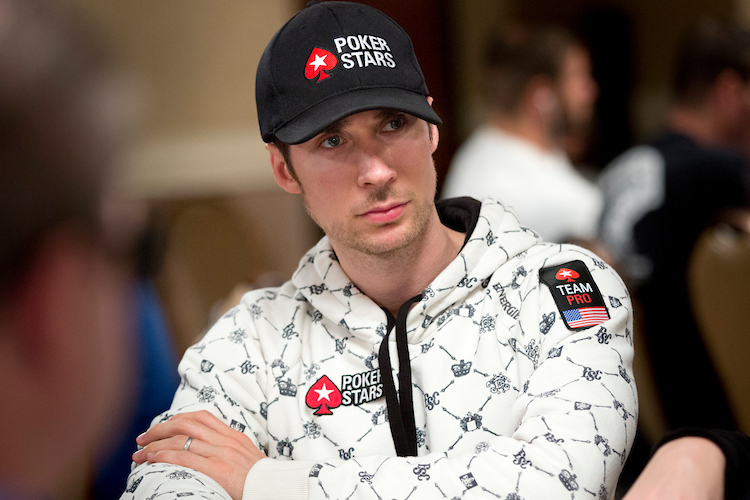 Jeff Gross: One year with the Red Spade
Gross was speaking during a break in Day 1C of the World Series of Poker (WSOP) Main Event, his latest tournament of a packed summer. He has played a full schedule here in Vegas, scoring nine cashes, and admits that he still has ambitions to secure victory in a massive tournament like this, even if so much of his time is now taken by other pursuits.
"I want to win a live major, but I've been focusing a lot on the streaming aspect, the video content," Gross says. "It takes away a lot, and there's only so much time to study, to practice, to play. I'm married, and my wife is very understanding and awesome, so are my friends and family. With all things considered, it's a pretty good balance but it's just non-stop. If you asked me about a TV show, I wouldn't know. I don't watch TV. It's just been very, very busy."
Poker is actually only the tip of the iceberg. Yesterday Gross played for the United States in the annual soccer tournament for poker players that runs alongside the World Series each year. In the coming months, he'll visit the EPT in Barcelona and stream a full schedule of WCOOP tournaments, but is also heavily involved in the Stake Kings staking site ("That's a big project of mine") and is an investor in a coffee shop, the Felix Roasting Co, which is opening soon in New York. "Some investments, random stuff," he says.
Like everyone else, he also has the small matter of the PokerStars Players No Limit Hold'em Championship (PSPC) to look forward to next January, and Gross is a lock to play the $25,000 event. He also teased a big giveaway coming soon in which he may well have a Platinum Pass to offer. The details of the giveaway aren't confirmed just yet, but there's never been a better time to get following Gross on Twitch or YouTube. I'm sure he'll put all the details on Twitter too.
Despite all the intensity of his numerous side projects and ongoing poker superstardom, Gross says he is intending to focus even more intently in the coming year. That might mean cutting down on the number of tables he plays simultaneously while streaming, for example, but only allow him to interact more with his audience, and engage with his many followers.
He says: "One of the biggest things I've learned in the past year, especially streaming on Twitch, is that I've been playing a lot of tables but I want maybe to go the Jason Somerville route, play one or maybe two. Focus in. Be more connected to the chat as well, better focused on those specific games. That's something I'm really committed to and working on, to be more engaged and focused on one or two tables."
But it'll still be the same old Jeff Gross, working for the same old team to continue to produce peerless content across the board.
"I love working with the PokerStars team, everyone is always open for ideas," Gross says. "They're taking feedback, and I think people don't realise how much goes into everything: special events, promotions, giveaways. It's really top class. I couldn't be happier to be aligned and we're really trying to help the game grow, and also to make the company and everyone just do better.
"It's been just non-stop busy, but fun. And I really do love it."
---
Day 1A full chip counts
Day 1B full chip counts
Follow Team Pro's progress
Previous WSOP coverage:
From the archive: Stages
Moneymaker surveys the world he created
Negreanu continues preparations for PokerStars Players Championship
Then and Now: Andre Akkari
An exceptional Day 1A
From the archive: Rio here, Rio there
Then and Now: Maria Konnikova
All systems go on 'cattywumpus' World Series
WSOP photos by PokerPhotoArchive.com.
Back to Top