Two years ago, John Cynn lay defeated on the floor beside the feature table at the 2016 World Series of Poker (WSOP) Main Event. He had battled seven days in poker's most demanding tournament, only to be knocked out in 11th place, two spots short of the prestigious November Nine.
Many players might have cut and run from poker. He could have taken his $650,000 consolation prize and never returned to the WSOP, knowing the odds were heavily stacked against a repeat performance in a tournament regularly attracting more than 7,000 players. But that was not Cynn's way. He simply regrouped and returned. And now, two years after that bitter disappointment, Cynn has gone 10 places better.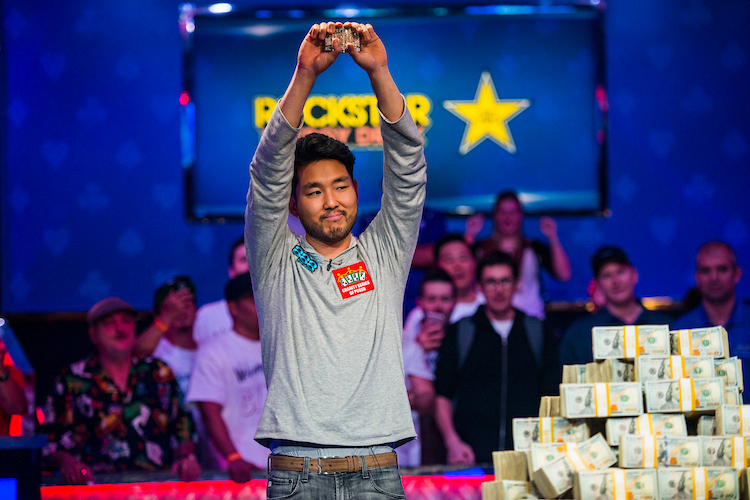 John Cynn: World Champion
The 33-year-old originally from Evanston, Ill., who now lives in Indianapolis, was crowned World Champion at the Rio All Suites Hotel & Casino, Las Vegas, in the early hours of Sunday morning and after a final table that broke a record for the longest ever in the Main Event. Cynn picks up a first-prize check worth $8.8 million, after a performance of extraordinary composure and stamina. He was knocked down many times through a titanic 12-hour final day, but true to form he regrouped and returned, regrouped and returned.
"You can't compare that with anything else in poker," Cynn said. "There's no equivalent to this in poker…Obviously when you're put in pressure spots, all the money goes in, you realise what it's for."
He added: ""The money is very significant, but I do like to think that I don't need the money to be happy…Even to my parents, this is money that they never could've imagined. It's definitely going to be life-changing."
To complete the second-chance miracle, Cynn had to overcome not only his own doubts and fears, but also 7,873 other players who made this year's renewal the second largest through the tournament's 49 years. The most obdurate of those opponents was Tony Miles, of Lake Mary, Florida, who was beaten into second place after the epic heads-up battle.
Miles, who came into the final day with a significant chip lead, had earlier dispensed with the dangerous Michael Dyer. But chip stacks were almost equal when Cynn and Miles were left alone, and they proceeded to play out one of the most compelling, and definitely the longest, heads-up battles of recent years.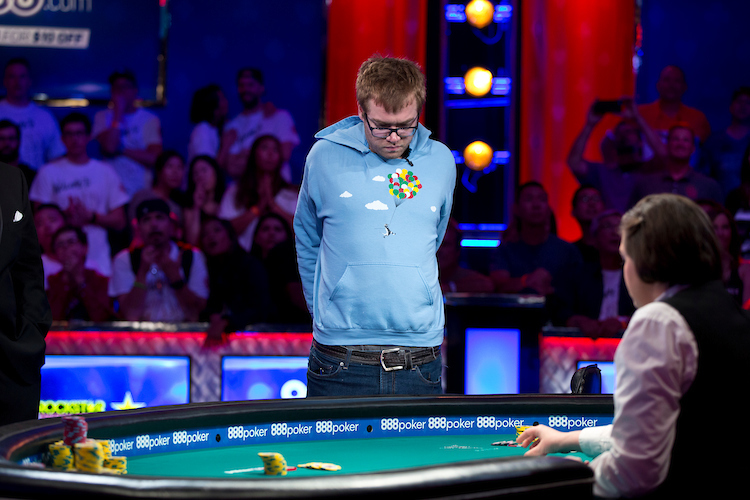 Michael Dyer: Out in third after around 45 minutes of final-day play
Both cheering sections were in full voice as chips went one way and then the other. Cynn won a monster 105 million chip pot with 9♥ 4♦ on a 4♠ 8♥ 4♥ 9♣ 5♣ runout. Miles could only toss his beaten 7♥ 6♠ away. But then Miles responded with a gutsy all-in bluff with only 7♥ 5♥ on a 3♥ 4♦ J♦ 3♠ K♦ board. Cynn thought about it but couldn't find a call with 6♠ 4♣ .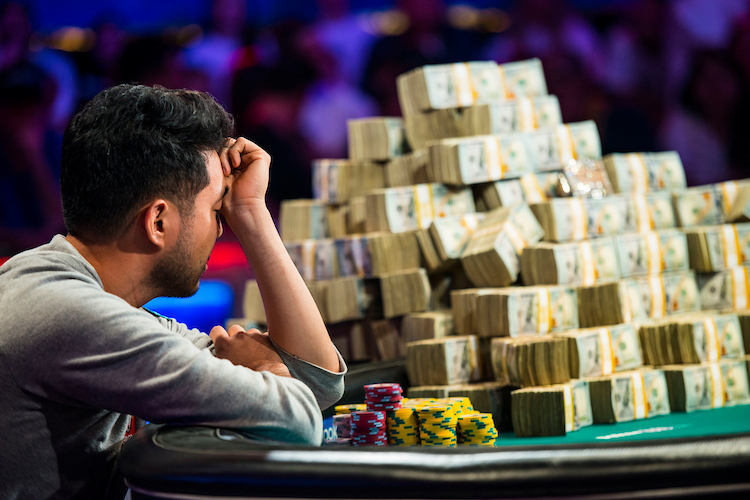 An agonising decision for John Cynn
For less driven players, the loss of that pot and the knowledge that he would have won the title had he called, might have precipitated steep decline. But we already know that Cynn is made of sterner stuff, and those pots turned out to be only early sparring. Cynn simply picked himself up again and came back once more, gradually grinding away at Miles. They would eventually go on to play 442 hands at this final, including the two earlier days in which the last nine was reduced to six on Thursday and three on Friday.
Few people in the Amazon Room could have known how much longer the grind would go on, but it wasn't until past 1am that Cynn had another chance to end it. On this occasion, the memory of Miles's earlier bluff got him paid. This time Miles moved all-in on a board of 3♥ 6♥ J♦ 6♣ 4♣ and got a call from Cynn with J♣ 8♣ . This pot was worth around 200 million and Miles's A♦ 6♦ doubled him to neck and neck once more. A couple of hands later, another shove from Miles–pushing 117 million into a pot of much less than that with the Q♠ 4♦ 3♦ 7♦ showing and the A♦ 4♠ in hand–brought the pair of them within one big blind. (Cynn folded that one.)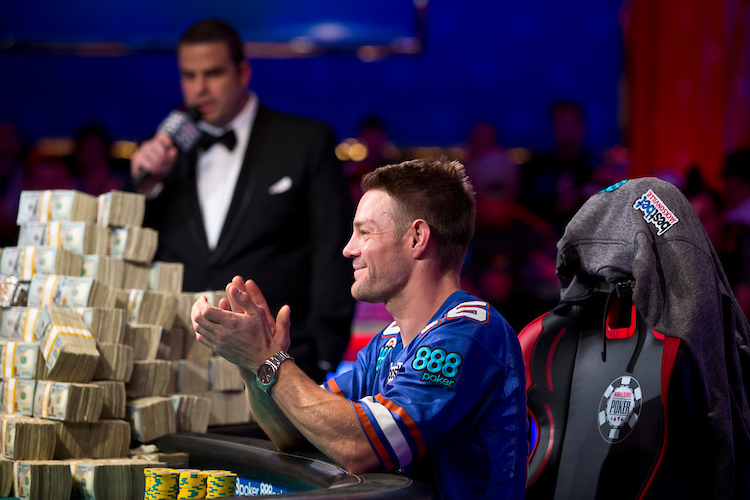 Tony Miles: Huge rail cheered him throughout
There was, however, a pattern emerging. Miles would win the big pots when he was on the ropes, but Cynn would grind him down once again. It edged past 3am local time, interruptions for television commercial breaks extending the day still further. But it seemed likely that Cynn would only need to get one major hand to hold up and the title would be his.
The pair of them did get it in at around 3.30am, but chopped it. And then finally it happened at 4.45am, when some spectators were thinking it might never end. But Cynn had K♣ J♣ and they were at a turn with the board showing K♥ K♦ 5♥ 8♦ . Miles jammed and Cynn called and Miles's Q♣ 8♥ was never catching up.
This was also a redemption story for the defeated Miles. He was an alcoholic and a drug addict, and spoke candidly of both as he rose through the ranks to be heads up on poker's grandest stage. But those days have been pushed far behind him, and the $5 million he got for second will help him continue along his new path. It ended up being one of those tournaments in which nobody really deserved to lose–and neither will feel anything but success.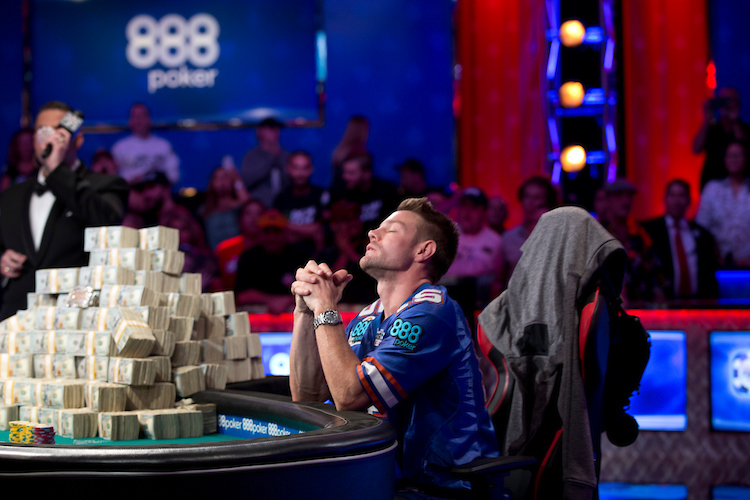 Miles was a dogged competitor throughout all 10 days
But the bracelet is tonight around the wrist of John Cynn, and Miles was first to pay tribute to his vanquisher.
"I have a ton of respect for him," Miles said. "He's going to be a great champion. I'm really happy for him."
He added: "It was a war, and it was amazing. I'm sure it will go down in chronicles, in history as one of the best heads up matches ever."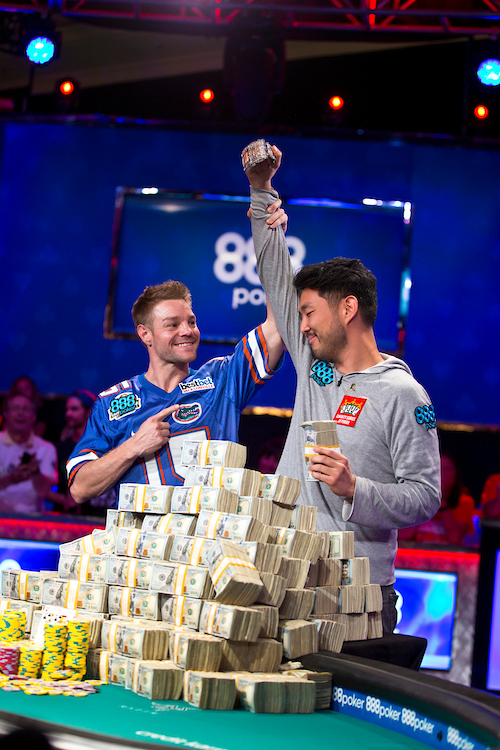 Tony Miles and John Cynn at the end of their titanic battle
Miles talked of the mental fatigue that sets in over such a drawn out event, and hinted that he had made a slight mis-step on the tournament's final hand as a result. But during the winner's presentation, Miles's principal concern seemed to be that Cynn was not lifting his bracelet high enough. He grabbed his adversary's arm and hoisted it to the sky.
Cynn too was full of praise for Miles, describing him as a "great guy" and someone with whom he has shared a unique experience. Cynn said the pair of them had had many conversations through their shared thrill and torment and that they had nothing but a mutual respect.
Cynn will now go 12 months with the title of World Champion. And given his staying power, who knows whether he could come back even stronger.
2018 World Series of Poker Main Event
Dates: July 2-15, 2018
Buy-in: $10,000
Players: 7,874
Prize-pool: $74,015,600
| | Name | Country | Prize |
| --- | --- | --- | --- |
| 1 | John Cynn | USA | $8,800,000 |
| 2 | Tony Miles | USA | $5,000,000 |
| 3 | Michael Dyer | USA | $3,750,000 |
| 4 | Nicolas Manion | USA | $2,825,000 |
| 5 | Joe Cada | USA | $2,150,000 |
| 6 | Aram Zobian | USA | $1,800,000 |
| 7 | Alex Lynskey | Australia | $1,500,000 |
| 8 | Artem Metalidi | Ukraine | $1,250,000 |
| 9 | Antoine Labat | France | $1,000,000 |
With that, our coverage of the 2018 World Series of Poker draws to its conclusion. All the links from two weeks of coverage are below, so please read at your leisure. Here's how Team PokerStars Pro fared.
Selected previous 2018 WSOP coverage:
Final table player profiles
Two Miles: Jim and Tony
Is Hellmuth closing in on bracelet #15
As England departs World Cup, a new hero emerges
From the archive: Kassouf is finally silenced
Short stories of long nights at the poker table
The payout process
Then and now: Jake Cody
From the archive: K.L. Cleeton's inspiring run
Inside the ideas factory: Jason Somerville's Run It Up Studios
Stop, start, break, start, bubble for Matt Hopkins
Then and now: Barry Greenstein
A comprehensive guide to the WSOP bubble
Untangling the cake riddle to discover the key to Liv Boeree's heart
Meet Muskan Sethi: India's presidential poker ambassador
Then and Now: Daniel Negreanu
A flippin' fantastic way to enter a poker tournament
Jeff Gross: A momentary pause in the perpetual motion
From the archive: Stages
Moneymaker surveys the world he created
Negreanu continues preparations for PokerStars Players Championship
Then and Now: Andre Akkari
Then and Now: Maria Konnikova
WSOP photos by PokerPhotoArchive.com.
Back to Top