Michael Dyer returned to the final table of the World Series of Poker (WSOP) Main Event today with two things: a short stack and a plan. The first of those was new–he has been either chip leader or thereabouts for four days–but the second has been with him throughout.
Today that plan was pretty similar to the one that had seem him right for the past two weeks. It was a plan of out and out aggression. And today, on the first hand of three-handed play, he tried it out with an open shove. And he got it through, picking up blinds and antes. So he tried it again next hand. He open-shoved pre-flop and he picked up blinds and antes.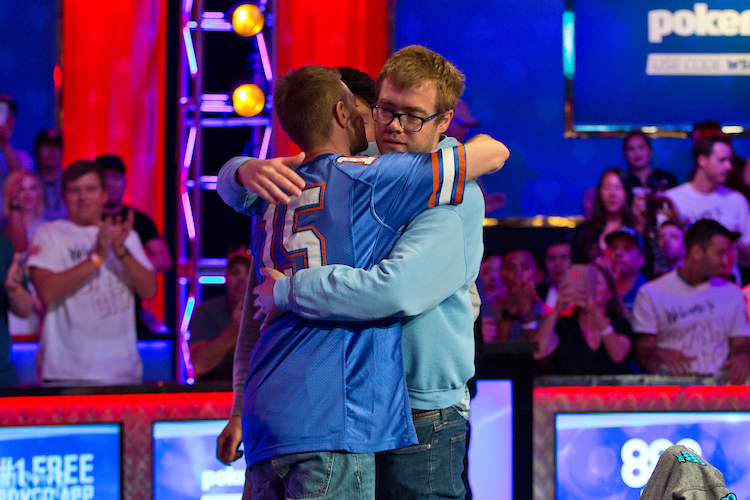 Michael Dyer out in third
Over the next few orbits, Dyer did what he had to do twice more. Twice more he picked up blinds and antes. And then he didn't.
Michael Dyer is the third-placed finished at this year's WSOP Main Event, busting with A♥ 10♦ to Tony Miles's A♠ J♥ . The dealer gave Dyer a little bit of a sweat, putting the Q♣ 5♠ 3♥ J♣ out there as the first four cards of the board, meaning a king would give him the pot. But the Q♥ on the river was the end of the road for the man from Houston, TX., and put Miles in a heads-up battle for the title with John Cynn.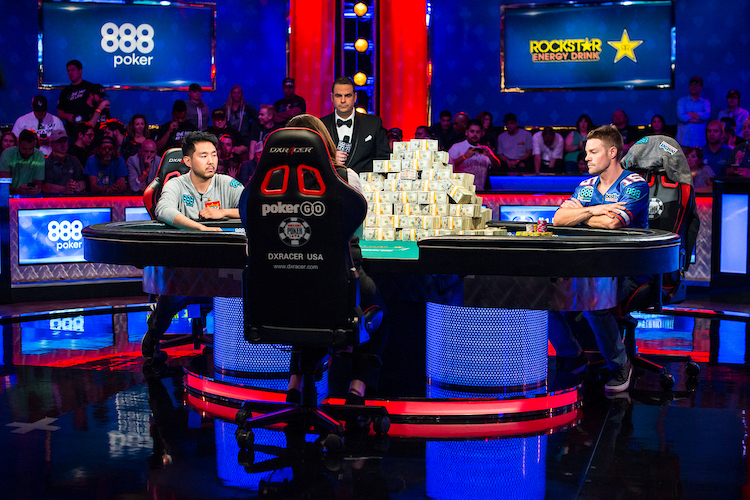 John Cynn, left, and Tony Miles heads up
Dyer could not have been more composed despite his run ending in third. He was happy with the plan.
"I played the poker that got me there," he said. "I can't really try to change it once I get there. I came in third. It's awesome."
Having been an overwhelming chip-leader with six left, Dyer might have expected to be wearing a new piece of jewellery into Sunday. But despite being a relative unknown on the live circuit–he does his damage online–Dyer confessed to few regrets.
"I just like to see how my poker does," he said. "It was built on mistakes and sometimes I'm wrong so I just learn and try to get better next time.
"I could have won a little more, but it's pretty good. I can't complain. Third place, it's more that you can dream for when you start the tournament, so it's pretty good."
On the subject of his aggressive approach to play, regardless of his stack, he was similarly confident that he had chosen the right path.
"I like to bet, and every time you bet you have a non-zero chance of winning the pot, and so I try to do a lot of betting," Dyer said.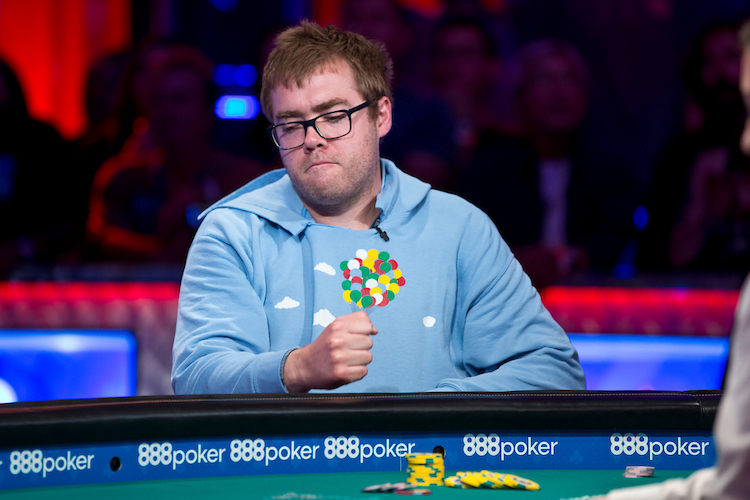 End of the run for Michael Dyer
In contrast to most of his final table opponents, Dyer had expressly requested his small band of supporters to keep a low profile, and not to cheer when he won pots. Despite that, he said he enjoyed the pressure-cooker environment produced on the ESPN feature table, with cheering sections growing ever louder through the week.
"It's fun," he said. "It's different than being home, but poker's poker. I like my decisions. I had a thought-process on all my calls, it's just I was wrong. I'm not always right. It's hard to be perfect."
Maybe the deep run has whetted his appetite. Maybe we'll see more of Michael Dyer on the live circuit around the world. "Perhaps," he said. "I'm rolled up a little more now, so I might be playing a few more tournaments. But I'm more comfortable online."
With that, Dyer departed, taking $3.75 million and leaving Cynn (190.3 million) within a whisker of Miles (203.5 million) as the wheelbarrow of money has now arrived.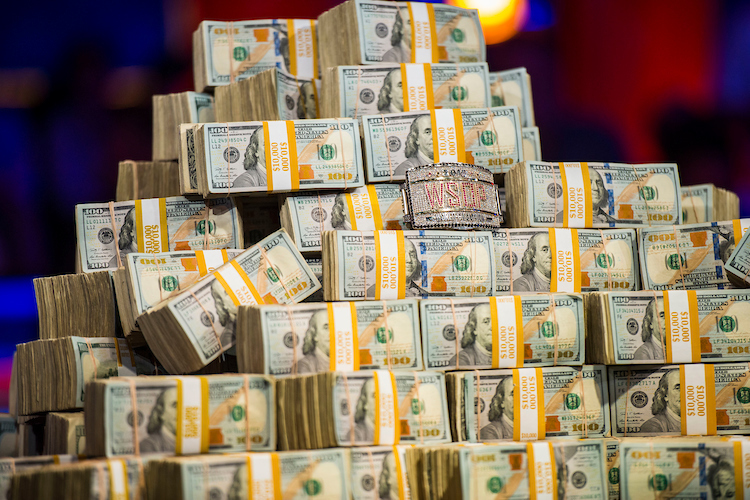 Bracelet and cash
Chip counts/payouts

Blinds: 800,000-1.6 million

| Name | Country | Chips/Payout |
| --- | --- | --- |
| Tony Miles | USA | 203,500,000 |
| John Cynn | USA | 190,300,000 |
| Michael Dyer | USA | 3rd – $3.75 million |
| Nicolas Manion | USA | 4th – $2.875 million |
| Joe Cada | USA | 5th – $2.15 million |
| Aram Zobian | USA | 6th – $1.8 million |
| Alex Lynskey | Australia | 7th – $1.5 million |
| Artem Metalidi | Ukraine | 8th – $1.25 million |
| Antoine Labat | France | 9th – $1 million |
---
Selected previous 2018 WSOP coverage:
Then and now: Jason Somerville
Final table player profiles
Two Miles: Jim and Tony
Is Hellmuth closing in on bracelet #15
As England departs World Cup, a new hero emerges
From the archive: Kassouf is finally silenced
Short stories of long nights at the poker table
The payout process
Then and now: Jake Cody
From the archive: K.L. Cleeton's inspiring run
Inside the ideas factory: Jason Somerville's Run It Up Studios
Stop, start, break, start, bubble for Matt Hopkins
Then and now: Barry Greenstein
A comprehensive guide to the WSOP bubble
Untangling the cake riddle to discover the key to Liv Boeree's heart
Meet Muskan Sethi: India's presidential poker ambassador
Then and Now: Daniel Negreanu
A flippin' fantastic way to enter a poker tournament
Jeff Gross: A momentary pause in the perpetual motion
From the archive: Stages
Moneymaker surveys the world he created
Negreanu continues preparations for PokerStars Players Championship
Then and Now: Andre Akkari
Then and Now: Maria Konnikova
WSOP photos by PokerPhotoArchive.com.
Back to Top