There is a phenomenal buzz around the Rio Hotel & Casino this morning as Day 1C of the 2018 World Series of Poker (WSOP) Main Event just got under way. Earlier today, we were pondering whether the July 4 holiday might have a negative impact on player numbers, but those fears have been quickly alleviated.
Tournament officials are confident there will be at least 4,000 players sitting down today, which means at least 7,300 for the tournament (added to the 925 from Day 1A and 2,378 from Day 1B). That means it will very likely be the biggest since the 7,319 who played in 2010 and, quite possibly, edge past that to become the second-biggest of all time.
The 8,773 who played in 2006 still seems unreachable, but maybe next year?
Wisely the WSOP honchos invited Chris Moneymaker, the man most responsible for these sensational numbers, to do today's ceremonial "Shuffle up and deal!" Jack Effel ran through the well-worn story about the satellite winner who made a mint from a pittance, and then surveyed the thousands of people in front of him who are all hoping to forge their own Moneymaker story.
Moneymaker himself then took the microphone and with characteristic Tennessee understatement mused on his life since then. "Can't believe it's been 15 years," Moneymaker said, remembering what was a totally different era back then in 2003.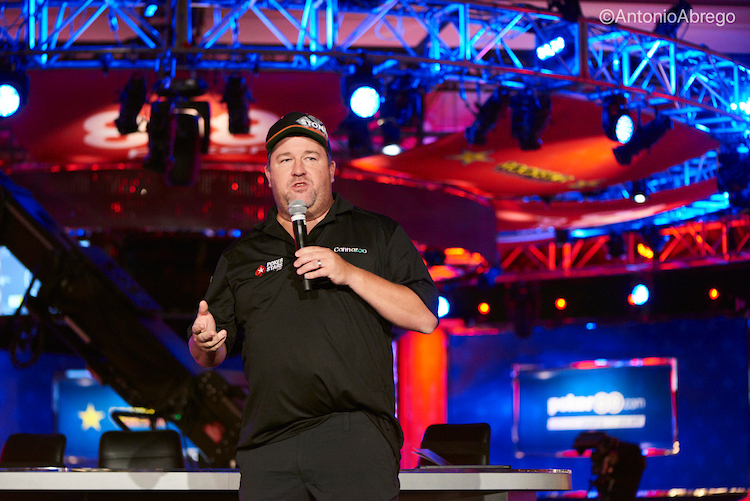 Chris Moneymaker: Is his world, we just live in it
"We need to realise how lucky we are to be here," Moneymaker continued. "This is a poker player's dream." He offered a shout out to his wife and kids, and then got in a decent plug for Moneymaker's latest brilliant venture.
The Moneymaker Tour, launched this week, offers a wonderful chance to regular players from the United States to follow in Moneymaker's footsteps. There are 10 Platinum Passes up for grabs, tickets to what will be the largest $25,000 tournament ever held, and Moneymaker is going to share them among low-stakes players in the coming months.
Then, without further ado, Moneymaker got back to business. "I know you guys are itching to play," he said. "You want to play poker, not listen to me."
Then he issued the famous instruction and cards were in the air.
---
Day 1A full chip counts
Day 1B full chip counts
Follow Team Pro's progress
Previous WSOP coverage:
Fireworks, feasting and Day 1C of the Big Dance
Negreanu continues preparations for PokerStars Players Championship
Then and Now: Andre Akkari
An exceptional Day 1A
From the archive: Rio here, Rio there
Then and Now: Maria Konnikova
All systems go on 'cattywumpus' World Series
WSOP photos by PokerPhotoArchive.com.
Back to Top