Here's a really quick update on the morning of Day 2A of the 2018 World Series of Poker (WSOP) Main Event. It's the morning after tournament organisers revealed details of this enormous prize pool and the news that the winner will earn $8.8 million.
Yes, a record Day 1C turnout of 4,571 brought total player numbers this year to 7,874. That's a 9 percent increase year-on-year and helped create the second largest renewal ever of the WSOP Main Event.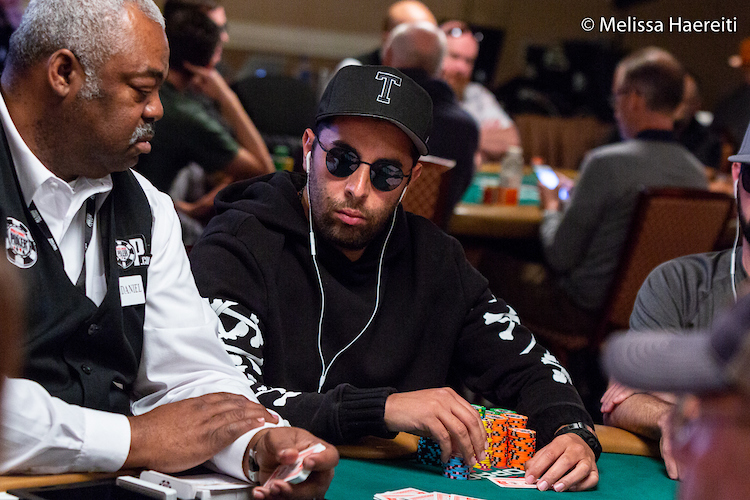 Samuel Touil: Seized the overall chip lead on Day 1C
DAY 1A CHIPS | DAY 1B CHIPS | DAY 1C CHIPS | TEAM PRO'S PROGRESS
Everyone making the final table will earn at least $1 million, and they will pay all the way down to player 1,182, who will earn the min-cash of $15,000. Player 1,183 will walk away with nothing except notoriety.
| Place | Payout |
| --- | --- |
| 1 | $8.8 million |
| 2 | $5 million |
| 3 | $3.725 million |
| 4 | $2.825 million |
| 5 | $2.125 million |
| 6 | $1.8 million |
| 7 | $1.5 million |
| 8 | $1.25 million |
| 9 | $1 million |
| Chart shows final table payouts for 2018 WSOP Main Event | |
Such vast numbers bring a small degree of uncertainty, but it seems as though 3,508 players made it through Day 1C's five levels. (Figure to be confirmed) If so, that's bang on the 77 percent figure of Day 1C survivors that has endured every year since the WSOP went to a 50,000 starting stack for the Main Event.
Similarly Samuel Touil's chip-leading stack of 352,800 is just over seven times what he started with, which also follows the established pattern.
Year
Total
Flights
C start
C end
%
Lead
SS
2018
7,874
3
4,571
3,508
77
352,800
7
2017
7,221
3
4,262
3,300
77
247,900
5
2016
6,737
3
4,240
3,252
77
394,100
8
2015
6,420
3
3,963
2,736
69
198,100
7
2014
6,683
3
3,768
2,571
68
206,175
7
2013
6,352
3
3,467
2,306
67
246,900
8
2012
6,598
3
3,418
2,300
67
240,350
8
Average
6,841
3
3,853
2,744
71
255,588
7
Average since 50K
4,251
3,276
77
321,000
6
Chart shows year-by-year total number of players since WSOP adopted three starting flights, players starting/finishing Day 1B, percentage of survivors, chip-lead (gross) and chip lead (as rounded number of starting stacks)
Touil now becomes the overall tournament chip leader, having nosed ahead of Day 1A leader Timothy Lau's 338,700 and Day 1B's Smain Mamouni's 311,000. At this stage we have seven players with stacks of more than 300,000, three who cam from Day 1A, three from Day 1B and one, the overall leader, from Day 1C.
Name
Chips
Day
Samuel Touil
352,800
1C
Timothy Lau
338,700
1A
Truyen Nguyen
324,800
1A
Chris Fraser
316,100
1A
Smain Mamouni
311,000
1B
Samuel Bernabeu
309,500
1B
Barbara Rogers
307,000
1B
Chart shows chip leaders at end of combined Day 1
The headline news from the world of PokerStars is that leading lights Daniel Negreanu and Igor Kurganov joined Chris Moneymaker on the rail yesterday. Negreanu was seated at the main feature table all day, which meant millions of viewers around the world got to share in his misery as his pocket jacks were beaten by Alessio Isaia's pocket tens.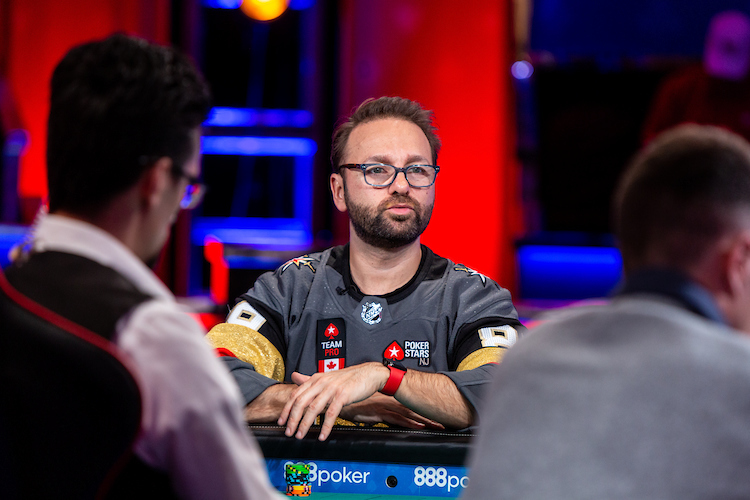 Daniel Negreanu: Jacks cracked to bust
Isaia is well known to us followers of the European Poker Tour (EPT) and the Italian Poker Tour (IPT) and has been a stalwart there for more than a decade, accumulating close to $3 million in cashes. But he'll be best known to the rest of the world now as the man who laid a beat Negreanu on Day 1C of the Main Event.
My main event in a nutshell! https://t.co/fyPXQCnX7X

— Daniel Negreanu (@RealKidPoker) July 5, 2018
There was better news for the nine other Red Spades flying yesterday. They're all into Friday's Day 2C with the following stacks:
Jake Cody — bagged 98,700 on Day 1C
Barry Greenstein — bagged 92,800 on Day 1C
Fatima Moreira de Melo — bagged 79,025 on Day 1C
Leo Fernandez — bagged 64,800 on Day 1C
Liv Boeree — bagged 63,400 on Day 1C
Aditya Agarwal — bagged 60,300 on Day 1C
Muskan Sethi — bagged 43,800 on Day 1C
Jeff Gross — bagged 41,300 on Day 1C
Jen Shahade — bagged 35,000 from Day 1C
Be sure to follow their progress.
Today looks like being another busy day, with Maria Konnikova and Andre Akkari returning to the Rio in the attempt to build their stacks. We'll be taking a tour today of Jason Somerville's "Run It Up" studios, as well as catching up with a couple more of our favourite players for some more features.
In the meantime, have a look through all our coverage so far:
A flippin' fantastic way to enter a poker tournament
Jeff Gross: A momentary pause in the perpetual motion
From the archive: Stages
Moneymaker surveys the world he created
Negreanu continues preparations for PokerStars Players Championship
Then and Now: Andre Akkari
An exceptional Day 1A
From the archive: Rio here, Rio there
Then and Now: Maria Konnikova
All systems go on 'cattywumpus' World Series

WSOP photos by PokerPhotoArchive.com.
Back to Top