Purely by chance, I passed by some Team PokerStars Pro's tables earlier today when they happened to be in some pots. And while Aditya Agarwal won three hands in a row to push his stack up through the high 100,000s, it wasn't the same story for Jake Cody.
Cody, exiled in the Brasilia Room today, was facing a bet for about half of his 40,000 stack on a board of J♥ 6♠ 2♣ K♥ A♠ . Cody called but was shown K♦ K♠ and couldn't beat the turned set.
That's the way of tournament poker: you win some and you lose some. It's also the way for Team Pro's nine representatives on Day 2C. Some are in the ascendant while it's a struggle for others.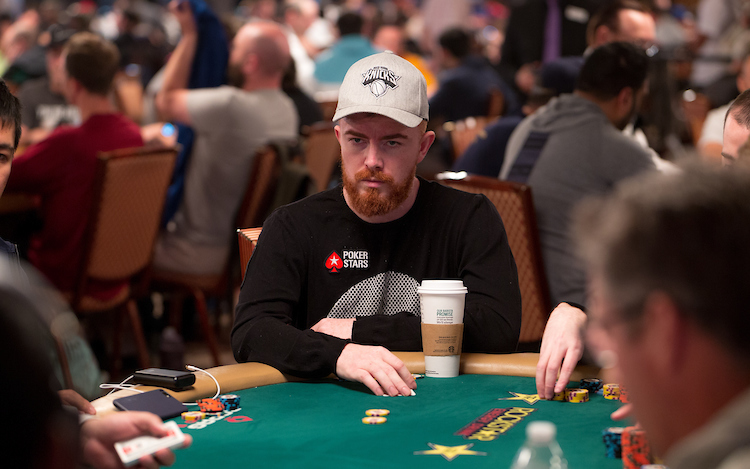 Jake Cody: Tough breaks on Day 2C
At the top of the shop, Liv Boeree and Barry Greenstein have built their stacks to around 165,000 apiece. Meanwhile today's other success story, at least at time of writing, is Jennifer Shahade. At the mid-point of Level 9, Shahade was sitting with more than 150,000 despite having started the day with only 35,000. That was the smallest stack of all nine, but it's now among the biggest.
Well, that's how it seems on paper. But in actual fact, Shahade's stack was never that small overnight. Tournament organisers had misreported her stack as 20,000 chips smaller than it actually was, and she had 55,000 in her bag. "I was a little worried about that," she said. But the chips were safely in there.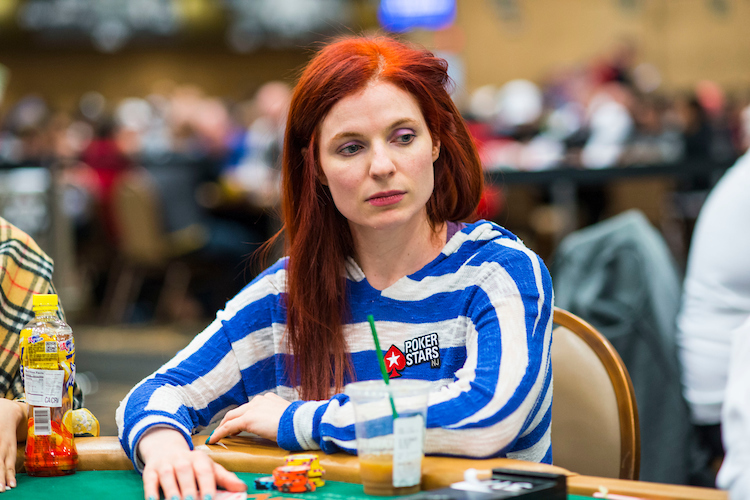 Jennifer Shahade: Started well and got better
Shahade at one point double up today, from about 90,000 to 180,000. She's also survived a set-over-set encounter, when her rivered set of fives didn't quite catch up with an opponent's flopped set of queens. But she was still motoring late in the day.
It was one of those days for Jeff Gross, who reported his elimination via WhatsApp with a simple "Cooler, double cooler, curtains." Gross is now playing in the $1,5000 bounty event. There's always another chance at the World Series.
For the first time at the WSOP, PokerStars has two Indian ambassadors in the field and both were still with chips late on Day 2. "Still hanging on," Muskan Sethi said, with a stack of about 40,000. Only one person has been eliminated from her table in the Amazon Room today, and she's hoping she doesn't make it two.
As for the aforementioned Agarwal, this stage of the Main Event is very familiar to him. He's a serial casher in this tournament and is applying pressure on those less fortunate. In two of the three pots I watched, he attacked short stacks and made his opponents make potentially tournament defining decisions. Both opted to fold–one showing that he was folding a pair of aces, jack kicker–and Agarwal gave him a non-committal tap on the table.
A few tables over, Leo Fernandez had built his stack to about 120,000, which was more than enough. Fatima Moreira de Melo is still enjoying her birthday week too. She has around 140,000 to push towards the cash.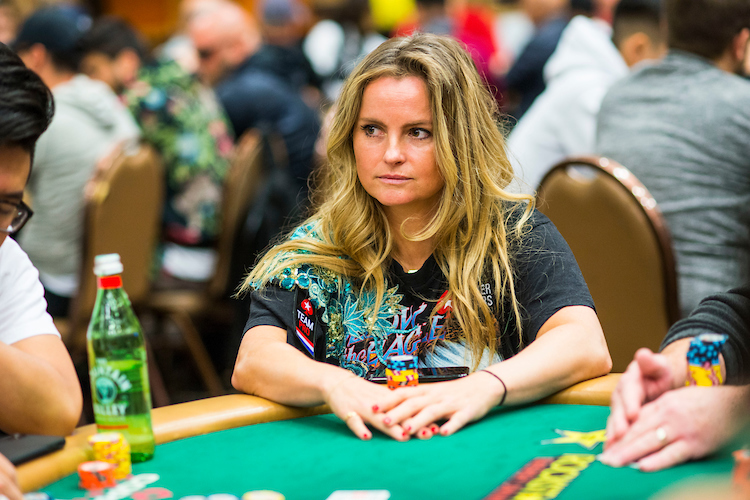 Fatima Moreira de Melo: Fine way to celebrate a birthday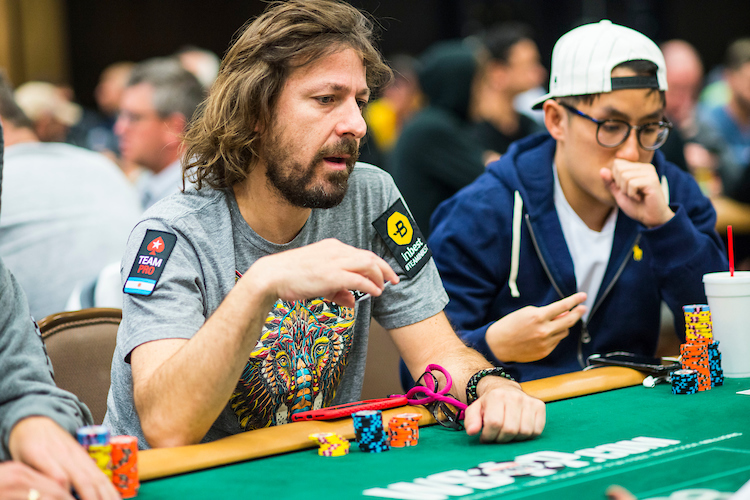 Leo Fernandez: Action shot
Meanwhile, back to Cody. He has doubled up back to around 60,000, which was actually the third time he's done so today. "You'd have thought I'd have a bigger stack," he said, relating how he's won all those crucial pots. But it's all been just sliding away at other times.
They all have two more hours to play tonight and we will catch up with all of them when the full field gathers for the first time tomorrow.
---
Day 2AB full chip counts
Day 1C full chip counts
Day 1B full chip counts
Day 1A full chip counts
Follow Team Pro's progress
Previous 2018 WSOP coverage:
From the archive: Blood, sweat and other bodily fluids
Untangling the cake riddle to discover the key to Liv Boeree's heart
Meet Muskan Sethi: India's presidential poker ambassador
A return of the masses for the long, slow dance
Then and Now: Daniel Negreanu
Records broken and Red Spades flying
"Thanks Daniel" — A letter to Negreanu from Phil Galfond
A flippin' fantastic way to enter a poker tournament
Jeff Gross: A momentary pause in the perpetual motion
From the archive: Stages
Moneymaker surveys the world he created
Negreanu continues preparations for PokerStars Players Championship
Then and Now: Andre Akkari
An exceptional Day 1A
From the archive: Rio here, Rio there
Then and Now: Maria Konnikova
All systems go on 'cattywumpus' World Series
WSOP photos by PokerPhotoArchive.com.
Back to Top