Throughout the World Series of Poker Main Event this year, we'll be asking members of Team PokerStars Pro for their memories of their first WSOP visit, and for details of what they've learnt since then. Next up: the Run It Up streaming king Jason Somerville. (Note: Somerville also filled us in on what happened in between. Scroll to the bottom.)
When did you first come to the WSOP?
I actually came to the World Series of Poker before I was old enough to play. It was 2007. I played a tournament series in Turning Stone, in Syracuse, NY, with a friend of mine who was also not 21. We were both 20 at the time. [Legal gambling age in NY is 18.] Then we drove from Syracuse to Vegas without stopping to sleep, to hang out with our friends and to be here for the summer. It was probably the worst decision of my life, we drove for 30 hours straight from Syracuse to Vegas. But I was just so excited. How could we stop to sleep? It was insane.
That summer I was here watching my friends, just supporting them on the rail, just purely as an observer. I played online, and actually had my biggest score to date playing online. I won the Full Tilt $350K for $100K, which was a crazy and amazing experience. It was on a night when my friends were all out. It was quiet. A house full of people, but I was by myself. No one was there. That was the beginning of my summers coming to Vegas.
Playing schedule
Then: As soon as I could play, I played.
Now: Last year I played stone zero. I was in a weird place last year. I'd just turned 30, I felt very burned out in life generally, I wasn't really sure what I wanted to do next. And I just never felt like I had it in me to play a full tournament. I didn't want to enter anything and be anti-sweating my success, and I just had this feeling that if I went to the Rio I was going to get a lot of questions from fans, and media. "What are you doing?" "What's going on?" And I literally didn't know. I needed a break. It's not that crazy. I started playing poker when I was 16 and didn't take a break until I was 30. So I took the summer off last year, didn't play, which I couldn't have even conceived of four years ago.
---

READ: Inside the ideas factory: Jason Somerville's Run It Up studios

---
This year I played the $10K hyper-turbo at the start of the series, of course. If they're going to get me to play anything, it's going to be that. I played the Main Event. And I played the $5K six-max. I'll probably play one of the last events, either the PLO or the HORSE. This year, it's just hard to get away from the business. I have nightmares about what happens when I'm not at the office.
I have a very clear path of what I want to be doing, what I want to be accomplishing. The benchmarks of where I want to be. Everyone in the office likes to joke that I have unrealistic expectations of timelines for when things should be done, so I feel very much compelled to follow that track.
Profit/loss
Then: The first summer I almost certainly lost playing live. But what I remember really being amazing was playing online with other really good players, being able to watch some of my friends. I remember Leo (Wolpert) playing four tables, $50-$100 heads up. These days that's the highest stakes game that ever runs, but back then it was just another game running. It wasn't even that much of a big deal. I remember playing $200-$400 online here, when I was in Vegas maybe for the second time. Playing those really high stakes games, I remember playing some huge pots, maybe $100-$200 against Raptor [David Benefield], and some excellent players that were playing those high stakes games. So I remember playing and winning online but losing live until I had some of those breakthrough cashes in 2009/2010.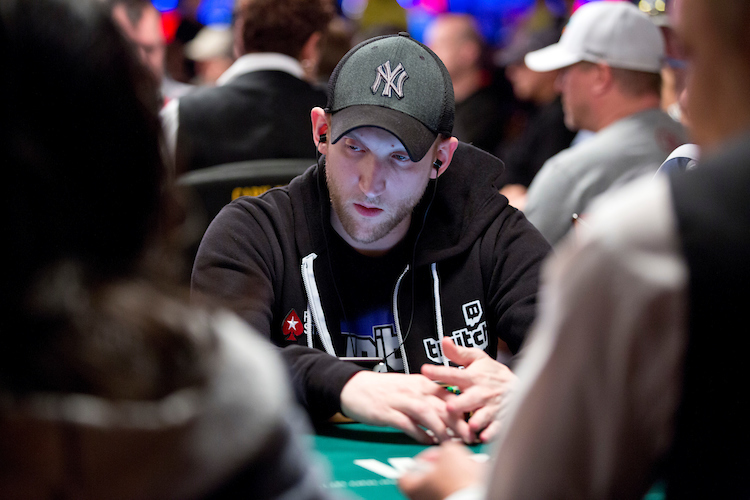 Jason Somerville in action during the 2018 WSOP
Now: [Somerville did not cash the few tournaments he played this summer.]
Accommodation
Then: I stayed at a house with my same poker friends. I started my poker career on a forum, the same forum where Steve O'Dwyer, Max Silver, Leo Wolpert, Vivek Rajkumar, Alex Venovski all started as college kids. We talked hands and whatever. Flash forward 15 years later and the bunch of us have $30 million in combined earnings. No big deal.
That first year, almost all of us were together in a house plus a couple of other guys. It took me a few years to realise how un-optimal it was to live in a house with 11 people, but at the time I was like, "Sure, let's get a house. It'll be great."
Now: I live in Vegas, so that's easy.
How were you playing back then?
Compared to the field, probably like a six [out of 10]. Everyone was really bad 10 years ago. The game has come a long way since then. The best player in 2005 would be a mid-tier player in 2015, never mind 2018. It's crazy because I'm relatively young, but when I started there was really no poker books besides Super System. When Harrington On Hold'em came out, it was like, "Whoa!" I remember still having to read limit hold'em books to get information about no limit. Never mind training sites, Cardrunners and stuff. None of that existed.
---

PREVIOUS "THEN AND NOW" ARTICLES

Jake Cody | Barry Greenstein | Maria Konnikova | Daniel Negreanu | Andre Akkari

---
What do you know now that you didn't know then?
You have to be in a groove, a focus, finding a rhythm that works for you is key. I think many people struggle to find that for their first few years. Or their first summer out here is amazing and the cash five out of eight tournament, but the next time they come back and they cash zero for 21, and they're like, "What happened?" Nothing really. It's just variance. If you play all the tournaments you're not going to play 10,000 hands. Maybe you'll barely crack that number. That's nothing. You can play that on PokerStars in a day if you're playing enough tables. You won't play that in a summer out here. You have to prepare yourself for the variance of that.
People also fall for staking opportunities, especially back in the day. People didn't understand what edges were like. I lost more staking in the first couple of years than I ever lost backing myself. You've just got to learn those lessons as a player and get a feel for these things.
Advice for a first timer
I give a lot of people advice to be patient with their schedules, to take days off, to balance their lives. I think you can do a lot of stuff in terms of mental preparation, rest, finding ways to focus. I think if you have people around in the summer whose intention is to have a good time, or if they're not taking the grind seriously, then that person's probably not great for you. In some moderation, sure. But if that person always wants to be going out, doing things, working on other stuff, it's probably not great.
Is there anything you miss?
I kind of miss the big group house a little bit. Even though it was terrible–we had maids come three times a week and there were still flies in the kitchen–but I kind of miss that environment where we were all young and hungry, all 21, 22, 23, 24 at most, playing online. That's got to be the biggest thing. I miss being able to play on PokerStars when you were here in Vegas. It was another level, to see a room of poker players, all on their laptops, every Sunday, playing tournaments. The combined house would play probably $50K in buyins with nothing being bigger than a $1K. We were super grinding, every tournament. Playing cash, playing tourneys, who's making it deep. Oh look at this chip-leader, put him on the big-screen TV. I miss that. That doesn't really exist anymore unfortunately. For now.]
---
During the course of our conversation, Somerville also filled in all the details about the 10 years in between his first and most recent visits to the WSOP. It's all too good to be scrapped, so here's Jason Somerville's WSOP run-down.
In between:
I remember the next year, after first coming, (2008) making a couple of deep runs. I made a deep run in a $5K no limit. I busted with pocket nines against pocket tens. It was such a tiny bustout, with 25-30 players left, but it stuck with me because it was my only deep run that summer. Nothing really went all that right. I was still maturing as a live player. I hadn't really become super close with Daniel (Negreanu) yet. A couple of others of my key friends hadn't really entered my life as live influences. As I grew into more of a live poker player, doing more live tell reading, making more adjustments to live play, I started having more success. Eventually I started finding more success at the World Series.
I clearly remember my first final table, which was a $1,500 shootout. I was always very good at adjusting, and so shootouts were great for me because you start with 10 players, and as you get down to eight, adjusting, six, adjusting, four, adjusting, three, adjusting even more. Two, full adjustment, obviously. It was great for my style at time. I remember getting to the final, a tough final as well, with a lot of good players. Eugene Katchalov was at that final table, Chris Moore was at that final table. The kid I got heads up against was a kid from Arizona, college kid, he had an eight-to-one chip lead against me. I remember feeling like I still had a chance, I wasn't dead. I had like 15 blinds or 10 blinds. He had 80. The thing I remember most clearly, all his friends were there. They were like part of a wolf pack. Every time he won a pot the crowd would just howl at the moon. I had four dorky nerds there that weren't making a sound when I won a pot. I remember feeling like I was a little outgunned.
That was probably the first time I felt uncomfortable because of the crowd. There was no cameras and there was no stream or anything, but it was an awesome experience and I wanted to get back and do it again.
Later that summer, I made another deep run in a tournament that was called the Triple Chance. It was a stupid format, where they just gave you your stack in thirds and you could take it as you wanted. I got fifth in that tournament. I really started feeling like I had turned a corner in my career. The next summer I made a deep run in the $10K heads-up, playing people like Tobias Reinkemeier. I think I played Kido Pham, a lot of excellent players, to get to the final four where I lost to the eventual champion [Jörg Peisert]. Again it was an amazingly confident run, to play heads up and feel like you're outdoing these guys to get down deep. To make the semi-finals of that was amazing. I got fourth in another tournament, a $25K six-max. That was one of the toughest tourney I've ever played.
I played with Dan Kelly the entire tournament, who is excellent. I played with Ivey. One of the first few times I played with Ivey was in that tournament. Every table was a table of killers, as a $25K six max would be. To get fourth in that event, at a final table that had Frank Kassela and Eugene Katchalov again and Dan Kelly and Shaun Buchanan. And Michael Thuritz. I got fourth in that for $400K.
At that point, I had a second, third, fourth and a fifth and I thought, "Gah! So close. Every single time." But it was amazing. Obviously I was really feeling that the World Series brought something out of me. It was always a time that I really wanted to come here and compete, play against the best players. I always felt like it was something I would never want to miss.
I didn't really play the $1Ks, but then on a random Sunday [in 2011] I just decided I was going to play a $1K. It was the biggest single-day field in World Series history: 3,175 players for a one starting day event. Somehow Lex got 11th or 12th and I made the final table. This final table didn't have that many well known players. It was a $1K after all. I won a few key hands and managed to ship it. That's my favourite moment, if not in my life then in my poker career for sure. I managed to win that for a half million. I had an amazing winner photo and I'll always treasure it, with Daniel in there and so many of my close friends that I started playing with, 10 years before then.
I carried on playing a few years after then, had a few amazing experiences. I got third in the One Drop satellite. It was a $25K buy-in, first place was a million seat, second was a million cash, third was $400,000 and fourth was NOTHING. I got third in that for $400K, which was a sick experience. Another unreal final table. I'll probably never play again for that big of a pay jump between first, second and third.
It was a must play. Gus wanted to play and Shaun happily took the cash. ElkY and Will the Thrill got fourth and fifth. Gus and Shaun didn't want to deal and the rest of us said, "Yeah, let's do some kind of a swap or save." We did that. It was an even bigger jump for me than the others because ElkY, Will and I had divided up that $400K in some way. So I was already guaranteed $150K or whatever it was, but then it was $150K to $1 million. There was no further deal being done. So it would have been a $700K jump for me, or something insane. I lost king-ten versus ace-deuce, not that I remember or anything.
Regarding the Main Event:
As soon as I could play, I played. I never got to play outside the Rio. I have so many great memories from all those years playing. I pretty much played a full schedule. I started playing more of the mixed games. Two summers ago was my first playing some of the $10K limit events. I got 20th in the $10K HORSE, which I was very proud of. I didn't even have a cash in a non hold'em game until two summers ago. That was the year that I had streamed a ton of mixed games. That was the same year that I got third in the stud hi/lo SCOOP. We had 27,000 viewers on a Saturday, watching stud hi/lo. It was insane. That's something else that I'll put down as a career highlight for me. Getting a ton of viewers watching hold'em is like, whatever. But getting a ton of viewers watching stud hi/lo, that is an accomplishment! I'm going to hold that title for a long time.
Selected previous 2018 WSOP coverage:
Final table player profiles
Two Miles: Jim and Tony
Is Hellmuth closing in on bracelet #15
As England departs World Cup, a new hero emerges
From the archive: Kassouf is finally silenced
Short stories of long nights at the poker table
The payout process
Then and now: Jake Cody
From the archive: K.L. Cleeton's inspiring run
Inside the ideas factory: Jason Somerville's Run It Up Studios
Stop, start, break, start, bubble for Matt Hopkins
Then and now: Barry Greenstein
A comprehensive guide to the WSOP bubble
Untangling the cake riddle to discover the key to Liv Boeree's heart
Meet Muskan Sethi: India's presidential poker ambassador
Then and Now: Daniel Negreanu
A flippin' fantastic way to enter a poker tournament
Jeff Gross: A momentary pause in the perpetual motion
From the archive: Stages
Moneymaker surveys the world he created
Negreanu continues preparations for PokerStars Players Championship
Then and Now: Andre Akkari
Then and Now: Maria Konnikova
WSOP photos by PokerPhotoArchive.com.
Back to Top