Back in May–the eighth, to be precise–Liv Boeree tweeted a picture of a birthday cake. On a Twitter stream that is usually a depository of high-level tech and astrophysics conversation (and occasional yoga or alpaca pics), it may have seemed a little out of place. But this was no ordinary cake.
In fact, the cake in question–a special order from the Los Angeles-based "Cake And Art"–fit right in. It was a two-tier circular effort decorated in numbers, symbols and poker hands, with a big scalene triangle sticking out of its top.
Check out the mathematical cake I got Igor for his birthday – can you solve all its puzzles to figure out how old he is?

Bonus points for figuring out which push-fold range it has. pic.twitter.com/C9yVmkYsrk

— Liv Boeree (@Liv_Boeree) May 8, 2018
To the untrained eye it was baffling. And even to some people who know what Boeree is like, it didn't make a whole lot of sense. But this was the precise point. Boeree had commissioned the cake to celebrate the 30th birthday of her boyfriend and fellow Team Pro Igor Kurganov, and it was a devilishly clever creation, concealing formulas and riddles of special meaning to PokerStars' most beloved pair of calculus junkies.
"He loves maths, everything to do with maths he loves," Boeree said today, when asked to untangle the riddle of the cake.
So here we go. Here's what it all means. We'll start at the very top.
"This obviously is a triangle and the angles of a triangle add up to 180 degrees," Boeree said. "So 70 and 80 means that's 30." She pointed to the corner labelled "Igor".
"Similarly where it says 'Happy…really complicated formula…Birthday Igor' that also adds up to 30. It took me forever to find something that looked as complicated as possible but that equalled 30. It was surprisingly hard to do. I sat for ages, trying to backwards engineer."
And it wasn't quite right, Boeree confessed. "Actually, I missed out a minus sign, that's actually minus 30," she said. "Someone picked that up. I was impressed."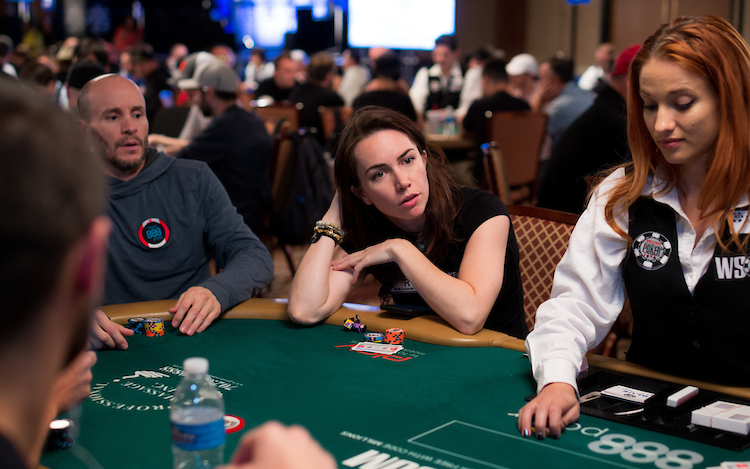 Liv Boeree in WSOP Main Event action
Wrapped around the rest of the top tier is a push-fold chart for no limit hold'em, which means a player need only be sure to be munching birthday cake at the tables to know what's a correct +EV shove with a short stack in a tournament. Handy.
On to the lower tier, and things start to get personal. The number curved around the surface reads 0.142857142857 and it is, according to Boeree, nothing less than the key to her heart.
"It's Igor's favourite number and it's one divided by seven," she said. "That was the number…he explained it to me a few years ago, before we got together, and his explanation of it is so beautiful, it's such a beautiful number the way it repeats on itself. It was that that made me fall in love with him."
She added: "His explanation was so beautiful, I thought: 'This is the guy for me.' He manages to make maths sound so beautiful."
So there it is: You can keep your fast cars, designer threads and bouquets of red roses. The only way to impress Boeree is with numbers.
"We're just both nerds," Boeree said.
---
Day 2AB full chip counts
Day 1C full chip counts
Day 1B full chip counts
Day 1A full chip counts
Follow Team Pro's progress
Previous WSOP coverage:
Meet Muskan Sethi: India's presidential poker ambassador
A return of the masses for the long, slow dance
Then and Now: Daniel Negreanu
Records broken and Red Spades flying
"Thanks Daniel" — A letter to Negreanu from Phil Galfond
A flippin' fantastic way to enter a poker tournament
Jeff Gross: A momentary pause in the perpetual motion
From the archive: Stages
Moneymaker surveys the world he created
Negreanu continues preparations for PokerStars Players Championship
Then and Now: Andre Akkari
An exceptional Day 1A
From the archive: Rio here, Rio there
Then and Now: Maria Konnikova
All systems go on 'cattywumpus' World Series
WSOP photos by PokerPhotoArchive.com.
Back to Top