Just call him Lazarus. China's Lin Wu is the new champion of the Asia Pacific Poker Tour (APPT) Macau Main Event, pulling off one of the most remarkable back-from-the-death turnarounds world poker can ever have seen.
All-in and faced with a heads-up opponent holding what seemed to be an unbeatable Broadway straight, the tournament announcer at the PokerStars LIVE card-room at the City of Dreams announced that we had a champion, proclaiming Team PokerStars Pro Aditya Agarwal (who had the straight) as the winner.
But the dealer–apparently just going through the formalities–then put a king on the river, giving Wu a straight that nobody initially noticed. It meant the two of them chopped a pot that had seemed to be heading to Agarwal, and sprung Wu back into life.
Soon after, he doubled up with A♥ Q♥ to Agarwal's pocket sixes, and then it was Agarwal on the ropes. The next time they got it in–after a three-hour heads up battle–with Agarwal's 8♥ 8♠ to Wu's A♦ 4♥ , there was no similar lifeline afforded Agarwal.
Wu hit an ace in the window to give himself top pair. It was the moment that decided the champion.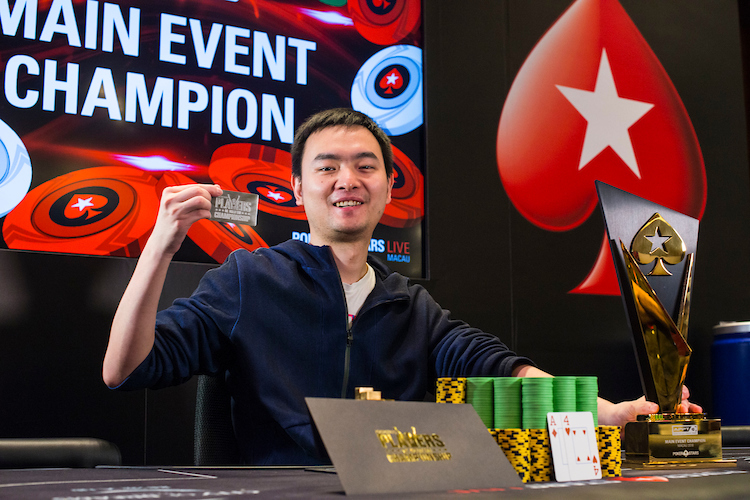 Lin Wu: Champion!
The prize for beating a 356-player field is not just the HK$3.095 million (US$395,000 approx) winner's cheque and the trophy. Wu also gets his hands on a coveted Platinum Pass to the PokerStars Players Championship, to be held next January at the Atlantis Resort in the Bahamas. Every player in world poker is seeking a passport to that, which is set to be the biggest $25,000 buy-in event ever held.
It was cruel for Agarwal, who fell agonisingly short of his maiden major live title. And in such circumstances! But Wu, a 32-year-old from Xi'An in north-west China, who is a regular at the Macau cash tables, was good value for this victory too. He's a former professional World of Warcraft player, so is accustomed to the swings of playing games for a living.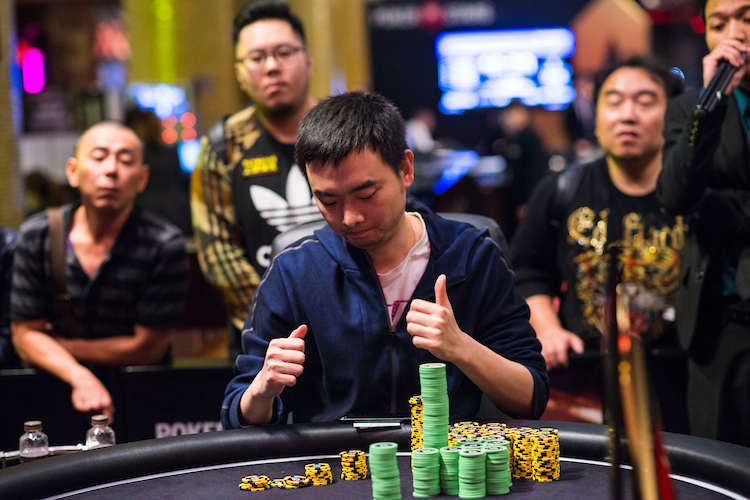 The moment of truth for Lin Wu
Wu rode a number of set-backs of his own at today's six-handed final table, always managing to refocus and rebuild. It is by a long way his largest tournament victory, but now it's Wu who will head to the Bahamas and the attempt to go even bigger.
"I was a little bit nervous A♠ ," Wu said, but he pointed to two major turning points as making him feel a bit more comfortable. From there he was able to close it out.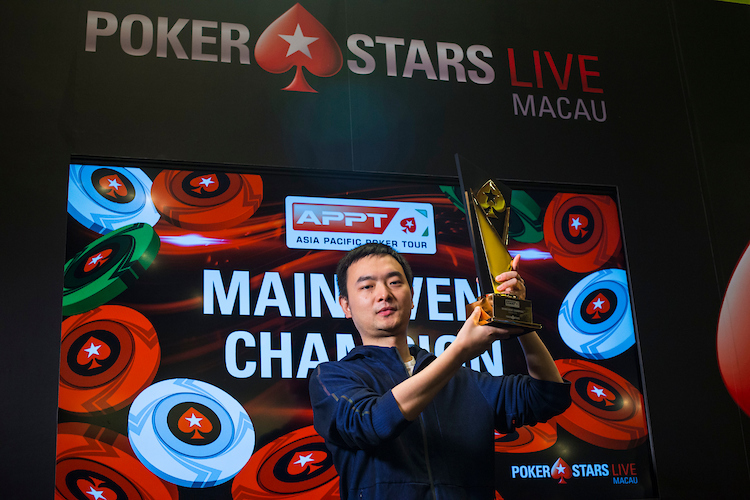 Raise the trophy, champ
THE FINAL DAY'S ACTION:
The last six players, of the 356 who started a week ago, represented six different countries, and there were high hopes for supporters of every flag despite the disparities in stacks.
Thailand's Phanlert Sukonthachartnant was top of the pile, but it was tight, with Agarwal, China's Wu and France's Alexandre Chieng bunched behind top spot, and Maxi Lehmanski and Jen Chun Chiu both only a double up away from being in contention.
While Chiu, in particular, had shown remarkable durability over the past few days, consistently managing to find a double up when he needed it most, Lehmanski had played a less volatile game. However, he knew he needed to get his chips in when he found A♣ 9♣ about 90 minutes into the final, but could have done without Wu finding A♠ K♠ at the same time.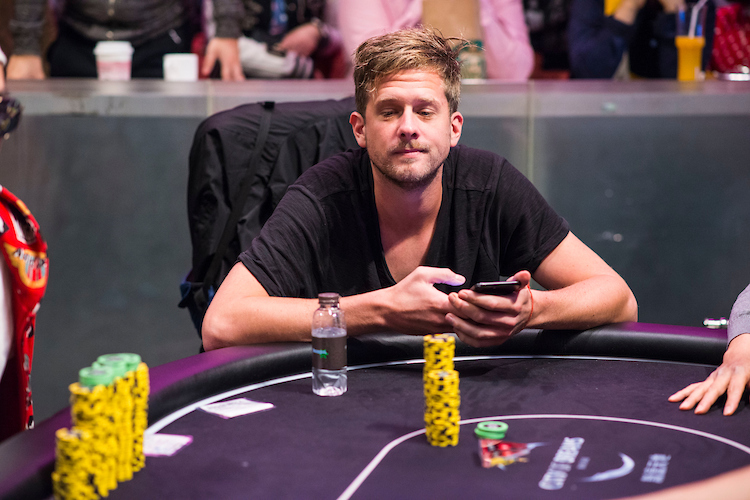 Maxi Lehmanski: Hoping for the nine that never came
Lehmanski couldn't hit his nine and was first out, taking $546,532 for sixth. That was the end of the German challenge, before the railbirds had really even started colonising the bar.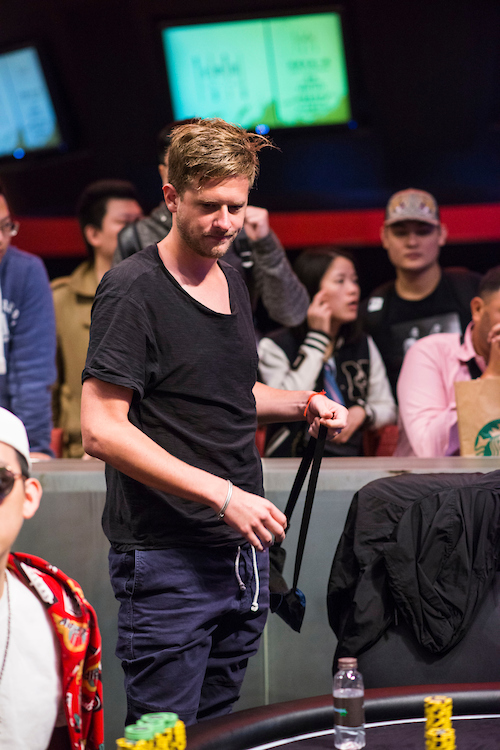 Lehmanski departs
Five-handed play lasted for another good couple of hours, and at least three of the players were staring down the barrel at one point or another. Agarwal was trying to drive the action, but kept running into opponents with decent hands. He was left with a short stack and jammed it in once more, picking up a call from Wu.
He had again run into a hand, however. Wu's pocket jacks left Agarwal's nines in deep trouble. That was only until the dealer put the miracle nine on the river for Agarwal and kept the Team PokerStars Pro alive.
That left Chieng as the fall guy. Having already won an APPT Macau title in 2013, Chieng was playing with rare joy this week. He knows that lightning rarely strikes twice, but he was happy to be given such a good chance to take another bolt.
As it was, the final day was when his good fortune ran out. With the big stacks of Wu and Agarwal to his left, he had a tough table position. And when he got his stack in with A♥ 9♥ , he found the resurgent Agarwal with A♦ 10♥ . Chieng missed his outdraw and was forced to leave this time with $675,500. (Having been the short-stack for much of yesterday, this was a huge score again for Chieng.)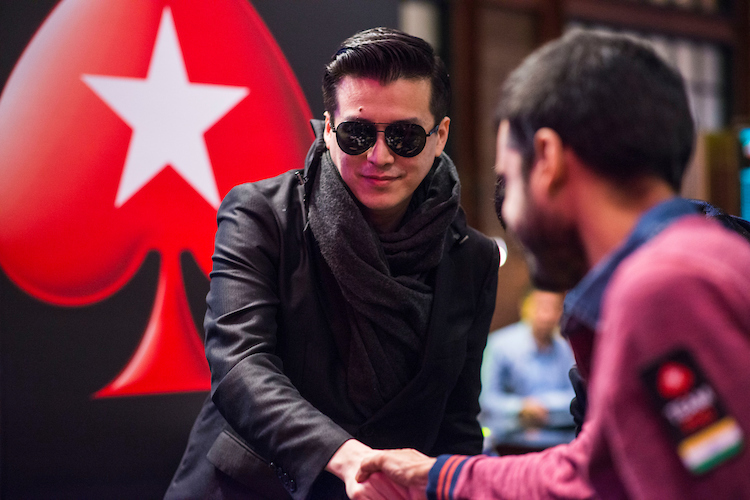 Chieng and Agarwal say goodbye
Fair to say, not many people in these parts knew much of Phanlert Sukonthachartnant before this week, but we soon got to know him through this APPT tournament and discover why he was Thailand's No 1.
Sukonthachartnant led the field at the end of both Day 4 and 5 and rarely looked anything less than in command as all of the young guns attempted to take pot shots. It was notable that some of the best players in the world were giving him plenty of respect at the tables, and it quickly became evident that Sukonthachartnant had plenty of game.
It's difficult to think of a time he made a mis-step at today's final too, even if his run eventually ended in fourth. He was on the wrong side of a series of flips, including losing with pocket nines to Chiu's ace-king for heaps. That left Sukonthachartnant with only five big blinds and 6♦ 5♥ . That couldn't beat Wu's K♦ 4♥ .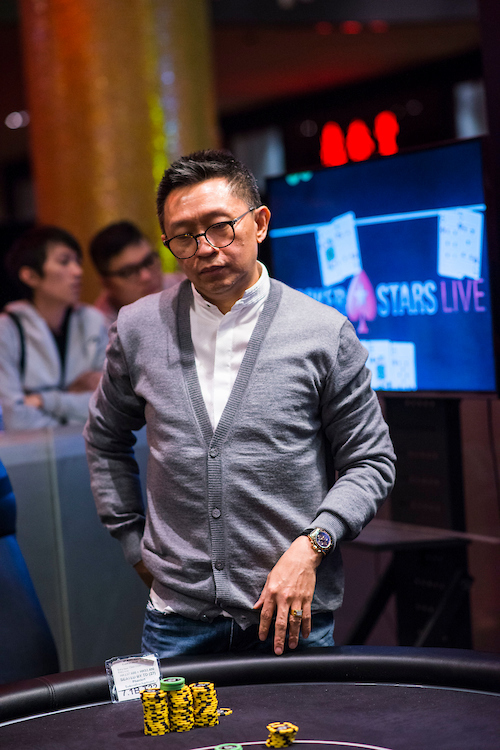 Sukonthachartnant at risk
Sukonthachartnant extended his lead at the top of Thailand's money list by HK$933,000. His is a name we will now remember (though perhaps not spell).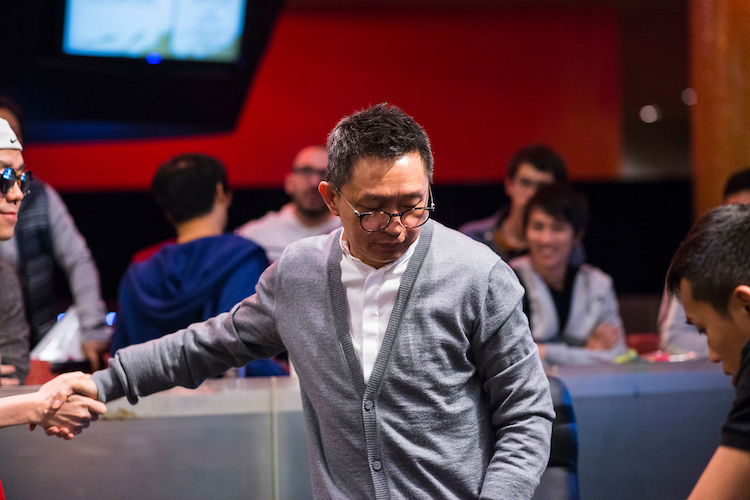 Sukonthachartnant departs in fourth
There's really no mistaking how obdurate Chiu had proved during this tournament. Towards the end of Day 4, he was a restless presence, hopping up and down from his seat on the featured table, anxious with a short stack.
He got his chips in plenty of times, but always managed to double up. That trend continued all the way through both of the next days too: he couldn't lose an all-in.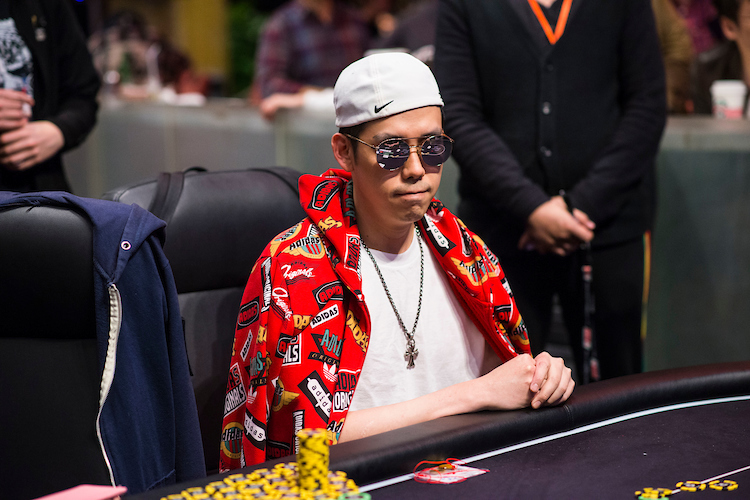 Jen Chen Chiu: In familiar all-in pose
But having dwindled down to about 10 big blinds once more, heading deep into Level 29, Chiu's resistance finally crumbled. He made a stand with Q♠ 10♠ and was up against Agarwal's K♣ 7♣ . Although Chiu hit a pair and a huge draw on flop and turn, Agarwal had spiked a king and stayed ahead.
Chiu was finally downed in third, winning HK$1.192 million. It was a remarkable performance, full of grit.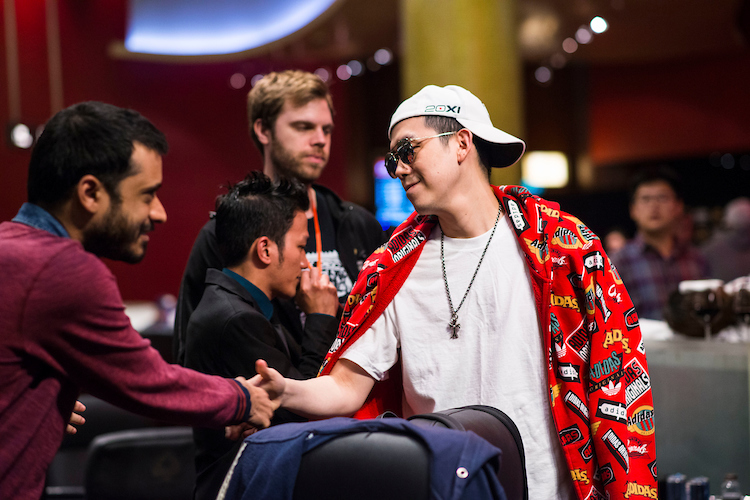 No coming back this time for Chiu
That left Wu heads up with Agarwal for the big money, the trophy and the Platinum Pass. Wu had been the dominant force during the early stages of the final, especially after he wrestled the chip lead from Sukonthachartnant, while Agarwal subsequently took over.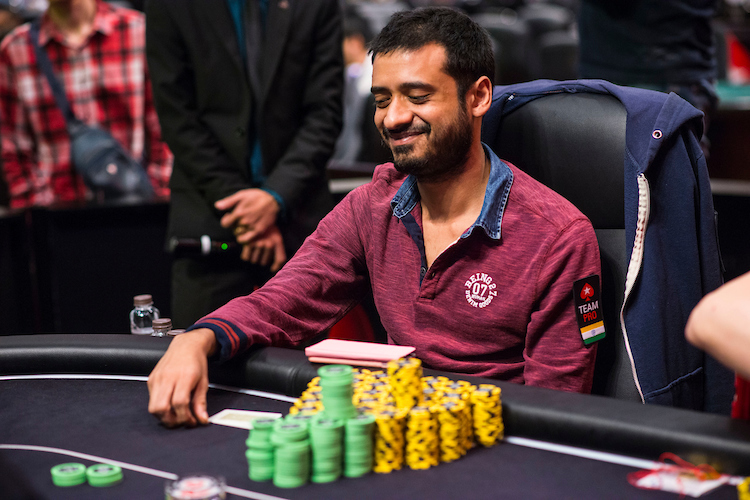 Better times for Aditya Agarwal
The Team Pro had close to a two-to-one chip lead at the start of heads-up play, and his online experience was clearly to the fore. He applied near relentless pressure on Wu, which seemed to have paid dividends when they got it all in with Agarwal's A♠ K♠ a long way ahead of Wu's A♣ 9♣ .
The J♣ Q♥ 4♥ flop changed little, and the 10♠ turn seemed to seal it for Agarwal. But then there was that K♦ river, and Agarwal was the first to notice that that meant they had to play on.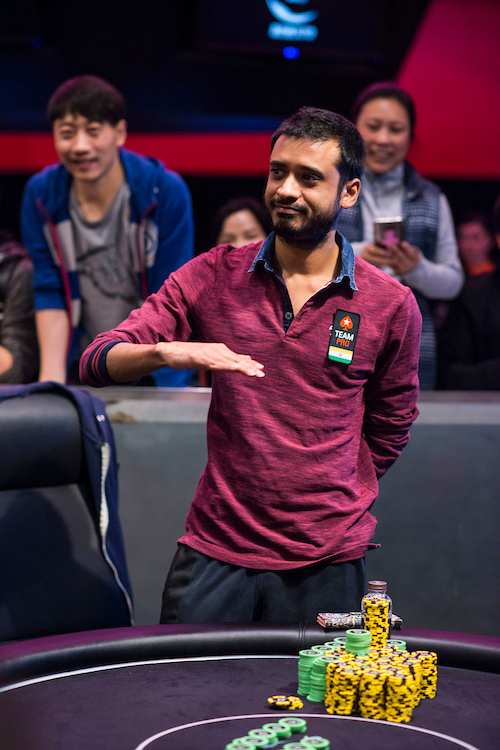 "Hold on one sec… it's not over," gestures Argawal
After that, Wu hit his huge double up to take a chip lead that he would never surrender, despite Agarwal's persistence. At around 9pm the lucky eights ran out of fortune for Agarwal, and Wu was there to take it down.
APPT Macau 2018 Main Event
Dates: March 19-25, 2018
Entries: 356
Buy-in: HK $40,000
Prize pool: HK $12,984,032
| Place | Name | Country | Prize (HKD) |
| --- | --- | --- | --- |
| 1 | Lin Wu | China | $3,095,000* |
| 2 | Aditya Agarwal | India | $1,900,000 |
| 3 | Jen Chen Chiu | Taiwan | $1,192,000 |
| 4 | Phanlert Sukonthachartnant | Thailand | $933,000 |
| 5 | Alexandre Chieng | France | $675,500 |
| 6 | Maxi Lehmanski | Germany | $546,532 |
*Includes HK$100,000 buy-in to Asia Championship of Poker (ACOP) Main Event. Prize also includes Platinum Pass to PokerStars Players Championship.
Back to Top