Heard about the time legendary poker player and three-time World Series of Poker Main Event winner Stu Ungar called an opponent's all-in holding just 10-high? And was right!
Ungar's amazing call has entered poker lore as a remarkable real-life hold'em hand, recounted many times over as evidence of Ungar's poker prowess. It has also received a kind of homage as a fictional hand arising in the Showtime TV series Billions.
Billions was co-created by Rounders screenwriters Brian Koppelman and David Levien along with Andrew Ross Sorkin (no relation to Aaron Sorkin). Just last week James Hartigan and Joe Stapleton were discussing the show on the Poker in the Ears podcast. In fact, in this week's episode the pair will be interviewing Koppelman and no doubt they will be talking about Billions — and probably about a hand occurring in a poker game shown in the third episode of Season 2.
Billions takes place in the high-stakes world of Wall Street. At its heart is an interesting and ongoing "heads-up" battle between Chuck Rhoades (Paul Giamatti), the U.S. Attorney for the Southern District of New York, and billionaire hedge fund manager Bobby "Axe" Axelrod (Damian Lewis).
"The way they talk about poker is the same way they talk about investments and business," explained Hartigan on last week's Poker in the Ears. He's right — there's a lot of poker-like gamesmanship happening throughout the series, even if poker isn't a primary part of the narrative.
Incidentally, the Rhoades character is loosely based on former U.S. Attorney of SDNY Preet Bharara, whom poker players might remember for his prominent role around the time of "Black Friday." Meanwhile Axelrod is based somewhat on the hedge fund manager Steven Cohen whose company's trading at one time accounted for 2 percent of the entire stock market. Cohen is also known for having found himself ensnared in an insider trading scandal resulting in a huge settlement and a period on the trading sidelines for Cohen.
As it happens, Cohen is himself an avid poker player. A Wall Street Journal profile once detailed his poker playing in high school in college and how Cohen later affirmed the game "taught me how to take risks." Thus it's appropriate in the episode titled "Optimal Play" to find him eagerly joining a high-stakes Wall Street charity poker tournament called the "Alpha Cup."
Ungar takes the wind out of Matloubi's sails
The climactic hand in the Alpha Cup draws directly from the famous Stu Ungar hand alluded to above. If you aren't familiar with it, here's the story.
In 1990, Stu Ungar was in a bad place. At the start of the 1980s he'd won back-to-back WSOP Main Event titles plus two more bracelets, but none since 1983 as he more often battled his own demons than poker opponents. That year, however, he found himself among the chip leaders through two days of the Main after having been bought into the event by Billy Baxter.
When Day 3 began, everyone but Ungar was in their seats. Eventually he was found unconscious on his hotel room floor, downed by drugs again. Soon he was carried by ambulance to a hospital where he'd remain while the tournament played to its conclusion with Mansour Matloubi winning. Remarkably, Ungar (and Baxter) still cashed in ninth place after his big stack finally blinded away.
Peter Alson and Nolan Dalla continue the story in their book about Ungar, One of a Kind, describing how afterwards "The Kid" challenged Matloubi to a heads-up, winner-take-all match for $50,000. The duel eventually took place at the Four Queens early the next year.
Matloubi initially took the lead in the match, then Ungar nudged in front. Phil Hellmuth is the source of the account of what happened next (shared in One of a Kind).
Ungar started the action with a raise to $1,600 (a 4x raise, I believe) and Matloubi called holding 5-4 offsuit. The flop came 3-3-7 rainbow, Matloubi checked, and Ungar made a big bet of $6,000 (close to 2x pot) which Matloubi called with his gutshot straight draw. Both players then checked the K turn.
The river was a Q, and "smelling weakness in Stuey" (says Hellmuth), Matloubi jammed all in with the $32,000 he had back. Ungar took less than 10 seconds to call, obviously having sensed weakness as well. He then showed 10-9 — winning the pot and the match with just 10-high. In other versions of the story, Ungar says out loud "you've either got 4-5 or 5-6" to Matloubi before calling.
"When a guy makes a call like that against you, you just give up," Matloubi later told Hellmuth. "It's like he's taken the wind out of your sails."
The task of televising the 10-high call
That same punch-to-the-gut, "wind out of your sails" feeling was clearly the intended goal in the very similar hand portrayed in the "Optimal Play" episode of Billions written by Willie Reale.
The Alpha Cup is an annual event, and in the episode the charity tournament becomes a battlefield between Axelrod and a rival hedge fund manager named Todd Krakow (Danny Strong). Krakow has won the event three times and Axe is desperate to knock him down a peg.
Firms are allowed to enter a couple of players into the event, and Axe selects Taylor Amber Mason, an analyst at Axe Capital, who has a poker background. In truth, Axe goads Taylor into playing, as the latter is almost strangely turned off by competition despite being an excellent player.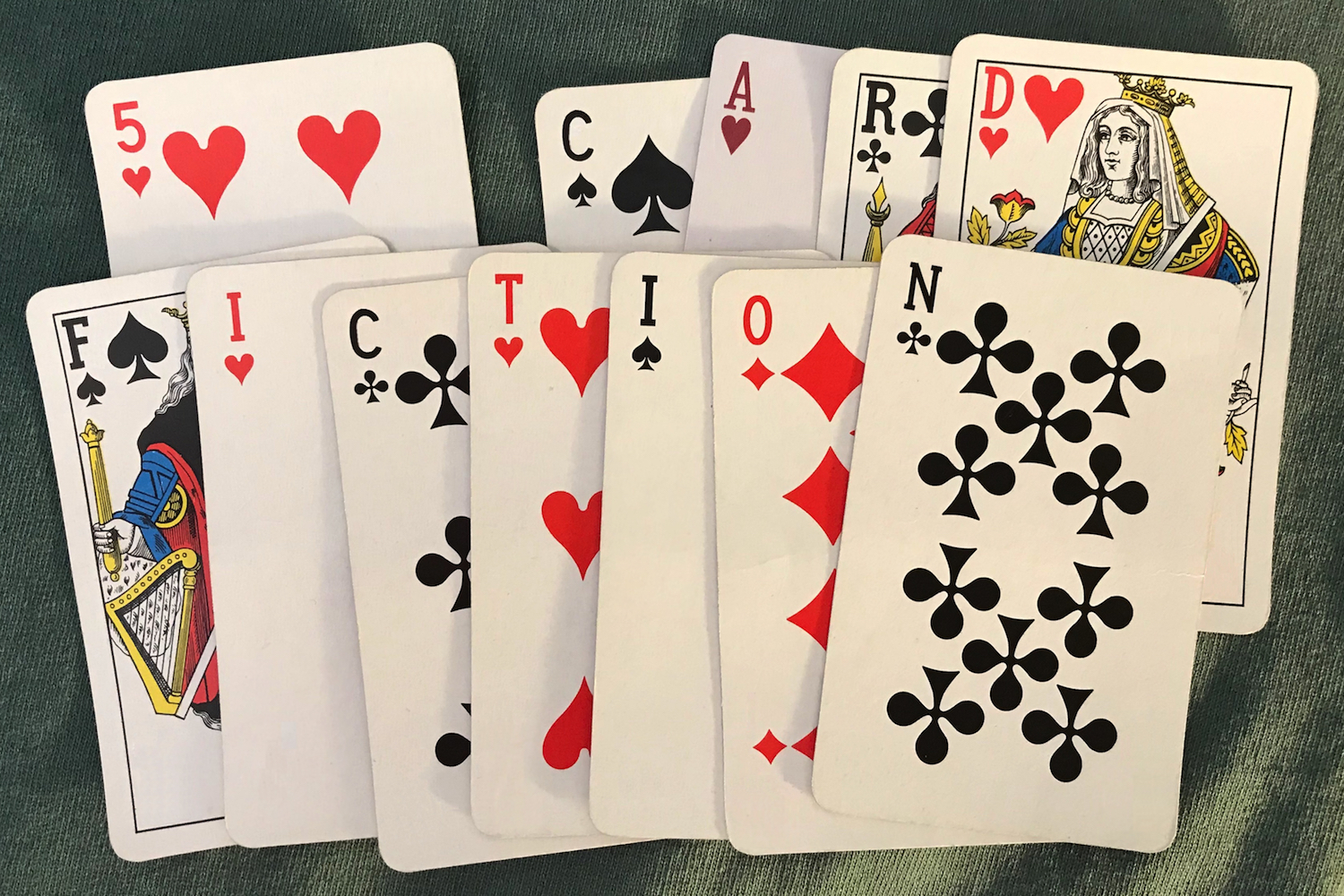 5♥
4♥
for Krakow, and
T♣
9♦
for Taylor. Krakow raises, Taylor three-bets, and Krakow calls, and the flop comes
3♥
3♣
7♦
. Taylor leads and Krakow calls again, then after the
K♠
lands on the turn Taylor checks.
To this point the players' hands and the board are mostly mirroring the Ungar-Matloubi hand, although here on the turn Krakow makes a bet and Taylor just calls (a seemingly strange thing to do with 10-9).
The river Q♦ completes the board, and Taylor checks again. Here we're reminded we're watching a fiction as Krakow calls "time" and consults with his coach, Wendy Rhoades — the U.S. Attorney's wife (their marriage is troubled) who happens to work for Axe (yeah… it's complicated).
Krakow returns to the table and announces he's all in. Taylor begins to think.
"You don't have a king, you'd have reraised preflop," Taylor begins. "You're never moving in on a queen here in case I have the king. I think you're on a gutshot… 4-5… 5-6. I think you're trying to bully me, and a bully's devastated when you stand up to him. I'm sorry. Call."
Indeed, Krakow is devastated when he sees he has lost the hand (and the tournament) to Taylor's ten-high. Meanwhile Taylor shows no emotion and indeed gets no joy at all out of winning, unlike Axe.
It's a bit of a risky move by Billions, dramatizing a hand like this one rather than the typical straight-flush-beats-quads overkill often found in other five-card fictions.
In a review of the episode for The New York Times, Scott Tobias praised the show for not repeating in the last hand the "cruder form of warfare" exemplified in the earlier one between Krakow and Axe. Instead the hand shows how Taylor's "genius is to exercise soft power and allow Krakow to trip over his own hubris." (Again, not unlike Ungar in the hand versus Matloubi.)
Gutsy play, Billions. Though not as gutsy as calling an all-in with 10-high!
For more on Billions and other five-card fictions, be sure to check out the next episode of Poker in the Ears with Brian Koppelman on Soundcloud, iTunes, and Spotify.
---
More "5-Card Fiction":