For the best part of three days–essentially the entire duration of the APPT Macau Super High Roller tournament–players and spectators have been asking only one question: Can anybody catch Alex Foxen?
Having won his seat into the HK$400,0000 buy-in tournament via a live satellite on the eve of Day 1, Foxen quickly bludgeoned into a chip lead once the tournament proper got under way. He was at the top of the counts at the end of the day, then further pulled away through Day 2. He came into today's nine-handed final with more than 40 percent of the chips in play.
Now, at 8:30pm on Monday, we have our emphatic answer. No. Nobody could catch Alex Foxen. The American pro is the Super High Roller champion here at the PokerStars LIVE card-room at the City of Dreams, and HK$7,560,000 (US$964,000) richer.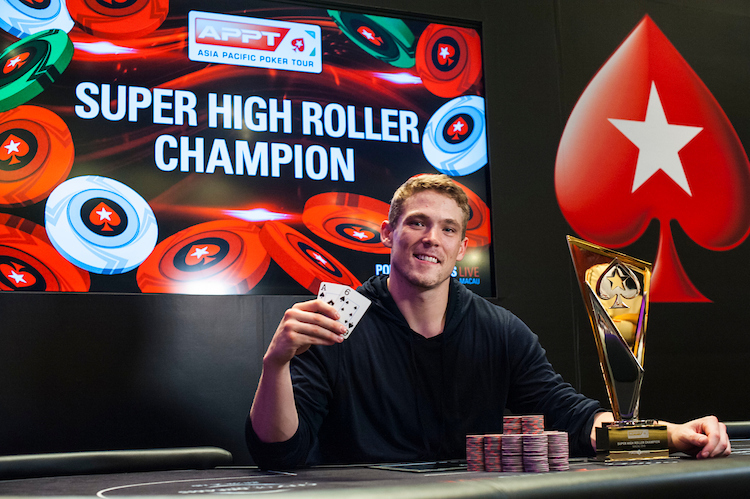 Alex Foxen: Champion
"What makes it special to me is definitely the competition," Foxen said. "I love poker, probably more than anyone. I love the battle with some of the other best players in the world."
As it turned out, the most spirited challenge to Foxen's superiority came from the most unlikely source. Shan Huang, a local businessman and high stakes poker fanatic, had only a short stack at the start of play, and was by a long way the least fancied from a table boasting eight of the game's established superstars.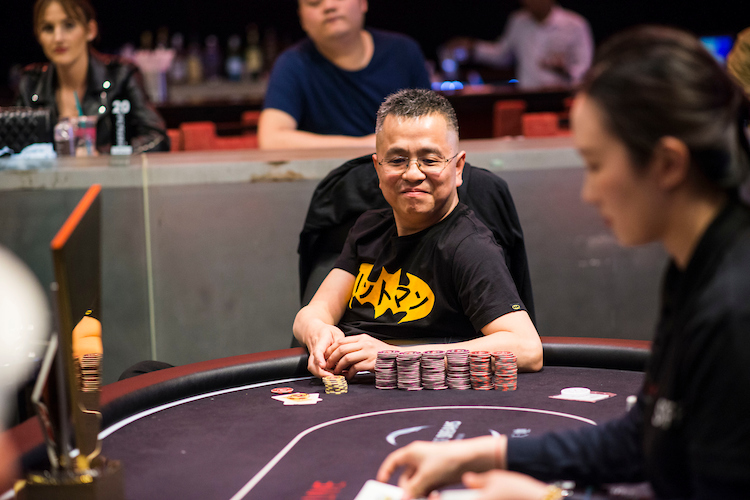 Shan Huang: The main challenger to Foxen
But Huang rode his luck, got his chips in with little fear, and watched as players like Isaac Haxton, Patrik Antonius, Brian Rast and Rainer Kempe all fell by the wayside. Huang was actually the chip leader against Foxen when the two of them went heads up, but ultimately Foxen was able to reassert his authority.
With blinds and antes steepling, Huang quickly learned that he couldn't afford to see too many speculative flops anymore. Foxen managed to grind Huang down and then beat Huang's K♠Q♣ with his A♠6♠.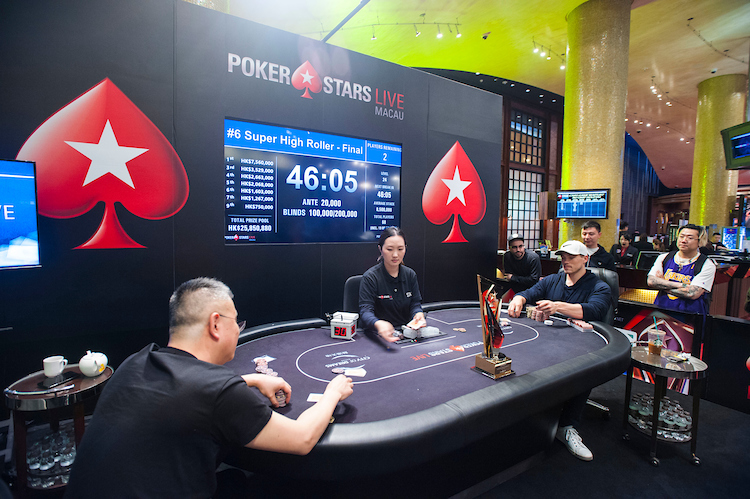 Shan Huang and Alex Foxen: Heads up equilibrium
That brought to a close a highly entertaining tournament, with Foxen continuing a fine run of form that has seen him elevated into the top handful of players in the world game. It takes his career earnings past US $3.5 million and is his second major title in the space of a month.
How it played out
Yesterday's Day 2 was extended slightly to allow the bubble to burst, meaning that the nine players returning at 1pm today were all guaranteed at least HK$750,000.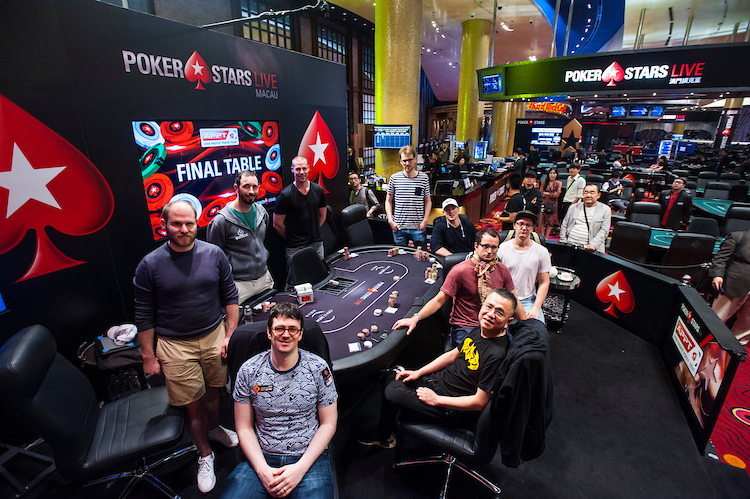 Final table players (clockwise from far left): Sam Greenwood, Brian Rast, Patrik Antonius, Christoph Vogelsang, Alex Foxen, Kahle Burns, Rainer Kempe, Shan Huang, Isaac Haxton
It was a lopsided final at the start of play too, with Foxen's enormous stack dwarfing all others and leaving pretty much all of his opponents with only one move. They needed to get their chips in and hope for a double.
Isaac Haxton was the first to have a stab, but it didn't work out. They had been playing for less than about 15 minutes when Haxton jammed the button with K♠2♠ but found Brian Rast with 7♠7♣ in the big blind. Rast called and Haxton missed. We were one down.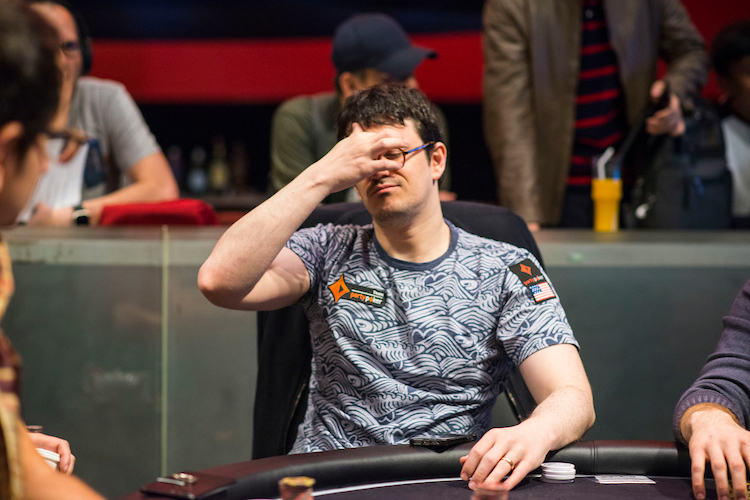 Haxton doesn't like what he sees
Haxton's hasty departure may easily have been followed by at least four more, but all of Huang, Rainer Kempe, Rast (twice) and Christoph Vogelsang managed to score doubles when they got their chips in. Vogelsang tried it again soon after, but this time his 9♠10♠ couldn't beat Foxen's A♦Q♠.
Vogelsang flopped a nine but Foxen turned an ace and that sent Vogelsang out in eighth for a HK $981,880 payday. He was in for two bullets, so locked up $181,880 profit.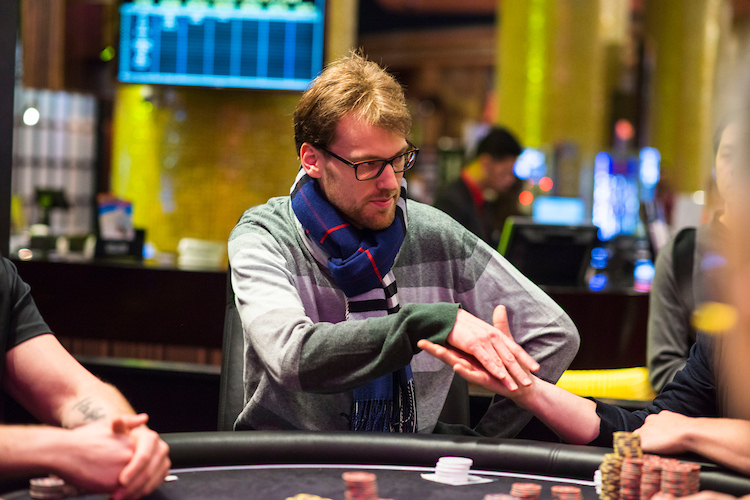 Christoph Vogelsang's race is run
Despite all the action, there was still little significant change in the tournament dynamic at this stage, with Foxen's lead seemingly unimpeachable and the others merely trying to figure out the correct ICM moves with their short stacks.
Rast found K♦Q♦ and got his last eight big blinds in with it. Nothing wrong with that. However Kempe called with J♦7♦ and hit both a seven and a jack to bust Rast in seventh.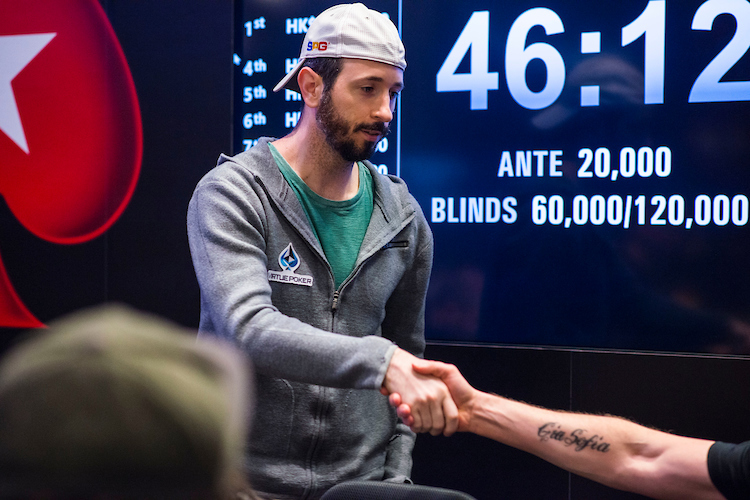 Brian Rast says goodbye
Though Foxen still had the biggest stack at this stage, even he would admit that he was playing second fiddle to Huang, whose table presence had managed to make him the dominant figure in the field from the mid-point yesterday.
Huang plays tournament poker as though at a home game, no matter what the stakes. His table talk is incessant and his etiquette sometimes a little questionable. He got under the skin of a few of his opponents in the pre-bubble period yesterday for deliberately taking longer than seemed necessary for rudimentary decisions.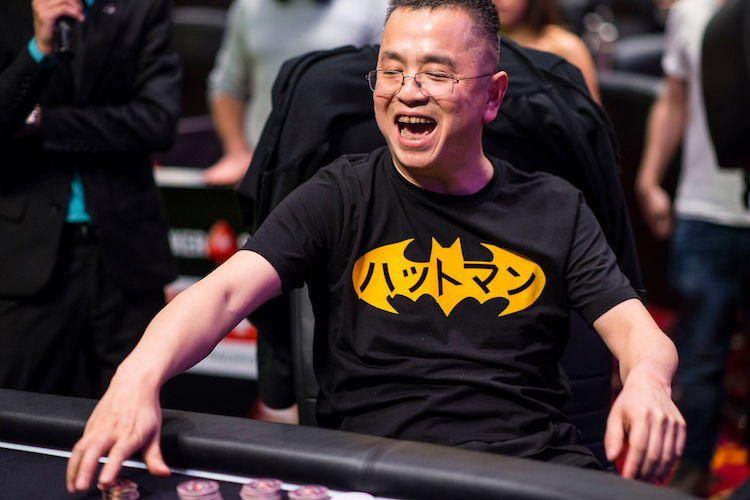 The ever animated Shan Huang
But here's something nobody can deny: Huang revels in this game and is prepared to put his money where his mouth is. He will happily fire off numerous bullets in tournaments, while also leading the action in many of the major cash games in the area.
All that was missing from Huang's love affair with poker was a major tournament score, and though he had edged to the final table here, his short stack was always going to make it hard for him to go all the way.
That was until this happened.
With six players left, Huang got involved in a three-way all-in pre-flop collision, holding J♠J♥. Kahle Burns had A♠Q♠ and Patrick Antonius had Q♣Q♥, and though Huang had marginally the most chips, he was surely looking at the end of the road.
The dealer had other ideas. The flop gave Huang a set. It came J♦6♣10♥. But then the turn K♥ gave Burns a straight. But then, to complete this roller-coaster hand, the river was the K♠, giving Huang a boat and sending both Antonius and Burns to the rail.
Antonius took sixth and Burns fifth, but Huang now had chips to play with.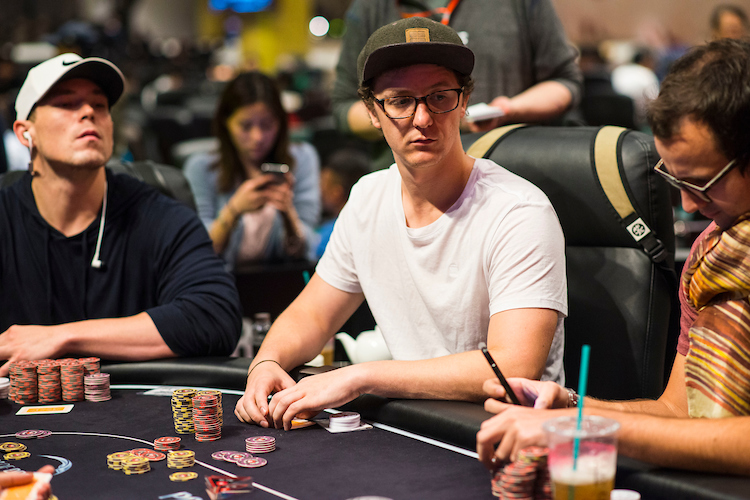 Burns turned a straight, hit the rail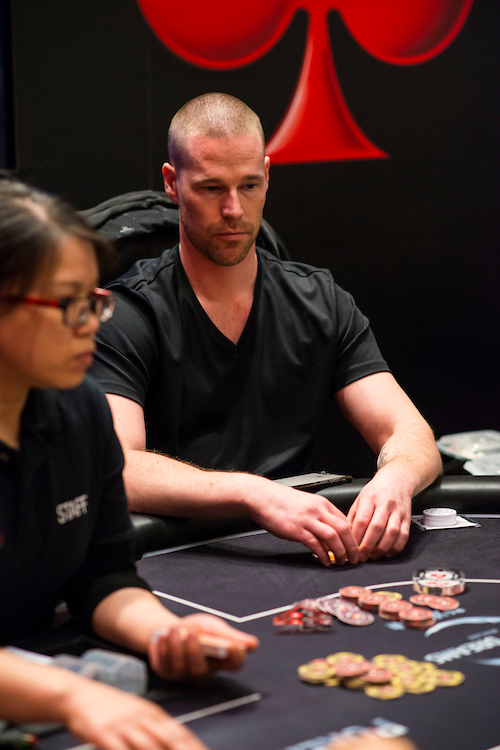 Antonius's queens no good
That was not a luxury afforded either Kempe or Greenwood, who had now assumed the short-stack duties. However neither was going to go down without a fight. Kempe doubled up through Greenwood, then Greenwood doubled back through Foxen, before Foxen pushed himself back into the lead with a pot against Huang.
You can read all the blow-by-blow of the day on the live updates page.
But soon after, Kempe was indeed sent packing when his Q♦J♦ couldn't beat Greenwood's A♦5♦. An ace turned and Kempe's tournament came to an end in fourth. That earned him HK $2.663 million.
It was only a brief reprieve for Greenwood. Despite picking his spots expertly at this final, there was nothing he could do when he found K♠K♥ and got involved in a pot that played through the streets against Huang.
Huang made a speculative pre-flop call with Q♦7♥ and flopped two pair. Huang got in a big check-raise on the turn and Greenwood fell into his trap. It was a pot worth more than 10 million and left Greenwood with fumes. He was out in third soon after, winning HK $3.529 million.
So it was that we were going heads up between the overnight big stack and one of the overnight shorties. No one could be surprised to see Foxen in the final two, but you'd have got long odds against Huang being his opponent.
Although Huang had the lead at this stage, it didn't last long. Foxen has shown himself to be a player in possession of all the skills necessary to prevail in all situations, and he knew how to cope with Huang. Foxen punished Huang's tendency to want to see flops with any two cards, and quickly edged back into the lead. He then found that ace when Huang had K♠Q♣ and that was the end of that.
Foxen's girlfriend Kristen Bicknell, who has also already won a title here in Macau this week, was on the rail for his moment of triumph. Those two are absolutely crushing it.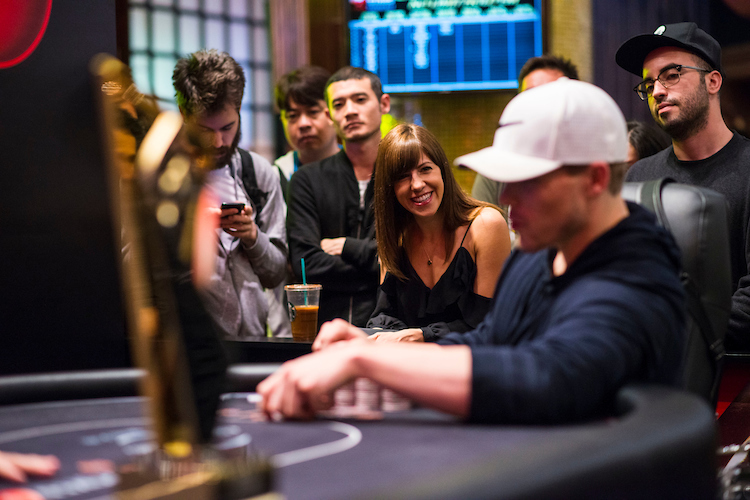 Kristen Bicknell swung by to watch Foxen's triumph
APPT Macau 2018 Super High Roller
Dates: March 17-19, 2018
Entries: 68 (inc. 19 re-entries)
Buy-in: HK $400,000
Prize pool: HK $25,850,880
| Place | Name | Country | Prize (HKD) |
| --- | --- | --- | --- |
| 1 | Alex Foxen | USA | $7,560,000 |
| 2 | Shan Huang | China | $5,429,000 |
| 3 | Sam Greenwood | Canada | $3,529,000 |
| 4 | Rainer Kempe | Germany | $2,663,000 |
| 5 | Kahle Burns | Australia | $2,068,000 |
| 6 | Patrik Antonius | Finland | $1,603,000 |
| 7 | Brian Rast | USA | $1,267,000 |
| 8 | Christoph Vogelsang | Germany | $981,880 |
| 9 | Isaac Haxton | USA | $750,000 |