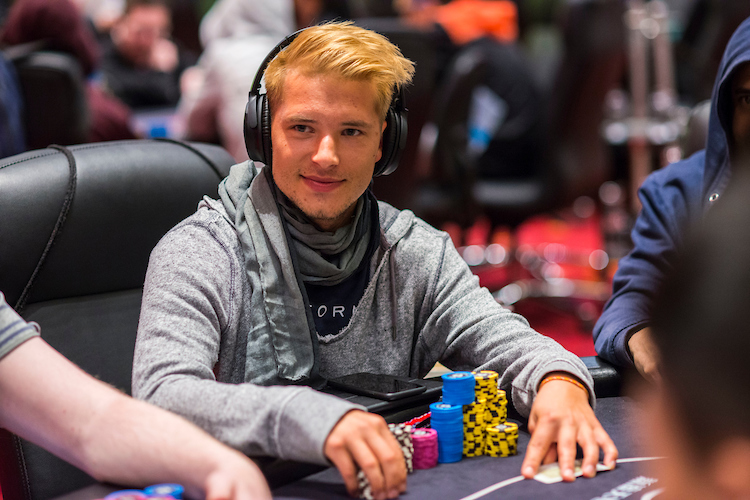 Felix Schulze leads the way after two days of APPT Macau Main Event poker
Felix Schulze entered Day 2 of the APPT Macau Main Event with 60,000 chips, double what he started the tournament with but by no means a particularly notable stack. The next six levels came and went and, after a late rush, the 27-year-old German poker professional piled up the chips like nobody's business, ending the day with 328,000 and a lead on the last 93 players in the tournament.
It was a wild end to a long day of poker. With two starting flights in the books, Day 2 of the APPT Macau Main Event combined the 212 survivors into the field that will play down to the final table and, eventually, our champion. That's still days away, though. Today was all about sorting out the would-be contenders from those with an actual shot at the title.
Registration ended at the start of Level 9 and took us to a total field of 356 players. The promise of a HKD$3,095,000 top prize brought in a late contingent of players who had busted out of the concurrently running Super High Roller tournament. Alex Foxen, Kahle Burns, and Nick Petrangelo all bought in late and found their way to the rail well before the end of play.
Three members of the Red Spade brigade were in the house today. Randy Lew never picked up any momentum and left about halfway through the proceedings. His fiancée, Celina Lin, started off short and had Poker Hall of Famer John Juanda two spots to her left for most of the day, but managed to survive with 38,600. And then there was Aditya Agarwal. His stack fluctuated all day long but he closed out the night with 87,800.
Joshua Zimmerman entered the day with the chip lead after a strong Day 1B session. He took a few early hits before rebounding later in the day and ending up with 250,500 chips. Other notables to survive through to Day 3 include Davidi Kitai (307,300), Paul Vas Nunes (275,400), Li Yuan (271,300), Martin Gonzales (233,100), Ian Modder (200,700), Jiafei Yu (175,100), Juicy Li (91,100), Alvan Zhang (55,100), Dong Kim (47,000), Billy "Croc" Argyros (38,000), and John Juanda (37,100).
We'll be back once again for all the action tomorrow at 12pm local time. Join us then as we continue to bring you exclusive live updates, videos, and Joe Giron's photography! –JK
---
Speaking of Joe Giron: before you check out the full blow-by-blow of today's action below, why not learn a little bit about how he captures emotion in a sea of poker faces?
It's poker photographer Joe Giron's job to capture those rare glimpses of intense emotion from players who do everything they can to hide their feelings.
With a background shooting bands that include Pearl Jam, Nirvana, Pantera and many more, Giron has been developing both his technical and artistic skills for decades. His work is a big reason the PokerStars Blog is able to put viewers in the middle of the action even when the TV cameras aren't rolling.
We spoke to Giron here in Macau about his approach to visual storytelling, what makes poker such a rich world for him to shoot, and one legendary photo that won him an American Poker Award.
---

Day 1B Live coverage archive:
• PLAYERS: 93 (of 356)
• CHIP COUNTS | PAYOUTS | SEAT DRAW
• ALL APPT MACAU INFO | TOURNAMENT SCHEDULE
• DOWNLOAD POKERSTARS | Follow @PokerStarsBlog on Twitter

10:01pm: Wongwichit makes quads
Level 12 – Blinds 1,000/2,000 (ante 300)
Masahiro Yamada had opened for 4,500 before a short-stacked Phachara Wongwichit pushed all in and it folded back to Yamada.
Yamada got a count — 27,300 — and after thinking a bit decided to call. No, this wasn't a hero call, just a Masahiro call. Yamada had A♠9♠ and a fighting chance against Wongwichit's K♠K♦. That is until the K♥6♥Q♣ flop and K♣ turn made quads for the latter.
"Overkill," said tablemate Celina Lin as Wongwichit scooped the pot to move up around 60,000. Yamada has 65,000 now. –MH
10:00pm: Agarwaal and Li chop it up
Level 12 – Blinds 1,000/2,000 (ante 300)
Yuan Li is super aggro. We've established that. Aditya Agarwal has been around the block though and will stand up when needed.
Li raised 4,200 into the Team PokerStars Pro's big blind, and Agarwal defended. The flop spread J♣6♠10♥ and Li continued for 4,200 and then called when check-raised to 12,000. The K♦ turn saw Agarwal slow to a check, then call a 16,000 bet. The Q♦ river saw both players slow to a check and then they both opened the same hand: king-nine. A lot of smiles were on show. It's a real shame the day is coming to an end as Table 5 are here to play, and doing so with great humour. –MC
9:59pm: Cold end to Schwippert's day
Level 12 – Blinds 1,000/2,000 (ante 300)
With just three hands left in the day, Jan-Eric Schwippert ran kings into aces.
He opened from middle position before Carson Wong three-bet to 13,500 from the hijack. Schwippert came back with a four-bet to 30,500 and called after Wong tank-shoved for 142,500.
Schwippert: K♥K♠
Wong: A♥A♠
The board ran 6♠3♥7♣8♦8♣ to see the aces hold. –MC
9:53pm: Five more hands
Level 12 – Blinds 1,000/2,000 (ante 300)
The floor staff just announced we'll be playing five more hands tonight. Then it's off to the Players' Party for our survivors (and all their fallen comrades, too). –JK
9:44pm: Modder puts Li to the test
Level 12 – Blinds 1,000/2,000 (ante 300)
While some tables seem to be playing pretty tame in these last few orbits of the day (I walked around for 15 minutes without finding an interesting hand to write about), other tables – or certain players – are really applying the pressure late on.
Ian Modder had opened and had been three-bet by Juicy Li to 11,000 from the small blind. Back to Modder, he shoved, and I mean shoved big. About 160,000 kinda big.
Li tanked for quite a while with 180,000 behind, just covering Modder, but eventually gave it up.
"Did you bluff me?" she asked him afterwards.
"Noooo," replied Modder. "I had ace-king and didn't want to see a flop." –JS
9:40pm: Schulze is smiling
Level 12 – Blinds 1,000/2,000 (ante 300)
The name Felix means "happy" or "lucky." Seems appropriate at the moment for German player Felix Schulze as he's built his stack up close to 330,000 now with a half-hour left in the night. I can't say with any certainty how lucky Schulze has been, but he's got to be happy about how the last couple of hours have gone.
Just now Schulze had his neighbor to the left, Aditya Agarwal, all-in on the river on a board showing 4♥4♣A♣6♦4♠. The showdown was anticlimactic, as Agarwal had A♠J♥ and Schulze A♥10♥ for a chopped pot. Agarwal has 87,000 now.
I suppose that river four was lucky for Schulze. In any case, as noted, he's happy. –MH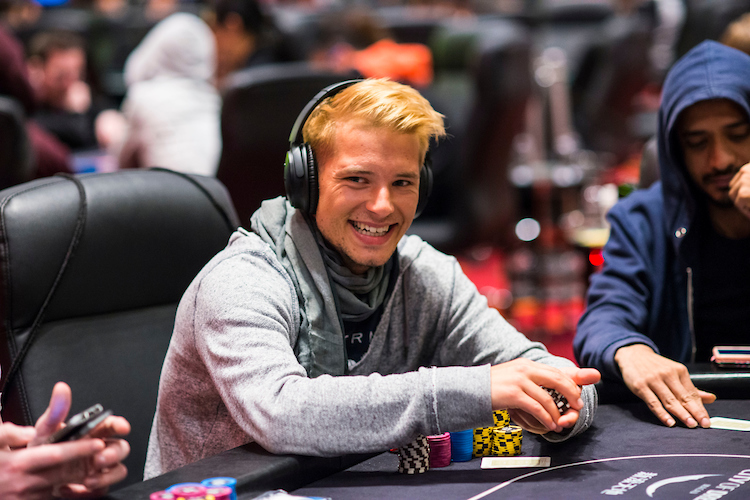 Lucky or not, Felix Schulze is certainly happy
9:36pm: Huang hung on the river
Level 12 – Blinds 1,000/2,000 (ante 300)
Qien Huang winced as the river card sealed his fate after a preflop all-in versus Kosei Ichinose.
The latter opened to 4,200 from under the gun and called after Huang moved in for 40,000 from the next seat.
Ichinose: A♠K♣
Huang: 8♠8♦
The board ran 7♦5♥2♣J♠K♦ to pair the Japanese pro on the river. He moved up to 130,000. –MC
9:27pm: Lo down
Level 12 – Blinds 1,000/2,000 (ante 300)
Jeffrey Lo was one of the big stacks to start this Day 2, but about halfway through the last level of the night he lost the last of his chips to be eliminated.
In his last hand Lo got all in on a J♦4♥9♣ flop holding A♦J♥ (a pair of jacks), but immediately stood to go when he saw he was up against Chunjie Liu's 9♥9♠ (a set of nines).
The 4♣ on the turn kept Lo drawing live (barely), but his plea for a saving jack went unheeded as the 3♦ completed the board.
Lo is gone, while Liu moves up to 184,000. –MH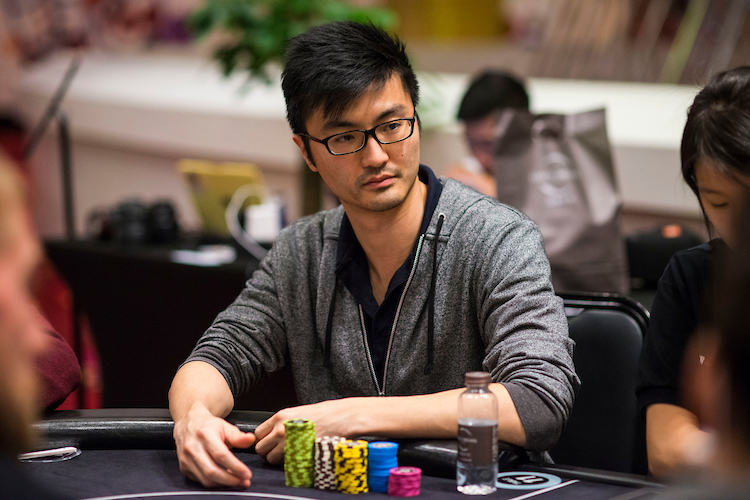 Not so sweet: Lo down
9:22pm: Tchong collects from Lin
Level 12 – Blinds 1,000/2,000 (ante 300)
We arrived to see an intriguing looking flop down in front of Celina Lin and Michael Tchong: A♦J♦10♦.
Lin checked it and Tchong put out a bet worth 3,000 which the Team Pro called. The turn was a slightly less exciting 7♥, but Lin decided to lead out for 7,500 which helped. Her plans for the pot would quickly be scuppered, though, when Tchong popped it up to 20,000 and got her to fold.
She's on 48,000 now, while Tchong moves to 67,000. –JS
9:17pm: Big double for Kitai through Cai
Level 12 – Blinds 1,000/2,000 (ante 300)
Davidi Kitai has just found a massive double up courtesy of APPT National champ and Platinum Pass winner Shuize Cai, with whom he's tangled a few times today.
We missed the action, but by the end of the K♦9♠6♦J♣Q♠ board Cai set Kitai all in with the Q♦9♦ (two pair) and Kitai made the call with the 6♥6♠ (a set).
Kitai's stack behind was 111,100, which means including what was already in the pot the Belgian is now up to 280,000. –JS
9:13pm: Murray no longer minted
Level 12 – Blinds 1,000/2,000 (ante 300)
Benjamin Murray has dropped back down to 50,000 after he doubled up Felix Schulze, who got a bit tricky with suited connectors.
The German limped in from under the gun before Murray raised to 8,500 off the button. Paul Vas Nunes called in the big blind and Schulze called as well. The flop came 6♦A♥5♥ and Murray continued for 11,500 only for Schulze to check-raise all-in for 67,100. Vas Nunes had moved out of the way but Murray called after tanking for two minutes.
Schulze opened 6♣5♣ for two pair, ahead of Murray's top pair with A♦K♣. The board ran out blank and Schulze moved up to around 165,000. –MC
9:00pm: Tankers don't always fold
Level 12 – Blinds 1,000/2,000 (ante 300)
A few days ago here in Macau I had a chance to reunite with an old friend and fellow blogger, Dave Behr, who now makes Hong Kong his home. I just watched a hand that recalled to me an old saying of his, a fairly reliable thesis developed from having watched a lot of tournament poker.
"Tankers always fold," said Dave.
The hand that reminded me of Dave's saying occurred between Ashish Gupta and Liang Song. They'd gotten to the river with the board showing 2♠Q♠9♦6♣Q♦, and Song had led for 25,000. That's when Gupta pushed all in, and Song went deep into the tank, long enough for the clock to be called on him.
It was when the countdown had gotten inside of 10 seconds I remember Dave's saying, and the way Song was handling his cards it surely looked like this tanker was indeed about to fold. Then, with a second remaining, he suddenly grabbed his stack and with some emphasis set in down before him as a call.
He tabled K♠Q♣ for trips, and Gupta congratulated him on the correct decision as he showed he was bluffing with a busted flush draw with J♠7♠.
Song is up around 180,000 after that good call, while Gupta has 155,000. –MH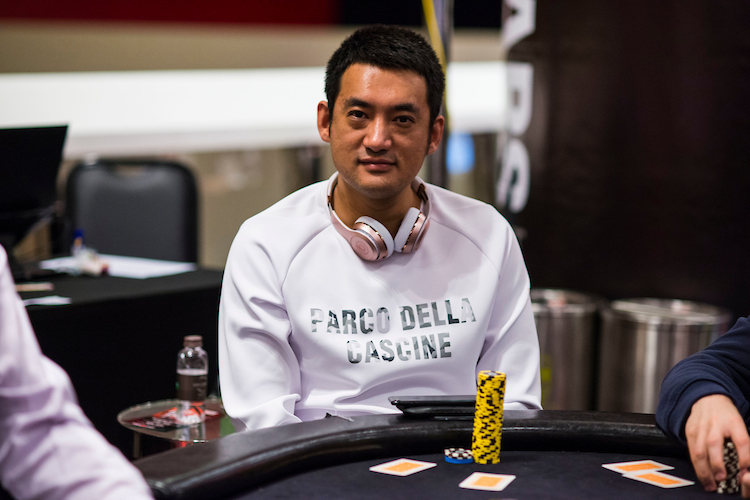 Take note, Dave: Liang Song tanked and called
8:55pm: Last call for Day 2!
Level 12 – Blinds 1,000/2,000 (ante 300)
We've moved on to the final level of the evening. Another 75 minutes of poker and we'll be putting Day 2 into the history books. –JK
8:50pm: Big stacks become neighbours and tangle
Level 11 – Blinds 800/1,600 (ante 200)
Tournament chips leader James Broom has been moved to Table 5, just the other side of the dealer to Yuan Li, who's sat third on the counts. And it didn't take long for them to tangle with one another.
Broom opened to 3,500 from the button and called after Li three-bet to 7,700 from the small blind. The flop fanned J♥4♥3♣ and Li continued for 9,000. Call. Li then checked over the 5♣10♥ turn and river to face a 30,000 bomb on the river. Li tanked, showed a jack and folded.
A few moments later, they were at it again. Broom opened to 3,500 only for Li to three-bet him again, to 10,000. Broom came with with a four-bet to 30,000 but admitted defeated when Li five-bet to 65,000 – and then showed a three when he got the fold!
Both of them have around 310,000. Things could get very interesting during the last level of the night. –MC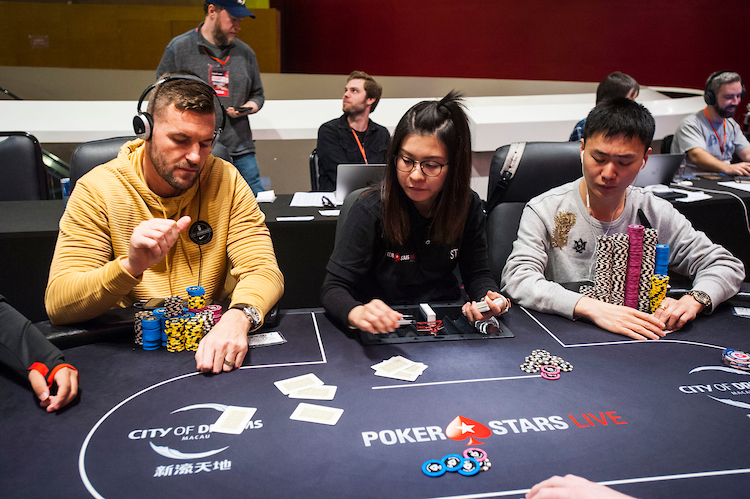 James Broom & Yuan Li, making things interesting late on Day 2
8:35pm: Wong works hard for his money
Level 11 – Blinds 800/1,600 (ante 200)
Ka Shing Wong is in the territory where reraising is his best play for picking up chips. It's a dangerous path to tread, but when it works, it works well.
Case in point: Xiaoyang Luo just opened for 4,000 in middle position and got a call from Hon Cheong Lee in the cutoff. Wong wasted little time in reraising to 14,500, which chased off both opponents and allowed him to scoop a pot without having to see a single community card.
After that pot Wong has 74,000 chips, or just under 50 big blinds. –JK
8:30pm: K-K for Kitai
Level 11 – Blinds 800/1,600 (ante 200)
After losing that pot just a short while ago to Shuize Cai (see below), Davidi Kitai just picked up chips again after eliminating Yan Shing Tsang.
It was a preflop tête-à-tête, with Kitai holding K♠K♥ and Tsang A♣Q♣. The community cards came 8♠5♦7♠2♠6♣, and as Tsang heads for the exit Kitai is back around 132,000. –MH
8:25pm: Tough work for Celina
Level 11 – Blinds 800/1,600 (ante 200)
It's been a tough day for Team PokerStars Pro Celina Lin. She started off with about 23,000 chips and though she's more than doubled that by this point in the night, none of it has come easy.
She just picked up a fair bit of her current 54,000-chip stack just now, betting 8,000 on the river with the board reading 5♥5♣J♥5♦2♠. Ye Wang waited almost a minute to finally make the call, then shook his head when Lin rolled over her K♣K♠. –JK
8:20pm: Li climbs higher
Level 11 – Blinds 800/1,600 (ante 200)
Yuan Li has a lot of chips. Don't ask me how many exactly, because he's impressively keeping them in stacks more than 50 chips high, which seems to challenge credulity when looking at how they manage not to topple over in front of him.
Li is challenging his table pretty efficiently as well, having just now knocked out Masatoshi Tanaka in an preflop all-in confrontation. After Li opened for 3,600 with A♦9♥, Tanaka reraised all in for 8,600 with J♠J♣ and Li called. The board came K♦A♣10♥5♠7♣, giving Li the better pair and ending Tanaka's run.
Back to the matter of Li's chip count. I'm gonna estimate 225,000 at the moment. Meanwhile I want to see just how much higher he can go. –MH
8:15pm: Small sigh for Kitai
Level 11 – Blinds 800/1,600 (ante 200)
Davidi Kitai has dropped down to around 115,00 after he couldn't beat second pair at showdown.
He was heads-up with Shuize Cai to a turn of a Q♦K♠6♥8♠ board. Can checked from middle position to see Kitai bet 9,500 from the hijack. He came back with a raise to 20,000 and Kitai called. Both players checked the 4♣ river and Kitai mucked upon seeing Cai's Q♠J♠. –MC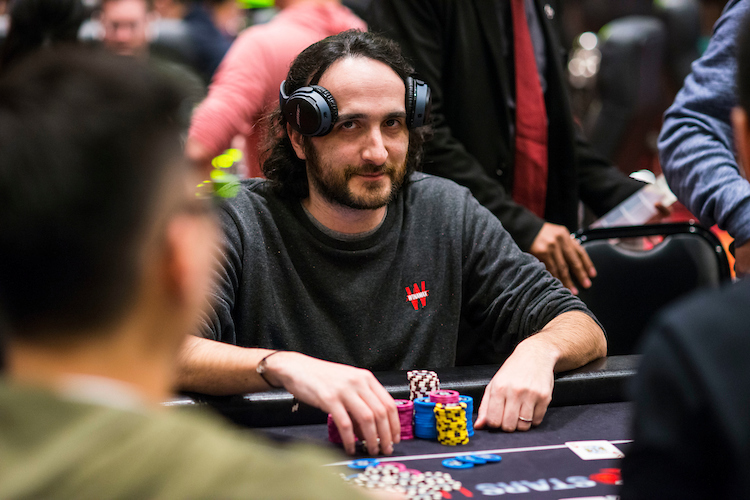 Kitai drops a little
8:10pm: Ishida eliminated
Level 11 – Blinds 800/1,600 (ante 200)
Yuri Ishida of Japan has been eliminated after getting her last chips in behind with A♦K♠ against an opponent's 9♠8♣, then watching the board come eight-high to pair her opponent and leave her unimproved. –MH
8:05pm: Early raising doesn't work out
Level 11 – Blinds 800/1,600 (ante 200)
There's a lot of early-position raising going on at Table 2 right now, and a lot of it is coming from Maxi Lehmanski.
In a recent stretch he opened UTG+1 and then again UTG on the following hand. He got one caller the first time before both players folded to a reraise from Juicy Li, then took down the second pot uncontested.
The hand that followed saw Lehmanski call from the big blind after Jian Zhang raised under the gun and Zhaojun Ruan called on the button. Zhang bet 4,000 when checked to on the J♦Q♣4♥ flop but both he and Lehmanski folded after Ruan bumped the bet to 10,000.
The early-position raising may not be working out right now but the table's aggressive posture does explain, at least in part, where Lehmanski's 148,000-chip stack came from. –JK
8pm: Steicke over Robertson
Level 11 – Blinds 800/1,600 (ante 200)
David Steicke just won a big one off of Peter Robertson, pushing his stack up to 94,000 while Robertson sits with 72,000 now.
Necessity requires a lack of detail on this one, as I only arrived at the end for the final counting of chips, but however they reached the end a board of 6♦9♥A♣Q♦10♦ meant Robertson's A♣J♠ (aces) had been beaten by Steicke's 8♦7♠ (a straight). –MH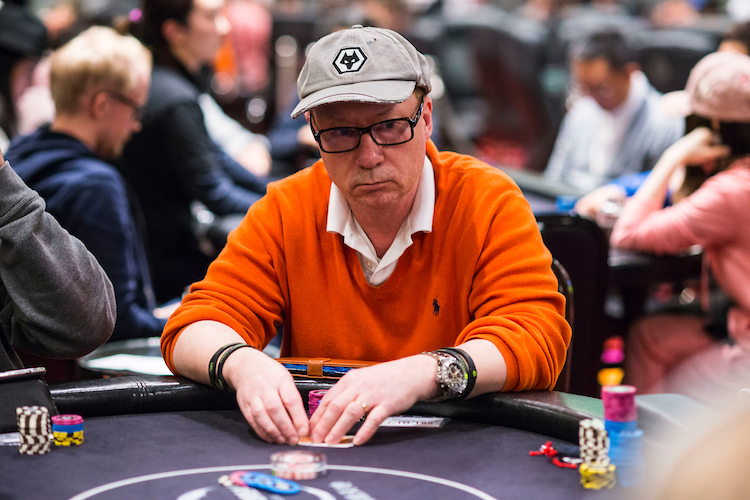 Steicke-ing it to them
7:55pm: Zinno and Tang bust in the same hand
Level 11 – Blinds 800/1,600 (ante 200)
A big multi-way pot just went down that saw three people all-in and two of them depart.
After an opening raise to 3,300, Jia Tang (37,000), Pan Gu (38,000) and Anthony Zinno (9,200) all wasted little time in moving all-in. The big blind said she folded ace-king and the opening raiser also folded.
Tang: A♣K♥
Gu: J♣J♦
Zinno: 10♥8♥
The board had a little something for everyone but took a while to warm up.
The flop came 9♣5♥2♠. Pretty safe but some backdoors for Zinno who was asking for hearts. Gu was still in the lead but fell behind to on the A♥ turn that gave Zinno a sweat. Gu then nearly hit the ceiling when the J♠ dropped on the river to make her a set. It meant she eliminated both opponents and saw her stack grow to over 90,000. –MC
7:50pm: Luo's kings eliminate Edoc
Level 11 – Blinds 800/1,600 (ante 200)
Lester Edoc opened for 3,600 from the hijack seat, then after getting one caller saw Xiaoyang Luo three-bet to 16,500 from the small blind. Edoc then jammed for around 35,000, and after the player in the middle folded Luo called in a flash.
Edoc had J♦J♥ but had run into Luo's K♦K♣, and after the board ran out seven-high — 5♦2♠7♠5♣4♣ — Edoc's day was done while Luo now has around 85,000. –MH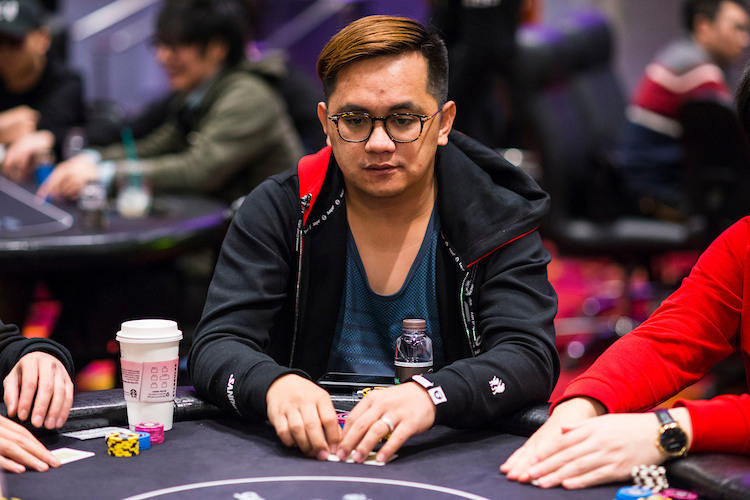 Platinum Pass winner Lester Edoc
7:40pm: A closer look at the field
Level 11 – Blinds 800/1,600 (ante 200)
Here's a look at how our 356-strong field breaks down by nationality, courtesy of media coordinator Ben Wilson.
There were representatives from 37 different countries in action at the PokerStars LIVE Macau poker room. Not surprisingly, China made up the largest percentage coming in at just over 46% of the field, while Hong Kong (6.7%) provided the next largest representation closely followed by the USA (6.5%).
The other 30 countries supplied 88 representatives in total, making up 24.72% of the total field. –JS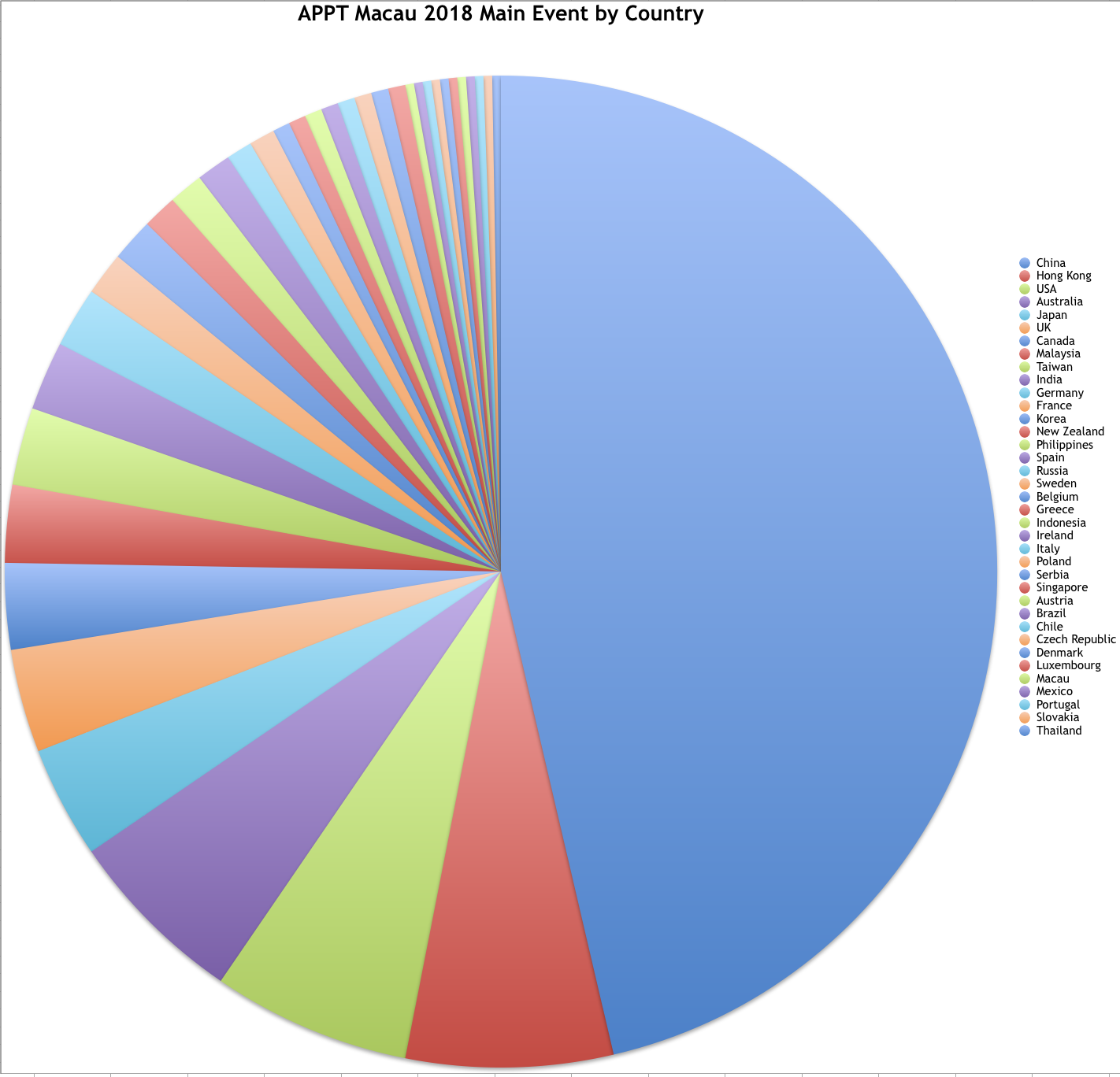 APPT Macau nationality breakdown
7:35pm: Back to it
Level 11 – Blinds 800/1,600 (ante 200)
In two and a half hours the chip bags will be brought out and the players will be off to the player party. But who will have reason to celebrate? Stick with us over the next 150 minutes to find out. –JS
7:20pm: Break time
With the big board showing 135 players remaining, they're off once more for another 15-minute break. When they return they'll play two more 75-minute levels before Day 2 concludes. –MH
7:17pm: One step closer to Ka Shing
Level 10 – Blinds 600/1,200 (ante 200)
Ka Shing Wong has just managed to double up through Vincent Chua, although at first sight the board led him to think he was outta here.
Chua had led for 8,000 on the 6♥9♥J♣ flop, before Wong jammed and was called. Wong turned over the 9♠9♣ and Chua felt priced in with his Q♣8♣. However, the 2♣ turn and 6♣ river gave Chua a flush.
That was no good, of course, as the river had also given Wong a full house. It took a few moments for it all to sink in, but Wong is now up to 84,000 while Chua dips to 55,000. –JS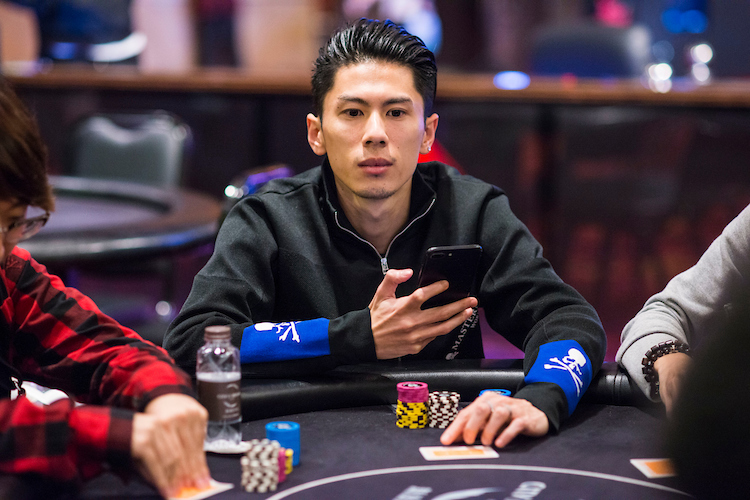 Can Ka Shing reach the cash?
7:15pm: The disappointed
Level 10 – Blinds 600/1,200 (ante 200)
Around two-thirds of the remaining field won't make it into the money. Those who have recently fallen include Yum Wang, Hui Wang, Ning Zhang, Xuming Qi, Jean Zhang, Dmitry Rabotkin, Dong Guo, Hung-tu Wang, and Manig Loeser.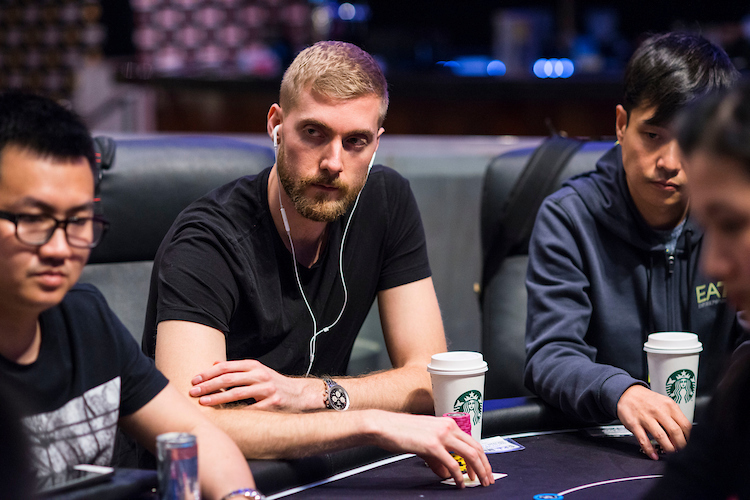 Manig Loeser
Quan Zhou has also been eliminated, as has Wei Gong, Mladen Vukovic, Kwok Chun Lai, Guangcheng Chen, Vladimir Shabalin, Ben Lai, Xin Fan, Georgios Vrakas, Michael Addamo, Lijo Lander, Wen Lin Wang, Ralph Wong, Yau Shern Ye, and Matt Moss. –MC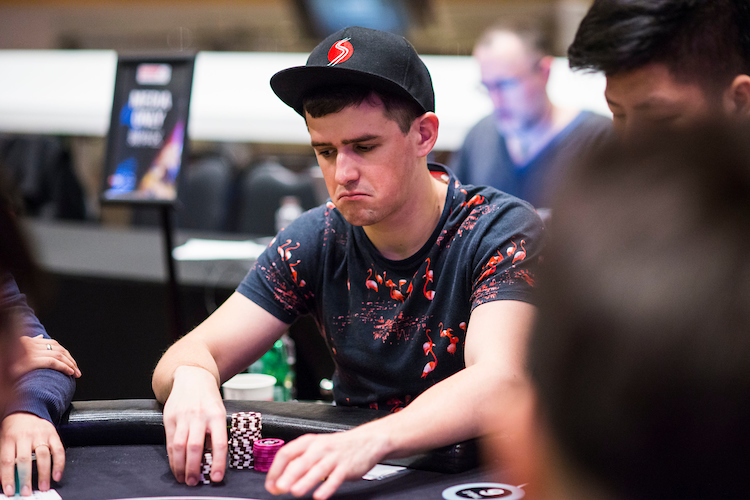 Matt Moss
7:10pm: Broom cleaning up
Level 10 – Blinds 600/1,200 (Ante 200)
Australian James Broom is up over 230,000, most recently thanks to sweeping Frederik De Linde right out the door.
We caught up with the action on the flop with De Linde betting 6,000 and K♦8♦5♥ face-up on the felt. Broom called and the rest of the money went in on the 2♣ turn.
Broom had A♠A♣ which was in great shape against De Linde's K♠10♣. The river was the 8♣ and the pot was officially awarded to Broom. –MS
Aces for Broom
7:05pm: Agarwal wins big pot… with jack-high?
Level 10 – Blinds 600/1,200 (ante 200)
Yep. That happened.
Team Pro Aditya Agarwal opened to 2,500 from UTG+1 and it folded around to the small blind of Lester Edoc. The Platinum Pass winner made the call, as did King Lau from the big blind.
The dealer spread a 6♣A♥7♦ flop which checked to the raiser, letting Agarwal continue for 3,000. Only Edoc woukd call to see the K♠ turn, and by this time his stack was pretty short. Agarwal asked him to raise his arm so he could get a visual count, and our eyes told us Edoc had 18,500.
Agarwal the continued again for 7,000, and Edoc came along again to see the river: Q♣. He'd check, and Agarwal opted for a check back.
Edoc rolled over the 5♥8♥ for an up-and-down draw that couldn't there, while Agarwal rolled over the J♦9♦ for…well, just jack high. But in this particular instance, that was good.
Agarwal is up to 108,000 now, while Edoc is left with just 11,500. –JS
7pm: Steicke sticks it to Wang
Level 10 – Blinds 600/1,200 (ante 200)
Yue Wang entered today with one of the shortest remaining stacks in the field. He stuck around for nearly five hours of play but wasn't able to make much happen, leaving him vulnerable to the whims of the deck.
Down to his last 12,000, Wang moved all-in with A♠10♣. David Steicke was in the big blind and called with Q♦8♦. Things went south for Wang on the queen-high flop and only got worse from there. Steicke made queens full of jacks by the river and Wang hit the rail.
Steicke is now up to 37,000. –JK
6:50pm: Zhang departs
Level 10 – Blinds 600/1,200 (ante 200)
Ning Zhang just played his last hand for this Main Event, a coinflip that would see his chips slide to Kuen Wai Jeffrey Lo.
Lo had opened to 2,800 under the gun which led Zhang to shove from middle position with the J♠J♥ for 14,500. Back to Lo, he called it off with the A♦Q♦ and improved to the winner immediately on the Q♣5♦4♥9♣K♥ runout.
Zhang said his goodbyes, and Lo stacked up 95,000 after that one. –JS
6:45pm: Liang sings a good Song
Level 10 – Blinds 600/1,200 (ante 200)
A classic race win for Liang Song has seen him double up to just under 95,000.
He and Henry Buhler got into a preflop raising war that saw all the chips go in. Song was the all-in player with 45,300.
Buhler: A♠K♠
Song: J♠J♥
The board ran 4♦5♠9♣9♦10♥ and Bulher dropped to 55,000. –MC
6:40pm: Prize pool and payouts
Level 10 – Blinds 600/1,200 (ante 200)
Drum roll, please….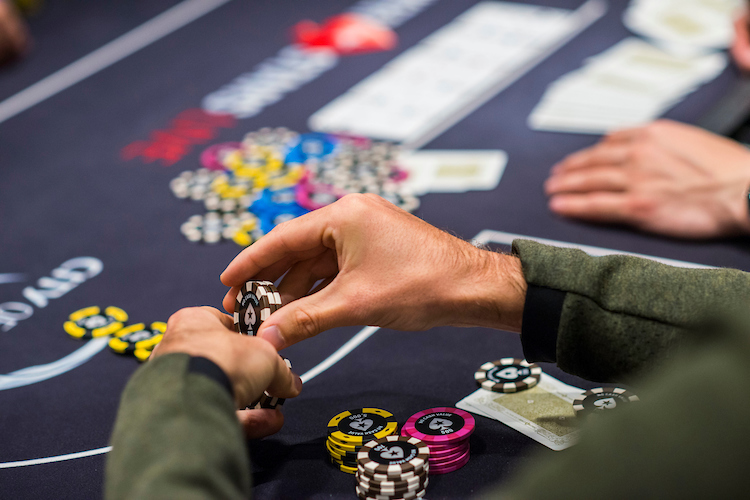 Tell 'em what they're playing for!
With 356 total players, the total prize pool for the 2018 APPT Macau Main Event is HK$12,984,032. The top 41 finishers will split those riches, with HK$3,095,000 (~$394,452 in USD) going to the winner. That first prize includes a 2018 Asia Championship of Poker Main Event seat worth HK$100,000 which has been included in the first place payout, with the winner also taking away a coveted PSPC Platinum Pass worth another $30K USD.
Click here for the full rundown of the payouts. –MH
6:37pm: Classic move pays off for Vas Nunes
Level 10 – Blinds 600/1,200 (ante 200)
What to do when you've hit your hand on the river and the pot is too small for your liking? Take a page out of the old school playbook and overbet.
That's exactly what Paul Vas Nunes just did. First to act with about 15,000 chips in the pot, he tossed out five yellow chips — a bet of 25,000 — and put the decision to Felix Schulze. Schulze thought it over for the better part of a minute before finally flinging five yellows of his own into the middle. He tapped the table and mucked his cards when Vas Nunes flipped over 8♥5♥ for the nut straight.
Vas Nunes is now up to about 120,000. Schulze dips to 80,000. –JK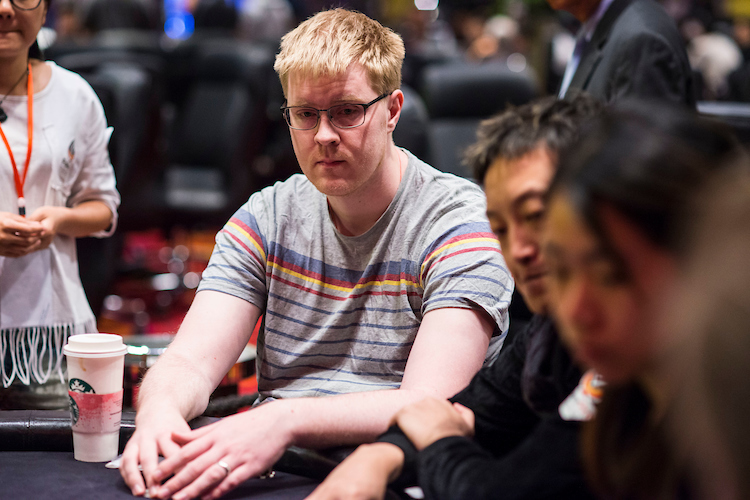 Paul Vas Nunes
6:35pm: Goodbye Lai
Level 10 – Blinds 600/1,200 (ante 200)
Derx Lai just slammed the table as he stood up and left the tournament, and it's easy to feel his pain.
Lai opened the betting and, after being re-raised by Chien Chen in late position he bet his last 55,000 chips. Chan went deep into the tank and minutes later finally emerged with a call.
Chen: A♠K♠
Lai: K♣K♦
Lai called out loud for something, and though we don't speak much Chinese we're pretty sure it was along the lines of "no spades!" Then the flop came down with two spades and the turn brought a third. Lai began to walk away even though he still had outs to a full house, as if he knew without having to see it for himself that the coming river card was a blank.
Chen shrugged and scooped up the pot, stacking up to 150,000 in the process. –JK
6:32pm: Sad to see him Guo
Level 10 – Blinds 600/1,200 (ante 200)
Dong Guo's Main Event has just come to an end courtesy of an unlucky river card.
The executioner was Xiaoshang Zheng, who limped from the small blind when folded to. Guo was in the big and bumped it to 3,200, only for Zheng to set Guo all in for around 40,000. Guo made the call, and the cards were flipped:
Guo – J♣J♦
Zheng – A♦J♠
Guo was in great shape for the double-up, and held the lead on the 5♥K♥4♦3♥ board. But the A♠ landed on the river to send him home. He stopped and chatted to the PokerStars Blog afterwards to run us through all the action, with a big smile despite the elimination. His reason for staying so cool?
"This kind of thing happens all the time!"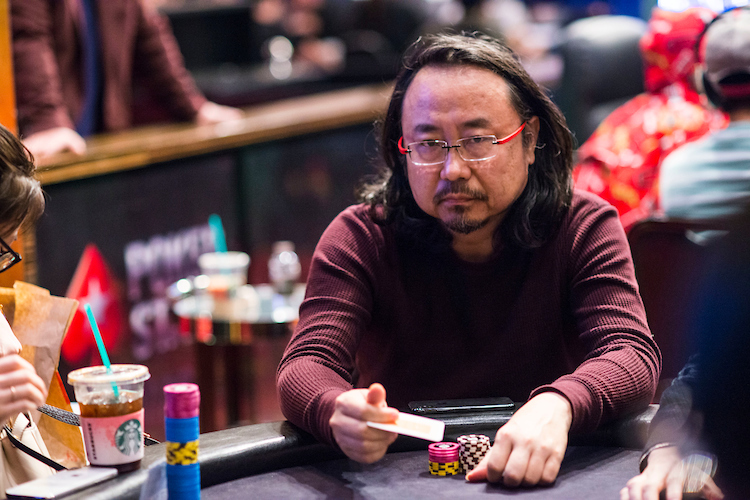 Easy come, easy Guo
While Guo made his exit Zheng stacked up 105,000, and according to Billy "The Croc" Argyros this hand was the second time in the last orbit that Zheng has got it in behind and just about doubled up (this can be confirmed by our 6:25pm post). The previous hand saw his ace-five defeat ace-ten. –JS
6:30pm: Wei Gong way gone, Kitai continues to crush
Level 10 – Blinds 1,200/2,400 (Ante 200)
We wrote about a big clash between Davidi Kitai and Wei Gong just a few minutes ago. The two just had another confrontation, and this time it ended in Gong going bust.
We didn't see the hand but Kitai filled us in on what happened.
The money went in on a flop of 9-5-4 with two hearts. Kitai held A♥J♥ against Gong's pocket fours. The turn was the Q♥ and the river failed to pair the board or give Gong quads.
Gong is out and Kitai is now on 160,000. –MS
6:25pm: What a life for Zheng
Level 10 – Blinds 600/1,200 (ante 200)
Xiaosheng Zheng just three-outed Jia Zhou to bust him and then had a plate of stir-fried Waygu beef noodles (a blog favourite) delivered. Does life get much better?
Zheng had opened from the button and called after Zhou three-bet all-in for what looked like 22,000 from the small blind.
Zhou: A♦10♦
Zheng: A♠5♠
The board ran 3♠3♣8♦5♥7♣ to make Zheng two pair. He moved up to 66,000. –MC
6:20pm: Rocket fuel for Kitai
Level 10 – Blinds 600/1,200 (ante 200)
Having started the day with less than the starting stack, it's clear that Belgium's Davidi Kitai has had an excellent first three levels.
Level 10 — the fourth of the day — has started amazingly for Kitai, too. Picking up the action on an A♦3♦7♥3♥ board, Kitai led for 5,000 into a 28,000 pot and was called by Wei Gong followed by a fold from David Steicke. The river was the K♣, on which Kitai fired again for 10,000. Call.
Kitai quickly flipped over the A♣A♠ for the second nuts (aces full of threes, only possibly losing to quad threes) and Gong mucked to drop to 40,500.
Kitai is up to 128,000 now. –JS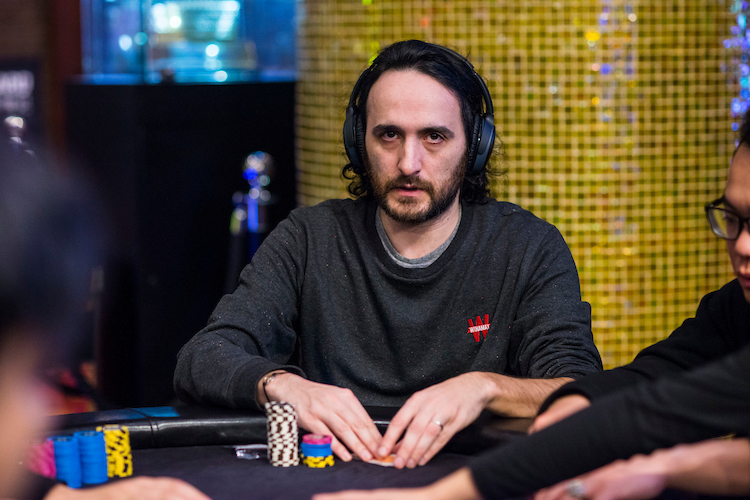 I, Davidi
6:10pm: Jiafei Yu trending upwards
Level 10 – Blinds 600/1,200 (ante 200)
It's been a strong three levels for Jiafei Yu today. After starting the day with just over 70,000, she's built all of the way up to around 250,000 now to sport what appears to be the biggest stack in the room with about 160 players left. –MH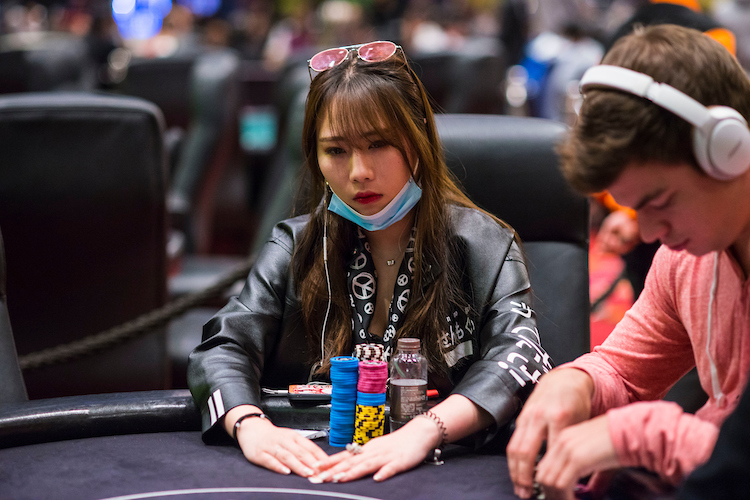 Jiafei Yu
6:05pm: Yu knows best
Level 9 – Blinds 500/1,000 (ante 100)
Zheng Yu had opened to 3,000 but was three-bet all in by Linling Zen to 24,500. He thought long and hard about it, even counting out calling chips. But eventually he laid it down, turning over his A♥Q♠.
Zen said something in Chinese which suggested that wasn't the decision she wanted him to make, now that she could see his hand. She rolled over her A♠K♠, showing that Yu had indeed made a good fold.
"I folded a king," Anthony Zinno told Zen, who now sits with just under 30,000, while Yu left himself with 50,000. –JS
6pm: Lin drops a few
Level 9 – Blinds 500/1,000 (ante 100)
Celina Lin has dropped back down to 65,000 after losing a small battle of the blinds.
On a Q♣K♥9♥ flop, she bet 2,200 from the big blind after Chunqing Wang had checked from the small blind. He called and both players went on to check the J♥A♦ turn and river. Wang opened 10♣9♣ for a straight and moved up to 36,000 after Lin mucked. –MC
5:55pm: Ye gets some back
Level 9 – Blinds 500/1,000 (ante 100)
Just below we shared a hand in which Yi Ye lost a pot and took a picture of it (see 5:40pm). Soon after that one Ye was back at it versus Aditya Agarwal, and while he didn't bother to take a picture of this one it did produce a more positive result for him.
With the board showing 3♥9♦6♥3♦ there ensued a sequence that went check (Ye), bet (Agarwal), shove (Ye), call (Agarwal). Agarwal had 10♠10♣ for tens and treys while Ye had a flush draw with A♥8♥. The river was the 7♥ to complete Ye's flush, and he's back to about 70,000 now while Agarwal sits with 62,000. –MH
5:50pm: Wang doubles through Xie
Level 9 – Blinds 500/1,000 (ante 100)
Zhenru Xie just had a cheeky look when calling a preflop all-in from Henry Wang. He was grinning and shrugging a little, saying out loud something which might have referenced the fact that he was making a loose play.
Xie had opened for 2,000 from the cutoff before Wang shoved for his last 15,800 from the button, and when calling Wie's reaction went along with the J♠8♦ he was tabling. Wang had to be elated to see he was actually dominating — and not being dominated — with J♦10♥, and after the board came 4♣A♥Q♥6♦2♣ Wang doubled up.
Wang has 32,000 now, a little more than Xie who has 27,000. And both are grinning. –MH
5:45pm: Steicke sits
Level 9 – Blinds 500/1,000 (ante 100)
Not many players have enjoyed the kind of success in Macau that David Steicke has. The commodities trader has a track record here that dates to a third-place finish in the APPT Macau High Roller, way back in 2007. He's featured regularly on the tour ever since, with his best year coming in 2009 with $1.2 million in APPT earnings.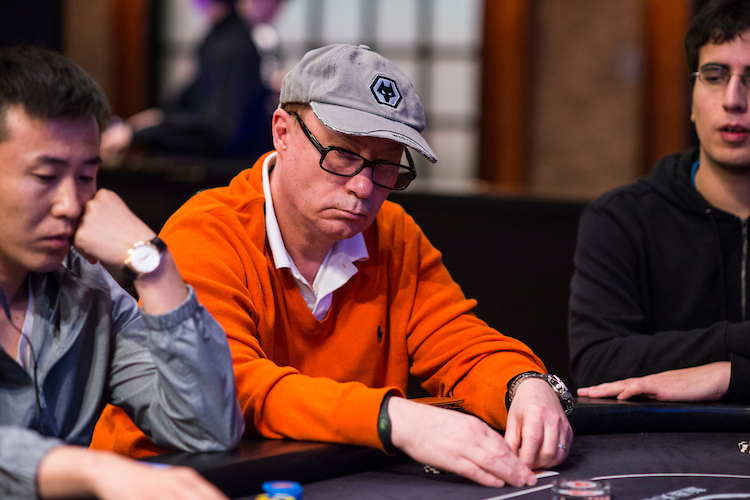 Enter Steicke
Living up to that track record in this event will be a tough task. Not only does he begin with a stack worth 30 big blinds, but he's seated directly to the right of Day 1A overnight chip leader Diego Palma and $8-million man Davidi Kitai. — JK
5:40pm: Photographic evidence
Level 9 – Blinds 500/1,000 (ante 100)
Yi Ye was deep in the tank when we arrived. There was 30,000 in the pot, the board read 3♥2♥5♠10♦J♦, and his bet of 21,500 had been shoved over by Hon Cheong Lee for 61,600. Decisions decisions.
After another minute of thinking he'd made the big call, but absolutely hated what he saw. Lee turned over the J♥J♠ for a rivered set, and Ye cried out with his arms in the air before slamming down his 3♣3♠ for a flopped set that couldn't hold.
Ye then took grabbed his phone before the dealer could clear the board and took a few photos of the pot for proof of his bad fortune. Still, he's not out; he's got 58,000 remaining, while Lee is now very healthy with 154,000. –JS
5:37pm: Argyros diffuses the tension
Level 9 – Blinds 500/1,000 (ante 100)
Billy "the Croc" Argyros of Australia is a character, something well proven before this event. Just now he provided more evidence of that fact in a preflop situation versus Dianlei Zhang of China.
Argyros had raised then Zhang made it 6,500 to go, and when the action returned to Argyros he four-bet to 18,000. It was a significant bet, representing more than half of what he had behind. If it weren't already clear it was the kind of bet to raise the heat level, Argyros produced a little yellow diffuser bottle and gave himself a refreshing squirt or three on his face.
That produced a giggle at the table and Argyros grinned widely before pretending to squirt Zhang as well. Zhang eventually folded, patting the table as he did to commend the bet — and perhaps the levity, too.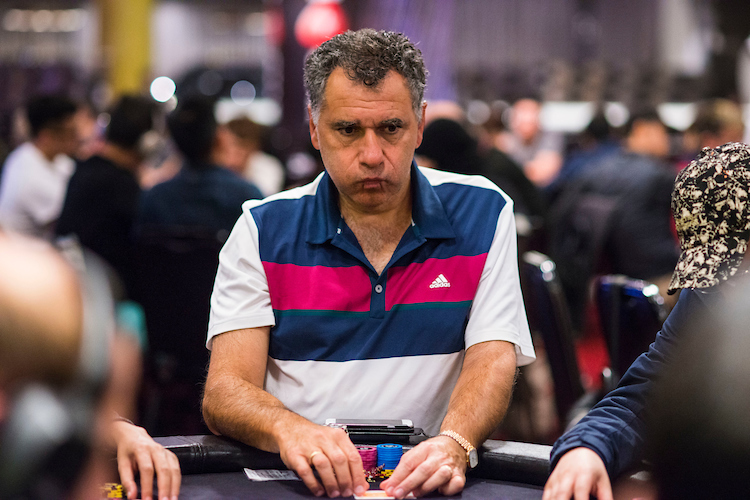 Billy "The Croc" Argyros exhales
A refreshed Argyros has 37,000 now, Zhang 17,000. –MH
5:35pm: Kahle fried
Level 9 – Blinds 500/1,000 (Ante 100)
Kahle Burns, another high-stakes pro who bought in to this Main Event on Day 2, has been eliminated. He was at a tough table with Jan-Eric Schwippert and Aditya Agarwal and it was Agarwal who ultimately ended Burns's tournament.
The hand started with recent PokerStars Platinum Pass winner Lester Edoc opening to 2,500 from middle position, Agarwal calling from the cutoff and Burns jamming all-in for around 25,000 from the button.
It folded to Agarwal who snap-called with A♣Q♦. He was racing Kahle's pocket tens but took a big lead when an ace hit the flop. The board bricked out for Burns and he's outta here. –MS
5:31pm: Thank you for you participation
Level 9 – Blinds 500/1,000 (ante 100)
If there's a day to bust out before the money, it's the day of the player party. That's taking place tonight at the bar inside the tournament room and Cubic night club, so at least the following can drown their sorrows if they so wish:
Platinum Pass winner Sandhy Rafael Sitepu, Shuhei Tsunematsu, Jianjing Zhang, Vincent Li, Jiaxiu Liu, Fei Luo, Daniel Lee, Zhongcai Peng, Zinan Xu, Yuning Cheng, Wenlong Jin, Lei Zhang, Renjun Yang, Dragoljub Martinovic, Xin Zhang, Chin Sun Tan, Xue Qian Wu, Junda Yu, Bingfu Huang, Che Li Lin, Tomaz Panek, Sangjun Lee, Ying Lin Chua, Aaron Been, Paul Elliot and Tom Alner. –MC
5:30pm: Nick Petrangel-out
Level 9 – Blinds 500/1,000 (Ante 100)
High-stakes pro Nick Petrangelo made use of today's late registration but couldn't get much going before hitting the rail in the first half of Level 9.
We didn't see the hand but Petrangelo's former tablemate Xiaoyang Luo filled us in on how it went down.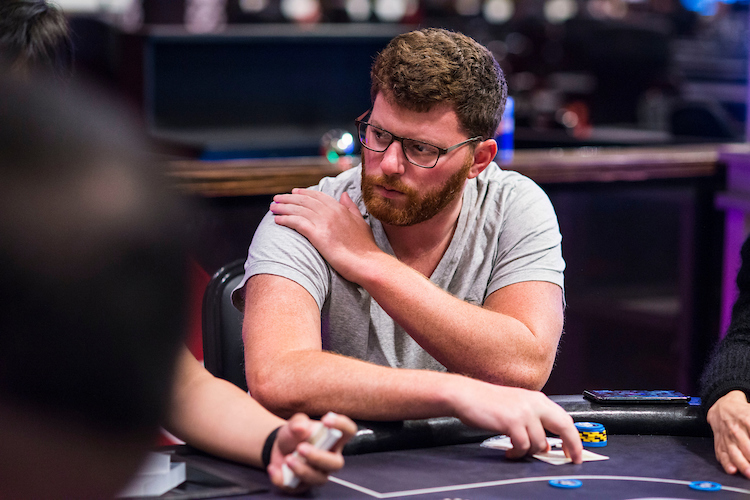 Nick Petrangelo: Time to say goodbye
It started with the player under the gun opening and the player one seat to his left three-betting. Petrangelo jammed it in with pocket queens and was called by under-the-gun plus two who had ace-queen. An ace hit the flop and that was all she wrote for Petrangelo.
As we were waiting to get the story on that elimination Luo played a big hand that didn't end up going his way.
The player under the gun opened to 2,300 and Luo called from the button. Tim Mitchell called from the small blind and the big blind came along too. The flop came down A♠6♠3♠ and it was checked to Luo who bet 4,500. Mitchell moved all-in for 34,400 and when it folded back to Luo he made the call.
Luo turned over pocket sixes for middle set but Mitchell had flopped even better with 5♠7♠ for the flush. The board didn't pair and Luo was knocked down to 57,000. –MS
5:25pm: Loeser slowly climbing
Level 9 – Blinds 500/1,000 (ante 100)
The dynamics at Table 1 haven't changed much over the last hour, but Manig Loeser's stack has been inching upward. He's up to nearly double what he had the last time we dropped by.
A small portion of Loeser's total was earned just a few minutes ago in a pot with Dorde Jovanovic. With the board reading K♣4♥J♥, Loeser check-called Jovanovic's 2,500-chip bet to see the 7♣ turn. This time Loeser led for 4,000 and Jovanovic, after glancing down at his remaining chips, opted for the fold.
Loeser currently sits with 55,000, while Jovanovic is hanging on with 34,000. –JK
5:20pm: Foxen's back to work
Level 9 – Blinds 500/1,000 (ante 100)
Alex Foxen is one of the many high rollers who entered this event at the last moment, meaning he got started with a 30-big blind stack. In case you missed it, he took down the Super High Roller on Monday for HKD$7,560,000.
He's improved that to a 34,000 stack now, after Dilijang A opened the cutoff to 2,200 and Foxen three-bet the button to 6,000. A called, and they saw a 3♣2♣A♦ flop. Foxen took it down with a 3,400 c-bet, and he's off and running. –JS
5:15pm: Tsang hangs on
Level 9 – Blinds 500/1,000 (ante 100)
Derx Lai had put in a reraise to 7,800 before the flop and watched Anson Tsang push all in over that, albeit not by much to 9,800. It folded back around to Tsang who called the rest and showed A♣K♦ to Tsang's J♦J♥.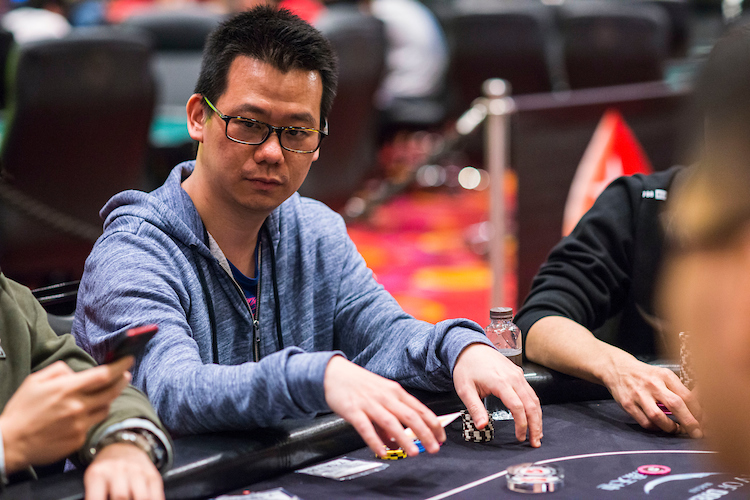 Anson Tsang: Jacks good
The board came Q♥9♥4♠7♦5♠, meaning the jacks had held and Tsang hangs on with about 25,000 now. Lai slips to just under 60,000. –MH
5:10pm: Early chippy takes it on the Chin
Level 9 – Blinds 500/1,000 (ante 100)
Preston Lee was the early clear chip leader of the Main Event after he eliminated the first player on Day 1A, Long Meng. That pot put Lee up to around 55,000, which is what he's just been reduced to after doubling up Chin Wei Lim.
Lee opened to 2,100 from under the gun and picked up three callers including Lim in the big blind. He continued for 4,200 on a Q♣6♠3♥ flop and was called in one spot before Lim check-raised to 12,400. Only Lee called to the J♦ turn where he faced a 17,600 all-in bet from Lim.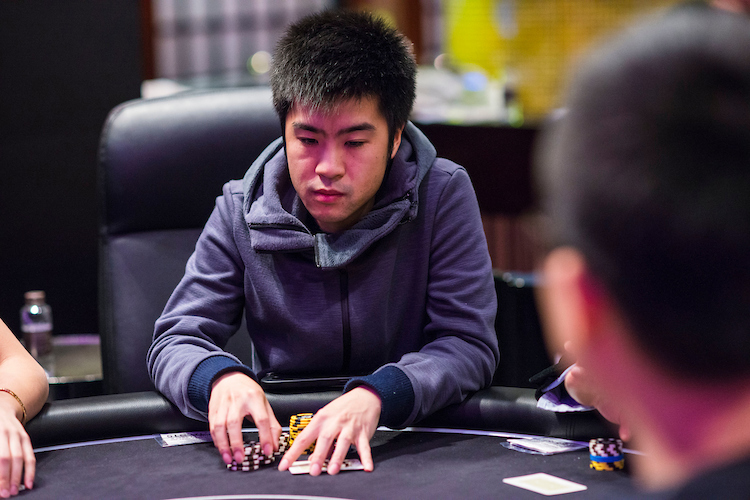 Preston Lee: Back to where he was
He tank-called it off with A♣Q♦ but Lim had out-flopped him with 6♠3♠ and survived the 2♣ river to rise to a little under 100,000. –MC
5:05pm: Starsnuts
Level 9 – Blinds 500/1,000 (ante 100)
You might have heard of the term "Starsnuts", perhaps from PokerStars Team Pro Twitchers like Lex Veldhuis and Jaime Staples. The term refers to pocket nines, and that many players believe you'll always flop a set with them when playing on PokerStars.
Of course, you won't. No more than you'll always flop a set with the lucky eights that players in Macau love so much [only because you'll flop quads — Macau ed], or any other pocket pair for that matter. But perhaps players only remember the times they do flop the goods, and conveniently forget about the roughly 85 percent of the time they don't.
If that's the case and he goes on to have a deep run in this event, then Yia Wang is going to remember this last hand for a while. He jammed his last 15,000 all in under the gun and got a call from the guy to his left, Juncong Cao. Everyone else folded, and Wang saw he was in terrible shape with his 9♦9♠ versus Cao's 10♠10♣.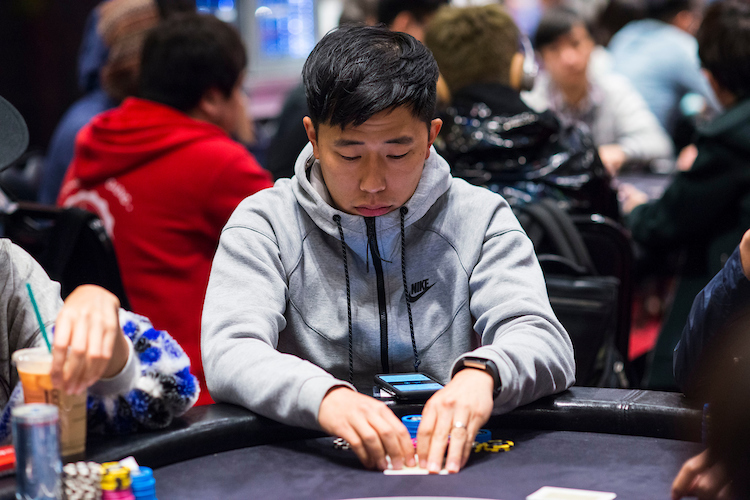 Yia Wang: Double
But you know what's coming. The first card in the flop window was the 9♥, followed by the J♦K♠. The board was completed by the 3♠6♣, giving Wang the double up to 32,400 and dropping Cao's stack to 41,000. –JS
5pm: Juanda joins in
Level 9 – Blinds 500/1,000 (ante 100)
Poker Hall of Famer John Juanda has taken a seat here, registering at the last and sitting behind a starting stack of 30,000 as Level 9 begins.
Juanda's seat is to the left of Ye Wang, and in fact just as Juanda settled in Wang was tangling with his neighbor on the other side, Celina Lin. Lin had raised from the cutoff and Wang three-bet from the button to 5,500, then after the blinds skedaddled Lin four-bet to 12,300. Wang thought about a minute before folding.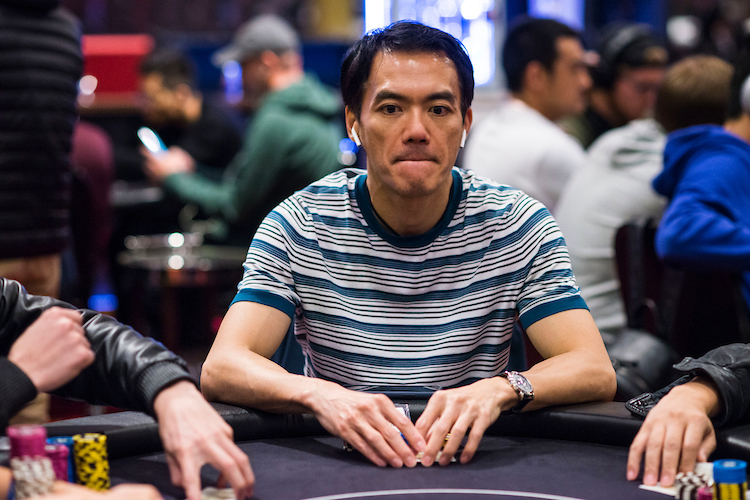 John Juanda: Last-minute entry
There are chips to Juanda's right. Lin was up over 100,000 earlier but now has just over 80,000, while Wang sits behind 145,000. –MH
4:55pm: Back in action
Level 9 – Blinds 500/1,000 (ante 100)
Registration is closed and players are now back in action. Alex Foxen bought in at the very last gasp, so our Super High Roller champion is going to have a stab at yet another major title. We'll have full confirmation of numbers, and the prize pool, very soon. — HS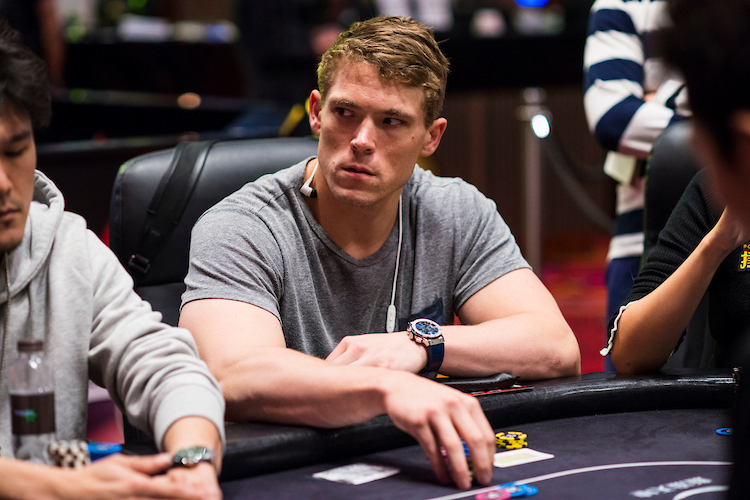 Alex Foxen: Back to the scene of the triumph
4:40pm: Break time!
That's the end of Level 8 and players are taking their first 15-minute break of the day. These will be an important 15 minutes: the last chance to buy in before registration closes. — HS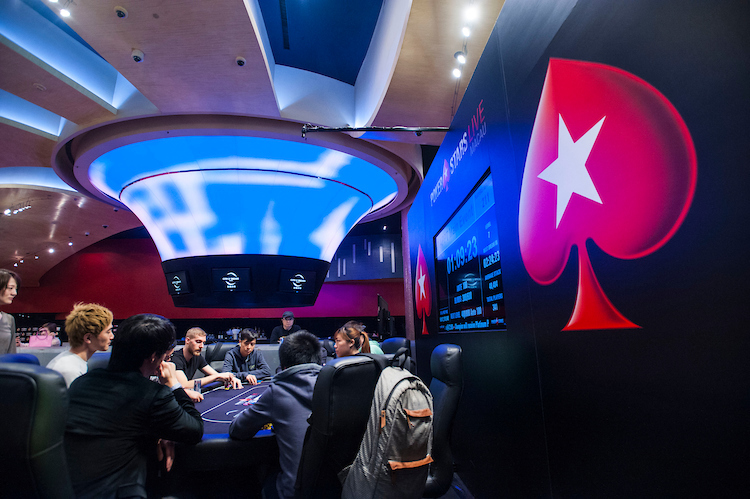 Tournament area
4:38pm: Weng busts Martinovic
Level 8 – Blinds 400/800 (ante 100)
I watched Dragoljub Martinovic of Serbia make what appeared to be a painful preflop fold a short while ago. He'd three-bet an opponent, but when the player came back over the top he wincingly let go of his hand, showing the A♠ when he did.
Becoming short thereafter, Martinovic found it needful to take a chance with an all-in behind J♥10♥ and he found he needed to improve versus Jie Weng's 6♥6♠. The board didn't accommodate, though, coming 9♠K♣2♠3♣K♦, and Martinovic is out. Weng is at 38,000 with the break about to start. –MH
4:35pm: Tough table
Level 8 – Blinds 400/800 (Ante 100)
Given the demographic in this event it's unusual to see three top pros all sat at the same table but that's exactly what's happening on one patch of felt not far from media row.
Aditya Agarwal of Team PokerStars Online fame and high-stakes regulars Kahle Burns and Jan-Eric Schwippert are all seated together. To their credit, the other players at the table aren't fazed one bit and have been far more active than the pros during the hands we've observed.
To give you a bit of context, those three pros have over USD$8.7 million in live tournament earnings between them. Here's the stack situation for each of them at the moment.
Kahle Burns: 25,500
Jan-Eric Schwippert: 72,000
Aditya Agarwal: 125,000
–MS
4:30pm: And a good day to you, sir!
Level 8 – Blinds 400/800 (ante 100)
We're closing in on the end of registration for this tournament – another 10 minutes of poker here on Level 8 and then the 15-minute break that follows are all that remains before our field will be set.
The prospect of beginning with a 30-big-blind stack isn't keeping the likes of Nick Petrangelo away. He's just been seated at Table 19, looking to make up for having his pocket aces cracked at the end of his Super High Roller journey three days ago. –JK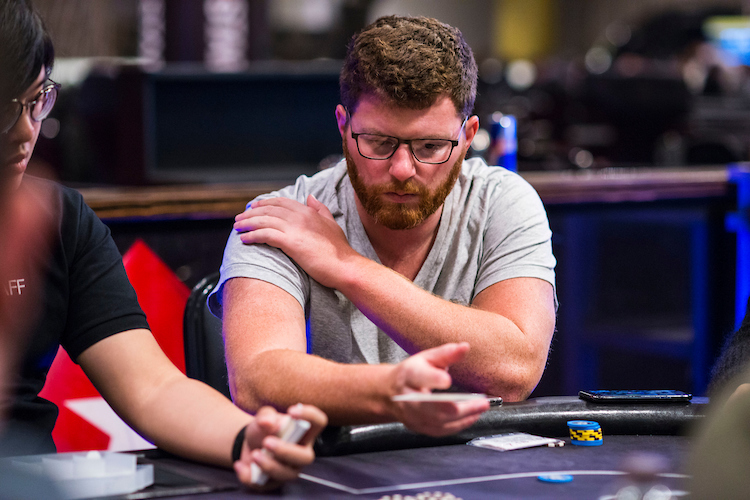 Nick Petrangelo: 30 big blinds and a dream
4:28pm: Kitai update
Level 8 – Blinds 400/800 (ante 100)
Davidi Kitai began the day with 25,500 and as the day's second level nears its end he's tripled that amount. He had even more up until a recent hand versus Wei Gong when he lost a few chips.
After limping in from late position and watching his neighbor limp as well, it checked to Gong in the big blind who checked and the flop came 10♠3♦10♥. Gong checked, Kitai min-bet 800, his neighbor folded, and Gong called. Ho-hum stuff.
The A♦ turn brought a leading bet of 700 from Gong, though, then Kitai made things a little curious with a big raise to 3,600. Gong called.
The river was the 5♣. Gong was undeterred, betting big himself — 8,500 — and Kitai folded in a flash.
Kitai has 77,000 now and Gong 72,000. –MH
4:25pm: Family-sized pot for Schwippert
Level 8 – Blinds 400/800 (ante 100)
"How many runners do we have? Or rather, how many runners don't we have?"
Those were the words of the recently-entered Kahle Burns, after his UTG+1 open to 1,800 was called by six players (Burns is on Aditya Agarwal's table, but the Team Pro had already folded under the gun).
All seven players went to a 7♦A♣2♠ flop, which then got seven checks. The dealer burned and turned the 3♠, which then checked to Jan-Eric Schwippert in the hijack seat. He opted to lead out for 8,800, and only one of the other six players wanted to see a river: King Lau (small blind).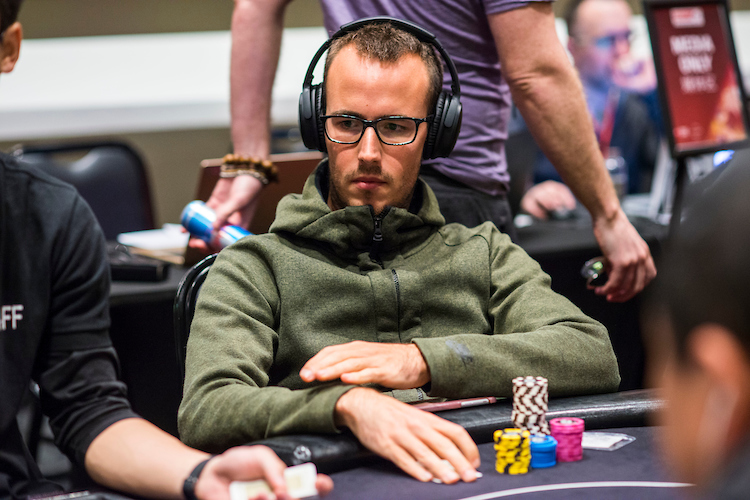 Jan-Eric Schwippert: Family-sized
The river was the 7♠, and Lau checked again. Schwippert continued his aggression for 18,000, and after a minute of thinking Lau let it go.
He's down to 34,000, while Schwippert is up to 88,000. –JS
4:20pm: Lin unlucky, Wong a fan since childhood
Level 8 – Blinds 400/800 (Ante 100)
Celina Lin just took a hit in a big preflop all-in hand against Jacky Wong and she didn't do a thing wrong except to get unlucky.
The hand began with a limp from Kai Kwong Man and a raise from Wong. Lin three-bet and after Man folded, Wong shoved all-in for 32,100.
Lin snapped him off and saw her A♣K♣ was in great shape against Wong's A♠J♠, until a jack hit the flop that is. The board bricked out for Lin and she was forced to pay off the double-up.
It wasn't all bad, though, as Wong let the table know he's always been a huge Celina Lin fan.
"I've been watching you play poker since I was a kid!" said Wong. Quite a trick since Wong looks to be at least a few years older than Lin.
Wong is up to 65,000 and Lin is left with 53,500. –MS
4:18pm: Double loss for Agarwal
Level 8 – Blinds 400/800 (ante 100)
Two small losses just happened for Aditya Agarwal. He folded in a pot and then high roller Kahle Burns was drawn to his direct left after entering the Main Event. It's OK though as the Team PokerStars Pro is cruising with a stack of 145,000, nearly three times the average.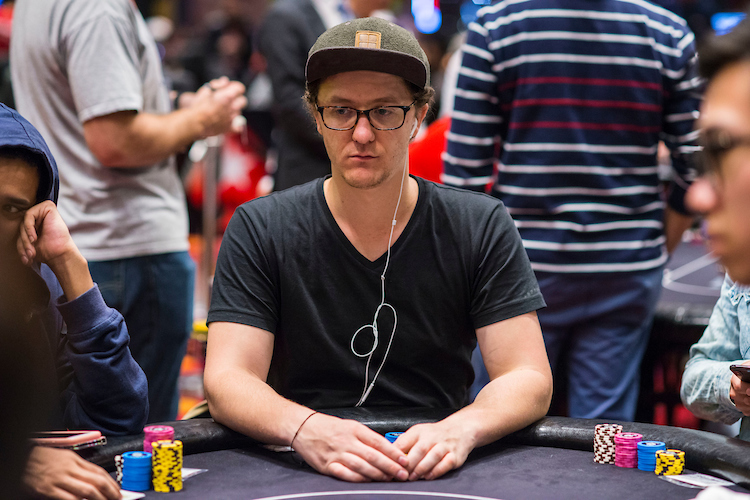 Kahle Burns: New neighbour for Agarwal
Regarding the the hand Agarwal ended up folding: it started with an under-the-gun raise from Yi Ye, picking up calls from Agarwal in the next seat and then the big blind. Only Agarwal called Ye's 3,000 c-bet on a 2♠6♥2♣ flop and Ye then bet another 8,000 bet on the 9♦ turn.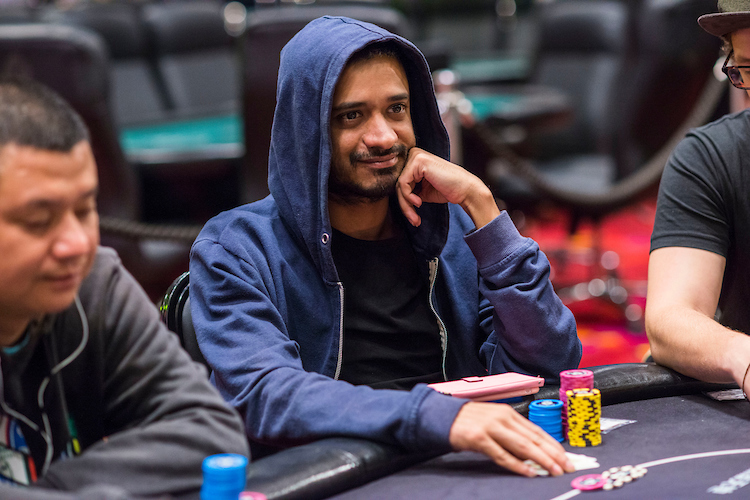 Aditya Agarwal: Building a stack
Agarwal checked his opponent's stack, looked at him in the face, thought for another minute and then folded. –MC
4:15pm: The mask comes off, the chips go in
Level 8 – Blinds 400/800 (ante 100)
When Sangjun Lee opened for 1,600 from late position, he didn't need to remove the surgical mask he is wearing in order to do so. Setting the needed chips forward was enough to make his intentions clear.
But after Qicheng Du three-bet to 5,500 from the blinds and the action got back to Lee, he found it needful to pull the mask down in order to make clear his next move.
"All in," he said.
Du decided to call the push for 23,000, then saw his A♦8♦ was behind the all-in player's A♠K♣. The board came 4♠9♦5♥Q♣K♥, and Lee replaced his mask before stacking up the 48,000 or so he now has. Du meanwhile slips to 63,000. –MH
4:10pm: Tense times on Table 1
Level 8 – Blinds 400/800 (ante 100)
Table 1, where our Super High Roller final played out just a few nights ago, doesn't have any particularly large stacks. Most of the players are similarly stacked, which makes for more tension than at deeper tables.
A typical stretch of poker at this table goes something like the one Manig Loeser went through a few minutes ago. He opened for 1,800 under the gun and Qien Huang, in the big blind, was the lone caller. Both players checked the 9♥6♥8♥ flop and then Huang check-folded to a nominal bet from Loeser.
On the next hand Loeser was the caller, this time for 1,800 in the big blind defending against Kosei Ichinose's button bet. Loeser checked the Q♦5♣9♠ flop and then folded to Ichinose's c-bet.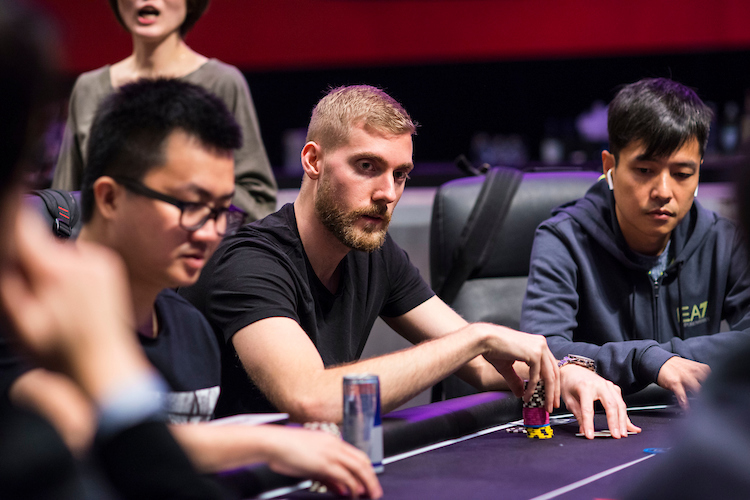 Manig Loeser: Still grinding
Loeser has about 29,000 chips; Huang, 30,000; and Ichinose 44,000. –JK
4:05pm: Agarwal five-bets his way to 134K
Level 8 – Blinds 400/800 (ante 100)
Well, that escalated quickly.
After recent Platinum Pass winner Lester Edoc opened to 1,800, there was a call in the cutoff before PokerStars Team Pro Aditya Agarwal three-bet squeezed the button to 6,600. It folded back to Edoc, and he wasn't done. After a minute or so, Edoc slid out a four-bet to 15,800.
The cutoff folded back to Agarwal, and this pot was about to get even bigger. He slid in a five-bet to 30,000. With 80,000 behind, could Edoc six-bet shove?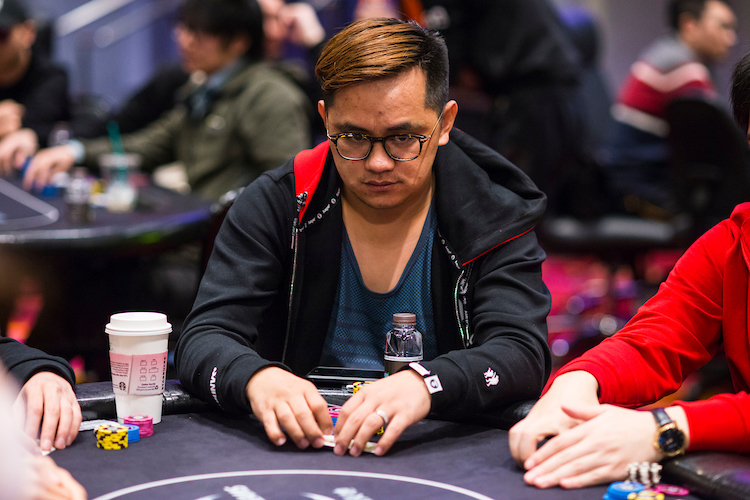 Lester Edoc: Six bet?
Nope. He let it go, leaving himself with a presentable stack. It's Agarwal's stack that now looks most impressive though, as he's up to 134,000. –JS
4pm: Fewer than 200 remain
Level 8 – Blinds 400/800 (ante 100)
The tournament clock states that 186 players remain in the Main Event hunt. Those who have fallen most recently are: Marcus Lau, Dapeng Mu, Hyung Jung, Hoang Quach, Kelvin Beattie, Kaue De Souza, Alan Lau, Tatiana Barausova, Wen Chen, Simon Burns, Yang Lu, Dongqi Lin, Wenxiong Luo, Takao Shimizu, Hung Sheng Lin, Zifeng Zhang, Yiguang Xu, Kohei Nakai and Li Zhang. –MC
3:58pm: Beattie busts, Zou stacks
Level 8 – Blinds 400/800 (Ante 100)
A big hand just played out far to one side of the tournament room and it ended in Kelvin Beattie going broke and Quan Zhou chipping up to 131,000.
It started with Paul Elliott opening to 2,000, Zhou calling in middle position and Beattie bumping it up to 7,300 from the button. Elliott folded. Zhou called and the flop came out A♠7♥6♣. Zhou checked and Beattie fired 9,000.
Zhou called and the 5♦ landed on the turn. Now Zhou got tricky, pushing 6,500 into the middle and opening the door for Beattie who had 23,700 behind.
After a bit of thought, Beattie shipped it all in and Zhou beat him into the pot with a call.
Beattie: A♣K♦
Zou: 7♦7♠
Beattie was drawing dead going to the river and was out of his chair before the A♥ even hit the felt. –MS
3:55pm: Jung stung by Yong
Level 8 – Blinds 400/800 (ante 100)
After Chong Yong raised to 1,800, Kyung Sik Jung reraise-shoved his last 11,200 and Yong called. Jung had 3♣3♦ and hoped the small pair would hold versus Yong's K♣Q♣, and the treys were still good but vulnerable through the 10♥J♦4♠ flop and 7♠ turn. But the 9♥ on the river completed a straight for Yong, and Jung is out.
Yong is up to 82,000 now. –MH
3:50pm: Vas Nunes continues ascent
Level 8 – Blinds 400/800 (ante 100)
Having doubled up around half an hour ago, Paul Vas Nunes has almost doubled his stack yet again.
His latest pot saw him open under the gun to 2,000, which got calls from Yang Zhang in the hijack and Wen Lin Wang on the button. The dealer spread a J♥6♥9♠ flop, on which Vas Nunes quickly led for 3,500. Zhang made a quick call too while Wang exited before the A♥ turn. Vas Nunes didn't slow down in any way, quickly leading again for 9,000. Zhang was forced out.
He's down to 30,000, while Vas Nunes is now up to 115,000. –JS
3:45pm: We lose Lew
Level 8 – Blinds 400/800 (ante 100)
We're down one red spade, as Randy "nanonoko" Lew of Team PokerStars Pro Online has hit the rail.
As he shares below, his last hand started with Lew engaging in speculation about cryptocurrency, followed by a 40-big blind investment with ace-king versus pocket eights. The market for ace-king proved exceedingly bearish, and Lew is out. –MH
3:42pm: Chen dominated in defeat
Level 8 – Blinds 400/800 (ante 100)
Weihang Chen found a spot to get his short stack in but ran into a dominating hand belonging to Dilijiang A, and departed.
He was down to 5,900 when he made his move from the cutoff. A was on the the button and successfully isolated by moving all-in for 23,000.
Chen: J♠9♥
A: A♠J♥
The board ran 4♦5♥K♠K♥A♦ to make A two pair. –MC
3:40pm: Hamnett has it
Level 8 – Blinds 400/800 (ante 100)
Benjamin Hamnett looked bored. In fact, while his eyes were open, he didn't seem to notice at all when his opponent, Weihang Chen, had finally made an action-concluding decision in the hand they were playing against one another.
The board showed 8♥J♣10♥7♣K♠, Chen had bet 4,700, and Hamnett had raised to 13,700. That's when Chen went into the tank, and Hamnett also went into his meditative state while waiting for a response.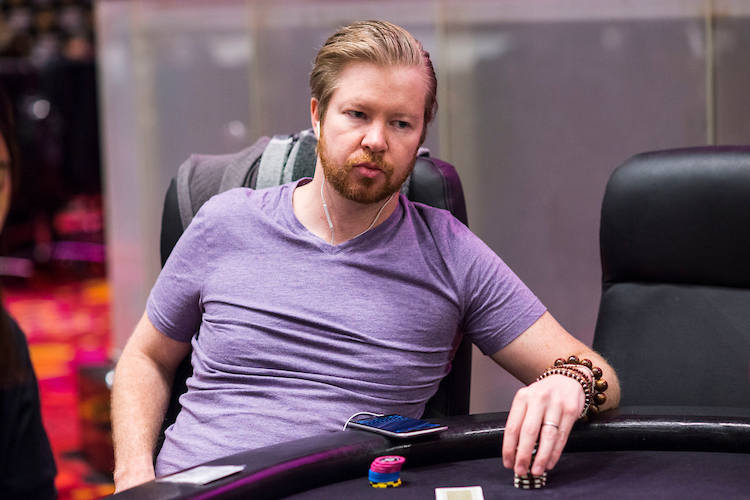 Ben Hamnett: Meditative state
Finally Chen had set his chips forward, and as noted it took Hamnett a few seconds to realize Chen had acted. He then tabled his cards right away — A♣Q♥ for the Broadway straight. Having the nuts can certainly help calm a person down.
Hamnett moves up around 60,000 with that pot, while Chen is now down to 6,500. –MH
3:35pm: Royal flush?
Level 8 – Blinds 400/800 (ante 100)
It's very possible that Liang Tong made the elusive royal flush just now. Sadly we'll never know for sure.
Vincent Li had opened the hijack to 1,800, which got a call from the button before Tong came along from the big blind. The J♣K♣A♣ flop was about as wet as a board can get, but all three checked it to the J♥ turn. Tong now led out for 2,200 and only Li made the call.
The 10♣ completed the board on the river, putting four to a royal on board. Tong had no fear and led for 5,600, which Li had to think about. He'd eventually fold though, and alas Tong didn't show his cards. Li drops to 24,000, while Tong is up to 38,000.
Did he have the Q♣? –JS
3:30pm: Crocodiles don't wear shoes
Level 8 – Blinds 400/800 (Ante 100)
Billy "The Croc" Argyros is a legitimate poker legend and even though he still has chips in this event, he doesn't have shoes. We don't know why he eschews footwear (sorry) but his feet are getting some serious fresh air, even when he gets up from the table to go chat to other players.
Maybe a pair of open-toed Croc sandals would be more fitting?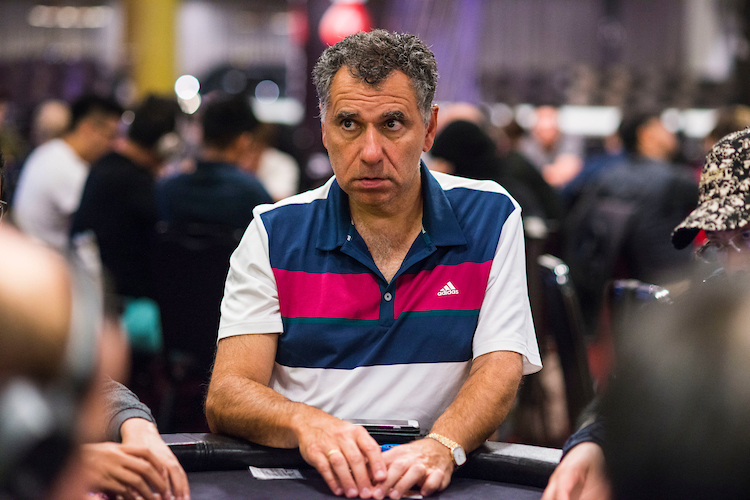 Billy Argyros: Feet out of sight
Puns aside, Argyros has been playing poker professionally for decades and he was a favourite on televised games even before poker truly blew up. He's got over $1.5 million in earnings from events dating back to 1989 and, just like everyone else in this event, he's looking to add an APPT Macau Main Event title to his record this week. –MS
3:26pm: Good news, bad news for Palma
Level 7 – Blinds 300/600 (ante 100)
The good news for Diego Palma is that he has a lot of room to maneuver after ending Day 1A with the chip lead. The bad news is that he has to contend with Davidi Kitai being seated directly to his left.
Palma opened the action moments ago with a raise to 1,400 in middle posiiton. Kitai quickly raised to 4,200, clearing the field, and Palma called to take a J♠7♣K♠ flop. Palma checked and then called Kitai's bet of 2,700, bringing the 2♦ on the turn. Palma checked again but couldn't find the call after Kitai stabbed at the pot for 8,800 (roughly a quarter of what he'd begun the hand with).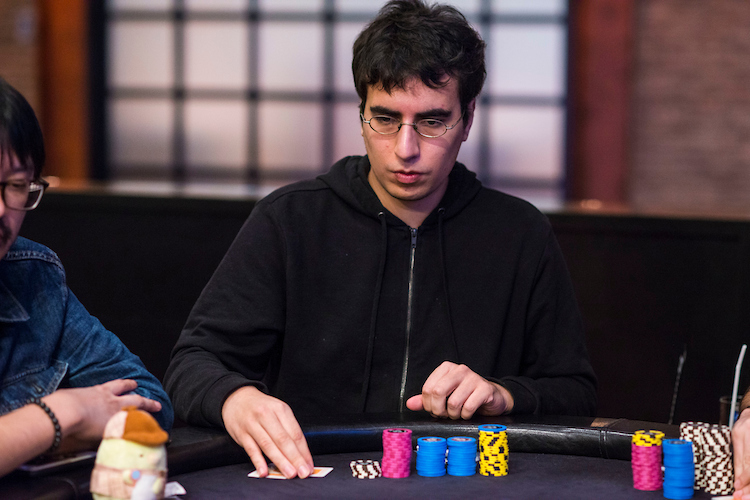 Diego Palma: Tough draw
That sends Kitai north to 50,000, nearly double where he started the day. Palma, meanwhile, is still comfortable with 125,000 (though presumably not with the current seating arrangement). –JK
3:25pm: River sting for Ting
Level 7 – Blinds 300/600 (ante 100)
Ting Wei busted on the very last hand of Level 7 after getting rivered bu Jiaxiu Liu, who grew to 94,000.
Over 20,000 chips had already made it in to the middle by the turn of a Q♣J♥8♣9♠ board. Wei check-raised all-in for 22,000 after facing a 5,000 bet. Call.
Wei: J♣10♦ for straight.
Liu: A♠10♣ for the same straight.
The sting in the tail came in the form of a king on the river to make Liu the nut straight. "Sorry man," said Liu.
"Nice hand," responded Wei who said he should've raised the flop. –MC
3:22pm: Ace-king over ace-king equals big pot for Lin
Level 7 – Blinds 300/600 (ante 100)
After Tatiana Barausova opened for 1,500 from under the gun and got a caller to her left, it folded to Celina Lin who three-bet to 4,800. Action moved back around the table to Barausova who after a brief pause made it 11,500 to go, pushing the middle man out of the picture. Lin didn't take too long before committing her entire stack of 30,000-ish, and with just a little more than that behind Barausova called.
Barausova: A♦K♠
Lin: A♥K♣
It looked like a chop was imminent, but the 7♣J♣9♣ flop suddenly put that prospect in doubt. Then came the turn — the 3♣! — and Lin had made a flush to claim both halves of the pot.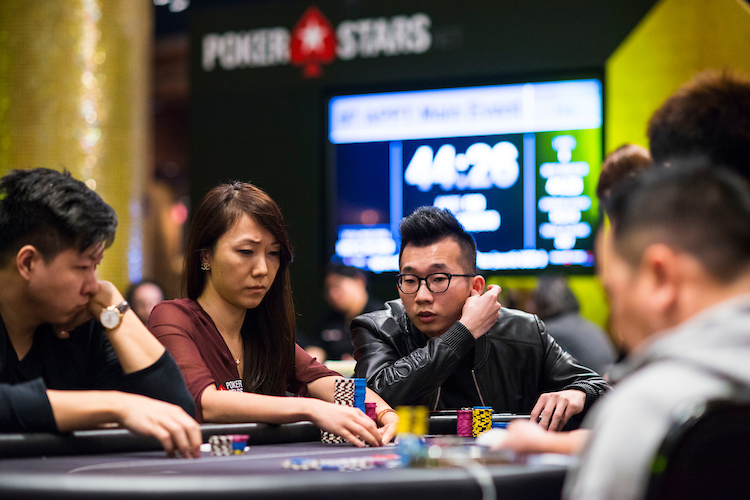 Celina Lin: Way to dodge a chop
That moves Lin up around or a little over 65,000, while Barausova is suddenly down to just 1,100 or less than two big blinds. –MH
3:21pm: Kitai bangs Gong
Level 7 – Blinds 300/600 (Ante 100)
With over $8.1 million in live tournament earnings and three WSOP bracelets to his credit, Belgian poker pro Davidi Kitai is unquestionably one of the most talented players in this event.
Moments ago he put those skills on display in a hand against Wei Gong.
We arrived on the river with roughly 15,000 in the pot and the board reading 10♦8♣4♦J♥A♥. Kitai had fired 12,800 from the button, leaving himself about 13,000 behind.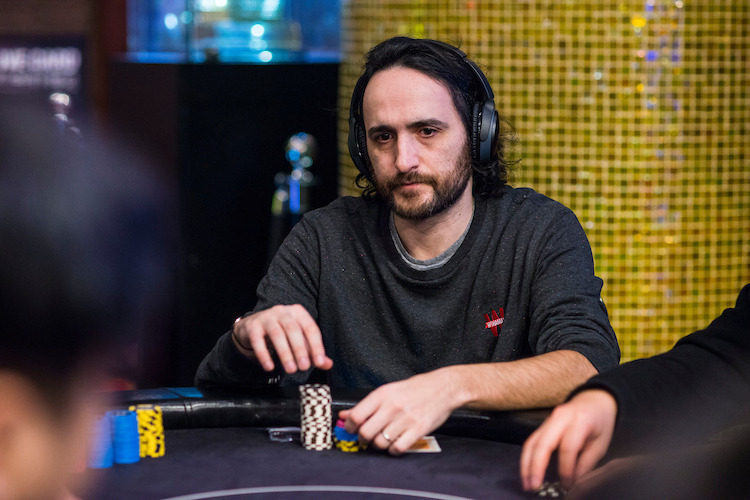 Davidi Kitai: Big reputation
Gong came into the day stacked with 111,300 and still had most of that at this point in the hand. After a bit of thought he opted to let it go, sending the pot to Kitai who has now chipped up to 41,000 from the 25,500 he started the day with. –MS
3:20pm: A nice turn of events for Vas Nunes
Level 7 – Blinds 300/600 (ante 100)
Masayoshi Tanaka looked a little distraught after his aces were cracked by Paul Vas Nunes, who doubled to nearly 65,000.
Around 22,000 had made it into the middle by the turn of a 10♥8♥3♠J♥ board. Vas Nunes committed his last 21,100 chips and Tanaka called with A♠A♥.
Vas Nunes happily opened J♠J♦ for a turned set and survived the 2♣ river. Tanaka dropped to around 20,000. –MC
3:18pm: Lehmanski zings Zhang
Level 7 – Blinds 300/600 (ante 100)
Poker is a partial information game, they say. Heck, poker reporting is often a partial information game, too. Even the most comprehensive coverage will have gaps, as so much of what happens in a poker hand necessarily goes unseen by those observing from the sideline.
Feel free to take that as a faux-poetic prelude to a partial hand report. Indeed, it's just a sliver. There was about 25,000 in the middle, the board read 8♦10♠A♠A♥J♦, and Zifeng Zhang was puzzling over how to respond to a big bet from Maxi Lehmanski that would require Zhang's last 35,000 to call.
Zhang ultimately decided to take the risk, then when Lehmanski showed 9♦7♣ for a rivered straight, Zhang had to lean over to study the board for a moment to confirm that indeed he was beaten. Up stood Zhang, while Lehmanski now is up around 155,000. –MH
3:15pm: Ruan-in' down a dream
Level 7 – Blinds 300/600 (ante 100)
Jiayu Ruan came into today's action roughly even in chips with his tablemate Yiguang Xu. Then the duo both picked up big pairs and went to war before the flop.
Xu opened the pot for 1,400 in early position. Ruan bumped the bet to 3,800, clearing out the field, and Xu mulled over a call before opting to move all-in for roughly 40,000 chips. Ruan took no time at all to call with K♦K♣, only to find that Xu was pushing the action with A♣A♥.
Being a four-to-one dog didn't faze Ruan one bit. The board came J♠7♣K♠Q♣8♣ and shipped Ruan the pot with a set of kings. Xu came up one club short of what would have been a winning flush and took his leave of our tournament.
With that win, Ruan now sits on 100,000. –JK
3:12pm: PLO delay
If you're looking to play some PLO today, you're in the right place. But the scheduled start of the $100,000 PLO event has been pushed back to 6pm. So find something else to do for a few hours and then come back to the City of Dreams for that one. — HS
3:10pm: Paik's stack's in the black
Level 7 – Blinds 300/600 (ante 100)
Albert Paik is smiling pretty hard underneath his surgical mask, trust me. The 2016 APPT Seoul champ has just got pretty lucky to double up through Marcus Lau.
It was Lau who got the pot brewing with a 1,500 hijack open. Daniel Laidlaw made the call from the cutoff, which then folded to the Korean in the small blind. Paik put in a squeezy three-bet to 5,500, and both players called.
Paik then fired a 6,300 c-bet on the 8♠6♦2♦ flop, only for Lau to then raise it up to 15,500. Laidlaw quickly removed himself, and back to Paik, he wasn't happy. He slumped in his seat, wincing as he looked back at his cards. Paik only had 12,500 behind for 20 big blinds – was he pot committed?
He must have thought so, because he eventually made a crying call with his 3♦3♥ and saw he was in bad shape against Lau's J♠J♥. But poker is a funny old game, isn't it?
The 5♦ turn and 7♦ river ended up giving Paik a diamond flush. He smiled, said sorry, and raked in a new stack worth 54,000, while Lau is now the one left with around 20 big blinds. –JS
3:05pm: Lui loses to Lew
Level 7 – Blinds 300/600 (ante 100)
Randy "nanonoko" Lew started the day with 16,700 and had lost a few chips before getting into a big hand against Patrick Lui moments ago.
Lui was under the gun and opened to 1,600. Lew made it 3,000 from a couple seats to the left and when it got back to Lui he made the call. Lew had about 9,600 behind at this point while Lui looked to be on about 90,000.
The flop came down Q♠5♦3♠ and both players checked. The turn was the 4♥ and Lui, first to act, tossed in a single 5,000 chip. Lew immediately moved in and even though it wasn't even double Lui's bet, he quickly folded.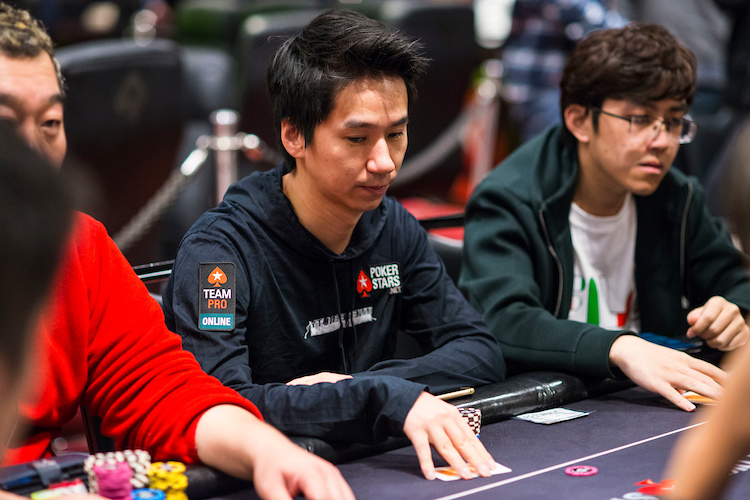 Randy Lew: Team Pro sticking around
Lew is up to 23,000 after the hand. –MS
3:02pm: Some players squeezed out of a hand, some out of the tournament
Level 7 – Blinds 300/600 (ante 100)
Team PokerStars Pro Celina Lin has gotten herself back to around starting stack after a big squeeze in a multi-way pot worked out well for her.
Xin Zhang opened proceedings with an under-the-gun raise to 1,500 and he picked up three callers before the action got to Lin in the small blind. She thought long and hard before three-betting to 7,000. With her committing nearly a third of her stack, the move looked strong, too strong for all her opponents who each folded in turn.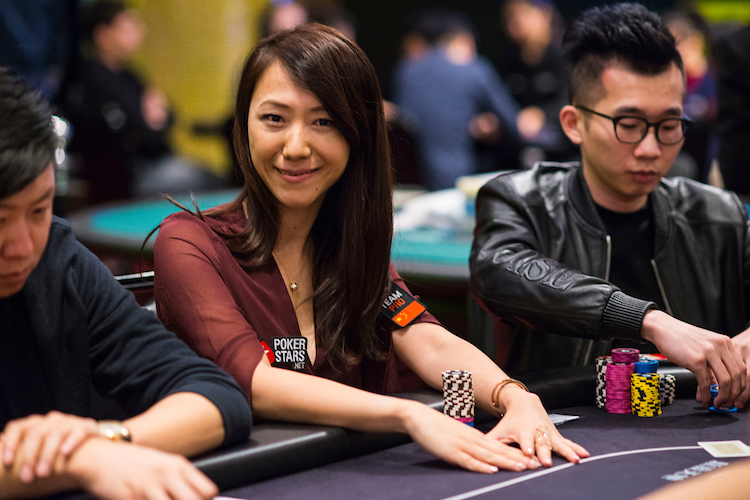 Celina Lin: Big squeeze
At least they were only squeezed out of a hand, the following bunch of players have been squeezed out of the tournament: Jianzhong Song, Yunsheng Sun, Gerald Karlic, Zhikui Shi, Dongsheng Peng and Javier Gomez.
There are 207 players remaining in the Main Event but a reminder that registration is still open until the start of Level 9. –MC
3pm: Here comes Vas Nunes
Level 7 – Blinds 300/600 (ante 100)
Paul Vas Nunes started today with below average chips, but he's hardly hesitant to put his chips to work versus the bigger stacks at his table.
Just now we came upon a preflop situation that appeared to have begun with a Vas Nunes open followed by a late position call by Hao Tian. Yuan Li then reraised to 4,500 from the blinds, and when the action got back to Vas Nunes he pushed all 24,100 of his chips in the middle. Tian folded quickly, then like a pedestrian scurrying across the road to avoid oncoming traffic, Li likewise abandoned his hand rather than risk getting run over by Vas Nunes.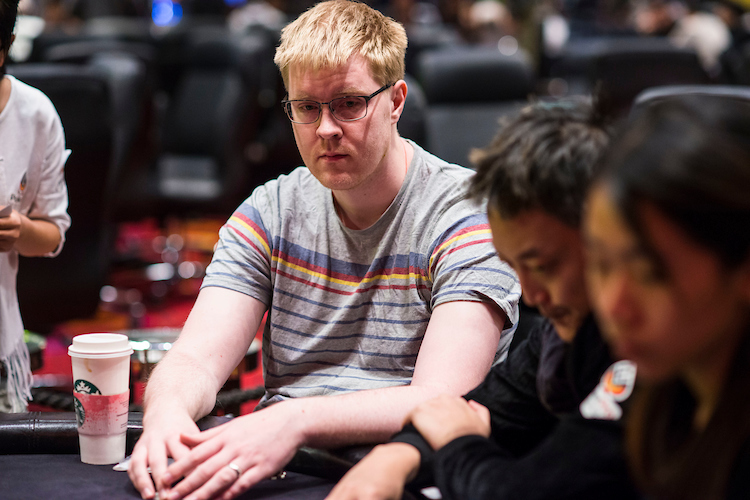 Paul Vas Nunes: Moving in the right direction
Vas Nunes moves up over the 30,000-chip mark with that pot. Li still has about 120,000, and Tian has 75,000. –MH
2:55pm: Yamada's set minces Karlic
Level 7 – Blinds 300/600 (ante 100)
Last we saw Masahiro Yamada, he pushed Team PokerStars Pro Celina Lin off a hand with an all-in bet before the flop at the end of Day 1B. He showed one ace and left the other card's identity a mystery for the ages as he scooped up the pot and put a dent in Lin's stack.
Yamada's carried that momentum over to the early stages of Day 2, and Gerald Karlic paid the price for getting in his way.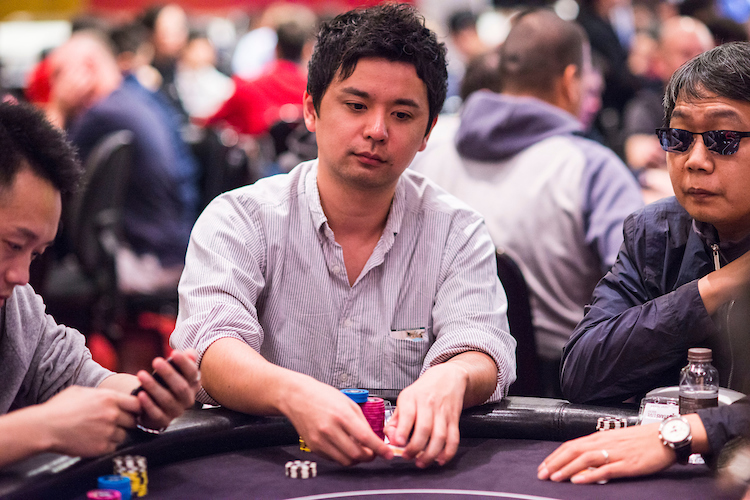 Masahiro Yamada: In mincing mood
Karlic, first to act after the river completed a 6♣J♦A♠4♣9♣ board, didn't take long to move his last 20,000 chips or so in the middle. That put Yamada to a decision. The third club wasn't to his liking, but combined with his 9♠9♥ it did make a set.
A loss would have left Yamada with just a few big blinds, but no worries – the set was good. Karlic showed Q♠J♣ for a pair of jacks and, when Yamada turned over his hand, headed immediately for the exit.
Yamada stacks up to about 73,000 with that win. –JK
2:50pm: Keep your energy up, big night ahead
Level 7 – Blinds 300/600 (ante 100)
It's party night tonight at APPT Macau, the day after the late finish yesterday. Lucky that the PokerStars LIVE card-room at the City of Dreams has coolers stocked with plenty of Red Bull, the official energy drink of PokerStars Macau. Pick up a complimentary can.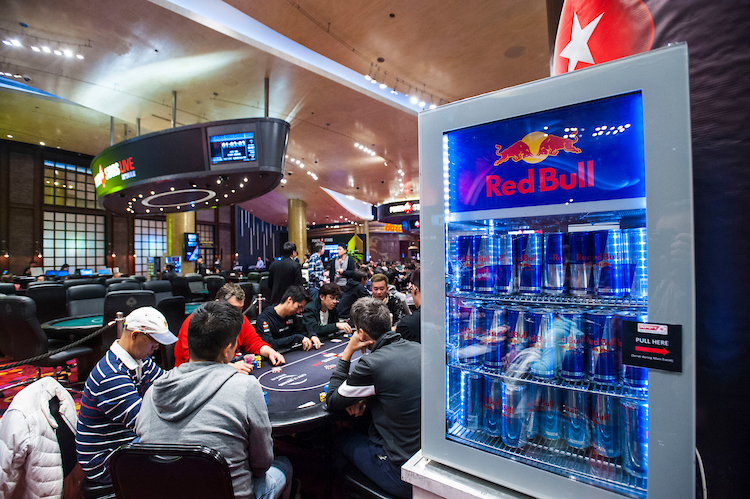 Red Bull cooler
2:45pm: Good call Gu
Level 7 – Blinds 300/600 (ante 100)
Just now Pan Gu had had the initiative through the flop in a hand versus Takao Shimizu. Gu had been dealt A♠Q♦ and was understandably encouraged both before the flop and after the first three community cards came 8♣A♣J♠, and so was betting and Shimizu just calling.
But the 7♣ turn slowed her down, completing as it did potential draws, and after Shimizu checked she checked behind. Then the 3♣ river looked even worse for her, and Shimizu didn't make things any more comfortable when he bet 6,000 (about two-thirds pot).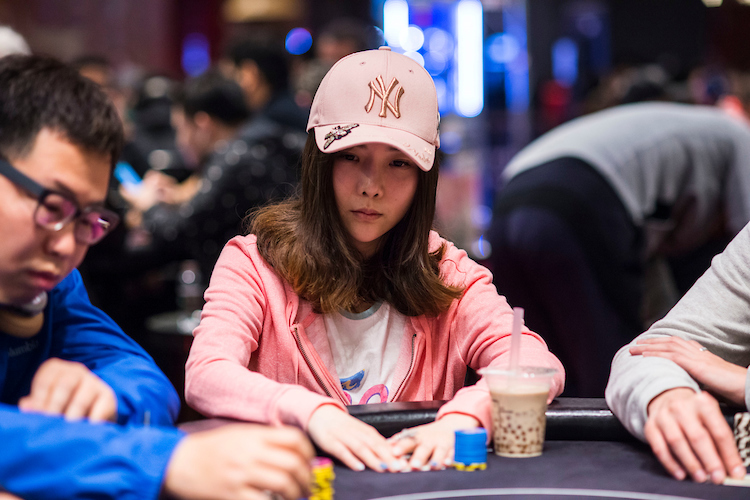 Pan Gu: Good call
Gu thought for about a minute, then finally decided upon calling. Shimizu shruggingly opened his K♠Q♥, and Gu saw she'd chosen correctly. Gu is at about 35,000 now, Shimizu at 16,000. –MH
2:40pm: Big river call from Tong
Level 7 – Blinds 300/600 (Ante 100)
Yesterday we saw Liang Tong battling Zhaojun Ruan and today it looks like Japanese player Takao Shimizu has found himself in Tong's crosshairs.
We arrived on the river with 24,000 in the pot and the board reading 9♥6♥4♥K♦Q♣. Shimizu had bet 17,000 and Tong didn't waste much time putting in the call.
Shimizu turned over A♥4♥ for ace-high and a busted flush draw. Tong tabled 8♥8♦ for the pot and some early momentum. –MS
2:38pm: They gone
Level 7 – Blinds 300/600 (ante 100)
A fair few short stacks have wayside already during the first level of the day. They include: Yang Zhang, Yuanjun Lu, Huidong Gu, Jinhai Zhang, Xiaotian Yang, Deding Xu, Tristan Bain, Maria Ho and Felix Weis. –MC
2:36pm: Go time for Gu
Level 7 – Blinds 300/600 (ante 100)
Pan Gu came into the day with just 10,000 in chips, but it looks like she'll be hanging around a bit longer than expected after a double up through Hung Wang.
The latter had opened the cutoff to 1,300 and Gu jammed from the small blind for 8,400. Back to Wang, he made the call with the A♠Q♥ and found himself dominated by Gu's A♦K♣.
The 8♥4♦3♦A♣10♠ board gave both top pair, but the big slick kicker played and brings Gu up to 18,500 while Wang drops to 45,000. –JS
2:35pm: Mitchell makes up for missed opportunities
Level 7 – Blinds 300/600 (ante 100)
New Zealand's Timothy Mitchell was in a tough spot as Day 1B was closing last night. First he lost pair-over-pair with pocket kings to Benjamin Hamnett's pocket aces and his stack fell to just 20,000 chips. Then, on the last hand of the night, there was too much action from three other players in front for him to commit to a call, so after a lot of thought he eventually had to let go of a hand that he really wanted to play.
But today, to paraphrase Scarlett O'Hara, is another day. Mitchell just made up for those late losses with a nice win here at the start of Day 2.
We arrived with the board reading 6♣A♣5♠J♣2♦, a big pile of blue and pink chips in the pot, and Mitchell having checked over to Tokuho Yoshinaga. Yoshinaga studied the board before grabbing a handful of yellow chips and tossing them forward – a 25,000-chip bet that was enough to set Mitchell all-in.
The Kiwi wasted no time calling with A♦K♥ for top pair, top kicker. That bested Yoshinaga's 9♣9♦ and gave Mitchell a much-needed double to 57,000. Yoshinaga, meanwhile, is still on about 60,000. –JK
2:30pm: Zhou-whee!
Level 7 – Blinds 300/600 (ante 100)
Quan Zhou is off to a hot start here on Day 2 after winning a big pot off of Yiguang Xu.
The hand began with a third player opening, Zhou calling from late position, and Xu coming along as well from the blinds. The 9♣2♠J♣ flop then saw Zhou and Xu become most interested, their betting squeezing out the man in the middle and building a pot more than 35,000.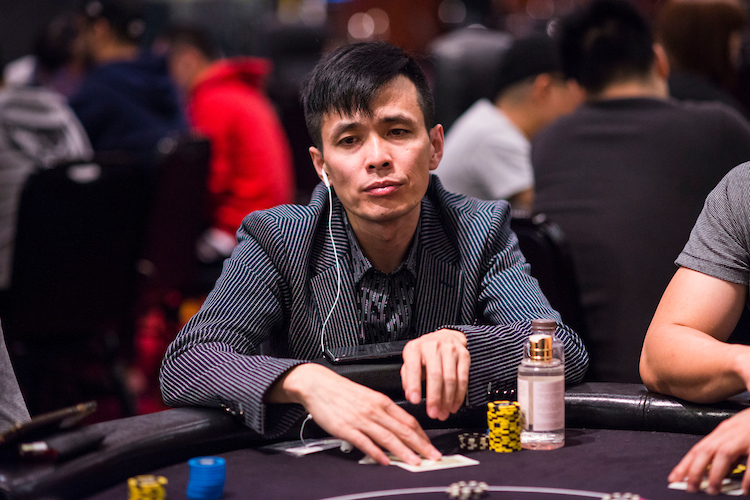 Quan Zhou: Flying start
The Q♦ turn then prompted an all-in shove from Xu and Zhou called it. Xu had a "big blind special" of a hand with J♠2♠ with which he'd flopped two pair. Meanwhile Zhou had K♣Q♣, meaning he'd flopped a flush draw plus a gutshot, than after the queen gave him a pair he was ready to rumble.
The river brought the Q♥, making trips for Zhou and awarding him the pot of around 110,000 while Xu slips to about 18,000. –MH
2:25pm: Sixes leave Huidong with 6.6k
Level 7 – Blinds 300/600 (ante 100)
Go Huidong has been left with just 6,600 chips after he doubled neighbour Wei Mian who held pocket sixes.
Huidong raised from under the gun and was only called by Mian in the next seat. The flop fell 6♠3♣5♠ and the chips went in, with Mian the all-in player with 22,700.
Huidong: K♠Q♠ for overs and a flush draw
Mian: 6♣6♥ for top set
The board ran out 3♠ and A♣ to make Huidong's flush but it also paired the board to fill his opponent up. –MC
2:20pm: Some early Juicy action
Level 7 – Blinds 300/600 (ante 100)
Juicy Li has come out firing here today, picking up a nice pot in one of the very first hands dealt.
It started with a 1,300 open from Ning Zhang in early position which Li called on the button, bringing a flop that read Q♦6♦K♦. Zhang opted not to c-bet, which meant Li took over the betting lead for 800 when it checked to her. Zhang made the call.
The turn saw the 9♥ added to the board. Zhang checked once more, and this time Li went for a much bigger sizing: 5,400. Zhang gave it some thought but decided to make the call again.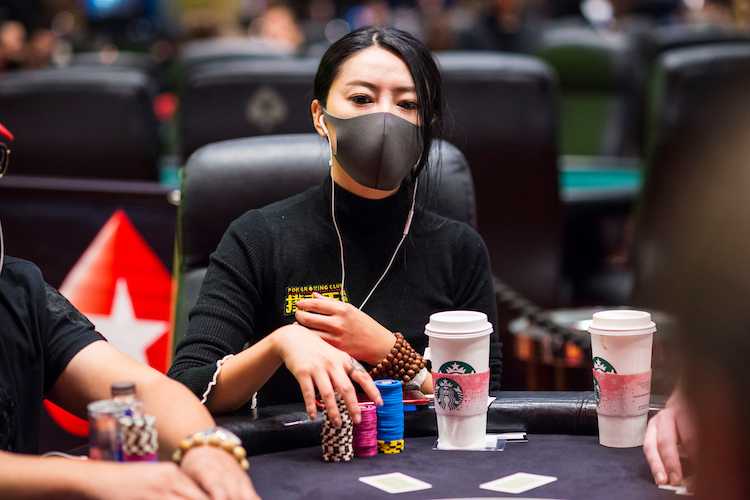 Juicy Li: Firing
The board got scarier when the 10♥ river put four to a straight out there along with the flopped three to a flush. Zhang remained passive, while Li didn't slow down, leading again for 7,500. That was enough to get a fold, bringing Zhang's stack down to 26,000 and Li's up to 60,000. –JS
2:15pm: Song of sorrow for Xu
Level 7 – Blinds 300/600 (ante 100)
Deding Xu began today with 26,400 — a little less than the stack with which he began Day 1. But 10 minutes into play his last chips were in the middle and at risk following a coordinated flop of 5♥6♥7♣ versus Liang Song who had him covered.
Xu had an overpair with 10♦10♠ while Song was drawing with 10♥8♥. Then came the turn — 4♦ — and just like that Song had a straight and Xu's tens were toast. Song has about 60,000 now. –MH
2:10pm: Agarwal chips up on first hand
Level 7 – Blinds 300/600 (Ante 100)
Aditya Agarwal came out of the gate at a gallop, taking down a big pot on the first hand of this Day 2.
It started with Jan-Eric Schwippert opening to 1,400 from under the gun, Agarwal calling on the button and the small blind coming along as well. The flop came A♥6♦4♠ and it was checked to Agarwal who fired 1,700. Schwippert was the only caller and the 2♣ came on the turn.
Schwippert check-called 4,800 this time and the river was the A♠. Schwippert checked again and Agarwal cut out a big stack, eventually sliding 24,000 into the middle.
Schwippert looked like he wanted to call but after much chip-shuffling, card-checking and head-shaking he opted to let it go.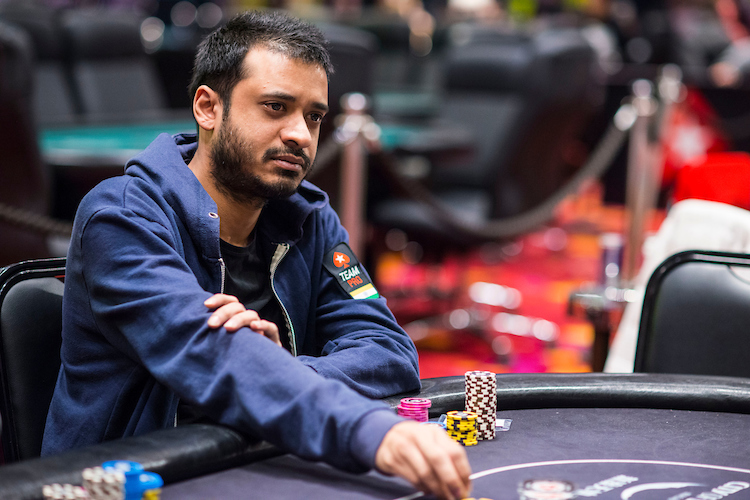 Aditya Agarwal: Chipping up
Schwippert is down to 52,000 while Agarwal chips up to almost 80,000. –MS
2:05pm: Off they go
Level 7 – Blind 300/600 (ante 100)
Players have all now taken their seats and the game is afoot again. We're now in Level 7, the first of six levels we'll play today. — HS
1pm: Zimmerman leads the 212-strong field
Good afternoon/morning/evening depending on where you are in the world, and welcome back to the City of Dreams here in Macau. It's time for Day 2 of the APPT Macau Main Event, with play kicking off at 2pm local time.
A combined total of 212 players made it through Day 1A and 1B, but that number will grow when things get going as registration is open until the end of Level 9. Today we'll be playing six 75-minute levels, with action finishing at around 10pm.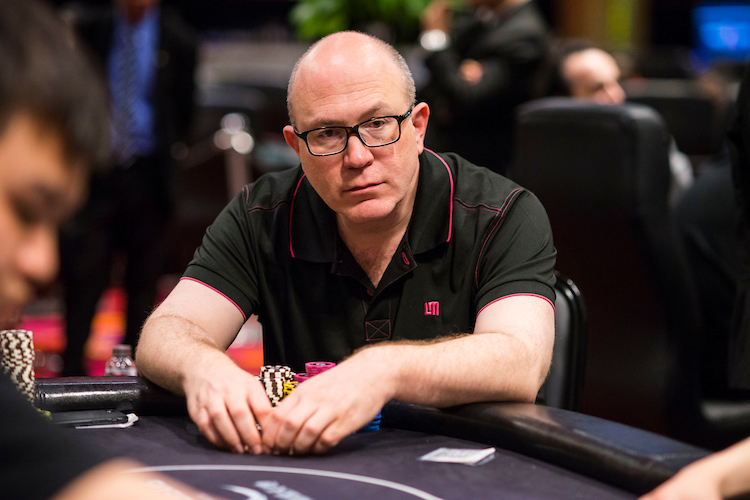 Joshua Zimmerman leads, just
The player who leads the pack coming into proceedings is Joshua Zimmerman, who rose to the top of the ranks last night to finish as Day 1B chip leader. Here's a look at the top 10 counts right now:
| First Name | Last Name | Chip Count |
| --- | --- | --- |
| Joshua Morse | Zimmerman | 158,200 |
| Lin | Wu | 157,200 |
| Seung Yong | Yi | 137,500 |
| Diego | Palma | 133,500 |
| Ye | Wang | 131,000 |
| Lester | Edoc | 122,800 |
| Xiaoyang | Luo | 117,900 |
| Jinxi | He | 113,200 |
| Jeffrey Kuen Wai | Lo | 113,200 |
| Wei | Gong | 111,300 |
The PokerStars Red Spade is in the building, represented by Aditya Agarwal (79,200), Celina Lin (23,400), and Randy Lew (16,700). Other notable names through include Davidi Kitai (25,500), Dong Guo (32,000), Luc Greenwood (70,700), and Tom Alner (28,500).
We'll see you in an hour when things get going. –JS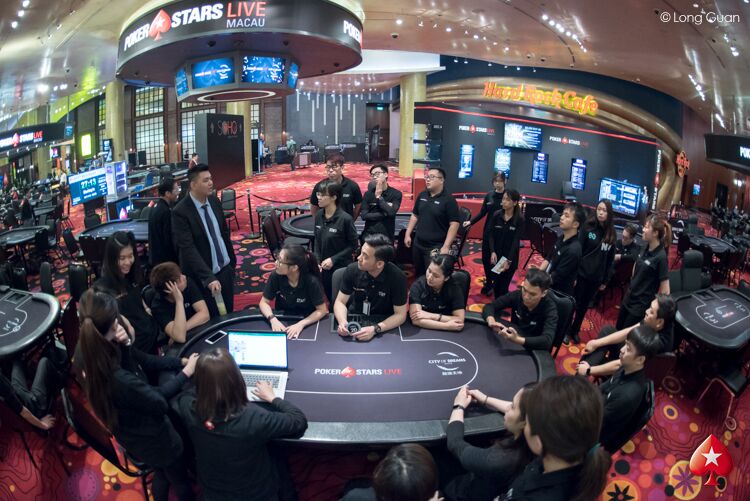 APPT staff are waiting…
---
Download the PokerStars LIVE! app with all tournament information. Available for IOS and Android.
PokerStars Blog reporting team on the $40,000 Main Event: Marc Convey, Martin Harris, Jason Kirk, Matt Showell, Jack Stanton, and Howard Swains. Photography by Joe Giron/PokerPhotoArchive and Long Guan of Kenneth Lim Photography.