10 Main Event packages guaranteed (Comes with FREE badge of honour!)
The European Poker Tour has only been going to Sochi for two years. Which, when you think of it, makes it exclusive.
But this March you have another chance to try it.
And here's why you should.
Because playing EPT Sochi earns you automatic respect.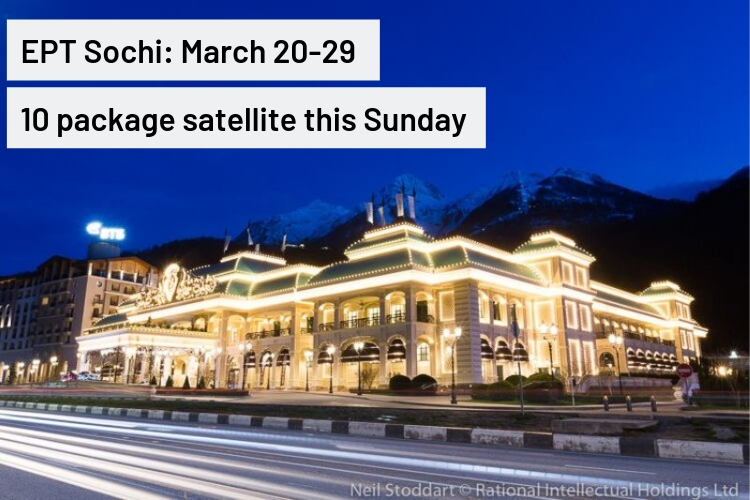 Think about it.
Your opponents think you had to take several flights to get there, probably had to fill in more paperwork than was bearable, and got by with pointing and speaking slowly for the duration of your stay.
You don't even have to tell them they're wrong.
Instead, wear your badge of honour (available only to Sochi Main Event players) like an Eagle Scout. You did it, be proud of that.
And leave us to explain that getting to Sochi, and playing the EPT Main Event there is actually straight forward. And what's more, you can win your way there this weekend.
EPT Sochi runs between March 20-29. And this weekend you can win your way in a 10-seat guaranteed satellite.
But if you're still unsure we've listed a few reasons why you should give EPT Sochi a try.
Let's start with the obvious one.
It's far… but not that far
If you're travelling from Europe, you're likely to have to fly via Moscow or Turkey. But while it looks a long way, the flights are relatively short.
Moscow to Sochi is about two hours, even though it looks further on the map. And the taxi ride between the airport in Sochi and the Casino is hassle free.
We'll make your visa application quick and easy
Unless you're from a country that doesn't require a Visa to travel to Russia (and you can check that list here), you will need to arrange one.
It sounds like a hassle. Especially if you're used to events around the world that don't require any paperwork.
But we'll help make it as easy as possible.
You fill out the details on a dedicated website (give it a quick look here), and we take care of the rest.
Not knowing anyone there will make you interesting
You'll come across as the quiet type. That'll make you seem mysterious.
You don't speak Russian
Remember. Quiet and mysterious. Besides, Sochi is an international City. Plenty of people speak English, including hotel and casino staff.
What else is there to do?
Not everyone can win the Main Event, but there are 23 events on the Sochi schedule (check it out in full on the EPT Sochi page), and someone has to win those.
Casino Sochi also runs cash games 24 hours a day. That should cater to early elimination from the Main Event, jetlag, or any other reason to be up late.
It's worth remembering also that Sochi is a resort town. One of the main attractions is the mountains around Casino Sochi.
It's nice enough just looking up at them. But if you want to try skiing, snowboarding, or just want to go up and have lunch surrounded by snow and clouds, it's worth the effort. And we'll help with equipment you might need.
Outside, as well as winter sports there are restaurants, shops and even an Irish bar to explore (you're a explorer, remember?)
Did we mention that Main Event?
It runs from March 20-29 at Casino Sochi.
The first major event of the Festival is the EPT NL Hold'em National with Unlimited Re-Entries. That runs from March 21-24 with a buy-in of RUB 66,000.
---
The tournament room at Casino Sochi. Some 300 qualifiers are expected to play
---
Then on March 24, the EPT Main Event begins. It's a single entry-per day event with a buy-in of RUB 192,000. It also has a guarantee of RUB 150,000,000 (roughly $2 million)
You can find details of the schedule on PokerStars Live.
Details of that Sunday satellite again
They'll be running between now and March. But this Sunday you can win one of ten guaranteed packages to Sochi in the Satellite on PokerStars.
Tournament ID: 2516242390
Start time: 20:05 ET (Late Reg until 22:05 ET)
Buy-in: $215
Feeder satellites: from $16.50
Other satellites: from $0.22