The lead belongs to Ben Wilonofsky tonight, after the opening ten levels of play on Day 1A of the Main Event.
Wilonofsky, a former EPT Berlin winner, finished with 330,000, which was enough to top the chip counts with roughly 240 players left. They now take a break, making way for the second flight to begin at noon tomorrow.
Former EPT Berlin winner Ben Wilinofsky bags the lead at the end of Day 1A
Day 1A reaches 598 players
Today's field suggests a big field tomorrow. Hardly surprising given the history of this Main Event, which looks to be maintaining the trend.
Other players who made a day of it include Shaun Deeb, Fatima Moreira de Melo and Luc Greenwood.
They survived the day with chips. Their exact counts, along with everyone else's, will appear on the chip count page once the counts are made official.
Badziakouski wins Super High Roller, Akkari and Neymar go heads-up
Away from the Main Event there were two other attractions.
The first was the Super High Roller event, which played down to a winner. That man was Mikita Badziakouski who took his second High Roller title of the year, and a first prize of €1.6 million.
You can read about his win HERE.
But the other headlines were written by Neymar Jr. The soccer super star was in town again to play the other game he loves.
Teacher vs. Student in Charity event
He took part in a charity sit and go alongside Gerard Pique, Sergio Garcia and of course Andre Akkari.
You can read more about that HERE
That wraps up a busy day in Barcelona.
They'll be more tomorrow, with minute-by-minute updates of the Main Event, and the Single Day High Roller from mid afternoon.
Scroll down for our coverage archive today. When you've done that we'll see you tomorrow at 12pm CEST.
Live Coverage Archive
• ENTRIES: 240 of 598 entries (so far), late reg. open until start of Day 2
• SUPER HIGH ROLLER FINAL TABLE COVERAGE
• ALL EPT BARCELONA INFO | TOURNAMENT SCHEDULE
• DOWNLOAD POKERSTARS | Follow @PokerStarsBlog on Twitter

---
11:55pm: Hope for Higgins
Level 10 – Blinds 600/1,200 (BB ante 1,200)
Simon Higgins scored a small double up, but a double up nonetheless. Higgins had A♦8♦ and got it in against Pasi Sormunen's Q♦7♦. The board ran 5♠5♥4♠A♠9♦ and Higgins doubled to 24,000 with aces and fives.
"Here comes the comeback," a tablemate said.
"I've come back like four or five times today," Higgins said. He added that his kids were here and he really wanted to enjoy Barcelona with them. If he busted, he'd have to play tomorrow and couldn't spend time with them.
"Everyone's rooting for you," Victor Choupeaux said. Then he lost a hand to Higgins.
Chopeaux raised from middle position that hand and Higgins called. The flop came 8♦A♠2♥ and Choupeaux fired again. Higgins called and then check-called a bet of 5,600 after the 7♠ came on the turn.
The river brought a 7♥ and Choupeaux bet 8,500. Higgins thought for a bit and then moved all-in for 16,100. Choupeaux couldn't call and Higgins took down the pot. He's now up to about 40,000 with half a level left in the day.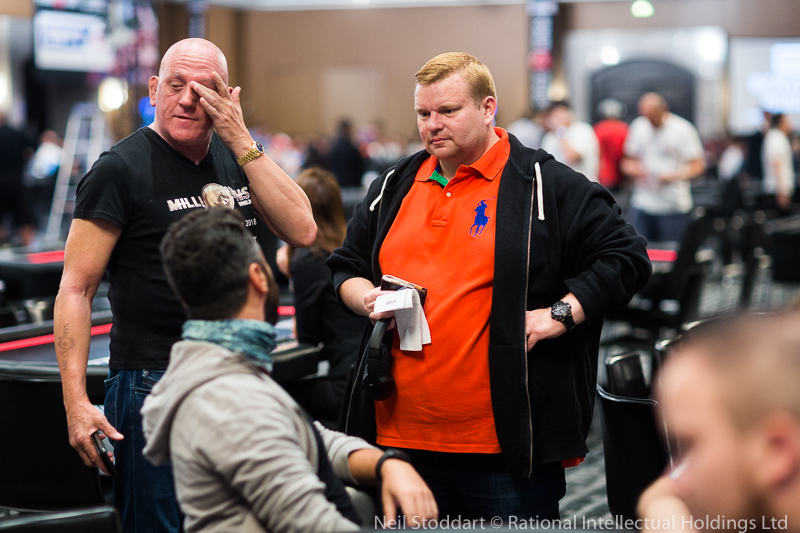 Simon Higgins
11:45pm: Bayley chases Chidwick
Level 10 – Blinds 600/1,200 (BB ante 1,200)
Stephen Chidwick's second bullet has missed its target.
Chidwick opened the action for 2,400 under the gun and his lone caller was Lawrence Bayley, who was second to act. Chidwick checked the 10♠2♠J♠ flop and then called a bet of 2,500 from Bayley, bringing the K♥ on the turn. Chidwick checked again on the K♥ and Bayley, after some thought, checked it as well.
The Q♣ fell on the river, and that's where things went south for Chidwick. He led for 8,000, just a bit under half his remaining stack, and then snap-called when Bayley shoved. Bayley rolled over K♠Q♣ – his combo draw on the flop had turned into two pair on the turn and river. Chidwick's A♥A♠ had been ahead the entire way, with a better flush draw to boot, but couldn't hold up on the final card. –JK
11:25pm: One more time
Level 10 – Blinds 600/1,200 (BB ante 1,200)
We're raising the blinds (and big blind ante) one more time, and we're doing it right now. One hour left to play and then we'll call it a day. –JK
11:20pm: Regonaschi on the rise
Level 9 – Blinds 500/1,000 (BB ante 1,000)
Marco Regonaschi has crossed the 200,000-chip mark and is sitting with a comfortable 203,000.
A few of those chips came from Piotr Nurzynski. Regonaschi raised to 2,200 from the hijack that hand and Nurzynski called from the big blind. The flop came 6♠5♠J♣ and Regonaschi bet 1,900 when checked to. Nurzynski called and a 10♣ came on the turn.
Both players slowed down to a check and Regonaschi bet 4,500. This time Nurzynski couldn't call and Regnoaschi took down the pot.
He's now sitting with just more than 200,000 and is a contender for end-of-day chip leader. We'll see if he can hang on. –AV
11:15pm: Ventura raisin' Ali Reza
Level 9 – Blinds 500/1,000 (BB ante 1,000)
Ali Reza Fatehi's stack has been characteristically unstable tonight, moving under and over the six-figure mark with regularity. He dropped back under it most recently and tried to climb back over, unsuccessfully, against Diego Ventura.
Ventura opened the hand in question with a raise under the gun to 2,400. Fatehi was next to act and made it 5,500 to go, clearing out everybody else. Ventura called, and the flop was 4♠Q♥K♥. Ventura immediately announced himself all-in, and Fatehi folded just as quickly.
Ventura is now on 42,000, while Fatehi is — for the moment — at 85,000. –JK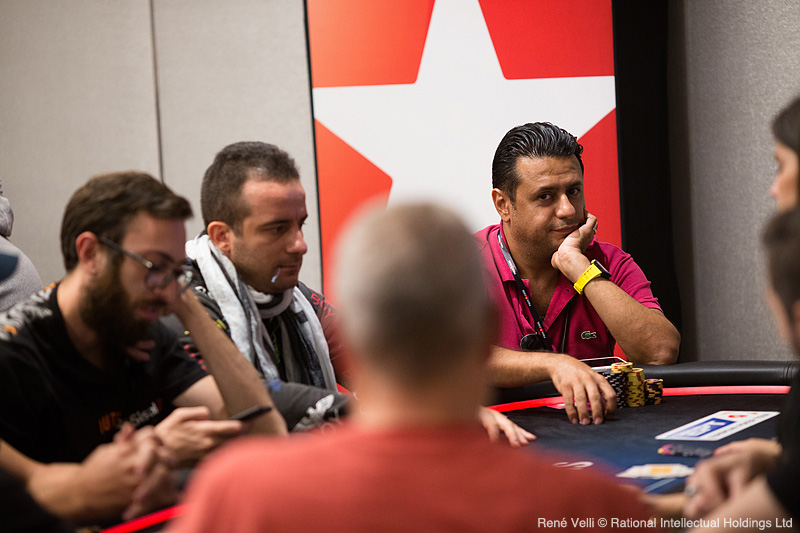 Ali Reza Fatehi
10:56pm: Adams aces Sare
Level 9 – Blinds 500/1,000 (BB ante 1,000)
Timothy Adams raised to 2,000 from under the gun and action folded all the way around to Christian Sare on the small blind. Sare raised it up to 7,600 and the big blind folded.
Adams then four-bet enough to put Sare all-in and Sare called. Sare turned over Q♦Q♥ and Adams showed A♠A♥. The 2♥7♠K♦4♦6♥ board kept Adams in the lead and Sare hit the rail. Adams is now up to about 65,000. –AV
10:45pm: Bianchi knocks out Van Krevelen
Level 9 – Blinds 500/1,000 (BB ante 1,000)
Roberto Bianchi opened for 2,200 in middle position and only Rene Van Krevelen, sitting in the big blind, came along for the Q♠6♠9♥ flop. The action from there was swift: check, bet, raise, shove, call, with Van Krevelen at risk by the end of it all. His K♦Q♦ was ahead with top pair against Bianchi's flush draw and overcard with A♠J♠, but it didn't last. The 8♠ turn made Bianchi's flush and the Q♥ river sent Van Krevelen to the rail.
Bianchi is now on a very healthy 120,000. –JK
10:25pm: We're back
Level 9 – Blinds 500/1,000 (BB ante 1,000)
Players are back from the last break of the night and we're now in level 9. Blinds are up to 500/1,000 with a BB ante of 1,000.
10:05pm: Break
Players are on their final 20-minute break of the day. They'll come back and play two more levels before we call it a night.
10pm: Chidwick chips back to even
Level 8 – Blinds 400/800 (BB ante 800)
Stephen Chidwick is on his second and final entry in this tournament, and he's just made his way back to the 30,000-chip starting point thanks to two consecutive wins.
The first hand saw Igor Signaevsky limp under the gun, giving Chidwick the chance to limp in behind him UTG+1. Both players called after Andras Nemeth raised to 4,000 in the cutoff, and then all three checked the Q♣9♦J♠ flop. Signaevsky checked again on the 10♦ turn, but Chidwick took the opportunity to bet 3,100. That chased both opponents off and gave Chidwick the pot.
Chidwick opened the next hand udner the gun for 1,800 and only Signaevsky, in the big blind, came along for the A♣J♣4♥ flop. Signaevsky checked, Chidwick bet 1,500, and Signaevsky snap-folded.
Chidwick is now back to 30,000 with those two wins, while Signaevsky has 34,000 and Nemeth holds 57,000. –JK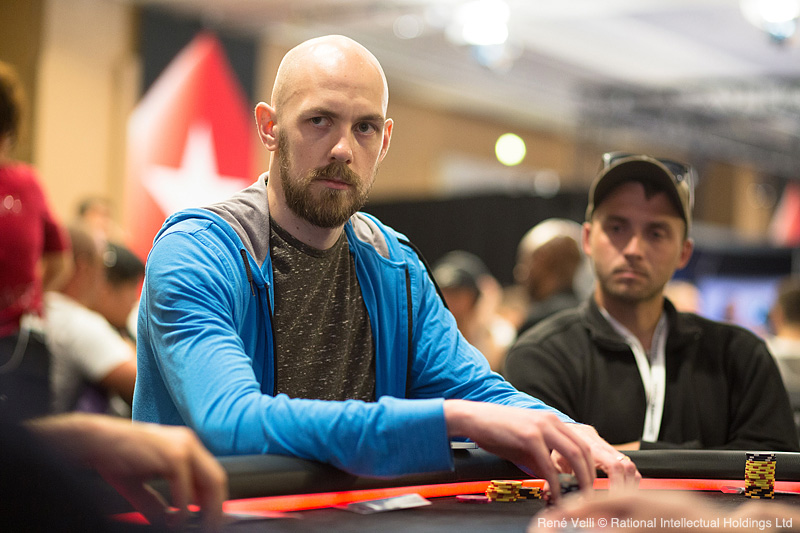 Stephen Chidwick
9:50pm: Shrinking field, rising stacks
Level 8 – Blinds 400/800 (BB ante 800)
We're closing in on the final break of the day and while players are hitting the rail with increasing frequency, others are rising.
Only about 320 players are left and Guntis Aleskins appears to be in the lead with about 175,000. This isn't a runaway lead though as a few players appear to be in hot pursuit. Johan Schumacher has about 150,000 and Marco Regonaschi is sitting with 145,000.
Upeshka Desilva isn't too far behind with 142,000 and then Jimmy Guerrero has a stack worth about 135,000 and a small cat card protector. –AV
9:35pm: Buenas noches, Señor Benhalima
Level 8 – Blinds 400/800 (BB ante 800)
Abdelkader Benhalima is currently third on Algeria's all-time money list, but barring a successful re-entry he won't be picking up any cash from this event.
Romain De Rieux opened the action for 2,000 in the cutoff and Benhalima, sitting in the big blind, re-raised all-in for 20,400. That put De Rieux, who would have to part with a bit portion of his stack to call, in a pretty tough spot and he took plenty of time figuring out his next move.
Benhalima, leaning back in his chair and talking to De Rieux as the latter thought over his decision, looked like he wanted the action. And he eventually got it — De Rieux called with 10♥10♦, which held up against Benhalima's A♥K♦ when the board ran out 3♣J♦7♣J♣9♣.
De Rieux is now up to about 60,000. –JK
9:20pm: Cooler halts Holst
Level 8 – Blinds 400/800 (BB ante 800)
For a player without a lengthy resume of big cashes, Kristina Holst has enjoyed a solid 2018 with $100,000 in earnings spanning just three cashes, including a final table appearance at the US Poker Open in Vegas back in February. She won't be adding a cash in this tournament — from her first bullet, at least — as she just made her way to the rail thanks to a preflop cooler.
Holst was in the hijack seat with 16,300 chips remaining when she moved in over the top of a raise to 2,000 in the cutoff by Rabah Ait-Abdelmalek. Ait-Abdelmalek called immediately when the action returned to him and showed A♥A♠, which had Holst's A♣K♦ crushed. The board ran out 7♠Q♣2♠10♥3♣, the aces held, and Holst headed for the rail.
Ait-Abdelmalek is now up to about 60,000. –JK
9:15pm: Hata hacks Mateos
Level 8 – Blinds 400/800 (BB ante 800)
Aymon Hata and Adrian Mateos were in the blinds and got it all-in. Mateos was down to just 10,400 and got it all-in from the small blind with A♠K♦.
Hata was on the big and called with 10♦10♠. It was a race, almost as classic as they come. The 6♦J♣9♦5♣2♣ board brought little excitement for Mateos and zero hope for the young Spanish pro.
Mateos was eliminated while Hata chipped up to about 40,000. –AV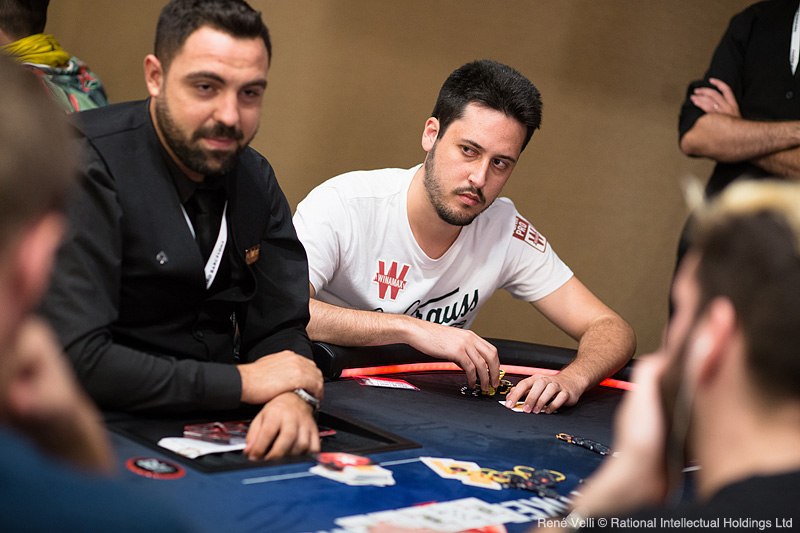 Adrian Mateos
9:05pm: Onward and upward
Level 8 – Blinds 400/800 (BB ante 800)
We've reached that time once again — blinds (and the big blind ante) are up. –JK
8:55pm: Peters picking up steam
Level 7 – Blinds 300/600 (BB ante 600)
David Peters has been in the back corner of the room for a while today, sitting with a bit less than his starting stack, but he looks to be making up some ground with dinner in the rearview mirror.
We just arrived to his table with Peters in the big blind, Tomas Soderstrom on the button, about 5,000 chips in the pot, and a flop of J♥9♥3♦ already on the board. Peters checked and called Soderstrom's bet of 2,400 to bring the 5♥ on the turn. Peters didn't check this time — he bet 6,700 instead, putting Soderstrom to the test. The Swede considered his move for about a minute before finally releasing his hand, giving Peters the pot.
Peters now has about 43,000 chips, while Soderstrom drops back to 30,000. –JK
8:50pm: Flopping big
Level 7 – Blinds 300/600 (BB ante 600)
There were four players on a 7♥2♥3♥ flop and about 5,500 in the pot. With so many players and so many hearts, someone was bound to have hit something big. Right?
Right.
Fatima Moreira wasn't one of them though and she checked from the big blind. Daniel Erlandsson then bet 3,500 from middle position and Alon Huberman called from the cutoff. Wiktor Libera then pumped it up to 13,800 from the button.
(Hint: Libera flopped big.)
Erlandsson folded and Huberman thought for a while. Then he moved all-in and Libera quickly called. Huberman turned over 2♠2♣ for a flopped set while Libera showed a flopped flush with K♥J♥.
Huberman called for the board to pair, but a K♣ on the turn and a 6♠ on the river didn't fulfill his request. Libera doubled to about 52,000 while Huberman dipped to 25,000. –AV
8:35pm: Baumann bows out
Level 7 – Blinds 300/600 (BB ante 600)
Gaelle Baumann just took her leave from this tournament after a desperation shove for a bit over 5,000 chips from the small blind with 10♣7♣. Marco Regonaschi called in the big blind with A♣J♦, and though he didn't need it he made top pair as the board ran out J♥5♦3♦9♦4♣. That was the end of the road for Baumann.
Regonaschi now has about 135,000 chips, including a full stack of orange 5K chips. –JK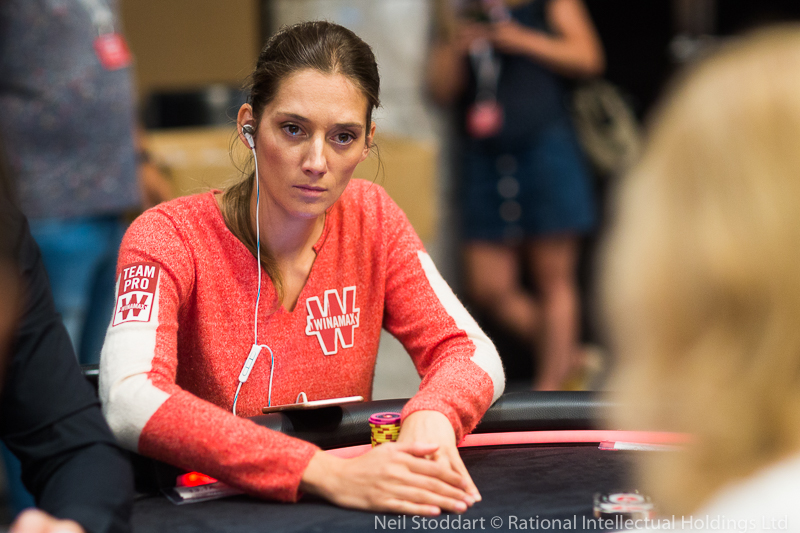 Gaelle Baumann
8:30pm: Ben's back
Level 7 – Blinds 300/600 (BB ante 600)
"You missed me?" Ben Wilinofsky asked.
He'd just moved back to the table he started his day on and while some of the faces were the same, there were some new ones sprinkled around in there.
Then Wilinofsky went straight to work and raised to 1,500 from under the gun shortly after sitting down. Action folded to Xia Lin in the small blind and Igor Signaevsky called from the big blind. The flop came down 10♣6♣5♣ and all three players checked. Lin then bet 1,800 after the 8♠ came on the turn and only Wilinofsky called. A 3♥ completed the board and there was another round of checks.
Lin turned over 7♥7♣ and Wilinofsky mucked. Lin chipped up to 52,000 and while Wilinofsky lost the pot, he's still up to about 87,000. Welcome back to the table Ben. –AV
8:10pm: Guilbert gaining
Level 7 – Blinds 300/600 (BB ante 600)
Romain Guilbert just pulled in a healthy pot with a big move on the river. We arrived with 7,000 chips in the middle and the board already reading 6♠9♣Q♦K♣2♣. We missed the previous action but did get to see Guilbert, sitting in the big blind, check-raise to 15,500 after Yang Zhang bet 5,400. That sent Zhang into the tank for a bit — long enough that one of the other players not in the hand called time on Zhang. He was given 30 seconds to make a decision and tossed his cards into the muck as soon as his final 10-second countdown began.
Guilbert climbs to 55,000 with the win, while Zhang dips to 37,000. –JK
8:05pm: We're back
Level 7 – Blinds 300/600 (BB ante 600)
Those 75-minutes really fly by when you're having tacos. Our well-fed players are now back from break and ready for more poker action. Blinds are up to 300/600 with a 600 BB ante. We'll be playing four more levels before we bag for the night. –AV
6:50pm: Dinner break
They've reached the end of Level 6 which means it is time to eat. Play resumes in 75 minutes. –MH
6:47pm: Entries and re-entries
Level 6 – Blinds 200/500 (BB ante 500)
They are just a few minutes shy of the dinner break, with 574 entries so far and 430 players still in action.
Among those entries are Team PokerStars Pro Celina Lin, Mustapha Kanit, and David Peters.
Meanwhile there have been 33 re-entries to this point, with Michael Dyer, Kyle Keranen, Stephen Chidwick, Michael Goossens, Ivan Leow, Michiel Brummelhuis, Jorma Nuutinen, Ryan Riess, and Orpen Kisacikoglu among those who have fired twice. –MH
6:45pm: Deeb dusts Troyanovskiy
Level 6 – Blinds 200/500 (BB ante 500)
"I cannot fold, that's my problem," Vladimir Troyanovskiy said. He wasn't out of the tournament just yet, but he knew he was about to be and packed up his headphones and other belongings.
Troyanovskiy hit a set of queens on the river and was faced with a bet big enough to commit his whole stack. No way Troyanovskiy was folding, even if it cost him his tournament life.
The hand started when Troyanovskiy raised to 1,200 from middle position and Amar Begovic called from the hijack. Shaun Deeb went along from the big blind and the flop came 5♠6♠9♣. Action checked to Begovic and he bet 1,500. Both players called and then all three of them checked the J♦ on the turn.
A Q♥ completed the board and Troyanovskiy bet 6,800 when checked to. Begovic folded and Deeb thought.
He asked to see Troyanovskiy's stack, which was slightly less than 16,000. Deeb then plunked down a big pile of chips worth more than double Troyanovskiy's stack. That's when Troyanovskiy took off his headphones and his tablemates laughed.
"I cannot fold, that's my problem," Troyanovskiy said. Troyanovskiy called and turned over Q♣Q♠ for a set of queens, but Deeb tabled 10♠8♥ for a runner-runner straight. Troyanovskiy hit the rail while Deeb chipped up to about 85,000. –AV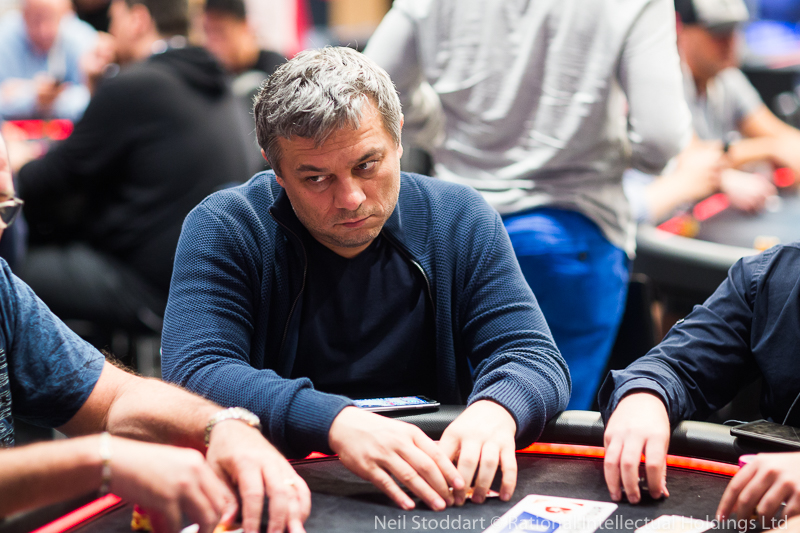 Vladimir Troyanovskiy: Has folding problem
6:40pm: Sormunen gaining, Baumann falling behind
Level 6 – Blinds 200/500 (BB ante 500)
Pasi Sormunen continues to dictate terms to everyone else at his table. The latest player to take him on unsuccessfully was Gaelle Baumann.
The action opened with a Ben Wilinofsky raise to 1,300 in early position. Sormunen called on the button and Baumann, sitting in the small blind, responded with a raise to 5,300. Wilinofsky folded and Sormunen, after a brief moment, called.
Baumann bet 2,500 on the A♦2♣2♥ flop, leaving herself about 10,000 chips behind. Sormunen thought for a few seconds and then announced himself all-in, which chased Baumann from the pot almost immediately.
With that win, Sormunen climbs to roughly 110,000 as the dinner break approaches. –JK
6:35pm: Kings hold for Shak
Level 6 – Blinds 200/500 (BB ante 500)
Dan Shak has already busted one time today. He wasn't at all eager to bust entry number two (the maximum allowed), but just now found himself at risk again.
All in for his last 12,100 with K♦K♠, Shak had earned one customer in Juan Pardo who took up the challenge with 7♥7♣.
"Don't suck out, please," said Shak as the dealer delivered the 2♦5♣6♠ flop. The 2♠ turn and 4♥ river were both okay for the at-risk player as well, and Shak continues with a bit more than 25,000. Pardo is back down to the 30,000 with which he started. –MH
6:20pm: Lampropulos, Kaverman join field
Level 6 – Blinds 200/500 (BB ante 500)
We mentioned earlier how a couple of PokerStars Caribbean Adventure Main Event winners, Dimitar Danchev and Dominik Panka, were in the field. Add another, this year's PCA Main Event champion Maria Lampropulos.
Lampropulos won $1,081,100 for topping the 582-entry field, then turned around in April and won another £1 million (worth about $1.25 million) for taking down the £5,300 partypoker MILLIONS in Nottingham in April.
Byron Kaverman has taken his seat as well. Kaverman also enjoyed success at this year's PCA, finishing runner-up in the $50,000 High Roller for $531,860, although that score paled in comparison to the $2 million he won for taking fifth in the Big One for One Drop at the 2018 WSOP. –MH
6:15pm: Jovanovic jacks some from Sinclair
Level 6 – Blinds 200/500 (BB ante 500)
Dorde Jovanovic raised to 1,000 from middle position and Jack Sinclair three-bet to 3,000 from the hijack. Action folded back around to Jovanovic and he called.
The flop came down 9♠6♥4♦ and both players checked. A 9♥ came on the turn and Jovanovic started action back up with a bet to 4,000.
Sinclair called and a 10♥ completed the board. Both players checked again and Jovanovic turned over Q♠Q♥. Sinclair mucked but he's still above average with 60,000 while Jovanovic's stack rose to 31,500. –AV
6:05pm: Ruivo knocks out Janikova
Level 6 – Blinds 200/500 (BB ante 500)
Besides dealing poker, including sometimes on the European Poker Tour, Alexandra Janikova is a player as well, having collected numerous cashes including a relatively deep run in the WSOP Main Event in 2017 when she finished 434th.
Janikova was on the short side playing here today, though, when she opened for 1,200 from under the gun and watched the table fold around to Manuel Ruivo in the small blind. He leaned forward to see Janikova had 8,500 back and raised, and after the big blind got out Janikova got the rest of her chips in the middle.
Janikova had A♣J♦ and Ruivo A♦Q♣, and after the 2♥Q♥4♣ flop she was already getting up. The 7♦ on the turn sealed it, and she's out while Ruivo now has 35,000. –MH
6pm: Greenwood's good, but it's Sormunen's 'hood
Level 6 – Blinds 200/500 (BB ante 500)
Sam Greenwood hasn't yet found a way to build up his stack, but he just picked up a nice pot from Pasi Sormunen.
We arrived as the turn was dealt on the 7♠3♣8♥9♠ board, with 4,000 chips in the middle, Greenwood on the button, and Sormunen in the big blind. Sarmunen considered his move for a bit before betting 1,900, which prompted a quick shove from Greenwood for 13,400 total. Sormunen gave it some token thought but released his cards fairly quickly in the end.
Greenwood chips up to about 20,000 with the win. The loss, meanwhile, drops Sormunen's stack to about 100,000. –JK
5:55pm: Chen with chips
Level 6 – Blinds 200/500 (BB ante 500)
James Chen, winner of the HK$ 100,000 APPT High Roller in Macau earlier this year in March, just went for a small river bluff in a hand against Charles La Boissonniere, the last one of Level 5.
The board showed 8♦7♠J♣J♠10♣ and Chen had bet with K♥6♠, but La Boissonniere found a call with Q♠10♠ for a pair of tens and won the pot.
Chen's still sitting above the average with about 65,000, while La Boissonniere moves up to 45,000. –MH
James Chen: Focused
5:35pm: Hata doubles through Cohen
Level 5 – Blinds 200/400 (BB ante 400)
Aymon Hata had that stoic look of someone all in and just waiting to see whether or not his tournament would continue. He had to feel okay, though as he had A♠A♥ and had put his 25,200 at risk against Sam Cohen's A♣K♦.
Hata felt even better after the board ran out 9♠5♦4♦3♥J♦, earning him the pot and pushing him up over 50,000.
Meanwhile Cohen took on the stoic look, not too bothered-seeming but definitely in a less comfortable place now as she's dropped to 6,500. –MH
5:30pm: Gieles grabbing what he can
Level 5 – Blinds 200/400 (BB ante 400)
Some of the best results of Luuk Gieles's poker career have come here in Barcelona, including fourth place for €27,400 in a side event at last year's PokerStars Championship Barcelona. He has some work to do if he wants to add another Spanish cash to his resume, but he knows exactly how to go about it, as he showed by taking down three pots in a row.
The first pot went to Gieles after his preflop raise to 800 in the cutoff seat went uncalled. The second took a bit more effort — another raise to 800 and a continuation bet, after Ben Heath called in the big blind — but the result was the same. He pilfered the third in similar fashion, with another raise to 800 and another c-bet to chase Heath and Meunier after they came along from the blinds.
All three were small wins in the big scheme of things, but they were a big deal to Gieles. With them his stack is now back to 20,000. –JK
5:20pm: Aces fail Heinze
Level 5 – Blinds 200/400 (BB ante 400)
Luis De Lima Do Nascimiento was in dire straits, with all of his chips at risk behind A♠Q♦ and up against Olvedo Heinze's A♦A♣.
Things appeared especially dire after the A♥K♣9♣ flop that give Heinze a set of aces. But the turn was the 10♦ and the river… the… J♠!
Nascimiento shouted in celebration, then commended Heinze for playing a good hand. Little consolation for Heinze, who is down to 7,000 now though took it well. Meanwhile Nascimiento is not just alive but healthy with more than 70,000. –MH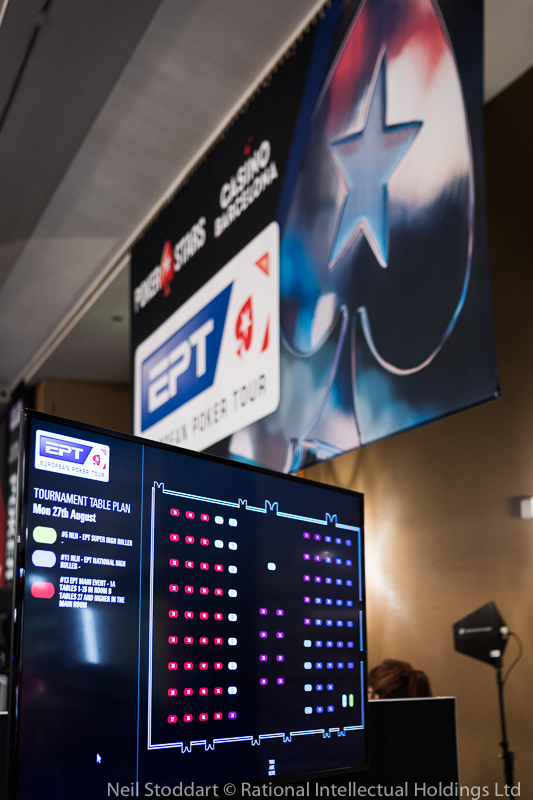 Main Event players, find your table here
5:10pm: Nock knock, who's there?
Level 5 – Blinds 200/400 (BB ante 400)
Jeremy Nock is running the show at his table, sitting on about 90,000 chips at the moment. We got an idea of where some of those chips came from over the last two hands — think "active player" — despite him winning neither.
Nock limped from the lojack seat on the first hand. Stephen Chidwick called in the small blind and Ondrej Drozd checked in the big, bringing the K♠9♥A♦ flop. Chidwick checked, Drozd bet 800, Nock called, and Chidwick folded. Drozd and Nock both checked the 2♦ turn, and Drozd check-called 1,000 on the 9♠ river. "King," announced Nock, but Drozd showed A♠5♦ to take the smallish pot.
Nock opened under the gun for 1,100 on the following hand, getting a call from Chidwick on the button before Oleg Chebotarev bumped the bet to 4,000 in the big blind. Nock folded but Chidwick called, bringing the 5♦Q♥8♣ flop. Both players checked there and on the 10♣ turn as well before Chebotarev fired 5,500 on the 2♣ river. Chidwick gave it some consideration but finally let his hand go.
Chebotarev is now back to 25,000, while the recently-arrived Chidwick holds 17,000. –JK
5pm: Guerrero gets Daher to lay down aces
Level 5 – Blinds 200/400 (BB ante 400)
"What do you think I have?" asked Albert Daher with a grin. While he was asking Jimmy Guerrero what he thought about his own hand, in truth he was seeking information about Guerrero's.
Guerrero didn't offer much in the way of help with his replies, though, and Daher continued to tank. The pair had reached the river with the board showing 3♠9♠6♥2♥K♠, and Guerrero had put the shorter-stacked Daher all in.
Finally Daher folded, but was able to get Guerrero to agree to show one of his cards first before he did — the 7♠. In response, Daher showed both of the cards he had folded — A♠A♣.
Daher is down around 12,000 now, while Guerrero is up to 65,000. –MH
4:50pm: Play resumes
Level 5 – Blinds 200/400 (BB ante 400)
The Main Event players are back and play has resumed once more. Two more levels, then comes the dinner break. –MH
---
TOURNAMENT BREAK: 20 MINUTES
---
Download the PokerStars LIVE! app with all tournament information. Available for IOS and Android.
---
4:30pm: Break time
Players are off once more on the second 20-minute break of the day. –MH
4:25pm: Two pair for Panka
Level 4 – Blinds 100/300 (BB ante 300)
A couple of PokerStars Caribbean Adventure Main Event champions are in the field today, 2013 winner Dimitar Danchev and 2014 champ Dominik Panka.
Panka was just now involved in a pot versus Sam Greenwood, one that saw the pair reach the river with the board coming 3♣4♦8♣10♦5♣ and the pot growing to a little over 4,000.
Panka led for 2,300 at that river, then Greenwood raised to 11,000 to send Panka into the tank for a short think. Eventually he emerged to call, and Greenwood tabled 6♣6♦. Panka had that beat as he'd made two pair with 10♣8♦, and he scooped the pot.
Panka moves back up to around the starting stack of 30,000, while Greenwood has 18,000 heading toward the second break of the day. –MH
4:15pm: Nice hand, Nedelcu
Level 4 – Blinds 100/300 (BB ante 300)
"Very well played, my friend. I was so convinced, I would have folded aces."
So came the commentary from the table, uttered by a player not involved in the hand that had just completed between Narcis Nedelcu and Rifat Palevic.
On the turn with the board showing 9♣7♦4♥10♥, Palevic had check-called a bet of 9,100 from Nedelcu, pushing the pot up over 25,000. Then when the J♦ river completed the board, Palevic checked again, Nedelcu bet 19,000, and after a long tank Palevic let his hand go.
"Want to see?" asked Nedelcu of Palevic afterwards, having at last broken his poker face to reveal a slight grin. Palevic said he did, and Nedelcu turned his cards over — 7♥6♥ for a pair of sevens and busted flush draw.
"Nice hand," nodded Palevic as his opponent stacked his new chips. Nedelcu is up around 70,000 now, while Palevic slips to 25,000. –MH
4:05pm: Sormunen climbing
Level 4 – Blinds 100/300 (BB ante 300)
Pasi Sormunen is having a pretty good day so far — nothing new to him here in Barcelona, where he won a side event for €92,700 at last year's PokerStars Championship and final-tabled the EPT10 Main Event for another €253,000. His roll just continued with a win at Dominik Panka's expense.
Sormunen opened the pre-flop action for 700 in the cutoff and Panka, in the big blind, was the lone caller. He checked the Q♠8♣9♦ flop to Sormunen, who bet 700, and then raised to 2,700 when the action got back to him. Sormunen didn't take long to call, and Panka fired 4,500 when the A♣ hit the turn. Sormunen called again.
Panka slowed down when the 10♣ fell on the river. He checked to Sormunen, who bet 7,600, and then let his cards go.
The loss there drops Panka's stack to 23,000. Sormunen, meanwhile, is at 73,000 and climbing. –JK
4pm: More than 500 (and counting)
Level 4 – Blinds 100/300 (BB ante 300)
The number of Day 1A entries has pushed up over 500 now, and continues to grow.
Some of the Super High Rollers have joined the field now, including Stephen Chidwick, Jean-Noel Thorel, and the two Greenwoods, Luc and Sam. –MH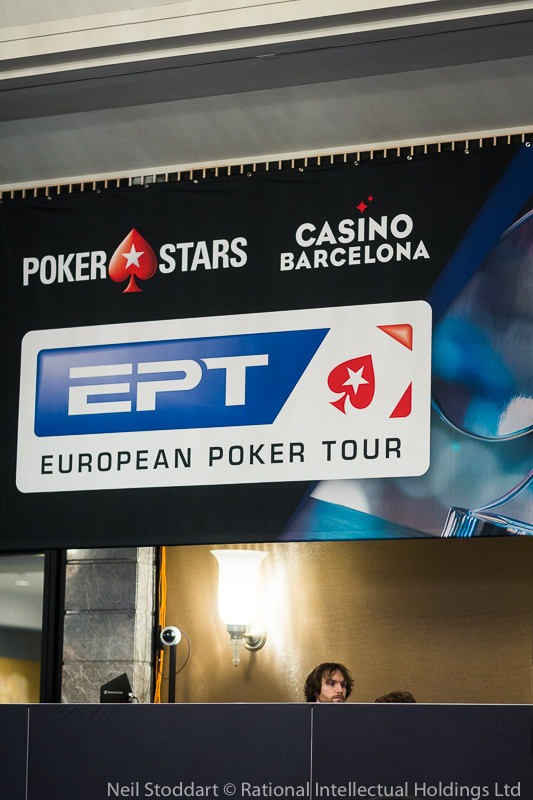 Day 1A marches onward
3:50pm: Shak loses stack
Level 4 – Blinds 100/300 (BB ante 300)
Sometimes you just have to laugh.
As noted just below (see 3:25pm), Dan Shak was on a short stack, in part because he'd lost with trip aces versus trip aces, better kicker.
Soon after that hand he got all in on the turn with the board showing 7♠8♦4♥3♥ while holding 8♥6♠ for a pair of eights and a gutshot draw. He was behind his lone opponent, Artur Mukhin, who had a set of treys with 3♦3♣.
The river brought the 8♠, and that's when Shak chuckled. He'd made trips again, and again he had lost, this time to a full house.
Shak is out (though could buy back in), while Mukhin has 35,000. –MH
3:40pm: Two for Sinclair
Level 4 – Blinds 100/300 (BB ante 300)
2017 WSOP Main Event finalist Jack Sinclair is climbing upward thanks to two wins in quick succession.
In the first pot, Daniel Meurnier opened for 500 in early position and Sinclair, sitting in the hijack seat, raised to 1,000. Meurnier called and both men checked the 3♥Q♥J♦ flop. Meurnier checked again on the 6♠ turn and folded to Sinclair's bet of 1,700.
Sinclair opened for 700 in the lojack seat on the following hand, drawing calls from Mostafa Bourras on the button and Ben Heath in the big blind. All three checked the 2♦4♦2♣ flop and Sinclair resumed the lead with a bet of 2,600 on the J♠ turn. Bourras called, Heath folded, and the river was the 7♥. Sinclair bet 3,700 this time and took down the pot when Bourras declined to call.
With those two wins, Sinclair now holds about 45,000 chips. –JK
3:35pm: Geilich gives it up
Level 4 – Blinds 100/300 (BB ante 300)
Happening by Ludovic Geilich's table, he was deep in the tank in a hand versus Julien Pieffet. The latter had bet 6,000 on the river, the board showing K♥9♠Q♣6♥4♠. Geilich asked the dealer to spread the pot so he could get a better look at what was there, and it looked to be around 18,000.
He thought about a half-minute more, then finally let his hand go. Pieffet knocked the table in response, one of those always ambiguous gestures that could mean "good fold" or "good, you fold."
Pieffet is up around 60,000 now, while Geilich has 18,600. –MH
3:25pm: All aces accounted for
Level 3 – Blinds 100/200 (BB ante 200)
The board showed 2♠9♦A♣A♠5♣ and Mark Radoja had fired a bet of 3,000.
Dan Shak had an ace in his hand — he had A♥4♥ — and so while the bet presented a decent percentage of his stack, calling seemed the right thing to do.
Alas for Shak, Radoja had the last ace in his hand, and a better kicker, too, with A♦10♠, and he claimed the pot.
Radoja has 26,000 now, Shak about 10,000. –MH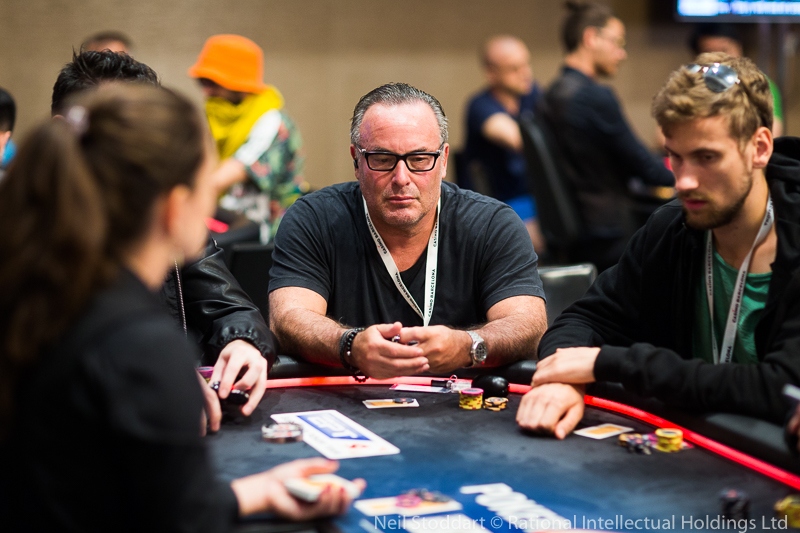 Dan Shak less than starting stack
3:20pm: Sormunen slips by Wilinofsky
Level 3 – Blinds 100/200 (BB ante 200)
Pasi Sormunen opened the action for 500 in early position, Ben Wilinofsky called in the cutoff, and TK called on the button to see a K♥6♣9♦ flop. All three players checked there and Sormunen led for 800 on the 7♥ turn, which prompted a raise to 3,000 from Wilinofsky and a fold from the button. That left just Sormunen, who after some consideration re-raised to 8,400.
Wilinofsky had a decision to make, and not an easy one, either. He thought it over and asked to look at Sormunen's chips — the Finn had more than 20,000 behind — before finally deciding to fold.
Sormunen climbs to 34,000 with that win, while Wilinofsky still has about 60,000. –JK
3:10pm: Set over set sends Zhou railward
Level 3 – Blinds 100/200 (BB ante 200)
It was a four-way flop, with the board reading 4♠J♠6♥. Quan Zhou led for 1,500, and after getting a look at Zhou's remaining stack Osvaldo Naves raised to 3,000, thereby scattering their two other competitors.
Zhou paused a beat, then raised all in for his last 10,200 total, and Naves called right away.
Zhou: 4♦4♥
Naves: 6♠6♣
It was bad news for Zhou, who suddenly needed the last four to arrive in order not to bust. The turn was the 2♣ and river the 10♣, neither any use to Zhou who departed. Naves has 36,000 now. –MH
2:55pm: Nuutinen busted by Branco
Level 3 – Blinds 100/200 (BB ante 200)
Jorma Nuutinen of Finland got all of his stack in the middle before the flop holding Q♥Q♣, but alas for Nuutinen he was up against the A♦A♣ of Carlos Branco.
The board ran out 4♣7♣J♠5♥6♦, adding up to a fast finish for the Finnish player. Meanwhile Branco is one of the bigger stacks around at the moment with 65,000. –MH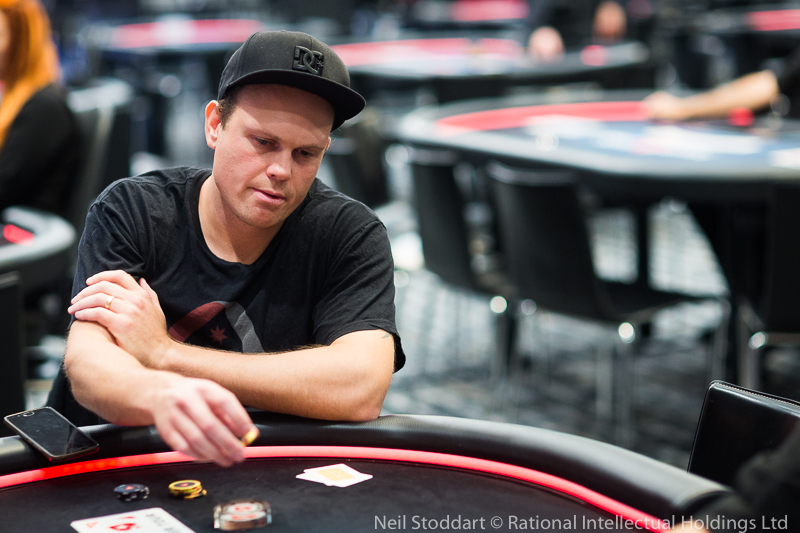 No more for Nuutinen
2:50pm: Pellegrini pilfers a packed pot
Level 3 – Blinds 100/200 (BB ante 200)
Paolo Pellegrini took a hit to his stack earlier in the day, but he's just picked himself back up with a nice win in a busy pot.
Pellegrini was in the big blind and watched as Michael Wang (30,000 in chips) opened for 500 in the cutoff, Garik Tamasian called on the button, and Carlos Cerreto (22,000) raised to 2,700 in the small blind. Pellegrini joined the action, Wang folded after some consideration, and Tamasian (42,000) came along to see a flop of 8♠4♣6♥.
Cerreto led for 5,000. Pellegrini moved in behind him and cleared out Tamasian, putting the action back to Cerreto, who folded pretty quickly to ship the pot Pellegrini's way. Tamasian looked unhappy with Cerreto's fold — maybe he had enough to continue heads-up, but not multi-way? — as Pellegrini scooped the pot.
Pellegrini is now back to about 27,000 chips with that win. –JK
2:40pm: Riess raises river
Level 3 – Blinds 100/200 (BB ante 200)
Ryan Riess and Ghattas Kortas are sitting next to one another and have already been tangling over small pots frequently during the first two hours today.
They just tangled once more in a hand that reached the turn with the board showing Q♦K♣8♦7♥, at which point Kortas bet 1,300 (about two-thirds pot) and Riess called.
The river brought the K♠ to pair the board, and Kortas bet another 3,500. Riess raised this time, though, going all in for his last 10,500, and Kortas quickly stepped aside.
Riess has about 18,000 at present, while Kortas is on 25,000. –MH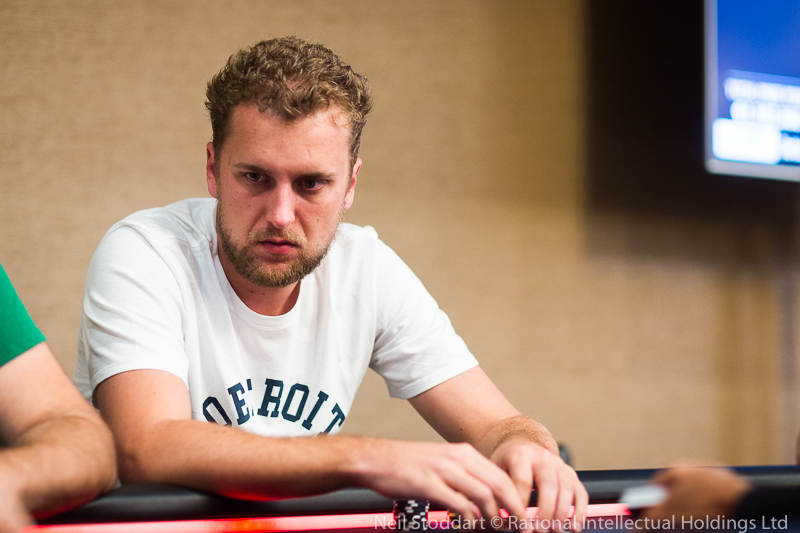 Riess the beast
2:30pm: Mateos starts the level well
Level 3 – Blinds 100/200 (BB ante 200)
Adrian Mateos and Diego Ventura were two of the four players who made it back to Table 28 as the break ended and play resumed, putting them in a shorthanded situation as Level 3 began.
Mateos was in the big blind and Ventura on the button with about 3,000 chips in the pot and a 9♥Q♣Q♦J♥7♣ board as we arrived. Mateos led for 1,700 out of position and put Ventura, Peru's all-time leading money winner at $1.17 million in lifetime tournament earnings, to a decision. He eventually folded, giving Mateos the small win just before the rest of the table returned from break.
Ventura slips a bit to 28,000, while Mateos is up to about 40,000. –JK
2:25pm: Back to business
Level 3 – Blinds 100/200 (BB ante 200)
Players are back from the first break, including some new arrivals.
Team PokerStars Pro Fatima Moreira De Melo is here, sitting at the same table as Juha Helppi. Matas Cimbolas, Uri Reichenstein, Ana Marquez, and Paul Newey are among the entrants now as well.
A few have already fired a second entry, too, including Michael Dyer and Noam Makavy. Remember, everyone has a maximum of two entries available, if needed. –MH
---
TOURNAMENT BREAK: 20 MINUTES
---
Download the PokerStars LIVE! app with all tournament information. Available for IOS and Android.
---
2:05pm: Pardo pummels Toldin, break arrives
Level 2 – Blinds 100/100 (BB ante 100)
We missed the action at the start of this hand, but everything from the flop on ended up having a big impact on Juan Pardo's stack.
There was 900 in the pot and a 10♥2♥3♣ flop when we arrived, and Maxim Toldin, who was in the big blind, had a bet of 1,700 in front of him — most likely a check-raise of Pardo, given the size of the pot before the flop, though we can't be sure. Pardo re-raised to 5,800 and put Toldin in the tank, but the Russian eventually made the call.
Toldin checked the J♣ turn and Pardo thought long and hard before sticking a 7,900-chip bet in the middle, leaving himself 11,000 behind. Toldin called after a moment of thought and then checked once more on the 10♠ river. Pardo bet the last of his stack and Toldin eventually folded.
Toldin is now down to 12,500 chips, while Pardo is sitting on 38,000.
We're headed on break for 20 minutes — join us when we return for more action! –JK
2pm: Givens takes from Zhou
Level 2 – Blinds 100/100 (BB ante 100)
In the last hand of the level, Garik Tamasian opened to 400 from middle position, then Quan Zhou (button) and Williams Givens (big blind) both called.
The flop came A♠5♥10♥ and all three checked, then after the 8♠ turn Givens led for 600, Tamasian folded, and Zhou raised to 2,500. Givens called, then checked after the 7♣ river. Zhou bet 3,600 this time, and Givens called again.
Zhou had A♣J♠ for aces, but Givens had paired his kicker on the end and showed A♥7♠ for two pair to take the pot. Givens is up to 51,000, Zhou down to 14,300. –MH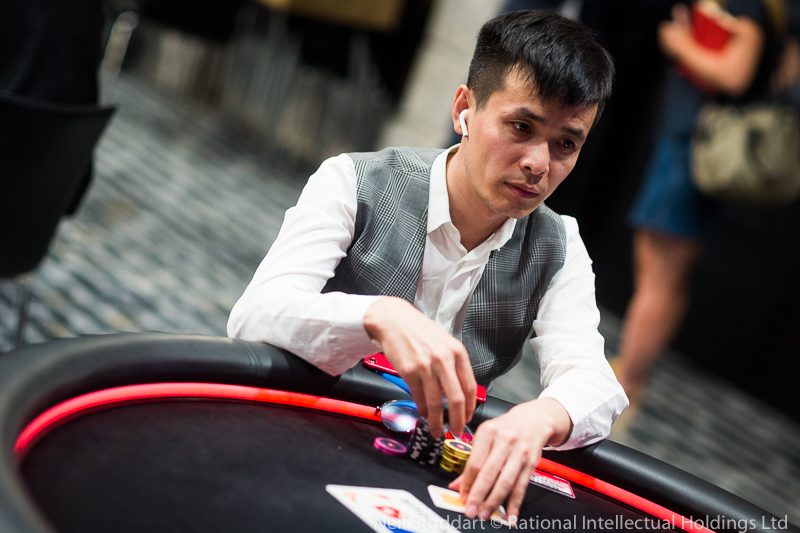 How do you Zhou?
1:50pm: Jacobson makes the right call
Level 2 – Blinds 100/100 (BB ante 100)
William Jacobson was dealt pocket aces on the button here in Level 2. As he watched Michal Wywrot open from middle position, Jacobson probably thought it was a nice spot in which to be.
When the action reached him, Jacobson reraised, then when it folded back to Wyrwot he four-bet to 3,800. Jacobson smooth-called the bet, leaving himself about 12,500 behind, but then the flop came 3♥Q♥K♣ and Wywrot open-jammed all in.
Suddenly Jacobson's spot didn't seem so nice.
"I was trapping you," he said with a weary grin as he thought about what to do. Eventually he called and showed his A♠A♥, and saw he was ahead of Wywrot's K♦9♥.
There were still two more community cards to sweat, but both the 6♠ turn and 4♠ river were safe for Jacobson, and he now has 35,000. Wywrot rapped the table in acknowledgment of the big call — he's at 19,000 at the moment. –MH
1:35pm: Betting big and getting big
Level 2 – Blinds 100/100 (BB ante 100)
It's just the second level of the day and players are already risking it all.
Igor Signaevsky was one of players to take the plunge with his stack. He started things off with a raise from middle position and Alexander Ivanov three-bet to 3,700 from the big blind. Signaevsky then re-raised all-in for 24,000 and Ivanov thought.
It was too early for Ivanov and he folded.
While that hand didn't end in an elimination, there have already been a few bustouts. The new number of new entries are outpacing them though and we're up to 400 players. –AV
1:25pm: More, more, more
Level 2 – Blinds 100/100 (BB ante 100)
The field continues to grow with more familiar faces popping up around the tournament room. Ben Heath, James Chen, and Kalidou Sow are among the latest to take their seats in the Main Event.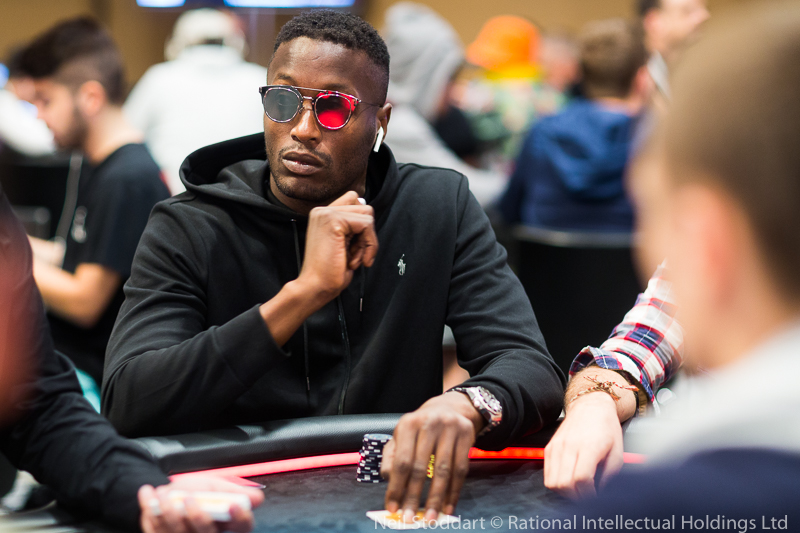 Kalidou Sow: Seeking more hardware
The Frenchman Sow earned back-to-back victories in big PokerStars events within the last year, taking the title in both the PokerStars Championship Prague Main Event (December 2017) and the PokerStars Festival London Main Event (January 2018). –MH
1:15pm: Hometown heroes
Level 2 – Blinds 100/100 (BB ante 100)
Some Spanish stallions have taken their seat at the EPT Barcelona Main Event. Both Adrian Mateos and Leo Margets have joined the field and the two Spaniards are hoping to keep the title on Spanish soil.
Both players also had a bit of camera time when they entered the field. Mateos had a short interview with a camera crew and Margets got her first hand filmed.
She raised to 400 from early position that hand and got one caller. Action checked to the river of a J♥9♦Q♦10♦9♥ board and Margets called a river bet of 300. Then she mucked after her opponent showed 9♠5♠. –AV
1:05pm: Wilinofsky stacks Silver
Level 1 – Blinds 100/100
I arrived at Ben Wilinofsky and Max Silver's table to find the pair involved in a hand. With just a few minutes left in the day's first level, the pair had reached the turn with the board showing 10♥3♦7♦J♦.
Silver had checked and the action was on Wilinofsky. There was something like 16,000 in the middle, which was also something like what both players had behind. I was sorry I hadn't arrived sooner.
Then Wilinofsky acted — he pushed all in! Whoa… glad I'm here now.
Silver wasn't glad about the situation, though. He immediately smiled (or was that a grimace?), then settled into an intense study of the situation. Eventually he rechecked his cards, then removed his cap in order to scratch his head as though trying to massage the correct decision out of his brain.
Finally he set his chips forward to call. "Aces," said Wilinofsky, showing A♣A♠. That was ahead of Silver's Q♠Q♦, though the latter had a diamond draw to give him additional hope.
The A♥ river wasn't what Silver needed, though, and as Wilinofsky had him covered Silver was out. Put Wilinofsky up around 50,000 now.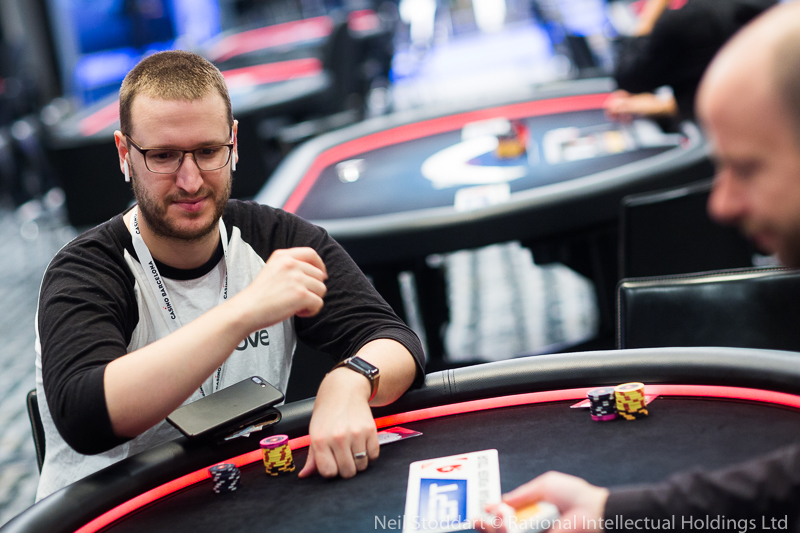 Silver loses the Max
Silver confirmed with the tournament director before departing that yes, indeed, he can re-enter if he wishes, as everyone has a maximum of two entries available for this one. –MH
12:55pm: Baumann starting with the big guns
Level 1 – Blinds 100/100
Joel Isla Gonzalo started things off with an early position raise to 300 and then Fredrik Andersson re-raised to 1,000. Action folded around to Gaelle Baumann in the small blind and she turned up the heat with a four-bet to 3,600.
Gonzalo got out of the way and Andersson thought for a bit and called. The flop was a monotone 9♥6♥K♥ and Baumann fired again, this time for 4,500. Andersson thought again but folded.
Baumann's stack got bumped up to 34,000 after she took down the pot. –AV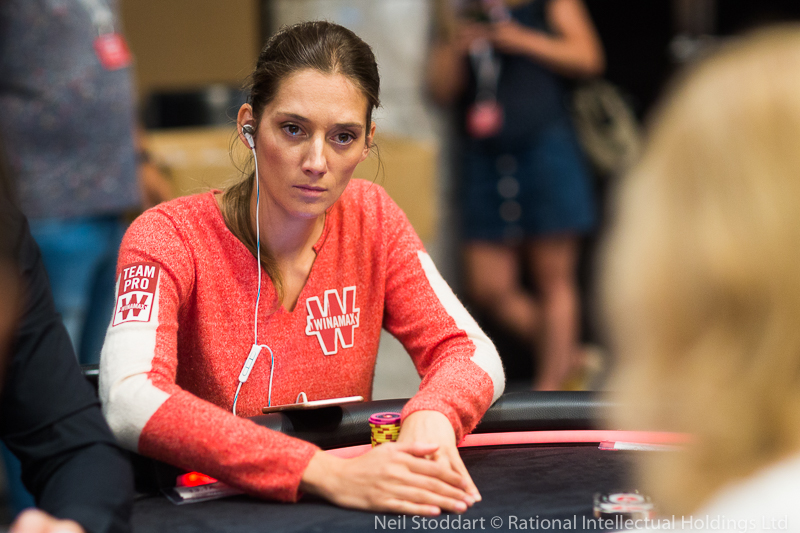 All systems go for Gaelle
12:50pm: Big-bet poker
Level 1 – Blinds 100/100
It's just the first level, but that didn't stop Ramon Colillas just now from putting all of his chips in the middle.
The board showed 3♦4♦Q♠7♦A♥, so the flush was possible, as was a straight or other lesser holdings. Whatever he had, Colillas checked and watched Fredrik Andersson make a modest bet, and in response Colillas put his entire stack of 25,000-ish forward.
Andersson didn't fold right away, but eventually let his cards go, not ready to face such aggression so early. –MH
12:40pm: Brummelhuis and Baumann in action
Level 1 – Blinds 100/100
A couple of players known for deep World Series of Poker Main Event runs are here in the field, sitting at neighboring tables.
One is Michiel Brummelhuis of the Netherlands. His $2 million-plus in tournament earnings were boosted significantly by a seventh-place finish in the 2013 WSOP Main Event, good for over $1.22 million
Also here is Gaelle Baumann of France who the year before in 2012 made it all of the way to 10th in the WSOP Main, earning just over $590K. She has almost $1.1 million career earnings. –MH
12:30pm: Value for Vladimir
Level 1 – Blinds 100/100
The Russian Vladimir Demenkov picked up a quick boost to his stack here in the early going after reaching the river in a hand versus Haoran Haoranyi of China.
With the board showing J♥5♥10♥2♣4♥, Demenkov fired 3,400, a bet representing a significant percentage of the pot, and got a call from Haoranyi. Demenkov tabled K♥K♦ for the almost-nuts, and Haoranyi mucked. –MH
12:27pm: Carlos caps some off Wilinofsky
Level 1 – Blinds 100/100
Benjamin Wilinofsky is in the field and has a haircut that's been described as… asymmetrical.
On top of that, he just lost a hand he nearly took down preflop. Wilinofsky called from the small blind that hand and Anton Carlos folded his hand from the big blind. Wilinofsky pointed out that he didn't have to fold and the dealer let Carlos take his hand back.
Carlos then bet every street of the Q♦3♦2♣3♥6♥ board and Wilinofsky called all the way down. Carlos then turned over K♥Q♠ after Wilinofsky called his 800 river bet and Wilinofsky mucked.
The hand pot Carlos up to 35,000 while Wilinofsky dipped below starting stack. –AV
12:22pm: More early arrivers
Level 1 – Blinds 100/100
The number of players keeps rising and so do the number of recognizable faces. Some of the most recent additions are 2013 World Series of Poker Main Event Champion, Ryan Riess, and Russian poker powerhouse Vladimir Troyanovskiy. –AV
12:15pm: Early arrivers
Level 1 – Blinds 100/100
When the first hands were dealt there were 270 players registered, although that number will steadily increase as late registration is open until the start of Day 2.
Among the early arrivers here today are Dan Shak, Quan Zhou, Andres "Cacho" Korn, Max Silver, and Orpen Kisacikoglu. –MH
12:10pm: Shuffle up and deal
Level 1 – Blinds 100/100
And they're off! Players begin with 30,000 chips, with the blinds 100/100 here to begin. The big blind antes will kick in starting with Level 2.
Tournament Director Toby Stone instructs the dealers to begin
Don't forget — there will be three Platinum Passes to the PokerStars Players No Limit Hold'em Championship (PSPC) awarded in this event. Details on that to come. –MH
---
11:00am: The Monday main
We're back in Barcelona and players are starting the week off with the €5,300 EPT Barcelona Main Event. It's a great way to start off your Monday. Try it, you could win a lot of money. Last year's event drew nearly 1,700 players and Sebastian Sorensson topped them all to win almost €1,000,000.
There's another big crowd expected this year, especially since there are a few shiny surprises in the prize pool. There are three Platinum Passes up for grabs this event and players will get a second shot at everything in this single re-entry tournament.
Play kicks off at 12 p.m. with 100-200 blinds and 60-minute levels. We'll have a 20-minute break after levels 2, 4, and 8; as well as a 75-minute dinner break after level 6. After level 10, the lucky survivors will bag-and-tag and get a well-deserved break while day 1B plays out on Tuesday.
Check out the full schedule here.
That's still a while away, but why don't you join us while we get there. Follow all the action right here as we cover this year's EPT Barcelona Main Event live. If you're craving some more high stakes action, then check out our Super High Roller coverage.
That tournament is down to nine players and they'll be playing down to a champion today.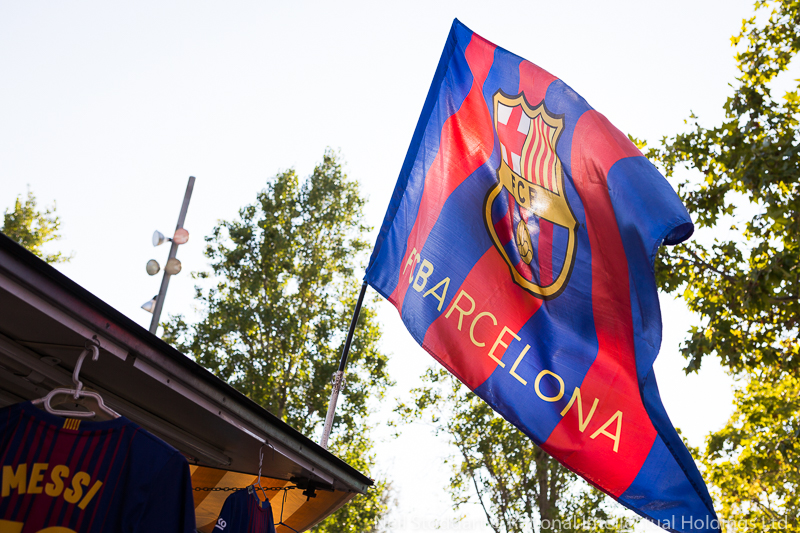 ---
Download the PokerStars LIVE! app with all tournament information. Available for IOS and Android.
PokerStars Blog reporting team on the €100,000 Super High Roller: Stephen Bartley, Martin Harris, Jason Kirk, and Alexander Villegas. Photography by Joe Giron/PokerPhotoArchive and Neil Stoddart.