Tomorrow, during Day 1B of the €5,300 EPT Prague Main Event, a couple of PokerStars Team Pros will be talking through some interesting hands live on a social media platform. We can't spoil it by telling you who, though. We only know this because we–the PokerStars Blog–were asked to choose those hands.
You're welcome, in advance.
Anyway, the reason we mention this is because we thought it would be a good way to do tonight's wrap of Day 1A of the Main. After all, it was a Day 1 like any other. Chips were won. Stacks were lost. And Martin Kabrhel talked. A lot.
But there were definitely some interesting hands along the way, so scroll down through our live coverage to check them out. We understand it's late though, so if you're about to crash we'll just tell you the "need to know" stuff.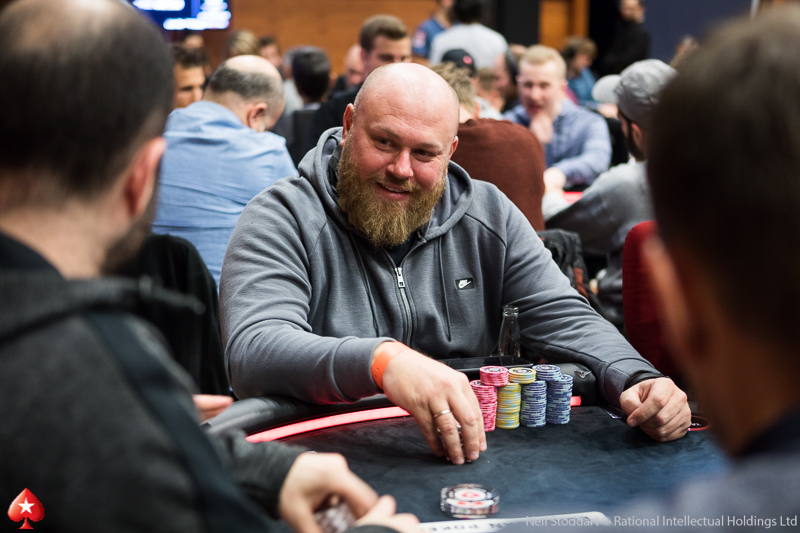 John Saralis bagged big
John Saralis is the chip leader tonight, having turned his 30,000 starting stack into 297,400 after ten 60-minute levels, thanks in part to winning a huge pot off of Sam Grafton. But while Grafton didn't make it through, plenty of other big names did. Some other big stacks belonged to Xixiang Luo with 241,900, Patrik Antonius with 209,600, Niall Farrell with 200,300, and Parker "Tonkaaaap" Talbot with 191,900.
371 players entered today, and when the chips were bagged just 140 made it through to Friday's Day 2. You can see all of the end-of-day chip counts right here. But in the meantime, let's get to those interesting hands.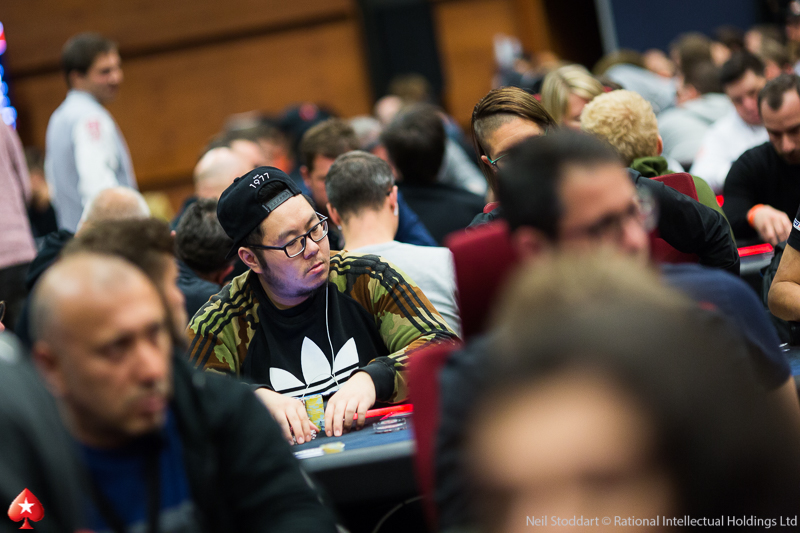 Danny Tang
There was the 11:08pm hand, which saw Danny Tang make "the biggest fold of my career" (Tang made it through with 70,200).
Then there was Juha Helppi calling a four-bet with 10♥6♥, and ultimately defeating Dan Wilson's big slick. You'll find that one at 6:40pm (Helppi made it through with 94,900).
We also saw the aforementioned Kabrhel (who busted) trying to outplay a dealer at 8:50pm.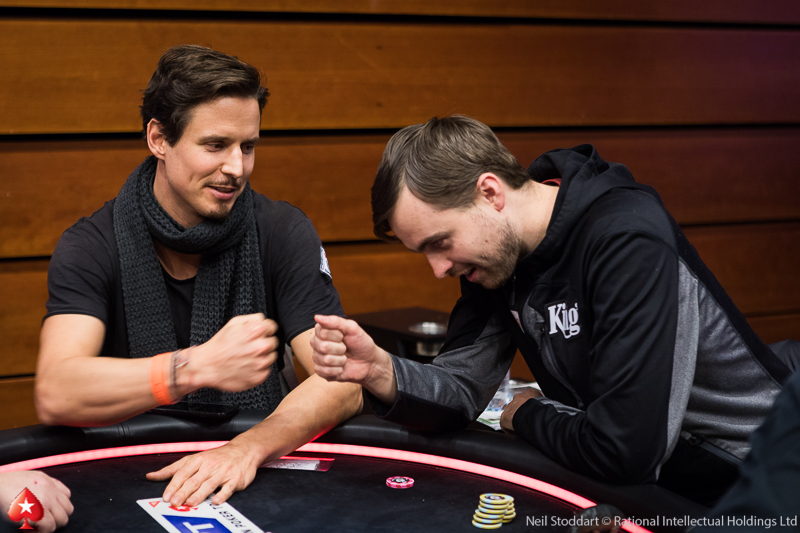 Martin Kabrhel (right)
And we watched the No. 1 ranked online player in the world, Niklas "Lena900" Åstedt, flop the nuts AND a straight flush draw. It's just not fair, right? Check that out at 8:30pm (Åstedt busted).
Actually, y'know what? All of our posts today are worthy of your attention, so before you hit the hay, give them all a butchers.
We'll be back at 12pm tomorrow for Day 1B, so join us back here then. Oh, and keep your eyes peeled for that social media live chat with…you'll have to wait and see. –JS
---
DAY 1A COVERAGE ARCHIVE

• ENTRIES: 371 (including 40 re-entries)
• CHIP COUNTS | PAYOUTS
• MATTHIAS EIBINGER WINS SUPER HIGH ROLLER EVENT
• ALL EPT PRAGUE INFO | TOURNAMENT SCHEDULE
• DOWNLOAD POKERSTARS | Follow @PokerStarsBlog on Twitter
---
12:15am: Count in fives
Level 10 – Blinds 600/1,200 (BB ante 1,200)
Just five more hands to go on the night. –JS
12:12am: Tonkaaaa near the top of the counts
Level 10 – Blinds 600/1,200 (BB ante 1,200)
Parker "Tonkaaaap" Talbot has had a very successful Day 1A, and with just a few minutes left on the clock he's in possession of one of the room's largest stacks.
He just took a small pot off Luc Greenwood, whose stack sits at the opposite end of the counts. It was a limped pot pre, and on a 5♥8♦9♠ flop it checked to Talbot. He led for 1,500, and Greenwood called while Alexander Lukyanov got out the way.
The turn was the 4♠ and when it checked to Talbot again he put in 15,000 – a huge overbet to the pot, but it was essentially just a shove as Greenwood had just 10,000 behind.
He thought about it but folded, and Talbot is now on 215,000 as the end of play looms. –JS
12:10am: All that pain, but thankfully, a lot of gain for Farrell
Level 10 – Blinds 600/1,200 (BB ante 1,200)
Niall Farrell put himself through the ringer after four-betting and getting jammed on, but he was "Loving it" in the end and has a stack approaching 200k.
Adrien Delmas had opened to 3,000 before Joao Barbosa three-bet to 10,500 off the button and Farrell four-bet to 27,200 out of the big blind. The action was back on Delmas and is put all his 85,600 chips into one pile and slid them forward. Barbosa folded to leave Farrell to get a count, looked pained and then make the call.
Farrell: Q♦Q♥
Delmas: 10♦10♠
The board ran 3♥7♦4♠8♥8♣ to see the queens hold to send Delams to the rail at the death. –MC
12am: The Brit report
Level 10 – Blinds 600/1,200 (BB ante 1,200)
We just clocked Sam Grafton and Jack Sinclair having a drink by the bar, so it's safe to say they're both out.
As for Jack Hardcastle – who had his aces cracked by kings right at the beginning of the day to drop him to 6,000 – is now sitting pretty with around 90,000.
"It's been a spin," he told us. "Kings over queens." –JS
11:55pm: Lucky sevens for Soyza
Level 10 – Blinds 600/1,200 (BB ante 1,200)
Michael Soyza and Mike Addamo are regulars on the Asia poker circuit so will probably know each other's games fairly well. We witnessed Soyza successfully three-bet Addamo off a hand earlier; when he tried it just now though, he was called and had to get lucky on the river to survive.
Addamo opened to 2,600 from the cutoff and was called by the small blind before Soyza squeezed all-in for 17,700. Addamo was the only caller.
Soyza: 7♥7♦
Addamo: A♠8♥
The board ran 8♠2♠9♠5♥7♠ to see Addamo take the lead on the flop only for it to swing away from him on the river. He dropped to around 40,000. –MC
11:40pm: Hong avoids joining Lovgren, Adams and Silver on the rail
Level 10 – Blinds 600/1,200 (BB ante 1,200)
As we entered the tournament room Sofia Lovgren, Timothy Adams and Max Silver were heading the opposite direction without any chips.
Nan Hong was at risk of joining them after his 5,900 all-in was called, but he managed to survive. Martin Kabrhel was in the big blind and made the call.
Kabrhel: J♠10♠
Hong: K♠6♠
The board ran K♣J♣7♣A♥8♦ making Hong the bigger pair. –MC
11:30pm: Last level
Level 10 – Blinds 600/1,200 (BB ante 1,200)
We're into the final level of Day 1A, so in 60 minutes the chips will be bagged and tagged.
Right now, we believe John Saralis is the chip leader with 242,000. –JS
11:25pm: Michaelis collects from Grafton
Level 9 – Blinds 500/1,000 (BB ante 1,000)
Paul Michaelis opened to 2,200 from middle position and was then three-bet by Sam Grafton on his immediate left to 7,100. Back to Michaelis, he called to see the 5♥J♥8♥ flop, which both then checked.
The 7♦ hit the turn and Michaelis checked once more. Grafton made a delayed c-bet of 9,000, only for Michaelis to then set him all-in. He had to give it some thought, but would eventually lay it down and live to fight another hand.
Grafton's on 29,300 after that one, while Michaelis is up to 75,000. –JS
11:18pm: Huber tripped up by Kabrhel
Level 9 – Blinds 500/1,000 (BB ante 1,000)
There was a bit of commotion going on at table Huber-Kabrhel so we dashed over to see that it was actually Stefan Huber and Martin Kabrhel themselves tangling in a big pot.
The two opponents had amassed a pot worth 27,000 by the time the board rested as 7♦10♥5♥5♣9♣. Huber had 11,000 out in front of him in the big blind and was facing a 36,600 all-in from Kabrhel in the next seat.
Kabrhel noticed our arrival and said, "I win, you can write it down and be the first in the world to report the news!"
Huber made the call with 10♣7♠ for two pair but Kabrhel opened K♠5♠ for turned trips.
"It was a good flop," said Huber who dropped drown to around 100,000.
"Why did you check the flop?" Needled Kabrhel. "Bad move to check a flop when you have two pair. You let a lucky b&*t4rd like me hit on the turn." –MC
11:08pm: The biggest fold of Danny Tang's career
Level 9 – Blinds 500/1,000 (BB ante 1,000)
Danny Tang called this "the biggest fold of his career" just now. See what you guys think.
We picked up the action on a 9♦2♥Q♦K♣ board, with around 27,000 in the middle. Tang had checked it to Xixiang Luo, who then led for 13,500. Liviu Ignat then shoved for 45,000, and Tang–who had 27,000 behind–was deep in the tank.
He had pocket queens for a set.
"I'm gonna be so pissed if I'm wrong," Tang said after a couple of minutes. All the while Luo was staring at him, and I may be wrong, but it sounded like Tang asked him to stop at one point.
He eventually did make the fold, and was relieved to see Luo show 10♠J♠ for the nut straight versus Ignat's A♦10♦ for a semi-bluff with the nut flush draw and a gutshot.
The river was the A♥, and Luo took down it down.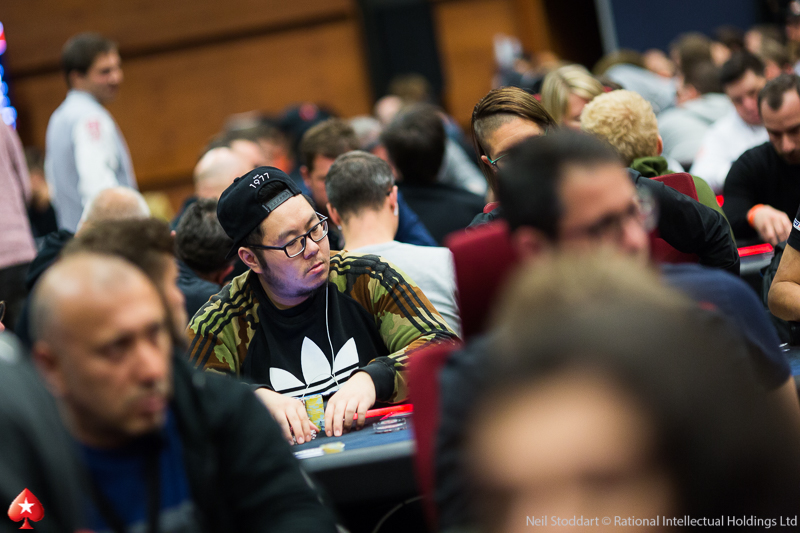 Danny Tang
"I had queens!" Tang revealed to the table. "What else am I f**cking thinking that long for?"
Tang then explained his fold to the table.
"If he [Ignat] folds, then I shove," he said. "It's such a sick spot though because when he [Ignat] semi-bluffs, he blocks the nut straight."
The chips were cleared and the dust began to settle, but Tang was still pumped from his play.
"Best fold I ever made," he said, to a rather tepid reaction from the other players. "What, you guys snap fold that? Not against him [Luo] I don't. You guys don't know him. I know him very well. He punts!"
We couldn't possibly say. All we know is Luo's chip leader right now with 198,000. –JS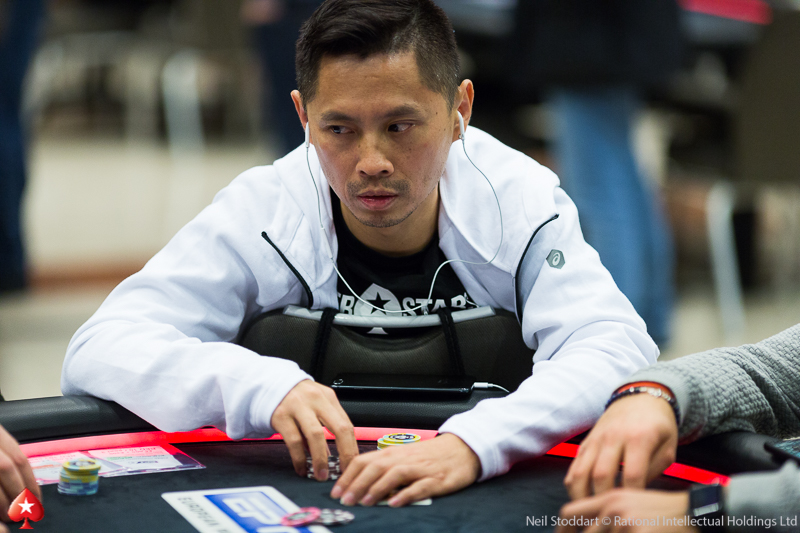 Luo's not low on chips
10:55pm: Duco in Haven as he eliminates O'Dwyer
Level 9 – Blinds 500/1,000 (BB ante 1,000)
Steve O'Dwyer will win a tournament one of these days, mark my words. Today was not his day as he busted in a battle of the blinds.
The action folded around to Duco Haven in the small blind and we think he just sneakily completed holding Q♠Q♣. O'Dwyer looked down at A♠4♥ and moved all-in for 21,900. Snap call.
Before he was confined out, the board trolled O'Dwyer as the window card was the A♦ but it was quickly followed by the Q♥ and 9♥ to make Haven a set. The board then ran out 4♠5♥. –MC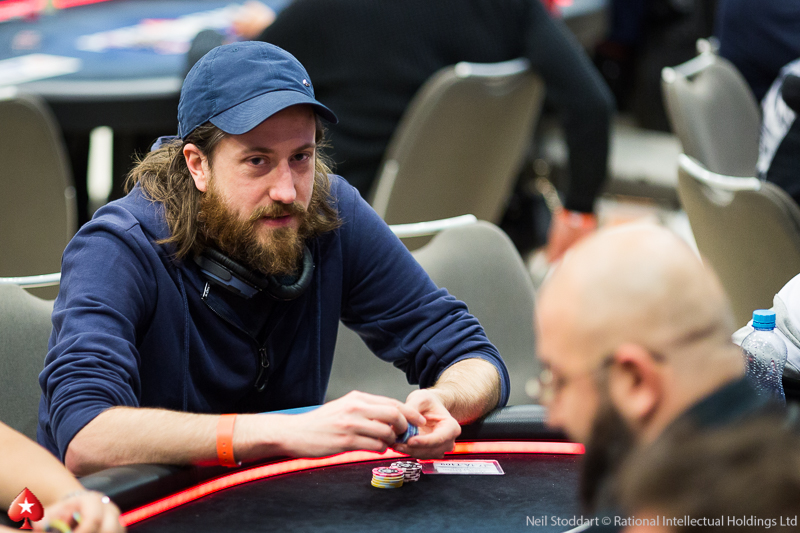 Steve O'Dwyer with chips
10:45pm: Big stacks
Level 9 – Blinds 500/1,000 (BB ante 1,000)
We've just a look around the entire field. Here's a look at the biggest stacks in the room right now. –JS
Xixiang Luo – 198,000
Konstantin Farber – 173,000
Carlos Branco – 160,000
Tibor Nagygyorgy – 160,000
Parker Talbot – 158,000
Wael Sarkis – 157,000
Gary Hasson – 153,000
Iliya Iliev – 150,000
Patrik Antonius – 123,000
Marcin Chmielewski – 117,000
Conor Beresford – 105,000
10:30pm: Barbosa triples up
Level 9 – Blinds 500/1,000 (BB ante 1,000)
Joao Barbosa found a nice turn card to triple up with the worst hand going in, and Niall Farrell came out profiting a massive 300 chips.
The action folded to Barbosa on the button and he moved all-in for 13,600. Farrell was in the next seat and tried to isolate with a jam but Joseph Sabe looked down at a big hand in the big blind and called all-in.
Farrell: 8♥8♦Q♦
Barbosa: K♠4♠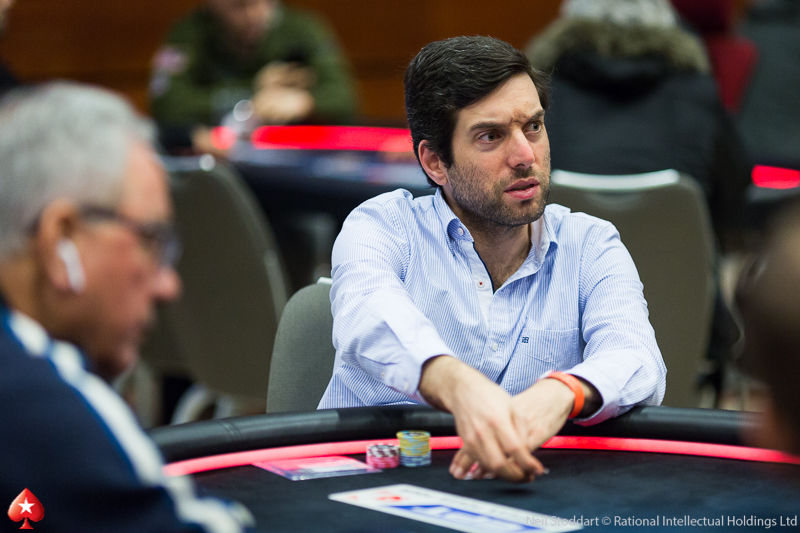 Joao Barbosa in grind mode
"I bet your loving life!" Farrell said to Barbosa referring to him having a live hand after being called in two spots.
The Portuguese player was loving life even more when the board ran 10♣3♠7♠K♦6♥. He took the main pot and Farrell took the side pot. The latter was asked if he made any profit and Farrell counted and responded, "Won 300. I won 300!" That put him up to around 60,000. –MC
10:20pm: Last two levels
Level 9 – Blinds 500/1,000 (BB ante 1,000)
Just two more hours to go for the day. –JS
10pm: Last break of the day
Level 8 – Blinds 400/800 (BB ante 800)
The players are on their last break of the day and will play two more levels when they return in 20 minutes time. –MC
9:48pm: Bad river for Antonius
Level 8 – Blinds 400/800 (BB ante 800)
Picking up the action on a 9♦10♠9♣ flop, Antonius checked it to his sole opponent–Jans Arends–who made a bet. We didn't see how much though as Antonius had already check-raised it to 4,500 when we got there. Call.
The J♣ hit the turn and Arends then moved all-in for 14,100. Antonius snap-called showing K♣9♥ for trips, which was ahead of Arends with Q♣J♥ for top pair and an up-and-down draw.
Unfortunately for Antonius, the 8♥ landed on the river giving Arends the straight and the double up. He's up to 38,000 now, while Antonius is still very healthy with 115,000. –JS
9:40pm: Tang tangles with Sinclair
Level 8 – Blinds 400/800 (BB ante 800)
Danny Tang has had a fine 2018, cashing for more than $700K thanks to deep runs in both the EPT Barcelona Main Event and the WSOP Main Event.
Speaking of WSOP Mains, Jack Sinclair knows a thing or two about them. He final tabled the one in Vegas in 2017, and then took down the European equivalent this year for €1.12 million.
The two are sat at the same table, and just played a pot together which began with Sinclair opening to 2,000. Tomas Jozonis then called from the cutoff, and Tang defended his big blind to bring a 3♠4♣8♣ flop. Everyone checked, and the turn was the J♣ prompting Tang to lead out for 3,800. Sinclair called, and Jozonis folded.
The K♥ completed the board, but there'd be no more betting. Tang showed Q♥J♥ for second pair, and that was good when Sinclair mucked. –JS
9:32pm: Farrell completes the queen-jack set
Level 8 – Blinds 400/800 (BB ante 800)
We've reported Niall Farrell winning a hand with queen-jack, losing a hand to an opponent with the same hand, now he's won a pot with a board containing queen-jack.
The Scottish pro opened to 1,100 from middle position and was called by Karim Souaid in the cutoff before Ondrej Drozd squeezed to 6,000 off the button. Both opponents called and all three went on to check the 5♣7♦J♣ flop. The turn was the Q♦ and Farrell led for 11,000. Two fold were quick in coming and Farrell's stack grew to around 57,000. –MC
9:20pm: Former champ running out of Lukyanov?
Level 8 – Blinds 400/800 (BB ante 800)
Jasper Meijer van Putten took this title down two years ago and is in the field today. He dropped down to 24,000 though after he had kicker issues in a hand versus Alexander Lukyanov.
Van Putten opened to 2,000 from under the gun and called after Lukynov three-bet to 6,500 from middle position. The flop fell 8♥A♣Q♣ and Van Putten check-called a 3,600 c-bet before both players went on the check the 7♥ turn. That was invitation enough for Van Putten to value bet his A♦9♦ on the Q♠ river but he was called and shown A♠K♠. Lukyanov moved up to 75,000. –MC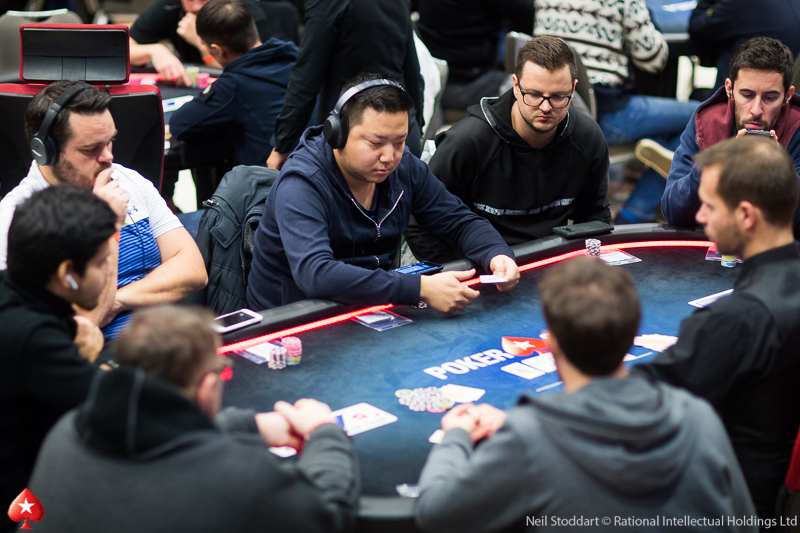 Jasper Meijer van Putten (centre) back to reclaim his title
9:10pm: Probirs 1 – 1 Proudflop
Level 7 – Blinds 300/600 (BB ante 600)
Earlier we told you about online superstars being sat aside one another (see 5:50pm). One of those mentioned was Andras "probirs" Nemeth, and the €50K Super High Roller runner-up is now on a new table playing his second bullet.
He's sat opposite one Jonathan "proudflop" Proudfoot, another giant in online poker. But while Proudfoot currently sits at no.10 in the world (according to PocketFives), Nemeth is at no.5.
The two have clearly been battling based on what we just saw.
Nemeth opened to 1,300 from the hijack and Proudfoot defended his big blind bringing a Q♣3♦10♥ flop. It checked to Nemeth who continued for 1,400, and Proudfoot let it go.
"Yes!" said Nemeth, fist-pumping the air despite the small size of the pot. "1-1".
Proudfoot had taken down a pot against Nemeth earlier, and he wasn't over it yet.
"What did you have that hand when you went all-in on the river?" Nemeth asked him.
"I'll tell you later," replied Proudfoot.
It may be one-all in the scores, but in the stacks Proudfoot leads with 70,000 to 34,000. –JS
9pm: Lukyanov seizes from Seiwald
Level 7 – Blinds 300/600 (BB ante 600)
We just caught a hand featuring 2016 Prague Main Event champ Jasper Meijer Van Putten, although it was Roberto Nunez Seiwald and Alexander Lukyanov who were the main players in this scene.
With a 7♥9♠4♦ flop already out there, Lukyanov checked it to Seiwald who led for 2,500. Van Putten made the call, before Lukyanov check-raised it up to 6,600. Both players called to see a turn, and it came the 9♦. Lukyanov continued for 10,000, and Seiwald wasn't done with this one. He called to see a river, while Van Putten stepped aside.
The 6♥ completed the board and Lukyanov fired 11,000 into a pot of more than 40,000. Seiwald gave it some serious thought, but ultimately laid it down taking his stack to 34,600. Van Putten has 22,600, and Lukyanov is up to 49,000 now. –JS
8:50pm: Huber doubles and the dealer gets outplayed
Level 7 – Blinds 300/600 (BB ante 600)
There are many chatty poker players about and then there's Martin Kabrhel. The local player takes table talk to a whole new level and as a poker blogger who covered him for many years, you tend to hear the same kind of chat on repeat. But to be fair to him, he did just drop a fresh line (to me anyway) that made me smile.
After he scooped a pot by punishing a bunch of limpers with a big raise, he said, "I think I can outplay this dealer!"
His neighbour Stefan Huber has something to say after that and Kabhrel jokingly told him to concentrate on his own game. The Swiss pro laughed and then immediately took his advice by doubling the very next hand. He got in a preflop raising war with a table mate that saw him call all-in for 50,000 holding Q♠Q♣. His opponent opened 9♠9♥ but failed to come from behind as the board ran J♥3♠5♠4♣4♠. — MC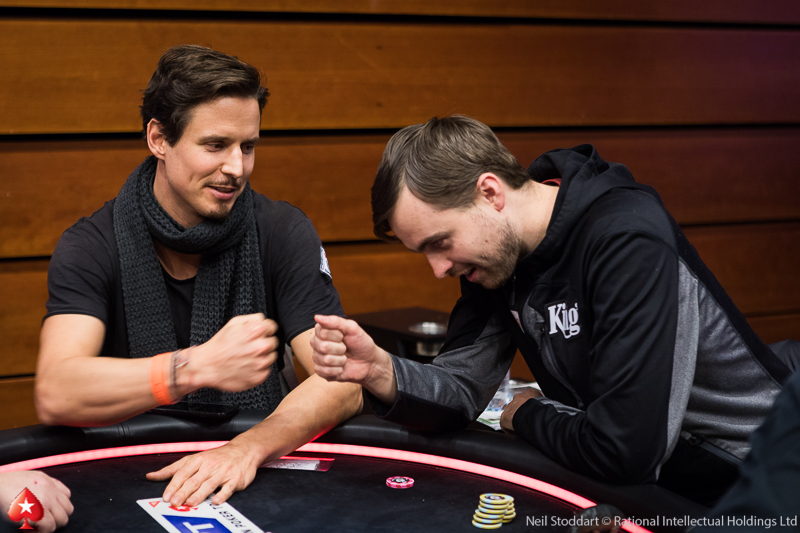 Huber (left) with Kabrhel
8:40pm: Kings hold on to oust Haraldstad
Level 7 – Blinds 300/600 (BB ante 600)
Joachim Haraldstad called all-in with a nut flush draw but it failed to come in and he hit the rail.
He was tangling heads up with Marc Lange and the chips went in on a Q♠J♦4♠ flop. Lange checked-raised all-in from the big blind after Haraldstad bet 5,600 from the cutoff. The Norwegian had around 28,000 back and committed them all.
Haraldstad: A♠9♠
Lange: K♥K♦
The board ran out 6♥3♥ and Lange moved up to around 80,000. –MC
8:30pm: Lena900 doing what Lena900 does
Level 7 – Blinds 300/600 (BB ante 600)
Niklas "Lena900" Åstedt opened to 1,300 on the button and was then three-bet to 4,600 by Francois Billard out of the small blind. It folded back to Åstedt who made the call, and the flop came 8♠7♥9♠.
Billard then shoved for 22,100 into the 10,400 pot, and Åstedt couldn't have called quicker. He'd flopped the nut straight and a flush draw with his J♠10♠, but would need to dodge a spade to hold versus Billard's A♠2♠. The two shared a smile.
The 8♥9♦ turn and river kept the straight best, and Billard tapped the table as he made an exit. Åstedt is up to 69,000 now. –JS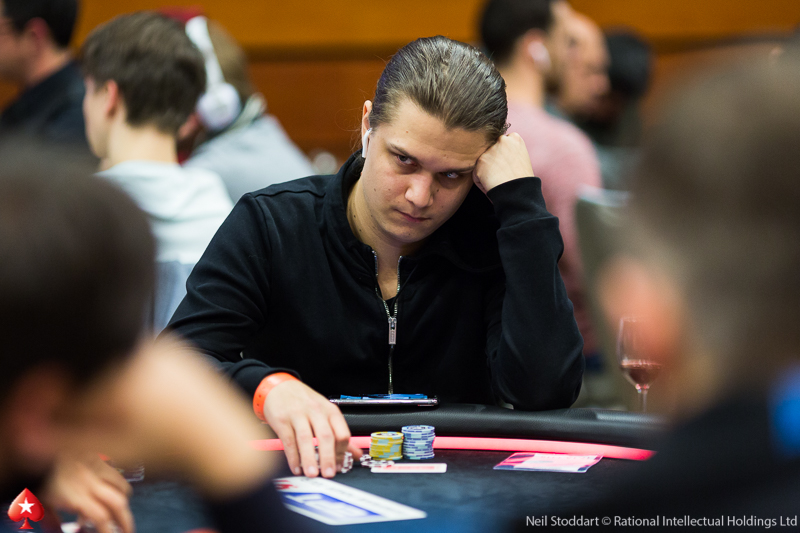 Niklas "Lena900" Astedt
8:20pm: Fishy Carrel MIA again
Level 7 – Blinds 300/600 (BB ante 600)
Last night during the Super High Roller, Charlie Carrel made the other six remaining players promise that they would wait an extra five minutes for him after the dinner break. His reasoning was that he had to run back to his airbnb to cook.
He managed to make it within the five minutes that time, but after dinner break today he was late again. When we walked past his seat we saw Max Silver putting in Carrel's big blind and ante for him due to him being MIA.
A few seconds later and Carrel burst through the door, jogging to his seat.
"No, don't tell me I'm big blind!" he groaned, seeing that the hand had begun and his cards were already in the muck. We assumed he'd gone back to cook again, but his reason for being late was a little different this time.
"I went to the hotel restaurant and ordered five of the same meal," he said.
"Five?!" asked Michael Soyza, a little shocked.
"Yeah. I had the halibut and they don't give you much," Carrel explained. "So now I'm the most fishy at the table."
He returns to 60,500. –JS
8:15pm: Delmas takes from Farrell
Level 7 – Blinds 300/600 (BB ante 600)
Niall Farrell looked a tad annoyed at himself after he called a value bet with the worst of it versus Adrien Delmas.
We picked up the action on the turn where the board read J♠3♣5♣Q♠. Delmas was in the big blind and led for 4,800, which was called by the Scottish former EPT champion. Delmas bet another 12,500 on the A♦ river and opened Q♥J♥ for two pair when he was called. Farrell mucked and dropped to around 44,000. Delmas rose to 52,000. –MC
8:05pm: Dinner done, four more levels to play
Level 7 – Blinds 300/600 (BB ante 600)
Cards are back in the air for the last four levels of the day.
6:45pm: Break time
That's the end of Level 6 and the players are going on a 75-minute dinner break. The current total is 347 entries with 27 re-entries. Of those, 242 remain.
6:40pm: Nukethefish needs some Helppi
Level 6 – Blinds 200/500 (BB ante 500)
Dan Wilson, perhaps better known under his PokerStars name "Nukethefish", has just seen his stack decimated by the hand of Juha Helppi.
Wilson opened to 1,100 from the cutoff and was three-bet by Helppi on the button. We're not sure of the amount (Helppi had a 5,000 chip in front of him rather than a specific amount), but when it was back to Wilson he four-bet to 9,000. Helppi called.
The flop fell 9♠J♥K♥, definitely a board that could create some action. Wilson opted to check it, letting Helppi take the betting lead for 15,000. After a minute of thinking Wilson shoved with the bigger stack, and Helppi snap-called for his 33,400.
Wilson: A♥K♦
Helppi: 10♥6♥
Wilson's top pair top kicker was in front but Helppi had plenty of outs to a flush or straight. The 2♥ turn improved him immediately, and Wilson couldn't redraw with the J♠ river.
He's down to just 8,000 now, while Helppi doubles to 77,000. –JS
6:30pm: New table, more chips for Antonius
Level 6 – Blinds 200/500 (BB ante 500)
Alexander Ivarsson, Jonas Lauck and Aku Joentausta played out a pot that didn't go to showdown and seemingly left everyone really wanting to know what each of them had.
Ivarsson opened the pot with an 1,100 raise from early position before Lauck three-bet to 3,500 off the button and Joentausta four-bet to 10,000 out of the big blind.
Ivarsson and Lauck both called to a Q♥8♠10♥ flop where the former led for 12,000. Lauck called and Joentausta looked like he was going to make a move but ultimately folded.
The turn was the 7♠ and Ivarsson set Lauck all-in for his remaining 45,000. He folded and Ivarsson's stack grew to 110,000.
What do you think they all had?–MC
6:20pm: Silver is gold
Level 6 – Blinds 200/500 (BB ante 500)
A stop by Table 9 reveals that Max Silver is feeling active — and at the moment that's working out swimmingly for him.
The first hand we saw was opened by Charlie Carrel, who made it 1,200 in the hijack seat. Silver made it 3,500 to go in the cutoff, and both Gary Hasson in the small blind and Carrel opted to call. Neither of them wanted any more action, though, after Silver bet 3,000 on the A♣Q♥2♠ flop.
Silver opened the next hand for 1,200 in the hijack and Hasson called again, this time from the button. The two of them were joined by Michael Soyza from the big blind to see a Q♥3♣J♣ flop. Soyza checked and then folded after Silver bet 1,600 and Hasson called. Silver fired another 4,200 on the 3♦ and Hasson let his hand go — and then Silver flashed him the 4♣.
Silver's now on 50,000; Hasson 62,000; and Carrel 80,000. –JK
6:15pm: Snug shove
Level 6 – Blinds 250/500 (BB ante 500)
Earlier on we told you about Niall Farrell's (made-up) reputation for playing snug (see 2:55pm). Perhaps Ondrej Drozd read it, because Farrell was just able to push him off a hand.
It started with a Manuel Ruvio open to 1,100 from the cutoff, which Farrell called on the button. Ismael Bojang let his small blind go, and when it got to Drodz in the big blind he squeezed it up to 4,500. That got rid of Ruvio, but Farrell stuck around for a flop.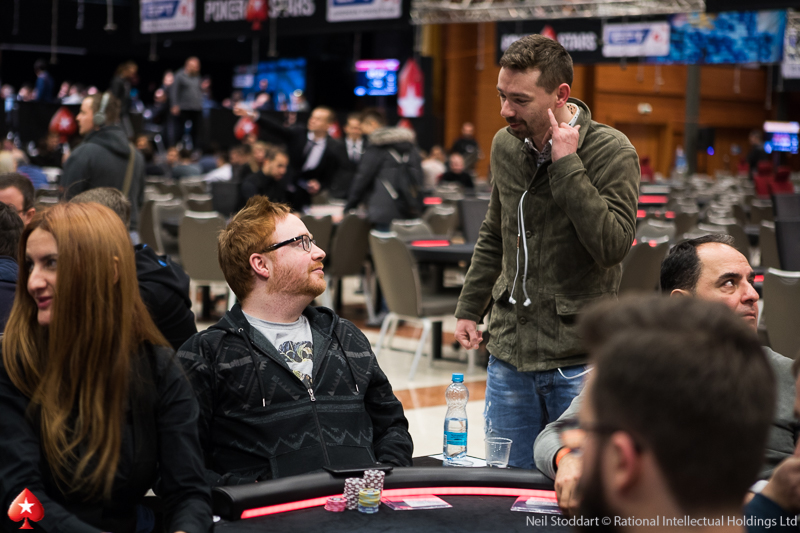 Niall Farrell: Here, Ludo, hear about my new reputation?
On the 6♠4♠2♣ Drozd made a 5,500 continuation bet, and Farrell had a decision. He took his time, then grabbed all of his chips (28,200) and placed them in the centre.
Before the dealer could even get out the all-in triangle, Drozd let his hand go. He's now on 35,000, while Farrell is feeling snug with 39,000. –JS
6:05pm: New table, more chips for Antonius
Level 6 – Blinds 200/500 (BB ante 500)
Patrik Antonius was balanced onto a new table as the number of Day 1A entries swelled to 342, and won a pot off Rabah Ait-abdelmalek to see his his stack grow to 135,000.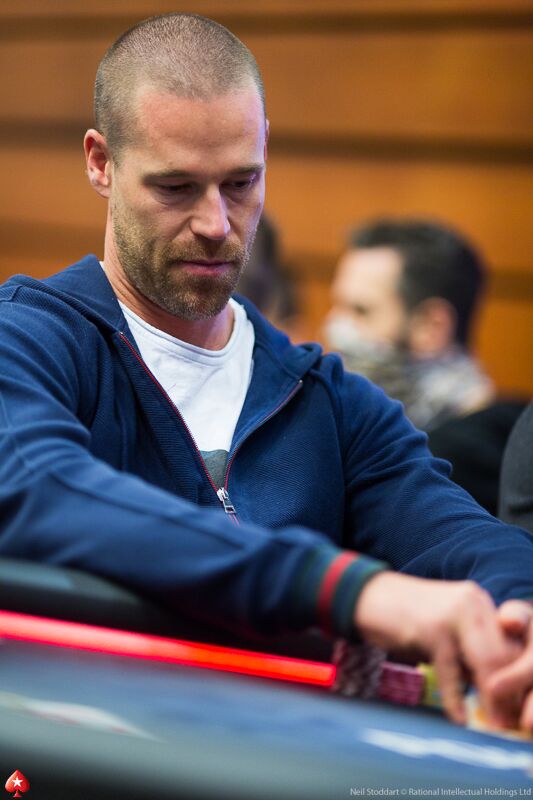 Patrik Antonius: Balanced
Ait-abdelmalek raised to 1,000 from the cutoff and called after his Finnish opponent three-bet to 3,700 from the small blind. Antonius kept the aggressive line all the way through the 3♦2♣10♠8♠K♥ board with bets of 4,000, 13,000 and 31,000 on each street. Ait-abdelmalek called the first two bets quickly, and looked as if he was going to do the same on the river as he grabbed 31,000 from his 46,000 stack, but he tanked and folded after Antonius called the clock on him. –MC
6:02pm: Muehloecker roasts Reeves
Level 6 – Blinds 200/500 (BB ante 500)
Luke Reeves has missed the target with his first bullet after a three-way pot against Kayhan Roshanfekr and Thomas Muehloecker.
Reeves opened the betting for 1,000 in middle position and drew calls from Muehloecker in the lojack seat and Roshanfekr in the big blind. Then they all checked the 8♥9♥10♣ flop.
Roshanfekr checked as well on the 7♦ turn, giving Reeves the opportunity to bet 2,300. Muehloecker thought for about 20 seconds and then called, as did Roshanfekr, and the river was the 4♠.
Roshanfekr checked one more time and Reeves moved all-in for his last 8,100. Muehloecker took a bit but finally called, chasing Roshanfekr away. He showed down A♠J♠ for a jack-high straight and that was enough for Reeves to toss his cards into the muck and head for the exit.
"Action table," said Muehloecker as he raked in the pot. He's now sitting on 112,000. –JK
6pm: A few faces
Level 5 – Blinds 200/400 (BB ante 400)
Neil Stoddart is out and about. Here are a few faces he has found in the crowd:
---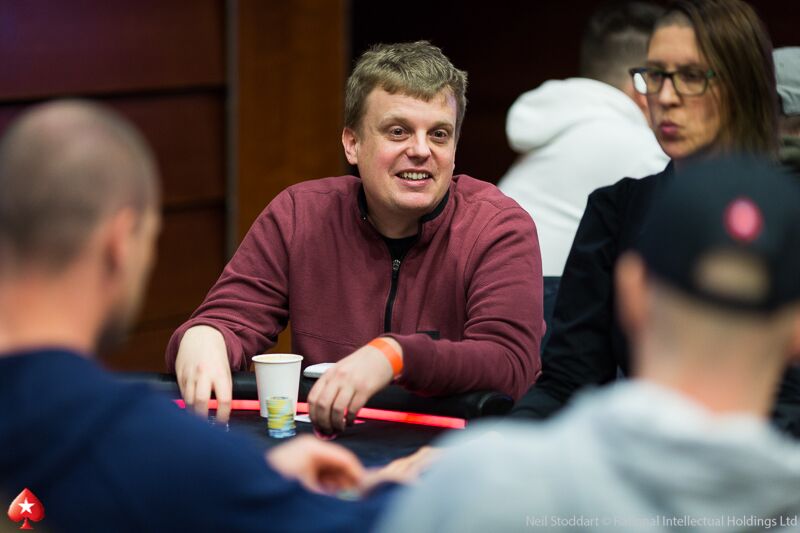 Vojtech Ruzicka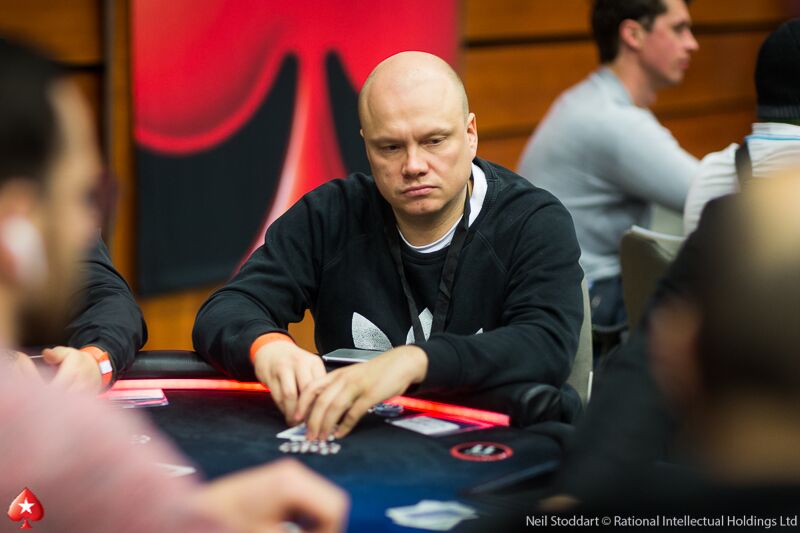 Illari Sahamies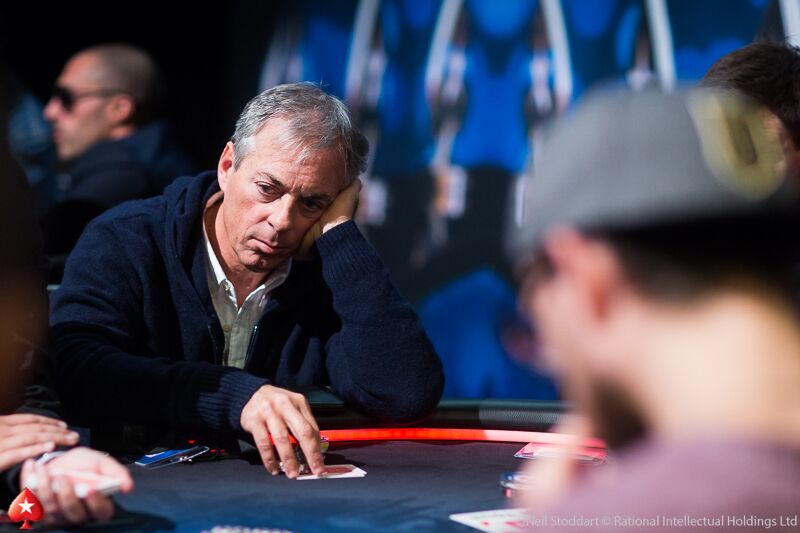 Lucien Cohen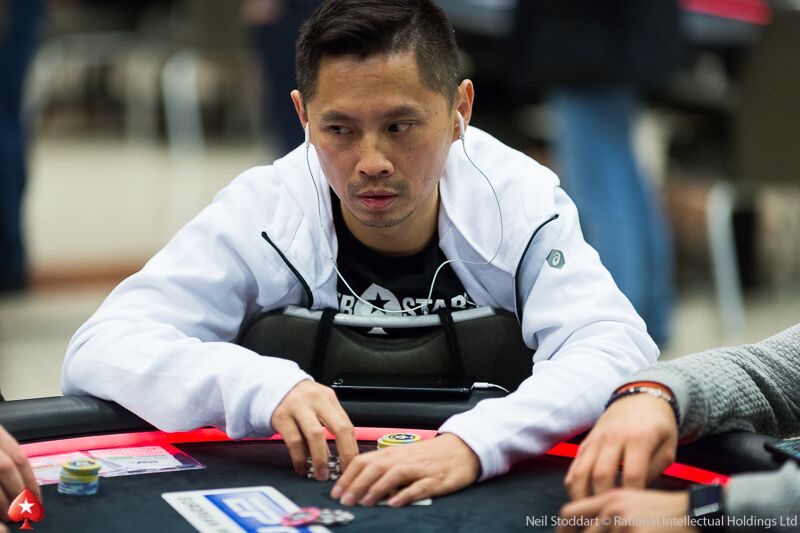 Xixiang Luo
---
5:55pm: Overheard in the tournament room
Level 6 – Blinds 250/500 (BB ante 500)
"If someone had told me five years ago that I would have been eating a vegetarian kebab…"
5:50pm: Is this the Sunday 500 or an EPT Main?
Level 5 – Blinds 200/400 (BB ante 400)
Our latest trip down to the poker room felt as if a high stakes online PokerStars tournament had entered the real world. Now that PokerStars offers Virtual Reality poker, maybe this will become commonplace.
First we were watching a hand between Parker "tonkaaaap" Talbot and Sam "Str8$$$Homey" Greenwood. Not much of interest happened, but when Talbot was done with it he got up and went to say hello to a player on the adjacent table.
That player turned out to be Niklas "Lena900" Åstedt, the current No 1 ranked online player in the world. Oh, and who was sitting on his right?
Andras "probirs" Nemeth, who just finished runner-up in the €50K Super High Roller a couple of hours ago.
When everyone returned to their seats they got down to some poker. Ben Dobson opened to 1,000 under the gun, and was then three-bet to 3,300 by Åstedt two seats over. It folded back to Dobson, and he was happy just to let it go.
Nemeth opened the next hand under the gun, making it 900, and he was three-bet to 2,800 by Carlos Branco in the hijack. Nemeth made the call and saw the A♥6♦4♦ flop, which he checked. Branco continued for 1,500, but that was too much for Nemeth who let his hand go.
Talbot has 16,000, Greenwood has 26,000, Dobson has 29,000, Åstedt has 29,000, and Nemeth is the shorty with just 6,700. –JS
5:45pm: Sejer tripping
Level 5 – Blinds 200/400 (BB ante 400)
Martin Sejer took a huge breath of release after he more than doubled up in a three way pot.
A 4♦5♠5♣ flop was on show when Bruno Volkmann led out for 6,000 from the big blind. He was called by Alexandru Brumaru to his direct left and then watched as Sejer raised all-in for 22,800. Volkmann successfully isolated him by shoving for just over an additional 20,000 chips with his Q♦Q♠, but he was behind to Sejer's A♣5♣. The board ran out 9♥J♥. –MC
5:40pm: Looks like we've got ourselves a reader
Level 5 – Blinds 200/400 (BB ante 400)
On a board of 4♣6♥Q♠10♣3♠ Norbert Szecsi was waiting patiently.
Not only was he waiting to see what his opponent, Antoine Labat, would do, he was waiting to return to the book he was reading. His hand was on the page, keeping his place.
Labat was thinking things through, but Erik Friberg was fed up. He called the clock. The floor person arrived, counted Labat down, and then declared his hand dead.
Szecsi stacked his chips with one hand, keeping his place in his book with the other. Labat meanwhile was being teased for losing, not least to a player reading at the table. – SB
5:30pm: Loosli looking for a new job in the morning?
Level 5 – Blinds 200/400 (BB ante 400)
It's always tricky when you're drawn at the same poker table as your boss. Sylvain Loosli is in that position today, as he's sat opposite his boss: Michel Abecassis. Just don't raise him off a hand, Loosli, and you'll be fine. Oh….
A 2♣4♥8♦ flop was out and three players had amassed a 4,000 chip pot. The action was checked to Abecassis on the button who bet 1,800, and he was called by the third party before Loosli raised to 6,000. The raise scared off his boss and the other player to see his stack rise to 27,000. Abecassis dropped a little to 35,000. –MC
5:20pm: Barbosa 1, Karakousis 0
Level 5 – Blinds 200/400 (BB ante 400)
It's pretty quiet over on Table 16 right now. The players seem to prefer to let their chips do the talking, including Joao Barbosa, who's seeking another 2018 EPT cash after bagging four of them in Barcelona back in August.
Georgios Karakousis opened for 1,000 in the hijack seat only to find himself re-raised to 3,500 on the button by Barbosa. Both blinds got out of the way and Karakousis, after some deliberation, tossed in the chips for a call.
Karakousis checked the 3♦7♦Q♠ flop, which gave Barbosa the opening to bet 2,900. Karakousis didn't look too sure about that and made the call. He checked again on the A♠ turn, but when Barbosa fired 5,000 he decided to retire from the hand.
Barbosa, a former EPT Warsaw champ, now sits on 38,000. Karakousis is just behind him at 34,000. –JK
5:15pm: Schwippert almost all-in
Level 5 – Blinds 200/400 (BB ante 400)
Having stone bubbled the €50K Super High Roller yesterday, things at least seem to be going well for Jan-Eric Schwippert so far today.
With a 6♥A♥J♣K♣7♣ board out there, Arnaud Enselme checked it and Schwippert put out a bet of 12,900, leaving himself just 2,000 behind. Enselme was thinking it over when we arrived and made the call shortly after, only to muck when Schwippert revealed Q♣6♣ for a runner-runner flush.
That hit bring Enselme's stack down to 28,500, while Schwippert is now playing 53,500. –JS
5:10pm: News in Brief
Level 5 – Blinds 200/400 (BB ante 400)
– Michael Soyza, who took his 2018 earnings up to $2.6 million with two six-figure cashes at the recent Jeju Red Dragon event, has become the 325th entry here on Day 1a, with 305 of those remaining.
– Sam Grafton lost a small one to Thomas Muehloecker to drop back to starting stack. He raised to 900 from under the gun and picked up three callers, including the Austrian in the small blind. All four players checked the 4♠5♦10♦4♦J♦ board down. Muehloecker opened K♣Q♦ for a flush and scooped the pot to rise to 78,000.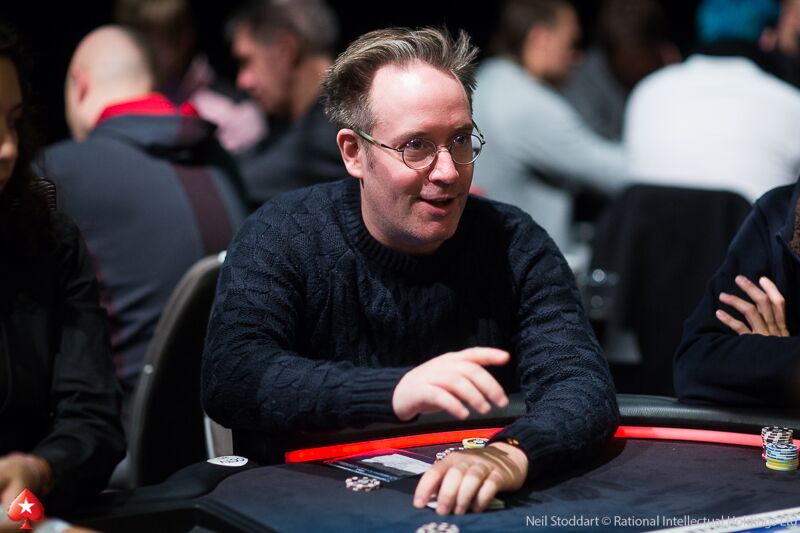 Sam Grafton at EPT Prague
– Reigning champion Kalidou Sow was on the wrong end of a set over set cooler versus Jia Tang, but luckily for him, the pot stayed small. Sow confidently opened his pocket fives on the river but was shown the bad news by Tang who took a little to long to expose the winning set of sixes. –MC
5pm: Feeling festive
Level 5 – Blinds 200/400 (BB ante 400)
Ever wondered what it's like playing poker in Prague at Christmas time? Have a watch and you'll find out. –JS
---
---
4:55pm: Mokrani trips up
Level 5 – Blinds 200/400 (BB ante 400)
We heard an all-in called out by the dealer, so stopped by to take a look. Mohamed Mokrani was the one doing the shoving for 23,500, but a quick glance at the pot showed there was less than 2,000 in the middle.
So, what the hell was going on?
Well, on closer inspection, Guenter Halak had a 5,000 chip in front of him. Using every ounce of my limited poker knowledge, I think it's a safe guess to say that Halak had checked the 6♣9♣9♦ flop over to Mokrani, who then bet. The 5,000 was then a raise, and the shove was a three-bet.
Halak was thinking about it, and eventually made the call. Mokrani showed Q♦Q♠ for an overpair to the board, but that was trailing Halak's J♥9♥ for trips.
The 10♠ hit the turn, followed by the 2♣ river, and with that Mokrani's Main Event was over.
Halak's day is just getting started though, and he now has 74,000 to play with. –JS
4:30pm: Break time
That's a 20-minute break people. — HS
4:29pm: Two ends of the spectrum
Level 4 – Blinds 100/300 (BB ante 300)
At one end of the chip counts you have Charlie Carrel and at the other end you have Viteszlav Pesta.
Carrel is a master of building a big stack early on in tournaments (he's pretty good late on too). Somehow he's turned his 30,000 starting stack into one worth 135,000 already, for what's mostly likely the biggest stack in the room.
Meanwhile, Pesta can only dream of a stack that size. He just called Georges Hanna's all-in turn shove with the worst hand and fell to 1,300 chips. The board read 8♣A♣7♣J♦ and Hanna's 18,700 shove into a 21,000 pot was called. He flipped over A♥7♥ for two pair, bettering Pesta A♦K♦ that failed to improve on the 5♣ river. — MC
4:28pm: Grafton grabs one
Level 4 – Blinds 100/300 (BB ante 300)
Sam Grafton is uncharacteristically quiet today — or he was, anyway, when we first showed up at his table. But after making a little headway in getting back to his 30,000 starting stack, he's chatting once again.
Grafton opened the action under the gun for 800, chasing away the rest of the field apart from the blinds, Thomas Muehloecker in the small and Joseph El Khoury in the big. Both of them checked the K♦4♥10♦ flop and Grafton checked behind.
The action picked up after both blinds checked the 4♠ turn. Grafton bet 1,000 and drew calls from both Muehloecker and El Khoury, bringing the 3♥ on the river. The blinds both checked again and after some consideration, Grafton bombed for 6,000. Neither opponent wanted anything to do with that, ceding the pot to the Englishman.
Grafton is now on 23,000; Muehloecker 55,000; and El Khoury 18,500. –JK
4:25pm: Asmar attack
Level 4 – Blinds 100/300 (BB ante 300)
Hady El Asmar just found the ideal flop for his hand to secure a double up.
All the money went in on the 8♦A♥5♥ board, with El Asmar holding 5♠5♣ for a set against Karim Souaid's A♣8♣ for top two. All he'd have to do is avoid an ace or eight, and he did so on the 4♥9♠ turn and river.
El Asmar let out a huge cheer as he saw his stack double to 54,000. Souaid has fallen to 54,000 after that one. –JS
4:20pm: Sow and Van Zadelhoff head to head
Level 4 – Blinds 150/300 (BB ante 300)
Kalidou Sow was trying to get Steven Van Zadelhof to show his cards.
"Only until you bust," Sow said.
Van Zadelhoff was laughing but not really convinced. The two played out a hand regardless.
Sow opened for 700, which Van Zadelhoff called for a flop of 5♠5♦Q♣. Both then checked with loud bangs on the table.
The turn came K♠ and Van Zadelhoff bet 1,000. Sow called for the 3♦ river. Two more loud bangs on the table and Van Zadelhoff showed his winning 10♦K♣.
Still in the spirit of things, Van Zadelhoff opened blind from under the gun on the next hand. This impressed Sow. But not the player to act before him who raised. Van Zadelhoff had to fold, showing [tx][3x]. — SB
4:10pm: Helppi chipping up
Level 4 – Blinds 100/300 (BB ante 300)
Frederik Jensen opened to 700 from the UTG+1 seat and it folded to Juha Helppi in the cutoff who made the call. Alexander Lukyanov called on the button, and Zoltan Szabo defended his big blind making it four ways to the 2♦8♦3♥ flop. It checked to Helppi who led for 2,000, and Lukyanov was his only caller.
The turn was the 5♠ and both decided to check it, bringing the K♠ river. It checked to Helppi again, and he took it down a 3,900 bet, bringing his stack up to 44,000. –JS
4:05pm: Nedved dominates the high rollers
Level 4 – Blinds 100/300 (BB ante 300)
There's a table in the Main Event today that has a distinctly high roller feel about it. All of Thomas Muehloecker, Luke Reeves and Sam Grafton have found themselves as table-mates in the €5K event having previously all done battle too in the €50K.
But it's Johnny Nedved who is leading the way at the moment, sitting with about 85,000 and winning a recent pot from Grafton.
Grafton opened to 700 from mid-position and watched as Nedved three-bet to 2,600 in the cutoff. The button and blinds folded back to Grafton, who put a four-bet out there, making it 7,000. Nedved called.
The two of them saw the 7♦4♥J♣ flop and, after Grafton checked, Nedved said he was all-in, putting Grafton's 18,000 into jeopardy. Grafton folded and lived to fight another day. — HS
4pm: No fun for Shomron
Level 4 – Blinds 100/300 (BB ante 300)
Amir Shomron was not impressed at the conclusion of a three-way, four-bet pot. His rivered two pair lost out to a four-flush and he dropped down to three blue chips, valued at 5,000 apiece.
Patrik Antonius started proceedings with an under the gun raise to 700. He was called by Shomron in the next seat before Vladimir Rosliakov squeezed to 2,800 from the cutoff. Antonius called but Shomron raised the stakes with a four-bet to 6,700. Both opponents called before all three checked a 2♦K♣6♣ flop. Shomrom then flicked in a 5,000 chip on the 7♣ turn and was only called by Rosliakov. The river brought a fourth club with the A♣ and the two remaining players checked.
Shomrom opened A♦K♥ and there his hands up in the sit in disgust when Rosliakov revealed his 9♣9♦ for a flush. –MC
3:50pm: Bayley tackles Vieira
Level 4 – Blinds 100/300 (BB ante 300)
Joao Vieira has dropped down to 26,500 after he folded on the turn to Lawrence Bayley.
The latter, who made it all the way to a 20th place finish in this very event last year, raised to 700 from the cutoff and called after Vieira three-bet to 3,100 from the small blind. The flop fanned Q♥2♠K♦ and Bayley called Vieira's 2,400 c-bet before he himself bet 3,900 on the 10♠ turn. Vieira had seen enough, lost enough, and check-folded. Bayley's stack jumped up to 32,000. –MC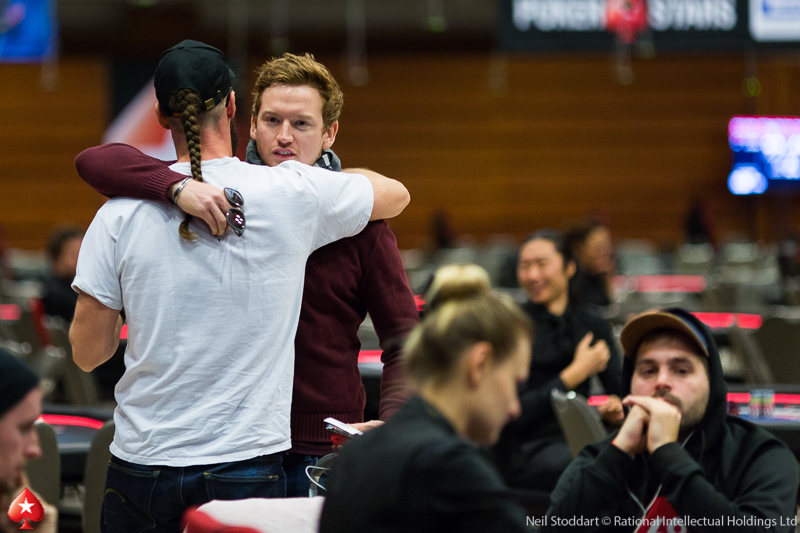 I deserve a hug for the way I played that pot, thinks Lawrence Bayley
3:40pm: Twin connection
Level 4 – Blinds 100/300 (BB ante 300)
Touko Berndtson opened to 700 and was called by Oemer Yoerueka. Samir Moukawem then shoved for 10,400, which got a quick fold from Berndtson. Yoerueka had a tougher decision though, and after a minute in the tank he folded showing 6♣6♦.
Yup. We know what you're thinking.
That hand sucks.
True, it wasn't very interesting, but really it was just an excuse to write about the fact that twin brothers and super high roller regulars Sam and Luc Greenwood are sat on the same table, just one seat apart.
That means it's going to be a tough day for Canada's Charles La Boissonniere, who happens to be sandwiched in between them.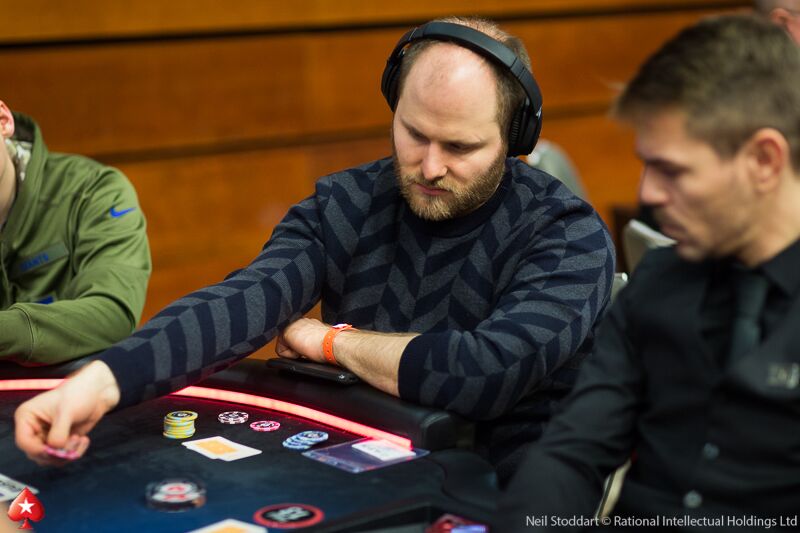 Sam Greenwood: One of two
Right now Luc has 34,000 while Sam has 32,000. –JS
3:30pm: Sow frustrating
Level 3 – Blinds 100/200 (BB ante 200)
Defending champ Kalidou Sow seems to have had a reasonable start, increasing his stack to 37,400. The problem is he has some shorter stacks on the table who keep preventing him from seeing flops.
First Sow opened to 500 in the UTG+1 seat, and when it folded around to the small blind of Norberto Lopez he jammed for his last 3,000. Sow folded, showing the Q♦10♦.
The next hand Sow kicked things off again with a 500 open, this time under the gun. He picked up two callers, one of whom was Steven van Zadelhoff, before Conor Beresford ripped it in from the small blind. Beresford had 8,500, and everyone folded. –JS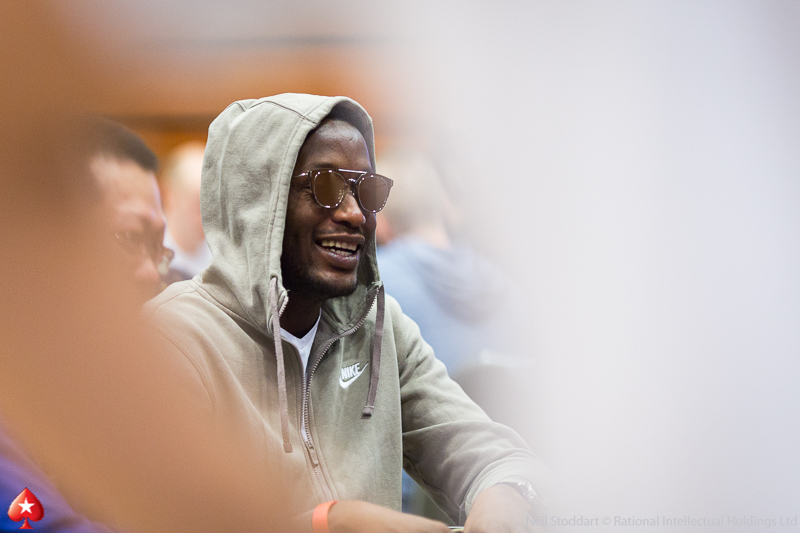 Kalidou Sow
3:15pm: Hard luck for Hardcastle
Level 3 – Blinds 100/200 (BB ante 200)
When two deep-stacked players get all the chips in preflop in the third level of an EPT Main Event, you know it's going to be a cooler before you even get to the table.
Jack Hardcastle was happy as he was on the right side of it with A♣A♥ and was battling Wael Sarkis who was all-in for 34,100 with his K♣K♥. The mood very quickly flipped around though as the board ran J♣K♦J♠9♥5♣ to make Sarkis a full house. Hardcastle took a photo of the table and just laughed it off. He was left with 6,000 chips to play with. –MC
3pm: Friberg Labat'd outta here
Level 3 – Blinds 100/200 (BB ante 200)
It's been a short day for Sweden's Erik Friberg, who was down to just 1,500 chips when we walked past.
He shoved it in from the hijack and was called by Antoine Labat on the button. Everyone else got out of the way, and it was A♦8♠ for Friberg versus Labat's 5♠5♥.
Friberg found no help on the Q♣9♠6♥ flop, nor the 6♣ turn. The 5♣ river sealed his fate, giving Labat a boat and sending Friberg out the door. –JS
2:55pm: Farrell's reputation in tatters
Level 3 – Blinds 100/200 (BB ante 200)
Niall Farrell has a reputation for playing very snug, but that has been shattered by a clumsy dealer who accidentally exposed his cards after the completion of a hand.
The former EPT champion had three-bet another former champion – Joao Barbosa – off a hand with a three-bet to 1,800. Barbosa had opened to 500 but folded before Farrell's Q♦J♦ was exposed to the whole table.
"Sorry! Sorry!" apologised the dealer to Farrell who just laughed it off. "Pretty good hand – could've been worse," commented Farrell.
Farrell would probably just sit back and nurse his 40k stack after that, right? Wrong. The very next hand he was at it again. Agostino Ascone opened to 600 before Farrell three-bet to 2,200. Ascone folded and Farrell raked in another pot.
(Disclaimer: Farrell doesn't have a reputation for playing tight poker). –MC
2:40pm: Moldova represent
Level 3 – Blinds 100/200 (BB ante 200)
If you were following along with the Super High Roller coverage over the past two days, you'll know that Moldova's Pavel Plesuv reached the final table. He returned this morning with four remaining and ultimately busted in fourth for €220,870.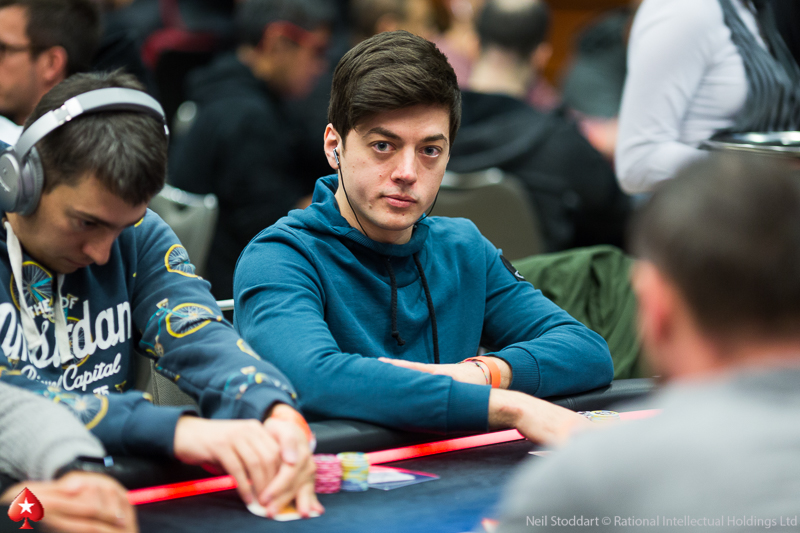 Plesuv (left) and Trofimov (right)
Despite that huge score, the day is young and there's more poker to be played. Plesuv is in the Main Event field, looking to build on what's been an incredible 2018 for him. He's cashed for $2.57 million this year, including a WPT title for $500K, and an MSPT deepstack Main Event for $640K.
Plesuv's still hovering around the starting stack. Funnily enough though, he's sat next to another Moldovan player that PokerStars Blog got to know a little bit earlier this year.
Back in January, Dragos Trofimov took down the high roller event at PokerStars Festival London for £73,990 and a $30K Platinum Pass package. The 25-year-old chemistry student, living in France, is warming up for next month's PSPC here today. –JS
2:30pm: Gentle Ben
Level 3 – Blinds 100/200 (BB ante 200)
The Main Event entries has jumped up to 235 post break, with Ben Dobson becoming one of the latest players to enter.
Dobson is a player of great skill that often goes under the radar, allowing others to steal the limelight as he continues to win, in all formats of the game. His all-round game was in evidence this year as he won his first WSOP bracelet by taking the Seven Card Stud Hi Lo event in Las Vegas for $173,528.
He was straight into the big blind in his first hand and immediately faced a raise. He and two others called a 500 raise before a 9♣K♦6♠ flop was spread. Nikita Lebedev was in position and raised to 3,000 after the original raiser and continued for 600. The raise worked as all opponents folded. — MC
2:01pm: End of the level
Level 2 – Blinds 100/100 (BB ante 100)
The second level of the day ends with 217 players on the board. They're now on a 20 minute break. – SB
1:30pm: Life, the Universe, and Everything
Level 2 – Blinds 100/100 (BB ante 100)
Charlie Carrel is seated alongside Max Silver. The two of them are talking religion, which seems a bit deep for a Wednesday afternoon.
Still, now is as good a time as any. In fact, an average stack is perfect for talk of life, the universe, and everything. Not too many chips to feel a false sense of your own importance. Not too few so that you start feeling sorry for yourself.
There's a lesson in there somewhere. I just don't know what it is.
Meanwhile Steven van Zadelhoff has no such qualms. He just showed Q♣J♠ to win another pot on a board of 2♣8♠10♣9♠J♥. His opponent showed his cards to Van Zadelhoff, who gave a respectful nod.
Then he showed off his guns to our photographer Neil Stoddart. – SB
1:05pm: Into Level 2
Level 2 – Blinds 100/100 (BB Ante 100)
We're into the second level of the day. The blinds stay the same except that there is now a big blind ante. — SB
12:55pm: The key to good posture
Level 1 – Blinds 100/100
What comes first, good posture or a massage?
Watching Steven Van Zadelhoff, it's hard to tell. He looks in great shape, but takes advantage of the massage anyway, rocking back and forth slightly as he watches his opponents.
One of them bet from the cut off, which he called from the big blind after the small blind did the same.
On the 3♦6♠2♣ flop the action was checked to the original raiser who tried again with a bet of 600. That forced the small blind to fold but not Van Zadelhoff, who re-raised to 2,500, winning the pot.
That's probably good for posture too. – SB
12:30pm: More arrivals
Level 1 – Blinds 100/100
Here's a run down of who else is in the field in these early stages.
Maya Geller, Gavin O'Rourke, Stefan Huber, Kalidou Sow, Orpen Kisacikoglu, Erik Friberg, and Jonas Lauck.
---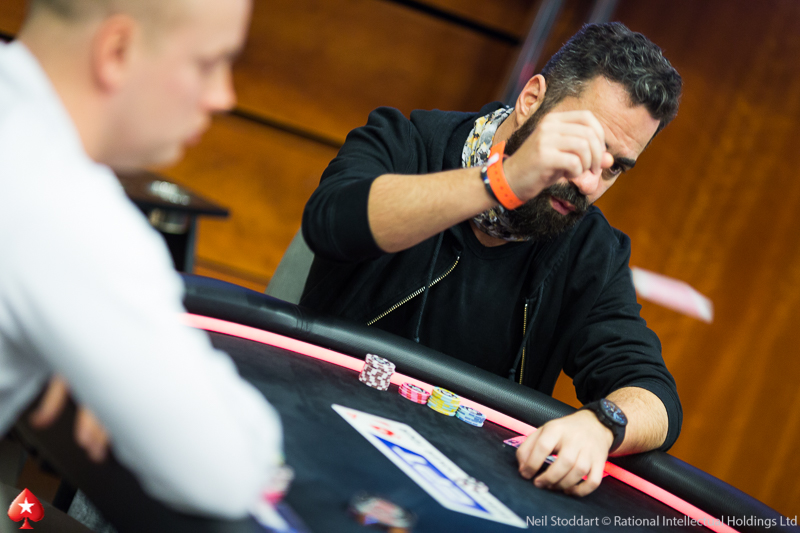 Orpen Kisacikoglu in the field for the early stages
---
12:20pm: Two former champions join the field
Level 1 – Blinds 100/100
A few more arrivals to the Main Event, which is now up to 140 players. They include two former EPT champions in Niall Farrell and Lucien Cohen.
Martin Vallo, Saar Wilf, and Juha Helppi have also taken seats.
There's a top-heavy feel to the tournament room. The tables on the stage have more players sitting at them than those on the tournament floor itself. The gaps will fill up soon enough. – SB
12:10pm: Early arrivals
Level 1 – Blinds 100/100
Among the early arrivals today are Joao Barbosa, and Charlie Carrel. There are currently 117 players on the clock. — SB
---
Charlie Carrel is in the field today. Oh, and before we forget, the dress code today is casual.
---
12:03pm: Cards are in the air
Level 1 – Blinds 100/100
Play starts in the Main Event, the first of ten levels to be played today. — SB
11:55am: Minutes from the start
Level 1 – Blinds 100/100
Players are currently taking their seats ahead of the noon start time. We expect cards in the air shortly. — SB
11:45am: The plan for today
The plan today is to play ten levels, with a dinner break after six. Each level lasts 60 minutes which means a finish tonight at around 12.20am. — SB
11:15am: The Main Event starts today
It's Main Event day in Prague. The first flight begins at 12 noon today.
This is the 12th time the EPT has been to Prague. It's popularity has made it a key fixture on the PokerStars calendar. It's the winter break before the holiday season, and before attention turns to the Bahamas next month.
---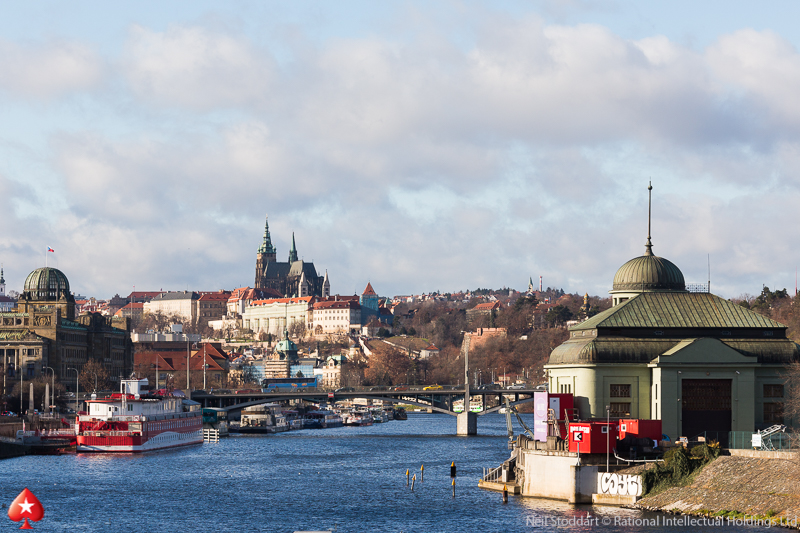 Coverage of the opening day of the EPT Prague Main Event begins today
---
What we have coming up is extensive coverage from the tournament floor. It's the opening day, which means very little will be decided today, but we'll ease into things with updates, videos, and a few extras along the way.
Six more days will follow this one as we work our way towards the final table next Tuesday.
That all starts today.
Meanwhile the Super High Roller event has reached a final four after playing late into the night yesterday. You can find coverage of that event in the link above.
For now, welcome to Prague. – SB
---
Download the PokerStars LIVE! app with all tournament information. Available for IOS and Android.
PokerStars Blog reporting team on the €5,300 Main Event: Marc Convey, Stephen Bartley, Jack Stanton. Photography by Joe Giron/PokerPhotoArchive and Neil Stoddart.
---