That went fast.
Day 2 has ended after less than three and a half levels of play. Floor staff decided we would stop today with the field one table from the bubble – to avoid a log jam of bubble play and bagging up.
The result was a short day for players, one that will count as a good one for Sergey Pichugin.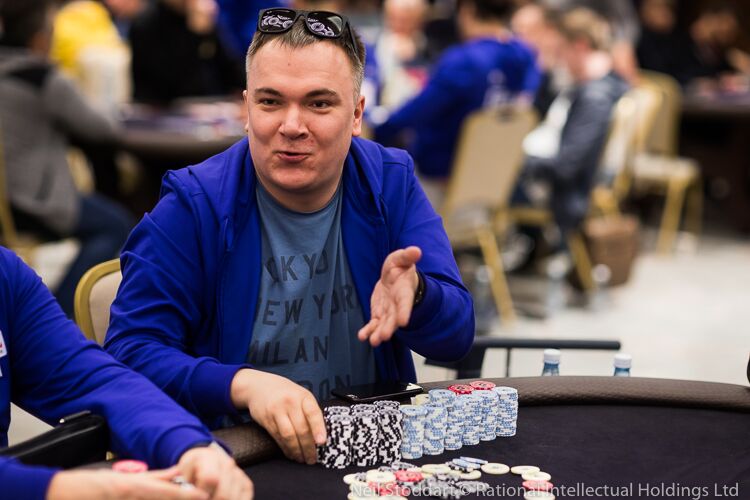 Chip leader Sergey Pichugin with 858,000 chips
The Russian bags up the lead tonight with 858,000.
The bulk of that stack came from a three way all in. Pichugin had found aces, against queens and ace-jack for a pot worth something in the region of 600,000.
From there he went into full domination mode.
Others will count this as a good day. Among them Andrey Kaigorotsev with 610,000, Nikita Kalinin on 608,000, and Sergey Kerzhakov on 511,500.
Full Sochi Main Event chip counts will be available HERE when we get them.
It means we return on Day 3 eight place off the money.
Sochi payout details were made available earlier today with a min-cash worth 306,000 ₽. 27,300,000 ₽ will go to first place. That's thanks to a field that added up to 861 entries.
You can check out the full coverage archive below. We'll be back with Day 3 at 12 noon local time tomorrow (10am UK, 5am ET).
Good night from Sochi.
---
Live coverage archive
• CLICK TO REFRESH FOR LATEST UPDATES
• PLAYERS: 136 of 861 | SOCHI PAYOUTS
• ALL SOCHI INFO | DOWNLOAD POKERSTARS
• WATCH SOCHI MAIN EVENT LIVE
• Five 90-minutes levels or 136 players | Registration has now closed
• Click for Coverage in Russian
• Follow @PokerStarsBlog on Twitter
6:30pm: That's that
Level 14 – Blinds 1,500/3,000 (ante 500)
Harry Lodge has been nursing a short stack for some time now and having gotten through the blinds, he was left with just 12,500 chips.
Following an open from the cutoff, Lodge threw the last of it in. It folded round to Sergey Menshov on the big blind and he isolated and the initial raiser moved aside.
Menshov 6♠6♦
Lodge A♣3♣
Menshov was ahead as the dealer put out the flop. It was 2♦7♠3♥, giving Lodge two threes to add to the three aces to keep him in. The 7♦ turn and 4♥ river were safe for Menshov though and he adds a little to his stack, which is now at 430,000. –LY
6:20pm: Kerzhakov climbing
Level 14 – Blinds 1,500/3,000 (ante 500)
A few players are also chipping up in the less-hectic, quaint theater room. Sergey Kerzhakov has now inched past 500,000.
He initiated action in the pot that set him over that line with a raise to 6,000 form middle position. Irina Gorkaya called from the small blind. Carlos Areiza went along from the big blind and a 2♠Q♣7♦ flop hit the board. Action checked to Kerzhakov and he bet 6,000. Only Gorkaya called and then they both checked the Q♦ on the turn.
A 9♦ completed the board and Gorkaya bet another 5,000. Kerzhakov called, Gorkaya showed 8♥8♦ but Kerzhakov tabled a bigger pocket pair with 8♥8♦.
Kerzhakov is now up to about 505,000 while Gorkaya is hovering at about 100,000. –AV
6:10pm: Five to go
Level 14 – Blinds 1,500/3,000 (ante 500)
As players headed off to take their break, we were ten people away from the end of today's play. Either that or we play to the end of Level 15, whichever comes first.
We have only seen 15 minutes pass since players came back and already five have hit the rail, meaning the first of the two scenarios noted above is looking increasingly likely.
The latest casualty was Igor Vyskrebentsev who couldn't hold with A♦8♦ versus Mihai-Cosmin Pancu's A♣4♣. –LY
6pm: Into the next level
We start the fourth level of the day with a look at the nationalities. Unsurprisingly the field is largely made up of Russian players.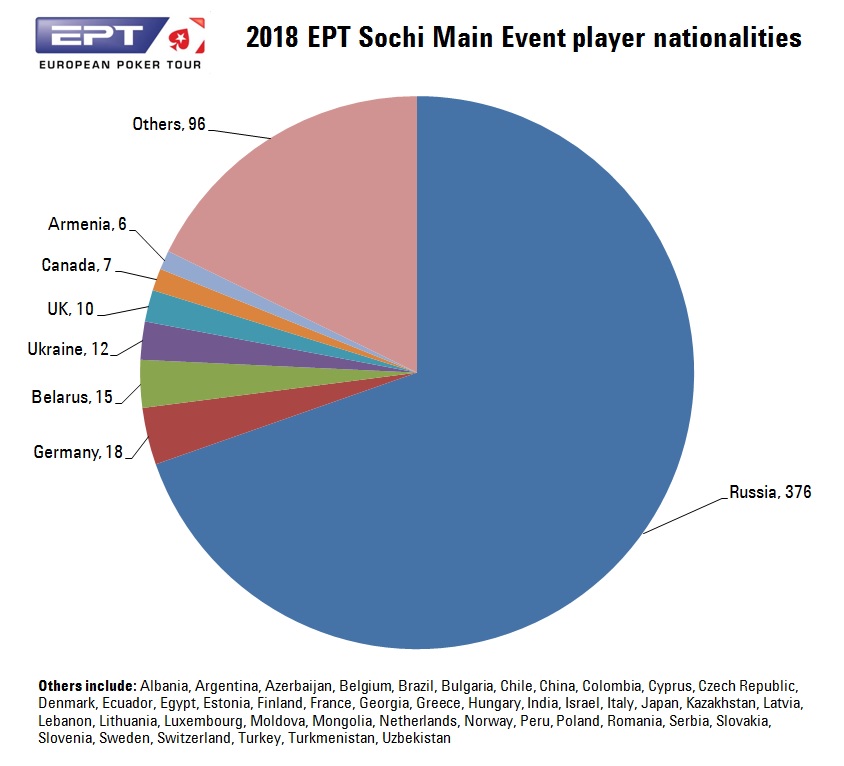 5:40pm: Break time
Players are on a 20 minute break.
5:35pm: Triple for Liu
Level 13 – Blinds 1,200/2,400 (ante 400)
Yue Liu's stack at the start of the hand was in desperate need of a boost and 10♣10♦ must have seemed more than good enough to get it in with. That was until two other players liked their cards enough to go all-in over the top and the hand turned into a three-way cooler.
Jerome Geirnaert K♣K♠
Timur Kildibekov J♥J♣
Liu connected with the 8♣9♦10♠ flop but it brought a sweat for both her and Geirnaert as Kidibekov picked up and open-ended draw, with Kidibekov covering both his opponents.
The 9♣ turn gave Liu a full house but there were still two jacks and two kings that could take the pot away from her. Not only that, Kidibekov's straight draw was still viable to win the side pot.
The river came A♠ and Liu has tripled to 69,000. This is still a long way from the 176,000 average but it's much better than being out. –LY
5:30pm: So long Sarkis
Level 13 – Blinds 1,200/2,400 (ante 400)
That's it for Sarkis Karabadzhakyan. He wasn't able to hold on until the end of the level. He'd managed to chip up to 22,000 and then moved it all-in in hopes for another double up.
He had A♠2♦, but Igor Soika called with a dominating A♥J♠. The K♠K♥4♣8♣6♦ board dodged both players, and Soika's jack kicker took down the pot. Karabadzhakyan hit the rail while Soika chipped up to about 120,000. Only 147 players remain and we'll be stopping at 136. –AV
5:25pm: Short stack wars
Level 13 – Blinds 1,200/2,400 (ante 400)
Karen Karamanov and Aleksandr Khrukin got it all-in preflop. Karamanov had jammed A♦K♦ with 28,000 chips left and Khrukin called with A♥Q♠, meaning our all-in player was a long way ahead.
The dealer laid out 5♥A♣7♦ on the flop and Khrukin had two chances left to hit one of three queens only, in order to prevent Karamanov from doubling.
The K♣ turn sealed it up for Karamanov and the 3♦ river was inconsequential.
Both players are still in the danger zone though…Karamanov has 60,000 and Khrukin has 48,000. –LY
5:15pm: Powerful Pichugin
Level 13 – Blinds 1,200/2,400 (ante 400)
Poker must be really fun if you're Sergey Pichugin. He's got a big stack and running hot. He's had multiple pocket aces, one pair which brought him to victory in a three-way all-in, and he's hit quads twice already. He hit quad fours yesterday and recently hit them again, albeit for a small pot.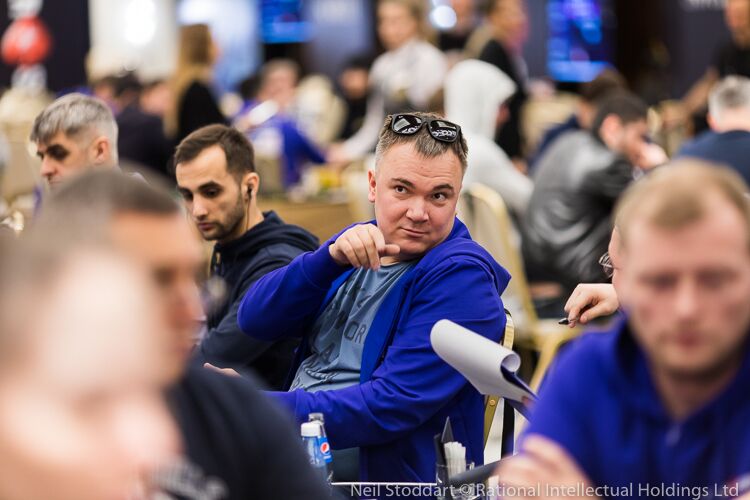 Sergey Pichugin
But nearly every pot seems small compared to his chip stack, nay, chip tower. Pichugin is now in the lead with 760,000. –AV
5:05pm: Surviving with Sarkis
Level 13 – Blinds 1,200/2,400 (ante 400)
Things have indeed slowed down a bit, and part of it is because players like Sarkis Karabadzhakyan, who are hanging on for dear life.
Karabadzhakyan lost most of his chips after doubling up Kirill Ilyin. Ilyin moved in with Q♠J♠ and Karabadzhakyan called with A♠2♦. The board ran 8♣9♣J♥K♣5♦ to give Ilyin a pair of jacks and the double up to 75,000 while Karabadzhakyan was left with just 3,400 after the hand.
Of those 3,400, 400 went to the ante and Karabadzhakyan put the remaining 3,000 in the following hand. Action folded all the way around to Igor Soika on the big blind and he called with 5♣2♦. Karabadzhakyan showed a marginally better 6♠4♥ and both hands were so bad, both players ended up playing the 9♥K♥8♠10♦7♦ board and chopping the pot.
Staying alive.
Then Karabadzhakyan scored a double up. He moved all-in from middle position and Ilyin called from the big blind. This time Karabadzhakyan had a slightly better A♦5♦ and Ilyin showed 9♦7♥. Ilyin did take over the lead on the 9♠8♦4♠ flop, but then Karabadzhakyan hit an A♠ on the turn. A 3♠ completed the double up for Karabadzhakyan and he's now up to about 13,000. It was enough to fold the next few hands and look for a better spot. –AV
4:50pm: The tempo slows
Level 13 – Blinds 1,200/2,400 (ante 400)
Sometimes the action in a poker tournament is fast and frantic, sometimes it isn't.
The last half an hour has seen the pace slow down significantly. There are 156 players left and 127 paid. Play will stop, at the latest, when there are 136 left. The bubble is in sight and the prospect of reaching Day 3 is even closer and we bet these two things combined are what is affecting the pace of the action. –LY
4:35pm: Kalinin keeping up the pressure
Level 13 – Blinds 1,200/2,400 (ante 400)
While no one has amassed quite the stack that Sergey Pichugin does, a few players are slowly ascending and a few have crossed the 400,000 threshold. One of them is Nikita Kalinin, who's now at about 475,000 and has been keeping the pressure on at his table.
Kalinin raised to 5,500 from the hijack one hand and Igor Soika responded with a three-bet to 20,000 from the small blind. Kalinin called and a 2♥9♠10♠ flop hit the board. Soika continued for 16,100 and then Kalinin turned up the heat by raising all-in.
It wasn't a price Soika was willing to pay. Soika folded and Kalinin chipped up to 475,000. –AV
4:25pm: Gadzhiev gets it in
Level 13 – Blinds 1,200/2,400 (ante 400)
7♥8♣J♥7♠6♣
We arrived at the table with all the cards out and the dealer counting out the chips of Roman Gadzhiev's all-in. He had secured a much needed double through Yulius Sepman. Though we didn't see Sepman's cards, Gadzhiev had K♣K♦.
The pot puts Gadzhiev on over 100,000 now, which is still a fair way below average but a big step in the right direction. –LY
4:10pm: Schedule tweaking
Level 13 – Blinds 1,200/2,400 (ante 400)
There's a slight adjustment to the schedule. Tournament staff have announced that we'll be playing five levels or until we're one table off the money. With that would be 17 tables, or 136 players. We're currently at 165 players, which do you think we'll hit first?
3:50pm: Payout details – 27,300,000 ₽ for first place
Payout details have now been confirmed: 127 players will finish in the money with a min-cash worth 306,000 ₽. First place is 27,300,000 ₽. The total prize pool is 150,692,220 ₽.
The payouts will appear on the Sochi payouts page once we reach the money.
3:45pm: Break time
Players are on a 15 minute break.
3:40pm: Set pays off for Kaigorotsev
Level 12 – Blinds 1,000/2,000 (ante 300)
In the last hand before the break there was some significant betting happening on the turn.
With 4♠10♣2♦7♦ down, Andrey Kaigorotsev got it all in versus Sergey Isaev and it was the latter who's tournament life was at stake.
Kaigorotsev 2♥2♣
Isaev K♦10♠
Isaev was drawing dead even before the 10♠ river gave him top two pair. He hits the rail and Kaigorotsev will be coming back to a 450,000 stack plus change. –LY
3:35pm: Pichugin keeps pulling up, Volodka rising too
Level 12 – Blinds 1,000/2,000 (ante 300)
We're in the second break of the day and Sergey Pichugin has kept chipping up.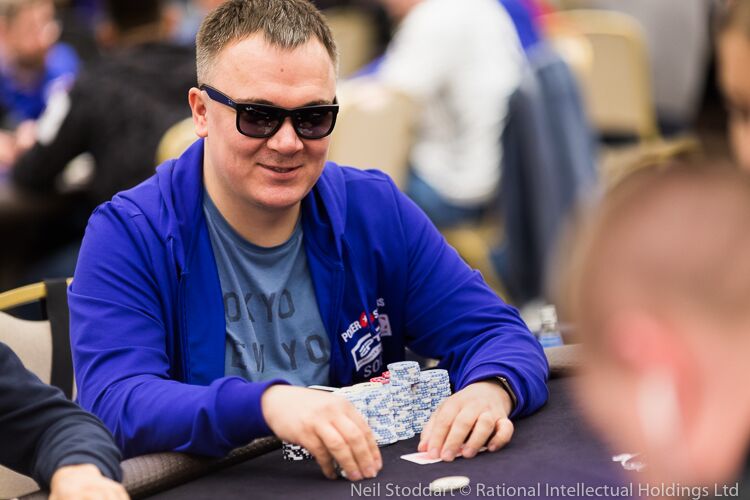 Sergey Pichugin
He's now towering over the rest of the field with 720,000. Ivan Volodka appears to be in a distant second, but he still has a hefty 430,000 considering the average stack is 110,000. –AV
3:30pm: Confirmation of the Main Event entries
Level 12 – Blinds 1,000/2,000 (ante 300)
Day 1a: 253 entries
Day 1b: 395 entries
Day 1c: 124 entries
Day 2: 16 entries
3:25pm: Shalamov isn't showing
Level 12 – Blinds 1,000/2,000 (ante 300)
Team PokerStars Online Mikhail Shalamov isn't afraid to lay down a hand when he knows he's beat, even if it was checked down on the river.
Shalamov started things off though. He raised to 4,500 from under the gun and got called from Alexey Groznov on the cutoff and Aleksandr Merzhvinskiy on the big blind.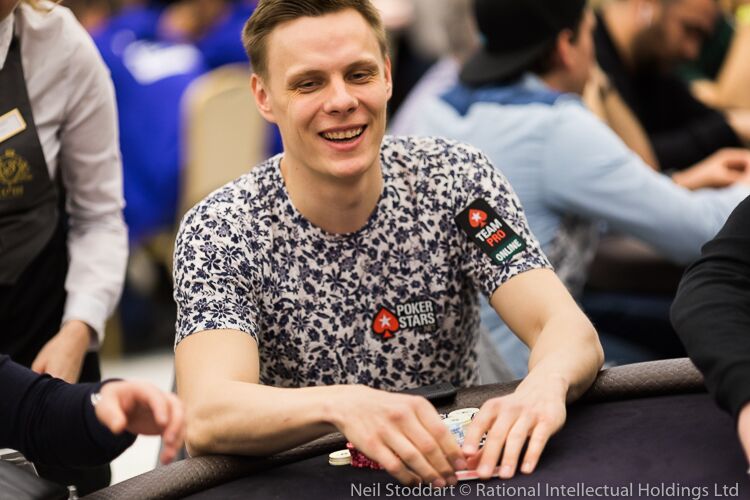 Mikhail Shalamov
The flop came 4♦3♦Q♣ and action checked to Groznov, who bet 8,000. Merzhvinskiy folded, Shalamov called and a 7♣ came on the turn. Shalamov checked again and this time Groznov bet 12,500. Shalamov thought for a bit and called, bringing an A♣ on the river.
Shalamov checked again and this time Groznov checked behind. Neither player moved to show and they sat there for a few seconds before Shalamov threw his cards into the muck. Groznov took down the pot and chipped up to 145,000 while Shalamov was left with about 120,000. –AV
3:20pm: Zhang doubles through Novak
Level 12 – Blinds 1,000/2,000 (ante 300)
The dealer was laying out a A♥7♥6♣ flop and three players were still in, with 17,500 chips in the pot.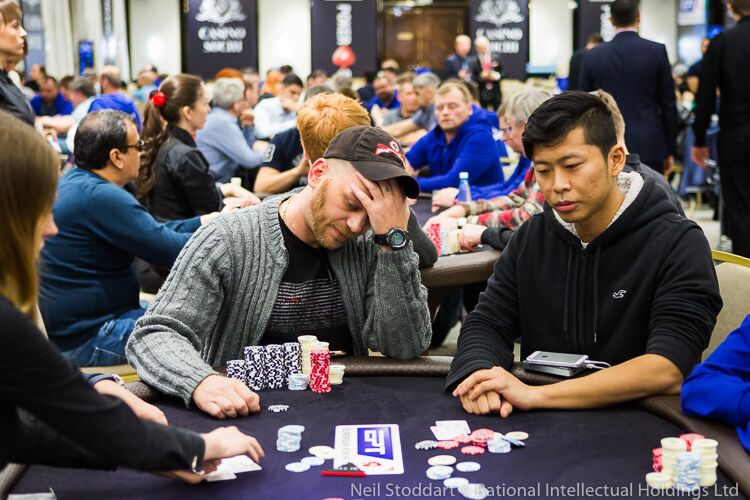 Leonid Novak and Sihao Zhang
Leonid Novak checked, as did Sihao Zhang and Volodymyr Pilyavsky set 12,000 over the line. Novak called him before Zhang upped it to 37,000. This was enough to push out Pilyavsky but Novak wasn't so sure. He asked to see Zhang's stack and then raised enough to set him in. Zhang snapped and the players tabled their cards.
Zhang A♣6♣
Novak A♦9♠
It was top pair for Novak but Zhang had him beat with top and bottom pair. The A♠ turn and K♣ river made no difference and Zhang has boosted up to 180,000, which is a very healthy 60 big blinds. –LY
3:15pm: Chip leaders are gonna chip up
Level 12 – Blinds 1,000/2,000 (ante 300)
Some detail about how Sergey Pichugin got all his chips.
They came from a three-way all-in. Pichugin held pocket aces against two opponents, one with ace-jack and the other pocket queens.
Each had roughly 200,000 in the middle, Pichugin emerging as the beneficiary. – SB
3:05pm: How to bypass a language barrier
Level 12 – Blinds 1,000/2,000 (ante 300)
Everyone was laughing, so Harry Lodge figured he'd laugh too.
"I don't understand," said Lodge, smiling. Everything said so far had been spoke in Russian. Lodge set to restore some balance.
"Hi, my name is Harry."
Some English emerged from the others.
"Where are you from?"
"London", replied Lodge. "Buckingham Palace."
More laughter.
More talk followed, mainly about football, which is a subject that tends to overcome any language barrier.
Lodge feeling chatty. The 185,000 chips probably help. — SB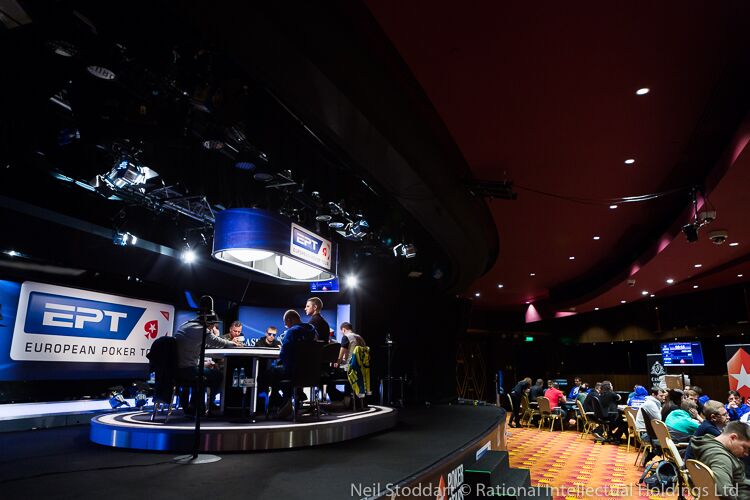 2:55pm: Tarantsev and Matveev get tangled up
Level 12 – Blinds 1,000/2,000 (ante 300)
Two players were staring at a Q♥6♠J♦6♣6♦ board, Aleksei Tarantsev and Artem Matveev.
Matveev lead the river for 23,000 but found himself facing a three-bet to the tune of 66,400, which was Tarantsev's all-in. Matveev didn't seem thrilled at the prospect but made the call all the same. Tarantsev had J♣J♥ for a flopped set, a turned full house and a third six on the river disguised his hand even further.
We will never know what Matveev had as he sent his cards into the muck. But what we can tell you is that Matveev has been left very short with only 27,000 chips left, whilst Tarantsev soars to around 180,000. –LY
2:45pm: Pichugin powering up
Level 12 – Blinds 1,000/2,000 (ante 300)
It looked like two separate stacks were being moved to table 16, but they actually both belonged to just one player, Sergey Pichugin. Pichugin had a massive stack of about 450,000 in front of him that he was still organizing into piles of 20. Then, right next to him were two racks with about 130,000 chips in them.
That brought Pichugin's massive stack to a towering 580,000 and it looks like he's hitting cards to keep it growing.
Pichugin recently raised to 4,500 from under the gun, while he was still piling his monster stack of course. Aleksey Romanov called from the small blind and Marius Gicovanu called from the big blind. All three players went to a 2♠Q♣4♥ flop and action checked to Pichugin, who bet 6,500. Both his opponents folded and Pichugin took down the pot.
He made sure to flash A♠A♦ before he did though. There are cards to back up the monster stack. –AV
2:35pm: Main Event field confirmed
Level 12 – Blinds 1,000/2,000 (ante 300)
Confirmation that the final number of Main Event entries is 861. Payout details on the way.
2:25pm: Waigel takes a hit
Level 12 – Blinds 1,000/2,000 (ante 300)
Ezequiel Waigel was our overall chip leader as we headed into Day 2, but it's fair to say today is not going quite as well. The most recent damage to his stack was done by Viktor Shegai.
Q♠2♣2♦J♥
The two were heads up on the turn and Waigel opting to check to Shegai, who made it 25,500 to proceed. Waigel came along, with just one card to come.
It was a K♠. Waigel checked again and Shegai made it a round 50,000 to see his cards. "Please call me," he said as Waigel was thinking.
After a minute or two in the tank Shegai called clock, giving Waigel 30 seconds more to make his decision. He did but mucked his hand when he saw Shegai's K♣K♥ for a rivered full house. –LY
2:15pm: Brand new feature for PokerStars Twitch viewers
Live TV coverage of the Main Event began today with cards up action.
You can watch it on PokerStars.tv, and YouTube, but also Twitch. And there's a neat new feature for Twitch viewers that helps you keep tabs on the progress of each player.
As the image below shows, there's a PokerStars icon at the side of the page which, if hovered over, gives you the latest chip counts for the feature table players.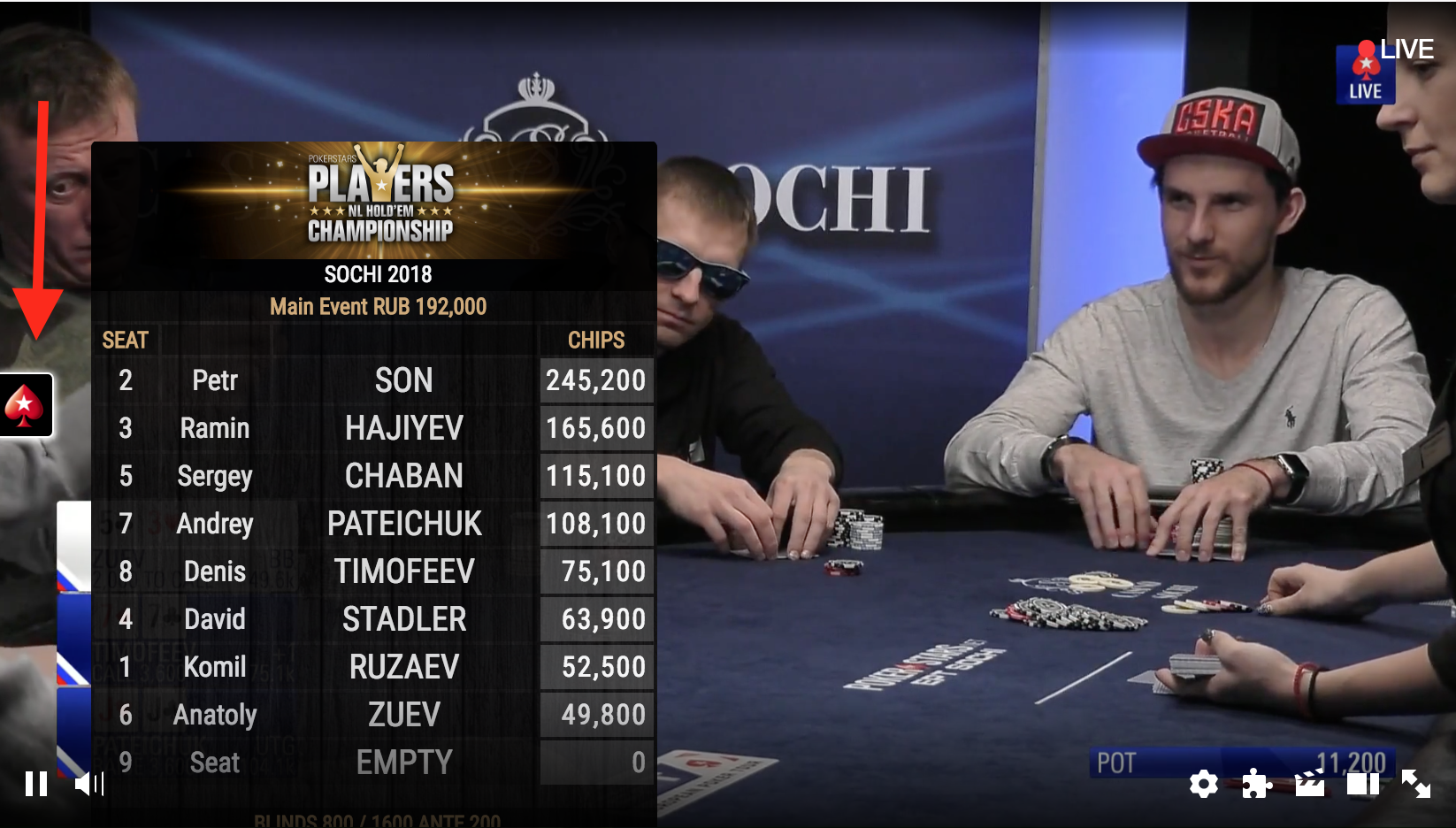 Hover over the PokerStars icon while watching coverage on Twitch to see the latest chip counts of the feature table players
You can follow the action yourself on the PokerStars Twitch Channel.
2:05pm: How big is the field?
Level 11 – Blinds 800/1600 (ante 200)
There is confusion in the tournament room as to the number of players officially entered into the EPT Sochi Main Event.
You might even have noticed it at the top of this page. The number of players just keeps going up, even though registration closed at the start of the day.
The answer is quite simple.
Which is why I can't say the reason exactly. Except to say that the tally of three flights of players, as well as a number of no-shows, means the official number if Main Event players takes some double checking. The actual number will be confirmed shortly, along with the official payouts. – SB
1:45pm: First break in the day
It's break time in the Main Event. Play resumes in 15 minutes.
1:40pm: A little breathing space
Level 11 – Blinds 800/1600 (ante 200)
So far, we have mainly reported the departure of some of our smaller stacked players. This time, however we are happy to report that Victor Shener and Vladimir Snimschikov have made it through to the first break of the day.
Victor returns back with 26,500 and Snimschikov is faring a little better with 31,000 but both players still have some work to do. –LY
1:30pm: Valeev out
Level 11 – Blinds 800/1600 (ante 200)
It was the end of the line for Amir Valeev. He was almost down to the felt when he ran A♣Q♥ into Aleksey Yaroslavchev's A♠A♥ and needed something really special to avoid hitting the rail.
9♣7♥10♣3♠Q♣
It was all over for Valeev by the turn and he heads towards the door, whilst Yaroslavchev is sitting with around 130,000 in front now. –LY
1:10pm: kertechian busts to Isaev
Level 11 – Blinds 800/1600 (ante 200)
It was an unfortunate bust out for Haig Kertechian, having got it in good preflop with A♦K♥ versus Sergey Isaev's A♠10♠. Today just wasn't his day.
It was looking good on the 8♣Q♦3♦ flop with Kertechian pulling ahead. The turn was where the tide turned though, it was the 10♣ and Kertechian's only hopes for winning the hand were a king or a jack. The Q♣ river locked it up for Isaev, who now has around 75,000 in play. –LY
12:55pm: Three-way all-in
Level 11 – Blinds 800/1600 (ante 200)
We have already reported on the chip leaders who made it through to Day 2. But there are also plenty of short stacks in the mix. We expect there to be a lot of all-ins taking place as they seek the necessary double up if they are to remain in the competition.
Austria's Manuel Koller was one such player, getting his last 13,600 chips in preflop. Asker Aloev re-jammed over the top for 32,800 and Sergey Kerzhakov overcalled, putting both players at risk.
Koller 8♦8♣
Aloev A♠Q♠
Kerzhakov 9♥9♦
The flop brought out 3♠9♠K♠ and Koller was all but out of the running as Aloev flopped the flush and Kerzhakov hit a set.
The 10♠ turn brought a fourth flush card out. It changed nothing and there was only one more chance for Kerzhakov to fill up. The 6♣ river was a brick and Aloev takes both the main and side pots, worth a little over 80,000. –LY
12:35pm: Watch the action LIVE
Level 11 – Blinds 800/1600 (ante 200)
Alongside our live updates from the Main Event you can now watch the action for yourself, live on the EPT Sochi stream.
It starts today, any minute now, with cards up on the feature table all the way through to the final table on Thursday.
Here's the feature table line-up:
Komil Ruzaev (Russia) 63,200
Petr Son (Uzbekistan) 148,000
Ramin Hajiyev (Azerbaijan) 154,600
David Stadler (Switzerland) 187,500
Justas Vaiciulionis (Lithuania) 59,800
Anatoly Zuev (Russia) 24,900
Andrey Pateychuk (Russia) 59,800
Denis Timofeev (Russia) 66,200
Everything you see will be on a 30-minute delay. You can watch by clicking any of the options below.
PokerStars.tv/live
YouTube/PokerStars
Twitch.tv/PokerStars
12:25pm: Kalinin climbs
Level 11 – Blinds 800/1600 (ante 200)
We're less than ten minutes into the start of Day 2 and already Nikita Kalinin has made a great start to his campaign.
He found pocket K♦K♥ and won a very big pot against Roman Gadzhiev. There had been betting through the streets and by the river, the completed board read 3♣10♦5♠Q♠4♦.
The final bet was 48,000 and it was a difficult call for Gadzhiev, as it was more than half his remaining chips. After some deliberation he did make the call though but his Q♦K♣ and top pair wasn't enough, leaving him down to 39,000.
Meanwhile, Kalinin climbs into the top ten stacks as his chips eclipse the 200,000 mark. –LY
12:15pm: Bundled up energy ready to be spent
Level 11 – Blinds 800/1600 (ante 200)
A familiar sight before the start this afternoon. The typical gathering of players outside the tournament room.
This is that part you don't often see. Like the boxer in the dressing room before a fight.
It's the pacing up and down. It's the unspent energy, it's the unnecessary and untouched fourth cup of coffee from the courtesy drinks machine.
It's the girlfriend trying to offer comforting words of support.
It's the anticipation of what's to come. Of what could happen.
Then there is the flip side of that.
Ten minutes later you see the reality of all that anticipation.
Like one player, who had played the main event after travelling all the way from Brazil.
He'd been eager to see chip counts. Partly to study the opposition. Partly as a break from all the pacing. Then he marched off in the direction of the tournament room to find his seat.
Ten minutes later he was walking in the other direction.
Face full of thought, his tournament was over. The energy all gone.
We're going to see a lot of that today as we edge towards the money. – SB
12pm: Play begins
Cards are in the air.
11:50am: Day is set to start
Welcome back to Day 2 of the EPT Sochi Main Event, here at Casino Sochi. For the first time in this event, all of our players will be under one roof, at the same time. Following two days of play and three Day 1s, there have been ample opportunities for players to re-enter but all that is about to change shortly. Registration closes at the start of Day 2, so in just a few minutes time there will be no more second chances…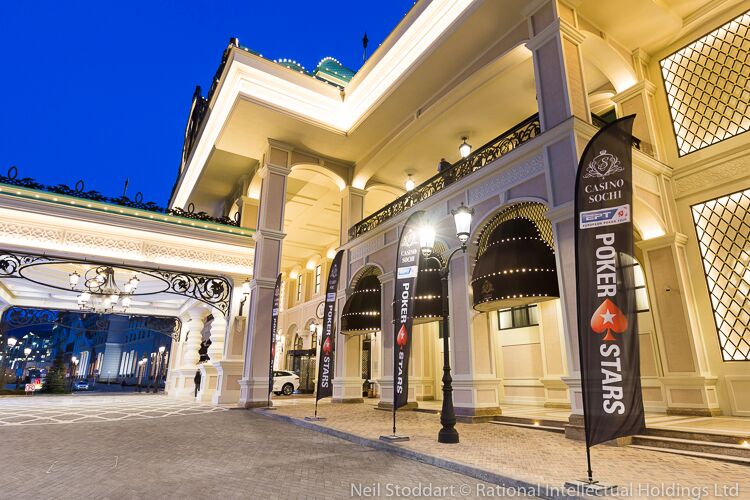 Casino Sochi
PokerStars Blog reporting team on the Main Event: Stephen Bartley, Lisa Yiasemides, and Alexander Villegas. Photography by Neil Stoddart.