The EPT Sochi Main Event moved into the crucial stages today.
Returning with 136 players the priority of Day 3 was the bubble. Eight players would leave empty handed, leaving the keys to the money cage to those remaining. They set about getting as big as share as possible.
What followed were four levels of attrition poker, that leaves Russian player Ivan Volodko as chip leader, bagging up 1,650,000 tonight.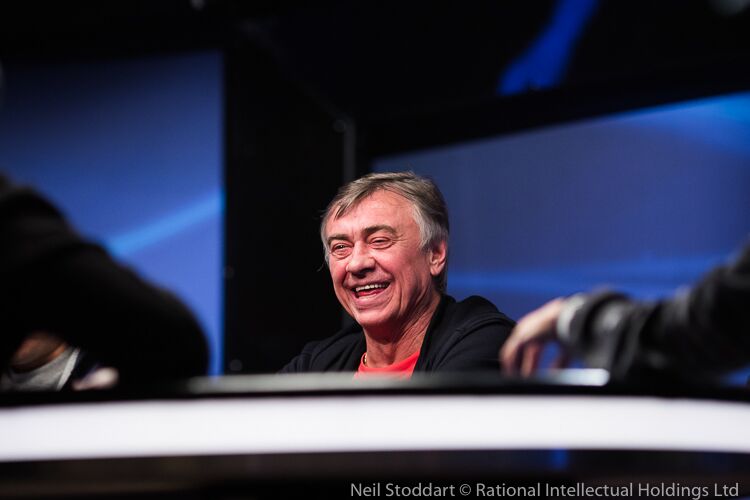 Chip leader Ivan Volodko
But it's tough at the top. And it will get tougher when 40 players return at noon tomorrow.
Mikhail Galitskiy – 1,423,000
Sergey Kerzhakov – 1,419,000
Arseniy Karmatskiy – 1,285,000
Artur Martirosyan – 1,197,000
Aleksey Savenkov – 1,036,000
Sihao Zhang – 1,001,000
(Average – 590,990)
The full list of chip counts, along with the seat draw will appear on the Sochi chip count page shortly.
Elsewhere there were tough days all round. Among the eliminations were some of the region's best.
Igor Yaroshevskyy departed in 74th, while Anatoliy Filatov and Leonid Bilokur went in 58th and 55th respectively.
There was still technically the possibility of a EPT double winner until the late stages of the day. That's when Andrey Pateychuk departed in 48th place.
You can find the full list of those finishing in the money on the Sochi payouts page.
That means we move on to Day 4, which starts at 12 noon tomorrow (10am UK, 5am ET). Five more levels are on the schedule, although we'll be aiming to reach a last 16.
Find out whether we do, and who those 16 will be, by following our live coverage tomorrow.
Scroll down to recap on all of today's coverage.
---
Live coverage archive
• PLAYERS: 40 of 861 | SOCHI PAYOUTS | SOCHI CHIP COUNTS
• ALL SOCHI INFO | DOWNLOAD POKERSTARS
• Watch the Main Event Live: POKERSTARS.TV | YOUTUBE | TWITCH
• Five 90-minutes scheduled for today
• Click for Coverage in Russian
• Follow @PokerStarsBlog on Twitter
9:10pm: Play ends
Play has ended for the day. A recap of the day's events to come shortly.
9:05pm: Pateichuk punted
Level 18 – Blinds 4,000/8,000 (ante 1,000)
Our last remaining former EPT champion has been eliminated. It all started with small, gapped suited connectors.
Andrey Pateichuk, who has an EPT San Remo title, raised to 18,000 from the cutoff with 7♥5♥ and Sergey Pichugin called from the big blind with K♣5♣.
Both players got a piece of the 7♠J♣K♥ flop, but Pichugin's piece was a bit better. Pichugin check-called a bet of 18,000 and a 6♦ came on the turn. Pateichuk fired off another bet when checked to, this time for 45,000. Pichugin called and a 2♦ completed the river. Pichugin checked again and this time Pateichuk moved all-in for 232,000.
Pichugin thought, and then he thought a bit more. He eventually found a call and brought Pateichuk's tournament to an end. Pateichuk finished in 48th place while Pichugin chipped up to about 1 million. –AV
9pm: Ustimov out
Level 18 – Blinds 4,000/8,000 (ante 1,000)
Sergey Kerzhakov has just secured another decent pot and it comes at the expense of Viktor Ustimov's main event campaign. They got it all in preflop and Ustimov's was in behind for his tournament life.
Kerzhakov A♦8♥
Ustimov A♥2♣
As Ustimov headed out the door, Kerzhakov has chipped up to 1.4 million and change. –LY
8:55pm: Kirill KO'd
Level 18 – Blinds 4,000/8,000 (ante 1,000)
Make that 45.
Kirill Ilyin hit the rail just seconds after Ramin Hajiyeb. Vage Martirosyan raised to 17,000 from under the gun and Kirill Ilyin moved all-in for 154,000 from middle position. Aleksandr Merzhivinskiy called from the cutoff and Martirosyan folded.
Merzhivinskiy turned over 9♥9♣ and Ilyin was flipping for his tournament life with A♣K♦. The 8♥4♥8♦7♦7♣ brought a pair of low pairs and Merzhivinskiy took it down with his pocket nines.
Ilyin dropped in 46th while Merzhivinskiy chipped up to 700,000. –AV
8:50pm: Six more hands
Level 18 – Blinds 4,000/8,000 (ante 1,000)
There will be six more hands played before players bag up for the night.
8:40pm: Hajiyev falls
Level 18 – Blinds 4,000/8,000 (ante 1,000)
We are inside the last half an hour for the Day 3 of the Main Event and one person who won't be returning tomorrow is Ramin Hajiyev.
Hadjiyev only had 66,000 left when he ran 7♦7♣ into Valerij Avanesyan's A♣A♠.
Avanesyan flopped a set on 2♣A♦3♥ but the 4♣ turn gave Hajiyev a glimmer of hope to chop if the river was a five. Sadly for him it was a 2♠ and he finishes in 47th place. –LY
8:30pm: Kerzhakov takes the chip lead
Level 18 – Blinds 4,000/8,000 (ante 1,000)
It has been a great day for Sergey Kerzhakov and as a result of the following pot, he is our current EPT Sochi Main Event chip leader.
Dmitry Gromov had opened 18,000 on the cutoff before Kerzhakov three-bet to 61,000 from the small blind and Gromov peeled.
J♦6♦Q♠
The flop saw a continuation from kerzhakov of 51,000 and another call from Gromov. Onto the 5♥ turn and though it was a brick, there was no betting from either player.
On the 7♣ river, Kerzhakov decided to put another bet out there, this time it was a much larger 145,000. Gromov thought about it before he made the call but he mucked when he saw Kerzhakov's A♣Q♣.
Gromov drops to 700,000 and Kerzhakov has bumped up to 1.24 million. –LY
8:15pm: Several down, a few up
Level 18 – Blinds 4,000/8,000 (ante 1,000)
We've gotten down to 49 players and a few of them have crossed the 1 million mark. Artur Martirosyan appears to be leading the field with nearly 1.2 million while Dmitriy Gromov is in a close second with 1.1 million.
Vasily Yarkov is also closing in with about 950,000 and Sihao Zhang is also flirting with the seven-figure mark at 900,000. There's about an hour of play left, we'll see who else can join the millionaire's club. –AV
8:05pm: Plakkhin and Zhang get involved
Level 18 – Blinds 4,000/8,000 (ante 1,000)
The flop was already out and there were two players still in the hand, Sihao Zhang and Mikhail Plakkhin, when we came to the table.
J♠7♠9♥
Plakkhin bet 50,000 and Zhang called behind. The dealer placed a 6♠ on the turn, bringing a straight and flush combination into the mix. Plakkhin opted to slow down at this point and deferred to Zhang who checked it back.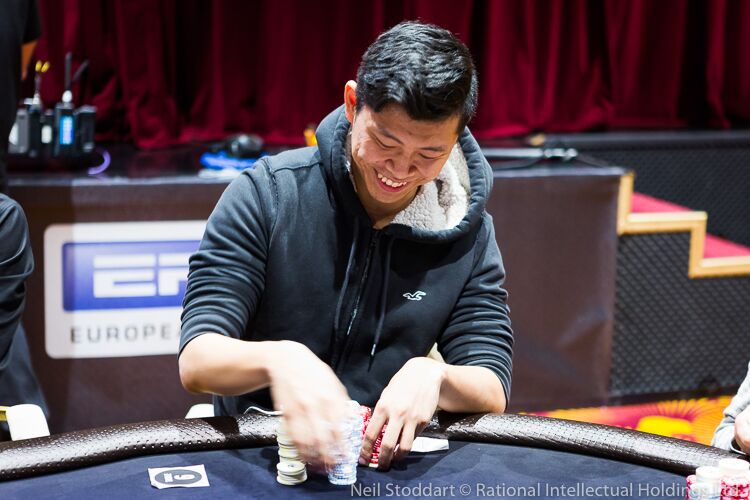 Sihao Zhang
Finally it was a 10♣ river. Plakkhin checked for the last time and Zhang bet 150,000. Plakkhin called but was disappointed to see that Zhang had taken the lead on the last street with J♥10♥, hitting two pair. Plakkhin showed A♦J♣ and counted out the chips to hand over.
Zhang is now sitting comfortably on 900,000. Plakkhin still has 500,000, which gives him over 60 big blinds to play with. –LY
7:45pm: Gromov gets one, crosses 1 million
Level 18 – Blinds 4,000/8,000 (ante 1,000)
We're now down to 50 players after Dmitriy Gromov took out Vladislav Vinogradov in a massive pot.
All the action went down preflop. There was a small raise to 15,000 to start it off, a three-bet to 50,000, a re-raise to 150,000 and a five-bet all-in for about 450,000 from Vinogradov.
Gromov had him covered and he also had the better hand with pocket kings. Vinogradov showed king-queen and was in need of some help. The board came 7♦K♠4♥A♠9♥ and Gromov took down the massive pot with a set of kings.
Vinogradov finished in 51st place while Gromov chipped up to nearly 1.1 million. –AV
7:25pm: Hajiyev doubles through Reshetnikov
Level 18 – Blinds 4,000/8,000 (ante 1,000)
Players have just come back from their break for the last 90 minutes of play today.
Action folded round to Vladimir Reshetnikov on the button and he opened to 20,000. On his left sat Ramin Hajiyev, who had a little over ten big blinds left. He announced his all in. With the big blind moving aside, Reshetnikov called 65,000 more.
Reshetnikov 7♦7♣
Hajiyev A♥Q♦
It was a flip before the first of the community cards came out but the Q♠A♠10♦ flop pushed Hajiyev way out front, with top two pair. The turn was a 9♦ and the river a 4♥, which gave him a much needed double. He is now sitting with 185,000 in front. –LY
6:55pm: Break time
We've reached the last 20 minute break of the day.
6:40pm: Big double for Yarkov
Level 17 – Blinds 3,000/6,000 (ante 1,000)
Sometimes pocket aces play out just how you want them to. That's exactly what happened to Vasily Yarkov, who just scored a huge double up against Aleksey Tyulenev.
Tyulenev raised to 14,000 from the button and Yarkov three-bet to 45,000 from the small blind. Tyulenev called and the flop came 6♣6♠K♠. Yarkov bet 50,000 and Tyulenev raised to 113,000. Yarkov grabbed a pile of chips with a very shaky hand and called.
A 2♦ came on the turn and Yarkov bet another 50,000. Tyulenev moved all-in and Yarkov snap-called. Tyulenev turned over K♦8♦ for a pair of kings while Yarkov tabled A♦A♠. A 7♦ completed the board and Yarkov doubled to a massive 960,000 while Tyulenev dipped to about 415,000. –AV
6:30pm: Humorous double
Level 17 – Blinds 3,000/6,000 (ante 1,000)
There was about 50,000 in the pot and a 10♣6♣9♦ flop on the board. Viktor Shegai had bet 47,000 and then Ramin Hajiyev moved all-in for 150,000.
While Shegai still had about 450,000 behind, it was a hefty chunk of chips. He was pretty vocal while he thought. He pointed to the dealer, the deck, said something funny in Russian and made the whole table laugh. At least all the Russian speakers. He did that a few more times and eventually called.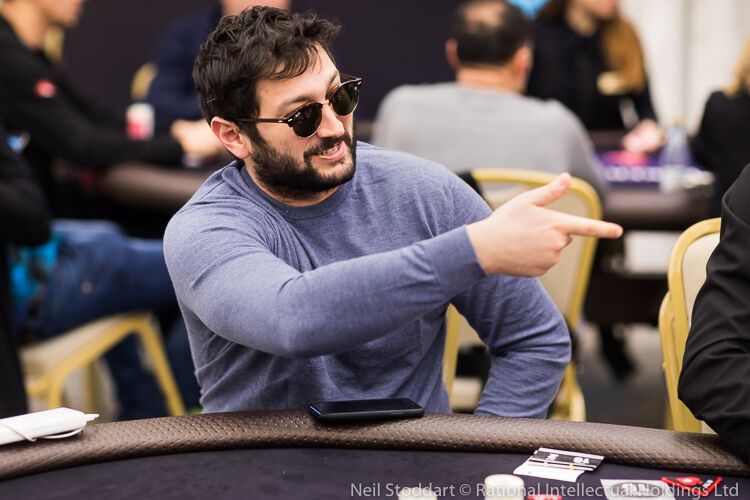 Ramin Hajiyev
He turned over K♣J♠ and Hajiyev was in the lead with A♠10♠. A 3♣ on the turn and an 8♥ on the river kept Hajiyev in the lead, and he doubled to 340,000. Shegai dipped to 450,000. Shegai still had a smile on his face though. –AV
6:20pm: Big decision for Tyulenev
Level 17 – Blinds 3,000/6,000 (ante 1,000)
Action was on the river by the time we got to the table, which is unfortunate as there was about 140,000 chips in the middle and we'd love to tell you how they got there.
Still, what we can tell you is that the board read Q♥8♥9♥A♦A♣ and Aleksey Tyulenev had checked to Vasily Yarkov who bet 150,000. It was a difficult spot for him, which was evident by the time it took for him to make the call and by the relief on his face once he had.
Tyulenev A♠6♥
Yarkov 5♦4♦
Yarkov has dropped to 340,000 and Tyulenev has increased to almost 700,000. –LY
6:15pm: Gets it through, doesn't get it through
Level 17 – Blinds 3,000/6,000 (ante 1,000)
Saar Wilf was looking for a spot to get his last 73,000 in and he found two in close succession. The first was in early position and he found no callers, adding the blinds and antes to his stack.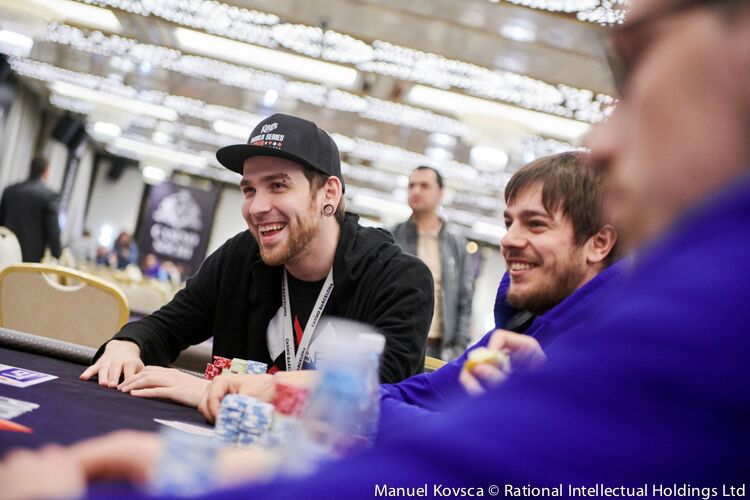 Anatolii Zyrin
The very next hand, under-the-gun, he did the same again. There were two key differences this time. First, he had 88,000 and (more importantly) second, he got a call from Anatolii Zyrin.
Wilf K♣J♠
Zyrin A♣A♥
Wilf was a long way behind. He didn't manage to connect with the 10♠5♠7♣Q♦10♦ board and is the latest player to head home. –LY
6:05pm: Short on short crime
Level 17 – Blinds 3,000/6,000 (ante 1,000)
Anatolii Zyrin has been one of the shorter stacks at his table for some time, but he's also been eliminating quite a few players. If he snipes a few more short stacks, he might just get back to average.
Zyrin moved all-in from the hijack for about 110,000 and Aleksey Yaroslavtsev called all-in for 70,000. The rest of the table let the shorties duke it out and they tabled their hands.
Zyrin turned over 8♠8♥ and Yaroslavtsev was flipping for his tournament life with K♥J♦. Yaroslavtsev couldn't pair either of his hole cards on the 2♥2♣5♣Q♦4♥ board and he was eliminated in 67th. Zyrin on the other hand chipped up to 185,000, which is still about half the average stack. –AV
5:50pm: Shiyanov out
Level 17 – Blinds 3,000/6,000 (ante 1,000)
Nikolay Shiyanov has just played his final hand. He was down to the felt and sat in the small blind, facing an early position open and a three-bet by Kirill Ilyin. It was an opportunity to more than triple up and he made the call. Only Ilyin called and they turned their cards face up.
Ilyin A♣K♦
Shiyanov A♦9♠
The board ran out 2♥5♦J♥Q♦10♥ and Ilyin takes it down, whilst Shiyanov heads over to the payouts desk. –LY
5:25pm: Break time
Players are on a 20 minute break. When they return they will play one more 90 minute level.
5:20pm: Big fizzle
Level 16 – Blinds 2,500/5,000 (ante 500)
Things were gearing up to be a big pot. Andrei Krylou started things off with a raise to 11,000 from middle position and Dmitriy Makarov called from the hijack. Then Gurgen Pipoyan made it 26,000 from the small blind and Sergey Menshov called from the big blind.
Krylou called as well and Makarov threw his hands up in the air. He was the shortest stack at the table with about 100,000. He didn't move in though, but the price was too good. He called and all four players went to an A♠4♦Q♣ flop.
That's when things fizzled out. The four of them checked and a 6♣ came on the turn. Pipoyan bet 34,000 and it was enough to take it down.
Pipoyan took in the pot and also showed the table his K♥K♠ before throwing it into the muck. While there wasn't much action post-flop, the pot pushed Pipoyan up to 420,000. –AV
5:10pm: An epic hand…
Level 16 – Blinds 2,500/5,000 (ante 500)
…and we're not just talking about the action, the time it took for the hand to play out was epic too.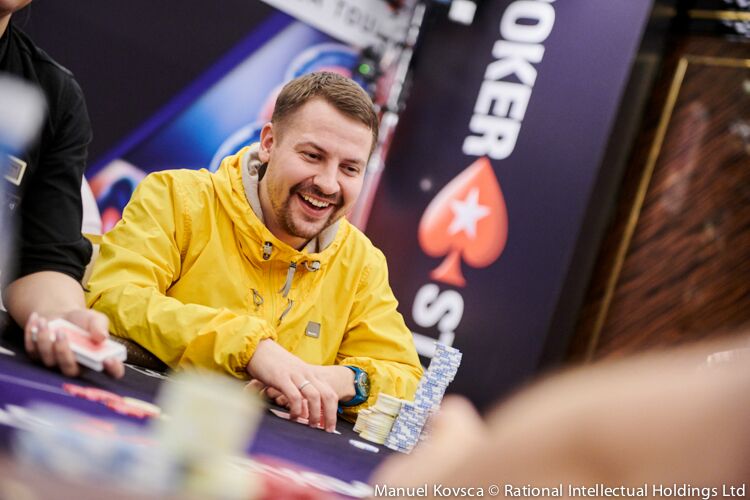 Arseniy Karmatskiy
Let's start at the beginning. Arseniy Karmatskiy kicked things off with a 10,000 open. It folded round to Andrei Chusovitin on the button who raised it up to 31,000. With everyone else getting out of the way, action was back on Karmatskiy who upped it again with a four-bet of 76,000.
7♣K♣J♣
Karmatskiy paused before making a much smaller continuation for 35,500. Chusovitin wasn't ready to give up though and moved all in for 172,500.
By this point the hand had already taken several minutes, but that roughly doubled by the amount of time Karmatskiy spent as he went deep into the tank.
In the end he decided that 137,000 more to call from his 330,000 remaining chips wasn't the right price and he passed. Meanwhile, Chusovitin has moved up to 360,000. –LY
4:55pm: Yaroshevskyy yanked out
Level 16 – Blinds 2,500/5,000 (ante 500)
Igor Yaroshevskyy was down to just 75,000 and four-bet all-in against Aleksey Tyulenev. Tyulenev called and showed J♠9♠ to Yaroshevskyy's dominating A♥J♥.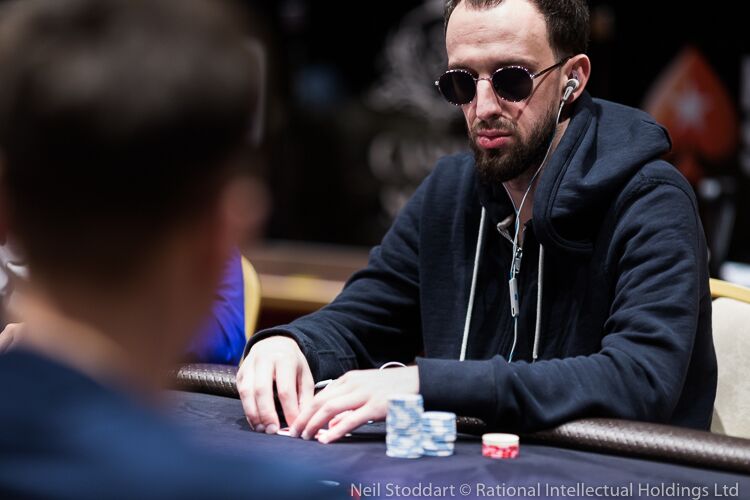 Igor Yaroshevskyy
Yaroshevskyy had a strong lead, but then a 4♠2♣K♠ flop gave Tyulenev a flush draw. A Q♠ came on the turn and Yaroshevskyy was left drawing dead. Yaroshevskyy was eliminated in 74th place while Tyulenev chipped up to nearly 600,000. –AV
4:40pm: Radzivonau gets tricky
Level 16 – Blinds 2,500/5,000 (ante 500)
2♣J♣Q♠2♥
Play was on the turn when we arrived at the table. Kiryl Radzivonau had bet 22,000 and Vahe Martirosyan peeled.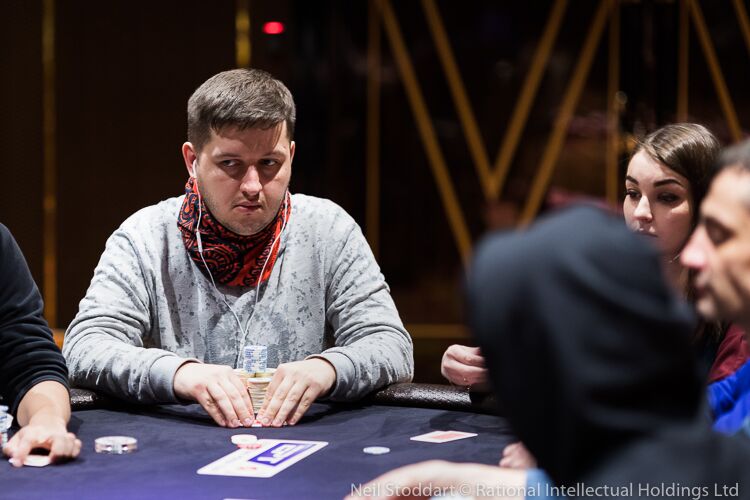 Kiryl Radzivonau
The final card was a 5♥ and Radzivonau elected to check. Martirosyan then made it 32,000 to get to showdown, only for Radzivonau to pump it up to 100,000 exactly.
This was an interesting line to take, especially as Radzivonau had three-bet just over two-thirds of his remaining chips and only had 45,000 behind. Martirosyan decided he didn't like it and passed but with around 700,000 chips still to play with, Martirosyan remains one of the dominant stacks in the field. –LY
4:30pm: Down to the 70s
Level 16 – Blinds 2,500/5,000 (ante 500)
They just keep on falling. Vladislav Naumov moved all-in for about 50,000 from the cutoff and Anatolii Zyrin re-jammed from the button for about 80,000. The blinds decided to let the short stacks duke it out and players tabled their hands.
Zyrin showed J♥J♣ and Naumov turned over 10♣10♦. There was no help for Naumov on the 2♥8♣5♥9♦7♠ board and he was eliminated in 80th. Zyrim on the other hand chipped up to 125,000. –AV
4:15pm: A very close call
Level 16 – Blinds 2,500/5,000 (ante 500)
It has been a relatively uneventful start to Level 16 over in the theatre room where we now have 6 tables playing, including the feature table. There have been a few all-ins but no calls.
The most recent example is a three-bet shove by Kiryl Radzivonau. The jam for 133,000 chips over a raise by Sihao Zhang secured the steal but not after some time in the tank by Zhang. "It was a very close call" he said with a smile as Radzivonau collected the pot. –LY
4pm: Playing in the 80s
Level 16 – Blinds 2,500/5,000 (ante 500)
We're now down to 89 players after Dmitry Lavelin lost a flip.
Lavelin was on the cutoff and got dealt A♣K♣. Good enough for a raise. Action folded to thim and he raised to 12,000. Viktor Ustimov was on the button and looked down at Q♣Q♥, definitely worth a re-raise.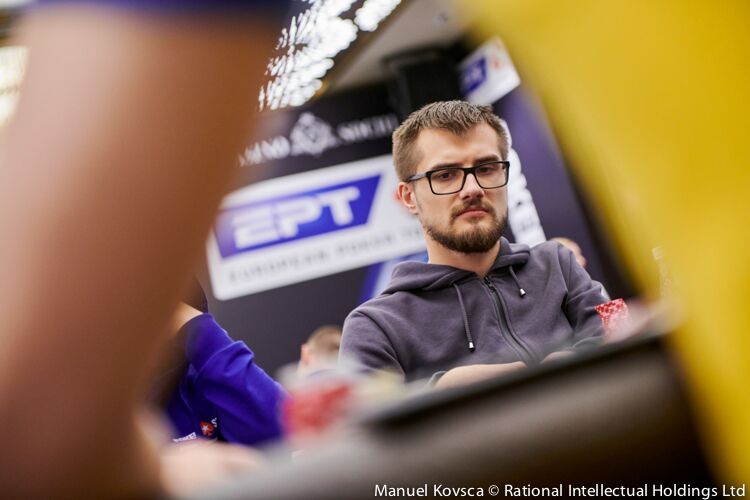 Viktor Ustimov
Ustimov made it 30,000 and Levelin moved all-in for 105,000. Ustimov called and we had a flip.
The 2♠5♦9♥9♦2♦ was devoid of any aces or kings and Ustimov's pocket queens took down the pot. Lavelin was eliminated in 90th place and Ustimov chipped up to 385,000. –AV
3:30pm: Break time
Players are taking a 20 minute break.
3:20pm: Double digits
Level 15 – Blinds 2,000/4,000 (ante 500)
Players are tumbling out of this tournament and we've already gotten down to 93.
Konstantin Salnikov was the most recent casualty. He called all-in from the big blind for 35,500 after Vlada Stojanovic jammed all-in from the small blind for 85,000.
Stojanovic showed A♠Q♥ to Salnikov's 5♠5♦. Things were looking good for the short stack until the river of a K♠2♥8♠6♥A♦ board. Stojanovic hit the ace on the river and chipped up to 125,000 while Salnikov exited the tournament in 94th. –AV
3:05pm: Kacharov doubles
Level 15 – Blinds 2,000/4,000 (ante 500)
After starting the day on just shy of 100,000, Aleksandr Kacharov was left with 51,500 at the start of the hand. Thanks to A♠9♥ though, he has just secured a double up against big stack Dmitry Gromov.
Gromov held K♥10♥ and called the three-bet jam after opening preflop and though Gromov was the slight underdog, there was a lot for Kacharov to dodge.
A♥J♠J♣
The flop was great for Kacharov, who moved a long way ahead. The 3♣ turn changed nothing and it was a A♦ river, giving Kacharov a full house.
Meanwhile Gromov's still sat with a huge pile of chips in front of him, our best guess is that he's playing about 700,000. –LY
2:55pm: Federica falls with queens
Level 15 – Blinds 2,000/4,000 (ante 500)
Federica Huerzeler-Milani was down to just 28,000 and picked up pocket queens from under the gun. She moved all-in and Viktor Shegai called from the cutoff. Things were looking good for Huerzeler-Milani and her Q♦Q♣ after Shegai showed 6♠6♦, but then he hit a set on the flop of a K♦A♠6♣5♠J♦ board.
Shegai chipped up to 500,000 while Huerzeler-Milani busted in 106th. –AV
2:45pm: Shutenko out
Level 15 – Blinds 2,000/4,000 (ante 500)
Ernest Shakoryan, opened in early position to 10,000 and Dmitriy Shutenko shoved 62,500 over the top. Shakoryan took his time before making the call and they were off to the races.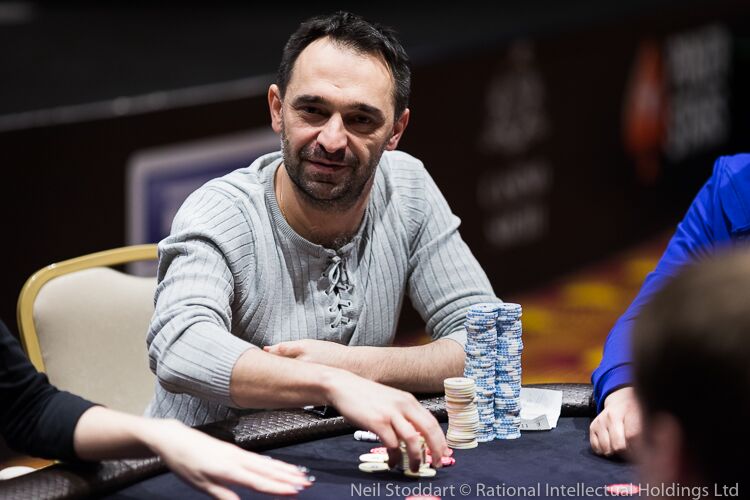 Ernest Shakoryan
Shakoryan K♥Q♥
Shutenko J♣J♠
The flop came down K♣4♥7♥ and Shakoryan became the massive favourite with top pair kings and a flush draw. The 5♠ turn and 4♠ river sealed it up and Shutenko hits the rail. –LY
2:30pm: Ilyin builds
Level 15 – Blinds 2,000/4,000 (ante 500)
Kirill Ilyin has had a profitable start to the day…beginning Day 3 with 60,000 chips and more than quintupling it to around 320,000.
The most recent aquisition came when his J♦J♣ held against Igor Soika's 9♥9♠. They had got it all in preflop in a button versus big blind situation and it was all over by the flop.
6♦4♣J♥7♠A♥
The pot gives Ilyin one and a half times average stack, which is 212,000 at the moment. –LY
2:20pm: A pair of doubles
Level 15 – Blinds 2,000/4,000 (ante 500)
While players have been falling left-and-right, a few have dodged some bullets.
Aleksei Zotikov shoved his remaining 21,500 from middle position and Dmitry Shutenko called from the hijack. Aleksander Braychuk called from the cutoff as well and our chip leader, Sergey Pichugin, called from the big blind.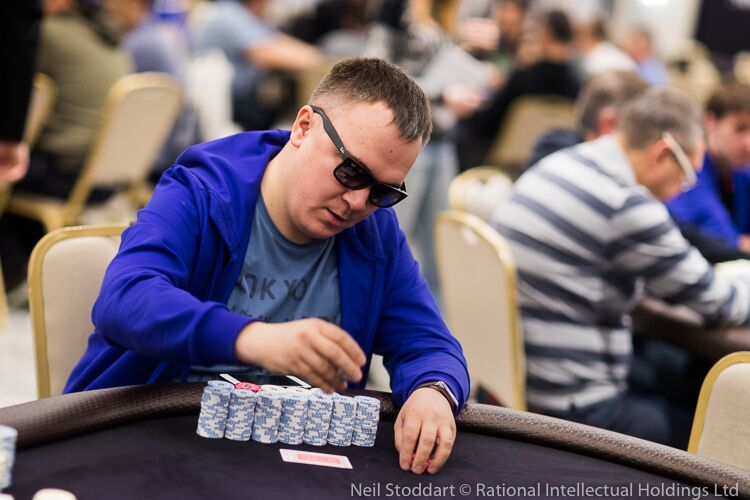 Sergey Pichugin
The flop came 10♥A♥4♣ and Shutenko, who only had 9,500 behind, moved all-in. Braychuk and Pichugin stayed in the hand and checked it down. A 6♥ came on the turn and an 8♠ completed the board.
The 8 also saved the short stack. Baychuck showed the worst hand with K♣J♦ and the rest of the players showed a variety of aces. Pichugin's A♣5♦ was the worst, followed by Shutenko's A♠Q♠ and Zotikov tabled A♦8♦ for aces and eights. Zotikov quadrupled to about 90,000 while Braychuk stayed steady at about 30,000.
They live to fight another day. –AV
2:10pm: The field thins
Level 15 – Blinds 2,000/4,000 (ante 500)
We are already down to 116, with ten players hitting the rail in a matter of minutes. The last four of those will take home 318,000 Rubles with them, as they made the next pay jump. –LY
2pm: The exodus begins
Level 15 – Blinds 2,000/4,000 (ante 500)
The bubble has burst, the floodgates have been opened and the exodus of short stacks has begun.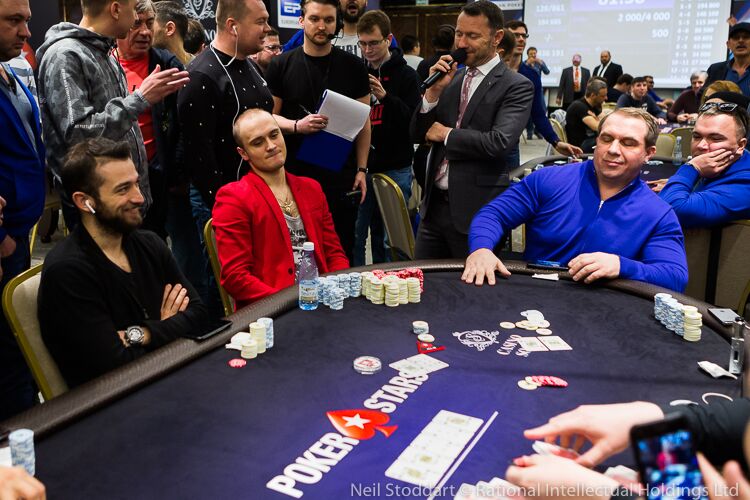 Action on the Main Event bubble
A few have doubled, but others haven't been as lucky. Iurie Corini was the first short stack to go. He got it in with A♣3♣ and got called by Ernest Shakoryan and his Q♣10♣. Corini asked for a three and he got one on the 10♠2♥3♠8♣K♦ board, but Shakoryan hit a ten. Tens took it and Corini finished in 127th place. While he was lining up for his payout, Andrew Gray showed up to take 126th place. –AV
1:50pm: The bubble bursts
Level 15 – Blinds 2,000/4,000 (ante 500)
We have been playing hand for hand here in Casino Sochi since players returned from their break, but play is about to resume as normal as Andrey Razov has fallen at the last.
The money went in preflop between Razov and big stack Nikita Kalinin and Razov had got it in good for his tournament life.
Razov J♥J♦
Kalinin K♠6♣
There were about 20 people hovering around the table as the dealer laid out the flop.
Q♣K♦4♣
Kalinin had moved into the lead and Razov was looking for a jack or running straight cards to turn the hand around.
The 3♣ turn narrowed Razov's outs to just one. He needed the J♠ only.
The river was a J♣ and it was a cruel runout for Razov as his set on the river still wasn't enough to beat Kalinin's flush.
Commiserations go out to Razov but it's congratulations to the 127 players who make the money. –LY
1:20pm: Break time
A pause in the drama as players take a 20 minute break.
1:10pm: We are on the bubble
Level 14 – Blinds 1,500/3,000 (ante 500)
There are 128 left and all but one unfortunate person will make at least 306,000 rubles for their efforts over the last two and a bit days.
Leonid Novak survived a flip when his 7♥7♠ held against Mihai-Cosmin Pancu's A♦J♣. Novak now has 85,000, whilst Pancu still has 195,000 to play with.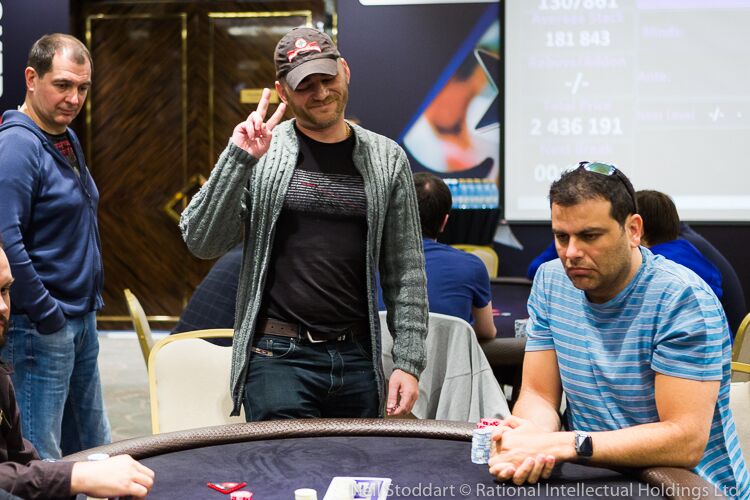 Leonid Novak
Unfortunately for Maxsim Urvantsev, he narrowly misses out on some profit, as he hit the rail just a few minutes ago. He was down to 18,500 and sat under-the-gun with 6♥6♦. He decided to get it in but ran into Ezequiel Waigel's over pair 8♠8♣.
The flop was a sweaty 7♦8♥5♦ for Waigel's top set as Urvantsev had open-ended outs and backdoor diamonds to save him. The 5♥ turn locked it up for Waigel though and the 2♠ river made no difference as we say goodbye to Urvantsev. –LY
12:50pm: More doubles, one bust
Level 14 – Blinds 1,500/3,000 (ante 500)
There's been a few more double-ups scattered throughout the field, but we have gotten one elimination. Roman Ghadziev was faced with a decision for his tournament life on the river of a 7♦9♣9♥8♦K♦ board.
There was about 70,000 in the pot and Andrei Krylou moved all-in. Ghadziev only had about 25,000 behind and thought for a bit. Then he called and turned over 10♦10♣, but Krylou showed J♦3♦ for the rivered flush.
Ghadziev got busted and we're down to 130. –AV
12:40pm: Kalinin wields his stack
Level 14 – Blinds 1,500/3,000 (ante 500)
There are just 131 left and with only four players to go, there are the big stacks and then there is everyone else.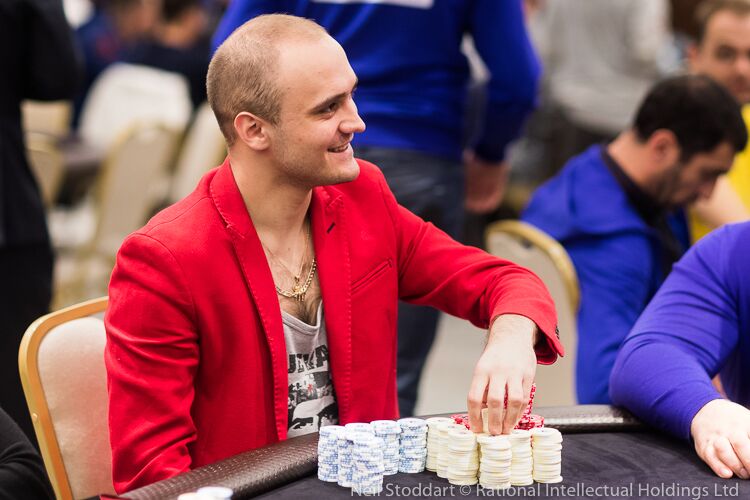 Nikita Kalinin
Nikita Kalinin just utilised his enormous stack against Rustam Hajiyev who had opened to 7,000 on the button. Kalinin moved all in, for about 780,000, which easily covered Hajiyev's 100,000 chips. Hajiyev thought about it but couldn't bring himself to call and Kalinin's aggression pushes him up to around 800,000. –LY
12:30pm: Demenkov gets it in
Level 14 – Blinds 1,500/3,000 (ante 500)
Ernest Shakoryan kicked things off with a 7,500 open in early position. Vladimir Demenkov looked like he was having a hard time deciding what to do with the last of his 20,000 chips. But after a minute or two of contemplation he decided just to call. Aleksandr Braychuk peeled from the big blind and they went to a flop.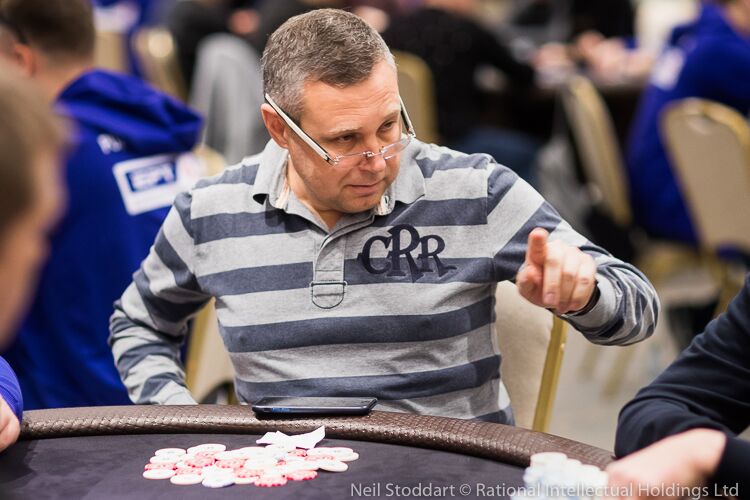 Vladimir Demenkov
Q♣10♣3♥
After a check each from Braychuk and Shakoryan, Demenkov committed his last 12,500 chips. Both of his opponents called and checked it down on the 7♦2♦ turn and river.
Neither Braychuk nor Shakoryan could beat Demenkov's pocket 10♥10♦ and he takes down the 65,000 pot. With the bubble in sight, that will be a memorable hand for Demenkov, just so long as he can hold on a bit longer.
–LY
12:20pm: Navigating the river
Level 14 – Blinds 1,500/3,000 (ante 500)
The early blip of bustouts has calmed down a bit and we've had a few double ups. Shorties have won flips, and others have made good calls on the river.
That's how Aleksey Gortikov got his double up. There was about 100,000 in the pot and a K♦10♥8♣K♣4♠ board on the table. Kiryl Radzivonau had Gortikov covered and moved all-in. Gortikov thought for a while, the TV cameras swarmed his position and Gortikov eventually called.
Radzivonau turned over A♦9♠ for air and Gortikov triumphantly turned over 9♣10♣ for a pair of tens. Gortikov doubled to about 260,000 while Radzivonau dropped to about the same amount. –AV
12:10pm: Quick drops
Level 14 – Blinds 1,500/3,000 (ante 500)
We've already lost a couple of players and are down to 134. The most recent elimination was Nikolai Fal, who got it all-in with A♦K♣. He was flipping for his tournament life against Vage Martirosyan's Q♠Q♣.
The K♠3♣J♣ flop put Fal on top, but then a Q♥ landed on the river to give Martirosyan a set of queens and the victory. Fal hit the rail and Martirosyan chipped up to nearly 450,000. The bubble nears… –AV
12pm: Cards in the air
Level 14 – Blinds 1,500/3,000 (ante 500)
Play has resumed on Day 3.
11:55am: What goes on in a dealer meeting?
There are roughly 70 dealers working the EPT Sochi festival. They vary across the EPT, but for Sochi it is mainly a local contingent, either from Russia or Ukraine.
They meet every morning, a procession of black uniformed staff, arriving for the morning briefing.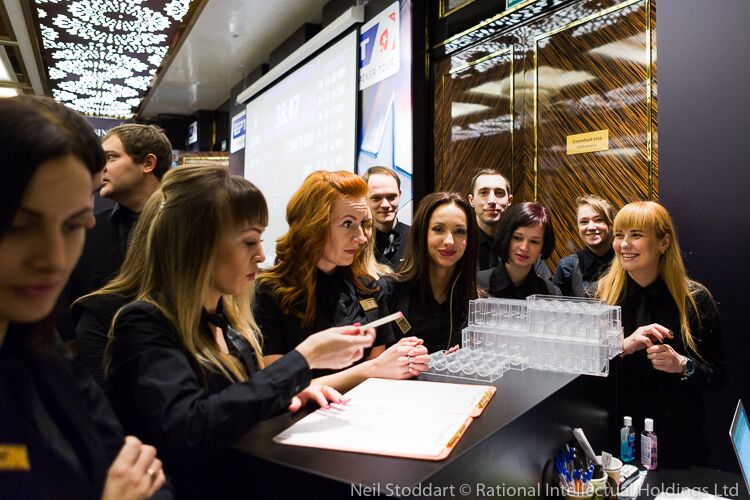 If you're wondering what you tell a dealer, well, there's plenty. And before you starting thinking it's "each player is dealt two cards face down…" it's more complex than that.
Day 3 takes a bit more instruction.
First there's the bubble coming up. That has its own format and procedure that dealers need to be familiar with. Then there are pay-outs, face-down all-ins and the TV team to consider. All of which must be managed without mistakes – or at least
There's also the motivational side of things.
As Luca Vivaldi of the tournament staff explained, it's about motivations too. The dealers here do a great job and there's no harm in making sure they know that. As Vivaldi put it: "They make our job easy." – SB
11:50am: Today's feature table
Live cards up TV coverage starts at 12:30pm today (10:30am UK time, 5:30am ET). Here's how that table will line up:
Aleksey Savenkov (Russia) 241,000
Nikita Nikolaev (Russia) 88,000
Arunas Sapitavicius (Lithuania) 467,000
Igor Yaroshevskyy (Ukraine) 193,500
Andrey Danilyuk (Russia) PokerStars qualifier 137,500
Aleksey Tyulenev (Russia) 296,500
Vasily Yarkov (Russia) PokerStars qualifier 92,000
Vadim Kuvshynov (Russia) 35,000
11:45am: Welcome to Day 3
Level 14 – Blinds 1,500/3,000 (ante 500)
Welcome back to Day 3 of the EPT Sochi Main Event. Play is set to start at 12 noon today, with five levels on the schedule. However, we still have an hour level to play on level 14 so that may be adjusted slightly.
Yesterday we ended the day with 136 players. That's one table away from the bubble. The top 127 players will get paid meaning things will be tense from the off this afternoon.
You'll find live updates on the Blog throughout the day. But don't forget you can also watch LIVE, either on PokerStars.tv, YouTube and on Twitch. — SB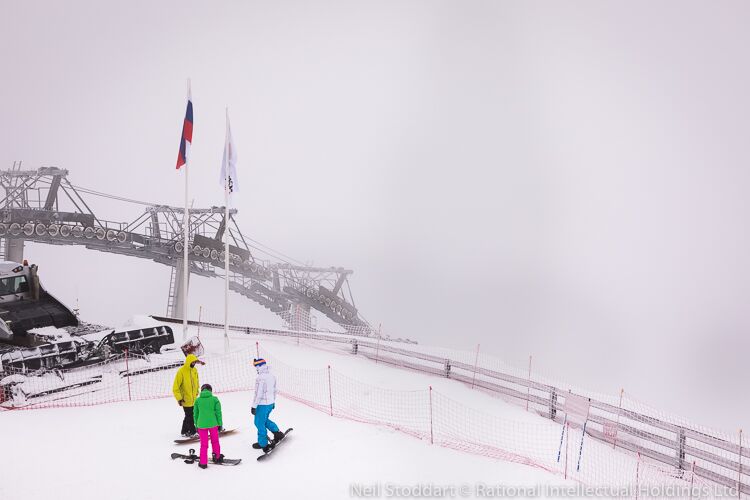 PokerStars Blog reporting team on the Main Event: Stephen Bartley, Lisa Yiasemides, and Alexander Villegas. Photography by Neil Stoddart.