There is one more hero to add to the pantheon of Platinum Pass holders.
Avid sportsman Gareth Gardner has joined the ever-growing list of players who will freeroll the 2019 $25,000 PSPC event. His tournament victory at the London Series at the Hippodrome was sweetened further by the bonus seat he's now guaranteed at next year's showcase event in the Bahamas.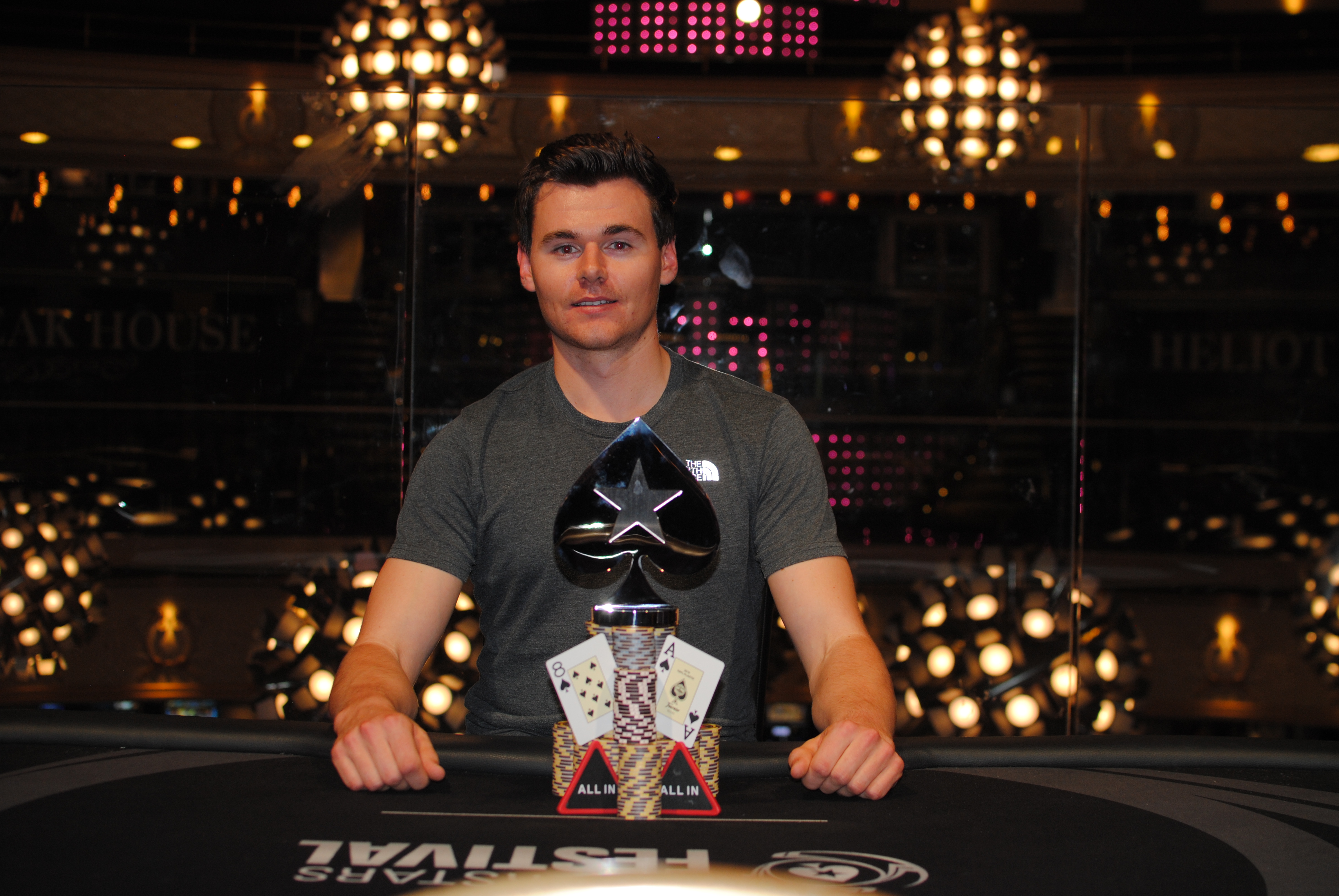 Gareth Gardner becomes the latest to earn a Platinum Pass. He won the PokerStars London Series at the Hippodrome this weekend, collecting a first prize of more than £13,000 along with the ticket to the PokerStars Players Championship in the Bahamas next January
"It feels surreal at the moment" Gardner said, following his hard-fought heads-up victory over former Mali International footballer Jimmy Kébé. "I'm sure tomorrow it will sink in but it's extremely exciting!"
Every Platinum Pass won is huge. $30,000 of free value is the kind of thing that sets even seasoned poker vets salivating in anticipation. The smaller the tournament buy-in however, the larger the relative cherry on the top of the value cake.
At PokerStars Live! at the Hippodrome Casino, the March London Series first prize was £13,480, following a payout-flattening deal struck between Kébé and Gardner. That meant the additional $30,000 provided by the Platinum Pass (roughly £21,500 sterling) more than doubled his eventual winnings.
It was no effortless coronation for Gardner, however. He worked hard for his spoils.
The final table was keenly contested throughout. No one player could dominate for long. Exits were rapid and brutal. George Wyatt became an early victim of Kébé, whose queens slew Wyatt's kings with a painful river punctuated by (in order) a fist-pump, a scream of delight then a sheepish apology from Kébé. This regicide set the tone for some of the excruciating showdowns that were to come.
It was like the Beatles in their pomp – the beats just kept rolling. Local legend Dominic Wells abandoned his usual eloquence as runner-runner sixes from a giggly Johnny Wu decimated his stack. "**** **** **** **** **** ****" Wells profaned as elimination swiftly followed…."and you can quote me on that." We think you can fill in the gaps.
Ben Phillips, Johnny Wu, Tiberiu Benea, Joe Field and Alberto Horvath fared little better – variance derailing their bids just short of that Platinum-tinted light at the end of the tunnel.
Showing remarkable survival qualities throughout this maelstrom, Gardner and Kébé were the last men standing, left to duke it out toe-to-toe for the title and Platinum Pass. They started heads-up virtually level and once they checked the ICM considerations were happy to deal for close to an even chop. That still left the $30,000 Platinum Pass in the pool however and neither player was going to relinquish this rare opportunity lightly.
The early going suggested it was former Premiership footballer Kébé who would emerge the champion as a big, but mistaken call from Gardner saw him up against the ropes in the first few hands. His stack was crippled to ten big blinds. His demeanour was starting to fade and with a confident Kébé wielding a 7-1 chip lead like a sledgehammer, it looked for all the world as though Gardner's night was close to done.
He wasn't about to throw in the towel however. "I had trust in my game," he told us. Well-merited trust it would seem, as he chipped away with skill and efficiency – taking chunk after chunk out of Kébé's stack to gain parity and finally turn the tables completely.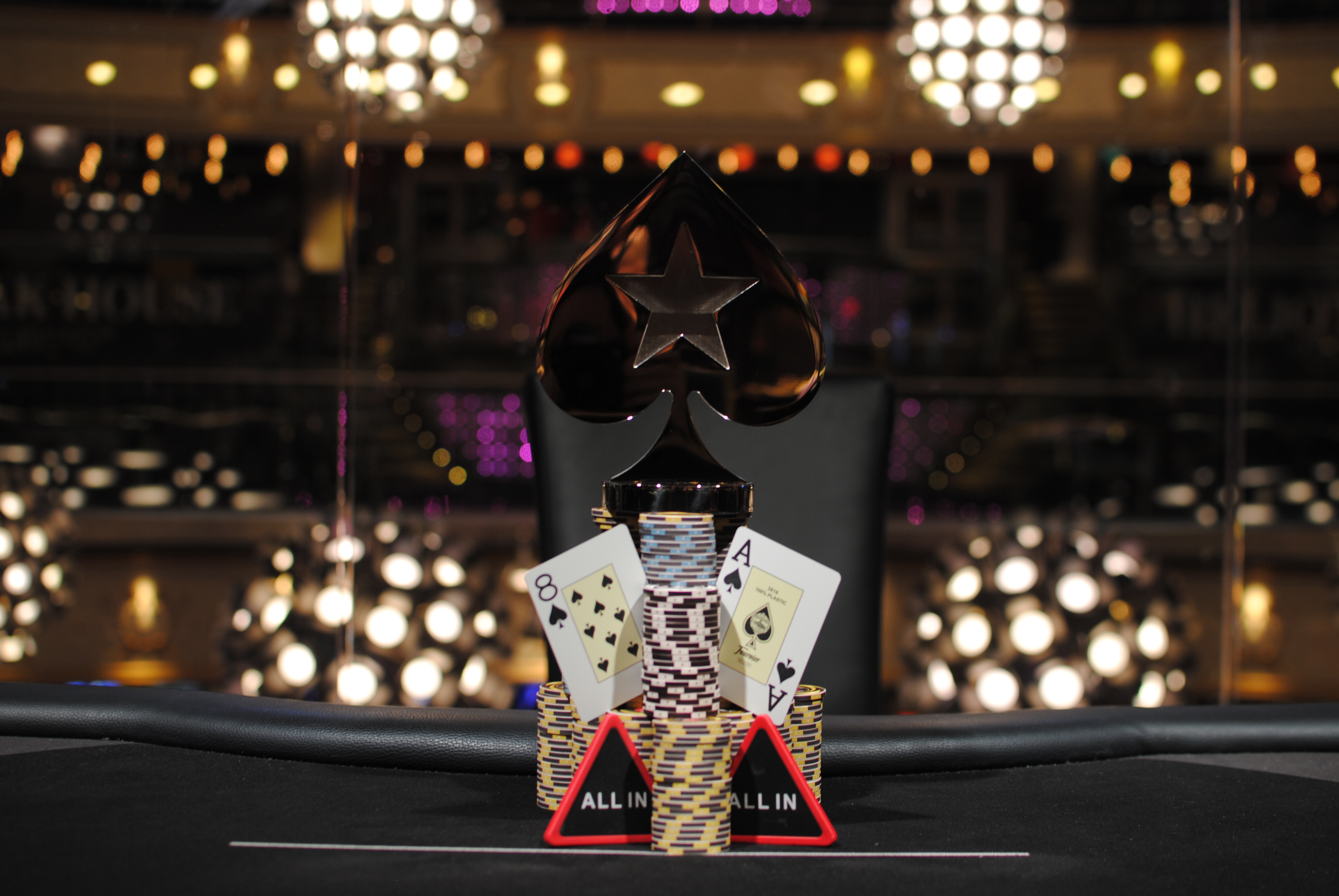 Along with the trophy, Gardner won a Platinum Pass worth $30,000 to the PokerStars Players Championship in the Bahamas next January
"I just didn't find any cards at all!" a frustrated Kébé told us afterwards. "I couldn't win a showdown!" By this point Gardner had built up an unstoppable head of momentum and finally he took on Kébé's short stacked shove with a suited ace, flopping the nut flush to leave his opponent with nothing but a visit to the cash desk where £13,882 awaited him – life's not so bad at the business end of a poker tournament…
The Platinum Pass was Gardner's however and he was buoyant about the adventure he'll be going on next year.
"It's the stuff of dreams really. I'm going to go there fearless and who knows what could happen."
Who knows indeed? The tournament will have the eyes of the poker world fixed firmly on it – and there are plenty more Platinum Passes up for grabs if you want to share in this moment of poker history for free.
Grab your own value-added cherry at one of these events and come join in the fun.