So, you know someone who thinks poker is a game of luck?
Tell them about Stephen Chidwick.
He has the demeanor of one of the game's professors, and the determination of one of its students.
And he now has the resume of what is now the top ranked player in the world.
That record has earned him more than $15.5 million in tournaments around the world. More importantly to Chidwick himself though, that record put him at the top of the Global Poker Index last week, making Chidwick the first British player to be ranked number one.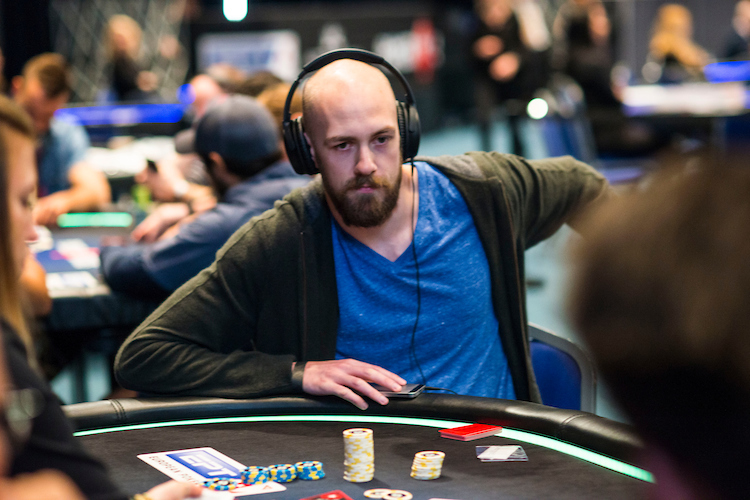 Stephen Chidwick in action at EPT Monte Carlo this week
Not bad for a kid from the quiet town of Deal, England. Population 30,000.
In some ways, he's the typical modern poker player: dedicated, and a citizen of the world.
In other ways, he bucks the trend: No obvious signs of wealth, no social media ("I don't think for me it would be a net positive"), just a single-minded focus on the game he still loves.
But then what else would you expect at the very top of the game other than a single-mindedness that would drive most others to the rail.
We spoke to Chidwick during EPT Monte Carlo, about his GPI success, as well as his career – from Stevie444, to number one in the world.
PokerStars Blog: Was this something you were consciously pursuing?
Stephen Chidwick: I've definitely been chasing it for probably three years. I've always been very motivated by rankings, and Player of the Year type stuff. So, I was very aware of the ranks of what I needed to do. How many points I was getting for each score, so it's been a focus of mine for a while.
Like a game within a game?
Exactly.
Have you always been motivated in this way? Were you competitive as a kid?
Very much so. Pretty much whatever my hobby was I wanted to do that all the time and get as good as possible. And really, it could be absolutely anything. It could be a really silly computer flash game. Before poker my main passion was golf and I was practicing a lot and trying to get as good as I could.
Your recent results in Barcelona got to the top of the GPI (two final tables combining for 2 million). What was going right?
So, the trip started really badly. The first few events I didn't cash anything, and none of my swaps were doing well, so I was stuck a lot.
Then the 100K just went well from the very start. I had the hottest start of any tournament ever; I had five starting stacks by the first break.
The final table I played well. Everything was going right. People folding to my bluffs. I had good timing in that sense. It just felt like everything was coming together, I was flowing with the universe! Everything felt like I had a clear vision of what was happening.
As soon as I busted the final of the 10K it was Day 1A of the Main Event, and we had reservations for Tickets in Barcelona, which is a really nice restaurant, on Day 1B. So, if I wanted to make it to dinner I had to play immediately and get through on 1A.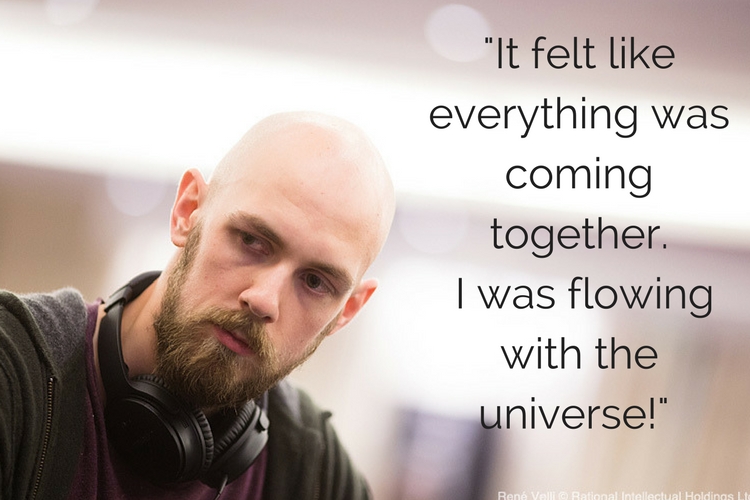 I felt so focused and in the zone that I just registered for the Main Event as I was getting my payout for the 100K, and just immediately started playing. That was like a 15-hour day or something.
But I bagged a few times the starting stack and, yeah, obviously ran good to make it to the final table. But I felt like I was playing well throughout. Obviously, I was very happy with the result.
So it was a case of running well so keep playing?
Yeah, and as tournaments progress I get more and more focused and in the zone. I was meditating every single break. Going through a morning routine before I played, stuff like that. I was feeling like playing more poker, and that I was playing well.
You mentioned the universe being in order. That's almost a theme of your career. But have there been times it hasn't looked so easy? Times when, like every poker player, things haven't gone so well?
Yeah definitely. I've had rough stretches. I didn't have very good results in high rollers for quite a while after I started playing them. There was definitely some going from chip leader to bubbling a tournament in the space of an hour, and feeling dejected from that.
Luckily I have an amazing support system – friends and family to help pick me up and convince me I'm playing well and to keep at it and stuff. But yeah, it's been a long road to get to number one. But a pretty rewarding one too.
You mention meditation, is that something that you've turned to recently?
I guess I've been consistently meditating for about two years. There are a lot of studies that show it has positive effects, and physically changes the structure of the brain.
Obviously in poker, playing 15-hour days, using a lot of brainpower and trying to maintain focus for very long periods, it seemed kind of obvious that it would improve mindfulness, and that kind of thing.
What about away from poker – do you get to enjoy the success in the ways you want to?
I still love the game; I love playing poker. I don't feel like what I'm doing is work; I'm still excited to do it every single day. But away from the table I enjoy travelling and the opportunities that tournament poker has given me.
Before I registered the PLO we're going to go to Eze, which is a village up on the cliffs. There's a really nice restaurant there with amazing views and stuff like that. I try and sneak in some sightseeing trips in between tournaments whenever there are breaks.
And where's home right now?
At the moment, I'm just travelling. I have an apartment in Mexico, which I go to play online sometimes. But I haven't been playing online very much recently.
Kind of deciding on where to settle, which will probably happen in the next couple of years. For the moment, I'm just trying to make the most of this opportunity I have right now, with no real ties or responsibilities – to see what I can make of poker and see how well I can do.
In the High Roller events you play, you're up against a small pool of players who you're familiar with. How do you make sure they don't get familiar with how you play? How do you keep ahead?
I think that's a lot where the GTO (Game Theory Optimized) kind of approach to the game comes in handy.
When you play with people over and over again, and they see how you're playing on streams and stuff like that, you have to be balanced in a lot of ways.
You can't only be bluffing with a certain line, value betting with a certain line, so you have to be very conscious of your overall range, how you're playing all your hands and try to standardise more things.
Like you said it's a very small player pool. But within that player pool there are a few groups of people. If you're looking at groups of players that are studying together and discussing hands and everything, you can't hide anything. If you showdown a hand people are going to show each other, they're going to know about it.
Yeah, there's little tricks and stuff you can find, and exploit people where you can. But you can't get too far out of line. These players are really good, and if you try to diverge too far from the equilibrium you're just going to get punished.
Do you ever have that sense that other players might be catching you up?
Obviously, it's a very competitive atmosphere. There are a ton of players who are working hard, and I feel that same need to keep working, to stay ahead of the people that are chasing you.
Can you talk about your approach to the game has changed over the year, and how you view the game now?
I've gone through periods of lower motivation for the game, something that I've worked on in different points of my career. Currently I don't have any problem with that. I'm very excited to play all the time, excited to study too.
The introduction of these powerful solvers has changed the game a lot. Really, it kind of inspired me to work hard, because before that there was only so far you can go with pen and paper, trying to figure stuff out. Mostly the way you improve was talking to people and getting their opinions and trying to figure it out. Whereas now there are the tools to understand the game in a very deep way.
That's very exciting for me. Whenever I run a simulation, look at the hands, choosing to take certain lines and figuring out why you prefer one combo over a different combo – I enjoy that, and figuring out little puzzles and increasing my understanding of the complexities of the game. It captivates me.
That sounds like the kind of obsession that puts a player at the top of the GPI leader board.
Yeah, it's fun!
Looking ahead, will you be playing the PokerStars Players Championship? What are your thoughts on that?
Absolutely. I'm excited for that one. It's going to be a giant tournament.
A typical Chidwick tourney?
It's going to be a giant field. It's going to be a big one for the GPI points, because of the nice big buy-in and giant field. I'd love to go deep in that.
I'm kind of proud that I have a good record in main events and in the spectrum of tournaments. I think that I do a pretty good job of adapting and using the theoretical understanding, but also deviating from it when I think I see an opening or whatever.
So, I'm looking forward to being able to play against, obviously the Super High Rollers I play against all the time, but also the less experienced players, the whole spectrum. So, that'll be a fun tournament to try and navigate through, and hopefully have a nice score.
So what's next for Stephen Chidwick? More poker, or do you see other things in your future?
At the moment, the buy-ins are just getting bigger and bigger. It's getting crazy how many high stakes poker tournaments you can play these days.
So, for the moment I'm going to keep trying to take advantage of that. But I feel a) I have the time to dedicate to it, and b) feel like I'm at the top and playing well. But then before too long, starting a family, settling down a little bit, maybe open business of some sort and explore other areas.
But yeah, I'd like to be playing poker for the foreseeable future. As long as I keep enjoying it, and it's keeps stimulating my curiously, and keeps me entertained yeah, I'd like to be competing at the highest level for years to come.