For many decades now, Las Vegas has been the world's greatest gaming destination. According to official statistics, the city attracted more than 42 million people in 2018, many of whom will hit the gaming tables or slot machines at one of the city's more than 100 casinos. If it's casual betting and late night partying that you're after, Sin City is an awesome place to be.
But it's not the only place to be…
In recent years, visitors to the Asian gaming capital of Macau have been wagering even more than the happy gamblers of Vegas. Macau, which is a Special Administrative Region of China, just a short ferry ride from Hong Kong, now pulls in more than four times the revenue of Vegas. Official figures from 2018 show gross casino revenue in Macau of around $37.5 billon.
While Vegas offers glitz, glamour and around-the-clock entertainment, Macau has established itself as the top destination for more serious casino gamers, and tables typically have much higher minimum bets. Macau is also famous for baccarat, while Vegas hosts a greater number of live poker games.
Even though those two celebrated destinations hog most of the headlines when the subject of casinos comes up, it's not just a two-horse race. Dozens of other cities are now establishing themselves as global gaming destinations, each bringing its own unique contribution to the casino and live poker community.
Here we take a look at the top cities around the globe that give even Vegas a run for its money.
Monte Carlo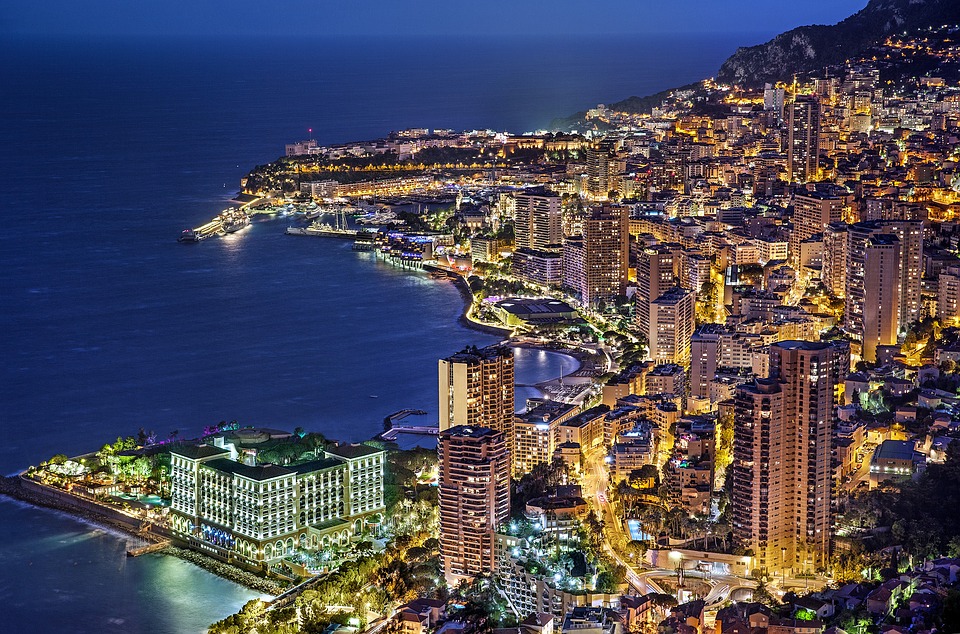 Monte Carlo has been welcoming gaming aristocrats since the 19th century, and the city that forms almost all of the Principality of Monaco maintains its reputation as Europe's playground for the rich and famous. A short stroll to Porte Hercule will reveal one of the world's largest collection of luxury super-yachts, a demonstration of the wealth of Monte Carlo's residents and celebrity visitors.
Thankfully, you don't need to own a super-yacht to enjoy a couple of sessions of casino gaming in Monte Carlo. What you will need is a smart-casual outfit and a healthy bankroll… It's unlikely you'll find much in the way of low stakes blackjack here!
The stunning Casino de Monte Carlo is a classy place for gaming, and you might recognise the beautiful and grand interior from action movie scenes. James Bond has spent some time here, in both Never Say Never Again and GoldenEye, for example.
The town is also home to one of the most eagerly-anticipated annual poker festivals: the European Poker Tour (EPT), which makes its 2019 stop in Monaco from April 25th. The action for that event takes place down the road in the Monte Carlo Bay Hotel & Resort, but you can enjoy blackjack, roulette and craps, among other entertainment, on 50 tables across the casino floor, as well as 140 slots machines and a range of cocktails… shaken not stirred.
This destination for high society gaming is set within the charming setting of the French Riviera, and any trip here will undoubtedly include sunshine, shopping and fine dining. There's no denying that Monte Carlo has a very different feel to Vegas… but maybe that's a good thing?
Best for: super-cars, super-yachts and super-high stakes!
Singapore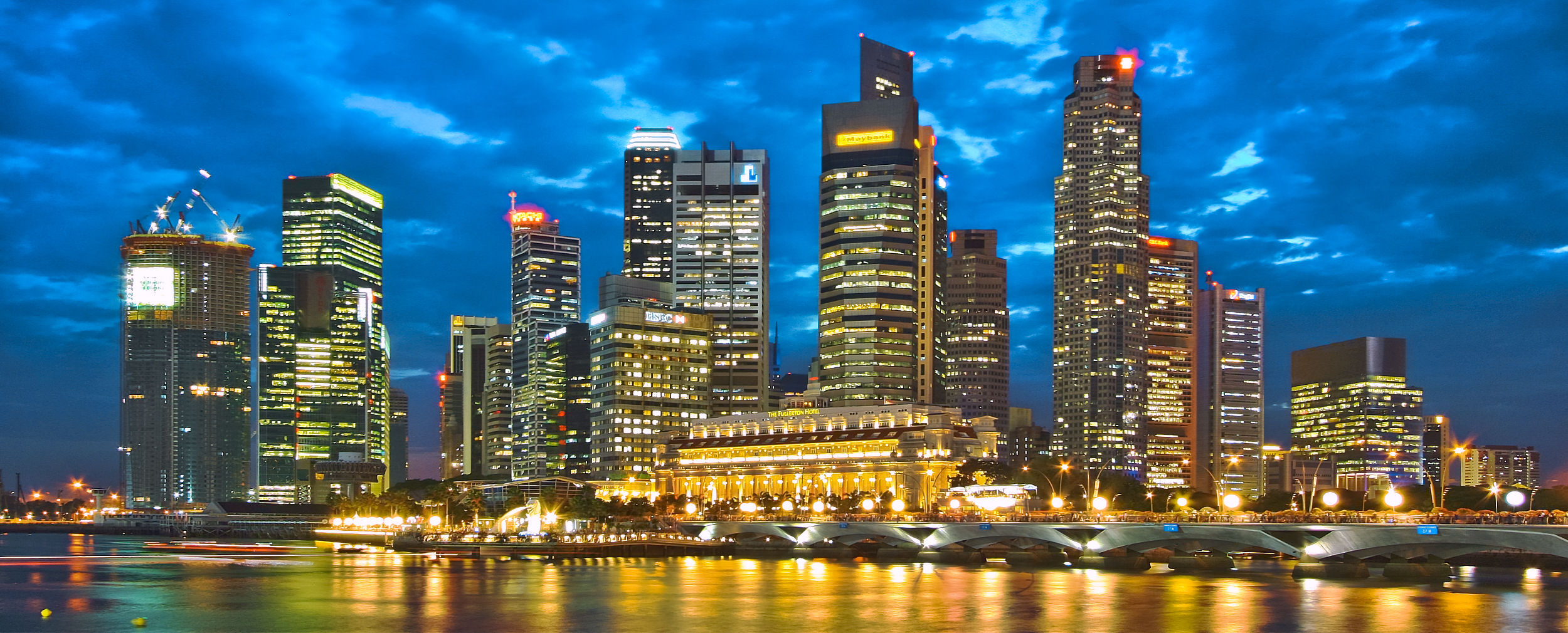 Singapore is already one of the most technologically advanced cities on the planet, and now the city-state is aiming to become a go-to destination for casino gaming with the opening of two mega resorts: Resorts World and Marina Bay Sands.
Resorts World, developed by Genting, is located off the coast of the city on the small island of Sentosa. This place even has a Universal Studios theme park and the world's largest oceanarium, as well as 500 gaming tables.
Arguably even more impressive is Marina Bay Sands, built at a cost of around $5.5 billion. Marina Bay is the most expensive casino complex in the world, and you can really sense it in the grandeur of the architecture and the design of the interior. Inside you can find up to 1,000 gaming tables and more than 1,400 slots.
The complex also has swimming pools, nightclubs, malls, seven celebrity chef restaurants, and is topped with a Sky Park featuring a 150-metre infinity pool. It's impossible to get bored here, but remember to leave the complex to explore the culture of the city.
Between them, these two mega resorts own the exclusive rights to live casino gaming in Singapore, but in just a few short years the exclusivity will expire and the casino industry will open up to make the city a truly unforgettable gaming destination.
Best for: The most expensive casino complex in the world!
Nassau
At first glance, the Bahamas seems like more of an appropriate destination for soaking up the sun and sipping cocktails than sweating it out at the poker tables playing Texas Hold 'em.
But why not have both?
The Bahamas, particularly around Nassau, is now a hub for casino and live poker gaming. From Nassau, head out to nearby Paradise Island to to experience the thrilling Atlantis Resort. The resort has 700 slots and 85 table games, along with beaches, aquariums, nature reserves and waterparks. If you want to save on accommodation, stay in the capital city and enter Atlantis on a day pass.
While Atlantis is the most established destination, the recently opened Baha Mar is now the largest casino in the Bahamas, with a massive 100,000 square feet of gaming floor providing ample space for the 1,000 slot machines and 119 gaming tables. The Baha Mar also has 40 restaurants and plenty of clubs and bars to boogie away the warm Caribbean nights.
Best for: Gaming in paradise!
Atlantic City
Atlantic City was a thriving health resort in the 1800s, and has since built its reputation on casino gaming. Its first casino opened in 1978 and the city still provides a solid alternative to Vegas to this day.
By far the largest casino in Atlantic City is the Borgata, with around 4,000 slots, 180 table games and the largest poker room in the city. Here you can find daily live poker tournaments, as well as regular major events with higher entry fees.
It's been a turbulent few years for the city's gaming industry with a number of casinos closing. As such, it's difficult to know how it will compete with Vegas in the long run. Still, the city has beaches, entertainment, spa treatments, and enough live tournaments to keep any poker player happy. It's well worth a visit when you get sick of the Strip.
Best for: Poker tours and spa treatments!
Sochi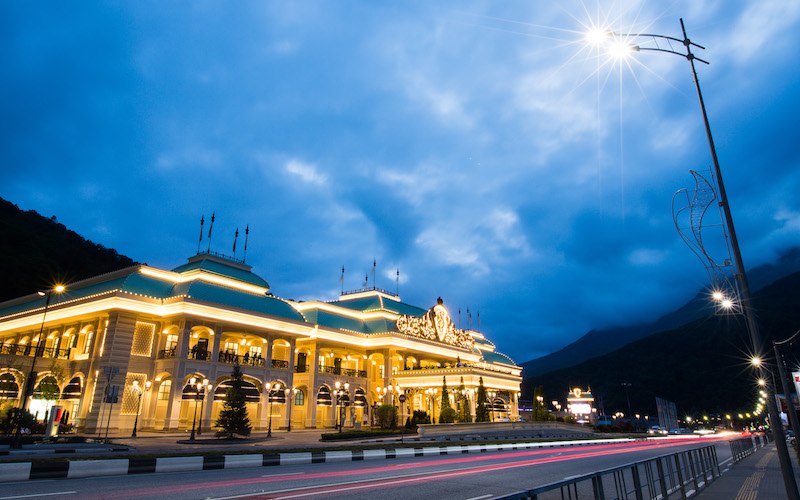 Though not yet a serious competitor for the crown of the world's gambling capital, Sochi could well claim the title "Vegas of Russia" as one of only four areas in the country where gambling is permitted.
Popular as a winter ski resort, and host to the Winter Olympics in 2014, there are two casinos in the greater Sochi region, both in the town of Krasnaya Polyana. The first is the Casino Sochi, opened in 2017 and home to 569 slot machines and a wide variety of tables games; from roulette and blackjack, to baccarat and Russian poker.
Texas Hold 'em fans need not despair! The casino offers plenty in the way of cash games and live tournaments, and the Casino Sochi is the next stop on the PokerStars EPT tour. The Main Event kicks off March 24, with a buy-in of RUB 191,800.
---
---
An even more recent addition in Sochi is the Boomerang Casino, which opened its doors in January 2019. Boomerang boosts the city with a further 204 slot machines and 20 table games. A real newcomer on the list, expect to see more casinos and card rooms pop up in Sochi in coming years as the city establishes itself as premium gambling destination.
Best for: Russia's upcoming gambling capital!