You might have heard — there was a big forum last week in Switzerland. And a certain bestselling author and poker player we all know was there.
As an academic and journalist, Maria Konnikova has plenty of experience with conferences. She's also met and talked to plenty of famous people in those contexts before.
Then again, the World Economic Forum in Davos isn't your average get-together.
First established in 1971, the WEF annually brings together many of the world's most powerful and influential people to engage in dialogue about where the world is heading. That means among those attending are heads of state, owners and CEOs of the globe's biggest businesses, and the world's most celebrated thinkers.
And that's not even mentioning the occasional prince or renowned natural historian.
"It was definitely surreal," laughs Konnikova. "It was one of these environments where one minute you're just chatting with someone and you turn around and run into some royalty or some huge name person who you never in a million years thought you would be in the same room as, let alone just bumping into."
Of course, with so many important figures in one place, coming together for the ambitious purpose of improving the lives of all of us who inhabit this planet, it's not too surprising to hear criticisms from skeptics unsure about the WEF being able to achieve its lofty goal to produce constructive change in the world going forward.
Even so, while recognizing it was only her first time at the forum, Konnikova nonetheless found the "positive vibe" among the attendees inspiring.
"My impression was there were a lot of people there who were genuinely passionate and curious and enthusiastic about making the world a better place," she says.
Poker, the great problem-solver
While there, Konnikova took part in a panel called "Global Risk Perception, Deception and Delusion" whose other participants included Robert Shiller, the Nobel prize-winning professor of economics at Yale, and Victor Chu, the Chairman and CEO of the First Eastman Investment Group. She then gave a talk of her own, "The Psychology of the Con: How Not to Get Fooled," in which she addressed what people can do to increase trust in a world where cons of many types seem to be everywhere.
Response to both presentations was positive, and indeed helped confirm for Konnikova the idea that the WEF is not just about talking, but doing.
"I had people who are decision-makers at really big organizations and who are in all sorts of areas coming up to me and being like, 'Hey, you know, we'd like you come talk about poker'… [or] 'we'd like you to consider consulting with us about this type of legislation,'" says Konnikova — not necessarily the typical response to talks given in other settings.
"These aren't just people saying let's see if we can make it happen… they are the people who make it happen," she adds.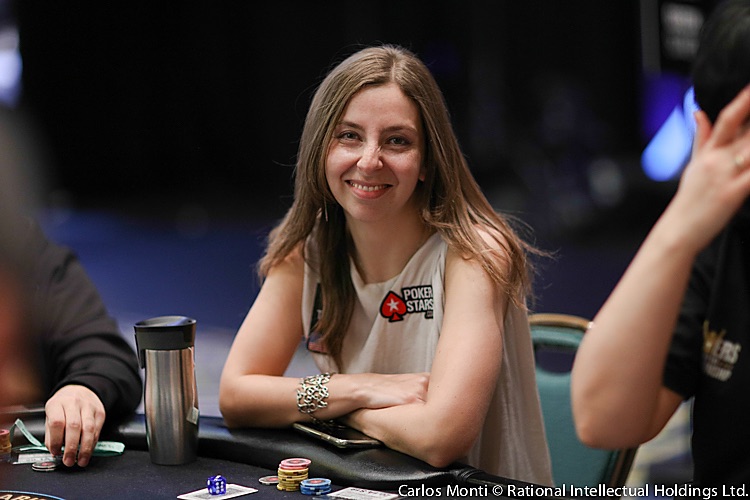 Maria Konnikova
The panel on risk perception lasted an hour, half of which was spent with talk about poker and how it provides a useful strategies for those weighing risk and reward.
"My proudest moment was when we were talking about poker as a game of skill, and I did a little plug for the fact that all legislatures should realize that it is a game of skill and should legislate it as such," says Konnikova. "I do think that it's this wonderful decision tool that can help people think through problems in a much better way."
"Trust and distrust are both contagious"
Konnikova described her talk as being about "poker, con artists, trust, and decision making." It began with an acknowledgment that even though trust is natural to humans and distrust has to be learned, it's certainly the case that in the world today, trust seems to be on the decline — between individuals, political parties, nations, you name it.
Is distrust kind of like a virus? The kind of thing we can catch from others? Absolutely, she says. In fact, it goes both ways.
"Trust and distrust are both contagious," explains Konnikova. "You see historically and experimentally a lot of these cascade effects when you have people who are in positions of power who exhibit characteristics that go along with trust and mutual admiration… that often will inspire a shift of social norms in that direction — and vice-versa, so when you have distrust that breeds distrust."
As she explained in her talk, it's in everyone's interest to increase levels of trust among us. After all, trust is "one of the fundamental forces of good in the world," keeping societies together and nations on good terms. "Democracies have never gone to war against each other — ever — in the history of the world," Konnikova notes. "And that's huge, because democracies are the societies where you have traditionally the highest levels of generalized trust."
But "we're seeing a lot of this erode" today, with distrust increasing all over. "That was one of the reasons why I thought it was important to give this specific talk," Konnikova explains, noting how she might have easily highlighted some other area of her research and/or experience with poker.
"I chose this [topic] very strategically, because I think it's an important message right now. Because if you share this message while trust is eroding it's a way that can help people potentially see their way to become more trusting again and create a better overall atmosphere."
When giving your trust, you have to adjust
In her talk, Konnikova encouraged her listeners to "trust, but verify," keeping a lookout for when and where we might want to examine the situation further before saying we believe what we hear or see.
Something similar happens at the poker table, of course. As Konnikova points out, we obviously can't always trust everybody all the time — we'll go busto right away if we do that. But we also can't always distrust everybody either, always thinking we're being bluffed when our opponent bets big on the river. That's another way of losing our chips in a hurry, too.
Again, we have to be able to find a balance… to adapt.
"I think what people don't understand about the best poker players in the world, often, is that it can be much more difficult to fold than it is to call," says Konnikova. "And folding comes from understanding when you're actually being told the truth."
"Big folds are sometimes the characteristic of the really great players as opposed to big calls," she continues. "You have to be able to do both, but the big folds are often more difficult. Sometimes you have to be able to say, 'You know what? I trust you. You're telling me the truth right now.'"
---
Both the panel and the talk have been archived over at the World Economic Forum website: