With three WSOP bracelets, a SCOOP-High title, and countless EPT side event victories already on his résumé, Benny Glaser added a WCOOP win to his impressive list of results this year.
Playing under the PokerStars screen name "RunGodlike", Glaser outlasted 3,312 runners to come out on top in Event #27-L: $55 PLO [6-Max] for $18,057, following a four-way chop.
We caught up with the UK's leading WSOP bracelet winner a week after WCOOP ended. As expected, he was both delighted and exhausted.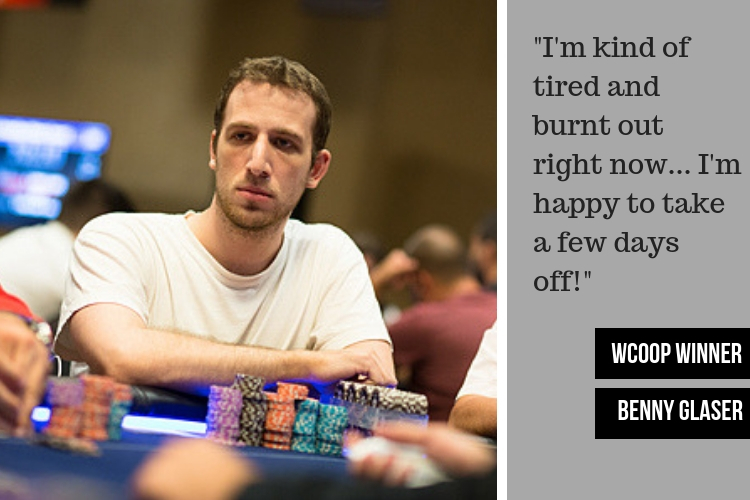 Benny "RunGodlike" Glaser
---
PokerStars Blog: Congratulations Benny. How are you feeling?
Benny Glaser: Thanks. I'm kind of tired and burnt out right now really. I'm happy to take a few days off! It was stressful, with long hours, so I'm welcoming a break to rest and take it easy.
PSBLOG: How did the event you won play out for you?
Glaser: It was a bit of a weird one. I was prioritising other events as I was also on Day 2 of two other bigger events, including the $2K 8-game. So the event I won kind of took a back seat until I'd busted the others and eventually made the final table. 


It was kind of a sick spot as coming in to the last two tables when there were around 11 players left there was one guy who had more than double second place chips — which was me — and then I had around three times as many chips as the guy in third. The way the chips were distributed was really crazy. 


But coming into the final table there were only two big stacks and one guy was going nuts. I doubled three different people up in a row, and when there were four or five left we ended up talking numbers and dealing, but leaving some to play for, which I ended up winning.
PSBLOG: Were you familiar with any of your final table opponents?


Glaser: No actually, it was surprisingly soft. I don't want to brag but it was clear I was the best player on the final table. I'd never seen any of the other guys before, and I wouldn't have dealt if it weren't for the fact I was handcuffed by one guy who had more than double my chips and everyone else. It's always a nice spot when you have still a big edge when all the money matters, in those final stages.
PSBLOG: As a mixed-game specialist, how would you rank PLO in your arsenal?
Glaser: PLO is probably my sixth or seventh best game, especially in cash. Tournaments I play a bit different.
PSBLOG: What kind of WCOOP schedule did you play this year?
Glaser: I was pretty much playing everything, including the big-field No Limit Hold'em events. I made a couple of deep runs in those. On the day I won I also had a Day 2 in a $215 No Limit, which I ended up coming 12th in. I had a couple of other runs too. This WCOOP I didn't fire all the $11 events, which I've done in the past when going for leader boards and stuff. That made my schedule easier as I wasn't crazy ten-tabling.
PSBLOG: Is WCOOP something you look forward to every year?
Glaser: I definitely plan for WCOOP, but whether I look forward to it is a different matter! I often have mixed feelings, partly from experience, because it's such a massive grind. It's two to three weeks of your life where you almost never leave the house, and you can still lose money at the end of it. It's really gruelling playing 10-14 hours every day, especially if you're also playing cash games at the same time, which I often am. So, I do look forward to the battling, competing and getting to final tables and a chance at a title, but at the same time part of me dreads it as I know it's going to be such a grind.
PSBLOG: Will we see you in the Bahamas for the $25K PSPC?
Glaser: I think I'll be playing yeah. I haven't decided yet. So many of my friends say it's too good of an event to miss. It will be the best value $25K ever, so I think I'm going to end up feeling obliged to go to that. And I've never been to the Bahamas or the PCA so that is somewhere I've always wanted to go.
---
Ready to sign up for PokerStars? Click here to get an account.
---