The final flagship tournament of the 2018 PCA kicked off this afternoon, and it brought out many of the game's best and brightest.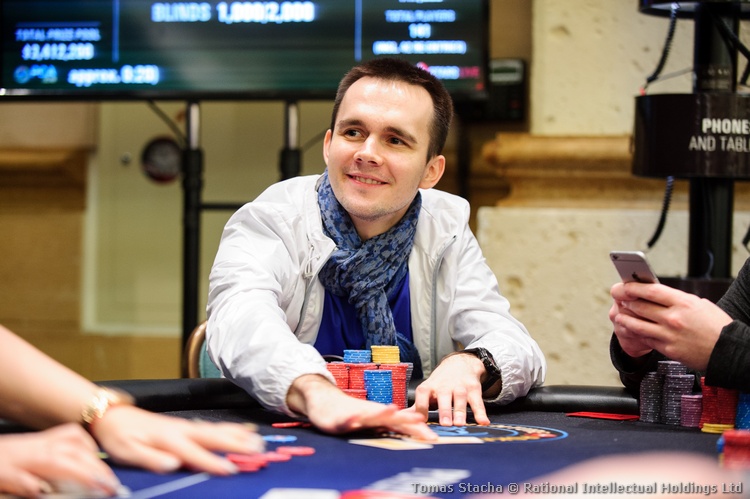 Badziakouski's the boss
Mikita Badziakouski is certainly one of them. The Belarusian took the chip lead early on, and always had a top three stack from then on. He ultimately bagged up the most with 403,500 – more than eight times his 50,000 starting stack and without needing a re-entry.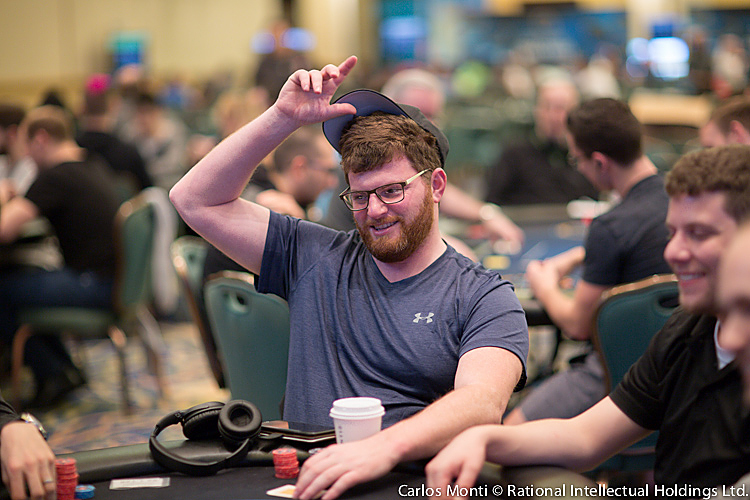 Beers are on Petrangelo
Another one is Nick Petrangelo. The guy knows a thing or two about these shindigs. He's won a lot of them, played even more of them, and has surely been overnight chip leader dozens of times in his illustrious career. He must have known today was going to go well when he packed a rucksack full of IPAs and other Bahamian beers, which he handed out towards the end of play.
Petrangelo ended proceedings second in chips, bagging up 397,700 when all was said and done. He's followed closest by Team Pro Igor Kurganov with 334,000 and Steve O'Dwyer's 231,500.
Check out all the Day 2 chip counts here.
The $25,000 High Roller is always a popular event, with professional players and businessman alike. Today's affair was no exception, attracting 141 unique entrants and 42 re-entries by the time play came to a close. After ten 60-minute levels, just 47 remain.
A few stories from the day? Well how about Team Pro Liv Boeree entering with two levels left on the day. And who would she draw a seat next to? Only her boyfriend, charity co-founder, and fellow Team Pro Kurganov.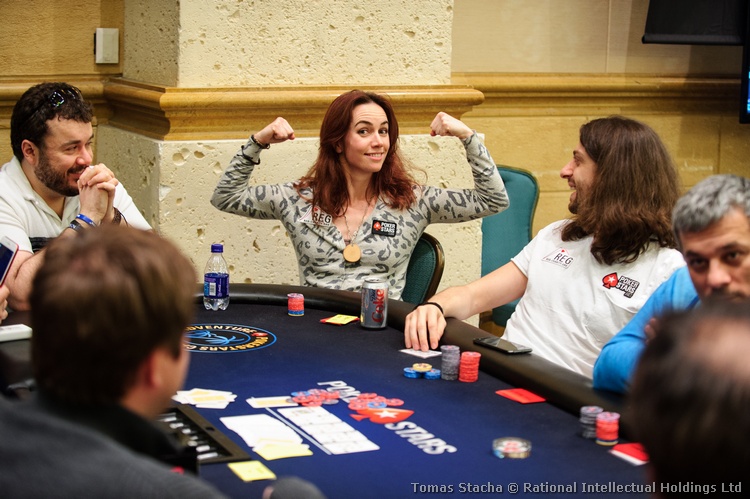 Igor Kurganov, Liv Boeree
Boeree had finished 17th in the PCA Main Event earlier today for just shy of $50,000, and now all of that has been invested in this tournament after her first bullet didn't work out. She bagged up 52,000, while Daniel Negreanu ended with 153,800 and Andre Akkari finished with 57,100.
Former NFL star and SuperBowl winner Richard Seymour also tried his luck in this one, firing two bullets and ending the day with 80,000. During play he told us an interesting story about a man who was railing him. That man turned out to be Seymour's former New England Patriots Defensive Coordinator and current Houston Texans Assistant Head Coach, Romeo Crennel.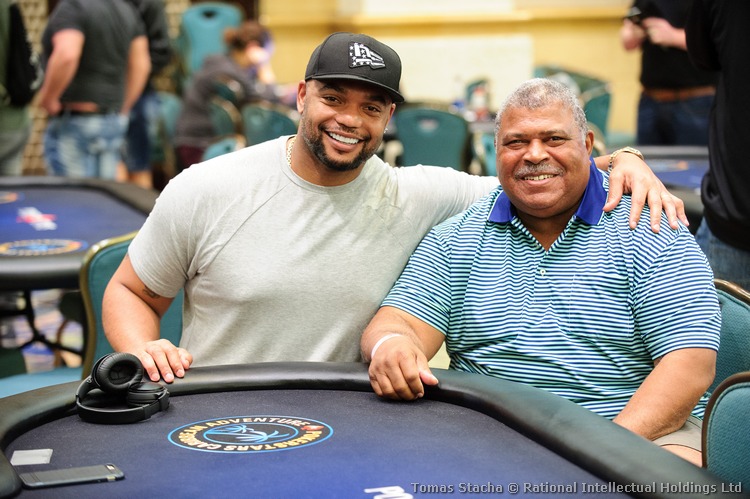 Richard Seymour and Romeo Crennel
Seymour and Crennel had run into each other coincidentally here in the Bahamas, and Crennel was interested to see what his former player was up to. We spoke to him, so scroll down to our 9pm post for that one.
Apart from that this was a typical Day 1. Only with a condensed field of the best players in the world.
Registration is open until the start of play tomorrow, and even though $25,000 will only buy them 20 bets, you can be sure that won't stop this lot for re-entering. Join us back here at noon tomorrow on the PokerStars Blog for all the Day 2 action. –JS
Day 1 Coverage Archive

• PLAYERS: 47 of 141 entries remain (inc. 42 re-entries)
• CHIP COUNTS
• MAIN EVENT COVERAGE | SIDE EVENTS
• ALL PCA INFO | TOURNAMENT SCHEDULE | DOWNLOAD POKERSTARS
• POKERSTARS BLOG'S PCA VIDEOS
• Follow @PokerStarsBlog on Twitter
---
12:20am: We're done
Level 10 – Blinds 1,000/2,000 (ante 2,000)
Day 1 of the $25,000 High Roller is done. Mikita Badziakouski is in the lead with 403,500 and Nick Petrangelo is in a close second with 397,700. Stay tuned for a full wrap of the day's events. –AV
12:05am: Four more
Level 10 – Blinds 1,000/2,000 (ante 2,000)
The clock has paused and we'll play four more hands before we bag-and-tag for the night. –AV
11:55pm: O'Dwyer kicks out Kisacikoglu
Level 10 – Blinds 1,000/2,000 (ante 2,000)
We're now down to 49 players after Steve O'Dwyer took out Orpen Kisacikoglu in a flip. The two got in a preflop war that ended with Kisacikoglu going all-in for about 60,000. O'Dwyer called and showed A♦Q♦ to Kisacikoglu's J♣J♦.
O'Dwyer hit a queen on the flop of a 4♦2♥[qg]9♣6♠ board and that was it for Kisacikoglu. O'Dwyer on the other hand chipped up to 220,000 as he chases another High Roller victory. –AV
11:45pm: Mystery fold
Level 10 – Blinds 1,000/2,000 (ante 2,000)
"Was it a good fold or a bad fold Mike?" Chance Kornuth asked Mike Watson.
Watson just shrugged.
"I have a feeling you know the answer to that," Kornuth said, but Watson was already in another hand and the conversation ended there. The fold Kornuth questioned started when Watson raised to 3,600 from the hijack. Kornuth three-bet to 14,000 from the small blind and Watson called. The flop came 10♥5♦4♠ and Kornuth bet 8,200. Watson called and a 10♦ came on the turn. This time Kornuth checked and Watson made it 16,500 to go. Kornuth called and a J♠ completed the board. Kornuth checked again and this time Watson moved all-in.
Watson had Kornuth covered and Kornuth thought. Then he used a time bank card and thought some more. But you know how this ends, it's at the beginning of the post. Kornuth folded and was left with about 60,000 while Watson is up to about 210,000. –AV
11:32pm: Boeree busted
Level 10 – Blinds 1,000/2,000 (ante 2,000)
We're sad to report it's been a short-lived tournament run for Liv Boeree. Picking up the action on a 6♠A♠6♥ board, she checked to Gregory Jensen who led for 10,000. Boeree only had 25,300 behind and moved all in, which Jensen called.
Boeree turned over the K♠5♠ for the nut flush draw, while Jensen had a made hand with his A♣7♥. The turn and river bricked for the Team Pro, who said her goodbyes and left.
Jensen is up to 160,000 now.
THIS JUST IN: Boeree has re-entered and taken a seat next to another Team Pro, Daniel Negreanu. –JS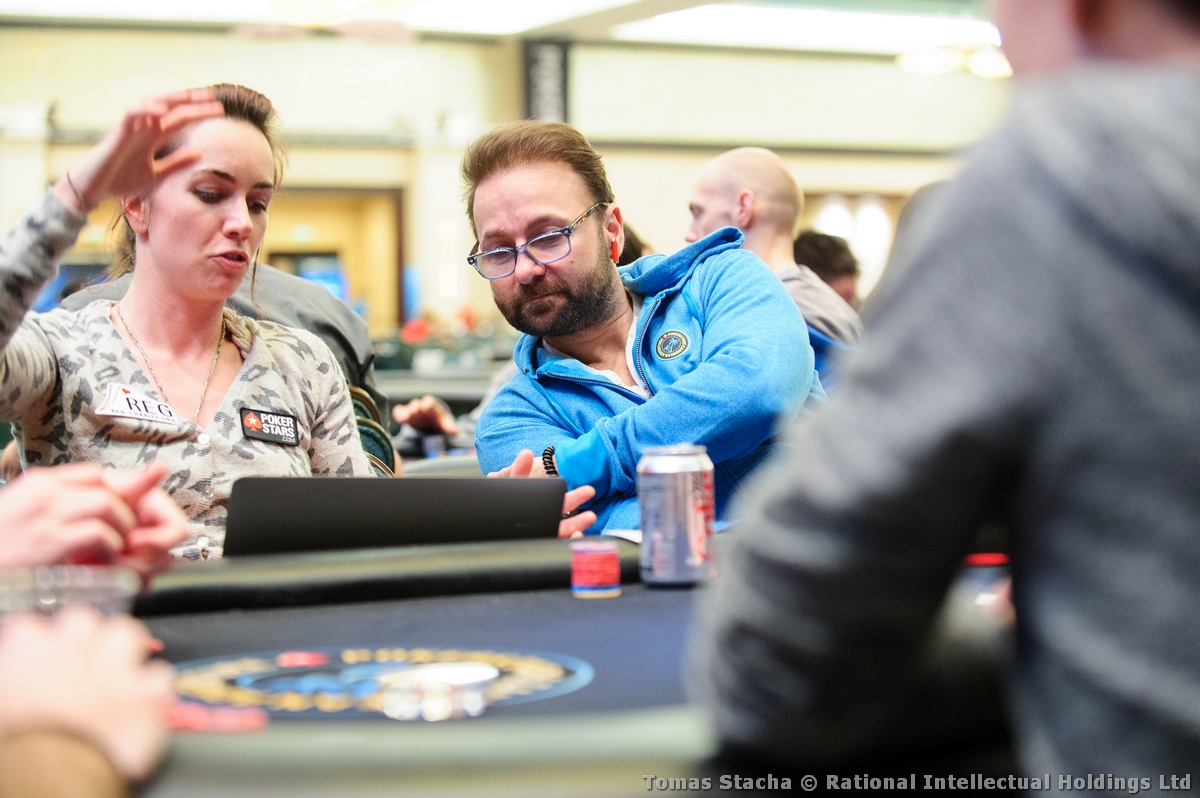 Boeree and Negreanu
11:27pm: Last level
Level 10 – Blinds 1,000/2,000 (ante 2,000)
We've now moved into Level 10 which will be the last of the evening. As it stands, there are 54 players remaining of 138 entries (including 39 re-entries). –JS
11:26pm: Life lessons from Jason Koon
Level 9 – Blinds 800/1,600 (ante 1,600)
We could all learn a little something from last night's $25K champ Jason Koon. After detailing his workouts for Mikita Badziakouski and Joao Simao and saying something about squats and his legs ("I have very thick legs," was all I caught) Koon went into a tip that everyone – even those without thick legs – can do.
"My favourite thing to do late at night is just walk in circles around the block," he said. "Y'know, when you've been sitting in front of a computer all day, just getting out and walking a couple of miles is therapeutic."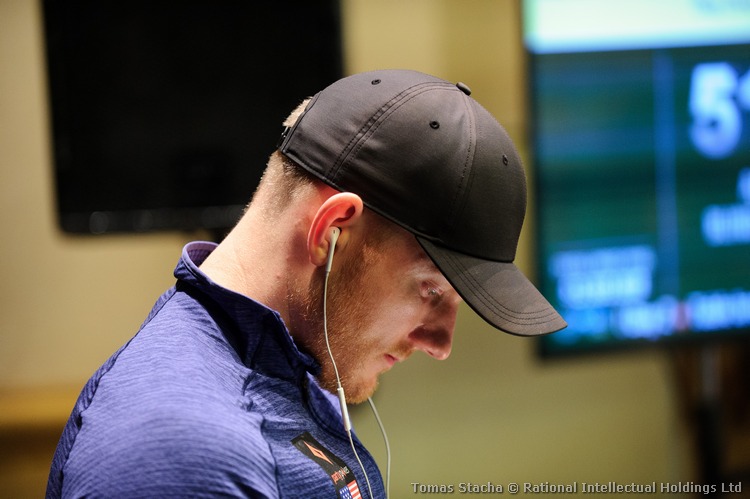 Contemplative Koon
Badziakouski said he'd like to do that, and Koon suggested he move to America.
"I don't think I need to move to America to do that," he joked.
"Oh I know," Koon replied. "I just meant to come and hang out with me." –JS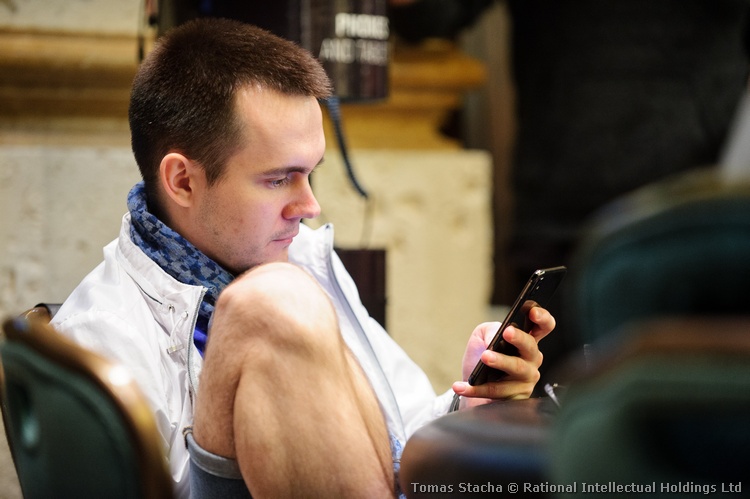 Badziakouski looks up apartment rentals near Koon's place
11:22pm: Toning it down
Level 9 – Blinds 800/1,600 (ante 1,600)
There are only about 55 players left and tables are breaking and players are shuffling around. Some are also running into players that took their chips earlier in the day.
That was the case with Isaac Haxton and Steffen Sontheimer, who are now sitting at the same table after Haxton was moved.
"You got chips again," Sontheimer said.
"Maybe I'll bluff them all off to you again," Haxton said.
The two tangled a few minutes later, but no one showed a bluff. There was a 9♦K♣6♥ flop and about 10,000 in the pot. Haxton was on the big blind and checked. Sontheimer made it 3,200 from middle position and Haxton called, bringing a 7♠ on the turn. Sontheimer bet 12,100 when checked to and Haxton called again. A 4♠ completed the board and Sontheimer bet 27,500 when checked to. Haxton didn't bluff this time, but toned it down and folded.
Haxton still has about 185,000 while Sontheimer is up to 265,000. We'll see if a bluff changes that. –AV
11:16pm: Luca falls to Calderaro
Level 9 – Blinds 800/1,600 (ante 1,600)
This hand went about as fast as it possibly could have. We arrived to a J♣5♣4♠8♥ flop and Ivan Luca had led for 4,000, before James Calderaro instantly tossed in 20,000 (he also announced all-in, but only a couple of people heard it), and Luca snap-called for slightly less than that.
The Argentinian had the K♣9♣ but that would need to hit against Calderaro's 8♣6♣ which had paired up on the turn. The 8♥ river simply improved Calderaro's hand to trips, and sent Luca to the rail.
Calderaro's up to 200,000 now. –JS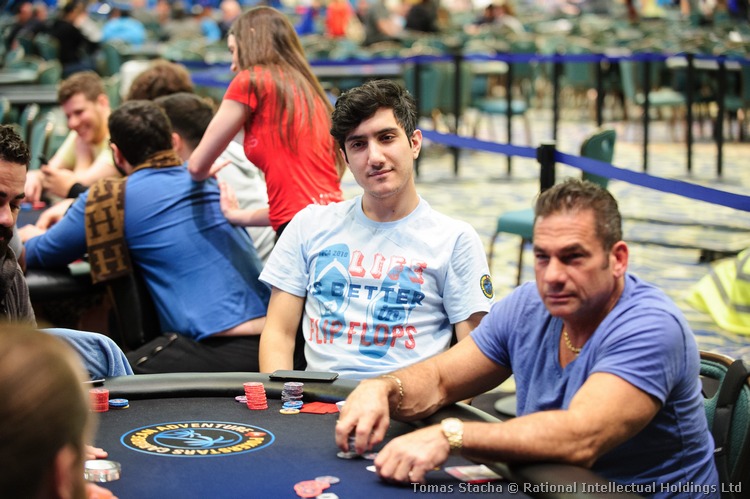 Luca and Calderaro
11:10pm: Kanit flushes out Kirsch's aces
Level 9 – Blinds 800/1,600 (ante 1,600)
There's only one Mustapha. There's only one Kanit. But now, thanks to the Italian, there's no more Richard Kirsch.
After Mike Watson opened to 3,600 under the gun, Kirsch flatted in middle position and it folded around to Kanit in the big blind. He jammed for around 36,000, which shook off Watson but got a snap call from Kirsch for his last 19,500.
He had the A♣A♥ and had made a sneaky little call which worked out beautifully. Kanit had the Q♥Q♠ and was in bad shape, however the 8♠5♥6♠2♠ board gave him a flush draw. He'd hit it on the J♠ river, and Kirsch made a swift and not-too-happy exit.
Kanit's up to 60,000 now. –JS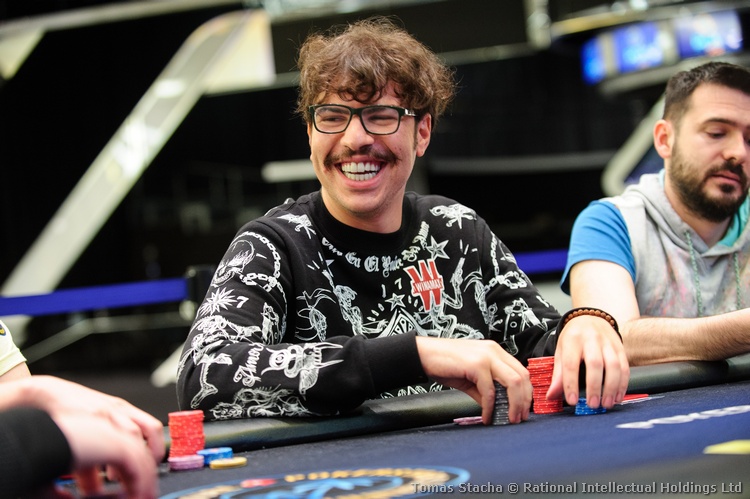 Mustapha Kanit
11:00pm: Late night friendliness
Level 9 – Blinds 800/1,600 (ante 1,600)
Anyone who's frequented High Roller and Super High Rollers knows that the mood is far more friendly than you'd expect from high-stakes gamblers risking tens of thousands of dollars.
But they are, especially towards the end of the night. Nick Petrangelo had a few beers in his bag, Kalik Light Premiums, and now he's drinking them along with Daniel Dvoress and Isaac Haxton. For those unfamiliar with Bahamian beer, Kalik Light Premiums are low on calories, but high in alcohol with 6% and are technically malt liquor. The regular Kalik Light has a more respectable 4.5%.
To add to the home game feel are the lovey-dovey Kurganov/Boeree poker playing couple and Steve O'Dwyer's parents also came through the tournament area to say hi to Steve and some of friends. –AV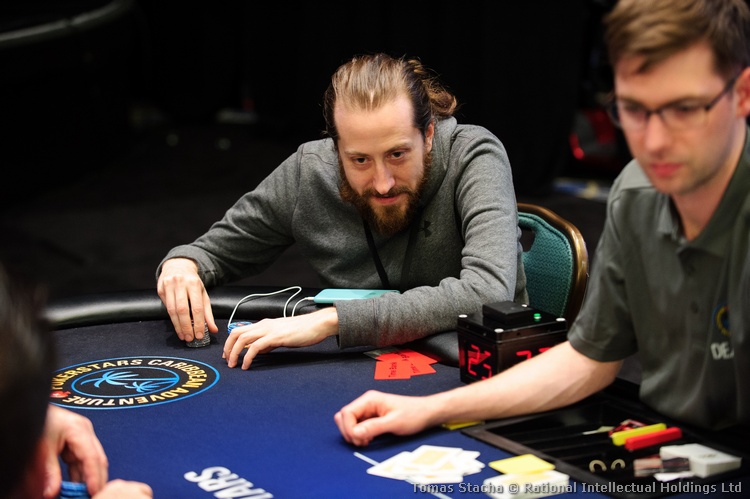 Steve O'Dwyer
10:50pm: Haxton gets some with queens
Level 9 – Blinds 800/1,600 (ante 1,600)
Isaac Haxton raised to 3,800 from the cutoff and Mike Watson called from the big blind. Watson then checked the K♥10♥K♠ flop and Haxton bet 3,000. Watson called and an 8♠ came on the turn.
This time Haxton made it 11,000 to go and Watson called again. The river was a lowly 2♥ and there was one more check from Watson. This time Haxton checked behind and turned over Q♠Q♦ while Watson showed a pair of tens with 10♠6♠. Watson dropped to 75,000 after the hand while Haxton chipped up to 220,000. –AV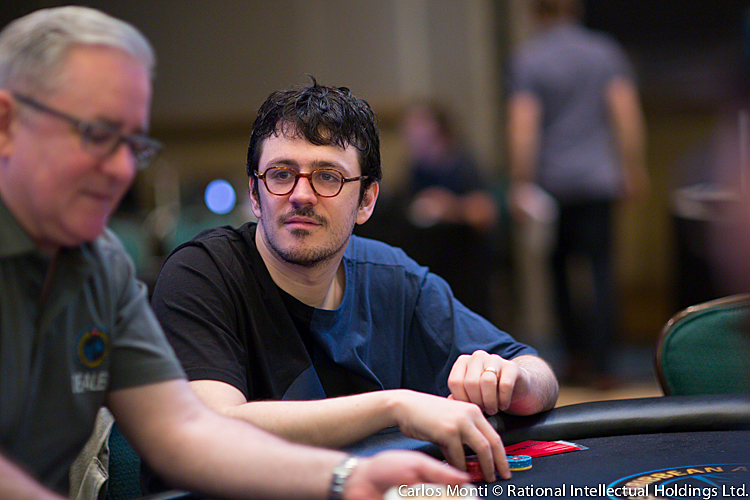 Isaac Haxton
10:40pm: Boeree a lucky charm for Kurganov
Level 9 – Blinds 800/1,600 (ante 1,600)
Within minutes of her arrival, Liv Boeree has proven to be a lucky charm for Igor Kurganov as he just got paid off to win a healthy pot from Matt Glantz.
The action had already reached the river when we arrived, and the board showed Q♥Q♦3♠10♠4♦. Glantz had checked and Kurganov made a pot-size bet of 65,000, which put Glantz in the tank.
After the use of a time bank he would eventually make the call, and he'd muck when Kurganov turned over the A♥Q♣ for trips.
Kurganov is now up to 215,000, while Glantz is super short with 8,500. And Boeree? She's still got the starting stack of 50,000, but she's only just sat down! For God's sake give her a chance to play a hand! –JS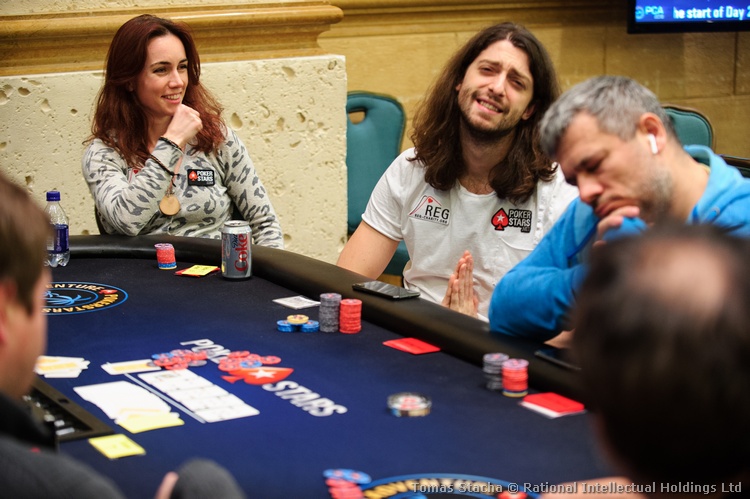 Kurganov gets the call, with Boeree watching on
10:35pm: Of all the tables in all the tournaments…
Level 9 – Blinds 800/1,600 (ante 1,600)
…Liv Boeree had to walk into Igor Kurganov's.
Yep, The two Team Pros and poker power couple are now sat right next each other after a late registration from Boeree. She'd been pretty busy today after all, finishing 17th over the in the PCA Main Event where she cashed for $49,680.
How will the dynamic at the table change? Will the two clash in a big pot? Stay tuned to find out. –JS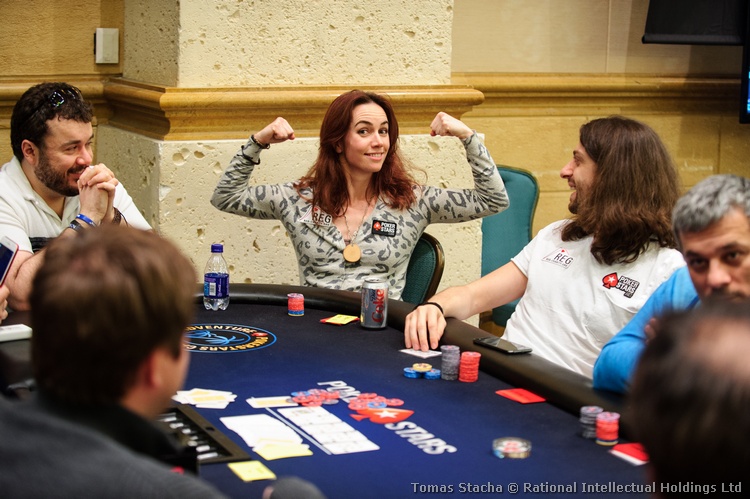 Boeree and Kurganov, neighbours
10:08pm: Break
Players are on their final 20-minute break of the day. Mikita Badziakouski is still in the lead with 320,000 and appears to be the only player with more than 300,000 at the moment. –AV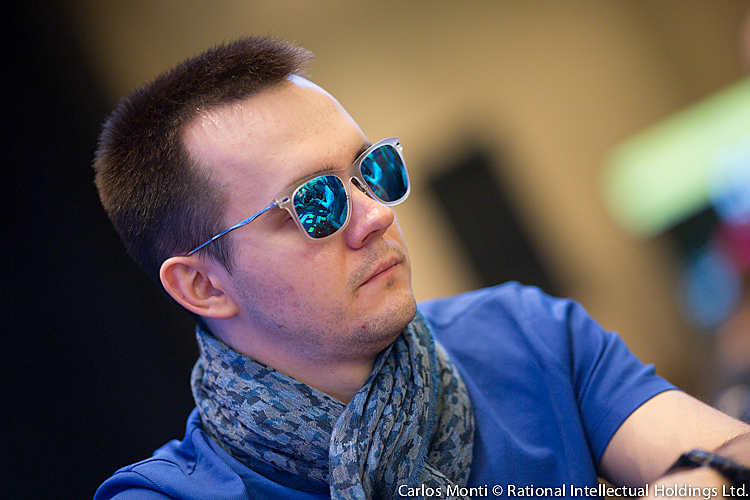 Badziakouski leads
10:00pm: One-two Brazilian special
Level 8 – Blinds 600/1,200 (ante 1,200)
Team PokerStars Pro Andre Akkari is now over 90,000 after doubling through Jan Petersen and then knocking him out a few hands later. The double-up started after Vladimir Troyanovskiy raised to 2,500 from under the gun and Akkari called from the button. Petersen called from the small blind and Igor Kurganov did the same from the big blind.
All four players went to the 9♠J♦5♦ flop and Petersen came out charging with an all-in. Kurganov and Troyanovskiy folded, but Akkari called. Akkari turned over 10♦9♦ for a pair of nines while Petersen tabled 7♣8♦ for a straight draw. A K♥ came on the turn and then a 4♦ completed the board.
Akkari doubled up while Petersen was left with just about 3,000. Those chips then went to Akkari a few hands later. Petersen busted while Akkari is now up to about 90,000. –AV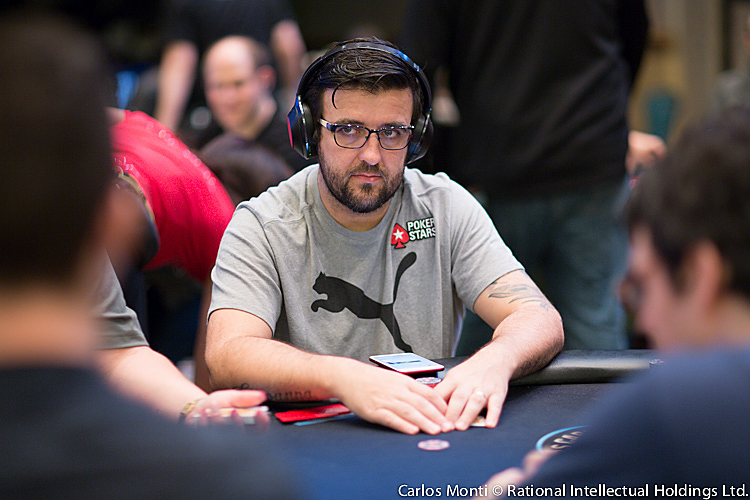 Andre Akkari
9:50pm: Not a Weis move
Level 8 – Blinds 600/1,200 (ante 1,200)
Having doubles up not too long ago, Oliver Weis has handed all of those chips over to the big stack of Ryan McEathron.
Weis had opened to 2,700 from early position and it folded around to McEathron in the big blind. He made it 9,500 to go, and Weis jammed for something between 40,000 and 50,000. McEathron snap-called with his K♣K♦, and that was way ahead of Weis' 7♣7♥.
The board ran out K♠5♥4♣3♣9♦, so McEathron improved to a set right away and never looked back. Weis hit the rail, and McEathron is up to 290,000 now. –JS
9:40pm: Chidwick vs Kurganov
Level 8 – Blinds 600/1,200 (ante 1,200)
Peter Jetten opened to 2,600 in middle position and it folded to Stephen Chidwick in the cutoff. He made the call, but then Igor Kurganov got squeezy from the button and bumped it up to 12,000. That shook off Jetten, but Chidwick wanted to see a flop.
That flop? The 8♠A♥9♦.
Chidwick checked it, letting Kurganov in for a c-bet worth 11,200. The Brit made the call and the dealer burned and turned the 7♦. Check check.
After the J♥ completed the board, Chidwick took his entire 30 seconds before putting in a bet of 16,000 (in fact, he went over it). Kurganov thought for around half his time but let it go, dropped to 180,000 while Chidwick is up to 110,000. –JS
9:30pm: Seidel sacked by Josephy
Level 8 – Blinds 600/1,200 (ante 1,200)
There was about 4,500 in the pot and a J♦6♥Q♣ flop on the board when action folded to Cliff Josephy's button. Josephy bet 1,500 and Seidel raised to 7,700 from the small blind. The big blind folded and Josephy called, bringing a 5♥ on the turn.
Seidel bet 11,000 and Josephy, who had Seidel covered, moved all-in. Seidel called all-in and turned over K♦10♦ for an open-ended straight draw while Josephy tabled Q♦9♥ for a pair of queens. The river was a straight-less 4♥ and Seidel hit the rail while Josephy chipped up to about 85,000. –AV
9:20pm: A Weis move
Level 8 – Blinds 600/1,200 (ante 1,200)
Jonathan Jaffe must have recently acquired his big stack, as he still has more than 200,000 despite just doubling up Oliver Weis.
Jaffe started the hand with a 3,000 open and Cary Katz called in the hijack, Weis called on the button, and Jonathan Tacoronte came along from the big blind. They all saw a 3♠2♥Q♠ flop, which checked to Jaffe and let him continue for 5,000. Katz let it go quickly.
Over to Weis, he moved all in for 19,000 total and that shook off Tacoronte quickly. Jaffe called though with his A♠K♥, and that was good against Weis' J♠10♠ flush draw. The Q♣ bricked the German, but the flush came in on the 2♠ river.
Weis is on 52,000, while Jaffe still has 225,000. –JS
9:10pm: Who's leading?
Level 7 – Blinds 500/1,000 (ante 1,000)
A quick scan around the room and we've found the biggest stacks right now. These are currently the only folk to have more-than quadrupled their starting stacks. –JS
Mikita Badziakouski – 345,000
Ryan McEathron – 260,000
Peter Jetten – 230,000
9:00pm: Chance encounters
Level 8 – Blinds 600/1,200 (ante 1,200)
This year's PCA has been a hotspot for chance encounters. Just a few days ago, Victor Ramdin and Kevin Hobbs found themselves seated at the same table. One was looking to donate to charity and the other happened to have a charity that saved children's lives. The result will literally save lives since Hobbs decided to fund a mission to Guyana.
Then there was another encounter between a coach and an athlete. Richard Seymour has become a staple at major poker tournaments and when he was walking around the Atlantis, he ran into one of his former coaches and mentors by sheer chance.
Former New England Patriots Defensive Coordinator and current Houston Texans Assistant Head Coach, Romeo Crennel, happened to be strolling around the Atlantis when he ran into Seymour, whom he coached from 2001-2004 when they were both at the New England Patriots. The two lived close to each other and became close friends, spending Thanksgiving with each other and getting to know each other's children.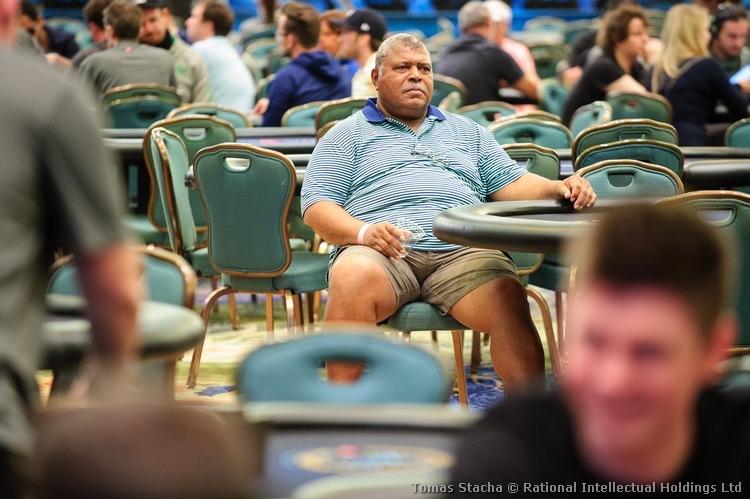 Romeo Crennel
Now Crennel is seated on the rail of the $25,000 High Roller watching his former student tackle the highest level of a completely different game. It's a game that Crennel has no experience in, but one he's intrigued by now. He has a front-row seat to one of the biggest tournaments in the world with some of the best players in the game. The former coach is used to watching games from the sidelines, but instead of directing the action, he's now absorbing all the information he can.
"On TV you can always see their hole cards, so you kind of know what's going on," Crennel said. "But now I'm just watching their faces, seeing how they react, how they play."
Aside from television, Crennel's only experience with poker is video poker. No word yet if Crennel will take a seat at a poker table in the Atlantis, but he's interested in learning more.
"Maybe Richard will teach me," Crennel said. If the student does become the master, then we'll be waiting to see the coach at the tables. –AV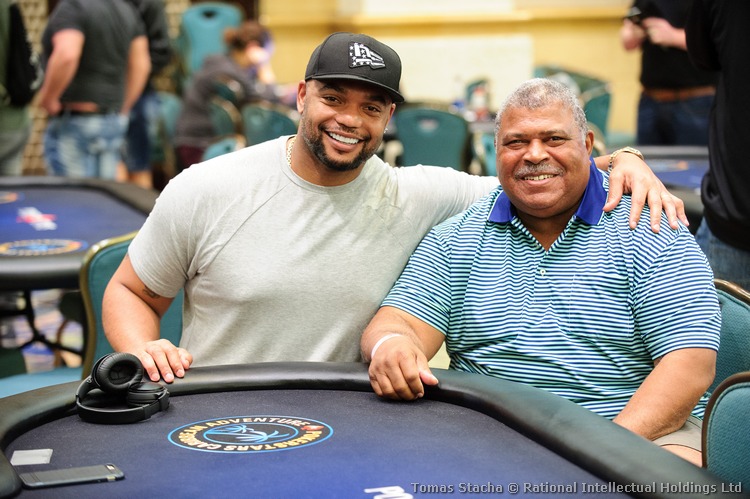 Richard Seymour and Romeo Crennel
8:50pm: The look of the day
Level 7 – Blinds 500/1,000 (ante 1,000)
Yesterday the look of the day was the new turquoise PCA hoodies. Everyone was wearing 'em. But then again, the weather was chilly and wet back then.
Today we woke up to the sun shining and temperatures soaring, so it makes sense that people would be wearing less layers. Today's look, if Ari Engel and Ryan Riess are anything to go by, is the PCA 2018 t shirt, which both are wearing. (It's worth noting that Vladimir Troyanovskiy has gone one better by wearing the PCA 2018 t shirt underneath his 2018 turquoise PCA hoodie.)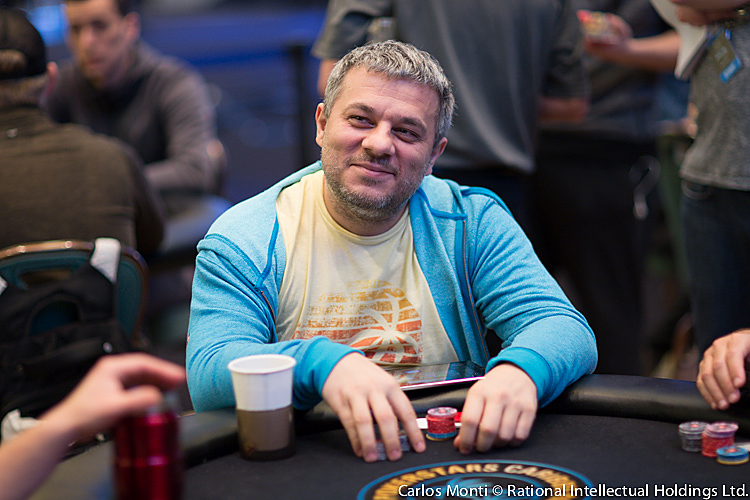 Troyanovskiy repping the PCA
Anyway, the two were both in a pot just now in their matching outfits. Picking up the action on a 10♠2♠Q♠ board, Ramin Hajiyev checked to Riess who led for 3,400, and Engel called. Hajiyev got out of the way, and that brought the Q♣ on the turn, pairing the board.
Riess checked it this time, and then called when Engel led out for 6,300. The J♥ completed the board, and Riess checked once again. Engel quickly checked it back and will be glad he did, as Riess then turned over the A♥Q♦ for trips.
Engel mucked and dips to 54,000, while that pot brings Riess up to 69,000. –JS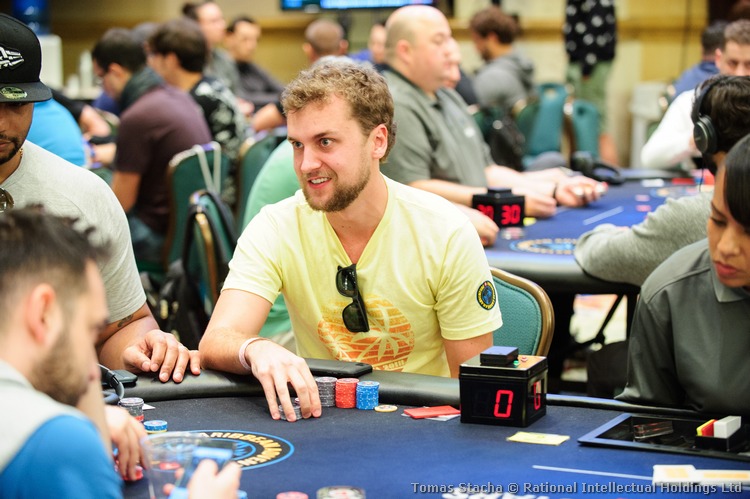 Ryan Riess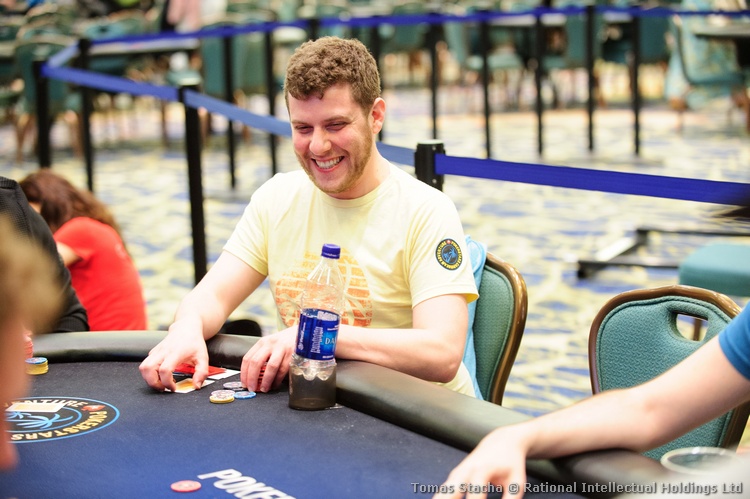 Ari Engel
8:40pm: How Daniel Negreanu gets his under the gun raises through
Level 7 – Blinds 500/1,000 (ante 1,000)
"How old are you?" Daniel Negreanu asked Mustapha Kanit. "38 or 39?"
Negreanu had opened under the gun and it was in the process of being folded around to Kanit in the big blind.
"What?" asked Kanit, a little distracted.
"You're 38 or 39 right?" Negreanu repeated. Kanit seemed a little confused as to whether or not Negreanu was joking (we're pretty sure he was).
"I'm 26," replied Kanit, as he gave his hand to the dealer thinking he'd gotten a walk. Then Negreanu pointed out his open and raked in the blinds and antes. "26 huh? Wow."
Negreanu is currently playing 160,000, while Kanit has 69,000. –JS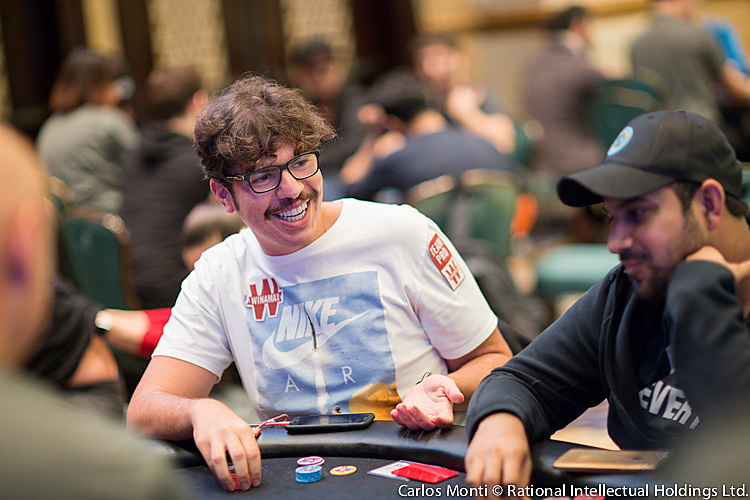 "You think I'm HOW old?"
8:30pm: When worlds collide
Level 7 – Blinds 500/1,000 (ante 1,000)
There probably aren't many ways in which Igor Yaroshevskiy and Lawrence Greenburg would ordinarily meet. But the Ukrainian poker beast and the American businessmen are crossing swords at the poker tables. It brings all sorts together.
Here's a hand that went in Greenburg's favour. He opened to 2,200 from the hijack and got a call from Yaroshevskiy on the button and the big blind came along too.
The 8♠5♥4♣ flop brought a check from the big blind, a bet of 3,000 from Greenburg and a call from Yaroshevskiy. The big blind folded.
Then the 6♥ fell on the turn and Greenburg confidently announced: "Check." Yaroshevskiy bet 7,000 and Greenburg called.
The Q♥ fell on the river and both players now checked. Greenburg tabled his 6♠4♠ and Yaroshevskiy mucked.
Greennburg has 130,000 and Yaroshevskiy has 68,000. — HS
8:20pm: Hunichen stacks Pollak
Level 7 – Blinds 500/1,000 (ante 1,000)
Chris Hunichen and Benjamin Pollak had engaged in some preflop back-and-forthing, and when Hunichen pushed all in and Pollak didn't act right away, Hunichen grinned.
"Whew!" he said. "Faded the snap!"
Pollak may not have snap-called, but he did eventually call nonetheless. Hunichen showed A♣K♣, then offered a one-word comment about Pollak's hand — J♠J♥.
"Damn," he said, still grinning.
The 8♥A♦3♠ flop hit his ace, though, and Pollak was the disappointed one. The turn was the 10♦ and river the 5♠, and Pollak's stack went Hunichen's way. The "Big Huni" is over 100,000 now, while Pollak is buying back in right away. –MH
8:15pm: Negreanu quickly into action
Level 7 – Blinds 500/1,000 (ante 1,000)
Player are back from dinner and Daniel Negreanu played a huge pot against Byron Kaverman. We only caught the very end of this, but the board was out there to its river: 4♠6♠4♥6♣3♠ and Kaverman bet 5,000. Negreanu jammed for what looked to be around 30,000 and Kaverman burnt through five time-bank cards while deciding what to do.
Kaverman eventually folded and asked to see one of Negreanu's cards. He was shown the 7♥. Kaverman showed his ace-five as he mucked.
It looks like Negreanu has around 155,000, so that really was a huge pot. Kaverman is down to around 23,000. — HS
8:05pm: Play resumes
Level 7 – Blinds 500/1,000 (ante 1,000)
Welcome back to the post-dinner portion of Day 1. Let's play some cards! –MH
---
Ready to begin your own PokerStars Caribbean Adventure? Sign up for PokerStars and get started. Click here to get an account.
---
6:47pm: Break
Level 6 – Blinds 400/800 (ante 800)
Players are now on a 75-minute dinner break. Go grab some grub and come back in a bit for more updates from the $25,000 High Roller. –AV
6:38pm: A pair of pots with Kanit
Level 6 – Blinds 400/800 (ante 800)
Mustafa Kanit is now up to about 100,000 after taking down back-to-back pots. The first was against Daniel Negreanu, who raised to 1,200 from middle position. Kanit called from the big blind and the flop came K♣6♥9♦.
Kanit bet 2,200 and Negreanu called, bringing a K♠ on the turn. Both players checked and checked again after the 4♦ came on the river. Kanit showed 10♦9♥ for kings and nines and took down the pot after Negreanu mucked.
Then Kanit took one of Stefan Schillhabel. Schillhabel raised to 2,000 from the cutoff and Kanit three-bet to 8,000 from the small blind. Schillhabel called and the flop came 5♣K♠K♣. Kanit bet 5,500, Schillhabel called and the turn brought a 3♣. Kanit put out another bet, this one for 15,000 and Schillhabel folded.
Kanit is now up to about 100,000. –AV
6:36pm: O'Dwyer wins the race
Level 6 – Blinds 400/800 (ante 800)
Steve O'Dwyer has just managed a full double up courtesy of Ben Heath. O'Dwyer had the J♠J♥ against Heath's A♥K♦, and the board ran out clean for the pocket pair. O'Dwyer is up to 142,000 now, while Heath drops to 42,000. –JS
6:14pm: Ramos felts Shak
Level 6 – Blinds 400/800 (ante 800)
He's been in for just over half an hour but Felipe Ramos has already got his stack up to around 100,000.
He just eliminated Dan Shak, who called the Brazilian's 41,900 all-in shove on the river of a 5♣A♠7♦3♥10♥ board with the A♥4♠ against Ramos' A♦3♦. Shak had slightly fewer chips and said his goodbyes. –JS
6:09pm: Kaverman kicks Mandavia
Level 6 – Blinds 400/800 (ante 800)
Ankush Mandavia was down to 16,500 and got it all-in with 7♠6♠ against Byron Kaverman's K♦J♦. Kaverman was in the lead and then improved to a straight on the A♣8♥2♦10♥J♣ board. Mandavia was out while Kaverman chipped up to 72,000. Only about 80 players remain. –AV
6:04pm: Frankly speaking
Level 6 – Blinds 400/800 (ante 800)
If you've ever seen Christopher Frank play poker, you'll know he's a spindly ball of energy, forever trying to get comfortable in his seat but always unable to do so.
The young German opened to 2,000 on the button and Ryan McEathron called in the small blind. Timothy Adams then squeezed it up to 7,800 out of the big, and action was back on Frank. Slouched over and squirming, he looked up from his phone, quickly peeked at his cards, and tossed in a call in a matter of about two seconds, before going back to his phone. Cliff Josephy looked like he'd never seen anything like that before.
Back to the hand, McEathron let it go and the two went heads up to a Q♠5♦7♦ flop. Adams continued for 5,000 which Frank called, and the river came the 2♣. Both checked.
The J♣ completed the board, and Adams put out 35,000 – enough to put Frank all in. He quickly folded, leaving himself with 24,000 while Adams is up to 90,000. –JS
5:55pm: Hobbs out, but not for long
Level 6 – Blinds 400/800 (ante 800)
"I just couldn't beat Mikita," Kevin Hobbs said. "Like three hands he just kept getting me."
Hobbs was referring to Mikita Badziakouski, who was stacking all of Hobbs's chips. It was a big pot that put Badziakouski near the top of the leaderboard with about 205,000. And while Hobbs was eliminated, his tournament still isn't over. He guaranteed us that he'll rebuy soon and try to get some of those chips back. –AV
5:50pm: Koon captures one off Bonomo
Level 5 – Blinds 300/600 (ante 600)
Justin Bonomo raised to 1,500 from the button and jason Koon made it 8,000 to go from the big blind. Bonomo called and a 5♦3♠2♦ flop hit the board. Koon bet 13,600 and Bonomo called, bringing a K♣ on the turn.
Koon bet again, this time he bet all of it. He shoved all-in for 36,400 and Bonomo thought long enough to use up a time bank card. Bonomo eventually let his hand go and was left with 33,000 while Koon chipped up to about 60,000. –AV
5:45pm: Sontheimer's stirring sizing
Level 5 – Blinds 300/600 (ante 600)
We all know that Steffen Sontheimer was the breakout high roller player of 2017. That means that when he does something that seems unusual, we should all sit up and notice.
See what you think of this one.
We missed the whole of the pre-flop betting, but when we arrived Ike Haxton had a 5,000 chip in front of him on the button. Sontheimer was in the big blind position and he made it 12,000 to go. Haxton called, and this pot was already huge pre-flop.
They saw the J♥4♠4♥ hit the felt, and Sontheimer continued for 5,000 – more than half the size of his pre-flop raise. Haxton called, and the turn came the 10♣. This time Sontheimer quickly led…for 100,000! 20 times his flop bet!
Haxton didn't waste much time in folding, and that very large bet certainly got the table's attention. Sontheimer is on 210,000 now, while Haxton has just 18,000. –JS
5:35pm: Good luck to Ramos, bad luck for Charania
Level 5 – Blinds 300/600 (ante 600)
Good friend of the PokerStars Blog Felipe Ramos has just taken his seat in this $25K. We wished him good luck as he made his entrance, but his arrival proved bad luck for Mohsin Charania. As soon as Ramos sat down next to him, Charania was eliminated. –JS
5:30pm: Petrangelo pushes on Engel
Level 5 – Blinds 300/600 (ante 600)
There was a chunky pile of chips next to a 4♥7♠A♣ flop Nick Petrangelo and Ari Engel were fighting for it. Engel bet 5,700 from the small blind and Petrangelo called from the button. Both players checked on the turn and then Engel checked again when the 8♠ came on the river.
That's when Petrangelo pushed. Engel thought, used up a time bank card and thought some more. He eventually folded and was left with 65,000. Petrangelo flashed Engel a Q♦ before he threw his hand into the muck and chipped up to 205,000. –AV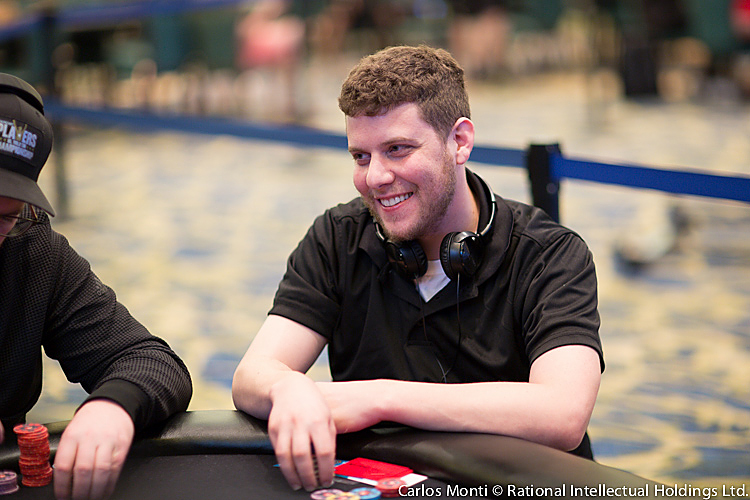 Ari Engel
5:20pm: Negreanu loses some to Schillhabel
Level 5 – Blinds 300/600 (ante 600)
We just told you how Vladimir Troyanovskiy was doing two things at once: playing poker, obviously, but also grinding Hearthstone on his table.
Well, Stefan Schillhabel is also multitasking. He's both winning a nice pot off Daniel Negreanu, and watching the feature table stream from the Main Event. You could consider that 'homework', as while Schillhabel himself is one of the game's very best, two more of them are playing cards-up poker right now on TV. What better way to study the games of David Peters and Adrian Mateos than watching it all with hole cards?
Anyway, back to the hand. There was an A♦J♣9♥ flop out there and Negreanu and Schillhabel both checked it to Mustapha Kanit. The Italian put in a bet of 1,600, and that got both to call.
The turn was the J♦, pairing the board. Now Negreanu led out for 2,500, only for Schillhabel to raise it up to 8,000. Kanit got out the way, but Negreanu came along to the river.
He'd check when he saw the 4♣ complete the board, but Schillhabel wasn't done betting. He made it 13,000, and after some thinking time Negreanu announced a call.
Schillhabel flipped over the Q♦J♠ for trip jacks, and Negreanu shook his head in frustration, tossing in the calling chips and mucking his cards.
He's still healthy with 116,000, while Schillhabel is up to 105,000 and Kanit sits with 56,000. –JS
5:10pm: Hobbs hobbles Luo
Level 5 – Blinds 300/600 (ante 600)
Kevin Hobbs is now up to about 150,000 after taking out Xixiang Luo. Luo started the hand off with a raise to 1,400 from the button and Hobbs three-bet to 4,800. Luo called and the flop came J♥5♣4♣. Hobbs bet 5,900 and then Luo moved all-in for 33,7000.
Hobbs thought until the clock ticked down, then threw in a time bank card and thought some more. Hobbs eventually called and showed A♣Q♦. But Hobbs was still in the lead after Luo showed 8♣6♣. Luo was hoping for a flush or a straight, but the 3♦ on the turn didn't help him and then an A♥ came on the river to give Hobbs a pair of aces. Hobbs chipped up to 150,000 while Luo hit the rail. –AV
5pm: Troyanovskiy multitasking
Level 5 – Blinds 300/600 (ante 600)
Vladimir Troyanovskiy has been in this game a long time. And as a seasoned pro will tell you, Day 1s can sometimes drag, even when the buy-in is as big as $25,000. To keep himself entertained during the slog, Troyanovskiy is playing a bit of hearthstone on his tablet, and was engrossed in a game all the way through this pot.
After Ryan McEathron opened to 1,400 on the button, Troyanovskiy briefly looked away from the tablet to three-bet it up to 5,000. McEathron called, and they saw a 9♠7♣2♣ club, on which the Russian continued for 3,600. Call.
The turn was the K♦ and Troyanovskiy didn't slow down. He fired again for 8,400, and again McEathron didn't budge. When the K♣ rivered the board and paired it, Troyanivskiy opted for a check. McEathron then jammed for his remaining 38,300 stack, and after a moment Troyanovskiy let it go, immediately returning to hearthing some stones (I'm not too familiar with the game).
Troyanivskiy is still on 105,000, while McEathron is up to 63,000 now. –JS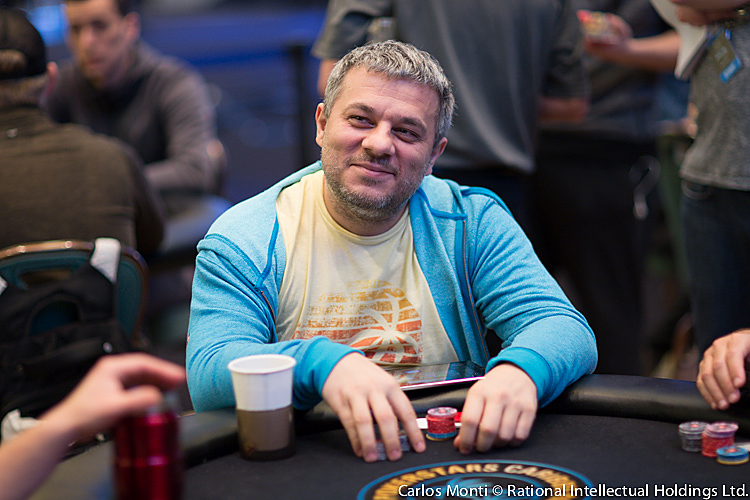 Vladimir Troyanovskiy
4:27pm: Break
Level 4 – Blinds 250/500 (ante 500)
Players are now on a 20-minute break. You should take one too and then come back for more updates from the 2018 PCA $25,000 High Roller. –AV
4:21pm: Masseuse monopoly
Level 4 – Blinds 250/500 (ante 500)
High Rollers are a different beast. Not only do they attract the best-of-the-best of the poker world, they attract star athletes, celebrity comedians and billionaire businessmen. They're also a magnet for masseuses.
The $25K High Roller currently has eight masseuses in the field, slightly more than one for every 10 players. Erik Seidel's table has the highest ratio of 3 masseuses for just seven players. This is almost an exclusive monopoly in the tournament area. There are a total of 0 players in the Main Event getting massages and there's just one player in the PCA cup getting one. –AV
4:15pm: Thorel messes up in every way possible
Level 4 – Blinds 250/500 (ante 500)
"Hey Bryn," George Wolff called over to Bryn Kenney on the table next to his. "This was the craziest hand I've ever seen."
Here's what he was referring to.
Wolff opened to 1,200 under the gun and it folded to Jean-Noel Thorel in the hijack. Thorel said something like "1,200, what does it matter," and tossed in 2,000 – made up of one 1,000 chip and two 500 chips.
This meant the floor had to be called. Did Thorel's 2,000 have to stand as a bet? After all, it was 800 more than Wolff's initial 700 open. Thorel had meant to call, but the fact that he'd used three chips made things tricky, and the floor ruled it as a raise.
The bet was now 2,000 and it folded back to Wolff. Only problem was that Thorel thought everyone was out already. He flipped over the J♥J♠ to show he wasn't pulling an angle, and when it was pointed out to him that Wolff still had action on him the entire table started laughing.
With Thorel's hand exposed, Wolff took a few moments before shoving all in for 21,200. Thorel, perhaps feeling a little silly about this whole thing, decided not to make things worse by potentially throwing away the best hand, and he made the call.
He did not have the best hand.
Wolff showed his A♠A♣. "Here's where I get punished," he said, but the aces held up after the 4♠4♣Q♦6♦9♣ board. Wolff gets the full double up, while Thorel dips to around 60,000.
Thorel took the whole thing in good spirits, and hasn't stopped laughing since. –JS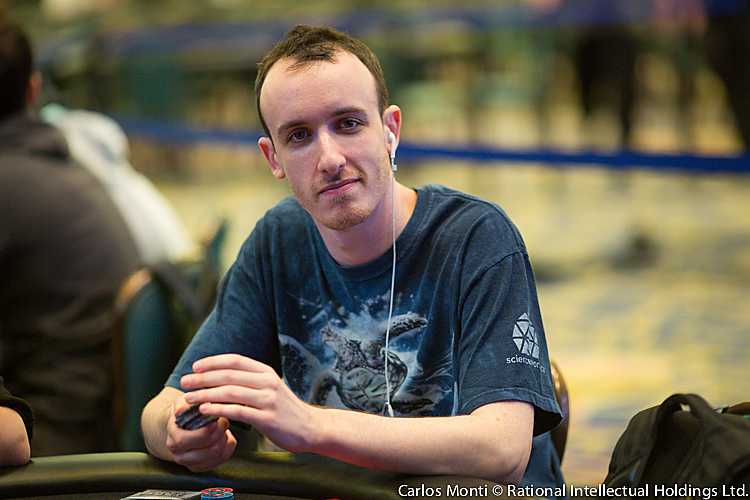 Nice result for Wolff
4:05pm: The poker climate
Level 4 – Blinds 250/500 (ante 500)
Not much has changed in the tournament room today. It's slightly chilly, well-lit and filled with the sound of riffling chips like always. But there is something different on the island, it's sunny. There's been a steady rainfall almost since the PCA started, but now the clouds have cleared up. A trip outdoors would confirm this, but several players have yet to do that and are relying on second-hand sources.
Chance Kornuth's masseuse informed him that it is indeed sunny outside today. Sean Perry and Steffen Sontheimer were also talking about the news from the outside. They haven't seen it for themselves, but one of their girlfriend's texted them about the weather. Perry said now there's actually an incentive to bust out.
What's a $25,000 buy-in when you can spend a day in the sun in the Bahamas?–AV
3:55pm: Akkari wins without showdown
Level 4 – Blinds 250/500 (ante 500)
There was a 3♠6♦6♣ flop on board, and Team Pro Andre Akkari, Timothy Adams and Vladimir Troyanovskiy had cards in front of them. Akkari checked to Adams who led for 1,200, and both called.
The dealer burned and turned the 2♦ and it checked through to the Q♠ river. Akkari checked a final time, Adams bet 4,500, Troyanovskiy folded, and Akkari made the call. Adams mucked his hand, which meant Akkari didn't even need to show in order to rake in the pot.
He's up to 34,000, while Adams sits with 77,000. –JS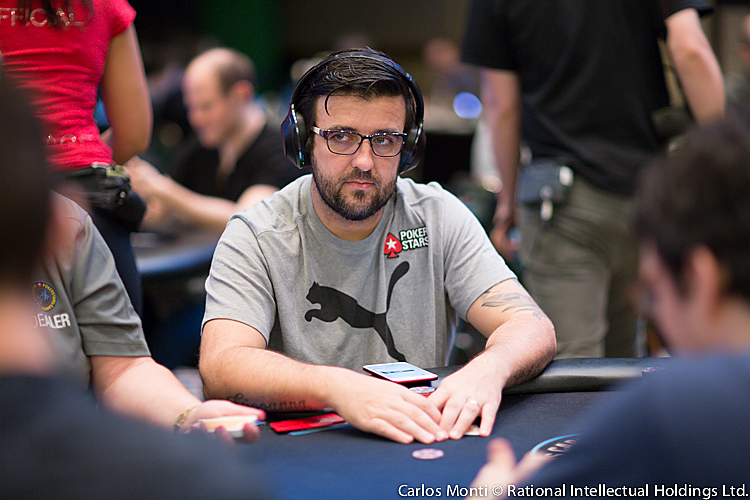 Andre Akkari
3:45pm: Building up the chop
Level 4 – Blinds 250/500 (ante 500)
It was gearing up to be a mega pot. There was an initial raise to 1,300 from middle position and Erik Seidel called from the hijack. There was another call from the button and then Mike Watson three-bet to 7,000. Action folded back to Seidel and he moved all-in.
The button folded and Watson quickly called. The mega matchup was about to be revealed in all its glory, but then both players showed ace-king. Seidel's A♠K♠ was suited thought, while Watson turned over A♣K♥. There was only one spade on the 8♣8♥9♦K♣4♠ board and it didn't even come until the river. Players chopped the pot and Seidel is at 25,500 while the chop put Watson at 43,000. –AV
3:35pm: Mandavia gets some off Negreanu
Level 3 – Blinds 200/400 (ante 400)
Daniel Negreanu raised to 1,000 from under the gun and action folded all the away around to Mustapha Kanit on the small blind. Kanit called and so did Ankush Mandavia from the big blind.
The three players went to a 7♥5♠J♠ flop and Negreanu bet 800 when checked to. Kanit called, but Mandavia raised to 3,000. Kanit folded and Negreanu looked over at Mandavia's stack. Well, his chip. Mandavia only had one yellow chip worth 25,000 left. Negreanu called anda 7♣ came on the turn. Mandavia bet 4,000 and Negreanu folded. Mandavia now has an actual stack, one worth 36,000, while Negreanu is up to 80,000. –AV
3:25pm: Khoroshenin finds a double
Level 3 – Blinds 200/400 (ante 400)
Diamonds are Oleksii Khoroshenin's best friends right now. They just saved him having to fork over another $25,000 for a re-entry.
After Seth Davies opened to 900, Goran Mandic three-bet the button to 3,600. Over to Khoroshenin in the small blind, he tanked for around a minute (costing him one of his time bank cards) before shoving for 14,400. Davies folded quickly, and Mandic called just as fast.
Khoroshenin: 10♦9♦
Mandic: A♥K♣
Khoroshenin picked up a flush draw by the turn of the 6♣6♦Q♠5♦ board, and he'd hit a fifth much needed diamond with the 3♦ river.
That brings him up to 31,000, while Mandic is now on 48,000. –JS
3:18pm: Negreanu susses it out
Level 3 – Blinds 200/400 (ante 400)
Daniel Negreanu is on good form today. Here's a hand that proves it.
Luc Greenwood opened under the gun and Negreanu three-bet to 3,200 in the cutoff. Defending champ Greenwood made the call to see a 6♦Q♠J♦ flop, and he'd check call a 1,600 c-bet.
That brought the 3♦ on the turn and both checked to see a free river. It came the 10♦ putting four diamonds on board, and Greenwood saw an opportunity to take over the betting. He led out for 6,000, and Negreanu began thinking.
His thought process went over the 30-second mark, so he tossed in a time bank card. Eventually though he'd make the call.
"You got it," said Greenwood, showing the 6♣7♣ for a pair of sixes. Negreanu didn't even have a diamond, revealing the A♠K♠ for a straight. He's up to 54,000 now, while Greenwood dips 32,000. –JS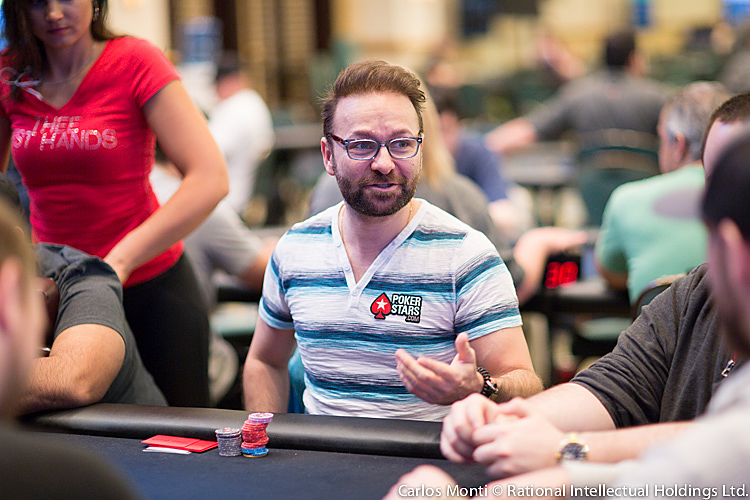 Daniel Negreanu
3:10pm: More for Sontheimer
Level 3 – Blinds 200/400 (ante 400)
Issac Haxton tried to bluff Steffen Sontheimer but the attempt failed and he dropped to 32,000. Sontheimer, meanwhile, has soared up to 170,000.
Haxton raised to 800 from the cutoff and Sontheimer peeled from the big blind to see a 3♠4♣2♦ flop. The German check-called 2,000 there before the board ran out 8♠5♠ with him check-calling bets of 8,300 and 16,500. Haxton opened K♣7♣ but Sontheimer had a straight with A♠4♦.
"Fair enough!" commented Haxton. –MC
2:50pm: Mutsa becomes the 70th entry
Level 3 – Blinds 200/400 (ante 400)
The tournament has grown even further. Mustapha Kanit just sat down as the 70th entry in the field. Before him, the likes of Stefan Schillhabel, Joao Simao, Chance Kornuth, Oleksii Khoroshenin and yesterday's $25k High Roller champion Jason Koon took seats. Dylan Linde is without a seat though after busting.
Edit: Koon didn't last very long and has re-entered along with Xixiang Luo. Steve O'Dwyer and Mike Leah also busted but haven't bought back in as yet. –MC
2:40pm: Three-way, three-bet pot
Level 3 – Blinds 200/400 (ante 400)
Daniel Dvoress has finally got into profit on his second bullet, moving up to 56,000 after winning a three-way, three-bet pot.
Erik Seidel opened to 900 and was called by Mike Watson before Dvoress squeezed to 4,600 off the button. Both opponents called to the 2♠J♣5♥ flop where Dvoress continued for 3,500. Only Seidel called before he and Dvoress went on to check the K♠10♦ turn and river. Seidel opened A♦5♦ but dropped to 67,000 after he lost out to Dvoress' Q♣Q♦. –MC
2:10pm: Sontheimer more than doubles just before the break
Level 2 – Blinds 150/300 (ante 300)
Steffen Sontheimer scored big just before the players went on their first 20-minute break of the day.
Isaac Haxton raised to 700 from the hijack before Jean-Noel Thorel three-bet to 1,800 from the next seat and Steve O'Dwyer four-bet to 5,400 from the button. Sontheimer called from the small blind and Thorel called as well after Haxton folded.
The flop came 6♦2♣3♣ and O'Dwyer's 8,000 c-bet was only called by Sontheimer. The two remaining players checked the K♦ turn before Sontheimer checked the 9♦ river to face a bet for his remaining 31,400. He called with Q♠Q♥ which bettered O'Dwyer's bluff with A♠J♠. The latter dropped to 6,000. –MC
1:55pm: The champ will settle for that
Level 2 – Blinds 150/300 (ante 300)
Defending champion Lucas Greenwood flopped top set in a three-way hand and managed to get three streets of value to rise to 60,000.
Christopher Kruk opened from under the gun and was called by Greenwood on the button and Daniel Negreanu in the big blind. The J♣8♦5♥ flop was checked to Greenwood who bet 800. Only Kruk check-called and that was a theme for the rest of the hand — him check-calling bets of 2,000 and 5,000 as the board ran out K♠7♥. Greenwood opened J♥J♠ and Kruk mucked. –MC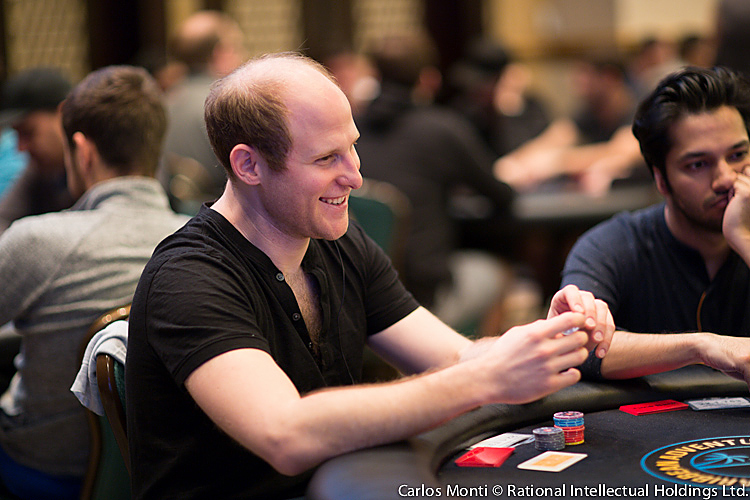 Lucas Greenwood
1:40pm: Greenberg doubles through Perry
Level 2 – Blinds 150/300 (ante 300)
Lawrence Greenberg made a full house versus Sean Perry and got a full double-up.
We missed the main part of the hand but 13,000 chips were already in the middle and a board rested as A♣J♠2♣A♠8♥. Perry's hand had already been mucked and the dealer was counting down Greenberg's remaining stack so Perry could pay his debts. Greenberg's reward for his A♥J♥ was 51,000 more. Perry dropped to 42,000 as a result. –MC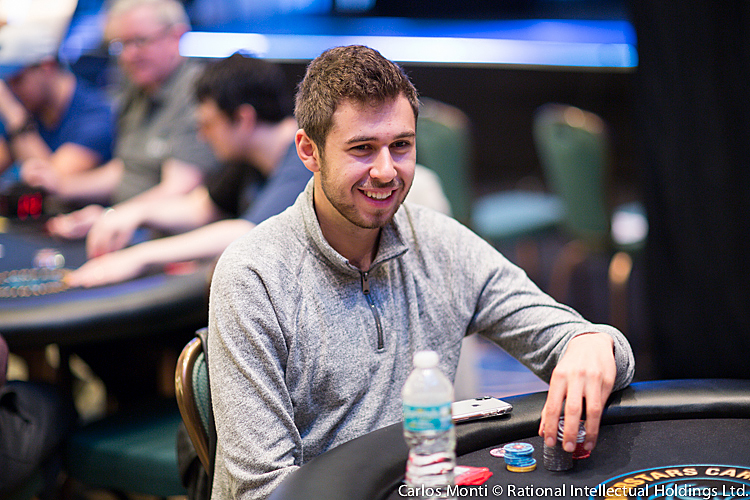 Sean Perry in happier times
1:20pm: Dvoress back in the action as more join the field
Level 2 – Blinds 150/300 (ante 300)
The tournament has swelled to 53 entries and one of those entries is a re-entry — Daniel Dvoress, who was straight back into action.
But before that, some of the fresh entries included Team PokerStars Pros Daniel Negreanu and Andre Akkari; Super High Roller champion Steve O'Dwyer, Rocco Palumbo and Mohsin Charania.
Dvoress was drawn into the same seat he vacated a short while ago and when he was in the big blind, he called an under-the-gun raise from Vladimir Troyanovskiy. The flop fell 5♠Q♠A♣ and Troyanovskiy continued for 700 and called after being check-raised to 2,100. Dvoress then led for 6,000 on the J♥ turn, a bet that was too much for Troyanovskiy to call. –MC
1:05pm: Two down as level comes to an end
Level 1 – Blinds 100/200 (ante 200)
That's the first of ten scheduled levels over with, and two players failed to make it to the second level, on their first bullet at least. They are Roger Tondeur and Daniel Dvoress. We missed the former's bust out but witnessed Isaac Haxton take out Dvoress.
Dvoress raised to 500 from under the gun and was called by Haxton in the big blind. The flop came 5♠J♥5♥ and Haxton treated Dvoress' 500 c-bet to a check-raise to 1,500. Call. The turn was the Q♣ and Haxton slowed to a check and then called a 3,800 bet. The A♦ completed the board and Dvoress shoved for 9,200 after Haxton checked to him.
"Yeah, okay," said Haxton before he called with A♠J♣ for two pair.
"Flush!" said a joking Dvoress as he opened 8♥7♥.
Players have the option of one re-entry is this event so we could well be seeing Tondeur and Dvoress back in the field. –MC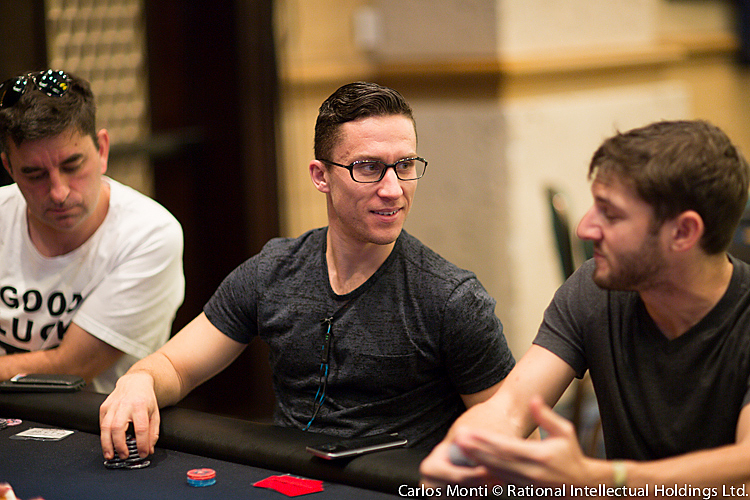 Daniel Dvoress
12:55pm: Up to 44 entrants
Level 1 – Blinds 100/200 (ante 200)
There's a steady stream of high rollers collecting their rack of 50,000 chips and taking their seating assignments. Some of the latest to show up included defending champion Lucas Greenwood, Nick Petrangelo, Mikita Badziakouski, Kevin Hobbs, Mike Leah, Stephen Chidwick, Ben Heath and Pascal Lefrancois. –MC
12:45pm: Troyanovskiy getting drunk on Perry
Level 1 – Blinds 100/200 (ante 200)
Vladimir Troyanovskiy had apparently lost a chunk of chips to Sean Perry a short while ago but the Russian just got some back with a full house.
Perry raised to 500 from the cutoff and was called by Troyanovskiy in the next seat and the big blind. The flop fanned A♦K♣4♠ and Perry continued for 700. Troyanovskiy raised to to 2,500 and Perry called after the big blind folded. The Q♦ was checked through and then Troyanovskiy had another 5,000 bet called on the K♦ river. He opened K♥4♥ and Perry mucked. –MC
12:30pm: Schwartz straightens out Kruk
Level 1 – Blinds 100/200 (ante 200)
Noah Schwartz has gotten off to a good start, helped by making a straight in a three-way pot.
Dylan Linde, who'd just sat down, raised from the cutoff and was called by Christopher Kruk and Schwartz in the blinds. All three checked the 9♠6♣J♦ flop before Kruk led for 1,000 and 2,800 on the 5♣5♠ turn and river. Only Schwartz called the bets and Kruk tabled K♦J♣ but lost out to Schwartz's 8♥7♥ for a straight. –MC
12:20pm: Big blind ante in play
Level 1 – Blinds 100/200 (ante 200)
The big blind ante was used for the $25,000 Single Day High Roller yesterday and it's being used again for this tournament. It's a pretty simple idea that should speed up the play. Each player will post an ante the value of a big blind every time they are in the big blind, rather than eight individual antes having to be collected by the dealer every hand. It could change some play dynamics but the majority of players think the benefits will largely out weight any negatives that arise from the change. –MC
12:08pm: Shuffle up and deal!
Level 1 – Blinds 100/200 (ante 200)
After a short delay, cards are in the air.
Players in from the begging include: Daniel Dvoress, Isaac Haxton, Lawrence Greenberg, Ankush Mandavia, Timothy Adams, Christopher Kruk, Dimitar Danchev, Vladimir Troyanovskiy, Noah Schwartz, Jonathan Kamhazi, Roger Tondeur, Sean Perry, Chris Johnson and Jonathan Jaffe. –MC
11:30am: $25K High Roller kicks off at noon
The 2018 PCA has hosted some amazing High Roller tournaments this year, with buy-ins ranging from $25,000 all the way up to $100,000. This High Roller is one they all want to win though. The buy-in and three-day schedule makes it an attractive tournament for a wider range of players meaning there's always a bumper first placed prize to play. The event was first introduced in 2009 when a certain Bertrand "Elky" Grospellier took down the title and it has enjoyed a rich history ever since.
Let's have a look back at all the former champions: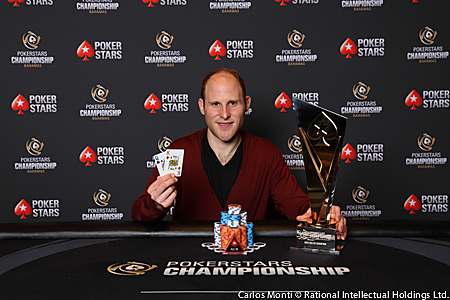 2017 champion Lucas Greenwood
| Year | Name | Prize |
| --- | --- | --- |
| 2017 | Lucas Greenwood | $779,268 |
| 2016 | Nick Maimone | $996,480 |
| 2015 | Ilkin Garibli | $1,105,040 |
| 2014 | Jake Schinder | $1,192,624 |
| 2013 | Vanessa Selbst | $1,424,420 |
| 2012 | Alex Bilokur | $1,134,930 |
| 2011 | Will Molson | $1,072,850 |
| 2010 | William Reynolds | $576,240 |
| 2009 | Bertrand Grospellier | $433,500 |
The next three days should provide some of the best quality poker action you're likely to find anywhere and the weather's finally picked up in the Bahamas today, so everyone's mood should be sunny. Join us back here from midday when cards will be in the air. –MC
Download the PokerStars LIVE! app with all tournament information. Available for IOS and Android.
PokerStars Blog reporting team on the $25,000 High Roller:Marc Convey, Jack Stanton and Alex Villegas. Videos by Nick Coole. Photography by Neil Stoddart and Joe Giron/PokerPhotoArchive.com.