So what are you looking for on your opening day of the PCA?
If you're Affif Prado it's the chip lead, a grand sum of 137,500, bagged up tonight after eight levels of poker to set a benchmark for tomorrow. Opening days can often pass by in a blur, with no clear picture to tell that story.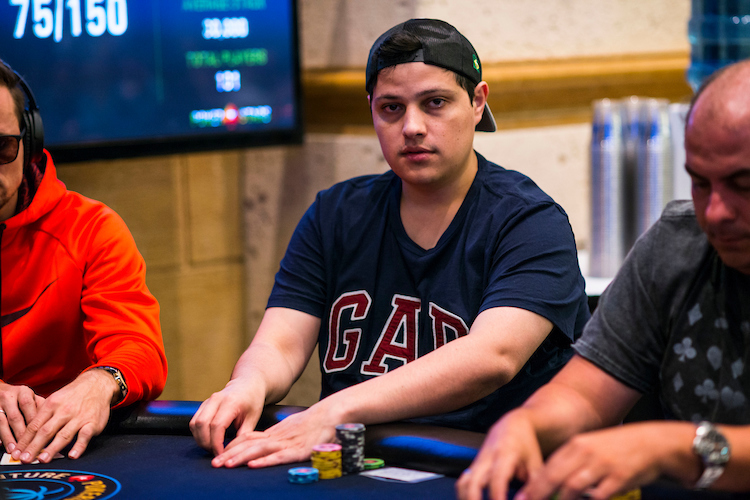 Affif Prado
Prado won't care. This is just the continuation of a run of form that put him top of the BSOP ranking last year. Here's even won the mini-main here back in 2013. That could prove a useful rehearsal.
If you're Niklas Ehrenholz quadrupling up will probably do it. Not bad for anyone playing a long day of poker.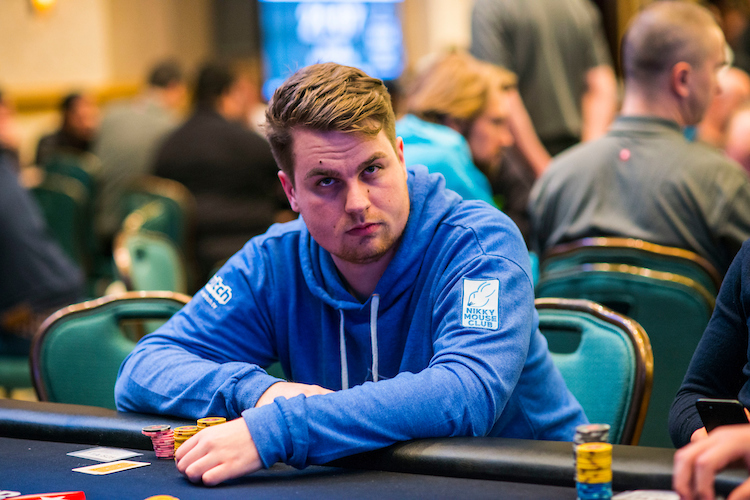 Niklas Ehrenholz
Even better when you arrive with only two levels left on the day, and bust three players in quick succession to turn a starting stack of 30,000 into something more like 150,000, and making a mockery of all those who turned up for the start. Only a hand against Hooman Hakimi late on, kept his feet on the ground, leaving him with 133,800.
If you're Ricardo Neto it's finishing close enough. He ended the day sitting opposite the leader Prado, and could have topped the Brazilian with little more than an extra blue chip. He didn't get it, but will be happy to have closed on 131,700.
And then, if you're Nicole Ray, who we featured on the Blog earlier today, you're looking for something like an unforgettable experience, and maybe the arrival of your lost luggage.
Nicole Ray
You can read more of Ray's story in our coverage archive below, but the short version is that Ray was making her first trip out of the UK, to play her first live poker, having accidentally won her way here on PokerStars.
She made the most of it, but the cards didn't fall her way. But she left having made a few friends at her table, and a few memories to mull over the rest of the week in the Bahamas.
If you're anybody else among the 102 players that reached the end of play tonight, from a starting field of 177, then you'll probably settle for a Day 2 return. That would include three Team Pros who finished the day with chips, Barry Greenstein (62,700), Liv Boeree (44,000) and Kevin Martin (39,300). With so much left to play the only real goal is to still be listed among the survivors. Plenty of others aren't, as you can read in our updates below.
That concludes opening day in the Main Event, with the second of two Day 1 flights taking their turn here tomorrow at 12 noon.
If you want more poker the links below will take you to either the conclusion of the Super High Roller, or the final stages of the $50,000 High Roller, take your pick and enjoy. We'll see you here tomorrow. – SB
Live Coverage Archive

• ENTRIES: 177
• OTHER COVERAGE: $50K HIGH ROLLER | $100K SHR FINAL TABLE
• ALL PCA INFO | TOURNAMENT SCHEDULE | DOWNLOAD POKERSTARS
• POKERSTARS BLOG'S PCA VIDEOS
• Follow @PokerStarsBlog on Twitter

9pm: Day is done
That's it – Day 1A is in the books. We'll have a full recap for you shortly. -JS
8:45pm: Hell hath no Furey
Level 8 – Blinds 400/800 (ante 100)
Charles Furey has managed to dodge tournament death and double up with just 20 minutes left on the clock.
On a 7♦8♦8♠, it had checked to Mike Adamo who bet 2,200. Furey then popped that up to 6,700, only for Krisztian Fejerdi to raise again to 13,300. Adamo got out of the way, before Furey shoved. Snap-call.
Furey: A♥8♥
Fejerdi: J♣8♣
A cooler left Fejerdi needing a miracle jack, but the board ran out clean for Furey who is now up to 52,000. Fejerdi was left with 41,000 after that one. –JS
8:24pm: Sitton in good shape…and very bad shape
Level 8 – Blinds 400/800 (ante 100)
Hank Sitton may have started running hot recently and moved his stack north of the 100,000 mark, but his work could be his undoing. See, those seats he opened up have been filled in the worst possible way. The three seats to his left consist of: Igor Yaroshevskyy, Kevin McPhee, and Oleksii Khoroshenin.
I don't care who you are. That is a line-up you do NOT want to your left.
This just in: Photographer Joe Giron walked up as I was typing this and confirmed the above suspicion. Khoroshenin flopped quads against Sitton and took nearly half his stack.
Hold tight, Hank. Night's almost over. –BW
8:17pm: Cabrera puts Watson to the test
Level 8 – Blinds 400/800 (ante 100)
Mike Watson just had a decision to make, one that would have cost him all of the 19,000 he had left behind.
Sergio Cabrera had opened to 1,800 in early position before Watson raised to 5,400 from the small blind. Cabrera called to see a flop of Q♠9♦10♥. Both checked that for the 9♥ turn. Watson checked again but Cabrera plonked 30,000 into the middle, all blue chips, easily eclipsing what Watson had left.
Watson furrowed his brow a little not exactly expecting this, and then he thought for a while before shaking his head and folding. –SB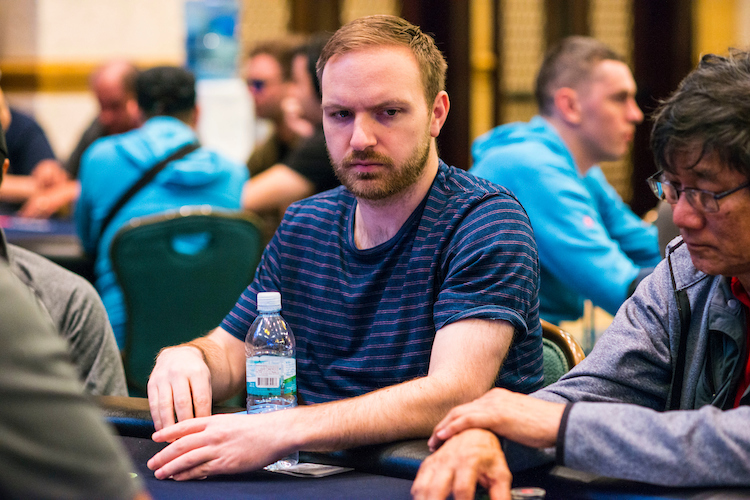 Mike Watson
8:10pm: You guess it…another elimination for Ehrenholz!
Level 8 – Blinds 400/800 (ante 100)
This is getting crazy now. Niklas Ehrenholz has eliminated his fourth player within an hour!
James Fragoulidis was all in with the K♦Q♦ against Ehrenholz's A♣3♥, and the ace-high held up.
Ehrenholz is up to 150,000. Scroll down to 7:30pm and 7:56pm to follow his story so far. –JS
8:05pm: Folding sucks until you're right
Level 7 – Blinds 300/600 (ante 100)
Ricardo Neto made a noise that sounded a lot like air escaping balloon. A squeak that needed more time to play out. He didn't even seem to notice he'd done it.
The problem was this. Victor Pedote dos Santos had shoved all-in for 6,900, and Neto had called, which was fine until Vytis Paskevicius shoved back over them for 33,000. Neto had a decision–and lots of weird noises–to make. He agonized. He endured an internal battle. What was meant to be man against man turned out to be man against himself. If he called and was wrong, he would lose most of his chips. If he folded and was wrong, he would hate himself and probably want to kick something.
Eventually, he muttered something that sounded like "Fold," but no one was sure until he showed Affif Prado his hand. Immediate other players began calling to see the cards as well. Turned out, he had pocket jacks, which would have crushed Santos' A♦10♠ but been behind Paskevicius' queens.
While satisfied with the fold, he still had to endure watching the board come out. He'd made the right decision, but he also had to be sure the wrong decision wouldn't have paid off.
In the end, it would not have. Paskevicius was good pre-flop and would have beaten both players.
Neto looked around as if coming out of a trance. He met everyone's eyes and nodded, as if to convince himself that folding was actually fun. –BW
8pm: Pride and joy
Level 7 – Blinds 300/600 (ante 100)
I suppose you'd call it a display of excessive pride. Mikhail Sokolovskiy had just doubled up, and was making his opponent know he was pleased about it.
He'd got his chips, 36,000 of them, in with pocket queens and flopped a set. His opponent Jonathan Kamhazi had his chips in with pocket fives and had turned a set. Disaster followed for him, but not Sokolovskiy, who gave a little victory speech as he raked in his new chips. –SB
7:56pm: Ehrenholz's fairytale continues
Level 7 – Blinds 300/600 (ante 100)
Niklas Ehrenholz's dream start to this PCA Main Event hasn't slowed down.
He's just busted another player, this time with pocket queens versus ace-king, and now sits with 120,000.
Incredible. He's been playing less than an hour! –JS
7:55pm: Kevin Martin Unplugged
Level 7 – Blinds 300/600 (ante 100)
Kevin Martin was tilting his head to one side and talking to himself. A kind of Twitch Stream "Unplugged". What was going on here?
He'd checked the 5♣5♠9♥ flop, then called the bet of 4,700 from Leandro Dolera. Both had checked the J♥ turn for a 10♠ river. Now Martin was facing another bet, this one worth 7,500.
So he talked a bit, looked at the board a bit, and then talked a bit more. Nah, this one was no good. He gave a word of appreciation to Dolera, and folded.
For his part Dolera mentioned something about the nuts and turned over J♠J♣. Martin was grateful, but didn't appear keen to return the favour. –SB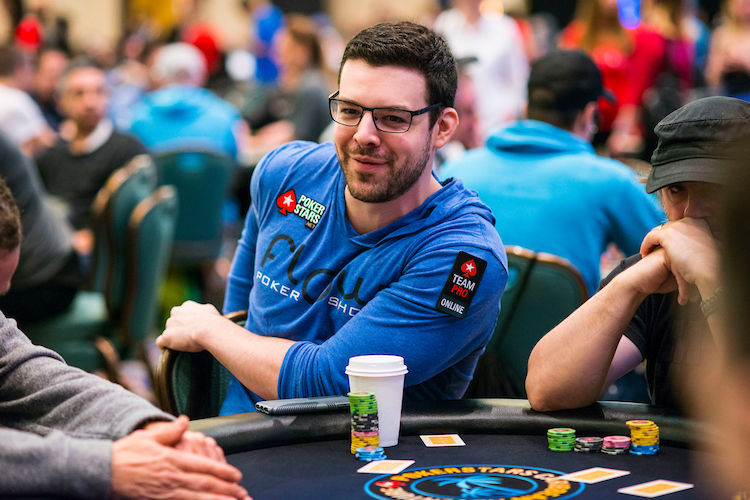 Kevin Martin
7:45pm: Sitton scores double knockout
Level 7 – Blinds 300/600 (ante 100)
Hank Sitton is known as a car dealership owner in Greenville, SC. He's also known around town a a fearless poker player. He's South Carolina's current top live winner on Hendon Mob. Now, he's the proud of owner of two players' chips, one of them Team Online's Jaime Staples.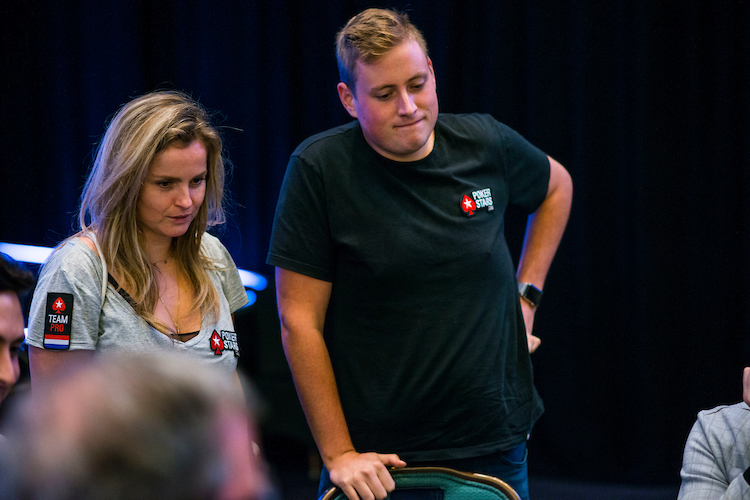 The recently eliminated Moreira De Melo watches on with Staples
As we understand it, Staples shoved with A♣K♣, Sitton over-shoved with A♠A♥, and Jonathan Concepcion Tacoronte called for less with A♦Q♠. Sitton flopped the A♥ and had no further worry after that.
Afterward he almost seemed surprised.
"They finally held up one time," he said. –BW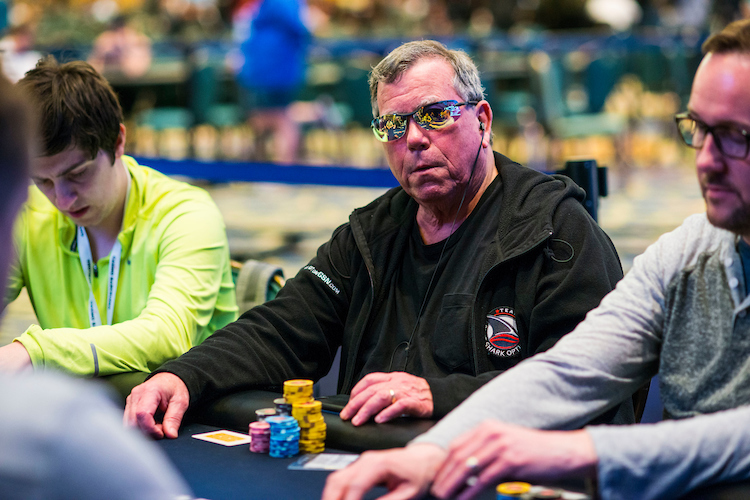 Hank Sitton
7:42pm: Park life
Level 7 – Blinds 300/600 (ante 100)
Christopher Kruk woke up with an ace, bet it in early position and set the hand in motion. Sergio Cabrera had found pocket fives, figured that was good to call and did so, only to watch Hye Park move all-in from the big blind, looking to double up his 8,800 with A♥J♦.
Kruk got out of the way. Cabrera meanwhile stroked his beard and then called.
"It's a result," said Kruk, by way of consolation, who also said he folded an ace. Not that that did Cabrera any good.
8♠Q♦3♦A♣J♠.
A double up for Park. –SB
7:38pm: Mucked cards good!
Level 7 – Blinds 300/600 (ante 100)
There is a longstanding rule: if the cards hit the muck, they are dead. It's a good rule. Nevertheless, we have found an exception. (Don't get too excited. This isn't scandalous.)
Alan Schein was betting into Affif Prado, last year's big BSOP winner. Schein bet 6,000 on a 7♣10♣Q♣ flop and got a call. It was 10,000 on the turn when another four came. The river brought the 7♥. Now Schein backed off and checked, letting Prado fire for 15,000. Schein considered the bet for a few moments before folding.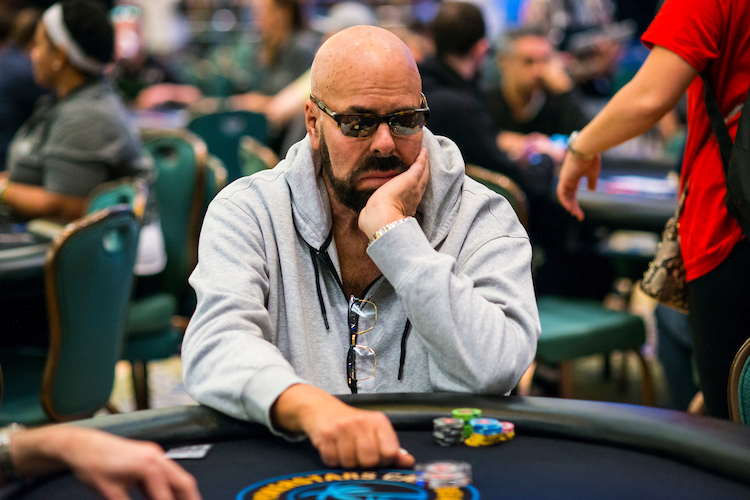 Alan Schein
As Prado mucked, Schein said, "Nice bet. Did you have anything?"
Prado sprung to life and grabbed his cards out of the muck. He peeled one up and flipped it over to show the A♣…maybe a missed flush draw. Maybe still the winner.
In any case, the mucked cards were good for that little show. –BW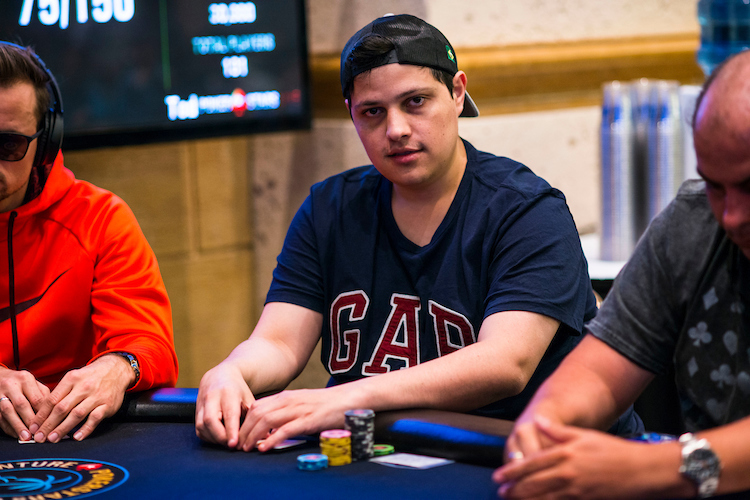 Affif Prado
7:30pm: The expeditious emergence of Ehrenholz
Level 7 – Blinds 300/600 (ante 100)
This is going to sound like a fairytale. And in many ways it is. It's 100% true though.
Once upon a time, on a Paradise Island far away, there was a player called Niklas Ehrenholz from Germany. Known in his homeland as one of Team Online's Felix Schneiders' 'Poker Bros' crew, Ehrenholz qualified into the 2018 PCA Main Event online, turning $530 into a dream poker package.
Fairytale start for Ehrenholz
Arriving in Paradise, he took his seat five minutes before the last break of Day 1A, and when he returned from the 20-minute breather his 30,000 starting stack would quickly increase.
First, he doubled up with pocket aces through Kyle Cheng, who held pocket queens. That took him up to 60,000.
A couple of hands later he eliminated Nikolai Yakovenko with the A♦J♠, after Yakovenko shoved with the A♠4♥. The board ran out J♥Q♦3♥10♠2♣, bringing Ehrenholz up to 78,000.
And only a few hands later, Ehrenholz would bust another. Andreas Kaju opened to 1,500, Ehrenholz three-bet jammed from the big blind, and Kaju called off his 15,000 with pocket kings. Ehrenholz had ace-jack, and an ace on the turn secured him another knockout in a matter of minutes.
Ehrenholz played poker in one of the biggest tournaments of the year, and within half an hour he'd tripled his stack up to 90,000.
Now we just have to see if he'll live happily ever after. –JS
7:25pm: Davila doubles
Level 7 – Blinds 300/600 (ante 100)
A double up for Humberto Davila who managed to get his chips in on a flop of 7♣2♥2♣, holding A♠2♠.
Kreston Nielsen called with A♥Q♣ but made his thoughts known to the almighty when he saw Davila's hand.
The turn came 5♥ and the river Q♦ to double Davila, although only as far as 10,000. –SB
7:20pm: Fatima down
Level 7 – Blinds 300/600 (ante 100)
We were absorbed in other pursuits when it happened, but it is our duty to report that Fatima Moreira de Melo has been eliminated by Philipp Viebcke. –BW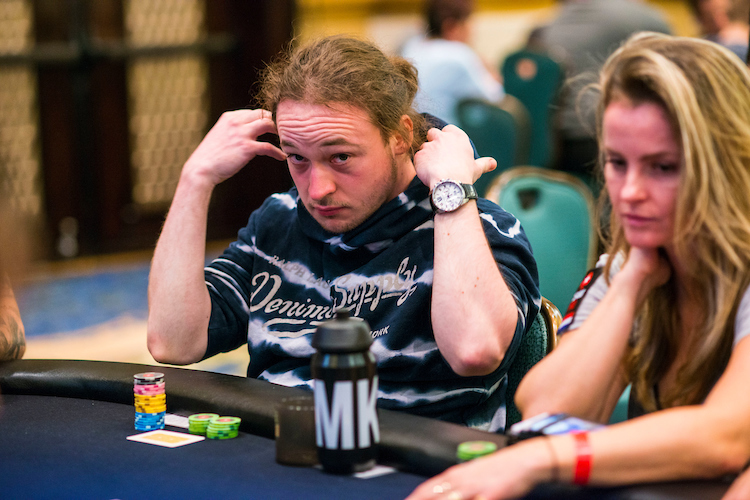 Philipp (left) felts Fatima (right)
7:10pm: Margets on the river
Level 7 – Blinds 300/600 (ante 100)
We got to this one on the flop of 9♦2♥K♣. Daniel Razaei was under the gun and pressed on, betting 1,600. Matthew Davenport in the seat next to him called. Leo Margets in the seat next to Davenport did the same.
On the 6♦ turn Razaei checked to Davenport who bet 3,800. Margets called, taking it heads up to the river, the 10♥.
Davenport, who was holding A♦K♠ for top pair top kicker, checked to Margets who bet 7,800. Davenport took a sip of coffee and set about turning this one over in his head. Was the king good enough? He paid to find out, only to see Margets show 2♣2♠ for a set.
Margets is up to 45,000. –SB
6:40pm: Break time big stacks
Level 6 – Blinds 250/500 (ante 50)
Players have now gone on their last 20-minute break of the day. Here's a look at the biggest stacks in the room right now. –JS
Michael Stashin – 127,000
Christopher Kruk – 100,000
Gabriella Boza – 95,000
Daniel Coupal – 90,000
Artur Galanek – 85,000
Krisztian Fejerdi – 82,000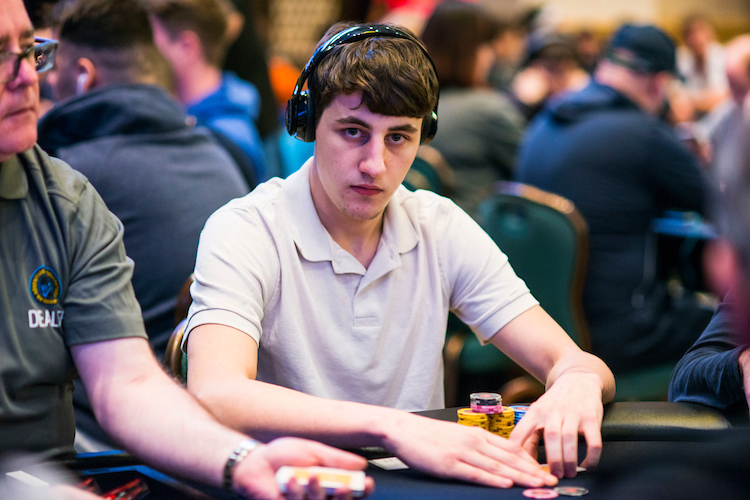 Michael's Stashin' chips
6:35pm: The race isn't over until the finish line
Level 6 – Blinds 250/500 (ante 50)
Lee Jones–you might have heard the name before–is known for his pragmatism. I mean, he's known for other things, too, but the point is, he said something back in 2005 here at the PCA that stood out to me for its simplicity. At the time, we were down to the last few tables of the Main Event, and we saw one of those classic races, an ace-king versus tens. The tens held through the turn, but an ace hit on the river (see: Greenstein, Barry).
The crowd went nuts. Pained screams. Shudders of disbelief. Cries for the injustice of it all.
Jones stood there unmoved and unimpressed.
"That's just one way ace-king beats pocket tens," he said. Point being, that whole thing about a coin flip hand only applies if all five cards hit the board. Meaning, despite the drama, the ace could have been in any position. In other words: meh. Knowledge of statistics and math can ruin a lot of good dramatic tension (see: Tyson, Neil de Grasse).
I only bring it up because as we end Level 6, we saw basically the same thing. Kevin Andriamahefa's 9♣9♥ were up against Oleksandr Didukh's A♣Q♥. Again, it was a clean board until the river when (again, see: Greenstein, Barry).
This time, though, you wouldn't have known it happened if you had been blind. Not a peep was uttered. The chips moved over to Didukh, and everything moved on.
I mean, yeah. Statistics. Math. Neil de Grasse Tyson. Lee Jones. We've learned from them all over the past 14 years.
But sometimes we miss being stupid like we were in 2005. –BW
6:25pm: Galland gets some run good
Level 6 – Blinds 250/500 (ante 50)
Having lost to runner runner quads earlier on today when he clearly held something good, Benoit Galland has just enjoyed a little run good himself to stay alive.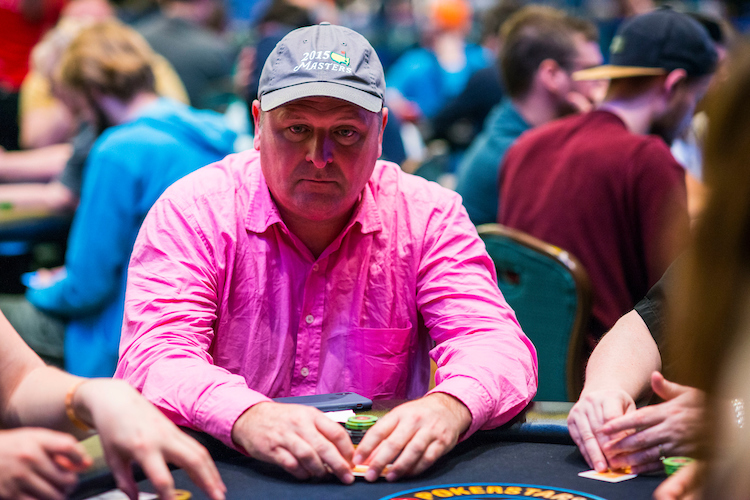 Everything looking rosie… well, pink, for Benoit Galland
After Iurii Simonov opened to 1,300, Galland shoved his last 8,500 and when it folded back to the raiser he decided to make the call.
Galland must have been relieved to see he was flipping with two live cards, his Q♥J♥ up against Simonov's 7♣7♥. The 4♣8♣K♦ flop didn't help him though, nor did the 4♥ turn.
But the J♣ river changed things a great deal. Galland found a better pair and the double up to around 18,000, while Simonov is still healthy with 55,000. –JS
---
Don't have a PokerStars account? Getting one couldn't be easier and could mean a trip to the next PokerStars EPT. Click here to get started.
---
6:16pm: Blind vs Blind scores Shahade a double
Level 6 – Blinds 250/500 (ante 50)
The great thing about playing folding to your blinds is that it gives you a chance to play hands you probably wouldn't otherwise. Like, for instance, Shahade's 6♣9♦. It helps if your opponent holds A♣7♣, the board pairs you both and then turns you a straight, which is exactly what happened for Shahade against Francesco Fama.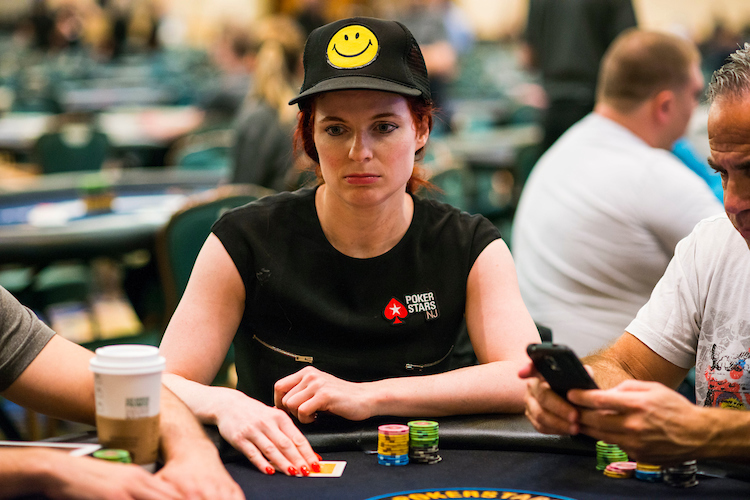 Some respite for Jen Shahade
Shahade needed that one. After that she is back up to 16,000. –BW
6:12pm: Altman bluff fails against turned set
Level 6 – Blinds 250/500 (ante 50)
Brian Altman had his barrels loaded and planned out well in advance when he bet 5,300 on 2♦Q♥J♦8♦ board against Hungary's Krisztian Fejerdi.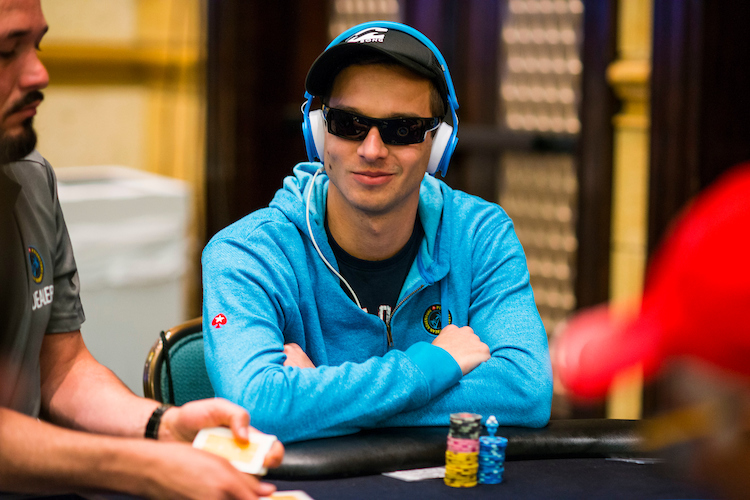 Krisztian Fejerdi
Altman was sitting with A♥10♠ and needed a king to catch up to Fejerdi's turned set of eights. Altman didn't get it, but that didn't stop him from bluffing the river for 18,000.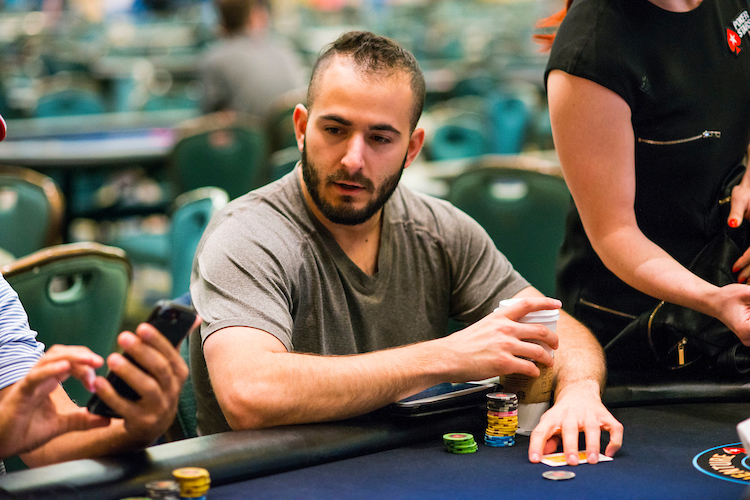 Brian Altman
It also didn't stop Fejerdi from ignoring the threat of a diamond flush and making the call. Fejerdi was so excited, he pulled his chips into a pile like Scrooge McDuck and ran off to talk to a friend. Fejerdi is now up past the 100,000-chip mark. –BW
6:10pm: A check in on Team PokerStars
Level 6 – Blinds 250/500 (ante 50)
Liv Boeree was the latest member of Team PokerStars to take a seat here on Day 1A. Here's how everyone is getting on currently: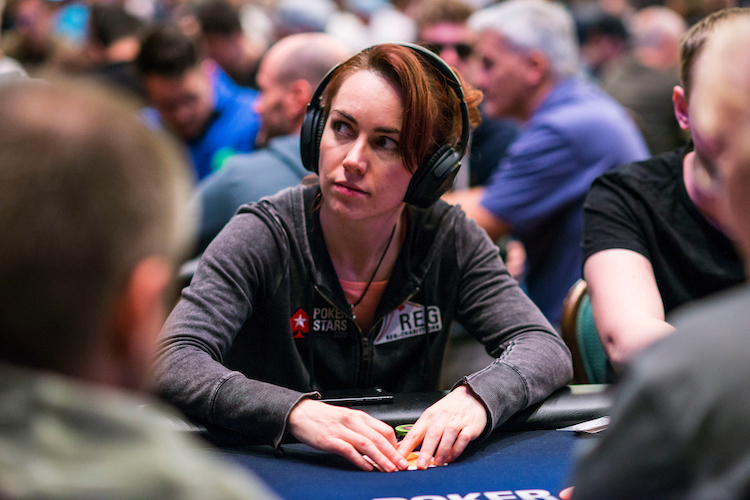 Liv Boeree
Barry Greenstein – 66,000
Kevin Martin – 36,000
Jaime Staples – 28,000
Liv Boeree – 22,000
Fatima Moreira de Melo – 16,000
Jen Shahade – 8,000
–JS
5:55pm: And just like that…
Level 6 – Blinds 250/500 (ante 50)
We just reported how Christopher Kruk's stack took a hit. Just a few seconds later and he now has more than he had before that hit.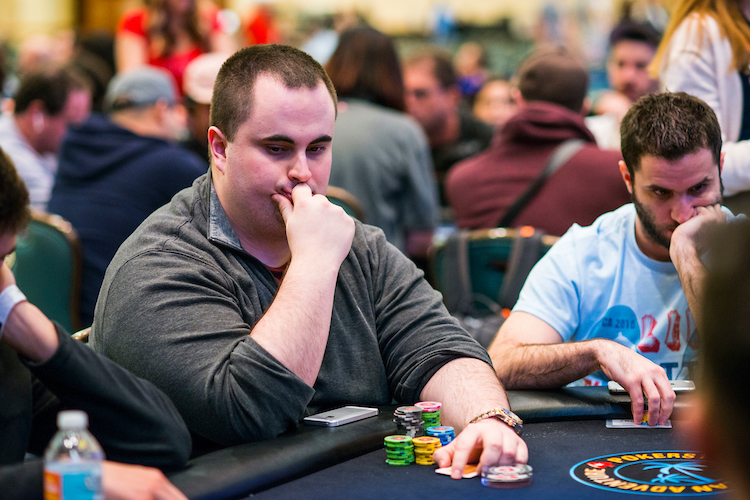 We didn't see the action from the start, but Kruk was heads up in a pot against 2016 PCA champ Mike Watson. There was around 60,000 in the middle and a 3♦7♣2♥2♦10♠ board out there, and Kruk shoved for around 25,000. Watson tanked but eventually gave it up, leaving himself with 32,000.
Kruk is up to 85,000. –JS
5:45pm: Blinds up
Level 6 – Blinds 250/500 (ante 75)
We reach a new blind level as we go into Level 6 of the Main Event.
5:40pm: Bad luck on top of bad luck ends first-timer, Ray
Level 5 – Blinds 200/400 (ante 50)
"I was petrified at first," Nicole Ray said, clutching an inhaler in her hand. She coughed quietly and looked around the room for her daughter, Helen.
Among the two, Helen is the better poker player, but it was her mother who won the satellite qualifier to the PokerStars Caribbean Adventure Main Event.
Ray is a bit of a rarity these days. Until this afternoon, she had never played live poker. Ever.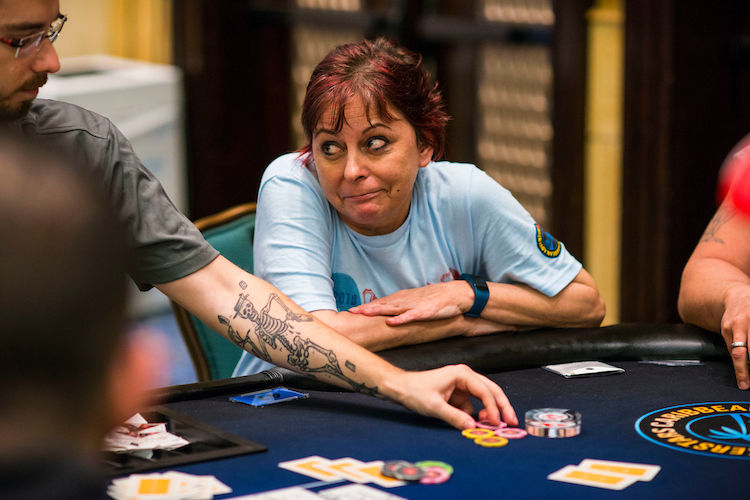 Not to be for Nicole Ray
"I had no idea what to do," she said. "I made several boo-boos."
Nevertheless, her opponents' displayed genuine affection for her.
Despite the love, despite the luck that got her here, Ray had to know she was running as bad as she could.
When they arrived in the states from her home Peterborough, she landed at JFK airport in New York where everything had gone to hell. Planes were trapped on the tarmac. Bags were being stacked on one another. A water main break caused a flood. Ray and her daughter were trapped and missed their connection.
Nevertheless, they made it here, which was nice except for the humidity and rain outside which kicked off Ray's asthma and wrecked her voice. Still, she persevered, deciding to enter Day 1A.
"Just get stuck in, you know?" she said.
But like JFK, like the weather, like the fact her bags still haven't arrived and she's wearing tights and a PCA giveaway t-shirt, she didn't run well at the table. Her final hand was the best evidence. She was down to 3,000 and facing a raise to 1,000. She got the 3,000 in with A♣10♣ against 6♣8♣. Good news… until the board ran out 2♥4♦4♥7♥5♣.
She looked forlornly as the dealer–the one with the dancing skeleton tattoo on his arm–turned her cards over. It was only then that she realized it was over.
"Thank you all for your support," she said to all of her opponents.
She hadn't been there long enough to remember Jennifer Shahade's name ("I watched her on YouTube") or learn that Shahade was a chess master.
"I love chess," Ray said. "I'm teaching my grandchildren now. I just bought a bunch of new sets. I was on a chess team when I was a child."
All that was left was to find Helen, hope her bag arrived, and try to enjoy the rest of her Caribbean vacation.
She does walk away with this, though: the next time she sits down to play live poker, it won't be her first time. –BW
5:25pm: Kriuchkov doubles through Simao
Level 5 – Blinds 200/400 (ante 50)
Brazil's Joao Simao has had a good day so far, despite the fact he just doubled up Maksim Kriuchkov.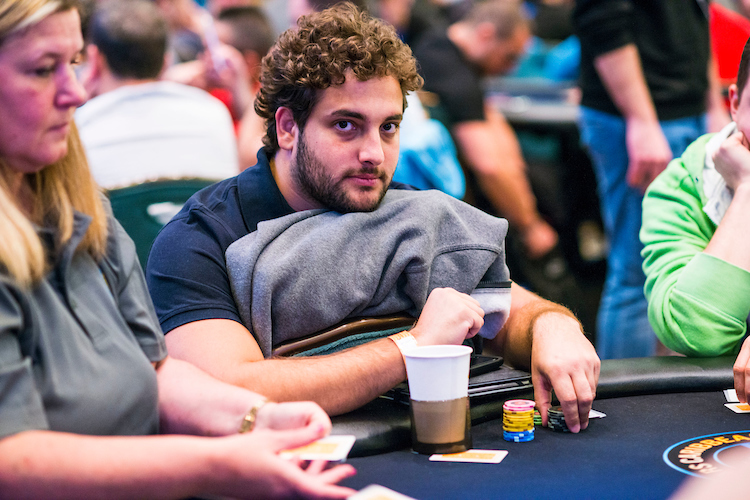 Joao Simao
Picking up the action on a J♣9♣5♥ board, Kriuchkov checked and Simao led for 2,000. Kriuchkov then raised it up to 7,000, and Simao checked for more than two minutes before finally making the call.
The turn came the 9♦ and Kriuchkov wasted no time in moving all in for his last 6,100. There'd be no more tanking for Simao either, who snap-called.
Simao: 10♦9♥
Kriuchkov: [5S][5D]
Simao had managed to turn trips, but that no was good as Kriuchkov had turned a boat. The K♥ river changed nothing, and Kriuchkov is up to 24,500.
No sweat for Simao though; he's still got 73,000. –JS
5:11pm: First knock to Greenstein
Level 5 – Blinds 200/400 (ante 50)
After nothing but smooth sailing so far we've just seen Barry Greenstein lose a small pot.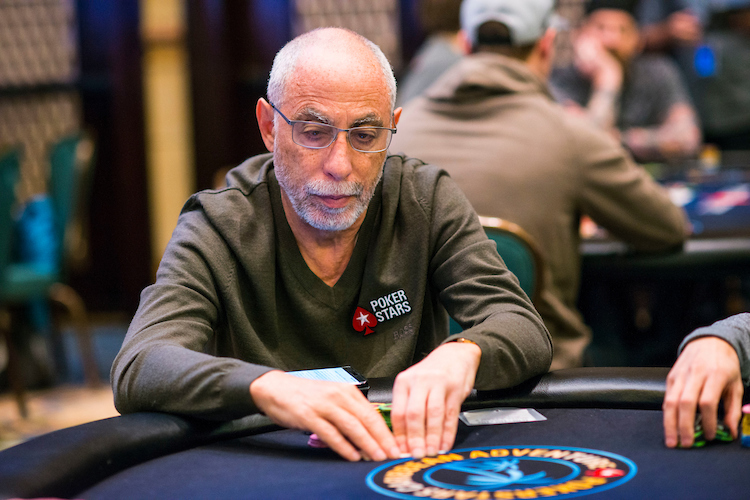 Plain sailing so far for Barry Greenstein
Action folded to Massimo De Mario in the small blind and he limped, then called a raise from the Team Pro. That took them to the 10♣7♦9♦ flop, on which Greenstein continued for 1,500 when it checked to him. Call.
The turn came the K♠ and De Mario check-called another bet, this time worth 3,200.
After the 10♥ river paired the board, there'd be no more betting, much to De Mario's chagrin as he'd rivered a full house holding the K♥10♠. Greenstein nodded with a sigh. "Nice hand."
He's still on 60,000 though, so nothing to worry about. –JS
5pm: Another one down
Level 5 – Blinds 200/400 (ante 50)
Dan Shak's Main Event has come to an end. We missed the action as it happened, but a scan of the table at the end of the hand showed that Shak had made two pair holding king-queen on the 9♣5♠8♦Q♣K♣ board.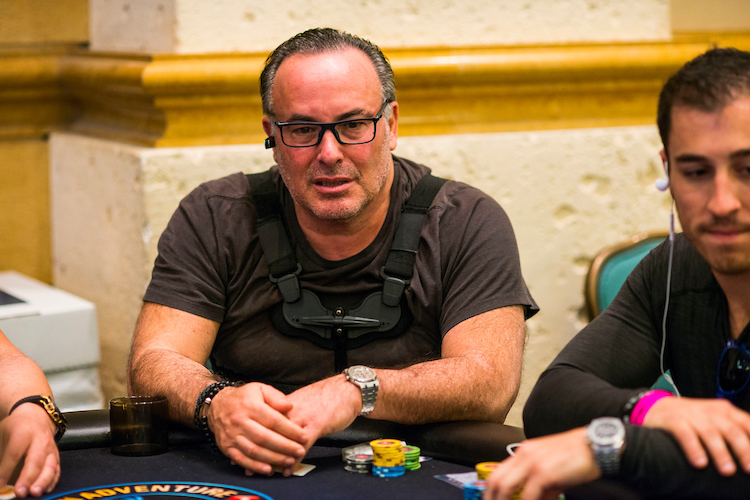 Dan Shak out of the PCA Main Event
Unfortunately for him, that same river that doubled paired his hand also gave Brian Altman a flush with his J♣4♣. Shak's out, and Altman is now playing 72,000. –JS
4:48pm: Konya's gone
Level 5 – Blinds 200/400 (ante 50)
Level 5 has been short-lived for Hungary's Tamas Konya.
He returned to just over 5,000, and shoved it all in from early position. It folded around to Luc Greenwood in the big blind and he peeked down at A♥Q♥, certainly good enough for a call. It was dominating Konya's A♦6♠, and by the end of the board Greenwood had made broadway to secure the knockout.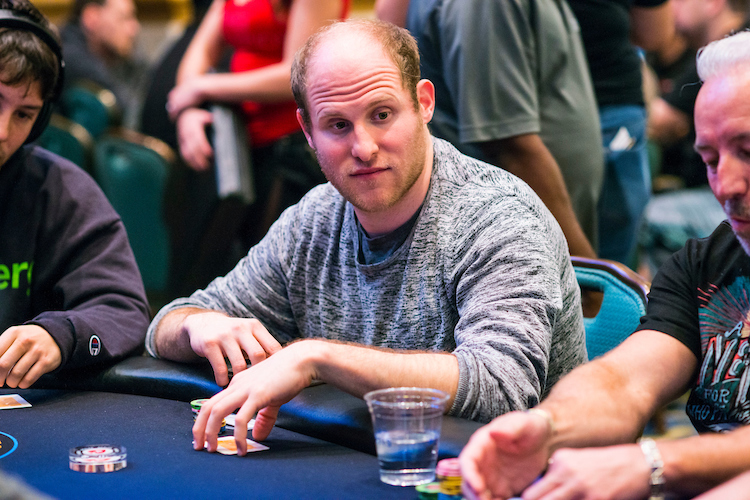 Luc Greenwood
Greenwood is up to 50,000 now. –JS
4:36pm: On board with Daniel Negreanu
While we're waiting on the break to be over, you should really check this out. We won't ruin it for you, but it's worth a minute of your time.
4:22pm: Break!
Players are off for twenty minutes. We are, too. Where is this guy??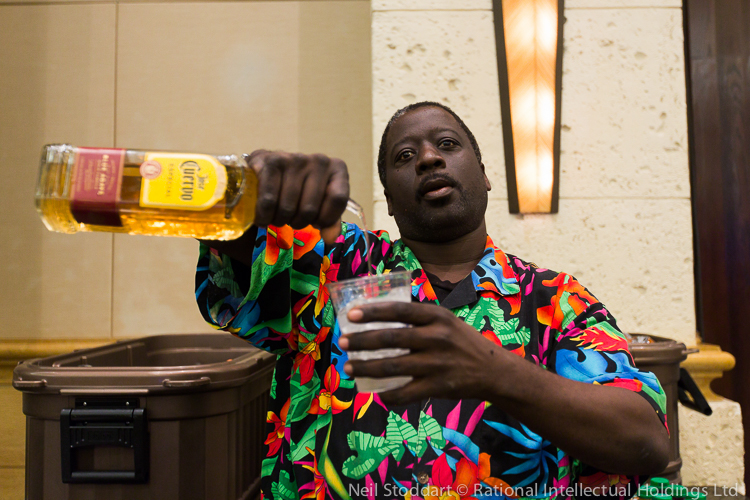 Drinks!
4:20pm: Martin on the up
Level 4 – Blinds 150/300 (ante 50)
David Guay made it 800 to go from early position and that got callers from Jason Stemmler (cutoff), Kevin Martin (button) and Anthony Chimkovitch (big blind). The dealer spread an 8♣5♠10♥ flop which checked to Martin. He led for 1,700, and only Chimkovitch called.
The turn was the 2♣ which both checked to see the 4♥ river. Chimkovitch led for 3,200, and after a minute or so of thinking Martin made the call. Chimkovitch showed the 10♦7♣ for top pair, but Martin had a better kicker with his J♥10♠. He's up to 40,000 now, while Chimkovitch is on 32,000. –JS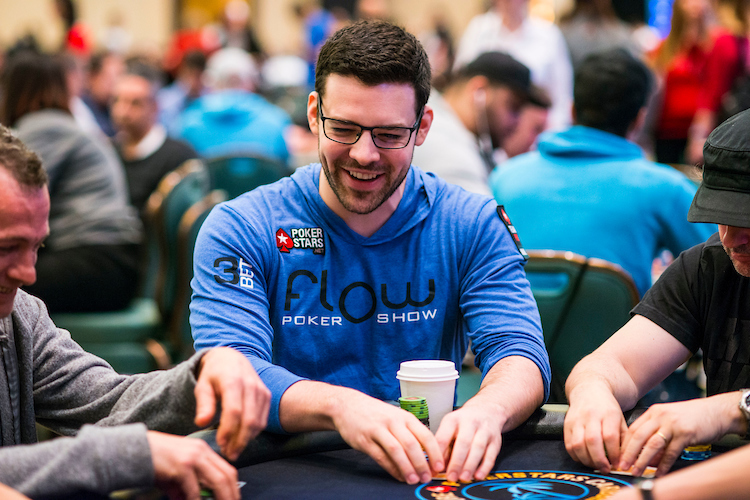 Kevin Martin
4:13pm: Kruk crushing
Level 4 – Blinds 150/300 (ante 50)
If you're not familiar with Christopher Kruk by now, you haven't been paying attention. The man known online as 'Apotheosis92' has been making his presence felt on the live scene for a while now, and in less than two years of serious brick-and-mortar poker has progressed up to the Super High Rollers, amassing more than $1.1 million in the process.
His Main Event is off to an unsurprisingly good start. In this latest hand, he opened the cutoff to 750 and was three-bet to 2,500 by Rustam Hajiyev in the small blind. Kruk called to see a 3♠6♦J♣ flop, which he'd check. Hajiyev continued, making it 2,750, but Kruk then raised it to 7,000.
Hajiyev was in the tank for a good three minutes before eventually folding, and when that pot was slid Kruk's way he stacked up 50,000. –JS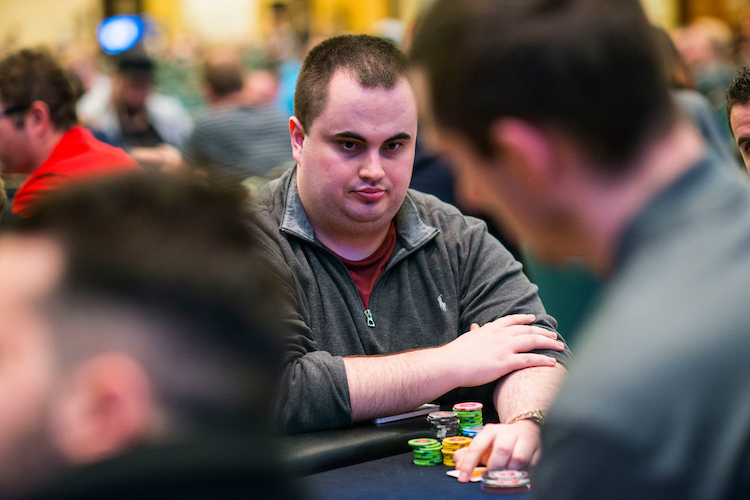 Christopher Kruk
4:12pm: Pots to Ray and Altman
Level 4 – Blinds 150/300 (ante 50)
A pot to Nicole Ray, who got a muted if enthusiastic applause from family on the rail after a hand against Christopher Day.
"It's yours," said Day, leaving her to increase her stack to about 25,000.
On the next hand Brian Altman opened from under the gun for 700 which Jen Shahade called in the seat next to him. They saw a flop of 4♥5♠9♠ and Altman bet another 1,000. Shahade, called for the K♦ turn which got Altman betting again to 3,300. Too rich for Shahade.
Altman up to around 50,000 now. – SB
---
Don't have a PokerStars account? Getting one couldn't be easier and could mean a trip to the next PokerStars EPT. Click here to get started.
---
4:11pm: Moreira de Melo from the turn
Level 4 – Blinds 150/300 (ante 50)
The board was already dealt to the turn with this one: 6♥5♠7♥9♥.
Fatima Moreira de Melo was in a hand against Anthony Chimkovitch who bet 3,200 from the small blind. Moreira de Melo called to see the Q♠ on the river. Chimkovitch fired in another 9,300, and Moreira de Melo folded immediately, a little annoyed.
She drops to 24,000. – SB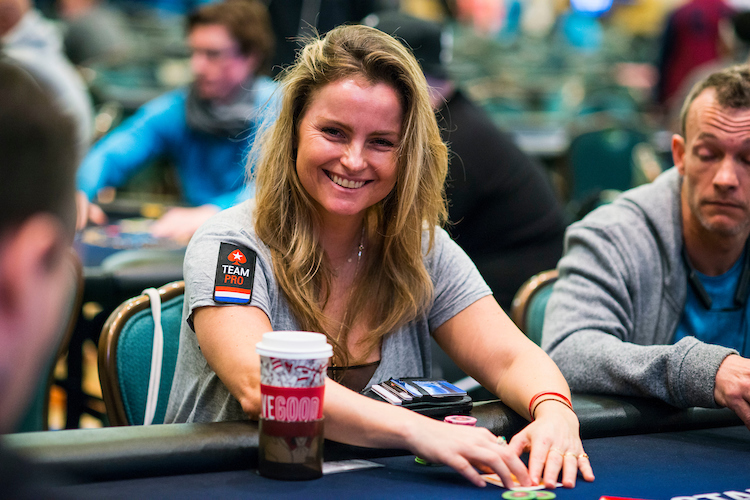 Fatima Moreira De Melo
4:10pm: Greenstein picks off the bluff
Level 4 – Blinds 150/300 (ante 50)
Barry Greenstein's stack has been on a steady upward trend so far today. He just took down another nice pot when he called an 8,100 river bet on the 10♠6♦8♦5♣3♥ board holding the K♥K♣. His opponent had the Q♥7♣ for air, bringing Greenstein up to 67,000. –JS
4:04pm: Cheong's gone
Level 4 – Blinds 150/300 (ante 50)
Joseph Cheong is among the ten casualties of this Main Event so far. Down to just 3,000, it was last year's champ Christian Harder who finished him off. –JS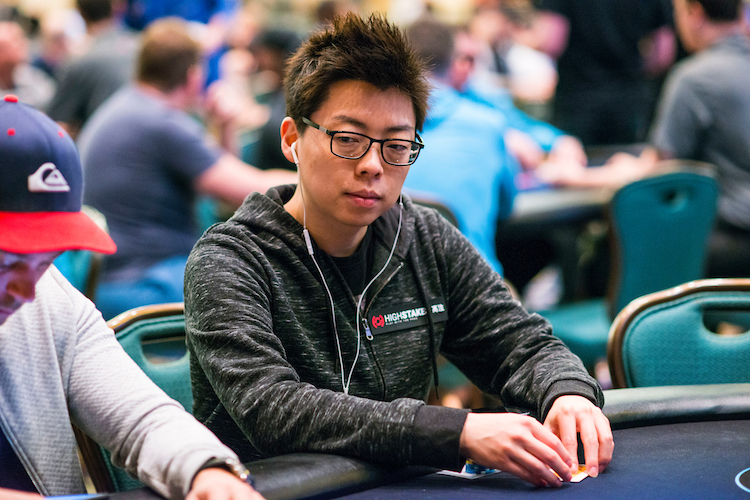 Joseph Cheong
3:49pm: Galland can't believe the hand
Level 4 – Blinds 150/300 (ante 50)
If the board reads 9♥6♦4♣K♠K♥, what hand would you most like to be holding?
If you answered anything other than the K♣K♦, then we should meet up for a game sometime. That's exactly what Andrey Ivlev had just now, and he managed to get paid with his quads when his 15,000 river bet was called by Benoit Galland.
"Oh wow," said Galland, shocked to see what the turn and river had done to him. He's down to 20,000 now, while Ivlev is up to 56,000. –JS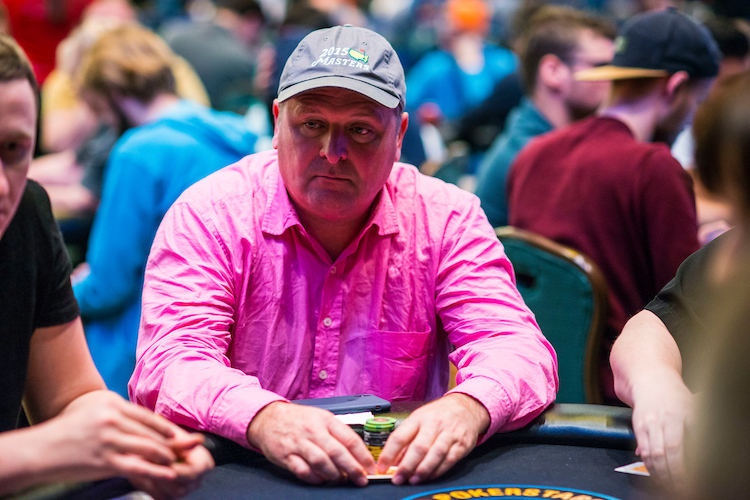 Benoit Galland
---
Join us here next year? Click here to get a PokerStars account and qualify.
---
3:43pm: Getting stuck in
Level 4 – Blinds 150/300 (ante 50)
If you're sitting at home reading this, having never played a live poker tournament, and wondering if it might be easier, and less scary to play online at home, then let Nicole Ray be the example you need to qualify for PokerStars events.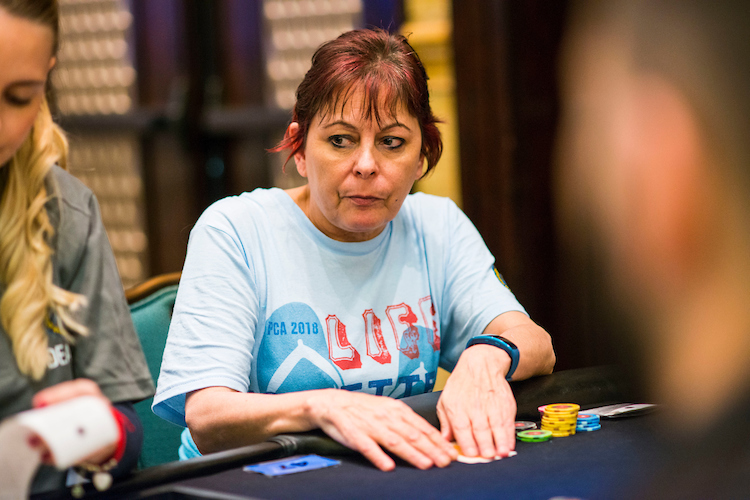 PokerStars qualifier Nicole Ray
Not everyone is a high roller, or a regular live player, and frankly, there's room for everyone.
Ray might not have the experience, and may from time to time need promoting by the dealer when its her time to act (that prompt you hear on the PokerStars client makes life easier than you imagine), but she's getting stuck into these early stages. As if to make her table even harder Dan Shak just pulled up a chair.
She opened for 400, putting four chips forward. James Frangoulidis called, as did Brian Altman over in the big blind.
The flop came 3♥J♣A♣. Altman and Ray both checked leaving it to Frangoulidis to bet 600. Altman called. So did Ray.
On the 10♣ turn it was checked to Frangoulidis again, who bet another 1,600. Altman folded but Ray, waiting for permission, and double-checking the amount, called the bet.
On the Q♠ river Ray, first asking if the action was on her (you're allowed to do that by the way), looked around and bet 2,000. Frangoulidis looked at her, then raised to 4,000. Ray confirmed it was two more to call, and put out the chips.
6♣8♣ for Frangoulidis, who had turned a flush, which beat Ray's 10♦K♠ straight. Ray drops to 22,400. – SB
3:30pm: It's going well for the Spin&Goer
Level 4 – Blinds 150/300 (ante 50)
Things seem to be going well for Philipp Viebcke – the Spin&Go qualifier we introduced to you earlier. Either he just made a courageous bluff for all his chips, or he flopped/rivered a straight to gain the best hand.
We arrived with a Q♥10♣9♦3♦8♥ board already out there, and roughly 26,000 in the middle. Viebcke shoved for 14,400, and action was on Anthony Chimkovitch. He had around 16,000 behind himself, and after a minute or two of tanking decided to let his hand go.
"Show one!" he begged hoping to see a jack for straight, but Viebcke shook his head.
Chimkovitch then turned to his tablemates, and said something which sounded very much like "I had top set."
Viebcke is up to 39,000 now. –JS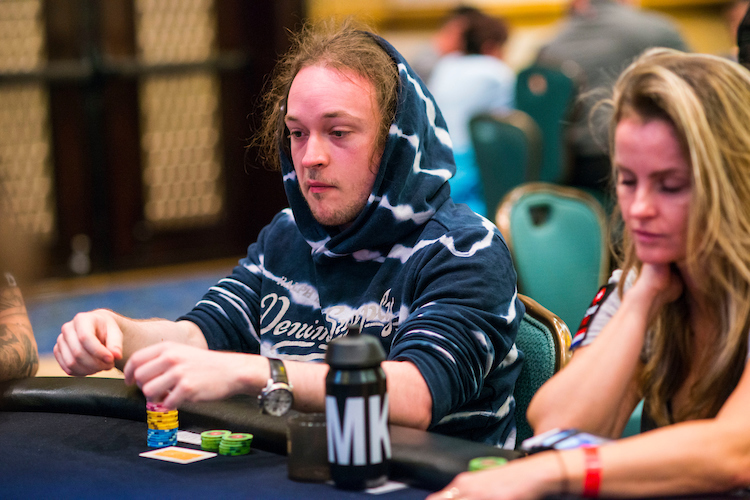 Spin & Go qualifier Philipp Viebcke
3:19pm: Back on table Ray
Level 3 – Blinds 100/200 (ante 25)
Nicole Ray, who you might recall is playing her first live poker tournament, on her first trip outside the UK, is now opening pots.
She made it 200 to play from early position. Farhad Hakim called in late position, as did Jen Shahade and Cliff Josephy in the blinds. They saw a flop.
9♦3♦5♠
That was checked four ways for a turn card 6♦
The action was checked through to Hakim who bet 1,000, forcing folds from Shahade and Josephy. Ray meanwhile called to see the 9♣ on the river.
This time Ray bet 1,000. Hakim called.
Ray: A♠Q♥
Hakim: Q♦J♦
A flush on the turn for Hakim who raked in the pot, but Ray still has more than a starting stack. – SB
3:11pm: Massage corner
Level 3 – Blinds 100/200 (ante 25)
"I've never seen four in a row," my colleague Robin Scherr of the pokerstarsblog.de told me. He wasn't talking about poker though, but rather 'massage corner' over on Table 9 on which four adjacent players each have their own personal masseuse to help them through these early stages.
Who are the relaxed bunch? Well, you've got Charles Furey in seat 2, Omer Smidt in seat 3, Badih Bounahra in seat 4, and Michael Khan in seat 5.
"What about the guy in seat 6?" I hear you cry. "Doesn't Marius Patro want a massage too?"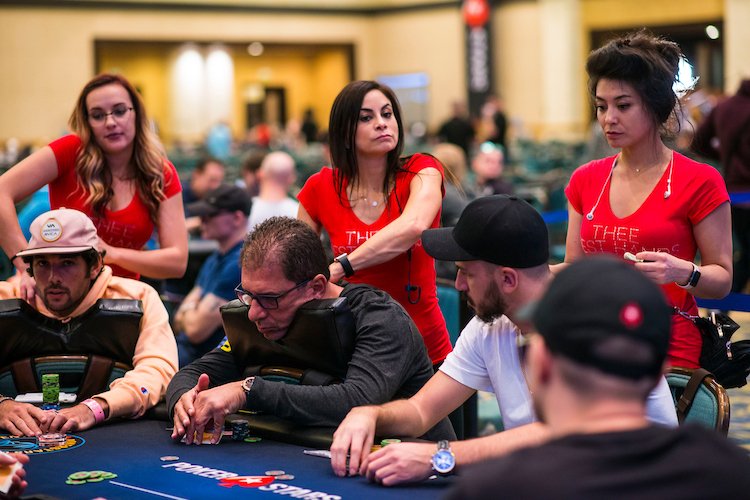 Group therapy
Perhaps, but for now Marius Patro – a PokerStars qualifier from Germany – is too busy winning pots.
After Khan had opened, Patro three bet and Smidt and Khan called. The flop came A♥3♣Q♥ which checked around to the 6♦ turn. It checked to Patro and he took it down with a 2,100 bet. –JS
3:07pm: Ramos put to the test for it all
Level 3 – Blinds 100/200 (ante 25)
We're only in the third level, and Felipe Ramos arrived late into Level 2. However, he's already been involved in a massive pot which saw him face a decision for all his chips.
It started with a 500 under-the-gun open from Kevin MacPhee, which folded around to Kinson Cheung on the button. He made the call, only for Ramos to three-bet squeeze to 2,500 from the small blind. MacPhee let it go, but Cheung called.
They saw a 5♠5♣7♦ flop spread, and Ramos continued for 1,500. Cheung didn't budge, bringing the 2♦ on the turn. There was no slowing down for Ramos; he made it 5,200 and again Cheung called. This pot was getting big.
Finally the 7♠ completed the board, double pairing it. Ramos opted for a check here, and Cheung put him all in with the slightly bigger stack (23,500). Ramos was in the tank for a while, and started chatting to Cheung, hoping for some info.
"You don't have a lot of sevens," Ramos reasoned. "You have more fives, like ace-five."
Cheung replied that he could be holding ace-seven, but Ramos quashed that notion in his head. "That would be a really bad call on the turn."
Whatever he took from that exchange led him to eventually make the fold. "I'll show if you show," said Ramos, but Cheung wasn't up for revealing both his cards.
"I have an ace," Cheung said, before showing the A♥. "C'mon! One time!" pleaded Ramos to no avail.
The Brazilian decided to show both of his cards anyway: K♦K♣. A big fold from Ramos then, and a big pot to Cheung who's now up to 42,500. Ramos is down to 20,500.–JS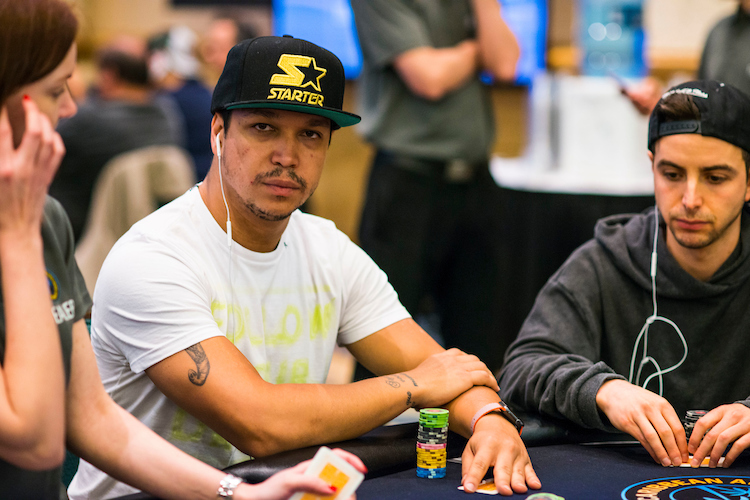 Felipe Ramos
2:47pm: Updates from Table Ray
Level 3 – Blinds 100/200 (ante 25)
Nicole Ray opened for 200 under the gun. The action was folded around to Jen Shahade and Cliff Josephy in the blinds. They called. They saw a flop.
6♣3♥7♦
Shahade checked and Josephy bet 300. Ray called (getting into the swing of things now), as did Shahade for the 3♣ turn.
That was checked three ways for the 3♠ river. It looked like that would be checked through as well until Ray through out a 500 chip. Shahade folded. Josephy, grinning, did the same. – SB
2:05pm: Break time
Players are on a 20-minute break.
2:02pm: Introducing Nicole Ray
Level 2 – Blinds 75/150
Regardless of how things turn out for her this week, her story is probably already one of the best. Something about her first time out of her native England, and her first live tournament. And we'll get to that, but for now she's having her first taste of live high stakes poker. Given that this is the PCA main event that makes this quite the baptism of fire.
It's tempting, as a new player, to not let on just how new you are. This is poker after all. The opposition want your chips, and they'll pounce on the newbie. No use making it easier for them.
None of which is any concern to Ray, who has already endeared herself to the rest of the table, which includes Cliff Josephy, Jen Shahade, Brian Altman among others. She's become an immediate hit.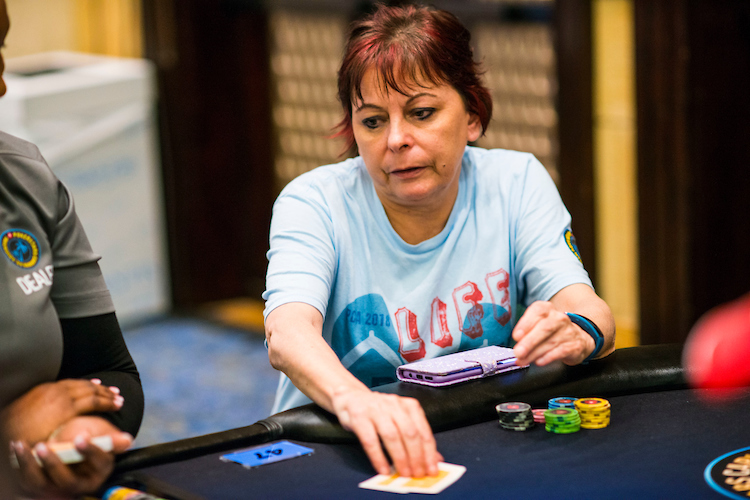 Nicole Ray playing…with real people
She opened a pot, making it 150 after the dealer explained how to go about this. Ray wasn't self-conscious as such, just keen to get things right.
When a raise came she wanted to fold, and the dealer took her cards.
"Never met humans before," she said, which everyone enjoyed, and understood to mean it was her first live poker experience.
"You've got to start somewhere", said one player.
She told her story, which we hope to feature on the blog in the coming days. Basically she qualified by mistake, won a ticket to the Main Event and her first trip outside the UK.
"That's awesome", said double WPT winner Brian Altman. But she's made everyone at her table a fan. They may well take her chips, but not without giving her a few stories. – SB
1:57pm: Two for Viebcke, a new fan for Martin
Level 2 – Blinds 75/150
Kevin Martin made it 400 to go under the gun and it folded around to Germany's Philipp Viebcke in the cutoff. The PokerStars qualifier popped it up to 2,000, and Martin let it go.
Viebcke won a full package to the PCA in a Spin&Go, and after winning that hand he decided to spin it up and go again in the very next one. When it folded to him on the button he opened to 400, and Jason Stemmler defended his blind. They saw a 5♥10♥3♦ flop and both checked.
They'd both check the turn and river too, so quickly that I didn't even jot them down. Ultimately Viebcke took it down with his A♥Q♦ anyway.
The reason I was distracted is because another PokerStars qualifier, Mark Zajdner, came over to the table from another.
"We were rooting for ya the whole way Kev," Zajdner said, presumably referring to Martin's Big Brother Canada win. Zadjner, a Canadian himself, bagged himself a package in a $530 satellite. –JS
---
Don't have a PokerStars account? Getting one couldn't be easier and could mean a trip to the next PokerStars EPT. Click here to get started.
---
1:34pm: The other side of Kevin Hart
Level 1 – Blinds 50/100
While we gear up here, we want to share this video with you. It features Kevin Hart. We spend a ton of time with him when he's turned on and making us laugh. This morning we spent some time with him talking about the other side of him…the one that's actually very serious about poker.
1:25pm: Latest arrivals
Level 2 – Blinds 75/150
2013 WSOP Main Event winner Ryan Riess, EPT6 Berlin and 2015 WSOPE Main Event champ Kevin MacPhee, PokerStars Championship Panama victor Kenneth Smaron, and all-round hero Felipe 'Mojave' Ramos are the latest big names to join the field. –JS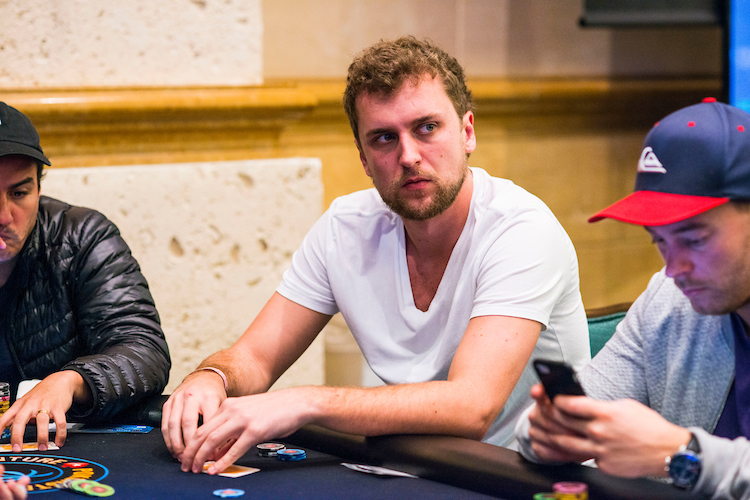 Ryan Riess
1:23pm: Twinning
Level 2 – Blinds 75/150
While his twin brother Sam will be returning at 3pm for the final table of $100K Super High Roller, Luc Greenwood is hard at work here in the Main Event.
Greenwood (Luc that is) had his breakout performance at the PokerStars Championship Bahamas last year when he took down the $25K High Roller for $779,268 and his first and only career title so far.
That win was by no means an easy feat. Greenwood outlasted a final table that included the likes of Nick Petrangelo, Byron Kaverman, Stephen Chidwick, and two more people who will be returning at 3pm for the aforementioned SHR final table: Team Pro Daniel Negreanu and Bryn Kenney. –JS
1:22pm: A field of turquoise
Level 1 – Blinds 50/100
There's a lot of aqua marine in the field today, or maybe it's turquoise. Whatever it is, it's the colour of the hoodie that comes with player bags to all Main Event players this year.
Given this is the return of the PCA name to this event effort was made to celebrate the return of the PCA, with players bags, which this year includes goodies like a cap, t-shirts, water bottle, a powerboost mophie pack, and that turquoise hoodie. It's all wrapped up in an Elleven Modular computer backpack.
There's more to those who reach the final table of an event during the PCA festival.
If you make the final table you'll choose a card at the payout desk. Depending on that card you'll get one of the following:
A PS4 computer console
A drone
Apple watch
Bose Soundlink speaker
Nintendo Switch
GoPro Karma grip
Bose QuietComfort 35 wireless smart headphones
$300
Hero5 GoPro.
If you're part of the Main Event final table you're also likely to be collecting a large amount of cash. – SB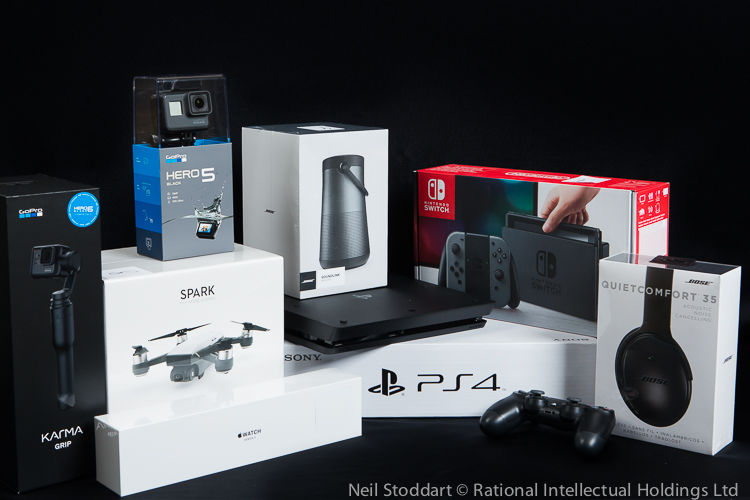 Final table gifts
1:06pm: Another former champ
Level 2 – Blinds 75/150
The last official PCA Main Event champ (sorry Christian Harder) has now taken his seat.
Mike Watson became the winner in 2016, defeating Tony Gregg heads-up to win $728,325. –JS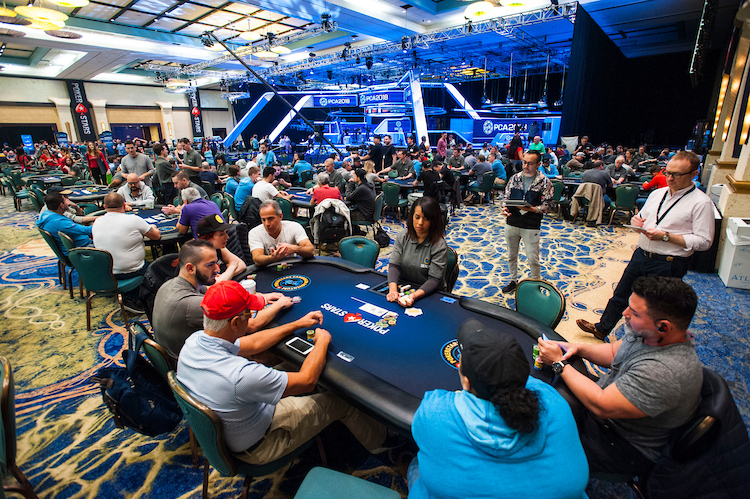 PCA Main Event
1:04pm: Good start for Greenstein
Level 1 – Blinds 50/100
We're less than a level into the Main Event but Barry Greenstein has already almost doubled his stack.
He got involved in a hand against Chi Tsun Chan of Canada. The board read 7♥J♣2♠Q♠ by the turn, when Greenstein bet 4,500 from the big blind. Chan called for the 2♦. Both checked, but Greenstein's A♥K♥ was good.
A good start for the Team Pro, up to 56,000. – SB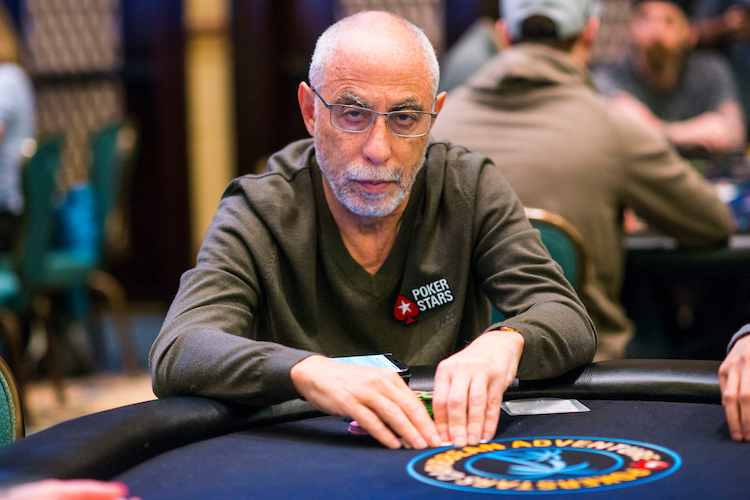 Barry Greenstein
1:00pm: More names for your list
Level 1 – Blinds 50/100
Who should you be cheering for in this Main Event? Here are a few more options for you.
The Ukraine's Igor Yaroshevskyy, long-time crusher Joseph Cheong, and Spain's Leo Margets are all out in the field. Meanwhile, Fatima Moreira de Melo's table has been joined by Team Online's Kevin Martin.
Oh, and if you're looking for awesome pre-ante Level 1 poker hands, take this spicy one featuring Jaime Staples:
Staples opened to 250 in the cutoff, and the big blind player Krisztian Csomos called to see a 6♠J♣5♠ flop. He check-called 300.
The turn came the 10♥ and here's where things got interesting*. Csomos checked again, and Staples continued his aggression for 800. Csomos folded.
*Just kidding. –JS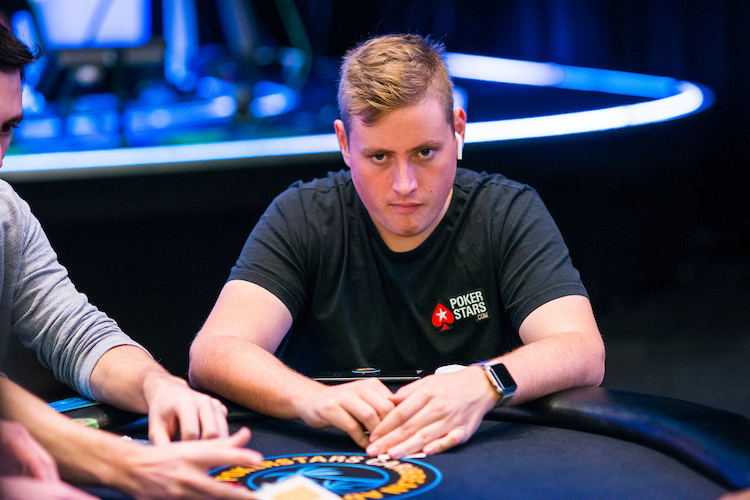 A svelte-looking Jaime Staples
12:48pm: What part of Germany is Australia?
Level 1 – Blinds 50/100
Mark Zadjner saw someone coming, and then that person take a seat at his table. He was immediately suspicious.
"That guy looks like a shark. Where are you from?"
"Australia," came the reply, in a thick German accent. Christopher Frank held onto his straight face as long as he could.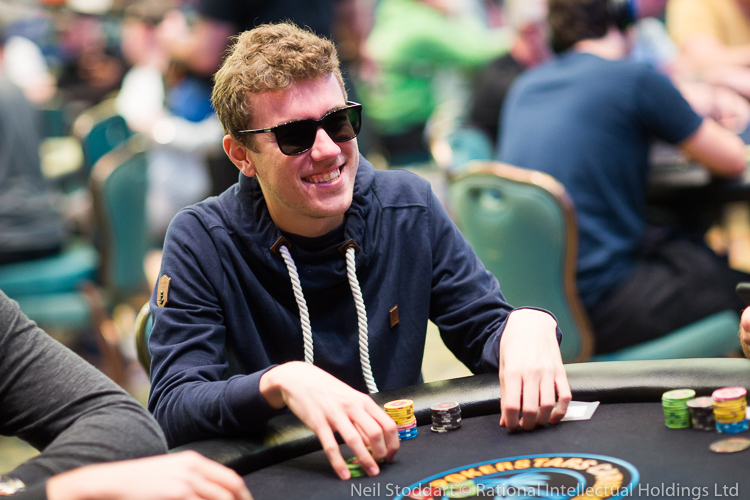 Christopher_Frank
Frank was playing the Super High Roller event a day or so ago, and has a record on PokerStars tours reaching back years. So you'd give him credit for being a good bluffer, just not this time.
Zadjner was laughing too.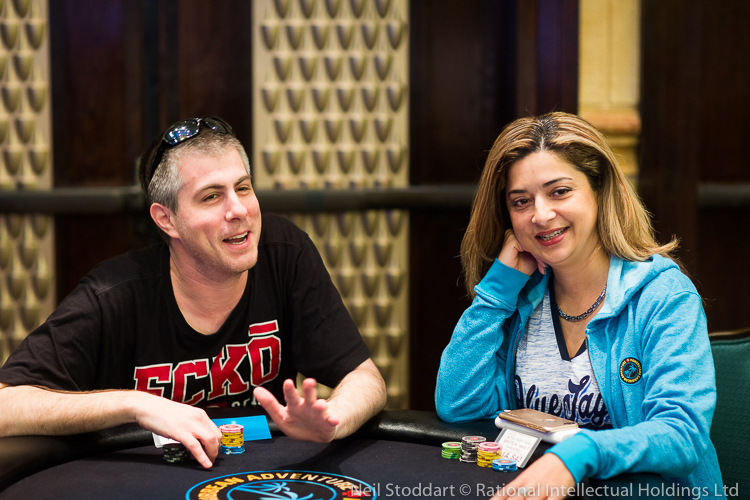 Mark_Zajdner
"Australia," he said, mimicking Frank's mangled attempt at an accent. "At least you have a good sense of humour." – SB
12:45pm: It's all about perspective
Level 1 – Blinds 50/100
It's pretty crazy how big these first-level hands can get in, without ever really getting that big.
Jason Stemmler opened to 300 under the gun only for Leandro Dolera to pop it up to 1,100 a couple of spots over. Back to Stemmler, he made the call, and the two saw an A♠J♦4♦ flop.
Stemmler checked it and Dolera continued for 1,600. Call. That resulted in a turn card–the 7♥— and now Stemmler check-called 2,000.
Finally the 9♣ hit the river and both checked it. Stemmler rolled over the A♦Q♦ for top pair, but his queen was out-kicked by Dolera's A♥K♣.
In a few level's time this hand isn't going to seem like much. But right now, half an hour into the day, Dolera just took down a 94 big blind pot. –JS
12:39pm: Harder to beat
Level 1 – Blinds 50/100
The reigning champ is in the house.
OK, he may not have technically won a 'PCA' Main Event, but PokerStars Championship Bahamas winner Christian Harder has returned to both defend his title and add an official PCA win to his resume. –JS
Christian Harder
12:35pm: Don't draw a seat on this one
Level 1 – Blinds 50/100
We've found a very early contender for the table of death.
There's Brian Altman, a WPT and WSOP circuit event champ. On his left is PokerStars ambassador and chess beast Jennifer Shahade. And on her left? It's only online poker legend, two-time WSOP bracelet winner, WSOP November Niner, and last year's PokerStars Championship Bahamas Main Event runner up Cliff Josephy.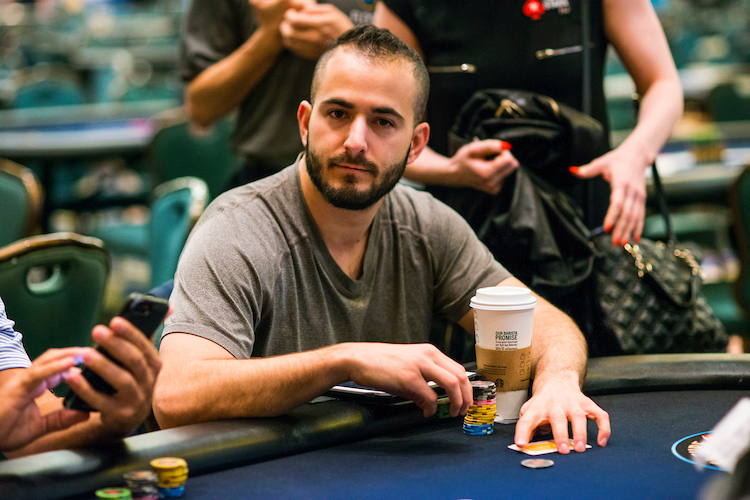 Brian Altman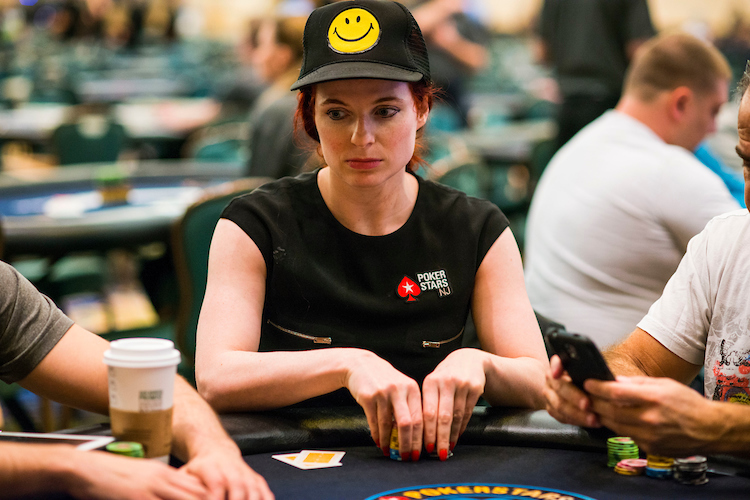 Jennifer Shahade
We tried to catch one of them in an interesting pot, but this is Level 1 after all, so bear with us. It folded to Josephy in the small blind and he limped, before James Frangoulidis checked his option. The two saw a K♦K♥3♥ flop which checked through to the 6♣ turn. Josephy check-called a 100 bet.
The 3♠ completed things, and there'd be no more betting. Frangoulidis flipped over the 10♣6♥ for a pair of sixes to go with the on-board kings, and Josephy tapped the table before mucking. –JS
12pm: What to talk about?
Level 1 – Blinds 50/100
What exactly can you talk about in the first few minutes of level one in the Main Event?
Well, Jaime Staples, looking healthier than most people in the room, talks weight loss (and a prop bet to the tune of $50,000), while two German players a table along, still waiting for a third player that will unlock the dealer, discussed their various routes to the Bahamas.
Fatima Moreira de Melo meanwhile starts as she usually carries on, talking to everyone and anyone. In this case the players at her table, asking their names and trying to pronounce them like a native. She had some success. – SB
12:14pm: Some more recognizable than others
Level 1 – Blinds 50/100
There are 94 players out in the Day 1A field so far, with new players taking their seats all the time. After a quick glance around the room, there are some recognisable faces in the mix.
For starters we've got PokerStars Team Pros Fatima Moreira de Melo and Barry Greenstein, the latter of which had a deep run in the PokerStars Championship Bahamas Main Event last year.
And then there's a recognizable face that's somehow not as recognizable as it once was. I'm talking of course about Team Online's Jaime Staples, whose incredible weight loss over the past 10 months (as a result of hard work and a prop bet with Bill Perkins worth $150,000) means you might have to do a double take to spot him. –JS
12:03pm: Shuffle up and deal
Level 1 – Blinds 50/100
We have players in their seats, dealers with cards, and a bunch of chips. Let's get this bad boy underway.–BW
11:26am: Main Event set to kick off
This, ladies and gentlemen, is going to be a busy day. I'm glad we hired the three extra hamsters to power the blog servers, because we need them.
If you have been paying any attention for the past few days, we're already down to seven players in the $100,000 Super High Roller where Ivan Luca, Justin Bonomo, and Daniel Negreanu are leading heading into this last day. That tournament restarts at 3pm local time, and our coverage will go live with the live stream at 3:30pm.
Across the room, those High Rollers who aren't still in action will be trying again, this time in the $50,000 two-day event. We've got a team on that tournament, as well. Click here for $50,000 High Roller coverage.
Meanwhile, we're putting on our blogging shoes to cover the marquee tournament of the PCA, the $10,000 Main Event. This tournament will run for the rest of the week and crown its champion Sunday night.
It all begins right here in about 30 minutes. Stick with us. It's going to be wild one.–BW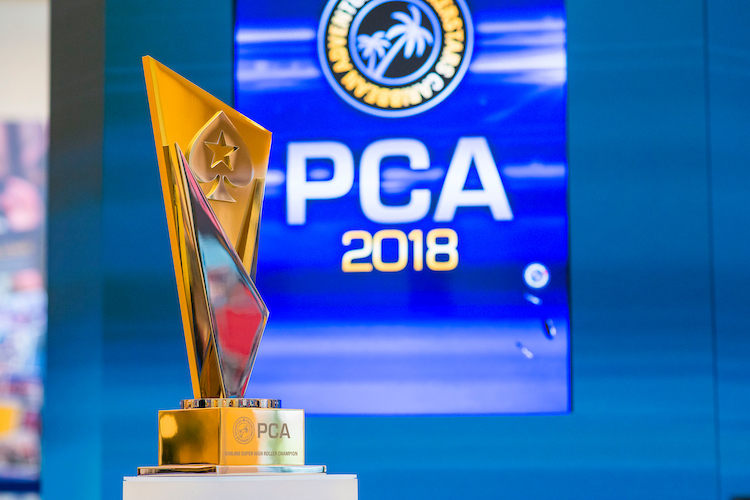 PokerStars Blog reporting team on the $10,000 Main Event: Stephen Bartley, Martin Harris, Jack Stanton, and Brad Willis. Photography by Joe Giron/PokerPhotoArchive.com.