There's a lot to see here at the Atlantis. Some of us at the PokerStars Blog have been diverted each morning watching the sea turtles who live in the lagoon just outside the Royal Tower as they gracefully swim about, occasionally bobbing their heads above the water's surface.
Speaking of, here on Day 2 of the PokerStars Caribbean Adventure several players rose up to distinguish themselves chip-wise. By night's end it was Oleg Titov of Russia bagging the most of anyone among the 101 players still with chips after finishing the night with 493,000.
Unlike those leisurely turtles, it was a rapidly-paced Day 2. To start our review, since late registration closed at the start of play today, it's only correct to begin with some of the numbers most important to players and those following along:
$1,081,100 first prize (plus a Platinum Pass!)

Speaking of Platinum Passes, before Day 2 began a hand was dealt out on the randomly-chosen Table 34, with Thai Ha the lucky recipient of one when his eight-deuce made trip eights on the river. Scroll all of the way to the bottom for more on Ha's good fortune (including lots of pics).

Jean Ateba returned to the biggest stack among the 324 Day 1 flight survivors (plus a dozen or so last-minute entrants), and after added chips early settled thereafter to maintain his stack while others gradually accumulated to pass him in the counts.

Early in the day it was Jonathan West and then David Peters nudging into the chip lead for a short period. Then Michael Kamran passed Peters and held the top spot for much of the afternoon, only to be nudged aside by Gleidibe Brito late in the day.

Brito has a number of cashes in his native Brazil, although we today learned the story of his wife, Samara, winning a $1 million Sit & Go — no shinola — an amount slightly less than what the winner of this event will earn. (Read the story below at 6:45pm.)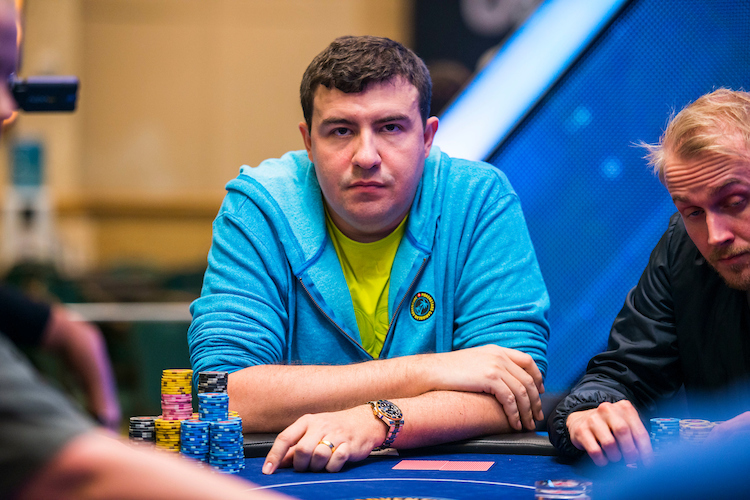 Gleidibe Brito
Brito nearly ended the day with the chip lead, finishing with 472,000, with Lucas Blanco (435,000) also ending strong.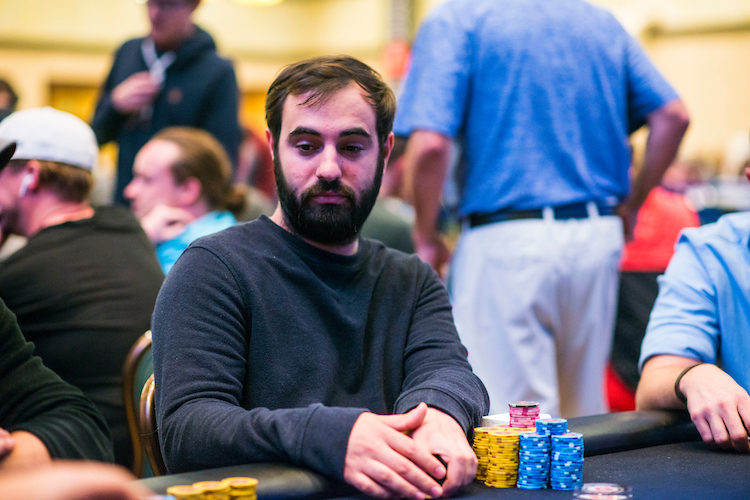 Lucas Blanco
Karl Stark (424,000), Michael Stashin (403,000), and Keith Lehr (374,000) also finished flush with chips, with Adrian Mateos, David Peters, Maria Lampropulos, Orpen Kisacikoglu, Koray Aldemir, and Vladimir Toryanovskiy heading the list of notables with above average stacks.
Meanwhile last year's winner of this event Christian Harder was among the many dropping out today, along with Team PokerStars Pros Jake Cody and Andre Akkari and Team Online's Kevin Martin. On the flip side, the red spade brigaders making it through were Victor Ramdin (131,000), Liv Boeree (96,000), and Barry Greenstein (69,000).
Our friend Maria Konnikova made it through to tomorrow as well after joining the event at the start of today, earning a big double near night's end to finish with 266,500. Her late start came with good reason — after all she was busy the last couple of days, what with winning that National Championship and all.
Here are the complete chip counts for the 101 players making it through to Day 2.
And here is the Day 3 seat draw.
They'll be back at it at tomorrow, with that money bubble likely due to burst not that long afterwards. You know what that means — some short stacks will try to turtle up, while those with more will surely attempt to snap up more chips if they can.
Be here and ready starting at 12 noon tomorrow, and we'll continue to find out together who will become the next PCA Main Event champion. –MH
• PLAYERS: 101 (of 582)
• CHIP COUNTS | PAYOUTS | SIDE EVENTS
• ALL PCA INFO | TOURNAMENT SCHEDULE | DOWNLOAD POKERSTARS
• WATCH THE CARDS-UP ACTION LIVE ON POKERSTARS.TV
• POKERSTARS BLOG'S PCA VIDEOS
• Follow @PokerStarsBlog on Twitter
DAY 2 COVERAGE ARCHIVE
---
9:20pm: They're done!
That's it for Day 2, with Oleg Titov, Gleidibe Brito, and Lucas Blanco among the big stacks at the finish. Recap to come. –MH
9:12pm: The unstoppable Maria Konnikova
Level 13 – Blinds 1,200/2,400 (ante 400)
Round about this time yesterday, Maria Konnikova was doing this. Twenty-four hours later, she just made a call for her tournament life in the Main Event…and was right.
She now has 275,000 chips and is surely booking a spot in Day 3.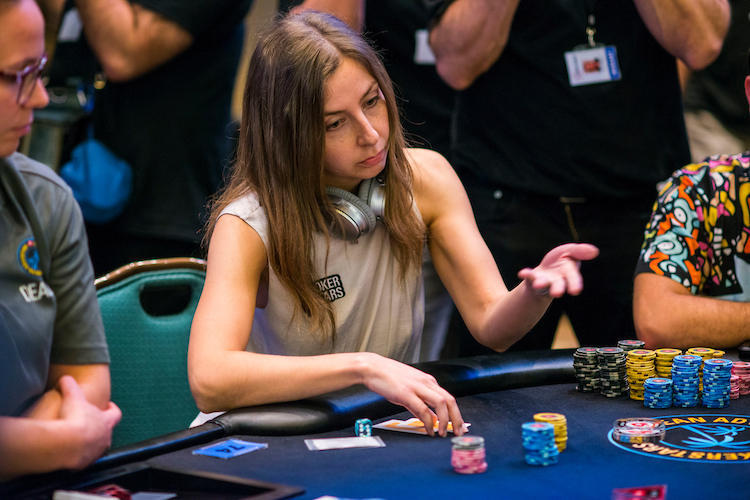 Maria Konnikova
This played out through every street, but by the time the phalanx of cameras arrived to the table (and your reporter) there was about 100,000 in the pot and the board dealt all the way to the end. It read 4♥9♣A♠7♦10♥.
Germany's Marius Patro pushed for something like 110,000 and that covered Konnikova, with slightly less than 100,000 left. She went deep into the tank–her mind palace, let's say–and then called all-in.
Patro's Morriaty-like hopes of getting this bluff through plunged like Reichenbach Falls. He was forced to turn over his Q♣2♥ and lost to Konnikova's A♣J♦.
Patro was left with 4,000, while Konnikova won a massive one. She began the day with the 30,000 starting stack, having been otherwise occupied yesterday. But that sent her flying up the counts. — HS
9:10pm: Play about to conclude
Level 13 – Blinds 1,200/2,400 (ante 400)
Four more hands will be dealt tonight.
9:08pm: A surge for Speranza
Level 13 – Blinds 1,200/2,400 (ante 400)
Joao Simao raised to 5,100 from the cutoff and Gianluca Speranza three-bet to 18,000 from the button. Harrison Gimbel considered it for a bit from the small blind but folded instead. Simao turned up the heat though and bet enough to put Sperana all in.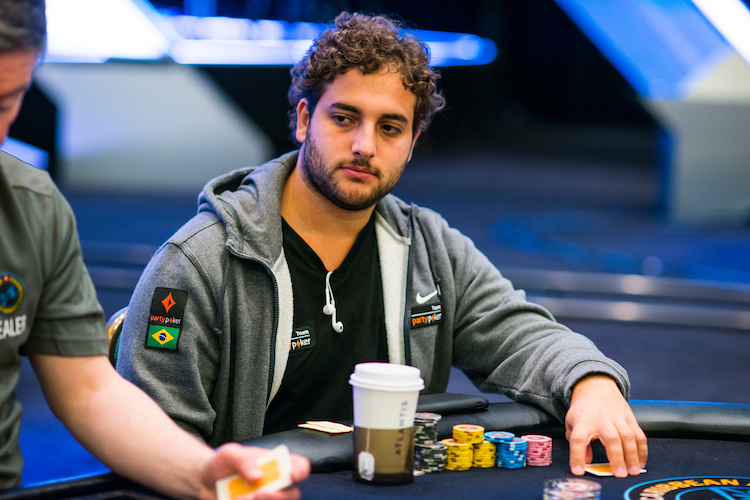 Joao Simao
Speranza did just that and put his remaining 88,400 in the middle. Sperenza showed K♣K♦ was hoping to fade an ace or any other shenanigans when Simao tabled A♦J♣. The board 6♠9♠7♣6♥2♥ board complied and brought all low cards. Speranza doubled to about 185,000 while Simao was left with 75,000. –AV
9:04pm: Blanco rockets up the counts
Level 13 – Blinds 1,200/2,400 (ante 400)
Lucas Blanco is challenging for the chip lead with around 460,000 after a huge flop raising war with Russell Carson, who hit the rail. It read 2♣J♠9♠ and apologies for not knowing the exact betting amounts, the action was fast and furious.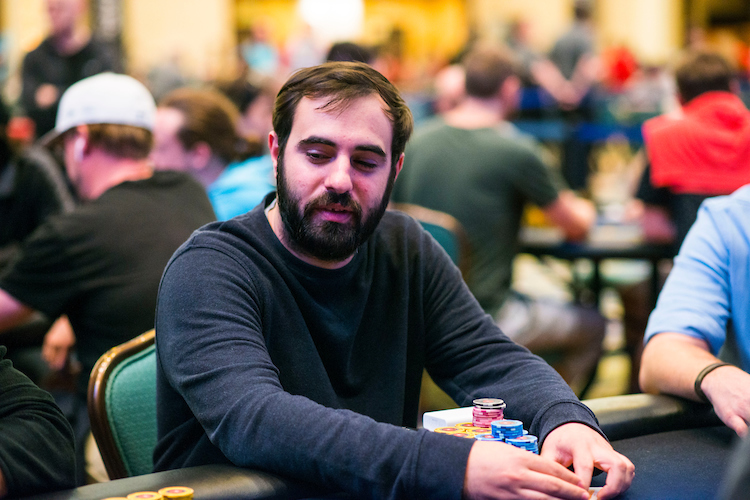 Lucas Blanco
What we do know is that Carson held A♦J♦ for top pair, top kicker, and Blanco had 2♠2♥ for bottom set. The board ran out Q♥7♥ and a slightly disbelieving Blanco raked in a lot of chips. –MC
9:01pm: Mateos cracks Cacho's aces
Level 13 – Blinds 1,200/2,400 (ante 400)
You've got to feel for anyone who dares tangle in a pot with Adrian Mateos. Even pocket aces won't save you.
Mateos opened to 5,200 and then called when Mexico's Pablo Cacho three-bet to 13,300 with the A♣A♦. The flop came 10♣2♥8♠ and Cacho continued for 8,400 when it checked to him. Mateos went nowhere.
That brought the 9♠ on the turn and now Mateos opted to lead out for 23,500. What would you do with pocket aces here?
Cacho decided just to call and see a river. The 5♦ landed, and Mateos didn't slow down. He made it 38,600, and after a minute in the tank Cacho made the call. Mateos turned over the 8♦9♦ for two pair, and Cacho looked deflated.
"Aces?" said someone else at the table (possibly Koray Aldermir), and Cacho confirmed their suspicions by showing his hand. The pot shipped to the Spaniard who now has 312,000, while Cacho is down to just 54,000 now. –JS
8:56pm: Big-stacked Gleidibe Brito grabs more
Level 13 – Blinds 1,200/2,400 (ante 400)
Checking in on the big-stacked Gleidibe Brito over on the secondary feature table, it appears his efforts to grab up the most chips he can before play ends for the day are continuing unabated.
Just now we watched him raise-and-take a hand from the small blind, then open-raise again from the button and get called by Thai Ha in the big blind.
Ha, you'll recall, won that Platinum Pass to start the day (scroll to the bottom of the post). He wouldn't win this hand, though, having to check-fold to Brito's c-bet following a king-high flop and preserve his stack of 48,000.
Brito, meanwhile, now sits with just over 470,000 with a half-hour left in Day 2. –MH
8:52pm: One hand, one double, one elimination
Level 13 – Blinds 1,200/2,400 (ante 400)
There was a three-way all-in involving Adrian Mateos, Pablo Bolanos Cacho and Farhad Hakim that resulted in Mateos, the biggest stack, failing to score the double knockout. Instead Hakim took the walk, but Cacho doubled up.
Goodness knows the action, but by the time two all-in triangles were deployed, the board read 10♠6♠A♦J♠8♥. Both Mateos and Hakim had ace-jack, ie, two pair. But Cacho had 6♥6♦, which was a flopped set that remained good.
Cacho's all-in was for 63,500, which meant he now has not-quite triple that. Mateos still has 125,000. — HS
8:48pm: Cheung flushed
Level 13 – Blinds 1,200/2,400 (ante 400)
Kinson Cheung is down to less than two big blinds after running into a flopped nut flush in the hand of Andriy Lyubovetskiy.
They built a pretty big pot by the time the full 4♣10♣2♣8♥2♦ board was out there, and that's when Lyubovetskiy's last 57,500 went in. I don't know more details than this, I'm afraid, but Lyubovetskiy ended the hand with about 215,000, while Cheung needed change to pay the ante from his last 5,000 chip.
That has been a brutal table today, with Gavin O'Rourke, David Peters and the big-stacked Patryk Poterek all over there. — HS
8:45pm: Not long to go
Level 13 – Blinds 1,200/2,400 (ante 400)
Half an hour left to play before we bag up for the night.
8:44pm: Khoroshenin out
Level 13 – Blinds 1,200/2,400 (ante 400)
Oleksii Khoroshenin has just been eliminated, breaking up the copy/paste trio for good.
He opened to 6,000 under the gun and it folded to Niklas Ehrenholz in the cutoff. The German bumped it up to 16,000 and when it got back to Khoroshenin he didn't take too long to announce he was all in. Ehrenholz asked for a count, and when he was told it was 87,300 he made the call.
Khoroshenin turned over the A♥6♥ and was probably a bit surprised to see Ehrenholz turn over something as strong as K♥K♦ after he didn't snap call. Anyway, the K♠4♥5♦ flop left Khoronshenin drawing very thin, but the 7♦ turn did give him some hopes of a straight. It wasn't to be though on the Q♥ river and he hit the rail.
Ehrenholz is up to 195,000 now, and after that hand the table broke. –JS
8:40pm: Didukh doubles
Level 13 – Blinds 1,200/2,400 (ante 400)
Christian Banz raised to 5,900 from under the gun and Oleksandr Didukh called from the hijack. The flop came Q♣A♠K♥ and a bit more action. Banz bet 12,500 and Didukh moved all-in for 50,300.
Banz called and showed K♠J♠ for kings and a broadway straight draw, but Didukh showed A♦Q♦ for two-pair. Didukh filled up when the Q♥ came on the turn and a 3♠ came on the river to complete the double up.
Didukh doubled to about 120,000 while Banz dipped to 140,000. – AV
8:35pm: Stark irons out the big cheese
Level 13 – Blinds 1,200/2,400 (ante 400)
Jim Collopy wasn't a happy bunny after he was eliminated due to being outdrawn by Karl Stark.
He opened to 5,500 from the cutoff before Stark three-bet to 19,000 from the cutoff. Collopy took a couple of minutes in the tank before he jammed for 93,000. Stark called.
Stark: A♣Q♦
Collopy: A♦K♦
The board ran 10♥J♣4♠8♥9♥ to make Stark a straight to the queen. He moved up to 290,000. –MC
8:31pm: Riess runs out, more for Maurer
Level 13 – Blinds 1,200/2,400 (ante 400)
Ryan Riess had been nursing a short stack for a while, and just now put 16,000 of the 17,000 left in preflop in hand against Florian Maurer.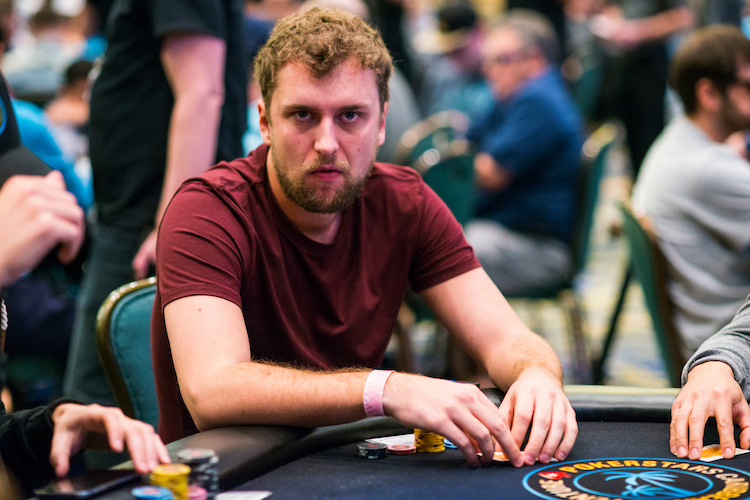 Ryan Riess
The pair didn't actually get Riess's last 1,000 in until the turn when the board showed 2♣2♥10♦7♣, at which point it was revealed Riess's A♥8♥ was behind Maurer's 9♦7♦. The river was a blank for Riess and he's out, while Maurer chips up to 142,000. –MH
8:27pm: Feeling blue
Level 13 – Blinds 1,200/2,400 (ante 400)
A member of the Blue Man Group is no longer with us.
To be clear, when I say the Blue Man Group I don't mean the Las Vegas act with the bald blokes painted blue, but rather the four guys sat in a row over on Table 4, all of whom are wearing their new turquoise PokerStars hoodies. And when I say no longer with us, I mean they went busto.
Maksim Kriuchkov open-shoved is 60,100 stack from middle position, and it folded to Villu Metsur on the button. He looked down at something he liked, but it would take a minute before he made the call with his 10♣10♦. That would be flipping against Kriuchkov's A♥K♠.
The flop came J♦8♥6♦, no help to the Russian. The 2♦ turn wasn't either.
Finally the 7♦ river changed nothing, and Kriuchkov departed. Metsur is up to 345,000 now, as the dealer began his search for the next member of the Blue Man Group with a cry of "Seat open!" –JS
8:24pm: What's that you say, Jerry Robinson?
Level 13 – Blinds 1,200/2,400 (ante 400)
Jerry Robinson is out, turning from the table and muttering that he lost a race. He did too: his A♥K♦ never caught up against Villu Metsur's pocket jacks.
Metsur is up to about 128,000 now, while Robinson is free to enjoy his Thursday as he pleases. — HS
8:21pm: Boeree vs. the Copy/Paste trio
Level 13 – Blinds 1,200/2,400 (ante 400)
Liv Boeree has a pretty troubling view. If she turns to her left, she stares at Oleksii Khoroshenin, Orpen Kisacikoglu and Vladimir Troyanovskiy, who are even more difficult to play against than they are to spell.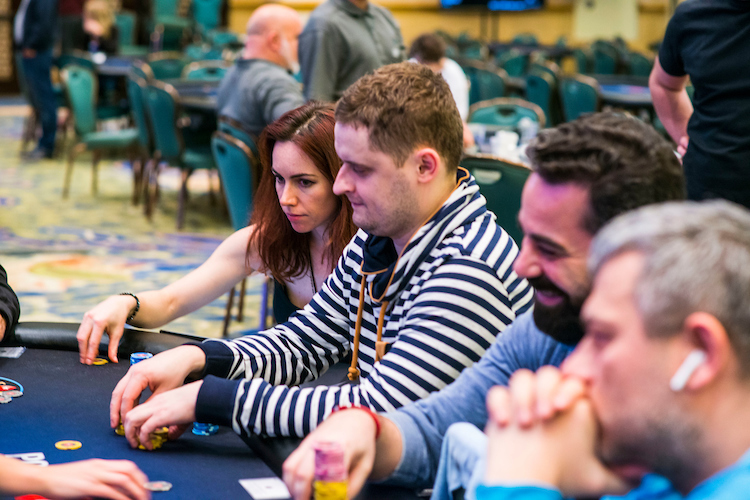 Liv Boeree and the Cut & Paste Trio
Boeree is game, however, even if it doesn't always go her way.
In a recent pot, Boeree opened to 6,000 from the hijack and although Khoroshenin folded, both Kisacikoglu and Trovanovskiy called on button and small blind, respectively.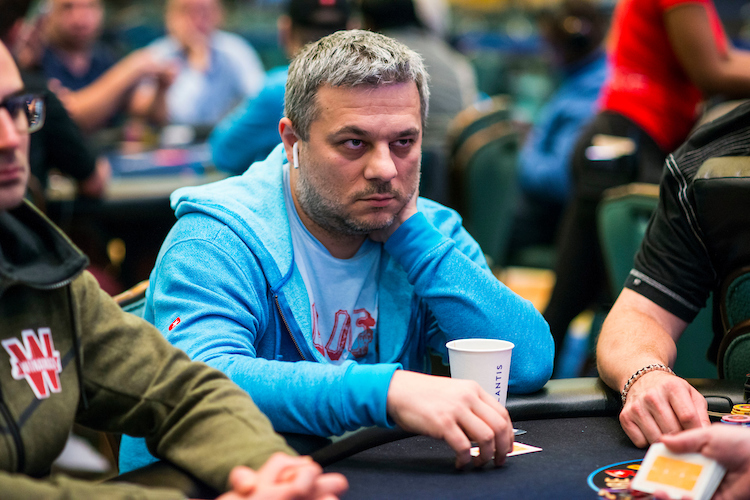 Vladimir Troyanovskiy
The flop was 4♦7♣10♠ and Troyanovskiy checked it to the raiser. Boeree checked, but Kisacikoglu took the lead with a bet of 7,500. Both opponents called.
The Q♥ slowed them all down. Three checks. Then the K♣ completed the board. Troyanovskiy checked, and Boeree stabbed 32,000 at it, which earned a quick fold from Kisacikoglu.
However Troyanovskiy called almost as quickly, which led to a quick muck from Boeree. Troyanovskiy didn't have to show as Boeree had already conceded, but he did anyway. He exposed his K♠J♣.
Boeree is now the short stack there with 61,000. Khoreshenin has 155,000; Kisacikoglu has 240,000 and Troyanovskiy has 305,000. — HS
8:18pm: Pick on someone your own size
Level 13 – Blinds 1,200/2,400 (ante 400)
You'd think that two Super High Roller regulars on the same table would try not to tangle with each other, in an attempt to pick up chips from what they'd deem as weaker opponents. But that hasn't stopped Adrian Mateos and Koray Aldemir from butting heads a few times today.
In their latest confrontation, Mateos made it 5,200 under the gun and it folded to Aldemir on the button. He'd be the only caller to see the K♣6♦Q♦ flop, on which Mateos continued for 7,500. Aldemir didn't budge.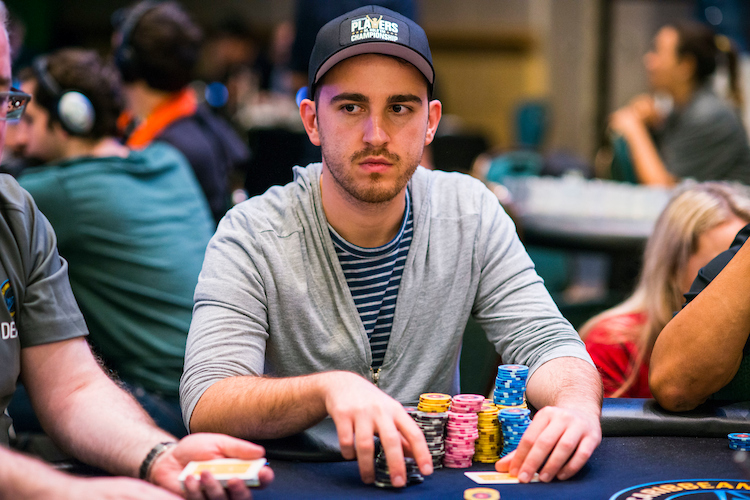 Koray Aldemir
That meant they were heading to a turn card, and the dealer did her job by placing down the 10♣. Mateos showed no signs of slowing down, reaching for chips and after a few seconds putting in a bet of 19,200. Aldemir called once again.
The river was the 8♣ and Mateos stared at the board. After 30 seconds or so (those shot clocks must be having an impact) the Spaniard checked it, and the German checked it back.
Mateos flipped over the A♠K♠ for top pair, and that was good as Aldemir mucked. He's still got 320,000 though, while Mateos is now on 182,000. –JS
8:15pm: Poterek picks off Lau
Level 13 – Blinds 1,200/2,400 (ante 400)
Alan King Lau won't score his first cash in the Americas this event. Lau's tournament came to an end due to a flip.
Luis Faria started the hand off with a raise to 5,200 from middle position and Lau three-bet to 14,700 from the cutoff. Action folded to Patryk Poterek on the big blind and he raised enough to put the two remaining players all-in.
Faria folded that hand but Lau wasn't about to let his pocket pair go. Lau called and turned over 10♦10♣ while Poterek tabled A♣K♦ for a flip. Poterek hit an ace on the flop and river of the A♦9♣Q♥4♦A♥ board and Lau was eliminated from the tournament. Poterek on the other hand has chipped up to about 300,000. –AV
8:12pm: Chance meeting at PCA to save lives
You never know who you'll meet at the table. It may happen that you're a man worrying about how to fund your annual charitable mission to Guyana to provide medical treatment and heart surgeries for children. It might be that you are the CEO of a blockchain company and have been thinking about ways to help those in need.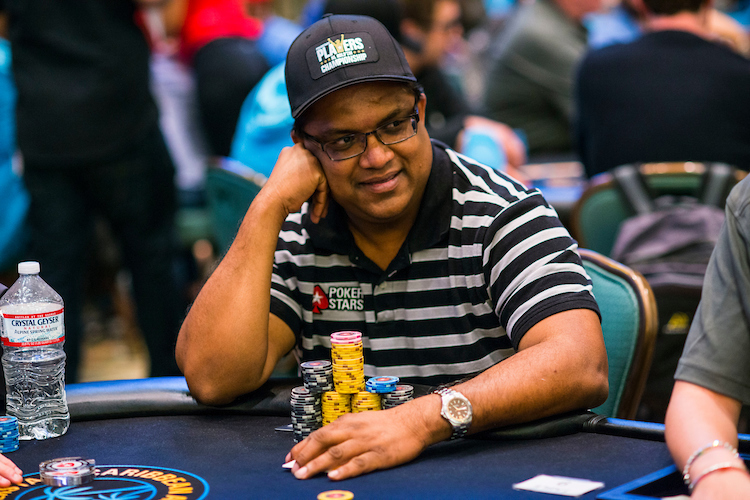 Victor Ramdin
It was a serendipitous meeting this week between Team PokerStars Pro Victor Ramdin and Vanbex CEO Kevin Hobbs, one that's led to both men finding their mission for their year.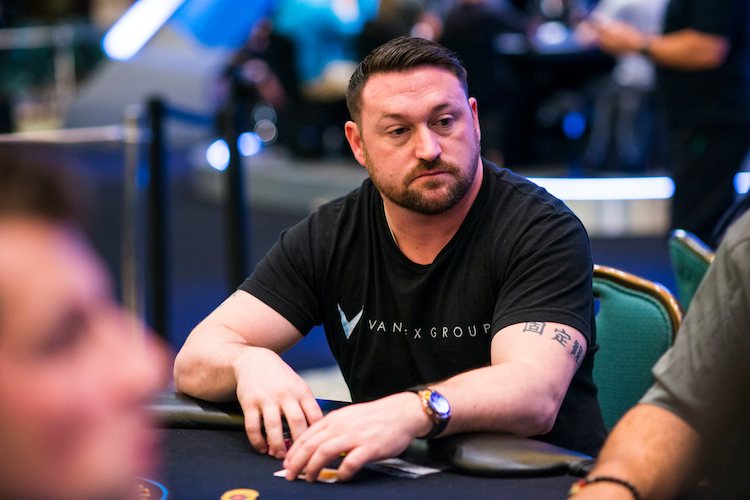 Kevin Hobbs
We caught up with them both to talk about how serendipity could end up saving lives. –BW
8:08pm: Kamran clipped back
Level 13 – Blinds 1,200/2,400 (ante 400)
Michael Kamran has enjoyed a very fruitful day so far. He has just been knocked back down to 345,000 though after Ivan Zhechev rivered a straight and got paid.
Kamran opened from early position and was called by Zhechev on the button and Kevin MacPhee in the big blind. The flop came 8♥5♦10♥ and all three players checked to the 7♦ turn. MacPhee led for 8,000 and was called by Kamran before Zhechev raised to 31,000. Karma called after MacPhee got out of the way and then check-called 44,000 on the 6♣ river.
Zhechev opened 9♣9♠ and Kamran mucked. –MC
8:06pm: Better for Brito
Level 13 – Blinds 1,200/2,400 (ante 400)
More progress for chip leader Gleidibe Brito, now up to 460,000. — SB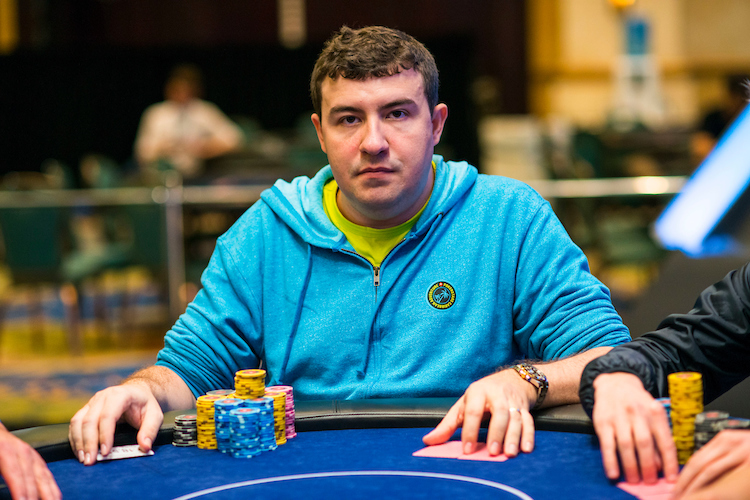 Geidibe Brito
8:02pm: Value for Kisacikoglu
Level 13 – Blinds 1,200/2,400 (ante 400)
Orpen Kisacikoglu just made a flush on the river. And he went for value. And he got it.
Niklas Ehrenholz was Kisacikoglu's opponent in the hand. Holding Q♥7♥, Kisacikoglu saw the A♥6♦5♥9♣2♥ board and the 30,000-ish in the middle, Kisacikoglu chose to bet big — 44,800 — and after a short think Ehrenholz called.
Orpen orpened… er, opened his hand immediately to show his flush, and Ehrenholz mucked his hand and counted out what he owed.
Kisacikoglu kicks up to 235,000 with that pot, while Ehrenholz slips to 110,000. –MH
7:51pm: Nowak on the rail
Level 13 – Blinds 1,200/2,400 (ante 400)
As play restarts we can report that our Spin & Go qualifier Malgorzata Nowak has been eliminated. A great run, to within a level of the end of day 2.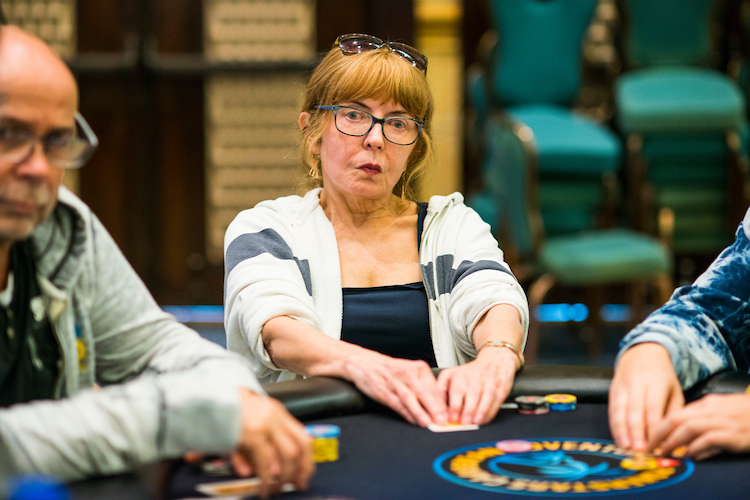 Malgorzata Nowak
Nowak moved all-in for 11,700 with 9♠9♣, and got a call from Villu Metsur with A♠K♦. The board came K♥4♠3♣2♦K♠. Nowak was on the way to the rail, while Metsur now has 130,000. — SB
7:21pm: Break time
That's the end of the level and players are now going on a 30-minute break. They will return at around 7:40pm and play one more 90-minute level. The chip-count page just got a spruce up. — HS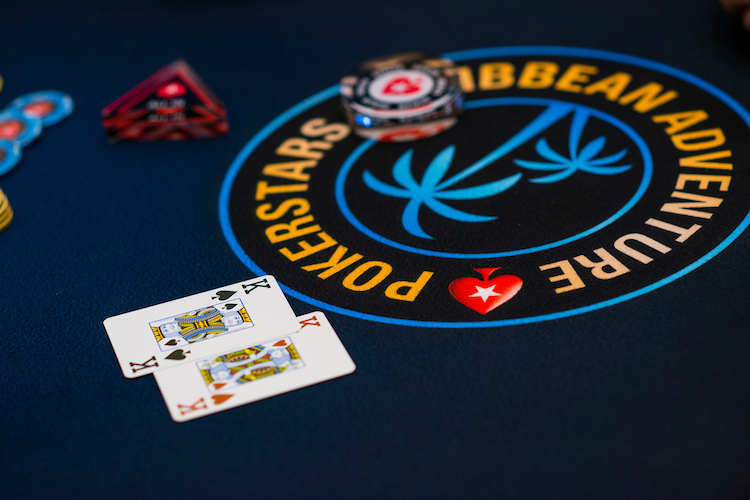 7:21pm: Ehrenholz takes on Boeree and Troyanovskiy
Level 12 – Blinds 1,000/2,000 (ante 300)
One of the Main Event stories from Day 1A was the rapid emergence of Niklas Ehrenholz, who registered during at the beginning of the last level of the day and quadrupled his stack almost immediately, eliminating player after player.
Ehrenholz, who qualified for this event online, is still in and going strong. In fact, he just took down a pot from two of the game's best.
Liv Boeree opened to 4,800 and Vladimir Troyanovskiy three-bet to 13,000 in the cutoff. Ehrenholz called from the small blind, and Boeree called too. They went to a 10♥2♣2♣ flop, but there'd be no betting.
That brought the Q♦ on the turn, and now Ehrenholz led out for 14,000. Both Boeree and Troyanovskiy called to see the 10♦ river, but it checked round very quickly.
Ehrenholz turned over the A♣A♦ for slow-played pocket rockets, and that was good as the others folded. He's up to 175,000 now, while Troyanovskiy has 235,000 and Boeree's on 96,000. –JS
7:20pm: Cody out
Level 12 – Blinds 1,000/2,000 (ante 300)
Jake Cody was looking for a double up, but he didn't get one. He moved all-in from the small blind one hand, but got no callers. Then he did it again the following hand.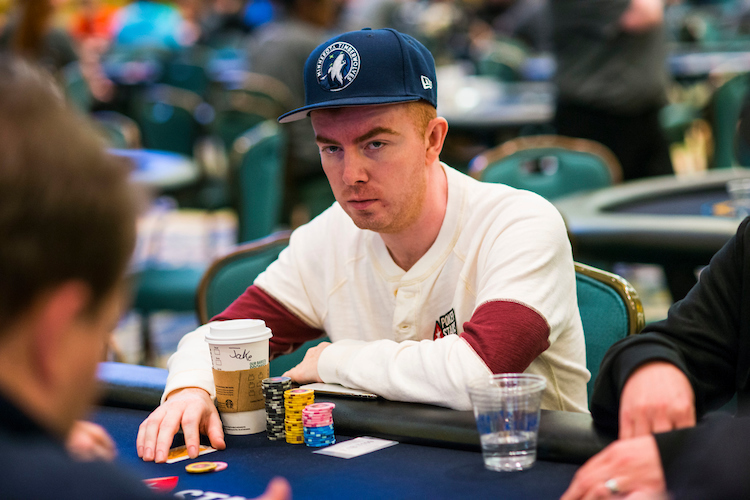 Jake Cody
Christian Rudolph raised to 4,500 from the cutoff and Cody moved all-in for about 40,000 from the button. Action folded back around to Rudolph and he quickly called. Rudolph turned over K♦Q♠ and Cody was in the lead with A♣10♦. But then a queen came on the flop of a Q♥9♣7♥4♠10♣ board and Cody was eliminated from the 2018 PCA Main Event. Rudolph on the other hand chipped up to 288,000. –AV
7:15pm: Jetten outta here
Level 12 – Blinds 1,000/2,000 (ante 300)
We've just lost Peter Jetten from the Main Event. He got his last ten big blinds in with the 7♠7♥, but unfortunately for the Canadian ran the hockey sticks straight into Adalfer Gamarra's A♥A♦. The 10♥J♣3♦10♠4♥ board proved inconsequential, and Gamarra is now up to 154,000. –JS
7:10pm: Ups and downs at Table 3 ("That's poker")
Level 12 – Blinds 1,000/2,000 (ante 300)
"Good luck, Sean," said Keith Lehr to his table neighbor moments after Sean Jazayeri raised all in for his last 17,500 and Ivan Luca called from the next seat over.
Everyone else got out, Jazayeri showed A♦9♦, and Luca turned over 7♦7♠. The sevens held through the 3♣J♥8♠3♥Q♥ board, and Jazayeri wished Lehr and the rest of the table well before departing. Luca has 82,000 now.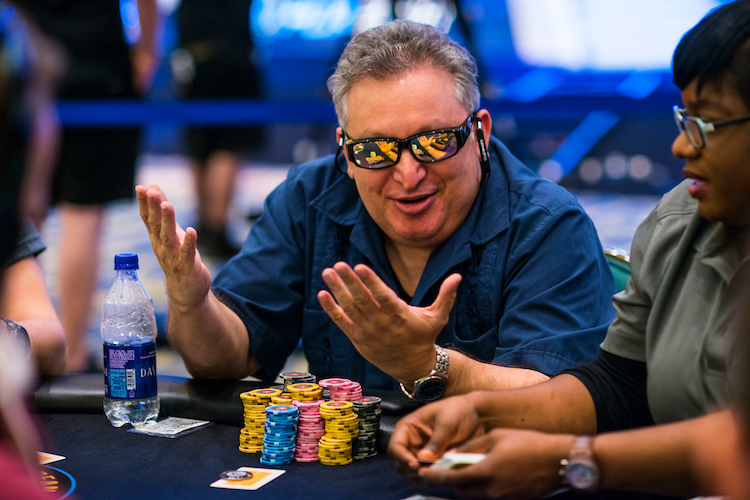 Sean Jazayeri: Nothing left now
Lehr continued to chat afterwards, noting to Brett Bader a few seats down that the two of them are the only ones left from the group who started at Table 3 today.
"Yeah, but you got a lot healthier," said Bader who currently sports a stack of about 50,000 — i.e., right about what he had at the start of the day.
"I got some good cards," said Lehr in response, looking down at his stack of 225,000, about three times what he had at the beginning of the day. –MH
7:05pm: Bryan sent home for being a very naughty boy
Level 12 – Blinds 1,000/2,000 (ante 300)
The above statement in not true. In actual fact, after busting Bryan Emory, George Hadwah said it was a pleasure playing with him.
There was an early position raise to 4,200 before Emory moved all-in for 7,400 form the cutoff. A call came from behind but Hadwah moved all-in for 27,200 from the big blind and successfully isolated Emory.
Hadwah: K♥K♦
Emory: 4♥4♦
The board ran J♠6♣8♣10♥9♥ improving neither player. Hadwah's stack close to 50,000 as a result. –MC
7:01pm: Boz bumping around the big guns
Level 12 – Blinds 1,000/2,000 (ante 300)
Table 3 isn't one we would want to play at. With the likes of Keith Lehr, Luc Greenwood and Ivan Luca, there's a good chance we wouldn't make it past the first orbit.
But the other players at the table are holding their ground and standing strong, even if they're sandwiched in between Greenwood and Lehr raises and re-raises. Gabriella Boza is one of the players and he recently fought back and won.
Greenwood raised to 4,500 from under the gun that hand and Boza re-raised to 12,000 from early position. Action folded to Lehr on the small blind and he four-bet up to 30,000. Greenwood folded, but Boza grabbed his remaining chips and plunked them in the middle. That was too much for Lehr and he folded too.
The pot put Boza up to 116,000 while Lehr is at 220,000. Greenwood still has the table lead with 265,000. –AV
7pm: The only way in which Maria Konnikova is average
Level 12 – Blinds 1,000/2,000 (ante 300)
For a person who missed all of Day 1 on her way to winning the PCA National title, Maria Konnikova is pretty good at making up for lost time.
Just a couple of minutes ago, she managed to get a pair of nines all in against a pair of sixes. The crowd groaned when a six hit the flop and then yelped when a nine came on the turn.
Konnikova, who knows a thing or two about how the human brain processes emotion, could only say, "Woah."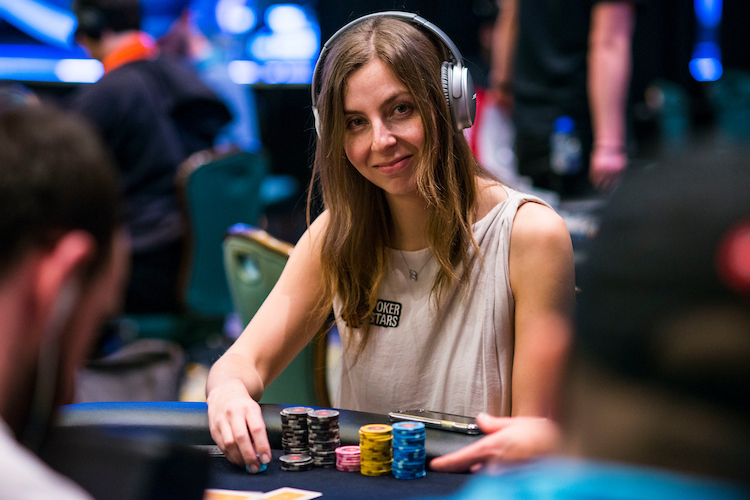 Maria Konnikova: Far from average
After that and the next hand where she won a little bit more, she was up to 120,000, the average stack…and the only way you could ever call Konnikova average.–BW
Read Martin Harris's interview with Konnikova at the World Series of Poker in Las Vegas last summer
6:55pm: The ol' blunderbluff
Level 12 – Blinds 1,000/2,000 (ante 300)
TFW you bluff all in and your opponent snaps with the hand you were representing.
We heard the all-in from Bryan Emory and whipped around to see Lachezar Plamenov Petkov call in less than a second.
The board was 6♥10♥J♥4♥ and it appeared Emory had bluffed with A♠4♣. But Petkov had A♥K♥ and when he showed it Emory exhaled wearily. The river was no matter, and Petkov jumped to 81,000 while Emory is down to 8,000. –MH
6:50pm: Psychic pessimism
Level 12 – Blinds 1,000/2,000 (ante 300)
When you know, you know. And Rex Alarcon knew.
After Koray Aldemir had opened to 4,200, Alarcon jammed for his last 25,500. Aldemir was in the tank for a while, but as soon as he called Alarcon stood up–interrupting the massage he'd been having for a good few hours–and started putting on his coat.
It turned out his A♠9♠ was actually ahead of Aldemir's K♠10♦. But Alarcon just knew.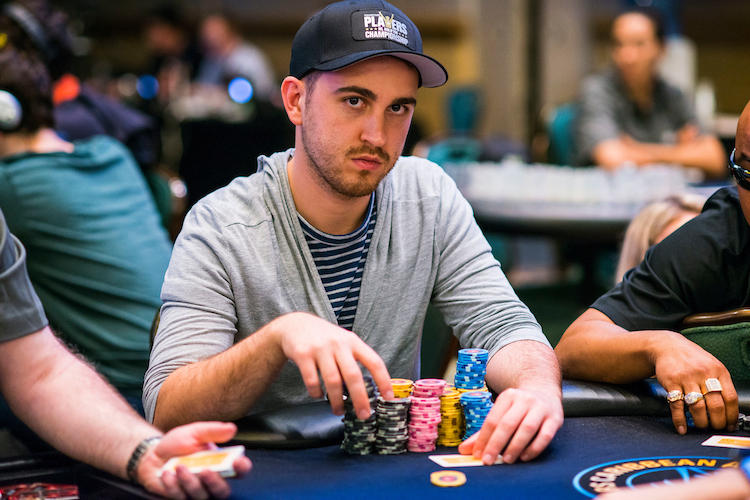 Koray Aldemir: Sometimes you just know
The dealer spread the 8♣6♠K♣ flop, and Alarcon's psychic suspicions were proved correct. He continued to gather his belongings and pay his masseuse while the dealer put down the 4♠ turn; a card that gave him a ton of new flush outs.
But the J♦ river wasn't one of them. Aldemir's pair beat his ace-high, and he was out.
Aldemir is up to 315,000 now. –JS
6:45pm: The $1 million shopkeeper
Level 12 – Blinds 1,000/2,000 (ante 300)
A nice little nugget of information about Gleidibe Brito, the man who is second in chips at the moment. Even if the Brazilian wins the PCA Main Event after six days of work, he'll only earn a few thousand more than his wife Samara managed to bank in five minutes at the poker tables a few years ago.
Samara Brito (right)
Samara, playing online as "Samara Lucio", was one of the first players to win a $1 million Spin & Go at PokerStars.
According to Sergio Prado, our Brazilian blogger, Samara was just closing up the family's clothing store in Manaus when she thought she'd play a quick Spin & Go. The wheel span at the start of the $5 tournament and the prize pool popped up: $1m.
---
Fancy a Spin & Go for $1 million? Sign up for PokerStars and take a stab. Click here to get an account.
---
She called her husband just to check what the "m" might mean, and he confirmed that she was going to be playing for a million bucks. (She also didn't know at the time that there was a $100,000 consolation prize for players finishing second and third. She thought it was a winner-takes-all.)
Not long later, "Samara Lucio" had seen off her opponents from Lithuania and Russia and sealed the $1 million first prize. The shop's CCTV camera recorded the action for posterity, while Brazil went wild for its $1 million shopkeeper.
Here's the report from the time (in Portuguese). — HS
6:40pm: Peters passes some off to Lau
Level 12 – Blinds 1,000/2,000 (ante 300)
David Peters has been the dominant force at a dominant table that includes Alan King Lau, Chris Hunichen and of course, David Peters.
Peters is leading with about 290,000 after he recently lost a bit to Lau, who's now closing in on the six-figure mark. David Peters raised to 5,000 from under the gun that hand and Lau three-bet to 14,000 from the cutoff. Action folded back around to Peters and he called.
The flop came down K♥Q♥K♠ and both players checked. This brought the 7♥ on the turn and Peters checked again. Lau made the bet a little bigger than his three-bet size, 14,500, and took down the pot. Lau is now up to about 95,000 while Peters's commanding table lead shrunk a bit to 290,000. — AV
6:35pm: Day good
Level 12 – Blinds 1,000/2,000 (ante 300)
1. Raise with suited connectors
2. Flop a flush
3. ???
4. Profit
That's the short version of a recent hand won by Christopher Day. Dealt 8♦7♦ on the button, he raised and got two callers in the blinds including Sharman Olshan in the small.
The flop fell 4♦Q♦J♦, giving Day a diamond flush, and when he continued for 7,200 only Olshan called.
Both checked the 3♦ turn (there is such a thing as having too many diamonds), then Olshan fired 12,000 at the river and Day called. She hesitated and he showed his cards, and she mucked hers.
Day rises to 90,000, while Olshan slips to about 80,000. –MH
6:30pm: Kicker problems for Khoroshenin
Level 12 – Blinds 1,000/2,000 (ante 300)
Oleksii Khoroshenin took a creative line to try and win a pot versus Niklas Ehrenholz but it didn't work. He dropped to 94,000.
Khoroshenin defended his big blind to an Ehrenholz hijack raise and check-called a c-bet on a Q♦3♥7♥ flop. The turn was the 7♠ and Khoroshenin led for 8,500. Ehrenholz called and both players checked the 2♣ river.
Khoroshenin opened A♠8♣ but Ehrenholz had him out-kicked with A♣K♠ and rose to 205,000. –MC
6:25pm: "Let me look at you here…"
Level 12 – Blinds 1,000/2,000 (ante 300)
"I bet the full amount."

"The full amount, huh? Well, let me look at you here. (Pause) Nope. You didn't do it this time. I'm gonna raise you."
Say those words to almost anyone in this room, and they'll know where the lines come from.
In the cult classic Rounders, Mike is playing some vastly inferior players and running over a game. He makes a point of letting his opponents believe he is looking in their souls.
Safe to say, in most games, you won't see that. I did, however, just saw something close.
Luis Faria was betting into Michael Stashin. With the board reading, A♣2♠Q♣3♦, Faria bet 18,000 and Stashin called. The river was the K♣. Faria bet into Stashin again, this time for 32,800.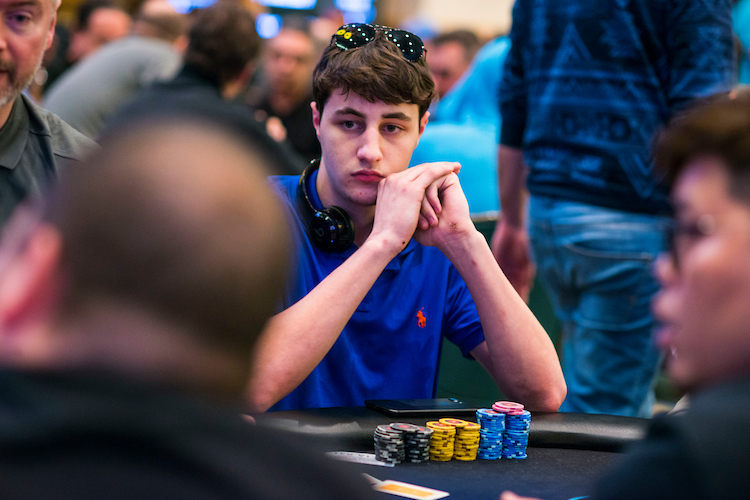 Michael Stashin: The full amount
Stashin went deep in the tank, thinking for a few minutes and seeming unsure of himself. Finally, he did something I've never seen anyone do. He turned to Faria, fixed his eyes on Faria's carotid artery, and just stared at it. It wasn't a glance. It wasn't a deep dark gaze into Faria's face. Stashin almost looked as if he wanted people to see what he was looking at.
And then, snapping out if it, Stashin looked up and put in a call almost immediately.
Faria sheepishly turned over 5♥7♥, a stone bluff. Stashin turned up A♠9♥, a weak-ish holding against that board and an aggressive opponent, but a winner nonetheless.
I didn't see Stashin laugh or even smile, but Faria asked, "What's so funny?"
Stashin said, "I was confused. I thought I was beat, but I couldn't find a fold."
Believe that if you will, but it sure looked like he found something else just below Faria's jaw-line.
Stashin is up to 240,000. Faria fell to 90,000.–BW
6:20pm: Brito climbing
Level 12 – Blinds 1,000/2,000 (ante 300)
We were reporting on Gleidibe Brito winning a pot a bit earlier today. Since then he was moved over to the secondary feature table where he's continued to accumulate steadily.
Gleidibe Brito: Challenging for the chip lead
The Brazilian is up around 370,000 now, which means he's getting close to challenging Michael Kamran for the chip lead. –MH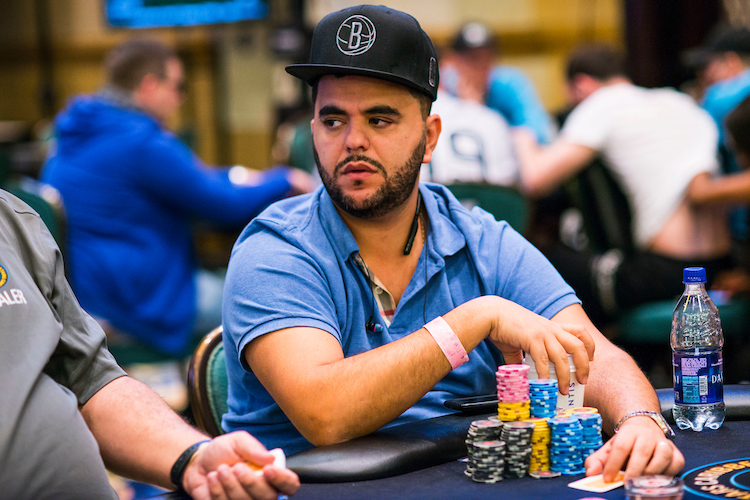 Michael Kamran: Still leader of the pack
6:16pm: Small double for Riess
Level 12 – Blinds 1,000/2,000 (ante 300)
After Pedro Bregeiro Leal opened for 4,000, Ryan Riess reraise-pushed for 11,100 and it folded back to Leal who called.
Leal had 7♣5♠ and was well behind Riess's 10♦10♠, but the 5♦A♥8♠ flop gave Leal a pair and the 6♠ a draw. The river was the 3♦, however, and Riess survived.
Put Riess on about 25,000, while Leal has 152,000. –MH
6:15pm: Boeree builds
Level 12 – Blinds 1,000/2,000 (ante 300)
Liv Boeree is up to 120,000, but she could have gotten a bit more out of Ramin Hajiyev. Boeree started that hand off with a raise to 4,700 from early position and Hajiyev called from the cutoff.
Andrew Ryan called from the small blind and all three players went to the 2♦2♥J♦ flop. Boeree bet 8,500 when checked to and only Hajiyev called. The 10♣ came on the turn and Boeree made it 15,500 to see the river.
Hajiyev called again and a 2♣ came on the river. Hajiyev checked again and this time Boeree checked behind. Boeree turned over K♥K♦ while Hajiyev tabled A♥K♠.
"You probably weren't calling a third bullet anyway," Boeree said as she raked in the pot.
"Well, I mean…" Hajiyev said and shrugged. Hajiyev dipped to 73,000 after the hand while Boeree's stack grew to around 120,000. Perhaps a third bullet could have seen it grow even more. –AV
6:10pm: Siu can't beat the Banz
Level 12 – Blinds 1,000/2,000 (ante 300)
We were just describing Mei Siu and Christian Banz battling against one another as table neighbors (see below, 5:50pm). They were at it again just now, but after this hand they won't be anymore today.
Siu just now found herself all in and at risk for her last chips on a J♠A♠6♠ flop holding A♦9♠ — a nice enough spot, it would seem, with top pair of aces and a flush draw.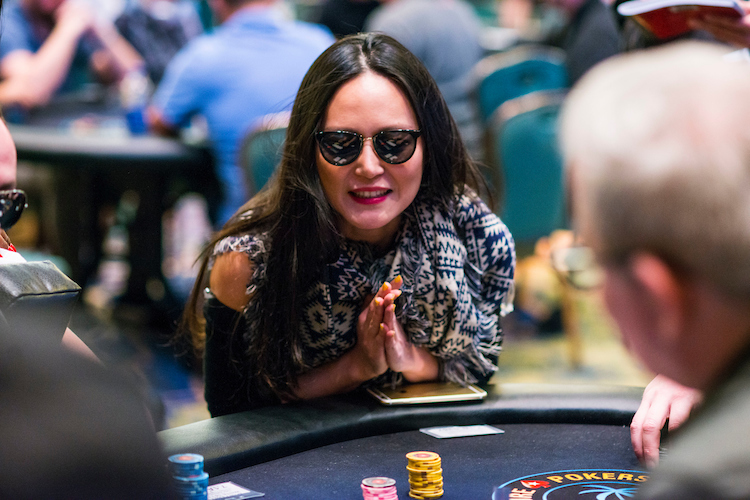 Mei Siu pleads for the card…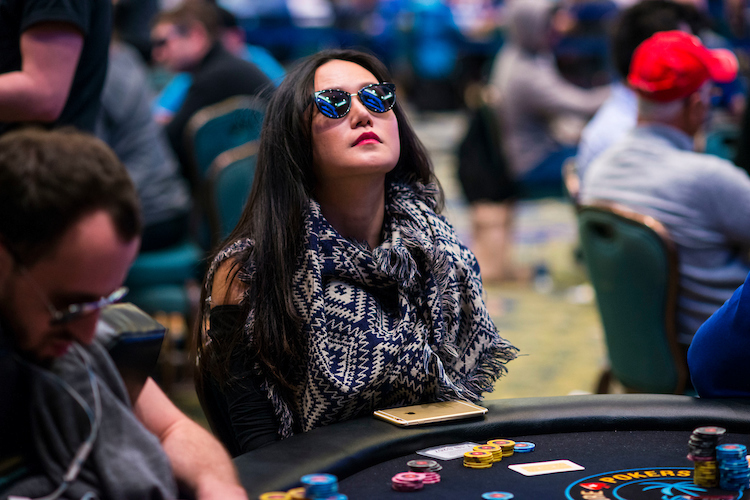 …that never came
But her lone opponent was Banz and he had the same pair with a better kicker with A♣10♦, and after the 3♦ turn and 2♥ river, Siu's run was over. She wished the table good luck and left, the latest here on Day 2 to fall. –MH
6:05pm: André Akkari out!
Level 12 – Blinds 1,000/2,000 (ante 300)
Sad news: Team PokerStars Pro Andre Akkari is out. Sad news always sounds more bearable in Portuguese, so here's how our samba-dancing, soccer-playing, "special" shaving Brazilian cousins described it at the PokerStars Brazilian blog:
17:50 – André Akkari eliminado na Mesa da TV
Nível 12 – Blinds 1.000 / 2.000 (ante 300)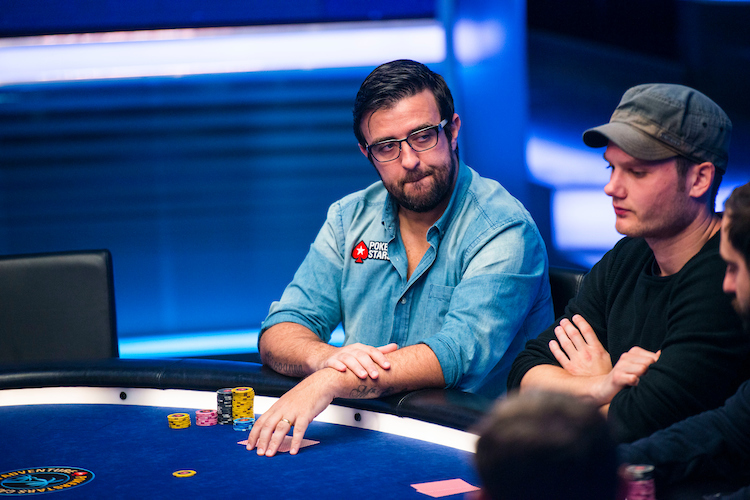 Andre Akkari
No final do Nível 11, perdemos o representante brasileiro do Team PokerStars Pro…Com os blinds em 800 / 1.600, André Akkari abriu raise com K♦Q♥ abriu raise para 3.700 e recebeu call de Steven Jost no botão com 10♦10♣.
O flop veio com 3♠10♥J♥ e o brasileiro apostou 4.300, recebendo call. No turn, o 8♦ e André foi all-in colocando sua últimas 13.000 fichas no meio da mesa e Jost acabou pagando. O river foi a Q♣ e André Akkari deixou a Mesa da TV e o torneio…
Agora seguimos com dez brasileiros.
6pm: Continuing to Kamran it up
Level 12 – Blinds 1,000/2,000 (ante 300)
Chip leader Michael Kamran just scored another knockout on his table and another shovelful of chips. He's boosted his leading total to 427,000 now. –MH
5:50pm: Everybody needs good neighbours
Level 12 – Blinds 1,000/2,000 (ante 300)
Mei Sui and Christian Banz were sat next to each other at the beginning of Day 1B, and here we are–hours of intense poker later–and the two are once again table neighbours.
For Sui right now though, Banz is the type of neighbour that plays death metal until 4am when you have to be up for work early. The poker equivalent of that is being three-bet shoved on for your tournament life.
The flop showed the 6♠7♠3♣ and Sui had made it 6,000. Banz then put her all in with the bigger stack, and Sui was deep inside the tank deciding what to do with the 30,000 she had behind.
After picking her cards up several times, almost exposing them, she'd eventually make a frustrated fold that saw Banz increase to 100,000.
Unlike in real estate, Sui sadly doesn't have the option to move. –JS
5:45pm: Chreem's dream
Level 12 – Blinds 1,000/2,000 (ante 300)
Helio Chreem is on the rise after he scored a double up against Ramin Hajiyev.
Team PokerStars Pro Liv Boeree opened to 4,300 from the cutoff and was called by Chreem in the small blind before Hajiyev squeezed to 17,000 from the big blind. Boeree snap folded but Chreem shoved for 54,200. Call.
Chreem: 9♣9♥
Hajiyev: A♣K♦
The board ran 3♦8♥5♣4♦8♣ and Chreem clapped his hands in the delight. Hajiyev dropped to 100,000. –MC
5:35pm: Heading into the penultimate level
Level 11 – Blinds 800/1,600 (ante 200)
They're heading into the day's penultimate level, which means three hours more of poker. The ding-dong battle at the top of the chip counts is currently favouring Michael Kamran, who looks to be the first person to broach 400,000. The chip-count page is pretty fresh right now. — HS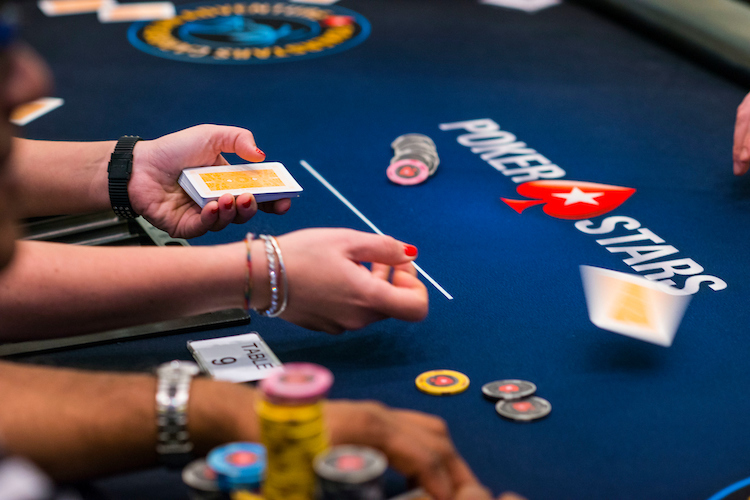 Dealers, deal
5:26pm: Break time
We've reached the next break. Play continues in 20 minutes.
5:25pm: Kenney gets it through
Level 11 – Blinds 800/1,600 (ante 200)
In the last hand before the break, there was a K♦10♣J♥10♦4♠ board out there and Ricardo Albino had bet 5,000 into Bryn Kenney. The Super High Roller then moved all in for 29,400, and it was back on Albino.
He tanked for a while but eventually gave it up. "Smells like a bluff to me," said another player at the table.
Kenney turned over the J♦ to show he at least had a pair, and then revealed the Q♥ to go with it. He's up to around 45,000 now. –JS
5:24pm: It's a double up, Jerry!
Level 11 – Blinds 800/1,600 (ante 200)
Bet, raise, shove, call. All in the blink of an eye. It was 4,000, 14,000, 32,600 and call, between Rex Alarcon (the shover) and Jerry Robinson (the caller), and here's why:
Alarcon: K♥K♦
Robinson: A♣Q♥
The dealer kept up the pace with a hasty 8♣9♥8♦Q♦7♠ board. It keeps Alarcon alive with about 65,000 and cuts Robinson down to 33,000. — HS
5:19pm: Flipping heaven for MacPhee
Level 11 – Blinds 800/1,600 (ante 200)
Kevin MacPhee has a much more playable stack now that he used big slick to double up.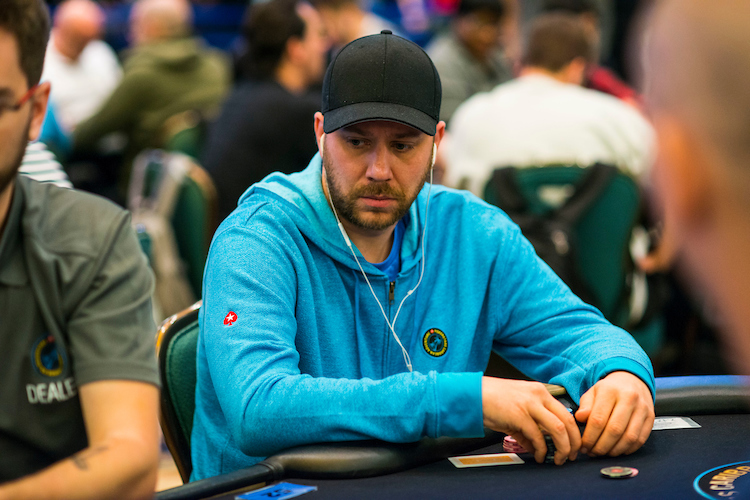 Kevin MacPhee
The former EPT Berlin champion opened to 3,500 from the cutoff and then four-bet all-in for 39,300 after Daniel Coupal three-bet to 11,000 from the button. Call.
MacPhee: A♣K♣
Coupal: 8♦8♣
The board ran A♥3♠Q♣7♦6♦ to pair the Idaho man's ace. Coupal dropped to 195,000. –MC
5:16pm: More for Peters
Level 11 – Blinds 800/1,600 (ante 200)
David Peters opened from early position for 4,000, then Gavin O'Rourke three-bet to 15,000 from late position and when it got back to Peters he called.
David Peters
The flop came 8♥8♦3♦. Peters checked, O'Rourke bet 10,000, and with customary deliberation Peters called. Both checked the A♣ turn, then the 6♠ river arrived.
Peters sat quietly, and, well, motionless for what seemed a couple of minutes. Forgive the imprecision regarding the amount of time spent… it was rough out there.
Finally he set out a big bet and in a flash O'Rourke gave up his hand.
Peters adds still more, moving up to 345,000. O'Rourke has about 115,000. –MH
5:12pm: Bounahra busts
Level 11 – Blinds 800/1,600 (ante 200)
Badih Bounahra was down to just about 40,000 and he hoped 7♣7♥ would be good enough for a double up. Unluckily for him, Mike Adamo woke up with A♥A♦ and called Bounahra's all in. I mean, who wouldn't.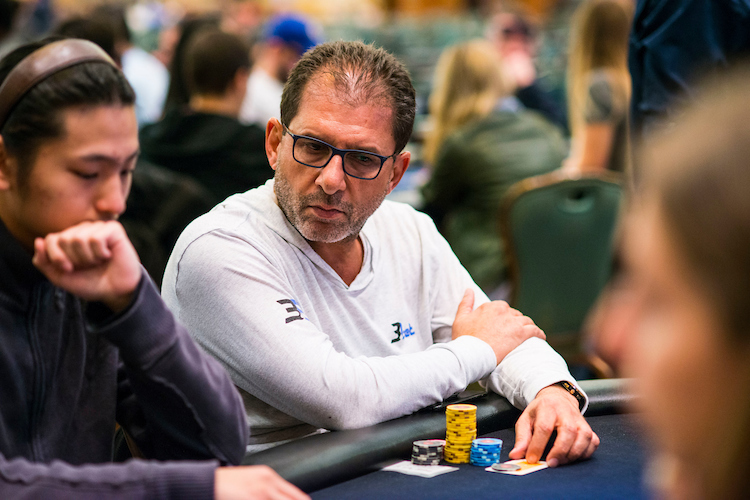 Bob Bounahra
Bounahra could sense his fate and started getting ready to leave before the dealer even fanned the flop of the 5♠10♥Q♥8♠J♥ board. Bounahra busted while Adamo chipped up to about 130,000. –AV
5:09pm: Mateos ends Sebastian's story
Level 11 – Blinds 800/1,600 (ante 200)
Sebastian Vermette only had 8,300 chips. He had to make a move and did so from under the gun. The action folded all the way around to Adrian Mateos in the big blind who called.
Mateos: K♥3♥
Vermette: J♥8♣
The board ran 3♦4♣9♠J♠4♥ to seal the Canadian's fate. Mateos moved up to 125,000. –MC
5:06pm: Cha-Chang for Stewart
Level 11 – Blinds 800/1,600 (ante 200)
Kyle Chang didn't have many chips, but he'll at least be able to say that he got his aces cracked. The cracker was Scott Stewart, whose 10♥10♦ flopped a set when the dealer put the 10♠5♣K♣ on the table.
I think they got their money in there, and Chang's A♦A♠ didn't catch up through the 5♥ turn nor 7♥ river.
Stewart has 230,000 now, while Chang has the chance to enter any of the many side events still running. — HS
5:03pm: Machon his way out
Level 11 – Blinds 800/1,600 (ante 200)
Bartlomiej Machon is third on Poland's all-time money list. He's also a feared online player. And he's also now out of this PCA Main Event.
All of Machon's chips (roughly 40,000) went in pre-flop, with him holding the A♥9♦ against Marco Alves' 6♦6♠. The board ran out J♦4♣Q♣8♦K♠ to send the Pole outta here.
Alves now stacks up 190,000. –JS
5:01pm: Hey, David Peters… how much ya got?
Level 11 – Blinds 800/1,600 (ante 200)
The tournament director just paid David Peters a visit, stopping by in order to color up a few chips and help make those towers a bit more manageable.
How much does Peters have? Right at 318,000, I'd say after eyeing those newly ordered stacks. That looks good for the chip lead. –MH
4:58pm: Lots of shoves and a double for Kenney
Level 11 – Blinds 800/1,600 (ante 200)
Bryn Kenney had been shoving at his table, but he wasn't getting any callers. First shoved from under the gun for 16,000 and took it down. Then he played a pot and lost the chips he recently won.
Jens Moysich started that hand off with a raise to 4,000 and Kenney called from the big blind. The flop came K♥2♥7♦ and Moysich bet 7,000. Kenney folded and dipped back down to 16,000. Then he won a few more chips after he moved all in from the button. The rest of the table folded that hand and Kenney took it down.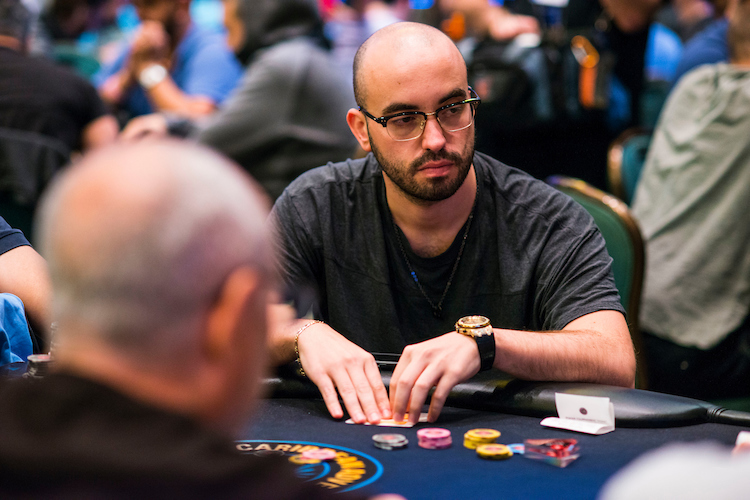 Bryn Kenney
Then Kenney moved all in from the hijack and Oleg Titov –who just moved to the table and perhaps didn't get the memo not to call Kenney– called from the cutoff. Kenney turned over J♠10♠ and Titov turned over a dominating A♦10♥. Kenney needed some help and got it on the river of a K♦8♥3♣3♦J♦ board. Kenney finally got his double up with jacks and threes and is up to 40,000. –AV
4:55pm: Siu lets one go
Level 11 – Blinds 800/1,600 (ante 200)
Mei Siu has dropped down to 36,200 after tank folding in hand versus Igor Yaroshevskyy.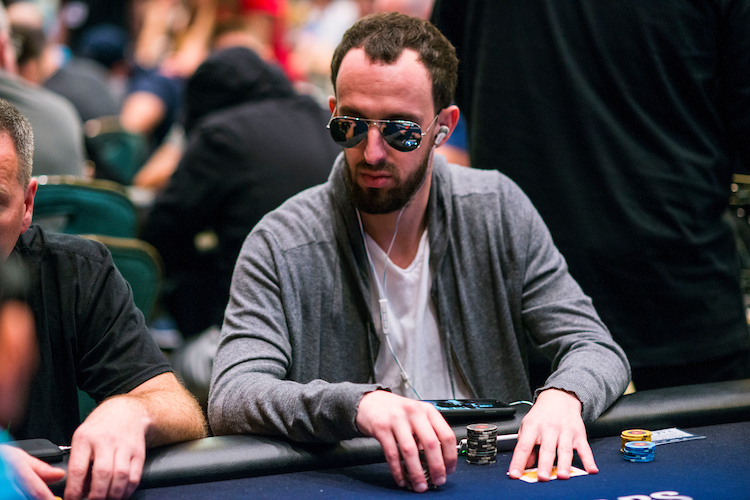 Igor Yaroshevskyy
The Ukrainian opened to 3,500 from the button before Siu three-bet to 8,700 from the small blind. "Again?" inquired Yaroshevskyy.
"Again?!" came her response once he called.
The 5♥10♥7♣ flop was checked before Siu led check-raised Yaroshevskyy's 9,000 bet up to 31,000 on the 8♣ turn. Call. The J♣ completed the board and Yaroshevskyy moved all-in for 30,500 after Siu checked. She took a few minutes and then admitted defeat with a fold. –MC
4:52pm: Deadman walking
Level 11 – Blinds 800/1,600 (ante 200)
British pro Simon Deadman is out, running his short stack into another short stack, but one marginally bigger. Oh, and the other short stack had a better hand.
Filling in the gaps: Deadman opened to 3,200 from the hijack and Farhad Hakim three-bet to 8,000 one seat along. Players on the button and the blinds folded, then Deadman moved all-in for 29,100. Hakim, who had about 35,000, called.
Deadman: A♦Q♣
Hakim: K♠K♣
After a blank flop, there was a queen on the turn to give Deadman a few more outs. But the K♦ river sealed Deadman's fate. — HS
4:49pm: The rich get richer
Level 11 – Blinds 800/1,600 (ante 200)
Michael Kamran has just increased his chip-leading stack even further after a click-back bet won him another big pot.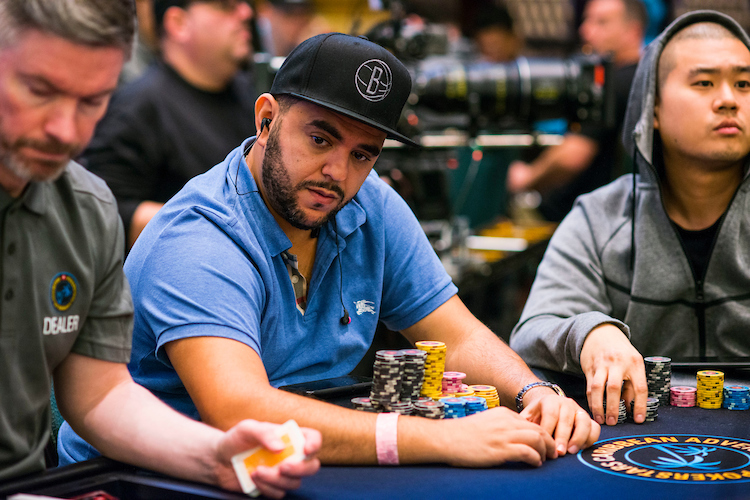 Michael Kamran
We missed the start of the hand but there was around 40,000 in the middle by the turn of the Q♦5♦10♠6♦ board. Scott Stewart had checked it, and Kamran led out for 17,500. Stewart then raised it up to 45,000.
Back to Kamran, he took his time before eventually clicking it up to 79,000. Stewart let it go.
That move not only brought Kamran's stack up to 400,000, it also got the nod of approval from Kevin MacPhee, also at the table. He seemed impressed by that move. –JS
4:46pm: Titov takes down Villalobos
Level 11 – Blinds 800/1,600 (ante 200)
Luis Urrutia Villalobos of Guatemala was just eliminated after his Q♦10♠ failed to catch up versus the Russian Oleg Titov's A♦9♣, thereby helping Titov climb to about 165,000.
There are 174 players left now. Half of them — 87 — will be making the money, while the other half will not. –MH
4:45pm: Cody short-stack shoving
Level 11 – Blinds 800/1,600 (ante 200)
Everyone was interested in Jake Cody's stack. "I think it's, like, forty-two," he said after he opened to 3,500 from the hijack and Michael Farrow, in the cutoff, raised his eyebrows in Cody's direction. In modern poker, everyone knows that represents a request to see a stack.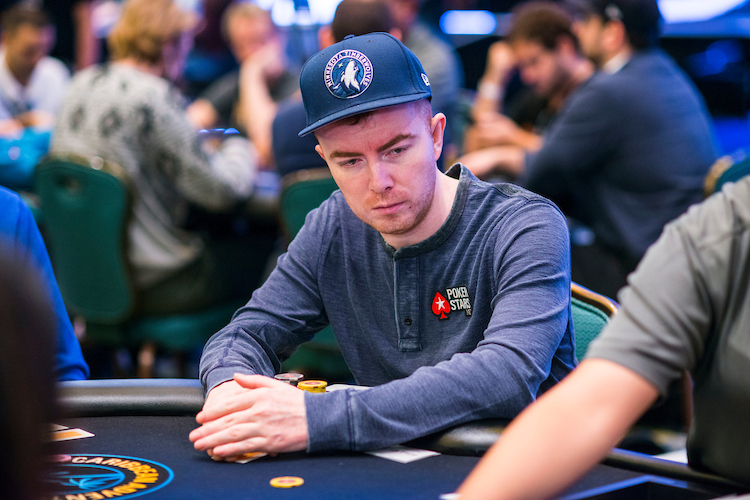 Jake Cody
Farrow three-bet to 8,200 but that didn't even get past Jason Stemmler on the button. Stemmler called and so did Cody when it got back around to him.
They saw the A♠9♣5♠ flop and Cody moved all-in. It wasn't much in comparison with either Farrow's 130,000 or Stemmler's 120,000, but it was enough. Cody's shove got two folds and builds him to around 60,000. — HS
4:42pm: Mateos annoyed at himself
Level 11 – Blinds 800/1,600 (ante 200)
Spanish poker superstar Adrian Mateos was visibly annoyed at himself after he made an incorrect river call to drop to 125,000. The pot was only small but it shows you how competitive he is.
Mateos raised to 3,200 from the hijack and Scott Wilson defended his big blind. The board ran out 9♥3♦A♦7♦Q♦ with no chips going in until the river where Wilson led for 7,500. Mateos tank called and then mucked upon seeing Wilson's two-pair with A♠7♣. Wilson's stack grew to 170,000. –MC
4:39pm: Big hands, BG doubles through BK
Level 11 – Blinds 800/1,600 (ante 200)
Arriving after the preflop battling, we saw Barry Greenstein was all in and at risk versus Bryn Kenney.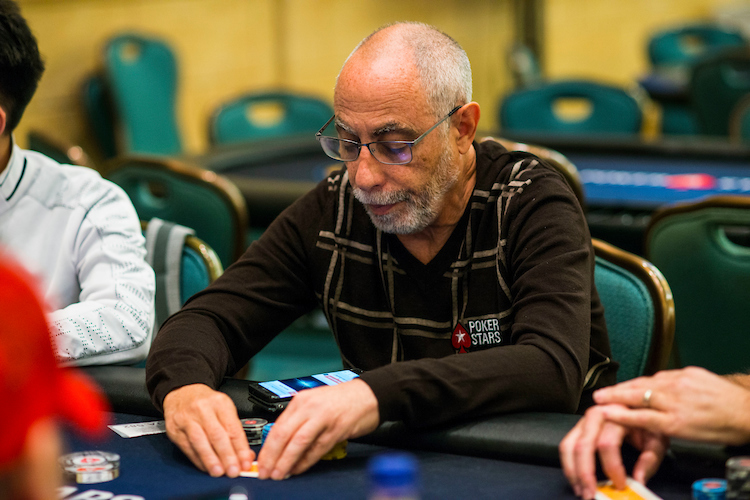 Barry Greenstein
BK had a big hand — K♦K♠. But BG had a bigger one — A♥A♦.
The J♥10♠7♦J♦10♣ board kept the aces ahead, and now Greenstein is up around 115,000 or so.
Meanwhile Kenney was all in before the flop on the very next hand and wasn't called — he's down to around 15,000. –MH
4:36pm: Altman's realtor should expect a call
Level 11 – Blinds 800/1,600 (ante 200)
Brian Altman had a pretty good 2017. Around $670,000 in tournament winnings kinda good. And if his tablet was anything to go by, he's looking to invest some of that hard-earned cash into brick-and-mortar.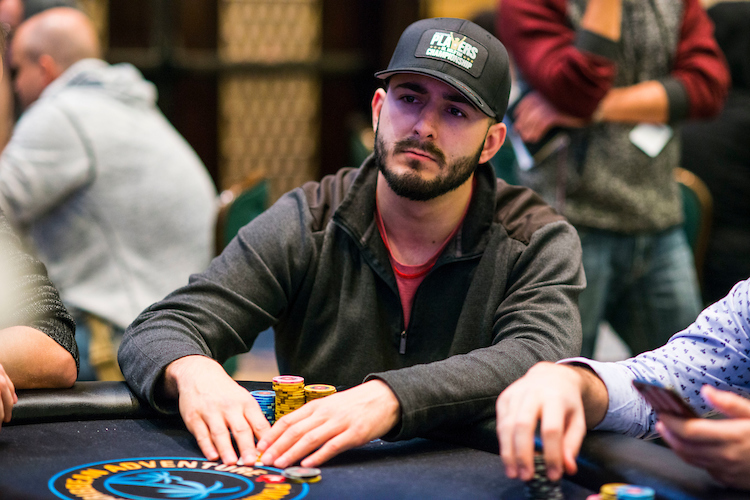 Brian Altman
Altman was perusing a Coastal Real Estate website when he looked up to see Koray Aldemir had opened to 3,300. Altman stopped looking at condos for a second to look down at the A♠8♣, and that was good enough for him to shove in his last 17,000. It folded back to Aldemir, and even though he didn't really seem like he wanted to, the German did make the call.
Aldemir had the 6♦7♦, and would pair up instantly on the J♦J♠7♠ flop. The 9♦ hit the turn, and the J♥ river made it a full house for Aldemir, who is now up to 245,000.
"Good game guys," said Altman as he left, presumably to call his realtor. –JS
4:33pm: Bruno's underpair is best
Level 11 – Blinds 800/1,600 (ante 200)
Luis Urrutia raised to 3,500 from under the gun and Patrick Kelly called from the cutoff. Bruno Politano was on the button and called as well. The flop came down 4♠4♣Q♠ and Urrutia bet 5,000. Kelly folded, Politano called and a 4♦ came on the turn. Action checked to Politano this time and he bet 7,500. Urrutia called and a 6♥ completed the board. Urrutia checked again and this time Politano checked behind.
Urrutia turned over an A♠ for ace-high and Politano showed 3♠3♦ for an underpair. Underpair was good and Politano chipped up to 70,000 while Urrutia dipped to 25,000. – AV
4:31pm: Charder doubles to masseuse's delight
Level 11 – Blinds 800/1,600 (ante 200)
A short-stacked Christian Harder had a swarm of cameras camping out by his table. The defending champion was down to less than 10,000 and an all in was imminent. It finally came after Alexander Gambino raised to 3,500 from the button.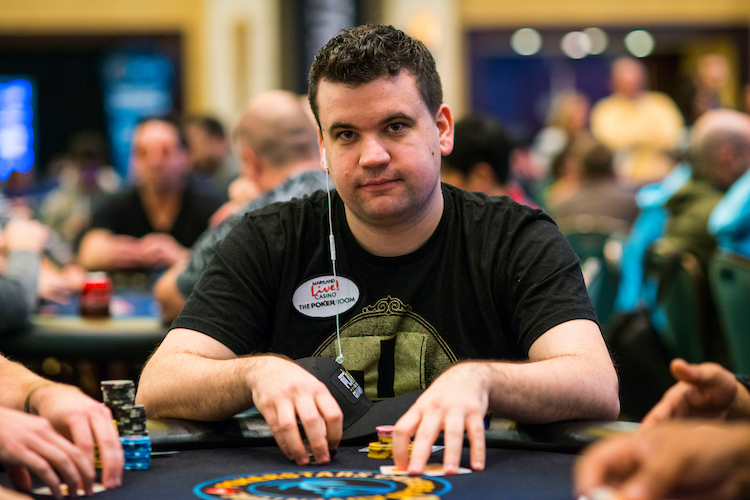 Christian Harder
Harder was on the small blind and he moved all-in for his remaining 8,700. Gambino called and showed a dominating A♥9♥ to Harder's A♠3♣. Harder picked up a flush draw on the 8♣5♣10♣ flop, but the 2♠ on the turn was devoid of any club. The river didn't bring one either, but it did bring a 3♦ to pair Harder's three. It also brought a "YES!" from the masseuse currently massaging Harder.
Both Harder and the masseuse are still in it, but Harder is still short with about 20,000. –AV
4:28pm: Hip, hip, Boeree… Liv doubles
Level 11 – Blinds 800/1,600 (ante 200)
Just below we noted how Liv Boeree was in all-in mode. Shortly after that hand with Nick Petrangelo, she was at it again, getting all of her 30,900 chips in the middle behind K♣K♥ and finding herself in the favorable spot of being up against Antonios Koukouros's 9♠9♥.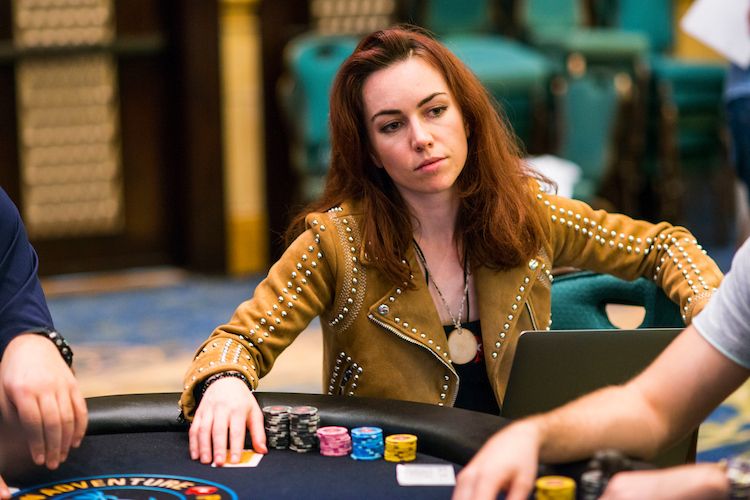 Liv Boeree
The board came eight-high, though not in a fashion that would make those nines improve — namely, 4♦7♣5♣2♦8♠ — and Boeree doubles to about 65,000. –MH
4:25pm: That sucks. Oh, actually…
Level 11 – Blinds 800/1,600 (ante 200)
Horea Serban had only just sat down at Table 11 when he open-shoved the button to 22,000. But he was left rolling his eyes in a "Poker sucks" kind of fashion when Dylan Wilkinson re-shoved to isolate from the small blind and turned over K♠K♥. Serban's A♦8♦ looked measly.
But the dealer offered Serban plenty of promise with the 4♦9♦7♥ flop. Although the Q♣ turn meant nothing, the 10♦ had double up written all over it.
"Nice table change!" someone shouted gleefully to Serban. He was just relieved that he wasn't heading out the door. There were no high fives. — HS
4:22pm: Smidt smote
Level 11 – Blinds 800/1,600 (ante 200)
Omer Smidt is out, the last of his chips having been collected by his table neighbor for the last four hours, Krisztian Fejerdi.
Smidt had 10♣9♣ and Fejerdi K♣K♦, while the board showed Q♠10♠A♦9♦A♥. Have to remain fuzzy about what happened to lead to that conclusion, but at least you know how it ended.
Ended for Smidt, that is, as Fejerdi marches on with 104,000. –MH
4:19pm: Corrigan can't catch up
Level 11 – Blinds 800/1,600 (ante 200)
Paul Corrigan's day has come to and end after he got his short stack in dominated. He made his move and was called by Bryan Zerna.
Corrigan: A♦7♥
Zerna: A♠K♦
The board ran 10♥3♠J♠A♣10♠ and Zerna moved up to 110,000. –MC
4:16pm: Boeree pushes Petrangelo out
Level 11 – Blinds 800/1,600 (ante 200)
Team PokerStars Pro Liv Boeree and Nick Petrangelo were just now having a conversation across their table, the topic being the $1 million buy-in One Drop event scheduled at the World Series of Poker this summer.
As they talked, Petrangelo opened for 2,300 from early position and it folded around to Boeree. The focus of the conversation didn't shift when Boeree reraise-shoved from the button over Petrangelo's raise, the blinds folded, and Petrangelo quickly folded as well.
The table talk continues. So does Boeree with about 34,000, and Petrangelo with about 40,000. –MH
4:13pm: Prize pool locked in
Level 11 – Blinds 800/1,600 (ante 200)
The final numbers are in. The PCA Main Event has drawn 582 players. Eighty-seven of them will walk away with money. Bottom money is $17,500. First prize? A whopping $1,081,000…and of course a Platinum Pass!–BW
4:09pm: Kamran runs good against Koon
Level 11 – Blinds 800/1,600 (ante 200)
We've just lost one of the game's top names from this Main Event.
Scott Stewart kicked off the pot with a lojack open to 3,200, which Michael Kamran in the hijack. Jason Koon – who took down the Super High Roller here last year – then squeezed to 13,500 from the cutoff, which shook off Stewart. Over to Kamran, he four-bet all in with the biggest stack and Koon snap-called his 50,000.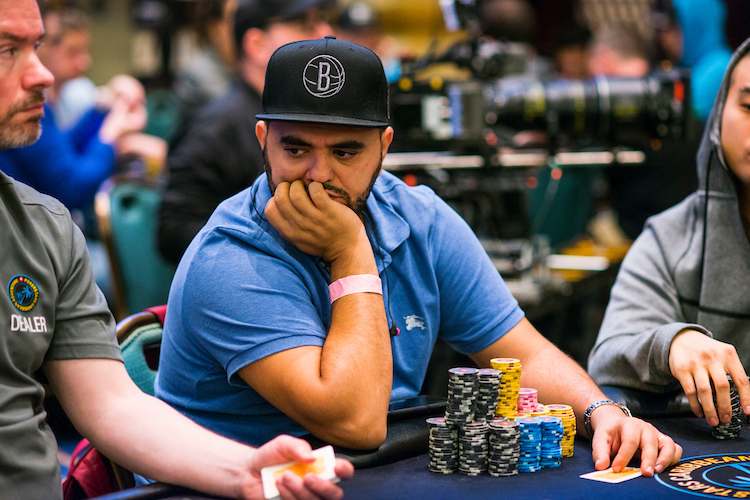 Michael Kamran
Kamran – A♥3♥
Koon – J♣J♥
The 4♣5♥6♣ flop was dandy for Koon, although it did give Kamran a few additional outs to a wheel straight. Instead of the deuce though, Kamran took the lead with the A♠ turn and held onto it after the Q♠ river.
"Good game guys," said Koon as he made his exit. "Good luck."
Kamran is well up there in the chip counts now with 320,000. In fact, that might give him the current chip lead. –JS
4:05pm: Peters edges ahead
Level 11 – Blinds 800/1,600 (ante 200)
You'd think it would be impossible for a player of David Peters' repute to fly under the radar. He's won just about everything in the game and was the GPI's No 1 a year ago.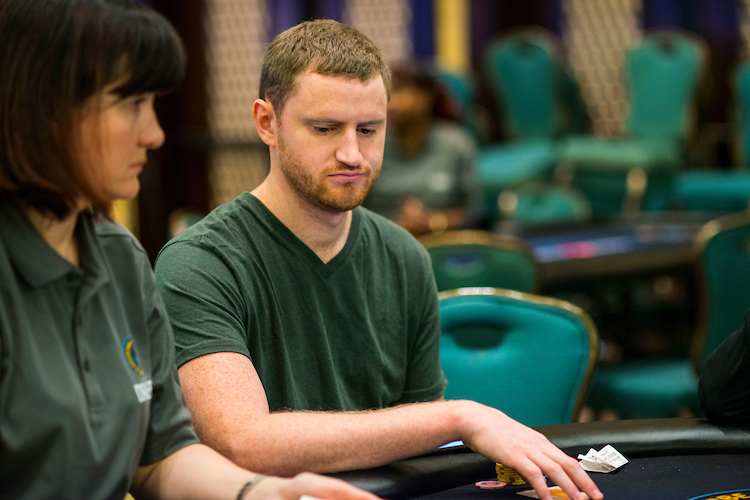 David Peters
But somehow today Peters has increased and overnight stack of 71,600 to what seems to be a chip-leading 290,000 at this stage. And, yes, we haven't seen him play a hand.
That may change as he is now sitting on an all-action table with Alan Lau and Chris Hunichen, among others. Peters sat the following hand out, however, as Lau and Hunichen got to a showdown.
It began with a raise to 3,200 from Lau in the cutoff. Hunichen called on the button, and the big blind also came along to the 7♥Q♣A♦ flop.
Lau bet 3,500 when it was checked to him, and only Hunichen called.
Neither the 2♣ turn nor 2♠ river interested either of them, and Hunichen's Q♥J♠ won this small pot. Hunichen has 160,000, Lau has 55,000 but they're all bowing down to the dominant Peters. — HS
4:01pm: Stemmler's day looking brighter
Level 11 – Blinds 800/1,600 (ante 200)
Jason Stemmler and Chris Day tangled in a pre-flop all-in encounter. Both had big pairs but it was the former who came out on top, and doubled his 25,300 stack. We got to the table when the cards were on their backs.
Stemmler: 10♥10♠
Day: K♠K♥
The board ran J♥5♦3♦8♣9♠ and Day dropped down to 45,000. –MC
3:56pm: Lucas leaps up
Level 11 – Blinds 800/1,600 (ante 200)
Lucas Greenwood has fond memories of the Imperial Ballroom, a.k.a. the spacious tournament room employed for all of the events on the PokerStars Caribbean Adventure schedule.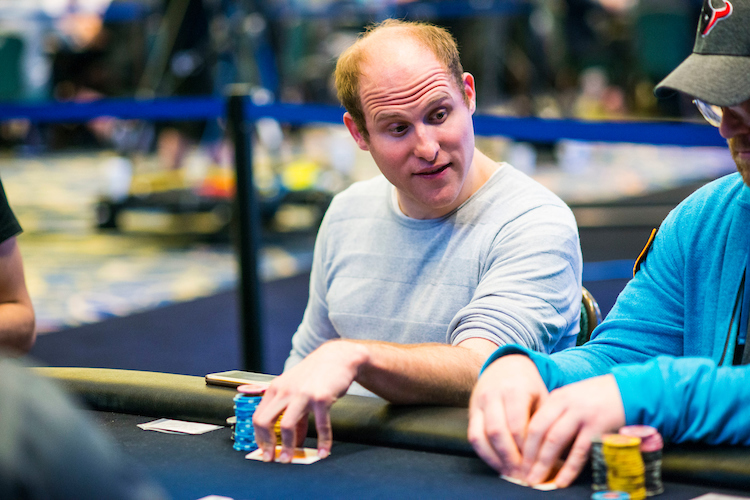 Lucas Greenwood
It was a year ago this week that Greenwood won the $25,000 High Roller here at the Atlantis, topping a 121-entry field to earn a handsome $779,268 first prize — the biggest cash of his career.
Things are going well for Greenwood here today as well, especially after just now earning a nice-sized pot and scoring a knockout after his ace-queen held versus an all-in player's king-jack.
Greenwood is up around 180,000 now as he works on building another good Bahamas memory. –MH
3:52pm: Into the new level
Level 11 – Blinds 800/1,600 (ante 200)
Play picks up again in Level 11.
3:31pm: Break time
Back in 20.
3:30pm: Who Wants To Be A Millionaire
Level 10 – Blinds 600/1,200 (ante 200)
You hear some strange snippets of conversation bouncing between tables in MTTs like this, and just recently Phillip Corion said: "I do need to phone a friend." With little to no context it was odd.
Stopping by to fill in some of the missing details, it only got weirder. Corion was sitting with his hands over some cards, looking at a board of 8♣K♠3♠7♠8♦, and with a pot of around 35,000 beside it.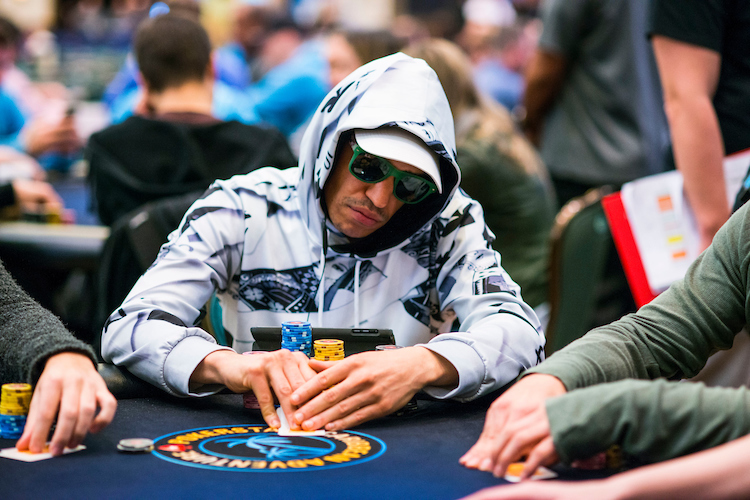 Phillip Corion
Kenny Smaron, the PokerStars Championship Panama champion, was Corion's lone opponent and Smaron had bet 18,000. Corion then picked up a heap of blue chips and put them over the line, comfortably covering the 22,500 Smaron had back.
Smaron went deep into the tank and had the job of trying to piece together everything that had happened to now. He muttered something like, "It's one of two things" but then opted to call for his tournament life.
Corion tabled 8♠8♥ for rivered quads. "That'll do it," Smaron said. "It makes sense now. Good luck guys." He wandered away.
"I wanted to text my mum, tell her I had quads," Corion said, and that began a conversation with the dealer which explained the conversation snippet that had drawn attention to this table in the first place.
It seemed that Corion had picked up his phone in the middle of the hand, and the dealer had quickly warned him to put it down as tournament rules forbid the use of mobile devices with live cards.
"It makes sense," Corion said, evidently grateful for what was actually a lucky escape. The dealer said she may have had to rule his hand dead had he succeeded in using his cellphone.
Tournament rule No 14a: This is not Who Wants to Be a Millionaire? — HS
3:28pm: 'Are you sure you didn't mean check?'
Level 10 – Blinds 600/1,200 (ante 200)
When you play poker on PokerStars and the action checks to you, you have three options: check, bet, or fold. Of course, if you click fold you'll be prompted to check instead; it's free, after all.
Nick Petrangelo just played a hand in which he probably would have selected fold at the end, but still couldn't resist the free showdown.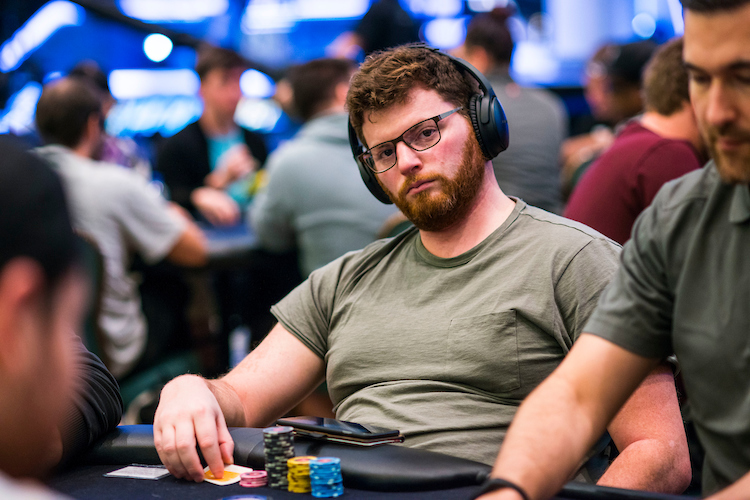 Nick Petrangelo
Picking up the action on a 4♦3♦K♠ flop with 25,000 in the middle, five players checked to the 7♠ turn. Petrangelo led out for 8,700, which got two callers in Gustavo Robles and Helio Chreem. The board was then completed by the K♥ river, and Petrangelo took his time before checking.
Both Robles and Rheem checked too, and Petrangelo instantly gave his hand to the dealer. Robles showed the 6♥6♦, and Rheem couldn't beat that.
After that Petrangelo has 60,000, Rheem has 78,000, and Robles is doing best with 155,000. –JS
3:27pm: Sinclair scoops a big one
Level 10 – Blinds 600/1,200 (ante 200)
There was about 9,000 in the pot and a 7♦7♣2♠ flop on the board. Three players were vying to win it: Ramin Hajiyev from under the gun, Liv Boeree from the cutoff and Jack Sinclair from the button.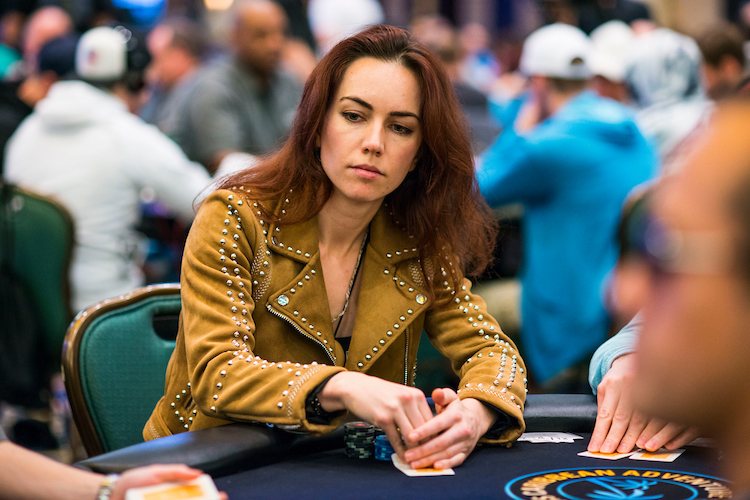 Liv Boeree
Boeree started the post-flop aggression with a bet of 5,500 and both players called, bringing a 3♠ on the turn. Boeree bet again, that time for 13,000. Both players called again and an A♣ completed the board. Action checked to the button and Sinclair made it 20,000 to go.
Both Hajiyev and Boeree folded aggressively and asked Sinclair to show. He didn't. Hajiyev said he had queens and Boeree said she was open-ended. Sinclair stayed silent and chipped up to 180,000 while Hajiyev dipped to 40,000 and Boeree was left with 23,500. –AV
3:24pm: Small hit to the Big Huni
Level 10 – Blinds 600/1,200 (ante 200)
After Carlos Garcia Sarmiento shoved his small stack from early position, it folded to Chris "Big Huni" Hunichen in the big blind.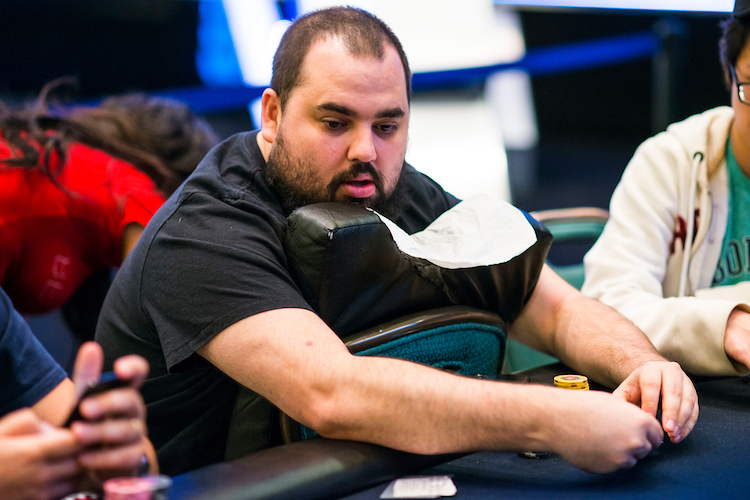 Chris Hunichen
He checked one card. Eyebrows up.
He checked the other. "Ooh," he said, then "hmmmm."
He had a decision. Finally Hunichen decided to call, tabling Q♦J♣, while Sarmiento had A♠9♠. The better hand held through the K♠8♥3♦6♦10♥ board, and Sarmiento survives with 21,000.
Hunichen continues to sit comfortably with 143,000, not too far off twice the average stack with 216 players left. –MH
3:20pm: Ace high good for Buchanan
Level 10 – Blinds 600/1,200 (ante 200)
Scott Buchanan moved up to 75,000 after his ace-king high was good against Mitchell Trssel.
Buchanan opened to 2,700 from under the gun and was called by Tressel and the big blind. The flop fanned 3♣5♥4♦ and the action checked to Tressel who bet 5,000. Only Buchanan called before the 5♣5♦ turn and river were checked through. Buchanan opened A♠K♦ and his Dutch opponent mucked to drop to 31,000. –MC
3:17pm: Aesops Fable: The PITFS and the reporter
Level 10 – Blinds 600/1,200 (ante 200)
Here's a hand that ended in an expulsion of Russian, directed at any of the following: Vladimir Troyanovskiy, the dealer, the poker gods, or me. If I'm really honest, I think it was me.
Here's why.
A player in the four seat opened to 3,600, which happened also to be the button. Vladimir Troyanovskiy, in the big blind, then three-bet to 11,300. The player in the four seat (let's call him PITFS) asked to see Troyanovskiy's stack and learned that it totalled roughly 60,000 more.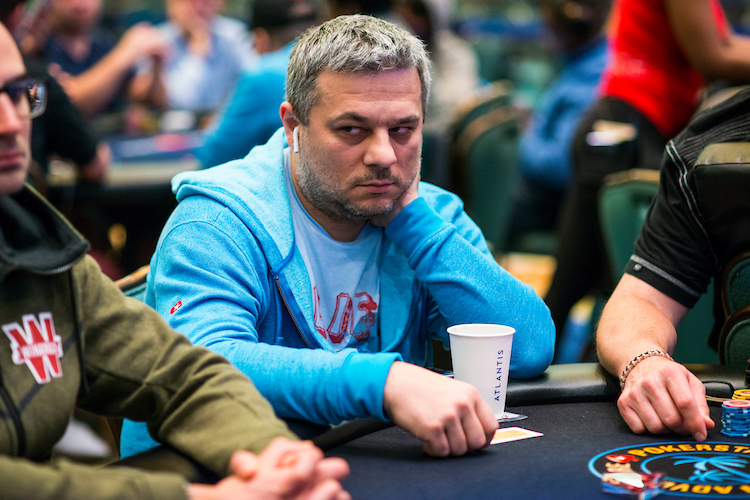 Vladimir Troyanovskiy
PITFS then four-bet to 23,500, putting the action back on Troyanovskiy. Troyanovskiy five-bet jammed for a total that was quickly determined to be 75,200. PITFS was committed and called with a covering stack.
Now, here's the thing: PITFS is so named because his media ID card was well hidden beneath his three stacks of chips. Not only that, it was turned name to the felt, meaning there was no way that anybody was going to know who he was without asking him to rearrange the furniture.
But he was playing a pretty huge pot against one of world poker's best-known names and we had to know who he was.
Here's where the tournament reporter gets a bit results-oriented: you root for the guy with the hidden ID. By and large, players are much happier telling you their name when they've won a pot, rather than lost it. And when PITFS turned over Q♥Q♠ I figured we were flipping.
Reader, we were not flipping.
Troyanovskiy turned over A♠A♦ and the flop brought the A♥ between the 3♣. We were drawing pretty thin right away, and drawing dead on the turn.
So I did it. I tapped PITFS on the shoulder and asked to see his ID card. It meant he had to move all his chips around before handing it over, all in the knowledge that this huge pot was going to be written up and his shame revealed.
There then followed an expulsion of Russian as I jotted Anatoly Zuev's name in my notebook. I couldn't blame him.
Troyanovskiy is up beyond 150,000, while Zuev is now nursing about 50,000 and some apologies from media row.
Moral of the story, players: keep that ID card on show and none of this will happen to you. — HS
3:12pm: Petrangelo takes from Boeree
Level 10 – Blinds 600/1,200 (ante 200)
Four players had made it to the 5♣9♦8♣ flop, and among them were two of the game's biggest names: Liv Boeree and Nick Petrangelo.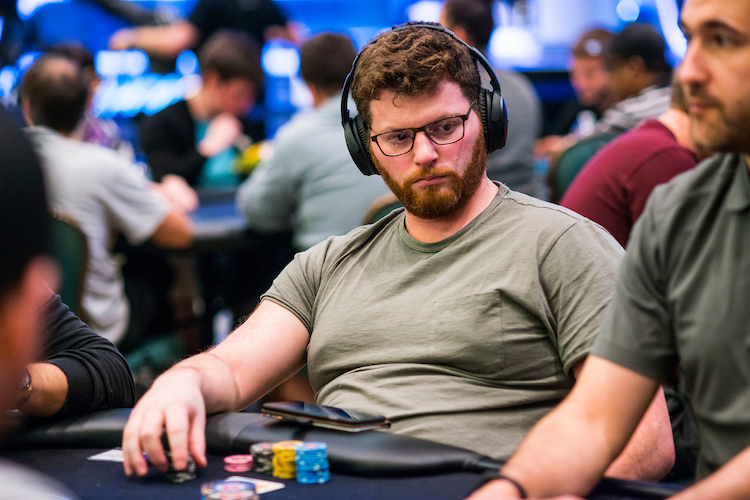 Nick Petrangelo
Gustavo Robles (small blind seat) checked it to Boeree (big blind) and the Team Pro led out for 5,500. Mike Adamo (UTG) let his hand go, and Petrangelo called in the cutoff before Robles folded.
The two were now heads up on the 2♥ turn and both checked to the 5♠ river. Boeree put out another bet of 12,000, and Petrangelo called instantly.
"Queen high," announced Boeree before showing the Q♣ and what looked like the 7♣ for a missed flush draw. Petrangelo showed the 6♣9♣ for top pair, and must have been happy not to see a club on the river.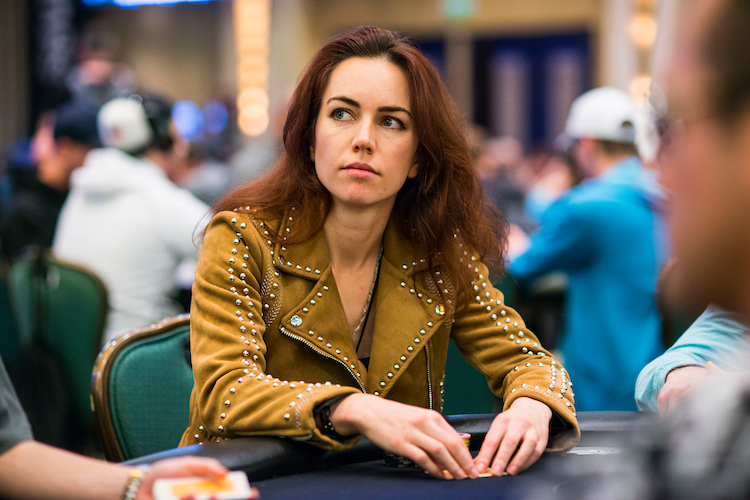 Liv Boeree
He's up to 85,000 now, while Boeree dips to 52,000. –JS
3:09pm: Serban doubles through Lampropulos
Level 10 – Blinds 600/1,200 (ante 200)
Horea Serban just doubled his short stack after reraise-pushing from the blinds with 9♠9♦, getting called by Maria Lampropulos who had A♦Q♦, and watching his nines hold through a 4♦3♣5♠J♠K♦ board.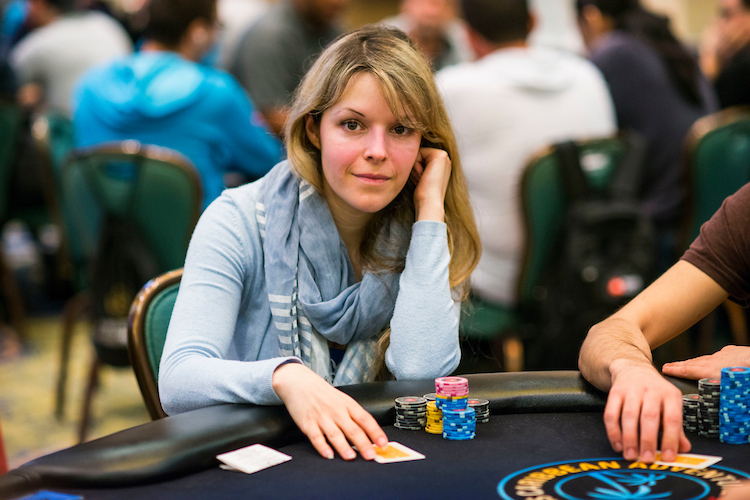 Maria Lampropulos
Serban gets back to about 27,000 there. Meanwhile Lampropulos, looking to add to her $1.7 million-plus in live tournament winnings, is just under 70,000. –MH
3:06pm: Siu's mystery victim
Level 10 – Blinds 600/1,200 (ante 200)
Mei Sui just eliminated a player courtesy of a lucky turn of events. We'll never know his name though, as he dashed off in disgust before he could be identified.
Here's what happened. Sui kicked things off with a 2,700 open from the UTG+1 seat. The mystery man – let's call him Player X – called in the hijack, and when it folded to Gianluca Speranza in the big blind he made the call to.
The three saw a 6♥10♠qd] flop, and it checked to Player X. He led for 5,200, only for Speranza to click it back, making it 10,600 to go.
Over to Sui, she then shoved for 34,200! Player X reshoved with the slightly smaller stack, and Speranza quickly folded.
Player X – [QH][TD]
Sui – K♣K♥
Sui's cowboys had been outflopped, and she'd need some help on the turn or river. She got some instantly on the K♠ turn, and Player X couldn't believe it. He took off before the A♣ river was dealt, taking his player ID with him.
Whoever he was, his chips now sit with Sui who stacks up 85,000. Meanwhile, Speranza is down to 64,000. –JS
3:03pm: Seymour sacked
Level 10 – Blinds 600/1,200 (ante 200)
Something had to be going on at Richard Seymour's table. There were more cameras and boom mics than players and there was a big pile of chips in the middle.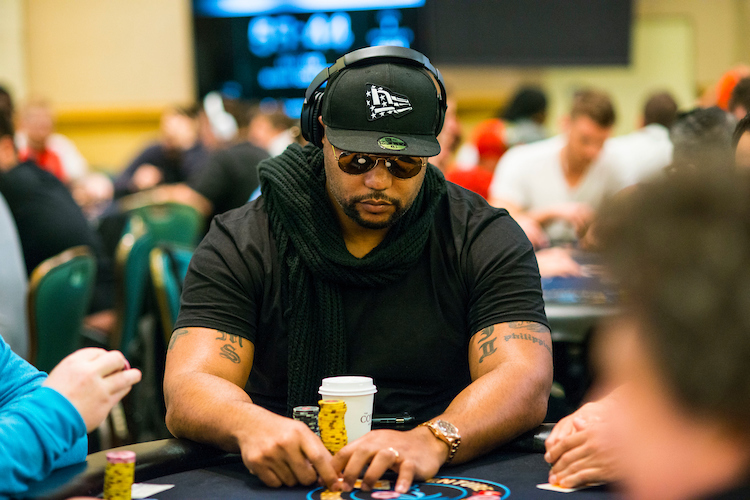 Richard Seymour
The board read 3♦3♣2♣9♠5♣ and there was about 40,000 in the pot. Seymour bet 26,000 on the river and Mark Dietrich responded by moving all in for about 80,000. Dietrich had Seymour covered and Seymour went in to the tank. He thought for a while and then thought some more.
Seymour reluctantly called at the end and turned over 8♠3♠ for trip threes. Seymour's sense of doom was warranted, Dietrich tabled 9♦9♥ for the turned full house. Seymour hit the rail, cameras in hot pursuit, while Dietrich chipped up to about 180,000. –AV
---
Don't have a PokerStars account? they take minutes to set up and you could win your way to next year's PCA. Click here to get started.
---
3pm: Nowak adds to stack
Level 10 – Blinds 600/1,200 (ante 200)
PokerStars Spin & Go qualifier Malgorzata Nowak of Poland appears to be having fun today, competing while sitting to the left of Maria Konnikova — 2018 PokerStars Caribbean Adventure National Championship winner Maria Konnikova, that is.
We were writing about Nowak just a short while ago (see below at 2:19pm, "Rookie against No Longer Rookie"), and have occasion to do so again after watching her get involved in a three-way hand.
Nowak opened for 3,000 from under the gun, then saw Miguel Riera Suarez three-bet to 6,500 from middle position. Omer Smidt came along with a cold call from the small blind, Nowak called, too, and then all three checked the K♣3♣10♠ flop.
The turn was the Q♦, then Smidt led for 8,500 with only Nowak staying in the hand. Both checked the 5♣ river, Smidt tabled J♥J♦, and Nowak showed K♠Q♠ for two pair to win the hand.
Nowak is now up around 60,000, having built up over the last 45 minutes. Suarez has about 125,000, and Smidt is at about 50,000. –MH
2:57pm: Mike Vela gone? Yep, gone.
Level 10- Blinds 500/1,000 (ante 100)
That can't be right. Michael Vela was second in chips to start the day. He can't be out. Spoiler: he can be. Who did this? We're looking at you chip leader Michael Kamran. Here's who else is out: Donald Duarte Sierra, Roman Zakharov, Hernan Limaico Sarmiento, Patrick Quinn, Salvatore Pugliese, Steve O'Dwyer, Christopher Frank, Cristobal Colon Yon, Anna Arhirii, Malte Henniges, Lukasz Fraczek, Sebastian Franzock, Ami Alibay, Matt Glantz, Keven Stammen, Michael Wang, Daniel Larizzate, Tobias Marten, Rustam Hajiyev, Razvan Bordei, Michele Bianchi, Michael Lipman, and Stanislav Alekseev. –BW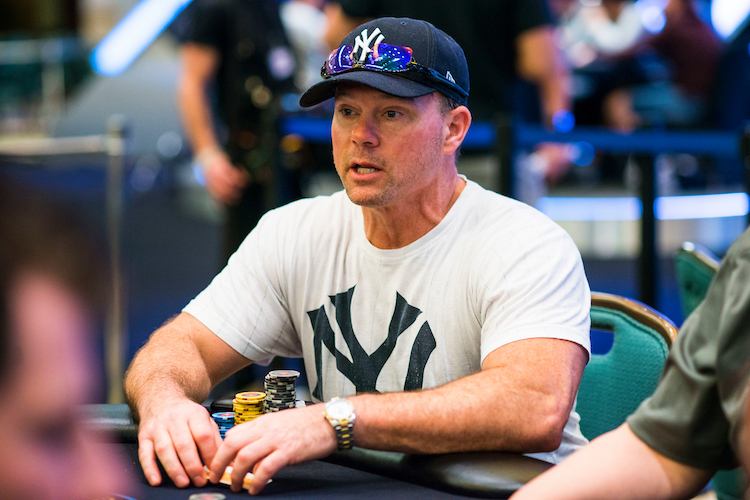 Mike Vela
2:54pm: Adamo is the nuts
Level 10 – Blinds 600/1,200 (ante 200)
"Look, we'll make the blog if you call!" said Mike Adamo to Twitch streamer Niklas Ehrenholz after he had moved all-in. Ehrenholz called and Adamo's prediction came true.
Adamo had opened to 2,400 from under the gun and picked up calls from both blinds en route to a 6♣5♣8♥ flop. The big blind led out for 2,300 before Adamo raised to 7,100. Ehrenholz then three-bet to 18,500 from the small blind which was enough to force out the big blind but not Adamo who moved all-in for 45,200. Ehrenholz tank-called after Adamo's speech play.
"I have the nuts, for now," commented Adamo who correctly suspected Ehrenholz was on a draw.
Ehrenholz: A♣8♣
Adamo: 7♦9♦
Adamo was tense but his shoulders relaxed after the board ran out 2♠A♥. Ehrenholz dropped to 75,000. –MC
2:51pm: Queens here and queens there (and Kamran the King)
Level 10 – Blinds 600/1,200 (ante 200)
Michael Kamran looks to be leading this tournament now, having increased his overnight 106,000 stack to 276,000. That's especially well done given that he's playing into Jason Koon to his direct left.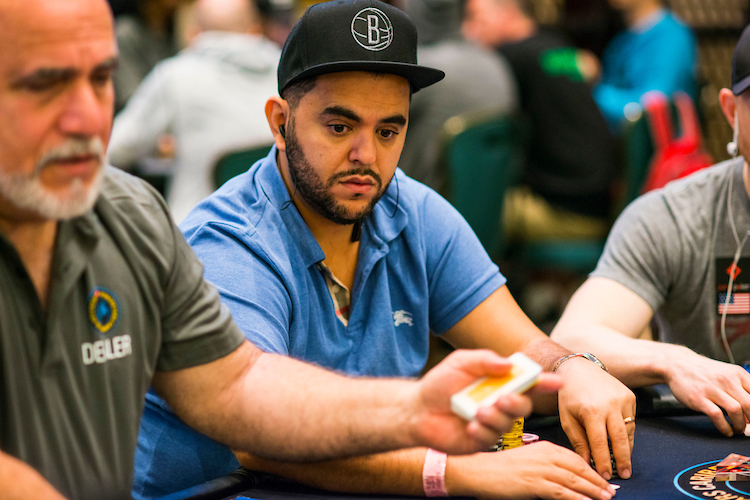 Michael Kamran
Actually, Kamran and Koon are happily yakking away between hands, and sometimes during them too. Koon is also playing a hold'em game on his phone which, by his own admission, nearly just cost him a heap of chips.
That was because Jean Leblond opened from early position, and it was a virtual all-in as he put 15,000 of his 17,100 stack over the line. Kamran folded his button and Koon, paying attention principally to his phone and secondarily to a conversation about watches with Kamran, eventually folded his cards after a brief hesitation.
In the event, Adalfer Gamarra said that he was all-in from the big blind and Leblond called it off.
"I almost put it in with six-deuce because I've got queens in this game!" Koon said, referencing his phone and then the pause before his fold.
"There you go," Kamran said as Leblond turned over a real-life Q♦Q♠.
Gamarra had K♦J♦ and the K♣ was right there on the flop. So that was all she wrote for Leblond. No word as to whether Koon's queens held up on his app. — HS
2:48pm: Doubling Deadman
Level 10 – Blinds 600/1,200 (ante 200)
Simon Deadman was down to just 16,400 and he moved all-in from middle position. Adrian Mateos called from the hijack and the rest of the players got out of the way. Mateos tabled 8♣8♥ and Deadman showed K♠Q♥ for a flip.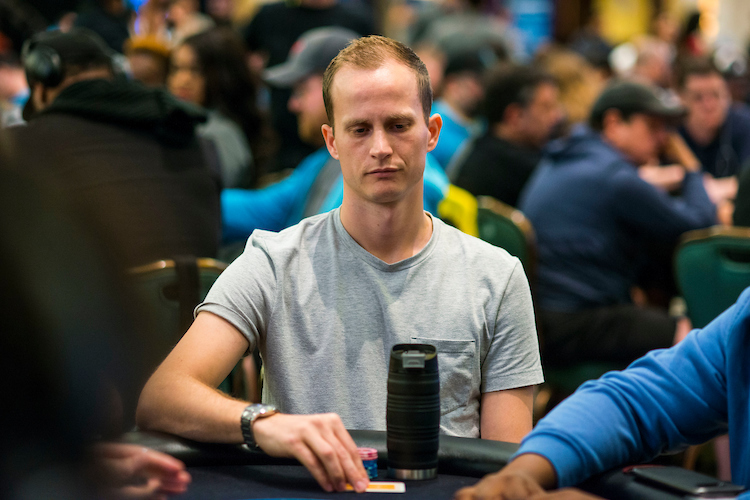 Simon Deadman
The flop was a lowly 3♦3♥6♣, but the turn brought a Q♣ to throw Deadman in the lead. The 10♦ on the river kept him there and Deadman doubled to 35,000. Despite losing the hand, Mateos is still standing (sitting) strong with 120,000. –AV
2:45pm: Feed me Seymour
Level 10 – Blinds 600/1,200 (ante 200)
Richard Seymour is hardly going to back down in any battle of either brawn or brains, but he's going to have to be on the top of his game to make hay in today's PCA field. He is sitting on the same table as Chris Hunichen, whose 140,000 stack seems especially menacing, and Steve O'Dwyer, whose achievements in poker are roughly equivalent to Seymour's in NFL.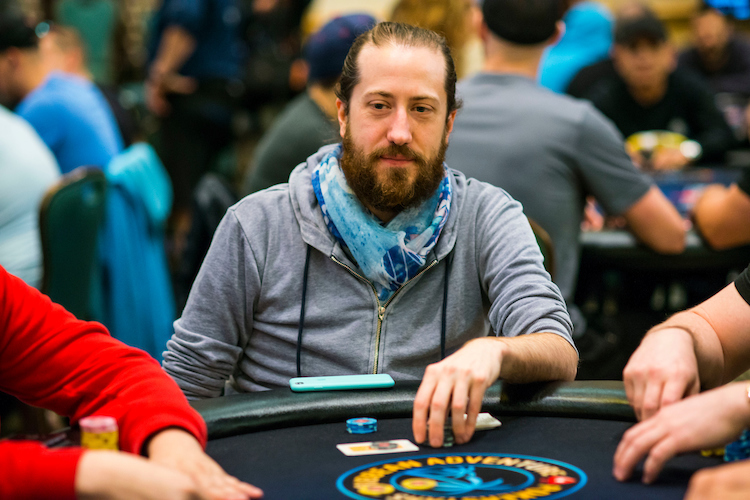 Steve O'Dwyer
Also on that table, Mexico's Santiago Nadal sits with more than 150,000 chips, and Seymour and Nadal just tangled in a recent pot.
It wasn't the most thrilling hand you'll read about today, but here you have it anyway: Seymour's 2,600 opening raise from the hijack picked up a call only from Nadal on the button. The two of them took to the 9♥A♠Q♠ flop.
Seymour checked, Nadal bet 2,700, and Seymour called.
That was the last betting through the Q♦ turn and the 2♦ river. Seymour showed his A♣3♣ and Nadal mucked.
Seymour has about 75,000 now. (O'Dwyer, by the way, is nursing 20,500.) — HS
2:42pm: FYI: Walbe still likes Cheung
Level 10 – Blinds 600/1,200 (ante 200)
PokerStars qualifier Daniel Walbe from Germany opened to 2,600 in the lojack, and that got a call from Maria Konnikova one seat over. Everyone folded to Kinson Cheung in the big blind, and he defended to see the 3♥6♦2♣ flop.
It checked to the raiser, and Walbe continued for 2,200. That shook off Konnikova, but Cheung quickly raised it up to 9,000. That got Walbe thinking, and talking.
"I like you, OK?" he told Cheung. "I just want to be honest with you. There is no dislike."
This got Konnikova and the rest of the table chuckling at the seemingly random display of affection. We don't know whether it was because of his liking of Cheung that Walbe eventually folded, but fold he did, leaving himself with 65,000.
"I still like you," he reassured a nonplussed Cheung, who now sits wth 90,000. –JS
2:40pm: Awkward bust out for Arhirii
Level 10 – Blinds 600/1,200 (ante 200)
"I could tell she thought she'd won, she said nice playing with you." commented Jason Koon once Anna Arhirii had left the table after an awkward delay. "I was waiting for you to say something," continued Koon while pointing at the dealer.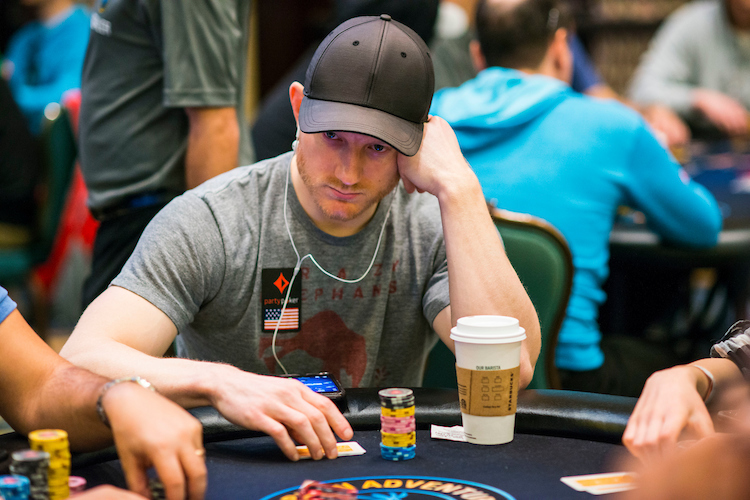 Jason Koon
We picked the the hand on the turn where the board read 5♣6♣A♥7♦. The chips went in between the two players and their hands flipped up.
Koon: Q♣4♣
Arhirii: A♣K♣
At first glance it looks as if Arhirii had a lock on the hand with top pair and nut flush draw. Koon had a worse flush draw and no pair whatsoever. Look again and you'll actually notice that Koon had three outs to draw to, any three for a straight, as long as it wasn't the 3♣. His luck was well and truly in as the river came as 3♥. Ouch. He moved up to 58,000. –MC
2:38pm: Kruk can't call
Level 10 – Blinds 600/1,200 (ante 200)
Christopher Kruk raised to 2,600 from middle position and Gleidibe Brito called from the small blind. Daniel Carlsson was on the big blind and he went along for the ride as well.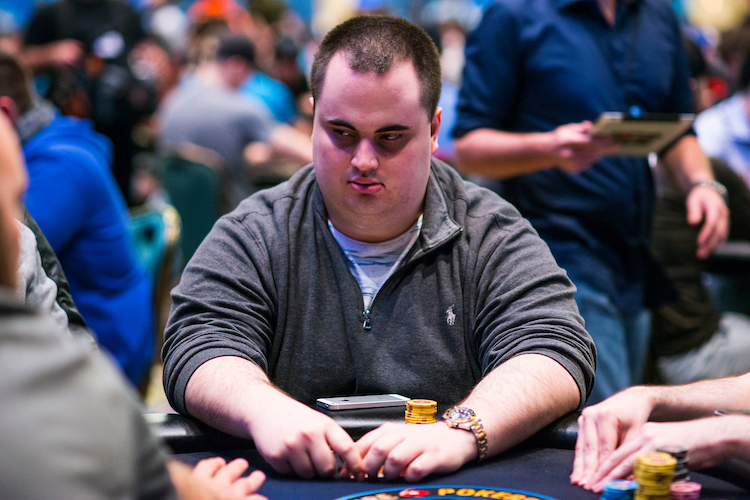 Christopher Kruk
The three players saw a 5♠K♣3♣ flop and action checked to Kruk, who bet 3,200. Brito folded and Carlsson raised to 9,000. This brought a 6♠ on the turn and another check from Carlsson. Kruk bet 9,000 on that street and Carlsson called again, bringing a 4♦ on the river. This time Carlsson took the initiative and bet 23,000.
Kruk folded and was left with about 40,000 while Carlsson chipped up to 75,000. –AV
2:36pm: Zahkarov caught by Cacho
Level 10 – Blinds 600/1,200 (ante 200)
Roman Zahkarov had gotten short, but after being dealt A♥K♦ and seeing Pablo Bolanos Cacho open for 2,600 from middle position, his prospects had seemingly improved.
Zakharov three-bet to 7,000 from the hijack seat, and when it folded back around to Cacho he shoved and Zakharov called. Cacho turned over 10♠10♥ a little apprehensive at the quickness of Zakharov's call, but the latter soon had the worried look after the flop came 9♣10♣2♦ to give Cacho a set.
The A♥ turn and K♦ river provided proverbial salt in the wound, giving Zakharov a no-good two pair and sending him railward. Meanwhile Cacho bumps up to 112,000. –MH
2:33pm: Kevin Martin was over-served
Level 10- Blinds 500/1,000 (ante 100)
We caught up with Kevin Martin today. He might have stayed out a little late last night. He might have had two or (redacted) drinks. But, you'd never know it. This dude is amped. -BW
Martin is a very popular Twitcher streamer who you can watch on his channel here when he's not running roughshod over a live field.
2:30pm: Riess's pieces
Level 10 – Blinds 600/1,200 (ante 200)
Ryan Riess is staying alive. He just doubled his 23,400 stack in a standard race against Russian PokerStars qualifier Iurii Simonov.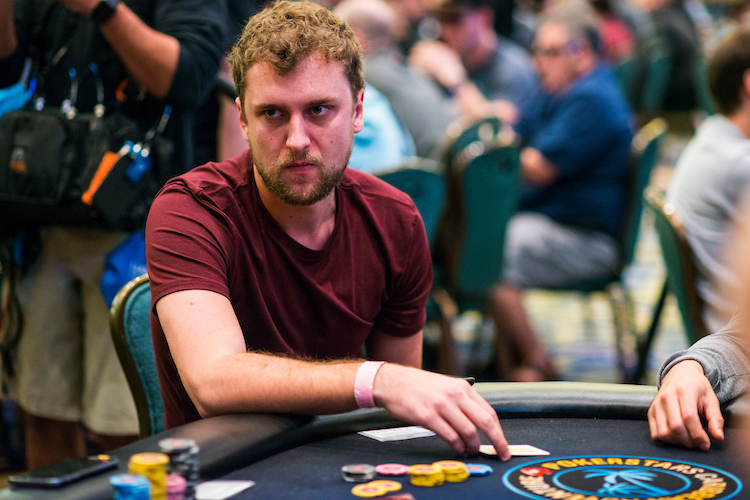 Ryan Riess
It was 10♣10♦ for Riess versus A♦Q♣ for Simonov and the dealer put nothing that co-ordinated with anything. — HS
---
Don't have a PokerStars account? they take minutes to set up and you could win your way to next year's PCA. Click here to get started.
---
2:28pm: The Mateos threat emerges
Level 10 – Blinds 600/1,200 (ante 200)
Adrian Mateos and Jerry Robinson built a pot of around 9,500 pre-flop. Mateos was in mid-position and Robinson on the button, so there's a good chance this was raise, three-bet, call.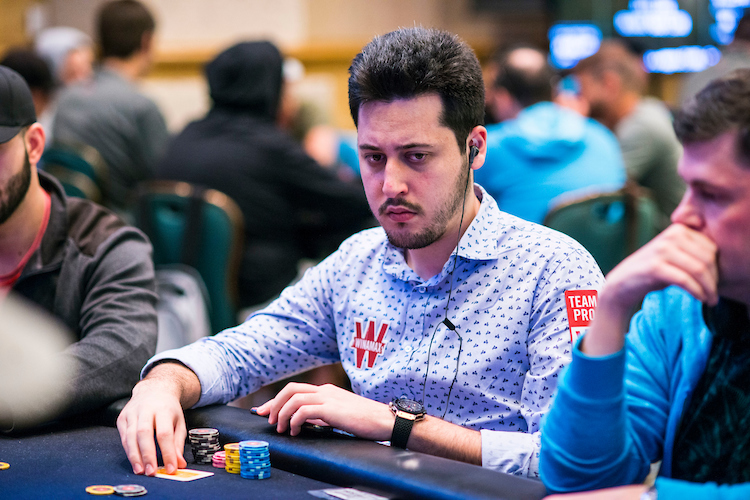 Adrian Mateos
They then saw the 5♠8♥2♥ appear and it seems likely that Mateos bet 6,200, Robinson raised to 15,100 and Mateos jammed with the covering stack. Robinson's 43,000 was the effective stack. (The uncertainty about how the money went in was because all the action took place before this intrepid reporter arrived.)
Anyway, after a long spell in the tank, Robinson folded at the precise moment that someone at the table called the clock.
Mateos builds to 115,000 after that and is always a danger in big MTT fields. — HS
2:25pm: Aces work for Goncalves
Level 10 – Blinds 600/1,200 (ante 200)
After Christopher Kruk called Gleidibe Goncalves's decent-sized turn bet on a 6♦Q♦9♣Q♣ board, the mess of chips in the middle looked as though it added up to around 120,000.
The river brought the 8♠ and a check from a wary-looking Goncalves. Kruk checked back, and when Goncalves showed A♠A♥ and Kruk mucked, Goncalves gladly exhaled before collecting a nice pot.
Goncalves is up around 175,000 now, Kruk back down to 50,000. –MH
2:22pm: Straight flush for the blog
Level 10 – Blinds 600/1,200 (ante 200)
Unless it's really interesting, a hand won't make the cut for the blog unless it goes to showdown. Florian Buhler's river bet wasn't called and I was just about to scratch out the hand and look for another but then he opened a straight flush. Game changer.
The German opened form under the gun and was only called by Orpen Kisacikoglu in the big blind. The flop fell K♣5♣Q♣ and Buhler's 2,000 c-bet was check-called. The turn was the J♦ and Kisacikoglu called another 4,000 before check-folding to a 10,000 bet on the J♣ river to drop to 43,000.
"Go on then, I'll show," said Buhler who opened 10♣9♣. His stack grew to 55,000. –MC
2:19pm: Rookie against No Longer Rookie
Level 10 – Blinds 500/1,000 (ante 100)
As we told you, author Maria Konnikova shed her rookie status last night by winning the PCA National event. She entered today, no longer a rookie.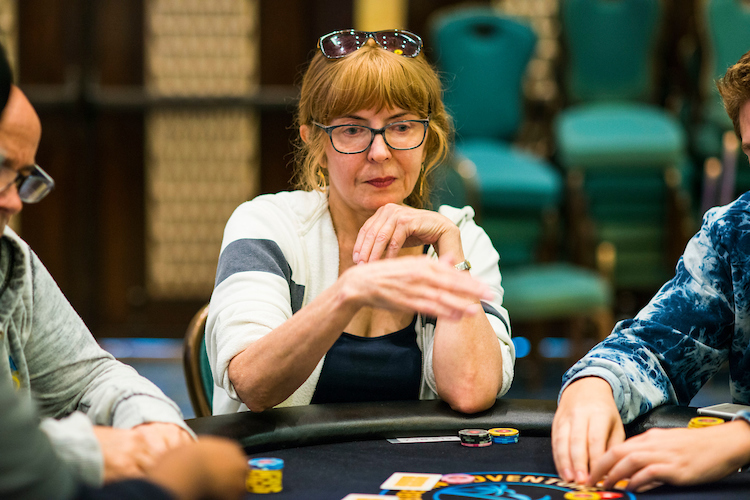 Malgorzata Nowak
She ended up facing off Polish rookie/ Spin & Go qualifier Małgorzata Nowak just a bit ago. Konnikova opened for 2,500, Nowak shoved for 8,900, and Konnikova called.
Konnikova: 10♣9♣
Nowak: A♠10♦
A ten hit the flop and Nowak's kicker ended up being the decider. She's now up to 21,500. Konnikova is down to 75,000.–BW
2:16pm: Kisacikoglu kicks it in
Level 10 – Blinds 600/1,200 (ante 200)
Orpen Kisacikoglu 3-bet to 10,500 from the small blind in the first few hands back from break. Before the 3-bet, there'd been a raise to 2,500 from the cutoff and Horea Serban called from the button. Serban was the only player to call and they both went to the A♠J♠8♥ flop.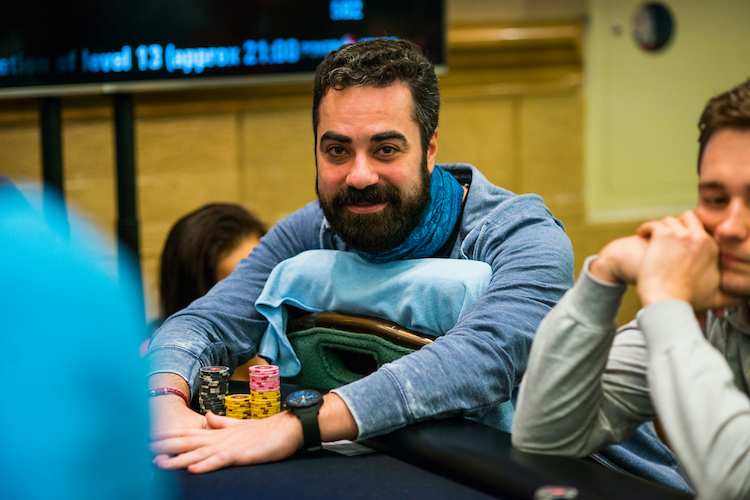 Orpen Kisacikoglu
Two checks brought a K♥ on the turn and Kisacikoglu bet 9,000. Serban called and a 2♥ completed the board. This time Kisacikoglu bet as much as he could, all-in for 26,500. Serban thought for about a minute and folded. Serban was left with around 35,000 after the hand while Kisacikoglu chipped up to 60,000. –AV
2:12pm: The river saves Chang
Level 10 – Blinds 600/1,200 (ante 200)
Kyle Chang just got a bit of 'get ready to leave' run good.
The hand started with a 7,000 under-the-gun shove from Tobias Marten, which folded to Chang on the button. He moved all in too for around 26,000, and the action was on Gianluca Speranza in the big blind. He thought for a while, but eventually made the call to put both at risk.
Speranza: A♠Q♥
Marten: K♥K♦
Chang: Q♦Q♣
Chang was in big trouble against Marten, but still had a great chance to win the bigger side pot versus Speranza. However, the A♥5♣6♣ flop shot Speranza into the lead. The 7♦ turn kept the pair of aces in front, and Chang got out of his seat. "Alriiiight," he groaned, accepting his fate.
The river came the Q♠.
"Whoa!" said Chang, realising he'd shipped the entire pot with a miracle rivered set. "Ship it!"
Marten lost it all despite starting off in front, and made his exit. Speranza is down to 72,000, while Chang is up to around 60,000 now. –JS
2:08pm: Ha ha, oops
Level 10 – Blinds 600/1,200 (ante 200)
The story of the day so far is obviously Thai Ha's Platinum Pass-winning exploits first thing this afternoon. His trip eights won him $30,000 in tournament equity.
But his pocket eights just lost him one of the first all-in confrontations of Level 10–small fry, in comparison, but perhaps a reminder that eights don't always win despite what they'll tell you in Macau.
There was nothing too outrageous about it. Ha's 8♠8♥ were second best against Daniel Carlsson's A♠K♥ on a 4♥2♣2♦5♦A♦ run-out.
Carlsson doubled to about 75,000 while Ha still has about 95,000. — HS
2:05pm: Commandeering Cody
Level 10 – Blinds 600/1,200 (ante 200)
Some boards look more big blindy. Others more under the gunny.
Just now on Team PokerStars Pro Jake Cody's table the board read 8♥9♣9♥7♣4♣. Cody was in the big blind, and so with community cards looking like that it wasn't too surprising to see him betting from the BB — big, in fact, as the 35,000 he'd set forward was more than what was in the middle.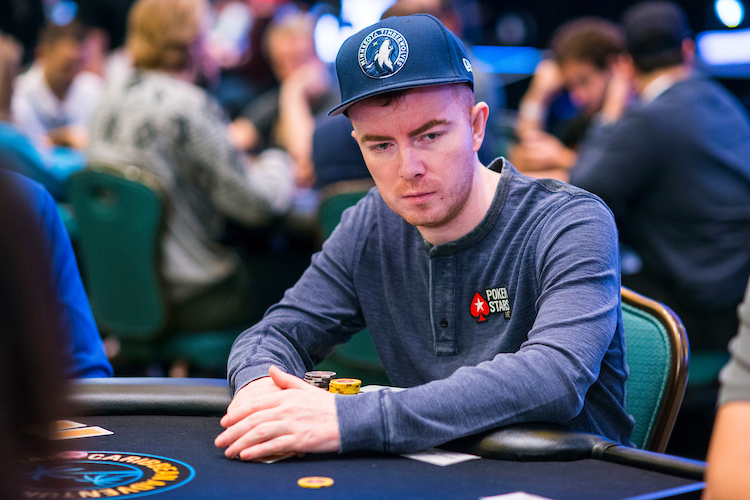 Jake Cody
Michael Farrow was to Cody's left and under the gun. And no, that board didn't look to agreeable to him, as he folded.
Both players are hovering around the 110,000-chip mark as the button moves and their positions change once more. –MH
2pm: Another chance at a Platinum Pass
Level 10 – Blinds 600/1,200 (ante 200)
Just before the start of Level 10 came another bit of fun as each table dealt out another "flip" to find one winner, each of whom won a "wild card" entry into a drawing to give away another Platinum Pass.
Among the 30-plus players winning flips at their tables and entering the drawing were Tobias Marten, Keith Nassetta, Nick Petrangelo, Michael Wang, Scott Wilson, Florin Ionut Ilies, Jeremy Yip, Luis Perez, Andreas Klatt, and Sean Jazayen.
More to come on which of the "wild cards" gets lucky again to be picked as the next Platinum Pass winner! –MH
1:40pm: Break time!
So ends a very hectic level of poker. Flick through our one-every-two-minutes updates below, then come back to the top in 20 minutes.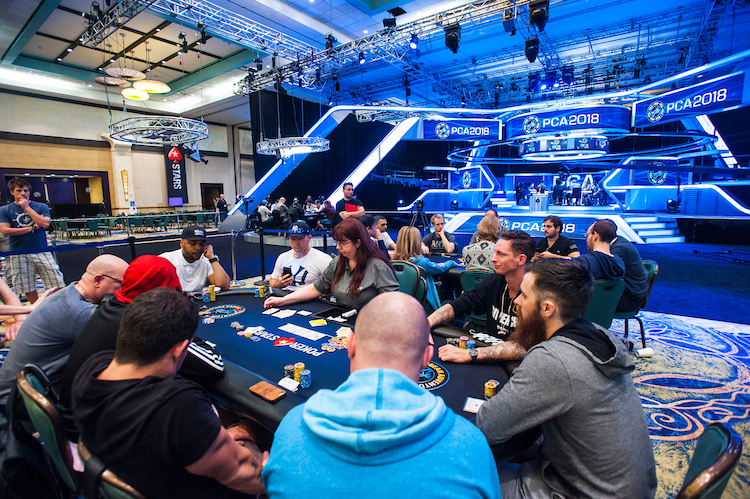 Tournament area on Day 2
— HS
1:38pm: Double Park(ed)
Level 9 – Blinds 500/1,000 (ante 100)
Hye Park entered the break happy after doubling his 35,100 stack.
He three-bet to 5,100 and the five-bet all-in after Oleg Titov four-bet to 25,500. Call.
Titov: J♠J♥
Park: Q♥Q♠.
The board ran 6♦6♣8♣8♦6♠. Titov dropped to 135,000. –MC
1:36pm: Lucas vs Luca
Level 9 – Blinds 500/1,000 (ante 100)
One of the tougher corners of the room is going to be the table on which Ivan Luca and Lucas Greenwood are sat right next to each other. As for now, their tablemates are leaving them to it.
We picked up the action on a 4♣3♠6♠ flop, but the 7,000 or so in the middle already indicated their had been a pre-flop raise. Luca checked it and Greenwood led out for 2,500 which was called.
The turn was the K♦ and Luca checked it again. Greenwood counted out 7,500 and put it in, and Luca counted out his stack. He had 26,000 behind, and after a minute or so announced he was all in. Greenwood quickly folded with a sigh and a nod, dropping to 108,000. Luca is up to 46,000. –JS
1:35pm: Martin lives on
Level 9 – Blinds 500/1,000 (ante 100)
Kevin Martin just doubled up minutes before the end of the first level of the day.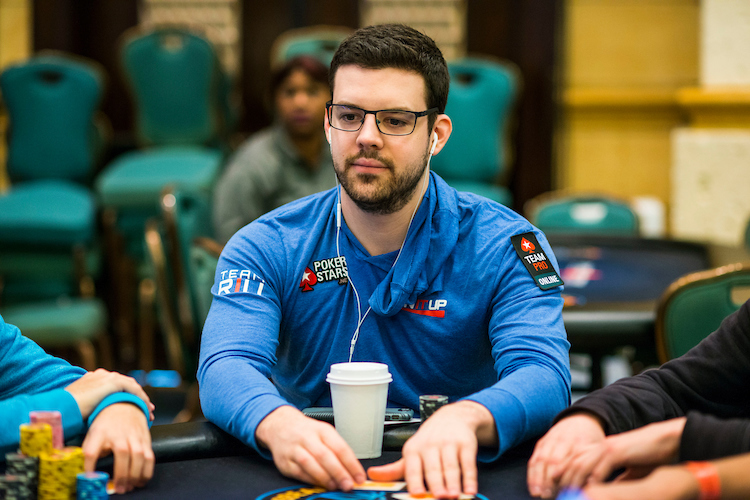 Kevin Martin
Sergio Cabrera opened for 2,300 before Martin shoved in the cut-off for around 12,000. Bartosz Stasiewicz called from the big blind, forcing a fold from Cabrera.
Martin: K♠K♣
Stasiewicz: 7♣7♥
The board was kind to Martin, running as it did 10♣3♦5♣K♦4♠. He's up to 27,000. – SB
1:32pm: Drinan avoids getting caught by Hook
Level 9 – Blinds 500/1,000 (ante 100)
Connor Drinan has experienced considerable success here at the Atlantis in the past, including a big $870K-plus score here two years ago when he took runner-up in the $50,000 High Roller.
No surprise, then, to see Drinan show up here on Day 2 as a late entrant, and just now as the day's first level careens toward its end Drinan was all in and at risk of seeing his Main Event run last less than an hour-and-a-half.
Following an opening raise and call, Drinan had shoved from late position, then saw Charles Hook, Jr. reraise over the top from the blinds to scatter the others involved.
Drinan had K♠J♥ and needed help against Hook's Q♥Q♠, and the board provided it, coming J♠3♠J♠8♥10♥ to give Drinan trips and the hand.
Drinan has 54,000 now, Hook 32,000. –MH
1:30pm: No luck for Leah
Level 9 – Blinds 500/1,000 (ante 100)
A pair of pocket nines put an end to Mike Leah in Level 9. It was a wild, preflop frenzy that ended with a six-bet jam.
Leah started it off with a raise to 2,500 from the hijack and Jonathan West three-bet to 6,000 from the cutoff. Jean Ateba called from the big blind and then Leah re-raised to 18,500.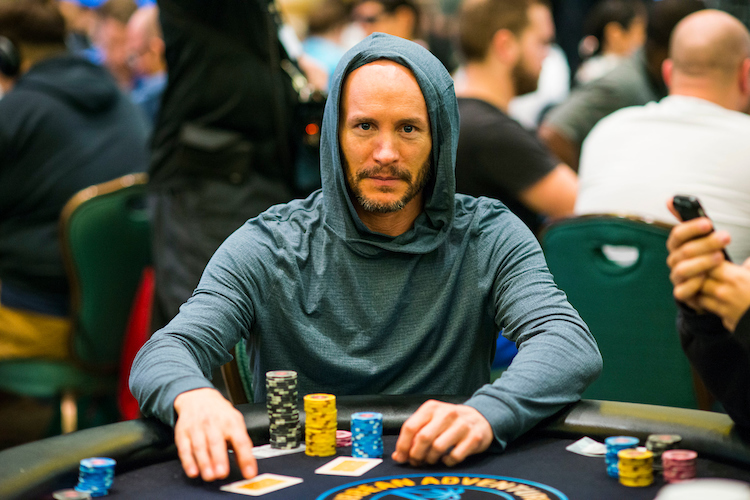 Mike Leah
West then grabbed a big pile of his biggest denomination chips and plunked them in the middle. Leah then came over the top with a six-bet shove for about 100,000 and West quickly called.
Leah turned over 9♠9♦ and West tabled Q♠Q♥. The board ran 5♠3♣K♠A♠J♠ and Leah hit the rail. West on the other hand is near the top of the leader board with 230,000. –AV
1:27pm: If Vladimir Troyanovskiy tells you you're going to fold, you're going to fold
Level 9 – Blinds 500/1,000 (ante 100)
You're out. That much is clear. You're even holding your possessions waiting to leave. Then Vladmir Troyanovskiy tells you that if you'd just called you'd have doubled up.
I've tried to piece this together, but couldn't quite get there. But Troyanovskiy has enough experience to know these things. Essentially he was saying that if Stefan Lehner (the player holding his things ready to leave) had called, rather than shoved, then Troyanovskiy would have called, forcing out eventual winner of the hand Pablo Cacho, and leaving Lehner's hand to beat Troyanovkiy's.
Needless to say Cacho had something to say about this.
"I would have tripled up," he said, following the logic. Only to be put right by Troyanovskiy.
"No, you fold. You fold."
Cacho. Went quiet. Perhaps if Troyanovskiy tells you you're going to fold, maybe you would fold.
"Afterwards… we get a picture," said Cacho to Troyanovskiy. "I'm a big fan of yours."
Under the circumstances, it was a perfect answer. – SB
1:23pm: Nadal 15-love over O'Rourke
Level 9 – Blinds 500/1,000 (ante 100)
Christopher Frank kicked this one off with a 3,000 open from middle position. Gavin O'Rourke called in the cutoff, only for Santiago Nadal to squeeze it up to 9,700 on the button. Both called.
The dealer spread a 3♣2♠6♠, and the players checked it through. That brought a turn card: the 3♦, pairing the board. Frank checked again, and on this street O'Rourke led out for 19,000. Nadal made the call, while Frank made his excuses and left.
They saw the 3♠ on the river, which completed any spade draws and made any pair a full house. O'Rourke tanked for around a minute before checking, and Nadal piled together a big stack of chips which he then slid in the middle. O'Rourke asked for a count and it was confirmed at 41,700.
He'd go back in the tank for a good minute or two before eventually folding, leaving himself with 93,000. Meanwhile Nadal takes this one down and increases to 145,000 having started the level with 67,000. –JS
1:21pm: A knockout for Lockhart
Level 9 – Blinds 500/1,000 (ante 100)
Happening by Khaled Nassief Gutierrez's table, we saw the player from Mexico all in and getting called by the big-stacked Christopher Lockhart.
Gutierrez had Q♠Q♦ and the prefop edge versus Lockhart's A♣Q♣, but there was an ace in the window as the flop was spread out 3♣8♠A♦. The turn was the J♣ and river the 3♠, and Gutierrez is out.
The Canadian Lockhart — who made it to 28th in this event three years ago — is up to 156,000 now. –MH
1:20pm: The hidden value of table talk
Level 9 – Blinds 500/1,000 (ante 100)
Warren Sheaves raised preflop and it folded around to Rustam Hajiyev who three-bet all in for his last 24,000 or so. Sheaves thought about it for a while, but finally let his cards go.
"You give good conversation," said Sheaves as he released his cards. "I don't want to take you out."
Hajiyev nodded, thanking Sheaves both for the compliment and the chips. Sheaves still has a nice stack of 125,000, while Hajiyev is looking to talk his stack of not quite 30,000 up further. –MH
1:15pm: Moreno's no more
Level 9 – Blinds 500/1,000 (ante 100)
On a K♥9♣10♠ flop, Arturo Moreno jammed for around 15,000 from the UTG+1 seat and it folded around to Gavin O'Rourke on the button. He called, only for Chris Hunichen to pop it up to around 50,000 from the big blind. We didn't see the exact amount of the bet as O'Rourke let it go too quickly for it to matter.
Moreno – K♦Q♥
Hunichen – 9♦9♠
Hunichen had flopped bottom set while Moreno had top pair and a gutter. The 6♠ turn couldn't help him, and although the K♠ river gave him a bigger set, it also improved Hunichen's hand to a full house.
Hunichen is up to 95,000 now. –JS
1:13pm: Last chance for Kornuth
Level 9 – Blinds 500/1,000 (ante 100)
Chance Kornuth is down to 20,000 after a hand against Oleg Titov.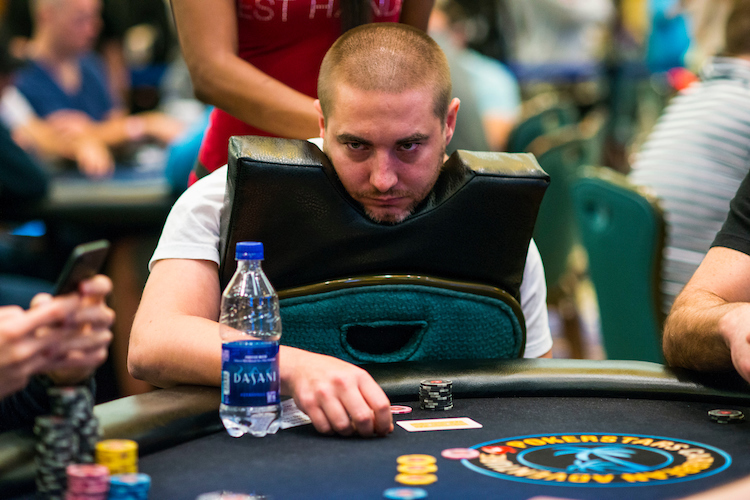 Chance Kornuth
They both checked a flop of 4♠J♠10♣ for the J♣ turn. Kornuth, in early position, bet 2,400 which Titov called form the button for the 7♥ river. Both checked that.
Titov showed 10♠7♠. Kornuth looked like he was about to show but caught himself when hope was lost, mucking instead. — SB
1:11pm: Gazing out on the deep blue
Level 9 – Blinds 500/1,000 (ante 100)
Among the items each player received in their goodie bags at this year's PCA is a nice, comfortable-looking turquoise hoodie. The cool blue is essentially the adopted color of the PCA. The color also resembles the deep blue shade of the sea that surrounds the Atlantis.
Around three dozen players in today's field having chosen to wear their hoodies today, including Mikhail Sokolovskiy, Sergio Cabrera, Jianguo Zhou, Povilas Astasauskas, Paul Corrigan, and 2015 WSOP Europe Main Event champion Kevin MacPhee.
There are so many blue hoodies, in fact, if you cross your eyes a little while looking at the field you can almost trick yourself into thinking you're gazing out on onto the Caribbean.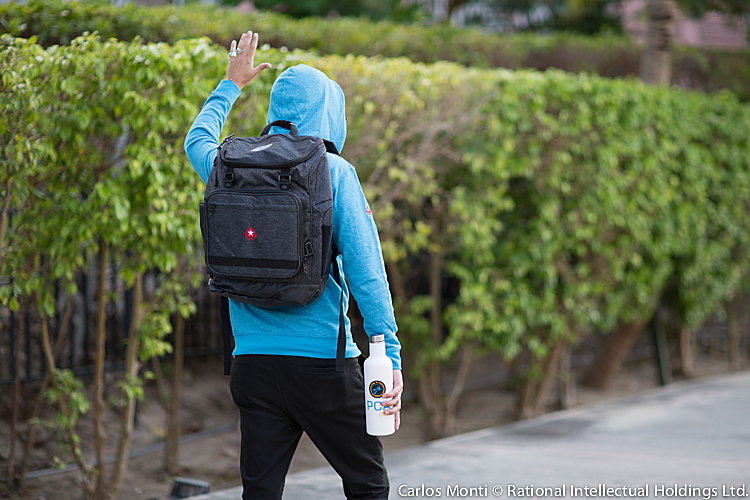 Your generic PokerStars qualifier
Okay, perhaps that's an exaggeration. In any case, enough color. Gonna swim back out to see what we can see. –MH
1:10pm: West massages chips out of Thai
Level 9 – Blinds 500/1,000 (ante 100)
Thia Ha has won enough today already. The Platinum Card raffle winner from earlier has dropped down to 155,000 after he lost flop three-bet pot to Jonathan West.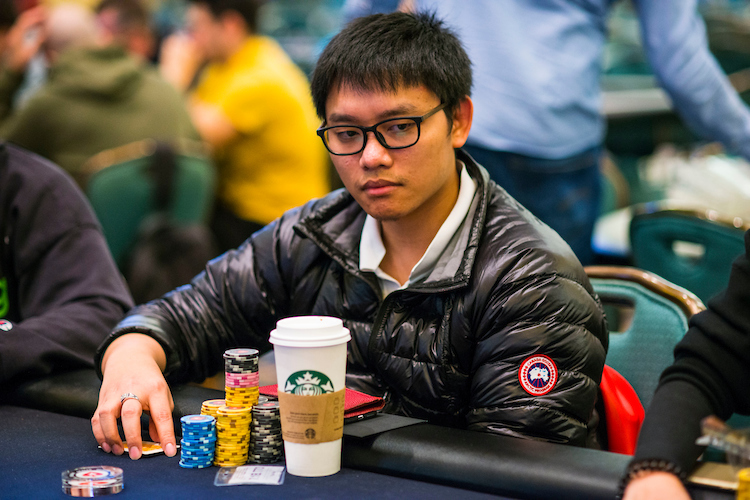 Thai Ha: Settling down after early victory
The action was three-way to a 4♥8♥8♦ flop and West bet 3,000 from the cutoff. Ha was on the button and raised to 7,800 which was enough to force out the big blind, but not West who reraised to 21,000.
Ha called but the hand fizzled out after that as the two players checked through the 7♣A♦ turn and river. West opened 9♣9♥ and moved up to 120,000 after Ha mucked.–MC
1:09pm: More early exits
Level 9 – Blinds 500/1,000 (ante 100)
We'll have to look for these folks in the side events. Their Main Event is done: Andrey Novak, Matthias Eibinger, Jesus Maceira Gonzalez, Stefan Peukert, Hon Cheong Lee, Christopher Johnson, Seth Davies, Gustavo Robles, Ben Heath, Matthew Fergenbaum, Chi Tsun Chan, Yang Zhang, Enri Orav –BW
1:05pm: The King of the Pacific tries out the Caribbean
Level 9 – Blinds 500/1,000 (ante 100)
Alan King Lau. If you've spent any time in Macau, you'd recognize the name. Heck, if you've ever stepped foot in a card room in the Asia-Pacific region you might've seen this bespectacled poker phenom from Hong Kong.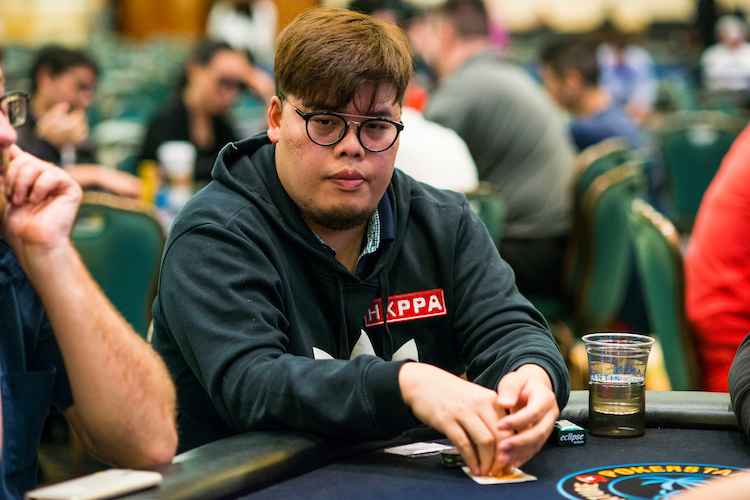 Alan Lau
Lau has racked up more than $1.6 million in live-tournament earnings and won the ACOP Main Event in October. Lau is also the only person to win the Asia Player of the Year twice. All this success has come from the other hemisphere though. Every single one of Lau's cashes and victories were in Asia or Australia.
Now Lau is in the Caribbean trying to score big. Lau's currently a bit below average with 36,500 after losing a small pot to Rafael Flores. Lau raised to 2,000 from middle position that hand and Flores called from the big blind. Both players checked the 4♣10♥J♥ flop and Flores bet 1,500 after the 4♠ came on the turn. Lau called and a 2♠ completed the board. Flores fired off a 2,100 bet, but it was too much for Lau.
Flores raked in the pot and chipped up to 53,000 while Lau was left with 36,500. –AV
1:02pm: Kings for Konnikova
Level 9 – Blinds 500/1,000 (ante 100)
There's really no stopping Maria Konnikova right now is there? In fact, if it was between Konnikova and Richard Seymour in a game of touch football, my money's going on the $1,650 National champion.
After Gustavo Robles opened to 2,100 on the button, Konnikova three-bet from the small blind to 7,500. Back to Robles, he moved all in for around 20,000 more and Konnikova snap-called.
Robles – A♣Q♠
Konnikova – K♦K♣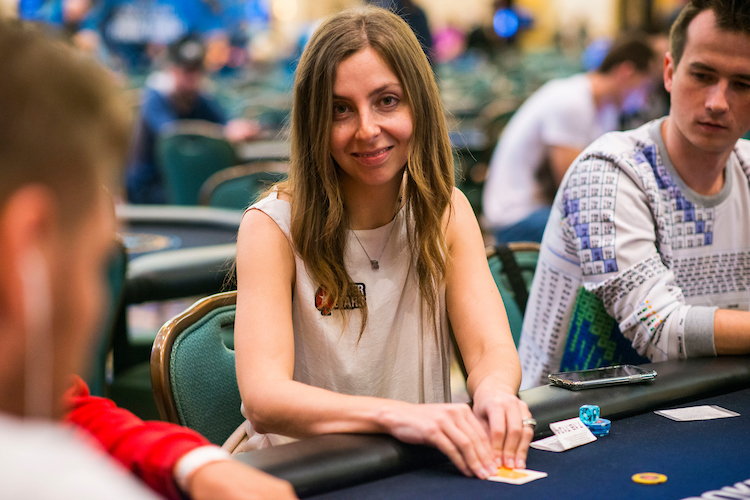 Maria Konnikova: Back in Main Event action
The board ran out 9♣Q♦6♥4♦J♦ and Robles said goodbye. Konnikova only entered this Main Event today, but already sits with 88,000. –JS
1pm: Never a good rub down wasted
Level 9 – Blinds 500/1,000 (ante 100)
To Arsenal fans the score 4-2 has uncomfortable relevance right now, it being the score that Nottingham Forest managed on the way to knocking them out of the FA Cup.
So when this same score flashed up on the flop, Septimiu Popescu figured his hand was not good enough to call a bet with. But, he figured it was still worth a little dig at the Gunners fan Tony Philips. Philips wears his Arsenal shirt with pride today. But while he might win the pot, he wouldn't do so unscathed.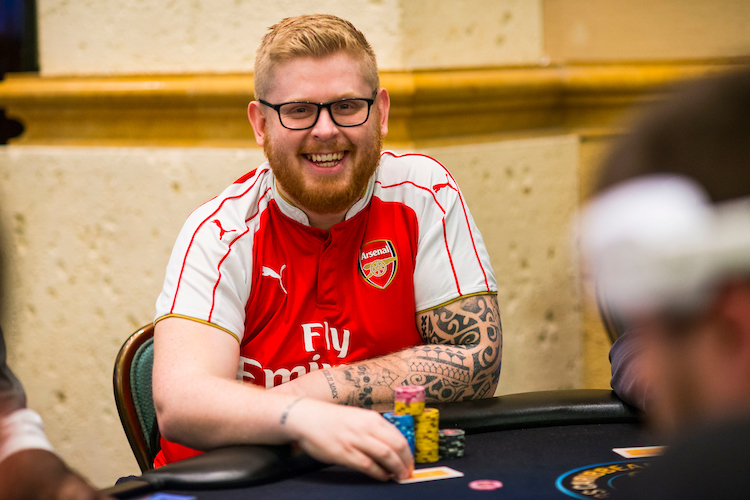 Tony Philips: Gooner
Popescu mucked his cards, pointing out the score line on the board as he did so.
Philips, who'd looked serious up to now, broke into a broad grin. "Okay, so you're giving me a rub down now?"
A win for him one way, but not in another. The language of football spans all borders. – SB
12:57pm: Watch Thai Ha's win his PSPC Platinum Pass
Level 9 – Blinds 500/1,000 (ante 100)
Here's the moment Thai Ha rivered Mike Leah in the flip for a PSPC Platinum Pass:
12:50pm: Heath left on the heap
Level 9 – Blinds 500/1,000 (ante 100)
Ben Heath is no more. Don't worry, he's fine, he's busted the Main Event is all.
The British pro only had 10,700 when he made his move from early position and he was called by Philipp Viebcke in the next seat before Gianluca Speranza tried to isolate Heath with a reraise to 34,500. Viebcke wasn't going to let him get away with that though and shoved for an additional 92,100. Speranza folded.
Heath: A♥8♦
Viebcke: A♠A♣
The board ran 3♦3♥6♦Q♠8♥ and Heath wished everyone luck before heading off. –MC
12:48pm: Seymour works on his quads
Level 9 – Blinds 500/1,000 (ante 100)
Picking up the action on the 5♠5♣A♦ flop, former NFL defensive end Richard Seymour led for 5,800 and PokerStars qualifier Donald Sierra made the call. That brought the A♥ on the turn, double pairing the board.
Seymour, who at 6″6′ and 310lbs is a towering presence at the table, took his time before eventually announcing: "Seven thousand." Sierra called pretty quickly.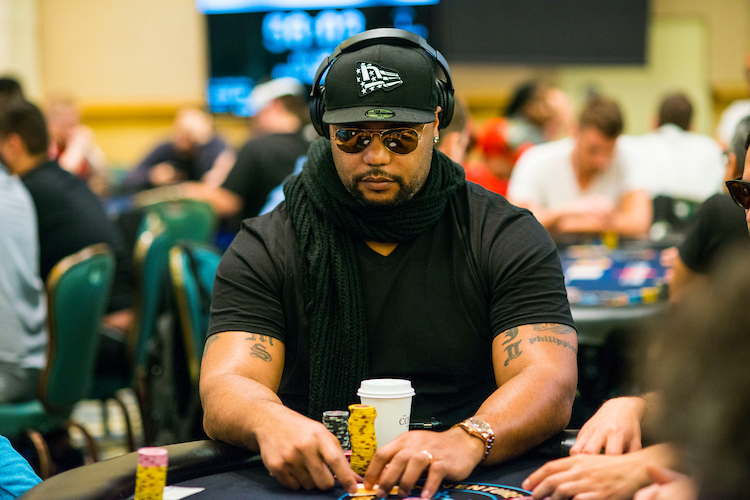 Richard Seymour
The river came the 3♥ and Seymour did nothing for around a minute. He eventually announced all in, but before he could slide a stack in Sierra had let his hand go, dropping to 46,000. Meanwhile Seymour, who started the day with 47,200, is now up to 65,000.
"Just quads in the big blind," said Maurice Hawkins, also at Seymour's table. "Nothing fancy, right? Just quaaaaaaads in the big blind."
Seymour gave nothing away. –JS
12:45pm: Some pretty cards for the short stack
Level 9 – Blinds 500/1,000 (ante 100)
When you're short-stacked, you're desperate to see a good hand. Carlos Sarmiento proved this maxim just now in a hand that saw Michael Stashin raise the button, with Sarmiento having to fold his big blind with fewer than a dozen big blinds left.
"Were you even close?" asked Stashin as he tossed his cards toward the dealer face up — A♣A♦. Sarmiento just grinned, but did take a moment to lift up the aces and hold them mere inches from his face, gazing on them with obvious envy.
The next hand saw Jeremy Yip open from under the gun and two players call, then Sarmiento looked down at his cards in the small blind. He liked what he saw, reraising all in with his last 11,200, and only Yip called.
Sarmiento: Q♥Q♠
Yip: A♠K♥
They weren't aces, but the queens sure looked good. They still looked nice after the 9♥10♣Q♣ flop, although Yip had picked up a gutshot to Broadway. The 5♥ turn and 3♦ river were safe, though, and Sarmiento more-than-doubles to 28,000. Yip still has 55,000. –MH
12:43pm: First eliminations of the day
Level 9 – Blinds 500/1,000 (ante 100)
GG Ian O'Hara, Pavel Ignatov, Guilherme Furlan Louvandini, Jonathan Kamhazi, Laurynas Levinskas, Fabian Ortiz, Marc-Olivier Perrault, David Pratt, John Engledow, Fabio Freitas, Martins Adeniya, Mustapha Kanit, Julian Stuer, Jussi Jaatinen, Michal Jankowski, and Sandro Muscarello. –BW
12:40pm: All-in on the river
Level 9 – Blinds 500/1,000 (ante 100)
Maria Lampropulos opened for 2,300 which was called by Nikita Neliubin in the big blind for a flop of 10♦8♠5♣. Both checked that for the 9♠ turn. This time Neliubin led the betting, Lampropulos calling the 2,700 bet for the 2♥ river card.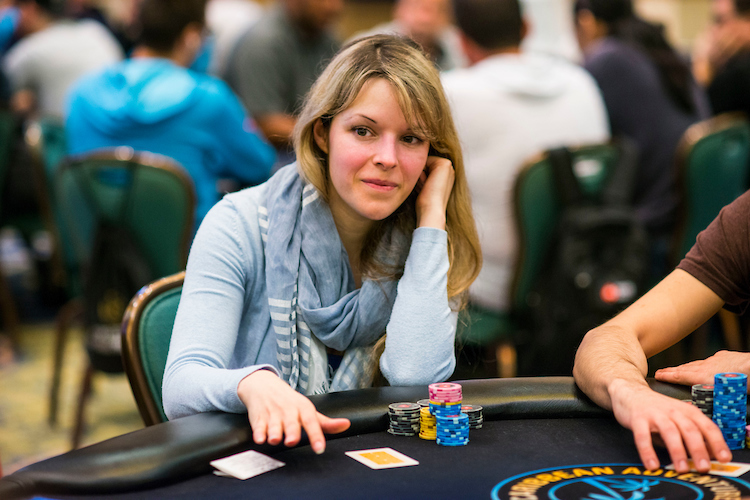 Maria Lampropulos: Day 2 action
Now Neliubin moved all-in for about 10,000. It put Lampropulos on the spot and she waited a minute before folding. Neliubin showed her Q♣J♠ when she did. – SB
12:37pm: Kruk bombs turn, collects
Level 9 – Blinds 500/1,000 (ante 100)
After a Daniel Carlsson open from middle position for 2,200, Christopher Kruk three-bet to 6,500 from the button and Carlsson called. Carlsson checked the 5♠9♦7♠ flop and Kruk chose to check behind, then Carlsson set out a bet of 6,500 on the Q♠ turn.
Kruk sat quietly for about 15 seconds, then set forward a stack of blues that looked like 40,000 or so. No need (or time) to confirm exactly, though, as Carlsson quickly folded.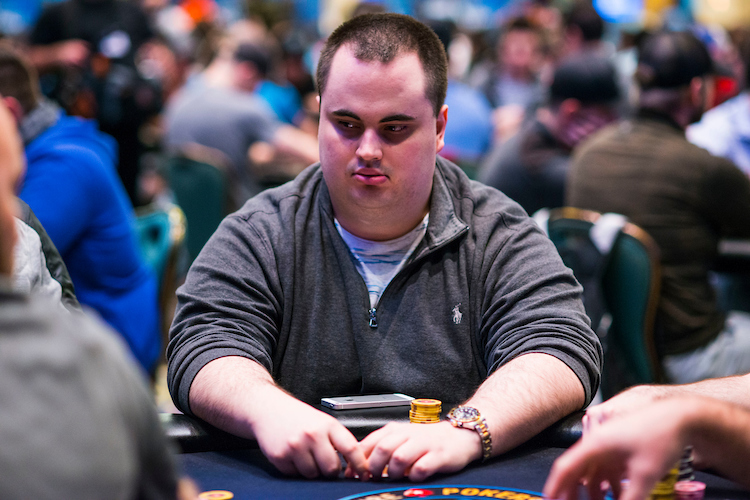 Christopher Kruk: Six-figure man
Kruk is hovering right around 100,000 while Carlsson is down to just over 11,000. –MH
12:35pm: Changing decisions
Level 9 – Blinds 500/1,000 (ante 100)
Maria Konnikova raised from the button, but then the blinds went crazy and got it all-in. At first, Konnikova regretted her decision.
"I was ahead of both of you," Konnikova said after Andrei Streltsou showed 6♠6♣ and Luis Urrutia tabled K♠Q♥. "I had ace-ten."
The flop then came A♠5♠10♣ and Konnikova regretted her decision even more. "I would've called if you didn't," Konnikova told Streltsou, who had the biggest stack of the three. But then a J♣ came on the turn to give Urrutia a straight.
"I dodged a bullet there," Konnikova said. The river brought a Q♠ and Urrutia doubled to about 95,000 while Streltsou dipped to 19,000. Konnikova is slightly below starting stack with 26,000. –AV
12:30pm: O'Dwyer feeling super
Level 9 – Blinds 500/1,000 (ante 100)
The last hand Steve O'Dwyer won yesterday was a pretty good one. There are 769,500 reasons why, but it better you read about the summary here rather than me list them.
The first one he played today was pretty good, as he told the blog he used it to eliminate Lachezar Petkov. Things could not have been going better for the champion but then he lost a pot to Xixiang Luo.
Steve O'Dwyer: In Main Event action
The latter opened to 2,200 from early position. And was called by O'Dwyer (hijack) and Adrian O'Donoghue (big blind). The flop came 10♣2♥9♦ and Luo's 3,000 c-bet was only called by O'Dwyer before the J♥ turn was checked through.
Luo came out betting again on the 5♣ river and O'Dwyer quickly called the 6,800 bet but then mucked upon seeing 7♠8♠ for a straight. He rose and then dropped to 41,500. –MC
12:28pm: Cody wins one for the cameras
Level 9 – Blinds 500/1,000 (ante 100)
If you had a TV camera all up in your grill when playing on an outer table, do you think you'd play differently? I can't help but think I'd overplay a weak hand in an attempt to win a pot on the live stream; creating recorded evidence that I was, in fact, 'good' at poker.
But for players like PokerStars Team Pro Jake Cody, they're all too used to feature tables and playing in the limelight; a camera crew is unlikely to impact their game. However, they also know that we know that they know that….
So when Robby Westrom opened to 3,000 in the cutoff with the cameras rolling and Cody three-bet the button to 7,000, we immediately hoped the hand would make it to showdown. Was Cody getting frisky with a weaker holding to win a hand on camera? Or was he maybe levelling Westrom into thinking that was the case?
Luckily, we'd find out. Westrom made the call and the flop came 2♦A♣6♣. Westrom checked and Cody continued for 5,500. Call.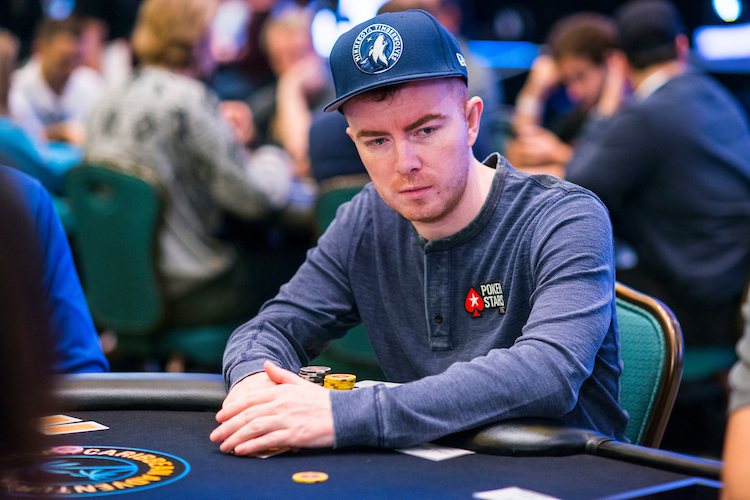 Jake Cody: Triple Crown winner looking for PCA title
The turn was the 4♥ and both opted for a check, taking them to the 8♣ river (which put three clubs on board). Westrom checked a final time, and Cody quickly checked it back.
Westrom turned over the J♦J♥, but Cody had that beat with the K♣K♠ in the hole. Cody's up to 105,000 now, while Westrom was left with 35,000.
What have we learned from this? Basically, ignore everything I said. Both simply had good hands. –JS
12:25pm: Let's get rid of the ribbon clerks
Level 9 – Blinds 500/1,000 (ante 100)
That headline is the title of a poker-themed short story from the 1940s written for The New Yorker by Robert McLaughlin. In the context of a poker game, the line essentially is a call to raise the stakes and clear the game of those less willing to gamble for real.
That title and phrase sprung to mind just now while watching a hand play out on Table 17, one that saw four players see a flop of 6♦4♠K♣ and three of them call a bet to remain for the 3♠ turn.
That's when it folded to Antonios Koukouras who pushed his stack all in — a non-verbal declaration to get rid of the ribbon clerks — and both Ami Alibay and Jack Sinclair quickly abandoned their hands.
Koukouras has started Day 2 on an uptick and has about 72,000 now. –MH
12:25pm: Winning a Platinum Pass, the picture story
Here's what it looked like to win a Platinum Pass, captured by Joe Giron and Neil Stoddart: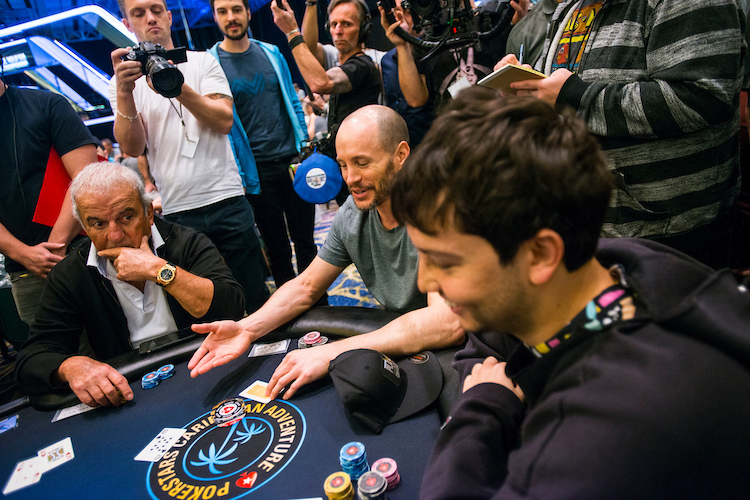 Mike Leah's ace-ten took an early lead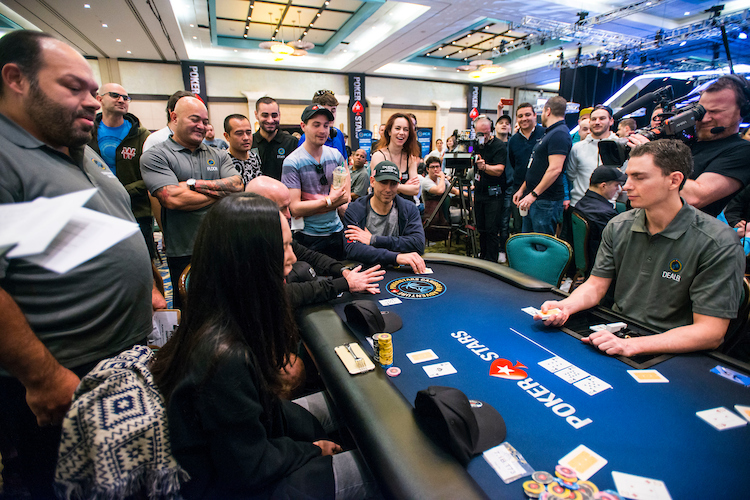 While Thai Ha's seat was still empty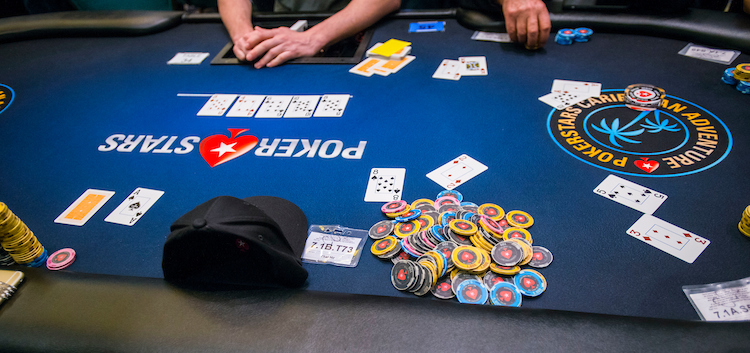 Thai Ha's eights proved to be the winning hand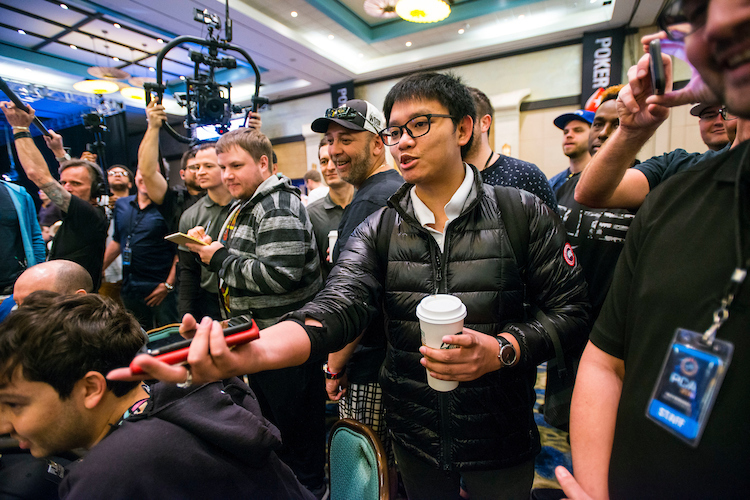 Thai Ha realises his good fortune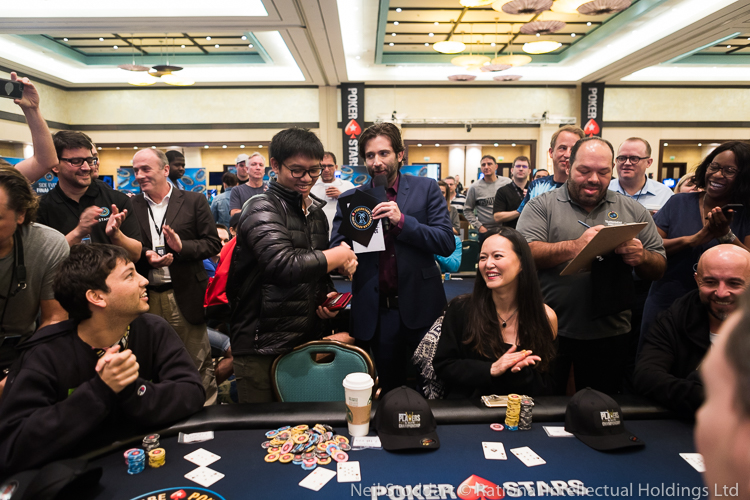 Joe Stapleton is first to offer congratulations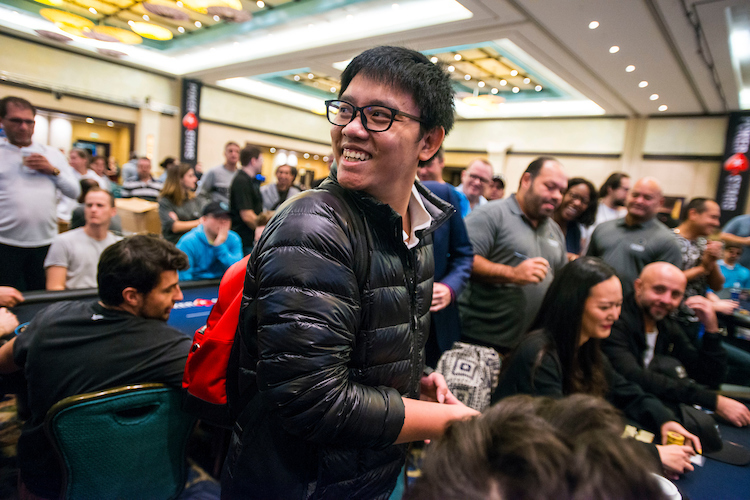 Thai Ha: No looking back now…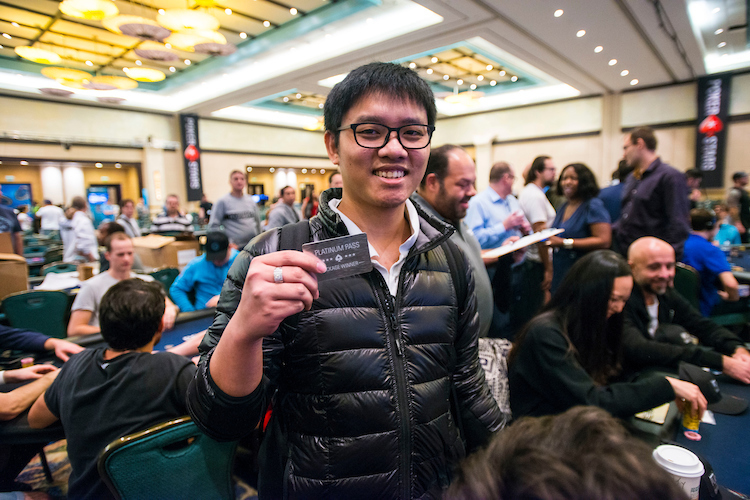 Thai Ha: Have Platinum Pass will travel!
12:20pm: Early pot for Petrangelo
Level 9 – Blinds 500/1,000 (ante 100)
Nick Petrangelo opened for 20,000 and the action was folded all around to Ramin Hajiyev in the big blind, who called for a flop of 9♣4♠5♠.
Hajiyev checked to Petrangelo who bet 5,500. Called. The pattern continued on the 4♦ turn, with Hajiyev calling Petrangelo's bet of 10,000. Then on the 10♠ river Petrangelo made it 25,000 to play. Hajiyev thought about it, but couldn't make the call.
He drops to 37,000 while Petrangelo moves up to 115,000. – SB
12:15pm: Nice start to the day for Thai Ha who wins Platinum Pass
More on that $30,000 Platinum Pass giveaway!
Table 34 was the lucky one where players were dealt hold'em hands face down, with the flop, turn, and river next dealt to see who would be the lucky winner.
The flop came 8♣10♣6♣, and when players were invited to show one of their cards Mike Leah appeared to have taken the lead with his 10♠ for top pair of tens.
The 4♥ turn didn't appear to change anything (as far as anyone knew), then as Thai Ha arrived to take his seat the river was the 8♦.
When the players' second cards were revealed, and Leah showed his hand was A♦10♠, meaning he ended with that pair of tens. Ha saw his first card had been the 2♦, and was delighted to see his second card — the 8♠! Trip eights! Thai Ha is the lucky recipient of the Platinum Pass!
More details on Ha's good fortune to come. Meanwhile, let's play some cards! –MH
12:10pm: Can't stop Konnikova
Level 9 – Blinds 500/1,000 (ante 100)
What do you do the day after you win you first major poker tournament? Play a bigger poker tournament of course.
Maria Konnikova, fresh off her National Championship last night, bought into the Main Event at the start of Day 2 and is going to see if she can get back-to-back titles.
Judging by how she played yesterday, we wouldn't be surprised if she makes another deep run and adds a chapter to the The Biggest Bluff.
12:10pm: Cards are in the air!
Level 9 – Blinds 500/1,000 (ante 100)
Off they go.
12pm: Joe Stapleton gives away $30,000!
Yes, really.
There's a slight delay in play today because the PokerStars.tv presenter Joe Stapleton is hosting the first random Platinum Pass giveaway of the 2018 PokerStars Caribbean Adventure. One player from today's field, selected entirely at random, is going to win a $30,000 ticket to next year's PokerStars Players Championship.
Who's it to be? Stand by…-HS
11:45am: Day 2 ready to begin
Good morning all and welcome back to the Bahamas for Day 2 of the Main Event of the 2018 PokerStars Caribbean Adventure (PCA). This is the $10,000 centrepiece of the 10-day festival. Only the winner of this one can truly claim to be PCA champion, joining a winners' roster including Gus Hansen, Domink Panka, Mike Watson and ElkY (among others).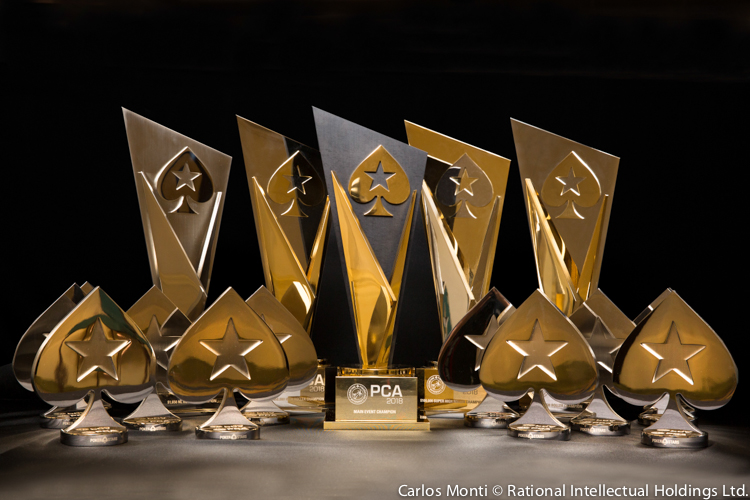 It's all about the trophies (and the money)
Registration closes at the start of play today, at which point we'll know for certain how many players are in the field and what they're playing for. The prize-pool announcement will likely be made at some point in the first couple of levels.
The schedule for the day is five 90-minute levels, taking us to around 9.30pm. That said, the PokerStars.tv crew is screening a feature table cards-up on a 30-minute delay, so there will be a delay at the end of play too.
The full chip-counts at this stage are on the chip-count page, while we can expect a few interesting new entries today, including the newly-crowned PokerStars National champion Maria Konnikova.
This is the one-stop shop for everything you need for coverage of the day:
CHIP COUNTS
PAYOUTS
SEAT DRAW
LIVE STREAM
PokerStars Blog reporting team on the $10,000 Main Event: Stephen Bartley, Marc Convey, Martin Harris, Jack Stanton, Howard Swains, Alex Villegas, and Brad Willis. Videos by Nick Coole. Photography by Neil Stoddart and Joe Giron/PokerPhotoArchive.com.