High Roller events always get a lot of attention, rightly so, whenever they show up on a series schedule. This year's $2,100 buy-in version provided a SCOOP final table worthy of any High Roller with former champs, poker legends, and those trying to break through for the first time. After several close COOP calls, poker@luffyD finally broke through to win the SCOOP title of his career along with more than $240,000.
The PokerStars Spring Championship of Online Poker offered three tournaments with three levels of buy-ins and $4.5 million in guaranteed money combined. The $2,100 medium version easily surpassed its $1 million guarantee and the 466 players, plus another 232 re-entries, put nearly $1.4 million in the prize pool with the last 95 making some money.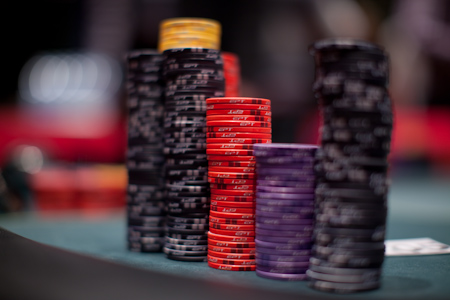 The tournament cruised its way into the money and only 36 players were still around by the end of Level 24 when the tournament took an extended, overnight break. Two members of Team PokerStars were among the tiny group coming back with Lex Veldhuis and Jeff Gross trying to win a title for the red spade flag.
The shorter Day 2 field meant the stacks were deep and the (nearly) 50 big blind average meant there would be no hurry to reach the final table. They had plenty of room to make those moves.
That was theory anyway.
Instead, they plugged right along and made it down to the final table after two hours where the average stack was a whopping 78 big blinds deep. That's seemed like what it would take to slow down the pace to the payouts.
Final table lineup:
Seat 1: Pascal "Päffchen" Hartmann – 12,966,942 (130 bb)
Seat 2: poker@luffyD – 12,324,203 (123 bb)
Seat 3: engantil – 8,854,655 (89 bb)
Seat 4: Alex.Z5518 – 1,561,358 (16 bb)
Seat 5: EzPaTuLa – 8,063,845 (81 bb)
Seat 6: hello_totti – 11,342,015 (113 bb)
Seat 7: Niklas "Lena900" Åstedt – 5,662,263 (57 bb)
Seat 8: Ole "wizowizo" Schemion – 7,692,564 (77 bb)
Seat 9: Grayson "gray31" Ramage – 1,332,155 (13 bb)
Blinds: 50,000/100,000 with a 12,500 ante
And a fine group of players worthy of the High Roller name.
Pascal "Päffchen" Hartmann was at the top of the leaderboard looking to add the second part of a Triple COOP, putting a SCOOP on top of his WCOOP title from last September. Grayson "gray31" Ramage was trying to do the same except his first title came during the 2016 TCOOP series.
Niklas "Lena900" Åstedt and EzPaTuLa were attempting to win their second SCOOP title and the always dangerous (EPT Grand Final and recent World Poker Tour Champ) Ole "wizowizo" Schemion was lurking to add a COOP to his two Super Tuesday wins.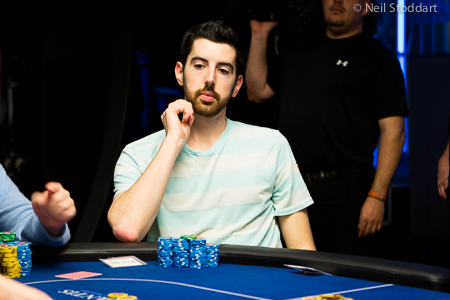 Grayson "gray31" Ramage
Tough opponents hit the rail
The slow structure allowed even the short stacks to take their time. After an hour of pushing around smaller pots, Ramage found his spot to take a shot to double back into the game. Åstedt opened from the cutoff, Schemion called on the button, and Ramage moved all in from the small blind. Hartmann surrendered his big blind and Åstedt called.
Ramage was ahead in the race to double with 7♣7♠ against A♦J♥ but Åstedt connected immediately on the J♠3♠2♦ flop. The turn and river were blanks to send Ramage out in ninth place.
Schemion followed on his heels soon after and he lost most of his stack in a cooler. He three-bet shoved from the cutoff and EzPaTuLa, the opener, called quickly with A♦A♥. The all-low 9♠8♣3♣6♥7♣ board was not good enough to redeem Schemion's A♣K♦ to send the huge double to EzPaTuLa. The hand left Schemion with dust and he was gone three hands later.
This was not the only big SCOOP High Roller result for Schemion today, the Austrian legend also made the $25,000 High Roller final table and finished fifth in that tournament.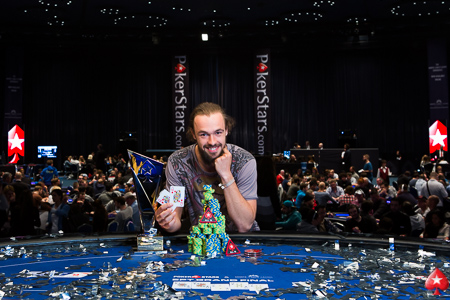 Ole "wizowizo" Schemion
Double not enough for EzPaTuLa
Sometimes the chips are just going to get themselves in the pot regardless of the stacks and prizes. EzPaTuLa was the next former champ to find himself on the wrong side of a big hand, despite his recent double.
EzPaTuLa three-bet from the small blind and engantil four-bet for the rest of the chips to put EzPaTuLa at risk. Races happen. EzPaTuLa needed to improve with his suited slick A♠K♠ against Q♣Q♦ and had a small sweat when he turned a gutshot Broadway draw on the 10♥8♥4♣J♦ board. The 10♠ river was not good enough and they kept the pace going to the payouts.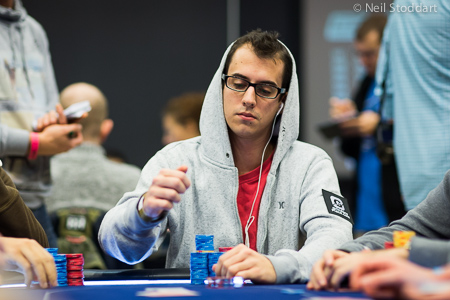 Pascal "Päffchen" Hartmann
New champ guaranteed
Åstedt took the early lead at the final table but it went south soon after. Along with Hartmann, they were the last two with a chance to add another COOP but they went out in back-to-back hands.
Hartmann was first to go when Alex.Z5518 defended his big blind and check/raised all in after a 9♦6♣4♥ flop. Hartmann called at risk, ahead with second pair A♦6♦, but he had a lot of outs to dodge. Alex.Z5518 was open-ended with an overcard holding 7♦5♣, missed the 9♣ turn but rivered the 7♣ to send Hartmann out in fifth place.
On the next hand, Åstedt three-bet from the big blind with A♦K♣ and called the four-bet shove from engantil holding 8♦8♣. Yet another race and Åstedt was unable to connect with any part of the 6♦3♦2♦2♠Q♣ despite flopping the nut flush draw.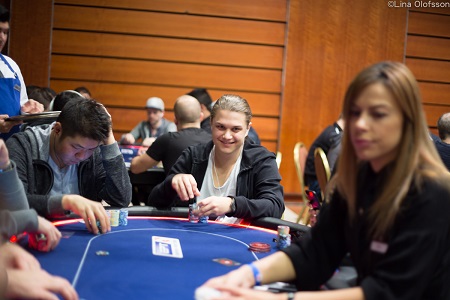 Niklas "Lena900" Åstedt
poker@luffyD breaks through
Those two hands broke the dam and the tournament went from three-handed to a champ in less than 20 minutes. Two hands after Åstedt was eliminated, Alex.Z5518 ran into one of the biggest coolers you'll see. Five bets preflop and his Q♣Q♠ ran smack into the A♠A♦ of poker@luffyD to begin the heads up match.
Seat 2: poker@luffyD – 38,139,592 (127 bb)
Seat 3: engantil – 31,660,408 (106 bb)
Blinds: 150,000/300,000 with a 37,500 ante
The counts were relatively equal and they were deep, they could have played for a long time before the title was decided. But that idea didn't account for both players hitting a big hand.
Not long after they began the back-and-forth battle, engantil opened his button and poker@luffyD called to the Q♣4♦3♠ flop. poker@luffyD check/called a bet then check/raised the 7♠ turn. engantil called, the river came 9♠, and poker@luffyD bet one last time.
engantil moved all in and poker@luffyD called to see the hands. engantil rivered a set of nines with 9♥9♣ but that was a bad card for him. poker@luffyD flopped an open-ended straight draw with 6♥5♠ and getting there on the turn meant engantil was drawing dead.
engantil still walked away with $171,625 for a fine return on his investment. poker@luffyD was finally able to break through and win his first COOP title after several close calls. He adds this to a Super Tuesday victory and he earned more than $240,000 for his efforts during the long, deep tournament.
SCOOP-14-M ($2,100 NLHE 8-Max, High Roller) results
Entrants: 698 (466 entries, 232 re-entries)
Total prize pool: $1,396,000
Places paid: 95
1. poker@luffyD (Latvia) $240,765.93
2. engantil (Germany) $171,625.77
3. Alex.Z5518 (Brazil) $122,340.69
4. Niklas "Lena900" Åstedt (Sweden) – $87,208.67
5. Pascal "Päffchen" Hartmann (Austria) – $62,165.41
6. hello_totti (Russia) $44,313.64
7. EzPaTuLa (Mexico) $31,588.26
8. Ole "wizowizo" Schemion (Austria) $22,517.20
9. Grayson "gray31" Ramage (Canada) $16,866.33
---
Ready to sign up for PokerStars and go for your own SCOOP title?
Click here to get a PokerStars account.
---