There was danger all around in this week's SCOOP Sunday Million Special Edition. Coolers. Suckouts. Bluffs that ended up actually being value bets. And, as the tournament drew to a close, an aggressive longtime SCOOP competitor, recently crowned a champion, within sight of a second title after going so very long before earning the first.
In the midst of it all two other players avoided the spotlight but remained constant threats, waiting for any chance to strike. When those chances came they struck true, bringing Andre_Hansen and AZNInFiLtRaT to heads-up play once the most obvious dangers had passed. Then they duelled for close to two hours before Andre_Hansen finally earned the title and a new career-best cash of almost $230,000.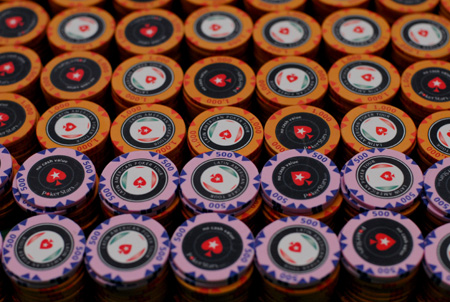 Officially Event #31-H of SCOOP 2018, this Sunday Million Special Edition played through 24 levels yesterday to eliminate all but 201 of the 3,191 starters. Top of the leaderboard at night's end was Germany's Ssick_OnE, a three-time SCOOP champion. The overnight chip leader maintained the lead until there were under 100 players left, then fell back into the pack. Flopping top pair with K♦Q♣ with three tables left on the same board that gave Brazil's juniorulian a set of queens struck a huge blow to the German player's stack. Ssick_OnE managed to hang around another two hours before falling in 15th place.
At about that point merla888, a familiar name at COOP finals since 2010 who finally earned a SCOOP win over the weekend in Event #13-H, $2,100 FL 2-7 Triple Draw, caught a big break in the quest for a second title this series. The Belgian three-bet with K♣3♣ in the big blind and then check-raised all-in on a 9♥10♣7♣ flop against 4k.falc, who had opened with A♥A♣ before the flop. 4k.falc's rockets were shot down by a runner-runner straight draw that gave merla888 the 19-million-chip pot. Just 20 minutes later a successful flip with A-K against lemejj's pocket jacks sent the Moroccan to the rail and boosted merla888 into the lead with more than 32 million chips.
Two past PokerStars weekend champs joined merla888 near the top at that point — Tralllle, who won the $22 Mini Sunday Million about this time last year, and Mike "StrungOut1" Wasserman, who won the 8-23-15 Sunday Million.
Pascal "Päffchen" Hartmann looked primed to progress to the final table after winning with J-J against Jabba_010's 8-8 with three tables left, but tangling with AZNInFiLtRaT 15 minutes later cut his tournament short. Hartmann first re-raised from the small blind with A♦Q♠ after Andre_Hansen opened for 888,000 and AZNInFiLtRaT called, then led on every street until he was all-in with aces and sevens on a 7♥2♦A♣2♠7♠ board. AZNInFiLtRaT called every one of those bets and won on kickers with A♥K♦, busting Hartmann in 18th and earning the 49-million-chip pot.
The field began falling away toward the final table and merla888 took another big gamble that paid off. The Belgian jammed on a Q♣7♠8♦ flop with 10♠9♠ over the top of BalticMoose's bet with 8♣7♣ for two pair. The J♥ turn gave merla888 the straight and the J♣ locked up a 62-million-chip pot and the chip lead by more than 30 big blinds. But then two quick losses after the break — one to Jabba_010's pocket kings and the other to LooseGrinder's nine-high straight — dropped the Belgian back into fourth place on the final table bubble.
In the end it was StrungOut1 who missed the final. Short on chips, he jammed with A♦4♦ over the top of trickyone14's raise with A♣K♦. A king on the flop sealed StrungOut1's fate in 10th and set up our final table: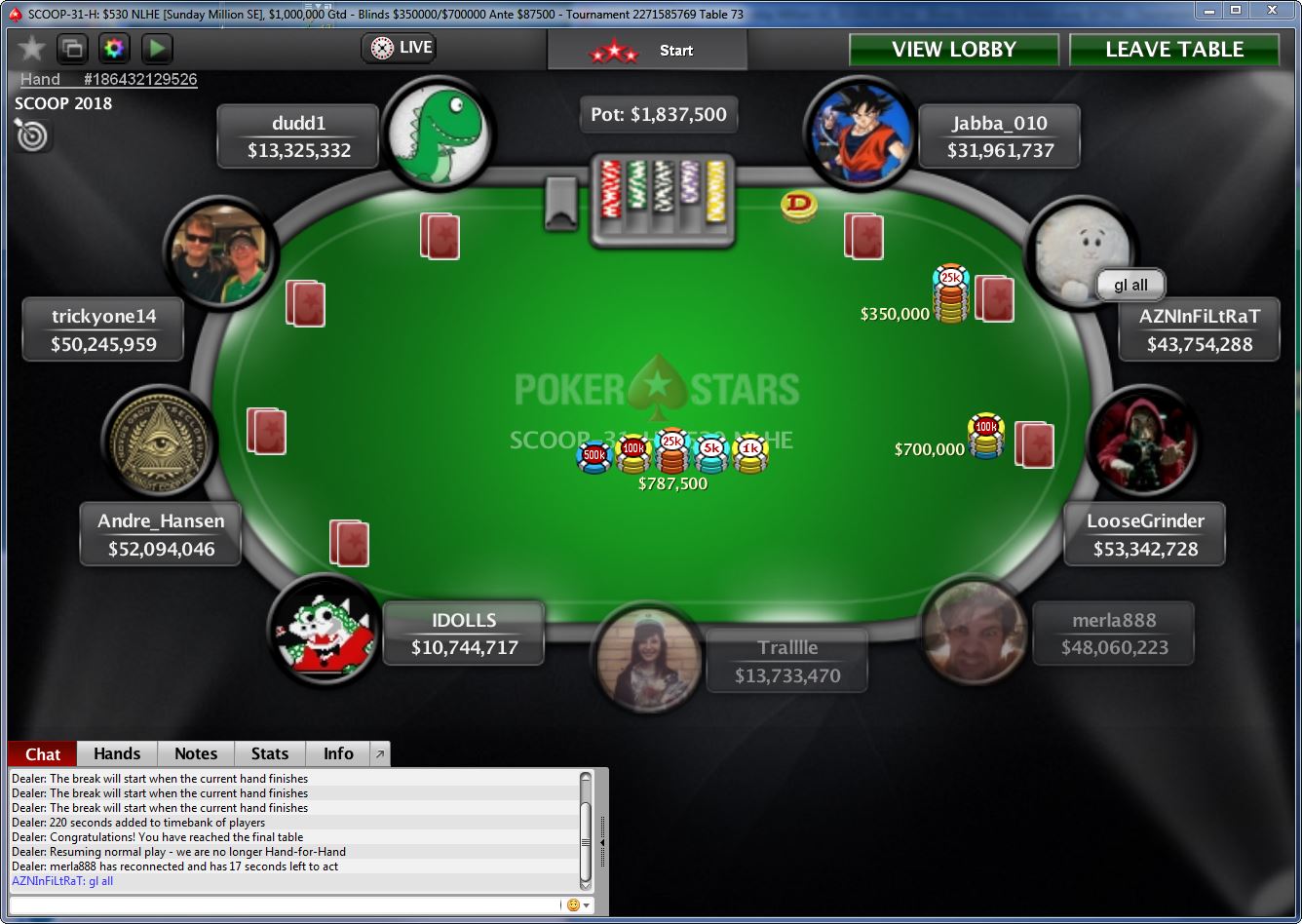 Seat 1: Jabba_010 (32,049,237 in chips)
Seat 2: AZNInFiLtRaT (44,191,788 in chips)
Seat 3: LooseGrinder (54,130,228 in chips) won the Sunday Wrap-Up last month
Seat 4: merla888 (48,147,723 in chips) SCOOP 2018 Event #13-H champ
Seat 5: Tralllle (13,820,970 in chips) past Mini Sunday Million winner
Seat 6: Stavros "IDOLLS" Kalfas (10,832,217 in chips)
Seat 7: Andre_Hansen (52,181,546 in chips) past WCOOP & Super Tuesday finalist
Seat 8: trickyone14 (50,333,459 in chips) past Sunday Warm-Up & Super Tuesday finalist
Seat 9: dudd1 (13,412,832 in chips) past Sunday Warm-Up & WCOOP finalist
merla888's willingness to gamble drove the action for the remainder of the hour, one that saw no eliminations but plenty of action that left merla888 perched well above the crowd. By the time the 7:55 p.m. ET break arrived the Belgian held 78.5 million chips, more than 30 big blinds ahead of the closest player, thanks in part to the courage to call down a three-barrel bluff from LooseGrinder with just top pair to earn a 50-big-blind pot.
The dearth of bustouts ended after the break when Stavros "IDOLLS" Kalfas jammed for about eight big blinds with A♠4♠ in the small blind. Andre_Hansen called with 7♣7♦ in the big and Kalfas fell in ninth when the board offered just two spades instead of the three he needed.
Three hands later Andre_Hansen scored a second knockout, calling with A♦10♥ for a queen-high straight after LooseGrinder open-shoved on the river of a 9♣J♠Q♥J♣8♠ board. LooseGrinder's queens and jacks with K♦Q♦ wasn't good enough and the Moroccan left in eighth.
merla888 got in on the action on the next hand, calling with A♦J♣ in the big blind after dudd1 open-jammed for 17.2 million in the cutoff with A♣10♣. A jack on the flop spelled the end for dudd1 in seventh. Then AZNInFiLtRaT got J♣J♠ on the same hand as Jabba_010's A♦K♠; a jack on the flop and out went Jabba_010 in sixth.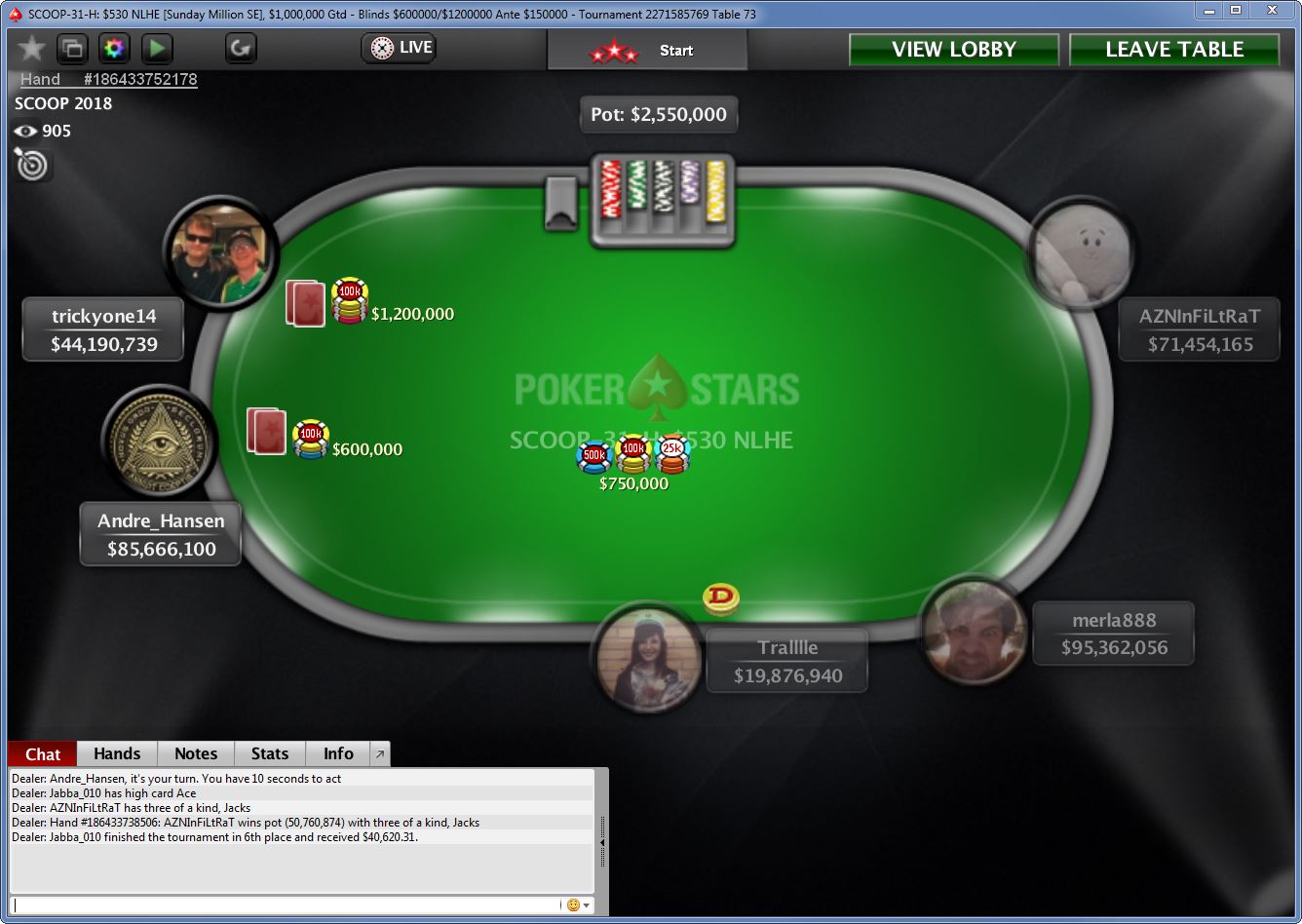 And then there were five
Almost an hour with no knockouts, then four in the span of just 10 minutes. merla888 remained ahead with 95 million chips but the competition was much closer than before: Andre_Hansen with 86.4 million, AZNInFiLtRaT with 71.6 million, and trickyone14 (45.5 million) and Tralllle (20 million) trailing.
merla888 remained aggressive for the next half-hour and stacked up to more than 110 million chips. Then the Belgian opened for 2.95 million and called trickyone14's re-raise to 8.4 million from the small blind. merla888 called another 14.3 million on the J♥3♣8♦ flop but folded when trickyone14 shoved on the 4♥ turn. trickyone14 turned over A♦A♥ and dragged the 47.6-million-chip pot to move into the lead.
The tide turned against merla888 just six minutes later after opening for 3.3 million in the cutoff with 10♣10♦. Tralllle jammed for 16.7 million with A♣4♠, Andre_Hansen moved in for 69.3 million with A♥A♠, and merla888 made the call with less than three big blinds' worth of chips left behind. So it was that the former chip leader was brought low, Andre_Hansen scooped a three-way, 158-million-chip pot, and Tralllle left the tournament in fifth place.
merla888's exit was delayed for a bit but eventually the Belgian called all-in from the big blind with 6♠3♥. Small-blind raiser AZNInFiLtRaT didn't improve on J♣10♠ but didn't have to; merla888 missed the board too and departed in fourth. AZNInFiLtRaT quickly doubled up, hitting a flush with Q♥10♥ against Andre_Hansen's A-K, and then made a set with 8♠8♥ to top trickyone14's top pair with A♣Q♥ and knock the U.K. player out in third.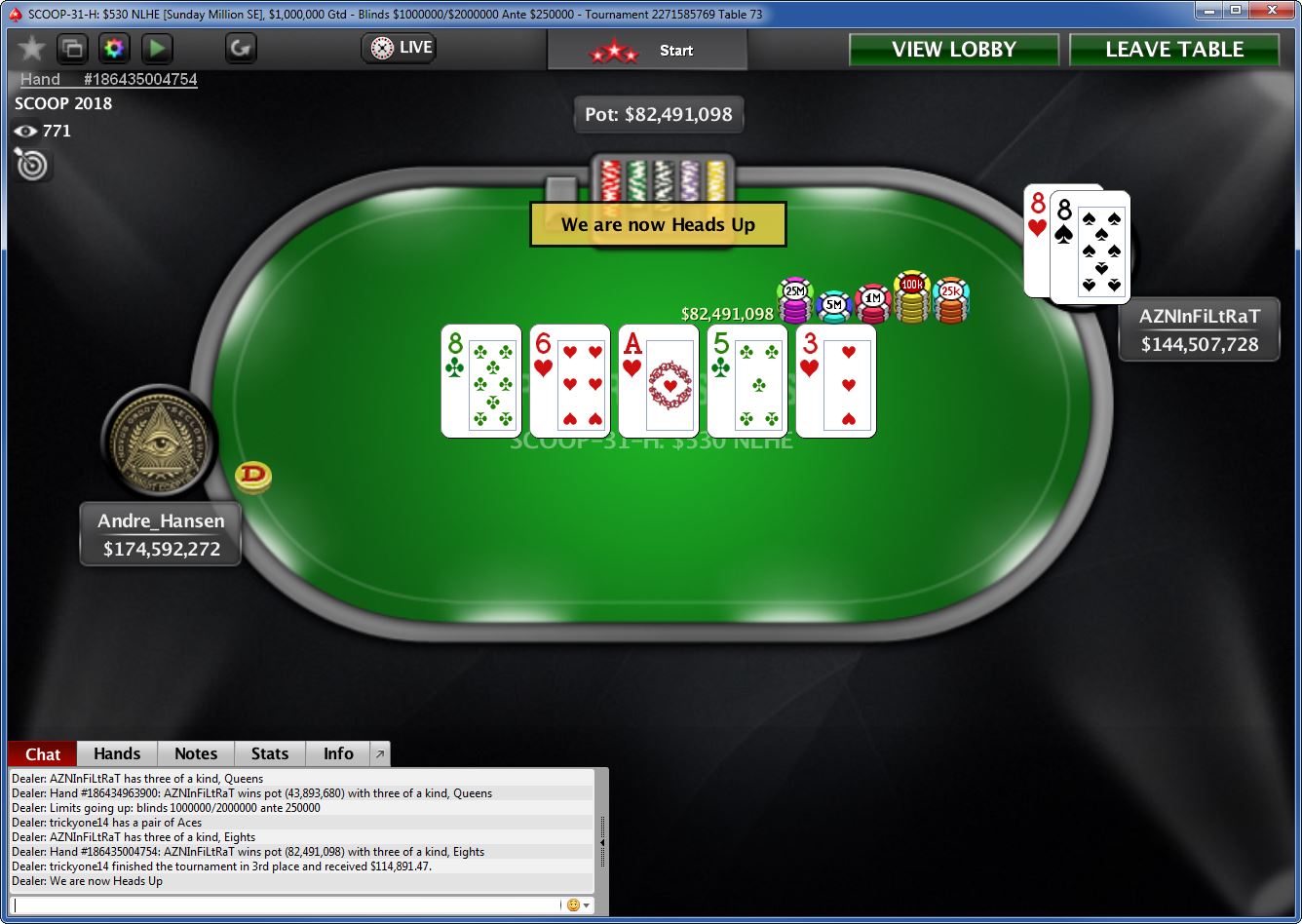 The beginning of a hard-fought duel
That left just two players, separated by 30 million chips with the blinds and antes at 1,000,000/2,000,000/250,000. Andre_Hansen had the lead and AZNInFiLtRaT trailed, but none of that ended up mattering much. The next hour and 38 minutes of poker — plus two five-minute breaks — showed that both players were worthy of winning this title.
AZNInFiLtRaT took over the lead early in the match with two river showdowns, the first after flopping top pair and rivering trips with A♦2♣ and the second after catching a straight in position with J♠10♠ to crack Andre_Hansen's K♠K♦. Within 30 minutes Andre_Hansen got all-in with A♣J♥ and caught a pair of jacks to beat AZNInFiLtRaT's K♠Q♠ and retake the lead by about 12 big blinds. Then AZNInFiLtRaT flopped a pair of fours and turned a pair of aces to go with it, winning with A♥4♦ to retake the lead by the same margin.
It was anybody's game. AZNInFiLtRaT managed to move back ahead and chip Andre_Hansen as low as 14 big blinds, but the Ukrainian player won a key race with 9♠9♦ against AZNInFiLtRaT's A♥10♠ to stay alive. Within another 20 minutes a string of small wins had pulled Andre_Hansen to within a single big blind of the lead.
AZNInFiLtRaT hung tough from there but the cards worked against the Canadian. Andre_Hansen won the key pots before AZNInFiLtRaT jammed for 11 big blinds with K♦J♠. Andre_Hansen called with K♥9♦ and a nine came on the flop, bringing the tournament to its conclusion.
Congratulations to both Andre_Hansen and AZNInFiLtRaT on a hard-fought tournament, and especially to Andre_Hansen for the title and the six-figure score!
SCOOP-31-H ($530 NLHE, Sunday Million SE) results
Entries: 3,191
Total prize pool: $1,595,500
Places paid: 395
1. Andre_Hansen (Ukraine) $229,784.45
2. AZNInFiLtRaT (Canada) $162,480.93
3. trickyone14 (United Kingdom) $114,891.47
4. merla888 (Belgium) $81,240.62
5. Tralllle (Denmark) $57,445.81
6. Jabba_010 (United Kingdom) $40,620.31
7. dudd1 (Austria) $28,722.98
8. LooseGrinder (Morocco) $20,310.23
9. Stavros "IDOLLS" Kalfas (United Kingdom) $14,361.57
---
SCOOP is in full swing. Don't miss out! Click here to open your PokerStars account today.
---