Phil. It's a popular first name in the poker world. Many of the preeminent players in the world were named Phil by their parents. The Iveys. The Galfonds. The Laaks. The Collins family. The Galfonds.
Here's an unsolicited pro tip. If you sit down at a poker table and someone there is named Phil, you should run. Fast. That warning sounds like the opening line to a whiskey-drenched, down-on-your-luck country song, "Mommy don't let your babies grow up to play wide ranges out of position against guys named Phil."
Okay, you get it. Phils are good at poker. So it's no surprise that BetrThanPhil won SCOOP Event #8-H $1,050 NL Progressive KO. BetrThanPhil proved big banks can actually fail when he came from behind to topple "0PIGGYBANK", the big stack at the table that kept getting bigger. That was, until it got heads-up with the bank-buster BetrThanPhil. In their brief heads-up spat, BetrThanPhil pulled almost even in chips so the two agreed on a 50-50 money chop. Per terms of the deal, they played out for 2% of the total prize pool plus the bounties. When it was all settled, BetrThanPhil emerged as the victor in 2018 SCOOP Event #8-H. Austria's "0PIGGYBANK" was seeking to add another SCOOP title to the resume, but fell short of the quest in second place.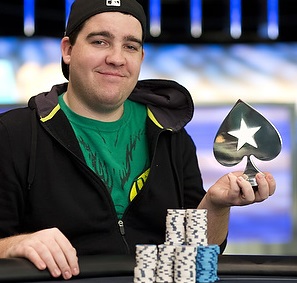 Steve "BetrThanPhil" Tripp winning a side event at the 2013 PCA
SCOOP-08-H QUICK STATS:
1,413 runners
$100,343.04 to first place
$1,413,000 total prize pool
$706,500 bounty pool
If you don't know, there's at least one event every day during the 2018 SCOOP that has a $1 million guaranteed prize pool. SCOOP Event #8-H was one of those $1M events. Event #8-M $1,050 NL Progressive Knockout was an 8-Max event that attracted 1,413 players. Half of the $1.4 million prize pool was devoted to bounties, while the other half went to the regular prize pool. First place originally paid out $108,889.27, but the final two would agree on a heads-up deal that left $100,343.04 to the champion.
Only 75 players survived the cut on Day 1 and advanced to the second day of action. Sweden's iamivar bagged up the most chops with a 5.4M stack. The pack caught up to big-stacked iamivar early on Day 2, but the Swede regained the top spot with 24 to go on the final 3 tables. That would be the highwater mark and iamivar eventually busted in 14th place.
As the final table bubble approached, a trio of Finnish players were eying spots at the 8-max final table with calvin7v in second and WRUUUUM in third, but Sanderssi one of the smaller stacks. However, calvin7v bubbled out in ninth place after losing a coin flip, so only two — WRUUUUM and Sanderssi — locked up spots in the final eight.

SCOOP Event #8-H – Final Table Chip Counts:
Seat 1: drupa-lucker (9,138,511)
Seat 2: BetrThanPhil (48,477,072)
Seat 3: WRUUUUM (3,147,473)
Seat 4: Sanderssi (12,151,058)
Seat 5: alimounda (10,234,627)
Seat 6: calvin7v (9,504,626)
Seat 7: capotinha (15,364,295)
Seat 8: "0PIGGYBANK" (29,646,818)
Seat 9: Hymn2Ninkasi (3,635,520)
BetrThanPhil began the final table with the big stack and WRUUUUM was the shorty with 2.4M. The final table commenced during Level 38 with blinds at 200K/400K and a 50K ante.
BetrThanPhil had the biggest bounty on his head worth approximately $20,200. His knockout was worth a pretty penny. Playing in the real world under the name Steve Tripp, BetrThanPhil binked a turbo side event at the PCA in 2013. BetrThanPhil once won the Sunday Warm-Up in 2014, but he was seeking a first SCOOP title.
BAD BEAT QUICKIE
Hymn2Ninkasi busted during the first orbit at the final table. Hymn2Ninkasi got it all-in with A♠J♦ against BetrThanPhil's J♠9♠. BetrThanPhil flopped a gutshot draw and turned a flush redraw. Hymn2Ninkasi faded both draws, but lost to a backdoor pair of nines. The 9♥ was the death card on the river. BetrThanPhil won the pot and Hymn2Ninkasi was dunzo in eighth place.
TWO FOR TUESDAY
Big-stacked "0PIGGYBANK" woke up with A♣A♠ and knocked out two players in the same hand. It's always shocking when Aces hold up in a mult-way pot, but the pocket rockets prevailed against capotinha's A♦Q♣ and WRUUUUM's A♥4♦. "0PIGGYBANK" added bounties worth$6,113.28 and $4,297.85 respectively for busting WRUUUUM and capotinha.
THE TRI-SLOG
The field went from 5 to 3 rather quickly, but hit a slog three-handed. BetrThanPhil tried to keep up with the big stack by knocking out alimounda in fifth place. BetrThanPhil issued another wicked bad beat when J♦3♥ outflopped alimounda's A♦K♥. Meanwhile, "0PIGGYBANK" turned a Wheel with A♥2♥ against drupa-lucker's K♠J♠ to bust drupa-lucker in fourth place. At that point with three to go, "0PIGGYBANK" had more than 55% of the chips in play and seemed a lock to win it all.
Three-handed lasted nearly 80 minutes before someone headed to the rail. during that span, "0PIGGYBANK" held off all assaults on the big stack, but couldn't prevent opponents from chipping away.
BetrThanPhil kocked out Sanderssi in third place to chip up enough to become a legit threat to the big stack. Short-stacked Sanderssi got it all-in preflop and flipped with K♣J♣ against BetrThanPhil's 9♠9♣. Sanderssi flopped a flush draw and turned a pair of Jacks to take the lead. However, the river had been kind to BetrThanPhil most of the day and the 9♥ promptly spiked on the river when the board finished up 8♣7♣5♠J♦9♥. BetrThanPhil won the pot with a set of nines. Sanderssi never made a flush and busted in third place, which paid out $55,397.51.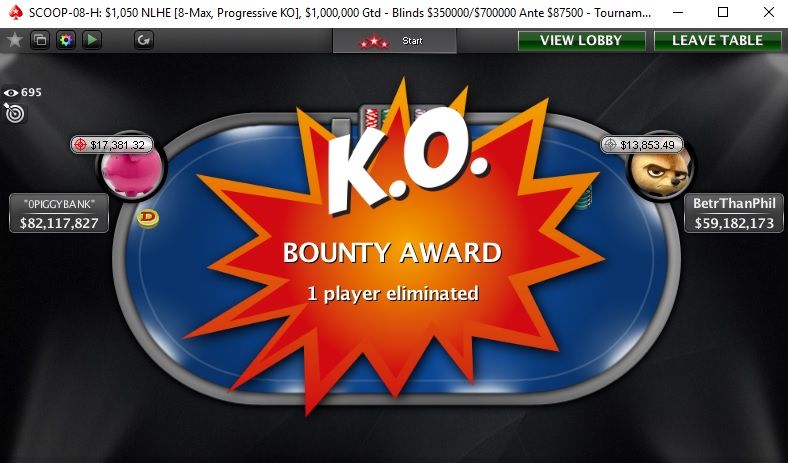 HEADS-UP: BetrThanPhil (Canada) vs. "0PIGGYBANK" (Austria)
Seat 2: BetrThanPhil (59,182,173) + $27,706.99 bounty
Seat 8: "0PIGGYBANK" (82,117,827) + $34,762.64 bounty
With two to go, BetrThanPhil trailed by approximately 23M. "0PIGGYBANK" was attempting to win another SCOOP title after shipping one in 2014.
DEAL: EVEN CHOP
The two played nine before action was paused to discuss a deal. At that point, "0PIGGYBANK"'s lead was seriously cut and BetrThanPhil only trailed 72.3M vs 68.9M. The two agreed on an even chop. Any deal had to leave $14,130 on the table to the champion. The numbers were floated as $86,213.04 each. Oh, and the two played for the bounties (which were not choppable).
BetrThanPhil WINS SCOOP #8-H
In total, heads-up last 14 hands, but they played out 5 hands after the deal was sealed. BetrThanPhil doubled up on the first hand after the deal in a pot worth nearly 138M. BetrThanPhil got it all-in with 8♣7♠ against "0PIGGYBANK"'s K♦5♦. BetrThanPhil hit the flop and won the pot with two pair. "0PIGGYBANK" picked up a flush draw on the turn, but never got there. "0PIGGYBANK" would bust four hands later.
On the final hand, "0PIGGYBANK" attempted to double up with J♠6♥ against BetrThanPhil's A♥4♦. However,the board ran out K♠5♠4♣5♦5♥. BetrThanPhil flopped a pair then turned two pair and improved to a full house on the river.
"0PIGGYBANK" busted in second place, which paid out $86,213.04. "0PIGGYBANK" earned $34,262.69 in bounties.
BetrThanPhil banked a bounty worth $17,381.32 for knocking out "0PIGGYBANK". In total, BetrThanPhil won $89,676.66 in bounties. First place in Event #8-H paid out $100,343.04 for BetrThanPhil.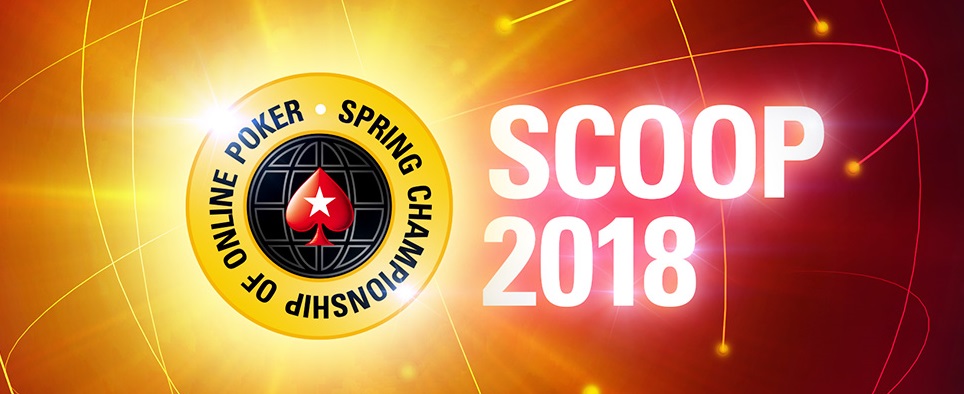 SCOOP-08-H ($1,050 NLHE [8-Max, Progressive KO]) results
Total entries: 1,008 (405 re-entries)
Prize pool: $1,413,000 ($706,500 regular pool; $706,500 bounty pool)
Places paid: 175
1. BetrThanPhil (Canada) $100,343.04 * + $89,676.66 in bounties
2. "0PIGGYBANK" (Austria) $86,213.04 * + $34,262.69 in bounties
3. Sanderssi (Finland) $55,397.51 + $4,453.13 in bounties
4. drupa-lucker (Russia) $39,513.41 + $3,921.88 in bounties
5. alimounda (Greece) $28,183.76 + $3,687.50 in bounties
6. capotinha (Brazil) $20,102.68 + $8,095.70 in bounties
7. WRUUUUM (Finland) $14,338.70 + $11,726.56 in bounties
8. Hymn2Ninkasi (Estonia) $10,227.36 + $5,375.01 in bounties
* Denotes a two-way chop
Visit the SCOOP homepage for a schedule of remaining events and find out who is on top of the Leader Board.
---
Ready to take your shot at a SCOOP title? Sign up for PokerStars today!
---