Today in SCOOP…
• The biggest results from the day
• Who won what?
• Today's SCOOP 2018 winners map
• The Unofficial SCOOP STAT Tracker
• Coming up on Friday (and this weekend)
First, news of what could become the most coveted SCOOP title of all
If one thing is certain in tournament poker (putting "rake" to one side for now) it's that everyone gets knocked out sooner or later.
We're all sent to the rail earlier than we'd planned, except the winner of course. And amid the gloom, and the recrimination, the only question left is who sent us there?
But that got us thinking. Maybe there's another question.
For instance…
Which players are particularly good at dispatching the departed?
And exactly how good are they?
Well, we plan to find out.
Starting next week, we'll be keeping score of all SCOOP eliminations (including all those that have already struck in week one).
Each day we'll post the latest standings showing which players are the most lethal in the business.
It may offer some consolation to anyone undone by the most dangerous player in the tournament. Better that than some new guy claiming his first scalp. Although be warned, we'll be keeping track of that too.
If you've played a SCOOP event and knocked someone out, you'll be on the list. And you can check back each day to see which position you occupy.
And, while details are being finalized, if you top this most deadly of leader boards you'll win what is the newest, most original, and possibly the most ridiculous title in poker right now:
The PokerStars Blog Grim Reaper Golden Scythe Award
Official rankings start next Tuesday (with a sneak peek available on Monday).
So, while you might not finish this Series a SCOOP champion, you could still rank as one of the most feared.
And that's got to be worth obsessing about.
That's all coming next week. Now to today's SCOOP update.
1. The headlines
We reported on three events overnight, each with a guaranteed of at least $1 million.
In the first, SCOOP 14-L, a $215 8-Max High Roller, jenbizzle, who has previous in SCOOP, was the player to beat, even when up against a field dominated by Brazilians.
He prevailed, winning a first prize of $162,000, which you can read about here.
In SCOOP 14-M, poker@luffyD (a player whose name automatically hyperlinks itself if typed into Excel) took top spot and $240,765, ahead of a sickening final table featuring Niklas "Lena900" Åstedt (fourth), Pascal "Päffchen" Hartmann (fifth), Ole "wizowizo" Schemion (eighth), and Grayson "gray31" Ramage (ninth).
There were others too, which you can read about in Al Rash's report of the final here.
Finally, in SCOOP 14-H, which at $25,000 featured the biggest buy-in of SCOOP 2018 so far, Andras "probirs" Nemeth won his third career SCOOP title and another $576,087.
He beat RomeOpro heads-up, denying the Ukrainian what would have been a third SCOOP title inside of a week.
Ole Schemion, who reached the final table of 14-M, did the same in this one, busting in fifth place. Everyone else who reached the final was the type of player you'd describe as brilliant, as you'll read in the SCOOP 14-H report here.
2. Who won what?
These are the latest SCOOP winners to be used as your inspiration. Now go do that voodoo that you do so well.
SCOOP-13-L: $22 Triple Draw, $30K Gtd
Entries: 1,727
Prize pool: $34,540
Places Paid: 252
Winner: hapsmoney (Russia) $5,441
SCOOP-13-M: $215 Triple Draw, $60K Gtd
Entries: 387
Prize pool: $77,400
Places Paid: 54
Winner: TheRabbitFR (United Kingdom) $15,480
SCOOP-13-H: $2,100 Triple Draw, $175K Gtd
Entries: 111
Prize pool: $222,000
Places Paid: 18
Winner: merla888 (Belgium) $57,720
SCOOP-14-L: $215 NLHE [8-Max, High Roller], $1M Gtd
Entries: 5,700
Prize pool: $1,140,000
Places Paid: 943
Winner: jenbizzle (United Kingdom) $162,039
SCOOP-14-M: $2,100 NLHE [8-Max, High Roller], $1M Gtd
Entries: 698
Prize pool: $1,396,000
Places Paid: 95
Winner: poker@luffyD (Latvia) $240,766
SCOOP-14-H: $25,000 NLHE [8-Max, High Roller], $2.5M Gtd
Entries: 100
Prize pool: $2,500,000
Places Paid: 13
Winner: probirs (Hungary) $576,087.25
SCOOP-15-L: $5.50+R PLO [6-Max], $50K Gtd
Entries: 3,891
Prize pool: $69,041
Places Paid: 647
Winner: Maizeruba (Sweden) $9,872
SCOOP-15-M – $55+R PLO [6-Max], $100K Gtd
Entries: 1,165
Prize pool: $207,924
Places Paid: 167
Winner: igor69 (Finland) $32,859
SCOOP-15-H – $530+R PLO [6-Max], $250K Gtd
Entries: 265
Prize pool: $456,015
Places Paid: 35
Winner: Tr!pleeeee (Poland) $87,043
For all the latest results from SCOOP go to the SCOOP 2018 homepage.
3. If mapping SCOOP winners had anything at all to do with predicting the winner of Eurovision 2018
The bulk of the winners have come from Europe so far this Series. They're plotted on the map below, with those in red having won SCOOP-H events.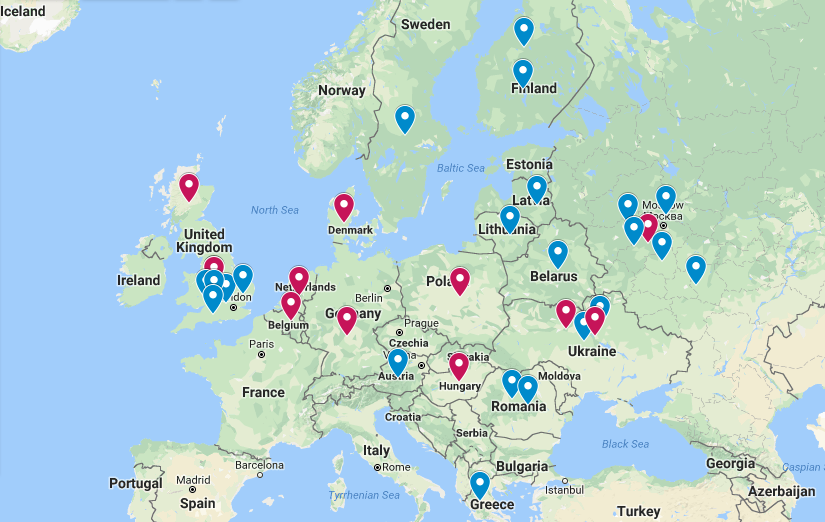 And here's the same map, with top five Eurovision 2018 rankings based on SCOOP winners.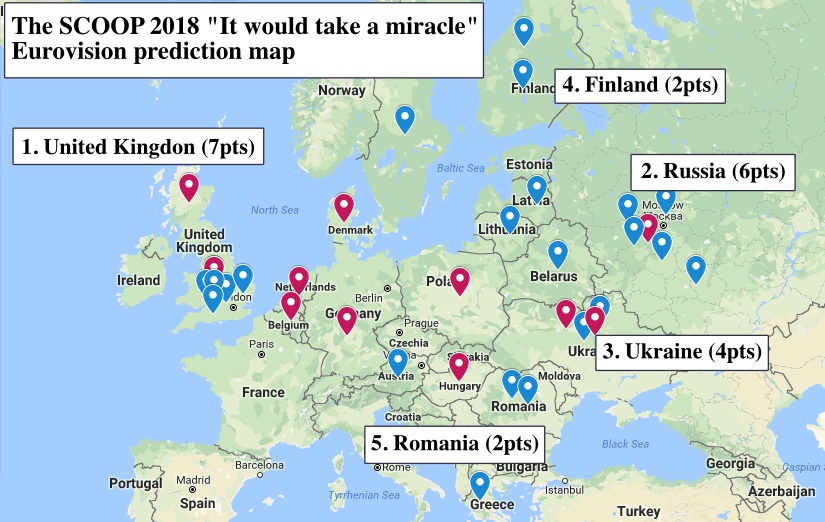 4. STAT tracker
The official SCOOP Stat Tracker (occasionally reliant on the "Make it up, nobody will check" Data System).
Events played: 45
Total entries: 201,152
Total prize money: $22,978,819.35
Total player paid: 31,648
And the overall leader board:
| Place | Name | Country | Points |
| --- | --- | --- | --- |
| 1 | RomeOpro | Ukraine | 335 |
| 2 | cal42688 | Mexico | 275 |
| 3 | TheRabbitFR | UK | 250 |
| 4 | CAZZETTEE | Mexico | 245 |
| 4 | vovtroy | Russia | 245 |
| 6 | poker@luffyD | Latvia | 235 |
| 7 | calvin7v. | Finland | 230 |
| 8 | blanconegro | Mexico | 220 |
| 8 | sandman201 | Canada | 220 |
| 10 | goleafsgoeh | Canada | 215 |
| 10 | villepn | Finland | 215 |
5. Coming up on SCOOP on Friday (and this Weekend)
There are 12 new events starting today, three at each level of buy-in. Buy ins start at $5.50 and go up to $2,100.
The events highlighted in bold feature guarantees of $1 million. Read reports of these final tables on the blog.
11:00 ET: SCOOP-20-L – $11 PLO8 [8-Max], $25K Gtd
11:00 ET: SCOOP-20-M – $109 PLO8 [8-Max], $75K Gtd
11:00 ET: SCOOP-20-H – $1,050 PLO8 [8-Max], $150K Gtd
13:00 ET: SCOOP-21-L – $22 NLHE, $150K Gtd
13:00 ET: SCOOP-21-M – $215 NLHE, $400K Gtd
13:00 ET: SCOOP-21-H – $2,100 NLHE, $1M Gtd
15:30 ET: SCOOP-22-L – $22 NLHE [6-Max, Shootout], $50K Gtd
15:30 ET: SCOOP-22-M – $215 NLHE [6-Max, Shootout], $150K Gtd
15:30 ET: SCOOP-22-H – $2,100 NLHE [6-Max, Shootout], $300K Gtd
17:30 ET: SCOOP-23-L – $5.50 5-Card NLO [6-Max, Turbo], $20K Gtd
17:30 ET: SCOOP-23-M – $55 5-Card NLO [6-Max, Turbo], $50K Gtd
17:30 ET: SCOOP-23-H – $530 5-Card NLO [6-Max, Turbo], $150K Gtd
There are 12 more events on Saturday, the highlight being SCOOP 27-H $1,050 NLHE 6-Max Progressive KO. We'll have a report of that event on the blog shortly after it finishes.
Then on Sunday 15 events begin, starting first thing in the morning. We'll have reports of three of those events, SCOOPS 30-H, 31-H and 32-H, each featuring a guaranteed prize pool of $1 million.
Find all the details of this year's series, including the schedule and leader board information, on the SCOOP 2018 homepage.
Bonus features
Lex Veldhuis managed to get himself trolled by PokerStars staff yesterday. It's hard enough grinding SCOOP without people making fun of the fact your country didn't reach the world cup, but well, they did it anyway, as you can see below.
Elsewhere Jaime Staples reported in with his latest video diary, which covers what he called "a crazy day on the felt".
PokerStars Blog has teamed up with Jaime Staples for a freeroll featuring some amazing value.
We're giving away 25 x $109 tournament tickets for the SCOOP Main Event [Low] which has a guaranteed prize pool of $1,500,000.
Earn a ticket into the freeroll by making a deposit of at least $10 using the code 'JaimeDiaries'. You'll then be credited with a ticket you can use to register for the SCOOP Diaries Freeroll on Sunday May 20. Find it by going to the Tourney tab on PokerStars and searching for 'Diary'.