When the action boiled down to the final three tables in SCOOP Event #14-L $215 High Roller, big-stacked jenbizzle was on an inevitable collision course with one of the Brazilians. As many as 8 were still alive at that inflection point, but only two would advance to the final table. Although two Brazilians were still alive by the final four, they were entering dangerous territory because four-handed was jenbizzle's domain. Back in 2014, jenbizzle won a SCOOP event in 4-Max NL. With the big stack and the experience, jenbizzle was the one to beat.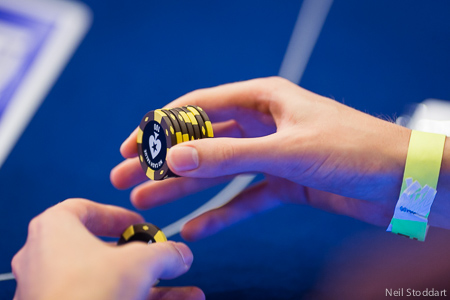 The final three discussed a deal. When the ICM/chip chop numbers were released, chip leader jenbizzle didn't like either number. The ensuing counteroffers were not suitable on either side, so their 20-minute fiduciary discussion ended without a chop. When three-way action resumed, jenbizzle coughed up the lead and the rejected deal looked like it might come back to haunt jenbizzle.
When heads-up commenced, jenbizzle trailed 2 to 1 in chips. It took nearly 20 or so hands to get close to even. Instead of seeking a deal, the two decided to play it out to the end like old-school warriors. jenbizzle went on a mini-rush to seize the lead, but ivan limeira could not launch a successful counterattack. Brazil's ivan limeira bowed out in second place, and the U.K.'s jenbizzle stepped into the SCOOP winner's circle for a second time since 2014.
SCOOP 14-L Quickie Stats:
5,700 entries (4,057 runners + 1,643 re-entries)
$1.14 million prize pool
$162,039.38 first place
2018 SCOOP Event #14-L $215 High Roller featured 8-handed tables. The guarantee was a cool million, but the total prize pool exceeded $1.1 million. A total of 5,700 entries were tallied for Event #14-L with 4,057 original runners plus an additional 1,643 re-entries. Only the top 943 places paid out. The top two spots locked up six-figure scores with second place banking $115.5K and the champ winning a little more than $162K.
Event #14-L Day 1 ended with 160 players remaining and Team Online Randy 'nanonoko' Lew in 29th place. Early on Day 2, nanonoko and bencb789 were seated at the same table. Both were shortstacks in dire need of an early double up. Ah, the poker gods were not listening to prayers today. bencb789 hit the rail in 73rd place, and nanonoko followed soon after. nanonoko busted in 71st place, which paid out $1,223.67.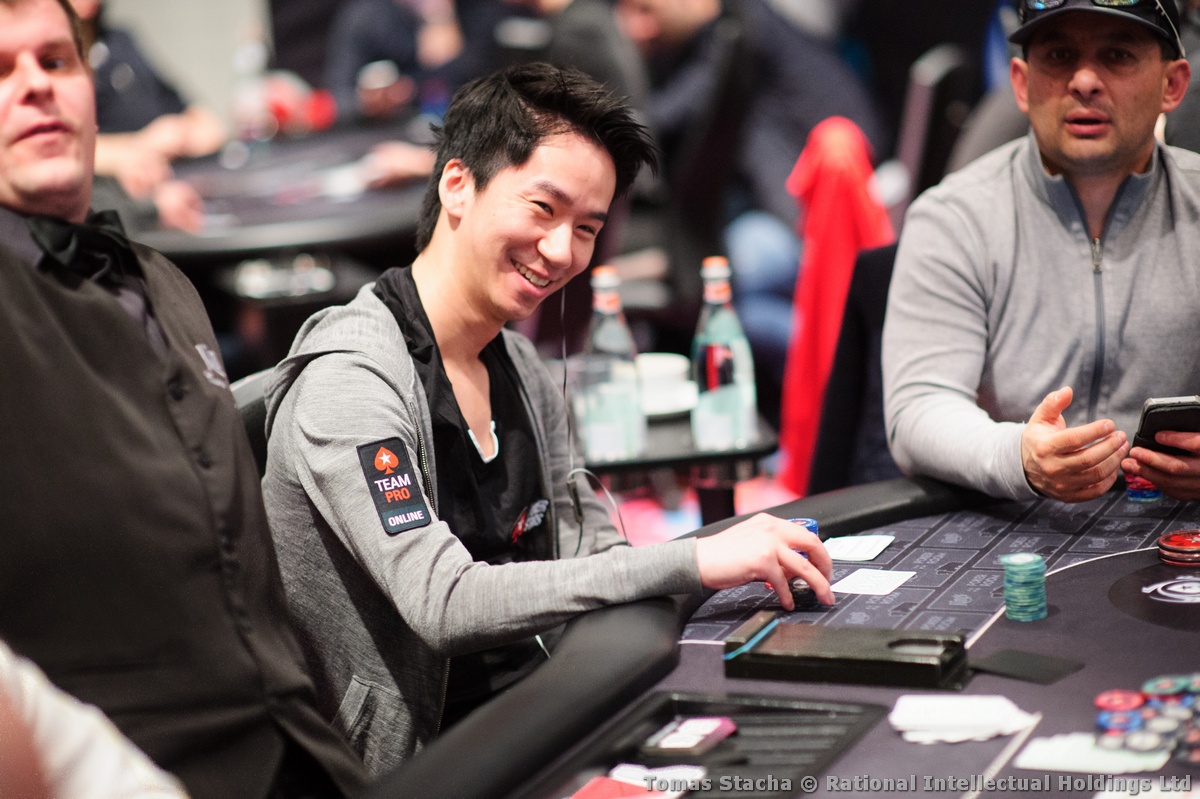 Team Online Randy 'nanonoko' Lew = 29th place
SCOOP 14-L – Final Table Chip Counts:
Seat 1: TCOBENKO (59,936,458)
Seat 2: SaiyanHype (14,391,608)
Seat 3: Dagdar (40,874,856)
Seat 4: ivan limeira (31,765,876)
Seat 5: GMVN (43,664,767)
Seat 6: PIUlimeira (5,531,284)
Seat 7: Chester20o (14,526,113)
Seat 8: Machadada RS (32,649,980)
Seat 9: jenbizzle (41,659,058)
The final table commenced during Level 47 with blinds at 500K/1M and 125K. TCOBENKO from Russia led with jenbizzle in second. Brazil's PIUlimeira was the shorty.
QUICKIES
We saw a few eliminations in the first orbit of action. Short-stacked PIUlimeira busted in ninth when "The Tourist" (a.k.a. Ace-seven) lost to Chester20o's 9♠9♥. Two hands later, another short stack hit the bricks when Dagdar turned a flush with A♦J♦ to edge out SaiyanHype's A♣7♦. Chester20o ran A♠10♣ into ivan limeira's A♥K♠ and Big Slick prevailed. Chester20o bowed out in seventh place and took home $21,258.72.
IVAN SURGING
With 5 to go, ivan limeira had nearly twice as many chips as second place with a stack worth 94M. The Brazilian liquidated another short stack. GMVN from Vietnam was knocked out in sixth place after ivan limeira rivered a flush with K♣9♣. GMVN earned a payday worth $29,822.97.
TCOBENKO jousted with A♣5♠ and got speared by A♦K♥. Neither player improved, but Dagdar's Big Slick won the pot with Ace-high and a better King-kicker. Russia's TCOBENKO was dunzo in fifth place, which paid out $41,837.08.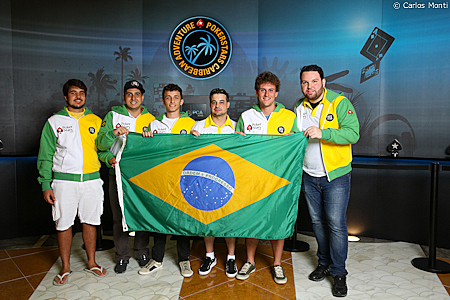 FINAL FOUR = BRAZIL 2X
Vamos two times! Two Brazilians advanced to the final four, but that's as far as Machadada RS would get before it was time to say farewell. Machadada RS and jenbizzle rumbled in a hand. jenbizzle was seeking to secure the chip lead, while Machadada RS hoped to double up and stay alive. Machadada RS flopped a flush draw with J♥9♥ and turned a gutshot draw, but never improved on the river. The Tourist was good for jenbizzle, who flopped top pair with A♦7♥ and dodged a hailstorm of outs to win the pot. With three to go, jenbizzle jumped into first with 119M.
DEAL? AHHH… NO!
The final three were deep into Level 49 when they paused the clock to discuss a deal. At that point, jenbizzle sat on a big stack worth 124M, followed by ivan limeira (88M) and Dagdar (72M). They had to leave 2% on the table for first place, or $22,800. The ICM and CC numbers were floated.
"I'm not in love with either," said jenbizzle. "I would have to ask for more. Sorry."
Instead of $120K or $121K, jenbizzle suggested $135K. Dagdar snap-replied "No deal then."
jenbizzle counteroffered $132K. "Don't think so," said Dagdar. Without a deal in place, action resumed.
LIVE AND DIE BY THE RIVER
You like big pots? This one was worth 197M. Dagdar got it all-in on the river with the board showing K♠Q♠4♥5♥J♣. Dagdar flopped a pair of Queens and rivered two pair with Q♦J♥, but the river filled in a Broadway straight for ivan limeira's A♣10♦. ivan limeira dragged the pot and Dagdar earned $82,335.47 for a third-place finish.
HEADS-UP: ivan limeira (Brazil) vs. jenbizzle (U.K.)
Seat 4: ivan limeira (197,443,392)
Seat 9: jenbizzle (87,556,608)
With two to go, jenbizzle trailed nearly 2 to 1 in chips. They were in the middle of Level 50 with blinds at 800K/1.6M and a 200K ante.
Heads-up lasted 37 hands. On the 26th hand of their, heads-up bout, jenbizzle seized the lead after winning a 61M pot. jenbizzle missed a flush draw and backdoored a better two pair to drag the pot with 7♠2♠. ivan limeira never recovered and lost 7 out of the next nine hands.
FOR SHIZZLE, JENBIZZLE WINS HIGHROLLER SCOOP #14-L!
Going into the final hand, ivan limeira trailed 185.6M to 99.3M. ivan limeira opened, jenbizzle jammed with 2♦2♠ and ivan limeira called all-in with A♠J♥. The board ran out Q♠9♠3♠7♥8♦. Pocket deuces held up for jenbizzle. Quack, quack! Brazil's ivan limeira earned $115,504.57 for a runner-up finish.
Congrats to jenbizzle for adding another SCOOP title to the resume. First place in Event $14-L paid out $162,039.38. Congrats.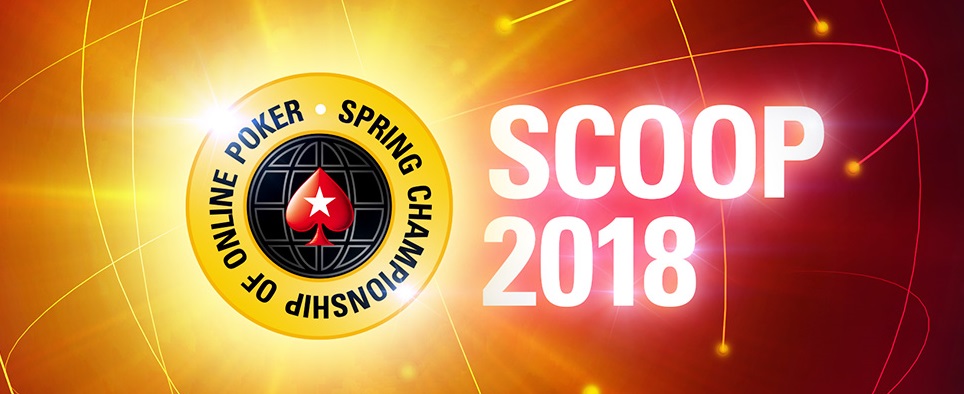 SCOOP-14-L ($215 NLHE [8-Max, High Roller]) results
Total entries: 5,700 (4,057 entries; 1,643 re-entries)
Prize pool: $1,140,000
Places paid: 943
1. Ben "jenbizzle" Jones (U.K.) $162,039.38
2. ivan limeira (Brazil) $115,504.57
3. Dagdar (Norway) $82,335.47
4. Machadada RS (Brazil) $58,691.41
5. TCOBENKO (Russia) $41,837.08
6. GMVN (Vietnam) $29,822.97
7. Chester20o (Poland) $21,258.72
8. SaiyanHype (U.K.) $15,153.79
Visit the SCOOP homepage for all things SCOOP, including a schedule of remaining events and statistics. Plus, find out who is atop of the Leader Board and in contention for a Platinum Pass to the PSPC.
---
Ready to take your shot at a SCOOP title? Sign up for PokerStars today!
---