It started early ten years ago over bowl of Frosted Flakes with a toddler at the other end of the table munching away on any pieces of cereal that managed to avoid the wraith of her most recent tantrum. A short, affirming reply would change my Sunday night schedule for the next decade. Fast forward from that breakfast nook to this wrap-up of the 2018 Event #27 Spring Championship of Online Poker $1 million guarantee 6-Max NLHE Progressive KO turbo tournament.
A quick, decisive victory for the now four-time -COOP champ Jerry "hummylun" Wong. He would dominate the final table claiming all but one of the KOs and earning $163,671.84 for his win. Read on below for Wong's five hour turbo race to the win.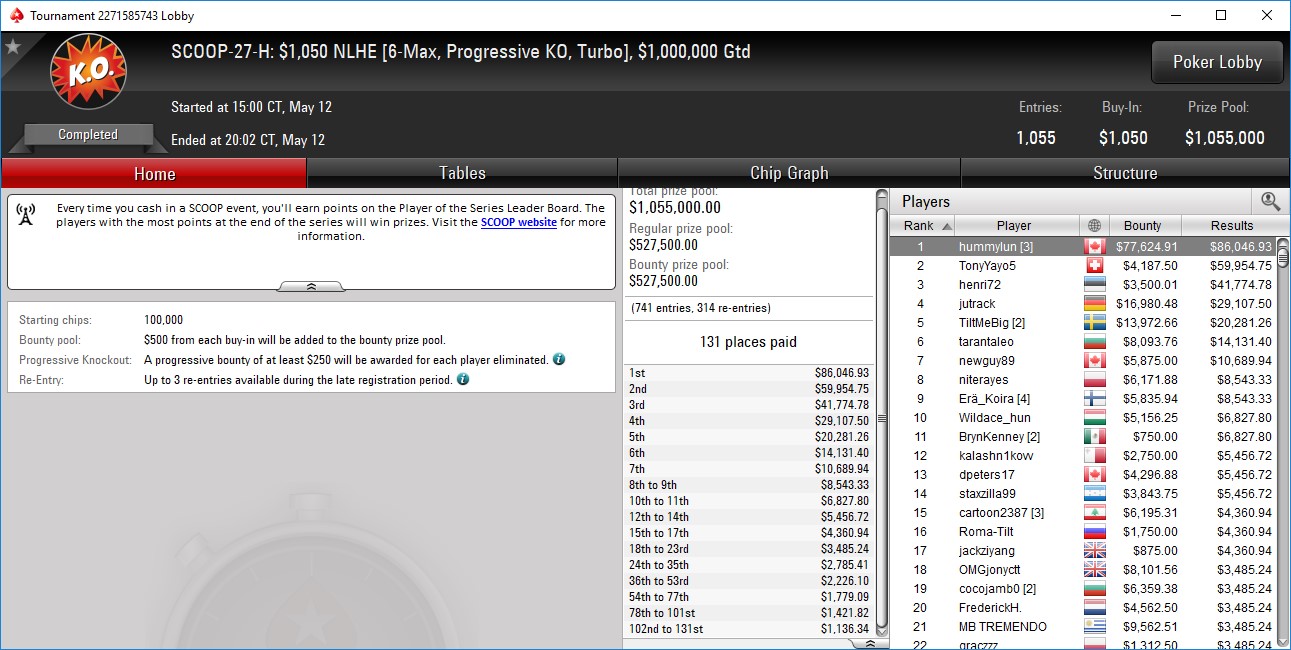 Across three major tournaments series offered here at PokerStars, over 2,000 unique players here have earned the right to call themselves champions against some of the best competition online in the world. No one has been more successful at SCOOP than Calvin "cal42688" Anderson, claiming eight titles here (along with a pair of World Championship of Online Poker titles).
Unfortunately for Calvin, things would start off rocky in the quest for number nine after dropping his first buy-in before late registration ended. A similar start for the person with the second most SCOOP titles, Shawn "buck21" Buchanan, having to dig out another $1,000 buy-in in his quest to add -COOP title number nine after becoming the first person to complete the Triple COOP in 2014.
Ten minutes to go in late registration the players poured enough into the prize pool to blow past the guarantee as 339 entries (out of 741 with 314 re-entries). Officially $86,046.93 sitting up top and an equal amount being divided up for bounties as Buchanan had to pull out another thousand to continue while Anderson maxed out his potential re-entries with only a couple bounties to show for it after being eliminated.
Alexey5758, who nearly claimed a Sunday Million title in December, would lead the 198 remaining players into the second hour of the tournament. Two-time SCOOP champ and fresh off a win in European Poker Tour Monte Carlo (€ 10,200 NLHE event), Bryn Kenney was lurking closely on the leaderboard.
Alexey5758 would not continue into the third hour, but Kenney lurked closer to a third title as 39 others remained in the race. Leading the way into the last full hour before the final table, Jonathan "OMGjonyctt" Concepcion. Concepcion is no stranger to late runs in high-stakes tournaments having taken down the Super Tuesday twice and a WCOOP title in 2013.
12 left and Kenney was grinding the entire hour but still alive (sure enough he doubled up on the first hand back from the break). Jerry "hummylun" Wong already holding over $12K in bounties held the chip lead. Wong claimed a SCOOP title nearly exactly a year ago today in the $2,100 Event #14-H Razz event. Slow and steady will not do the trick here as the turbo blinds, 6-max table, and average stack only holding 20 BBs are pressuring most of the players into all-in or fold mode.
15 minutes in Kenney tried to steal by shoving from the SB as Wong still held the chip-lead and pocket threes. Kenney's king-deuce blanked, finishing in 11th place ($6,827.80 + $750.00). And after three more eliminations in four minutes, the final table of seven reconvened under the spotlights.
Seat 1: jutrack (14809539 in chips, $17480.45 bounty)
Seat 2: Jerry "hummylun" Wong (37473665 in chips, $16445.28 bounty)
Seat 3: TonyYayo5 (12511328 in chips, $2687.50 bounty)
Seat 4: Ryan "newguy89" McEathron (8964180 in chips, $6374.99 bounty)
Seat 5: TiltMeBig (13165495 in chips, $11285.14 bounty)
Seat 6: tarantaleo (7636568 in chips, $8593.74 bounty)
Seat 7: henri72 (10939225 in chips, $3999.99 bounty)
Wong would come in with the biggest stack, nearly three times the amount of second place jutrack. The speed of play matched the blind escalation rate as ten hands into the final table Ryan "newguy89" McEathron ran his king-queen right into TiltMeBig's aces preflop. After a dry board, McEathron took away $10,689.94 + $5,875.00 in seventh place.
A short while later Wong would string together seven of eight pots in a row. The last one found the chipleader shoving pre-flop with six-seven suited folding around to a short-stacked tarantaleo in the small blind. The ace-deuce looked big enough holding only four BBs at this point and called all-in. Safe flop and turn for tarantaleo, but a six on the river shipped $14,131.40 + $8,093.76 to the sixth-place finisher.
The T-Rex avatar for Wong continued his predatory ways, pressing the chiplead by shoving on nearly all non-raised hands holding over half the funds in play. And finding a hand once in a while, as the case against TiltMeBig and jutrack. Both players tried to bring only one ace to a fight for their tournament lives, only to look up at Wong's queens and watch the giant KO! sign after their departure. TiltMeBig would pick up $20,281.26 + $13,972.66 in fifth-place as jutrack notched $29,107.50 + $16,980.48 in fourth.
TonyYayo5 had the shortest stack after watching henri72 double-up with fortuitous river jack against hummylun. But, the short-stack would power back to life, doubling up off Wong, then with a minute left in the hour, finding pocket jacks in the big blind as henri72 shoved from the button holding king-nine. The jacks would hold as henri72 took away $41,774.78 + $3,500.01 in third-place.
Yes, Wong would hold a 68 million to 36 million chiplead with blinds at 500K/1M ante 125K. But, TonyYayo5 has proven thus far to be resilient prey hiding in the shadow of Wong's T-Rex. In the end, the massive size of Wong's stack proved to be too much finishing heads-up play in 17 hands. TonyYayo5 had the money in good, getting all-in pre-flop with ace-queen versus Wong's ace-five. However, the five of clubs would match the suit of the last four board cards, shipping the 2018 SCOOP Event #27-H title and a whopping $163,671.84 (prize and bounties combined) to Jerry "hummylun" Wong!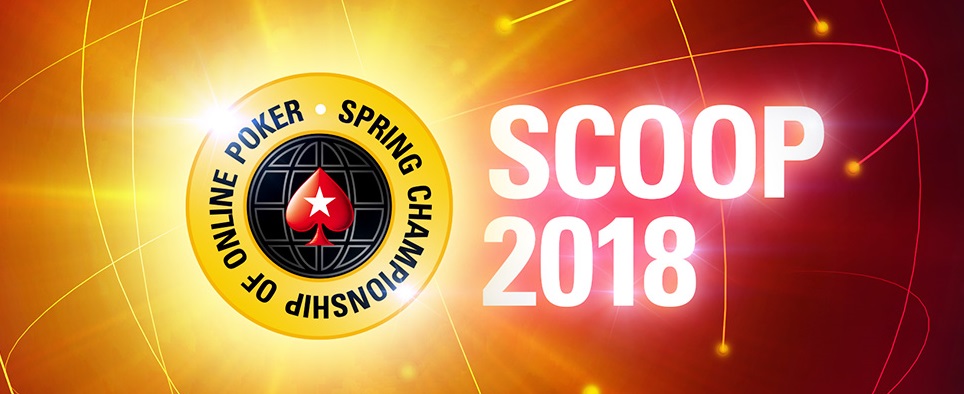 SCOOP-27-H ($1,050 NLHE [6-Max, Progressive KO, Turbo]) results
Total entries: 1,055
Prize pool: $1,055,000 (Regular pool: $527,500; Bounty pool: $527,500)
Places paid: 131
1. Jerry "hummylun" Wong (Canada) $86,046.93 + $77,624.91 in bounties
2. TonyYayo5 (Switzerland) $59,954.75 + $4,187.50 in bounties
3. henri72 (Estonia) $41,774.78 + $3,500.01 in bounties
4. jutrack (Germany) $29,107.50 + $16,980.48 in bounties
5. TiltMeBig (Sweden) $20,281.26 + $13,972.66 in bounties
6. tarantaleo (Bulgaria) $14,131.40 + $8,093.76 in bounties
7. newguy89 (Canada) $10,689.94 + $5,875.00 in bounties
Good luck to all the players and hard-working reporters for the remainder of the 2018 SCOOP series. After ten years, it has been a pleasure.