Niall "Firaldo87" Farrell would be the first to admit he doesn't exactly fit the typical high rolling poker blueprint. But eight years after turning pro he's "somehow still going".
He's no health freak. There are no trips to the gym first thing each morning. And he prefers to meditate in the pub with friends rather than alone on retreat somewhere. But then it's the laid back, unshaven, beer loving image that appeals most.
None of which should do anything but glorify the achievements of one of the game's most popular players.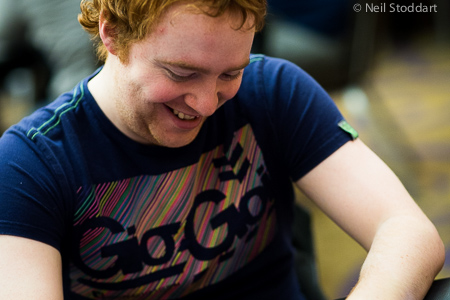 Niall Farrell became a two-time SCOOP winner this week with victory in Event 3-H
Because in those other ways you might describe a poker player, Farrell is an exact fit.
Already a European Poker Tour winner, he also has a tournament record amounting to more than $5 million (which speaks of the near misses). Now he has a second SCOOP title having won SCOOP 3-H ($2,100 NLHE) earlier this week, a title worth $101,854 with another $118,054 in bounties.
Like every year, Farrell plays SCOOP in Canada to better make use of the time difference. From there Farrell spoke to the Blog about the win, and about what's next.
What was your preparation like for this event? Anything different to your usual routine?
Farrell: My prep for SCOOP this year is the same as it's been for the last two years. I'm out in Vancouver staying with Craig McCorkell ("mc3991"). Stuff starts early out here so you can finish up at a reasonable time and go for dinner, etc. I think that gives a decent edge over the guys grinding from Europe until 4am every day.
At what point in the event did you think you had a good chance of winning?
When we got down to around 11/12 players I figured I had a great chance. I had a very good seat and was able to chip up a lot prior to the final so went in with a pretty good chip lead.
What were the highlights for you? The best moments, such as hands that you played well?
I think up until the final I played really well. I think I made a few decent sized mistakes on the final but fortunately managed to come out on top anyway.
I ran a big bluff vs Cal near the bubble which got the old time-bank fold, and I think that was a pretty important point in the tourney as we were both vying for control of the table coming up to the bubble.
How did you react to the win? Are you the "jumping up and down" type of player or were you much calmer than that?
I'm generally pretty calm in these spots. It did feel really good to just snap guarantee a winning SCOOP though, haha! Besides 2016, SCOOP has generally been an expensive time of year for me!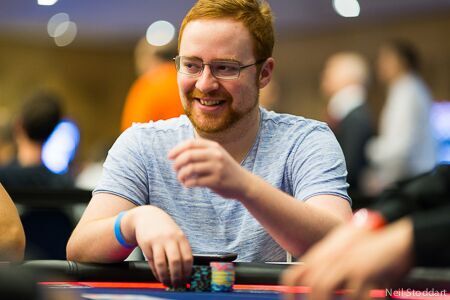 Niall Farrell in action on the European Poker Tour
Who did you tell first?
Well Corky was here so he knew first, and a few of my friends were railing. First person I told who wasn't watching (because she was in bed) was my girlfriend, Edita.
What are you looking forward to next – in poker and life in general?
Well the World Series is coming up so I always look forward to that. It's been very good to me over the years so that's always exciting. Then some well-earned time off after that, chilling at home and seeing my nieces and nephews.