Once Ole Schemion secured the chip lead at the $10K PLO High Roller final table, no one else had a fighting chance. Schemion mercilessly knocked out the last five players en route to his victory in SCOOP Event #32-H. Didn't matter what sort of firepower his opponents threw at him. The bulletproof, unbreakable Schemion faded straight draws, flushes, and backdoor trips. He snapped off Queens (twice), Kings, and Aces. Schemion was so hot, he could suit up for the Houston Rockets tonight in the NBA playoffs and drop 40 points against the Golden State Warriors without breaking a sweat.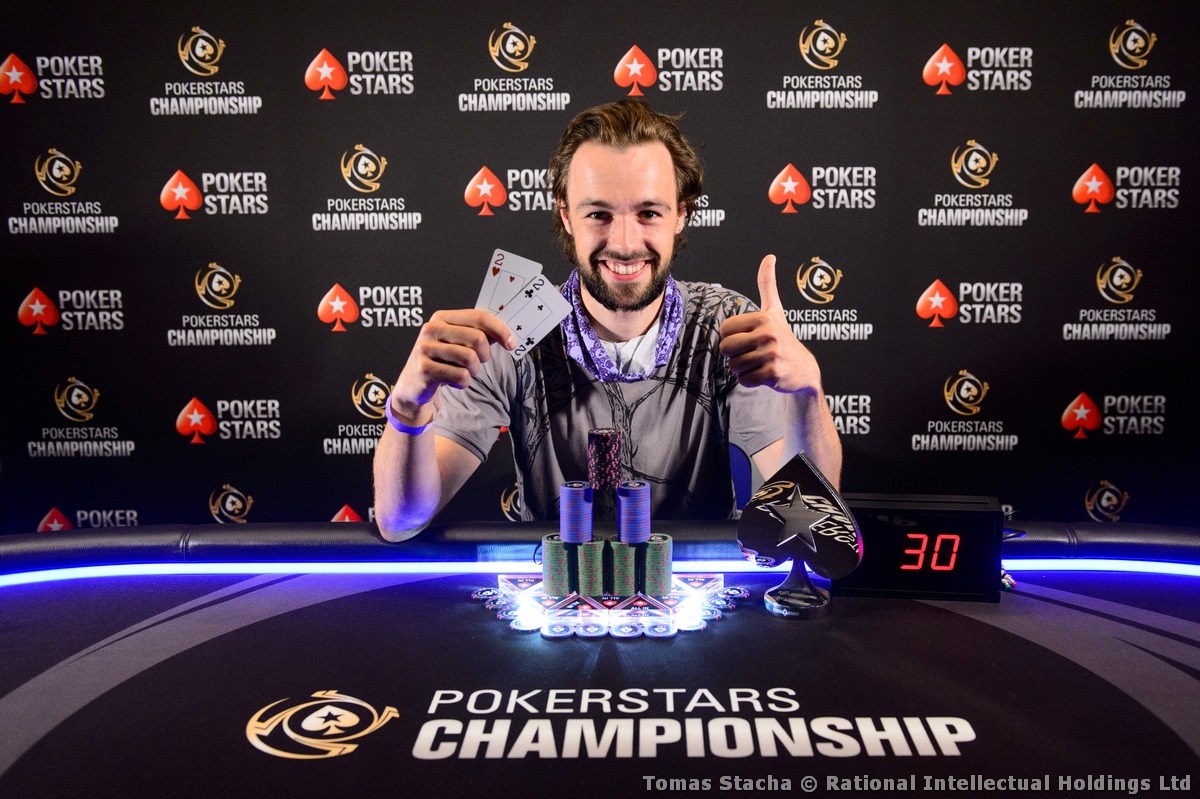 Ole Schemion strikes again
Ole "wizowizo" Schemion outlasted a field of 126 entries to win $283K. Schemion obliterated a difficult final table that included Jens "Jeans89" Kyllöne, Joao "IneedMassari" Simao, and Jorryt "TheCleaner11" van Hoof. He also prevented Brazil's Joao Simao from winning a Triple COOP.
The sun rose. Ole Schemion won a poker tournament. The sun set. Rinse. Repeat. The real juicy story would have been if Ole Schemion didn't win this tournament. That's more akin to the sun not coming up in the morning. Can anyone stop EPT Season 10 Player of the Year Ole Schemion? Live? Online? Is there a realm he doesn't dominate? I'd lay good odds he's crushing the tables in everyone's dream world too.
2018 SCOOP #32-H – QUICK STATS:
$10K PLO High Roller
126 entries
$283,260.92 first place
$1.26 million prize pool
2018 SCOOP Event #32-H $10,300 PLO High Roller was a 6-handed affair. A total of 88 original runners took a shot and they added 38 additional entries for a final tally of 126 entries. The prize pool was $1.26 million for this $1 million guaranteed event. Only the top 14 places got a cut of the prize pool with a little more than $283K set aside for first place. There was no deal at the final table. When you ran as hot as Schemion ran, no one wasn't even close enough to consider chopping up the money. For everyone at the final table, it was a race for second place.
Day 1 ended when the money bubble burst with 14 players remaining. Everyone who advanced to Day 2 guaranteed themselves a min-cash worth $26,006.90. Jens "Jeans89" Kyllöne, who won the EPT5 Copenhagen in 2009, bagged up the lead.
With 2 tables remaining, two big stacks emerged with Jeans89 and Ben "Ben86" Tollerene. By the time the final table of seven was set, Ben86 busted in ninth place and Jeans89 found himself as the short stack. With 8 to go, Jeans89 coughed up the lead for the first time since late on Day 1 after wizowizo and danfiu jockeyed for the top spot.
SCOOP #32-H – Final Table Chip Counts:
Seat 1: TheCleaner11 (7,767,296)
Seat 2: pkrbt (2,797,918)
Seat 3: wizowizo (5,350,946)
Seat 4: Jeans89 (2,517,207)
Seat 5: IneedMassari (4,420,832)
Seat 6: danfiu (6,434,228)
Seat 7: FLATC@T (2,211,573)
The final table commenced during Level 27 with blinds at 60K/120K. danfiu led the final seven with 6.4M and Jeans89 found himself the short stack with 25.1M.
Ole Schemion put on a clinic at a treacherous final table that included three players considered among the top pros from their respective countries: Finland, Brazil, and the Netherlands. Joao "IneedMassari" Simao won a TCOOP last year and WCOOP, but he was seeking his first SCOOP title. He came super close to winning a Triple COOP. Finnish pro Jens "Jeans89" Kyllöne won the EPT Copenhagen nearly 10 years ago. He dominated the nosebleed tables for almost a decade before he stepped away from poker to study finance. Dutch pro Jorryt "TheCleaner11" van Hoof also made the final table and he was seeking a first SCOOP win.
JENS CAN'T OUTMOUSE FLATC@T
The two short stacks rumbled on the seventh hand of the final table. Jeans89 check-raised all-in on a dry King-high flop with A♦K♠8♠7♦. FLATC@T called with A♠A♥6♥4♣. Jeans89 turned a gutshot draw but missed on the river. FLATC@T's Aces help up and Jeans89 was dunzo in seventh place.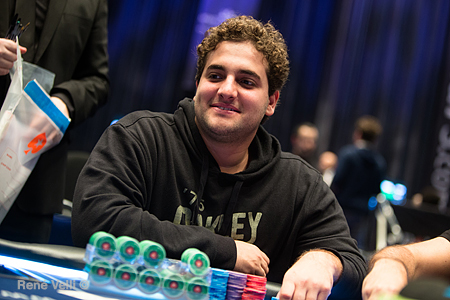 Joao Simao = 6th place
INEEDNMASSARI NEEDED A SIX
During Level 28, wizowizo snagged the lead and passed 10M mark. wizowizo padded his stack when he faded a gutshot draw from IneedMassari's 8♦7♣5♦4♣ to pick off the Brazilian. wizowizo flopped a pair of Aces with A♣9♦6♦6♠ and rivered two pair when the board ran out A♥Q♣7♦3♠Q♦. IneedMassari took home $75,165.93 for sixth place and he'll have to wait another day to win a Triple COOP. wizowizo chipped up to 13M, which was twice as much as danfiu in second place.
ACES DRY CLEANED
TheCleaner11 four-bet shoved for 2.4M with A♣A♥Q♦3♠ and wizowizo called with Q♣J♥9♥8♣. The board ran out J♣7♠6♠4♠8♥. wizowizo rivered two pair to win the pot. TheCleaner11 locked up $98,006.32 for fifth place. With four reamining, wizowizo's stack grew to 16.1M, or nearly 10M more than dafiu in second place.
WIZOWIZO DODGES FLUSHY BULLETS, BABY
All-in on the flop. danfiu made a final stand with K♠Q♠Q♣8♠ for a pair of Queens and a flush draw, but wizowizo flopped a straight with A♣7♣6♦2♦. wizowizo's faded the spades and his straight held up. danfiu banked $127,787.18 for fourth place. wizowizo's stack climbed past 20M, or double the other two players combined.
BULLDOZER IS BULLDOZER IN SWEDISH
You can't stop a runaway bulldozer. Bengt "pkrbt" Sonnert was streaming his event on Twitch for his legion of Swedish followers. pkrbt finished in an impressive third place but his run ended when he eventually squared off against the bulldozer. pkrbt's K♥K♠4♣3♦ lost to wizowizo's A♥7♥4♦2♦, whop flopped Aces up and won the pot with two pair. pkrbt's third-place finish was worth $166,617.48.

HEADS-UP: wizowizo (Austria) vs. FLATCA@T (Malta)
Seat 3: wizowizo (27,517,110)
Seat 7: FLATC@T (3,982,890)
wizowizo had nearly a 7 to 1 edge, but heads-up only lasted two hands. wizowizo would finish up winning 18 out of the last 20 hands at the final table, including both against FLATC@T.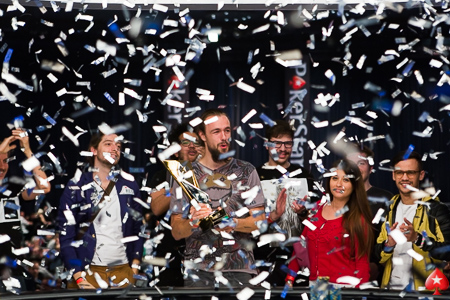 WIZOWIZO WINS PLO HIGHROLLER!
They got it all-in on the flop of J♣6♠5♣. wizowizo flopped top two with Q♠J♥10♠6♦, then turned a full house to seal the deal. FLATC@T flopped a pair of Jacks and rivered Aces and Jacks with A♠Q♣Q♥J♠, but it couldn't match up against wizowizo's full boat. FLATC@T's runner-up payday was worth $217,246.93.
Congrats to Ole Schemion. For two days of work in the $10K PLO High Roller, he earned $283,260.92.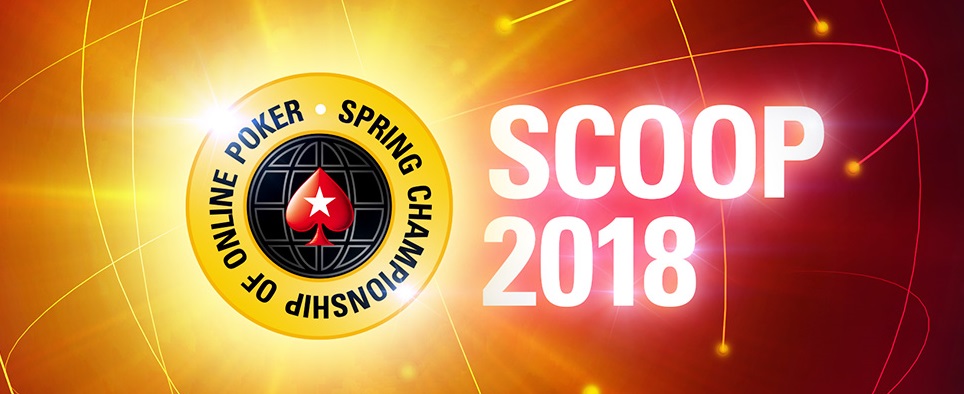 SCOOP-32-H ($10,300 PLO [6-Max, High Roller]) results
Total entries: 126 (88 entries; 38 re-entries)
Prize pool: $1,260,000
Places paid: 14
1. Ole "wizowizo" Schemion (Austria) $283,260.92
2. FLATC@T (Malta) $217,246.93
3. pkrbt (Sweden) $166,617.48
4. danfiu (Hungary) $127,787.18
5. Jorryt "TheCleaner11" van Hoof (Netherlands) $98,006.32
6. Joao "IneedMassari" Simao (Brazil) $75,165.93
7. Jens "Jeans89" Kyllöne (Finland) $57,648.52
Visit the SCOOP homepage for a schedule of remaining events and find out who is on top of the Leader Board and in contention for a Platinum Pass.
---
Ready to take your shot at a SCOOP title? Sign up for PokerStars today!
---