Knocking out opponents in tournaments is always profitable in a theoretical way, given how doing so necessarily brings everyone closer to the money and big prizes up top. In a bounty tournament they become literally lucrative, too, something reverdy365 well demonstrated on the way to winning Event #34-H ($530 NLHE, 6-Max., Progressive KO) of the 2018 Spring Championship of Online Poker.
Playing from Malta, reverdy365 busted enough players to build a huge payday in this one, between the first-place prize and big profit from the bounties earning a total of $155,317.51 for the win.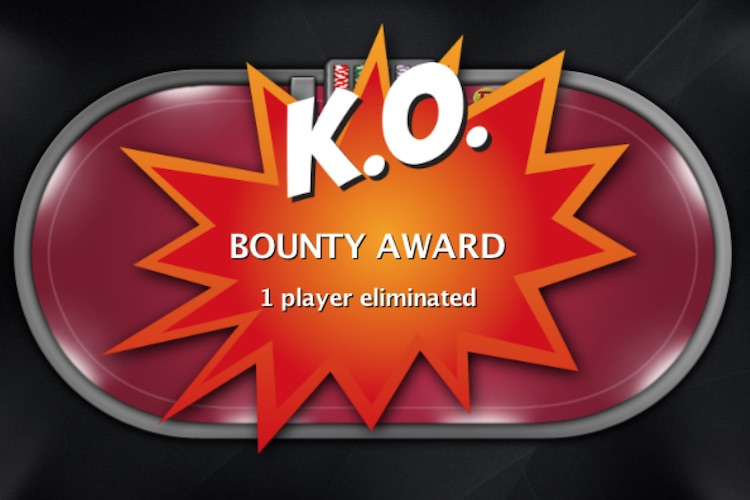 As a progressive knockout event, that meant half the prize pool went toward rewarding players able to eliminate others along the way. Incidentally, earning such knockouts also moved players up in the rankings for the brand new PokerStars Golden Scythe Award, about which you can learn more by clicking the link.
With 2,464 total entries (1,661 uniques and 803 re-entries), the total prize pool added up to $1,232,000, thereby besting the event's $1 million guarantee. The top 299 finishers made the money, with many more players than that cashing via bounties, too.
After one full day of poker that big field had played into the money and down to 100 players even. Russia's Vladimir "vovtroy" Troyanovskiy enjoyed the overnight chip lead with just over 7.7 million, a few more than nearest challenger Dennis "DBerglin" Berglin of Sweden.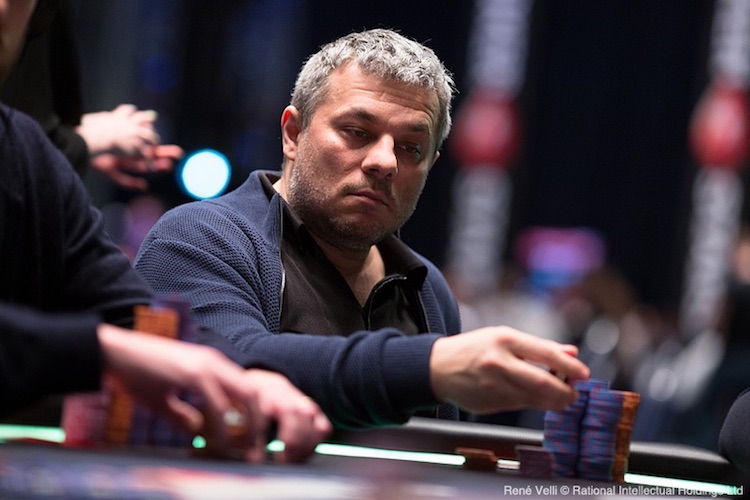 Vladmir "vovtroy" Troyanovskiy
As Day 2 progressed, Berglin would continue to thrive while Troyanovskiy gradually slid down the counts and out in 46th place to earn $1,927.95 for his finish plus another $2,390.63 in bounties.
After a little over four hours of poker on Tuesday the field had been whittled down to just 12 players sitting around the last two tables, with Berglin still in the mix after surviving a three-way all-in siutation that saw Souler777 go out in 13th ($3,868.35 plus $4,246.11 in bounties). Brazil's Alisson "heyalisson" Piekazewicz enjoyed a big chip lead at that point with over 63 million, more than twice the stack of his nearest challengers.
Soon Ramon "ramondemon77" Cserei fell in 12th ($3,868.35 plus $7,515.13 in bounties), then Dennis "DBerglin" Berglin at last went out in 11th ($5,035.49 plus $3,750.01 in bounties). Those two were followed to the rail by Solidthought in 10th ($5,035,49 plus $4,222.86 in bounties), DotComRicher in ninth ($7,226.91 plus $6,373.65 in bounties), and Vico$carpini in eighth ($7,226.91 with $3,568.36 in bounties).
The final seven then regrouped around a single table, and after Matas "bebaimis777" Cimbolas went out in seventh ($10,371.90 plus $6,814.45 in bounties) the official final table was underway with Alisson "heyalisson" Piekazewicz still the frontrunner.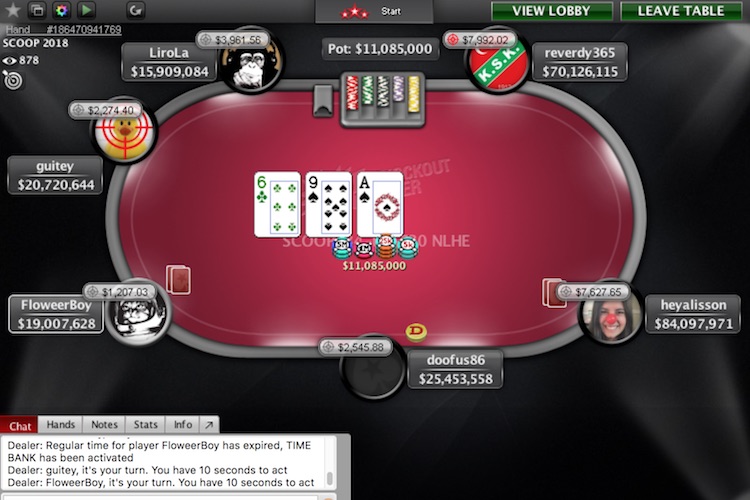 Seat 1: reverdy365 (Malta) — 68,263,615
Seat 3: Alisson "heyalisson" Piekazewicz (Brazil) — 95,865,471
Seat 4: doofus86 (Malta) — 18,941,058
Seat 5: FloweerBoy (Poland) — 25,525,128
Seat 6: Stuart "guitey" Guite (United Kingdom) — 21,658,144
Seat 7: Rafael "LiroLa" Monteiro (Brazil) — 16,146,584
About 15 minutes into the final table the blinds were 400,000/800,000 when Stuart "guitey" Guite put in a big raise to 6.4 million from the cutoff. Leader Alisson "heyalisson" Piekazewicz then reraise-jammed from the big blind and Guite called to put a total stack of close to 14.7 million at risk.
Guite had 8♠8♣ and needed his pair to hold against Piekazewicz's A♥5♦, but the board rolled out 5♥9♠A♣J♣9♥ to give Piekazewicz the better two-pair hand and Guite was out in sixth.
A little more than a half-hour later reverdy365 had overtaken Piekazewicz to grab the chip lead. Soon after that reverdy365 limped in from the cutoff for 1 million, Piekazewicz raised to 4 million from the button, and a short-stacked doofus86 called all in with the 1.48 million left after posting the small blind.
reverdy365 called, then bet just over 5.8 million on the 4♣A♠8♥ flop. Piekazewicz called that bet, but folded to an 8 million-plus all-in from reverdy365 after the 5♦ turn. reverdy365 had two pair with A♥5♥, which meant doofus86 was already drawing dead with K♥J♦, and they were down to four. doofus86 added another final table and fifth-place finish to a résumé including a victory in a SCOOP event back in 2015.
Before long Piekazewicz was the short stack and shoving all in from under the gun for almost 22 million (about 18 big blinds) with K♣Q♥ and reverdy365 with up over 97 million called from the big blind with 9♣6♠.
Piekazewicz's preflop edge evaporated when the first three community cards came 6♣3♥2♠ to give reverdy365 a pair of sixes. The turn was the 4♥ and river the 7♣, and Piekazewicz was done in fourth.
Alisson "heyalisson" Piekazewicz
The final three players moved onward into the day's eighth hour, then with the blinds at 800K/1.6M reverdy365 made it 3.45 million to go from the button and got one caller in FloweerBoy in the small blind.
The flop came 9♦2♦8♠, and FloweerBoy check-called a 6.6 million continuation bet from reverdy365. The turn then brought the 7♥ and another check from FloweerBoy. reverdy365 bet just 1.8 million this time, and FloweerBoy responded with an all-in shove worth 63.3 million which reverdy365 called.
FloweerBoy had 10♣9♣ for top pair of nines and a straight draw, but reverdy365 had a better pair with A♣A♠. The 3♣ river blanked and FloweerBoy was out in third, meaning reverdy365 had over 214 million versus Rafael "LiroLa" Monteiro's 32.2 million to start heads-up play.
On just the second heads-up hand, reverdy365 raised 3x from the button, Monteiro jammed for just over 30.2 million, and reverdy365 called. Monteiro showed K♦Q♥ and needed to catch something to survive against reverdy365's 5♦5♠.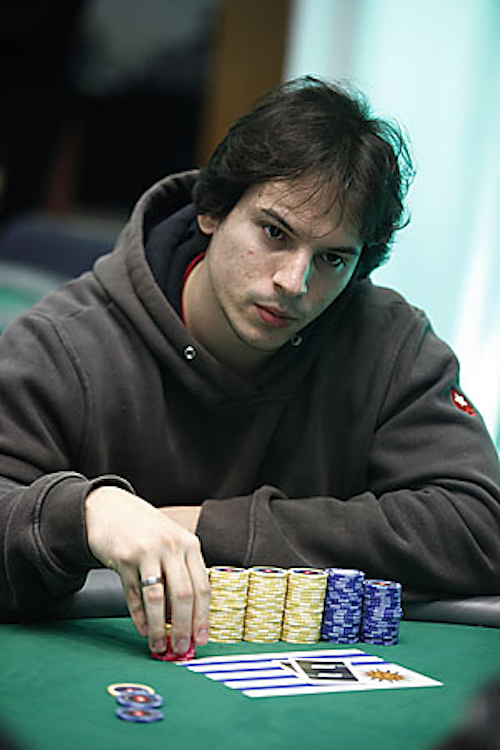 Rafael "LiroLa" Monteiro
The J♣A♦2♥ flop added a straight draw for Monteiro, but neither the A♣ turn nor 3♥ river helped him and it was over — reverdy365 had earned the last knockout bounty of the tournament to win the title!
Congratulations to reverdy365 for not only capturing the title and $90K-plus first prize, but also for winning over $64K in bounties — nearly four times as much as the next-highest bounty earner Alisson "heyalisson" Piekazewicz who earned just over $17K.
SCOOP-34-H ($530 NLHE, 6-Max, Progressive KO) results
Entries: 2,464 (1,661 entries, 803 re-entries)
Total prize pool: $1,232,000
Places paid: 299
1. reverdy365 (Malta) $90,640.72 (plus $64,676.79 in bounties)
2. Rafael "LiroLa" Monteiro (Brazil) $63,155.15 (plus $7,673.15 in bounties)
3. FloweerBoy (Poland) $44,004.69 (plus $2,164.06 in bounties)
4. Alisson "heyalisson" Piekazewicz (Brazil) $30,661.21 (plus $17,279.73 in bounties)
5. doofus86 (Malta) $21,363.86 (plus $4,841.79 in bounties)
6. Stuart "guitey" Guite (United Kingdom) $14,885.70 (plus $4,298.82 in bounties)
---
Ready to sign up for PokerStars and go for your own SCOOP title?
Click here to get a PokerStars account.